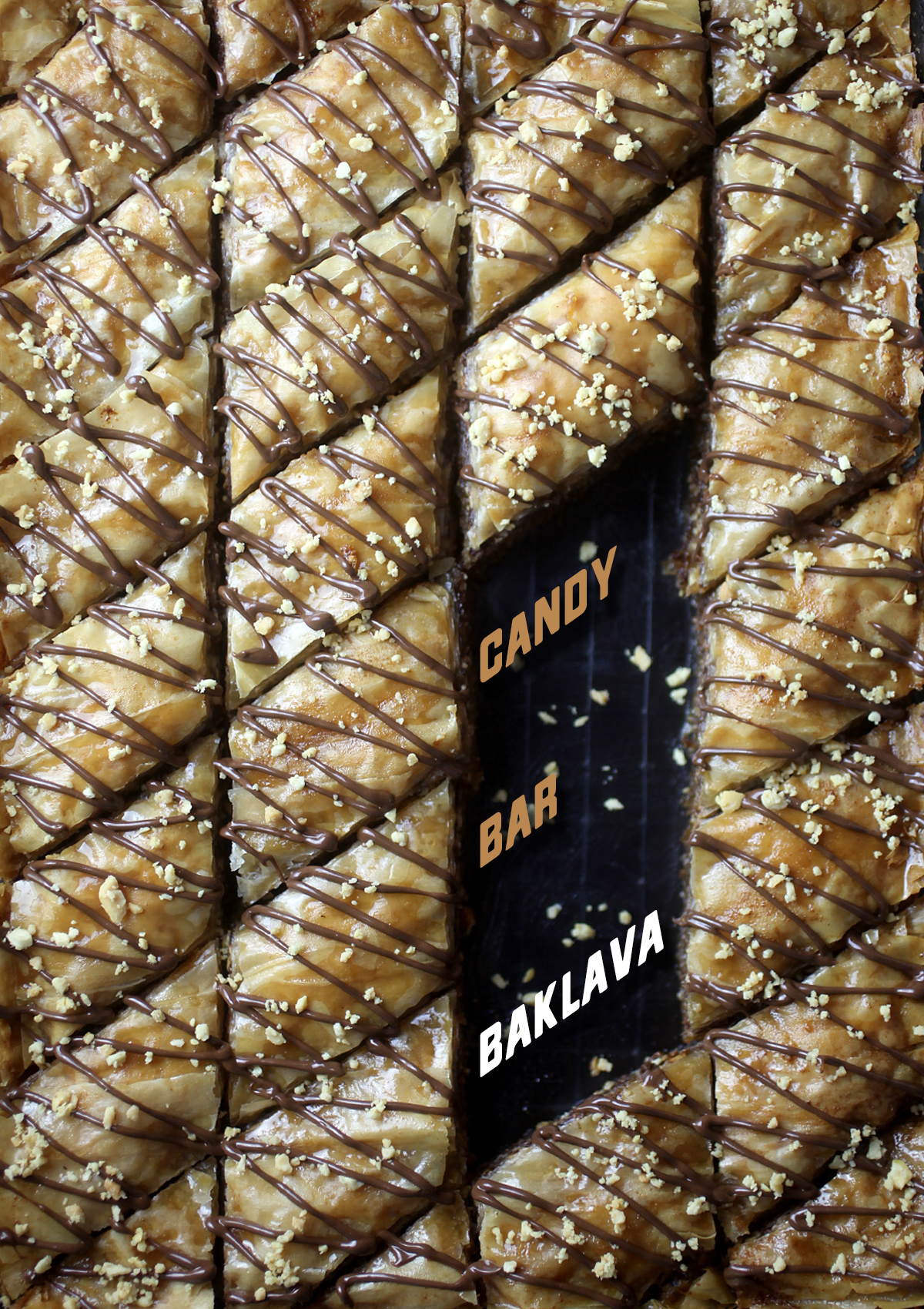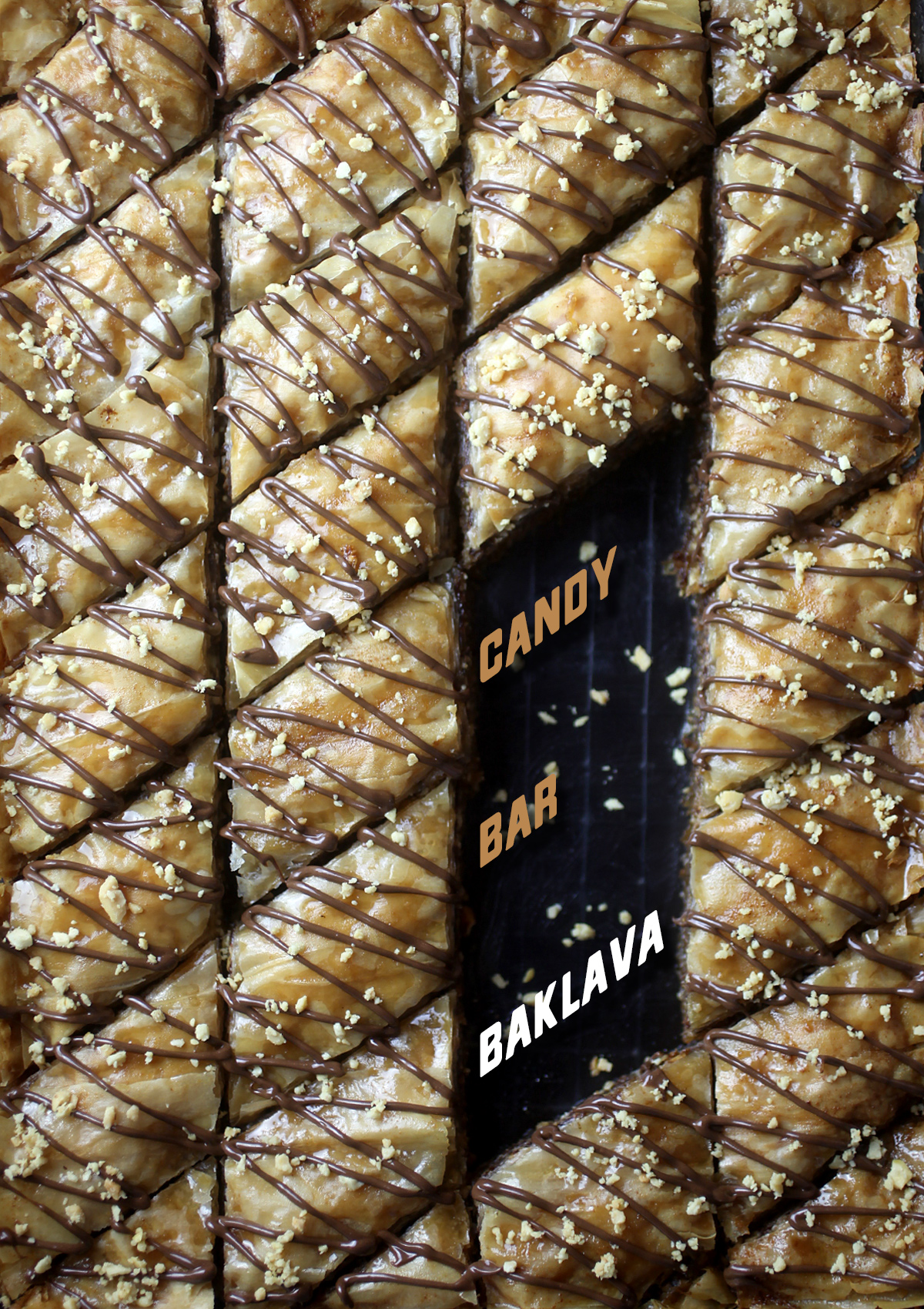 Well, will you look at this deliciousness. I have to tell you that I've never made Baklava before and I don't think I've ever eaten Baklava before… or even worked with phyllo dough for that matter. But… I totally feel proud of myself right now. I. Made. Some. Baklava!
Now it's not the traditional filling, but that's ok. Candy Bar Baklava is totally my style. And when I saw the recipe in my talented friend Shauna Sever's amazing new cookbook Midwest Made, I knew I wanted to give it a try. Scroll to the bottom for a peak inside.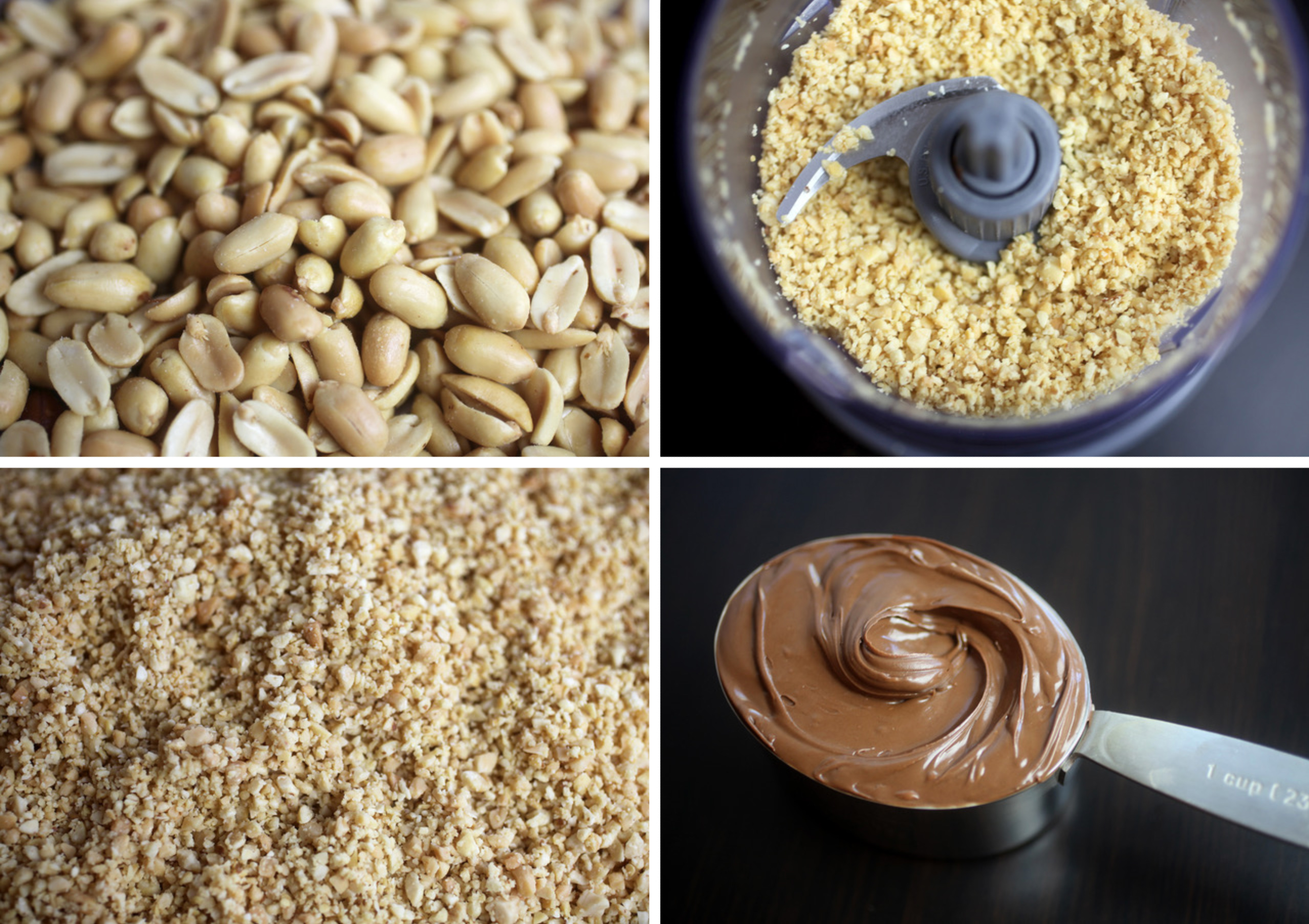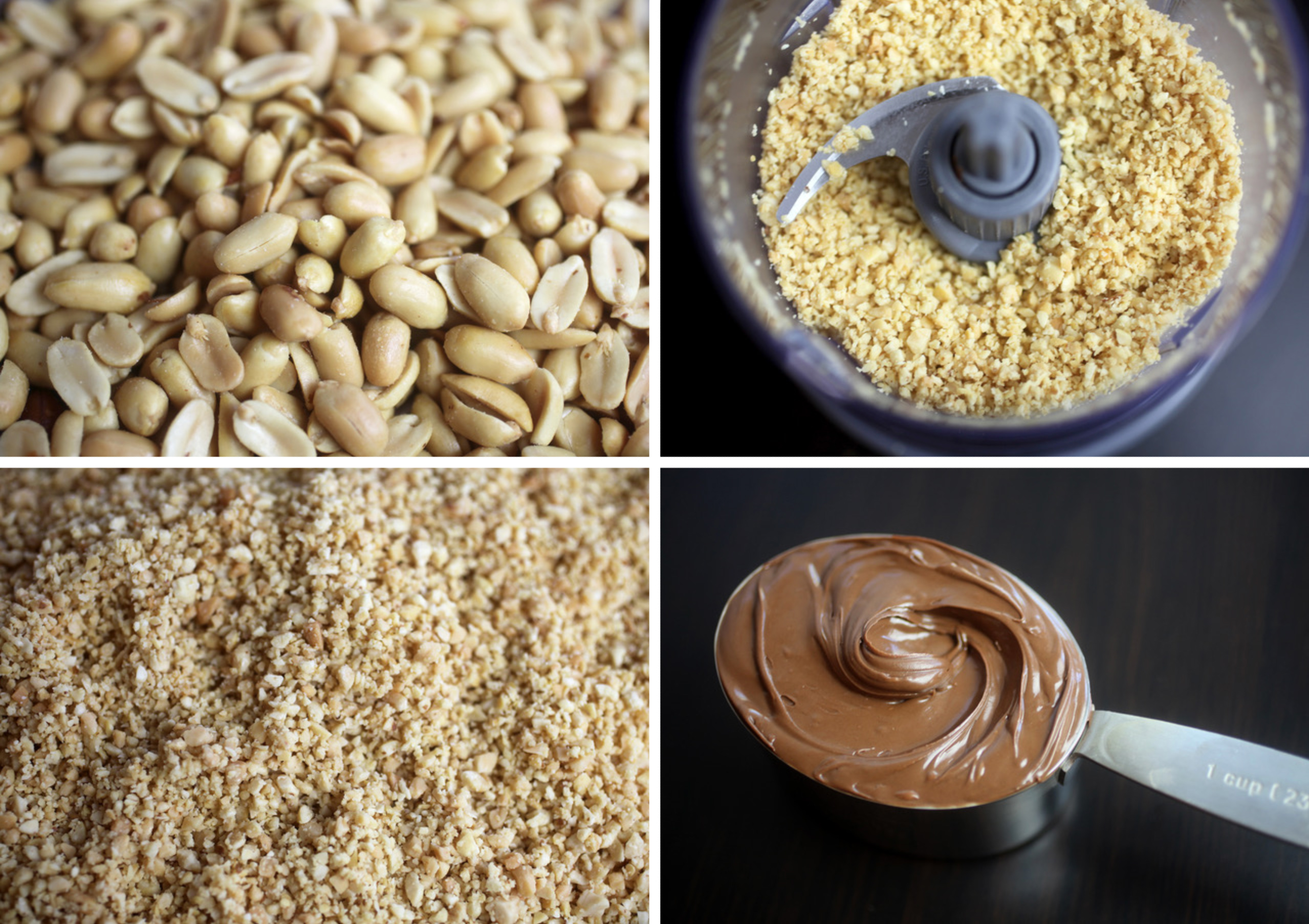 The filling is made of finely chopped salted peanuts and chocolate hazelnut spread … it gets layered between buttered sheets of phyllo dough. Yummo!
So making Baklava isn't difficult, but it is time consuming. You need to have your head in the game and stay focused. There's lots of layering and buttering and filling.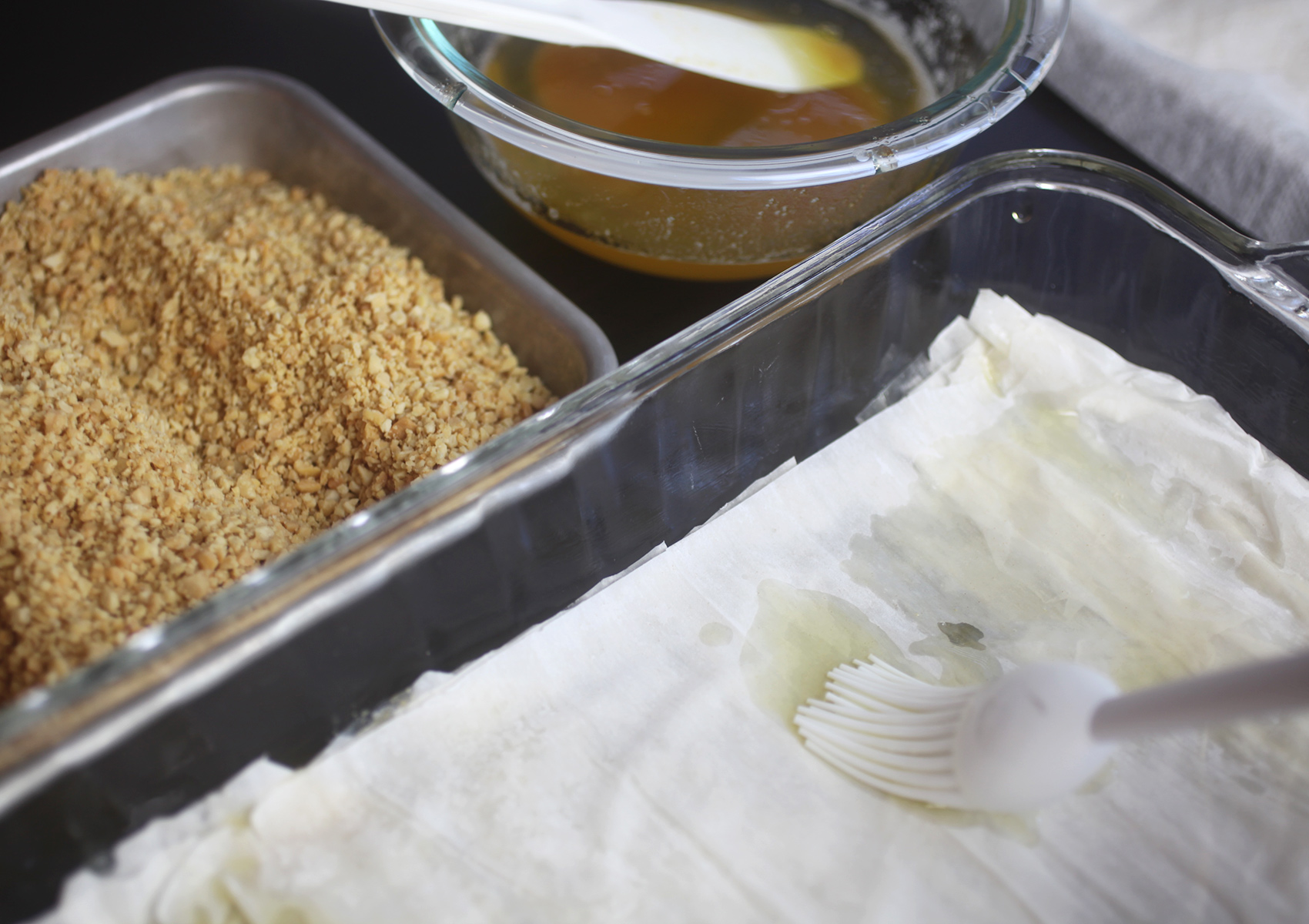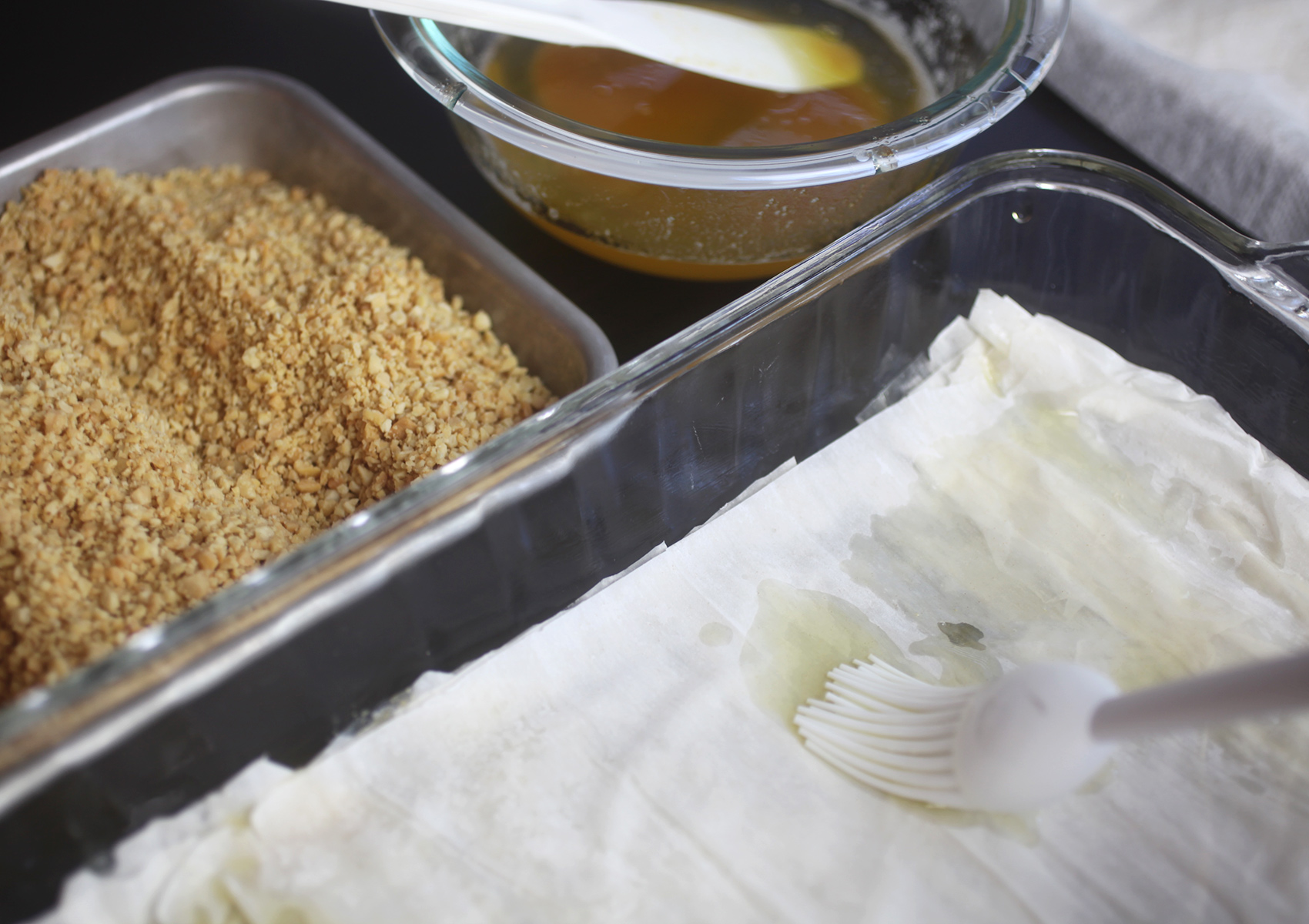 Having an organized workstation with all of your ingredients ready is the way to go.
Browned butter, cooled. Chopped peanuts, check. Hazlenut spread, melted. And phyllo dough, thawed and unrolled from it's package with a damp towel laying on top to keep it from drying out.
Start out by layering two sheets of phyllo in the bottom of a greased baking dish. Then apply a thin layer of melted butter. Repeat that four more times for a total of ten sheets.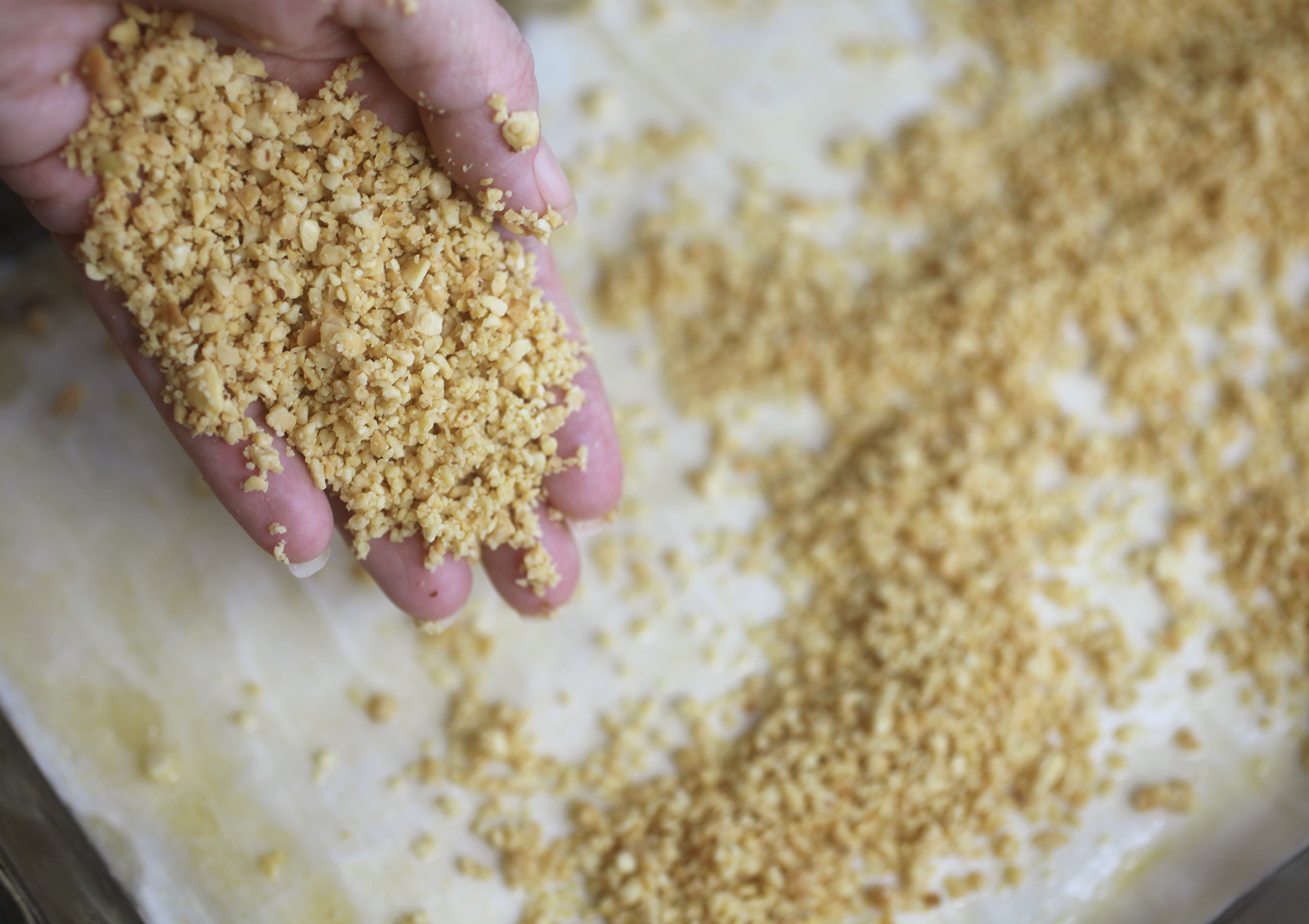 Then spread a third of the peanuts on top of the phyllo.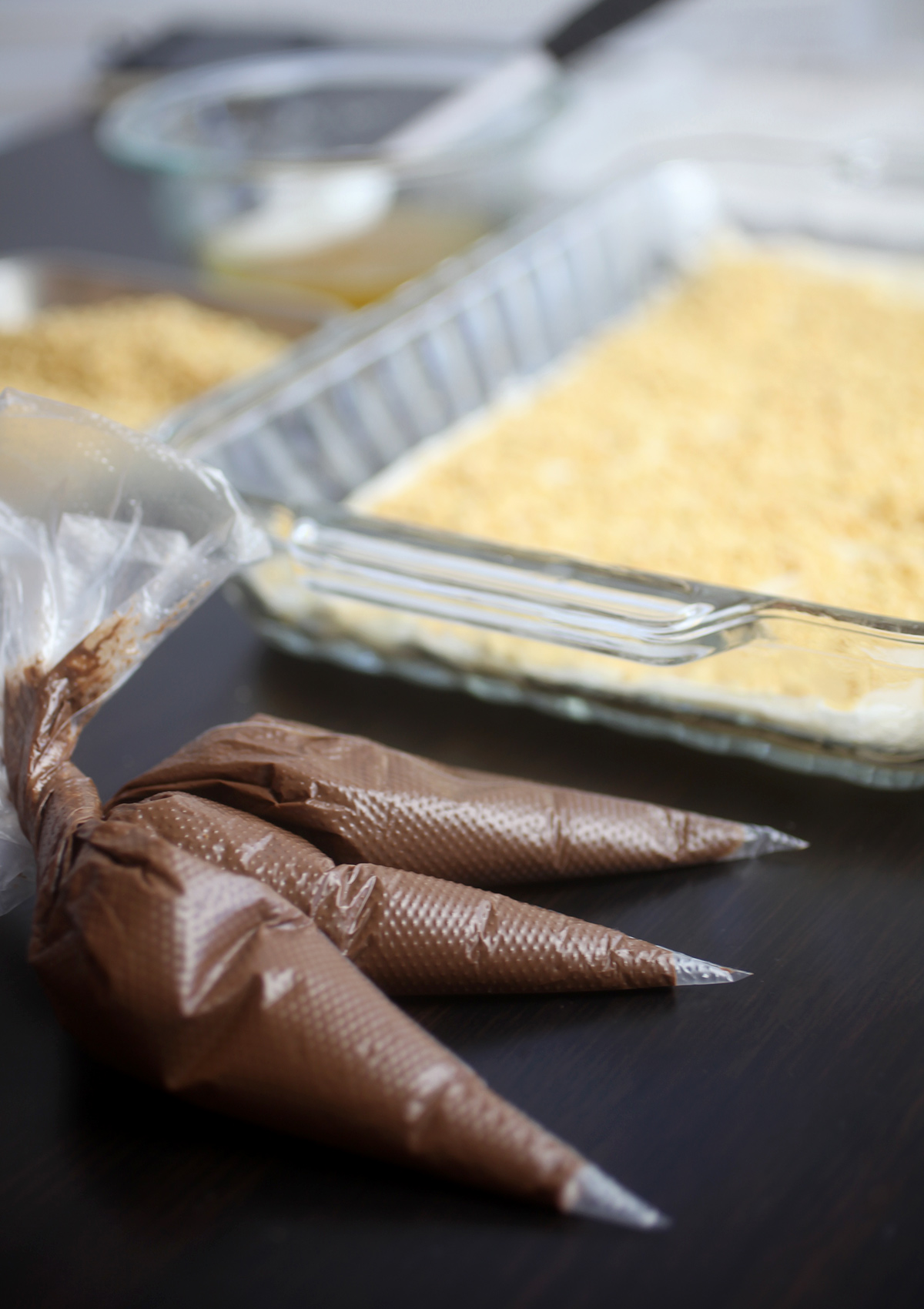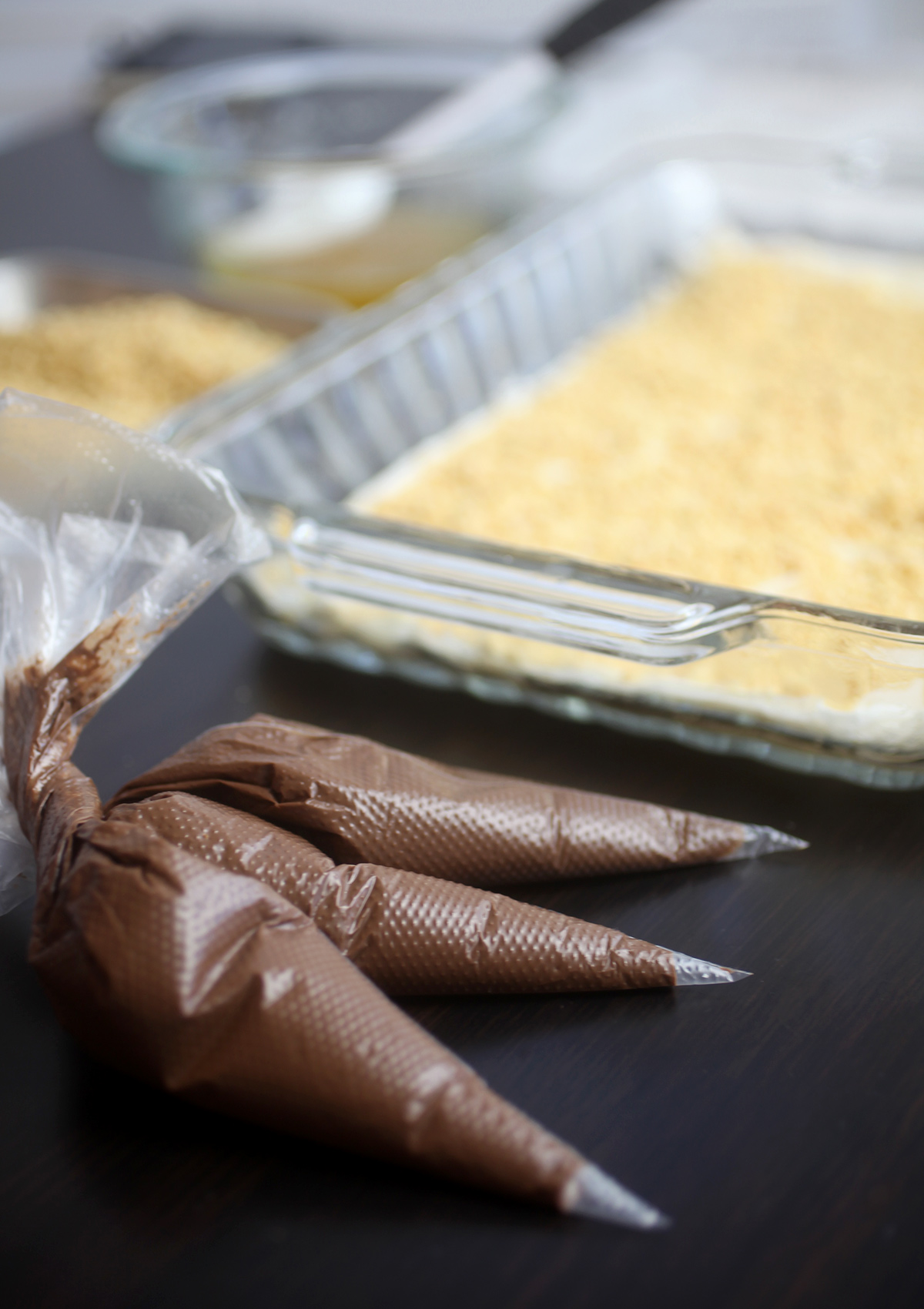 And then add some melted chocolate hazelnut spread. I went ahead and divided mine into thirds to make it easier to work with.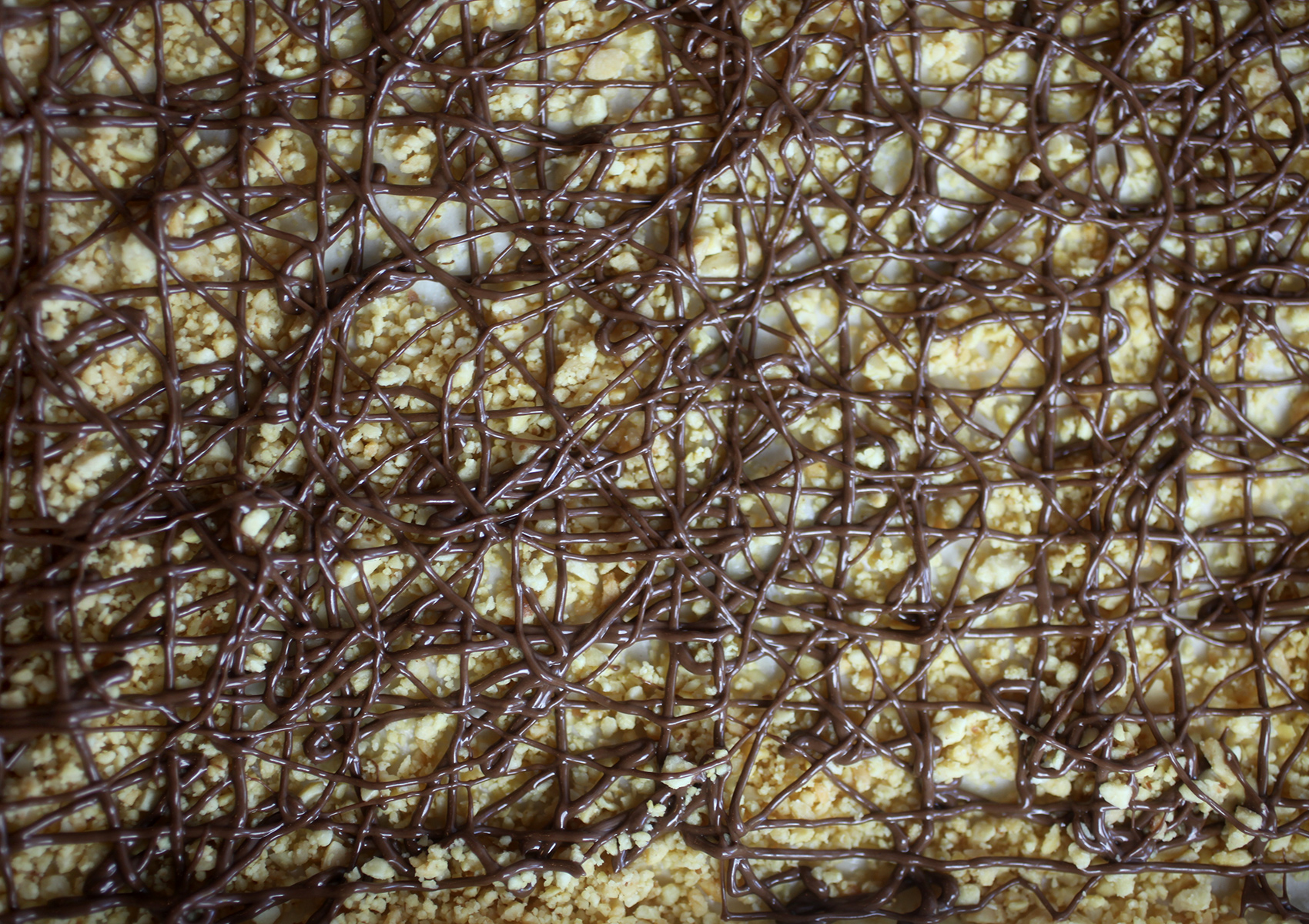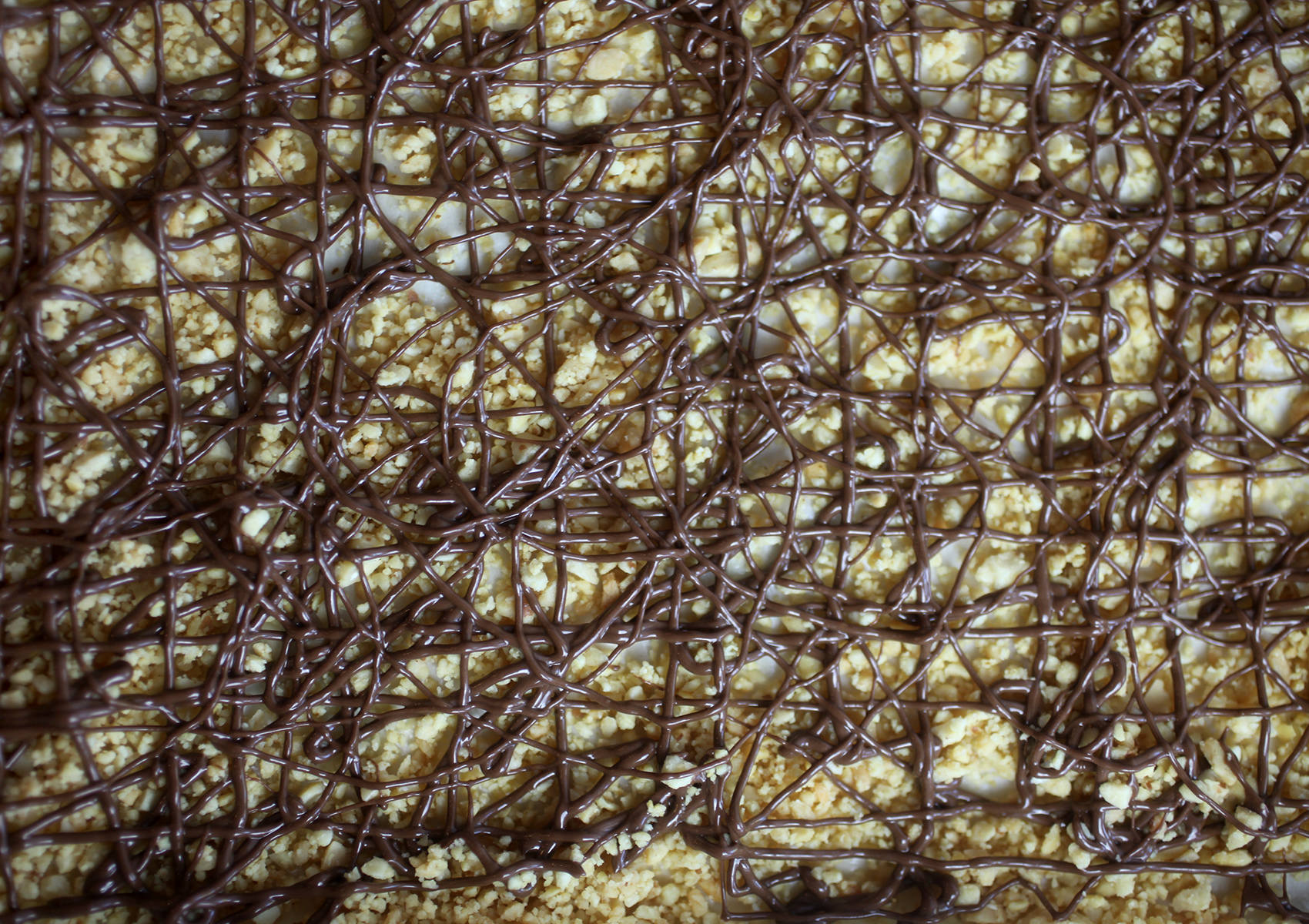 Drizzle a third of the chocolate hazelnut spread on top of the peanuts.
Layer six more sheets of phyllo, buttering every two.
Add another third of the peanuts and hazlenut spread.
Layer six more sheets of phyllo, buttering every two.
Add the final third of the peanuts and hazlenut spread.
Repeat with six more layers of phyllo, buttering every two.
Then for the final four layers of phyllo, butter between each sheet.
That totals 32 sheets of phyllo. Enough for some mess ups if you are using a package that contains two rolls of twenty. Which I did. Mess up, I mean. The phyllo is paper thin and definitely fragile. On the upside, it's also very forgiving when it's layered. You can piece it together if needed and no one will be the wiser.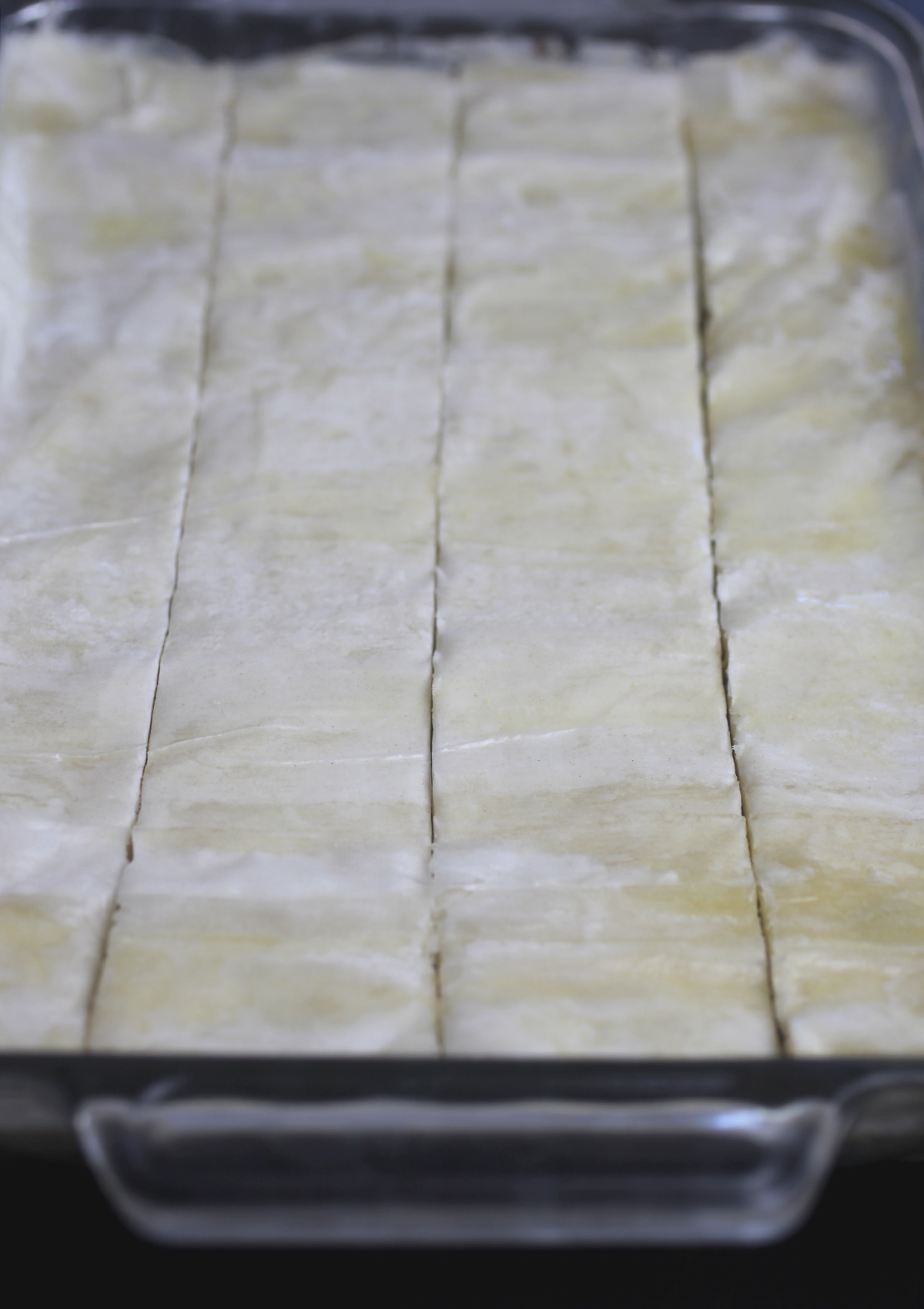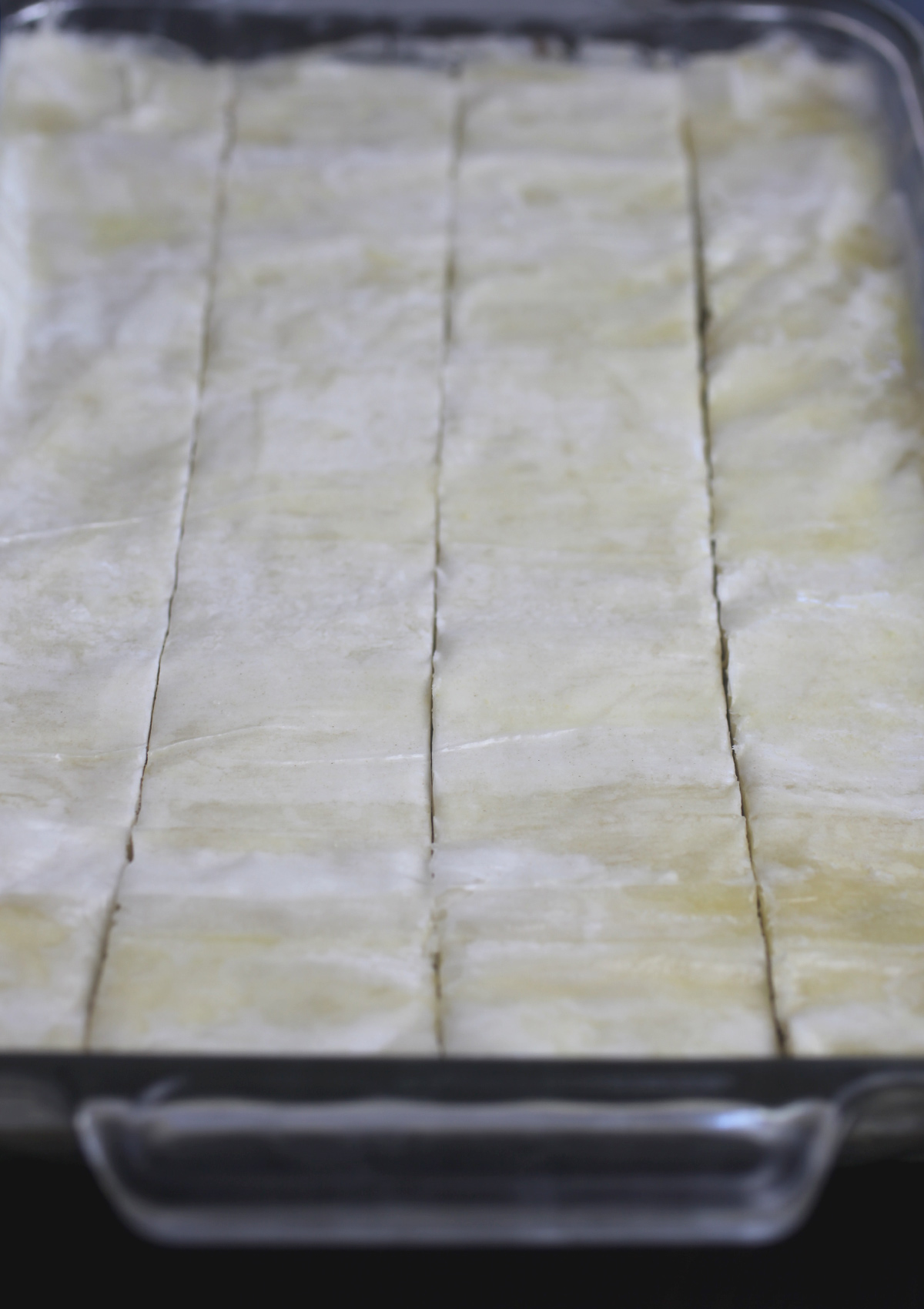 Once layering is complete, make three evenly spaced cuts down the length of the pan.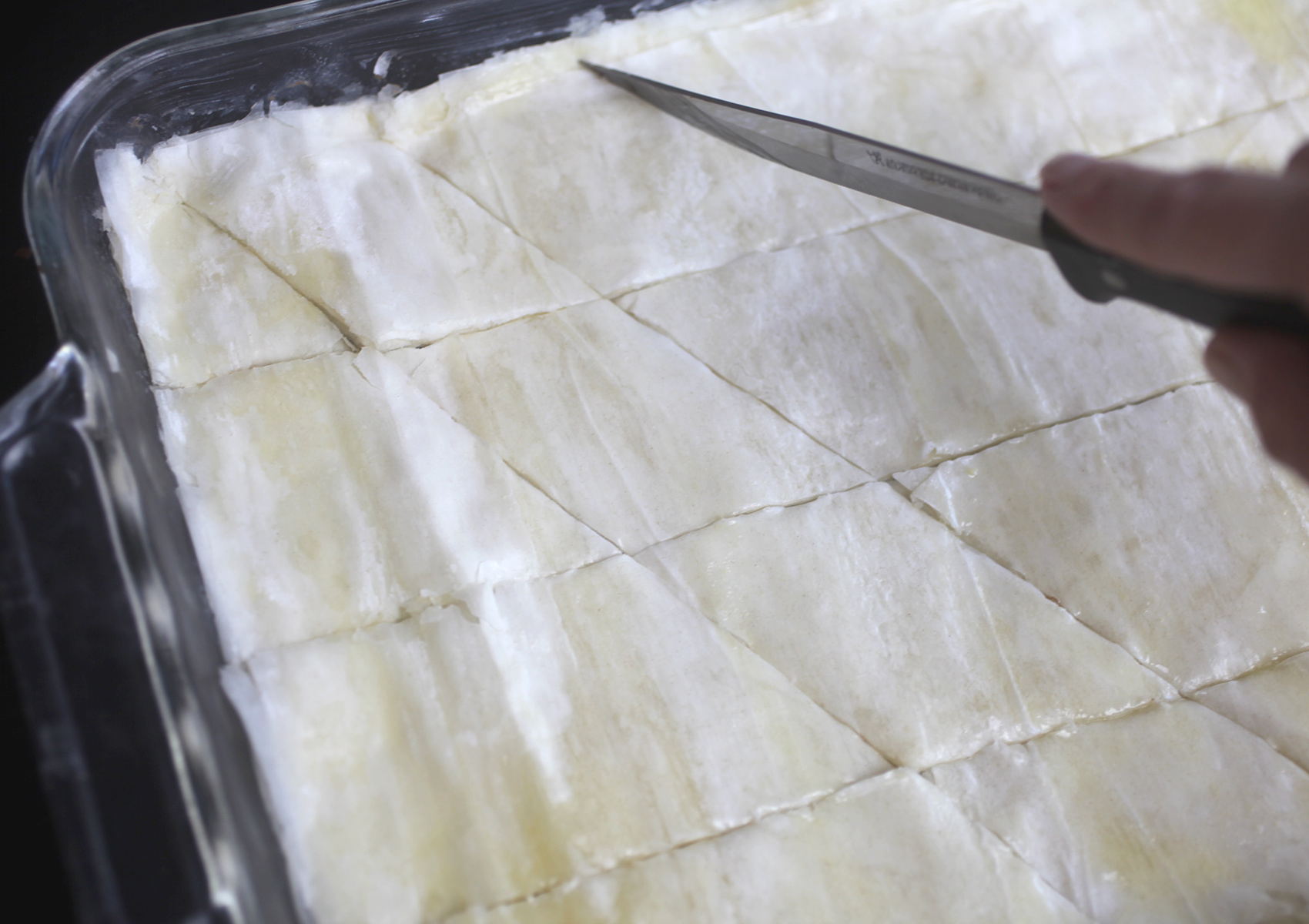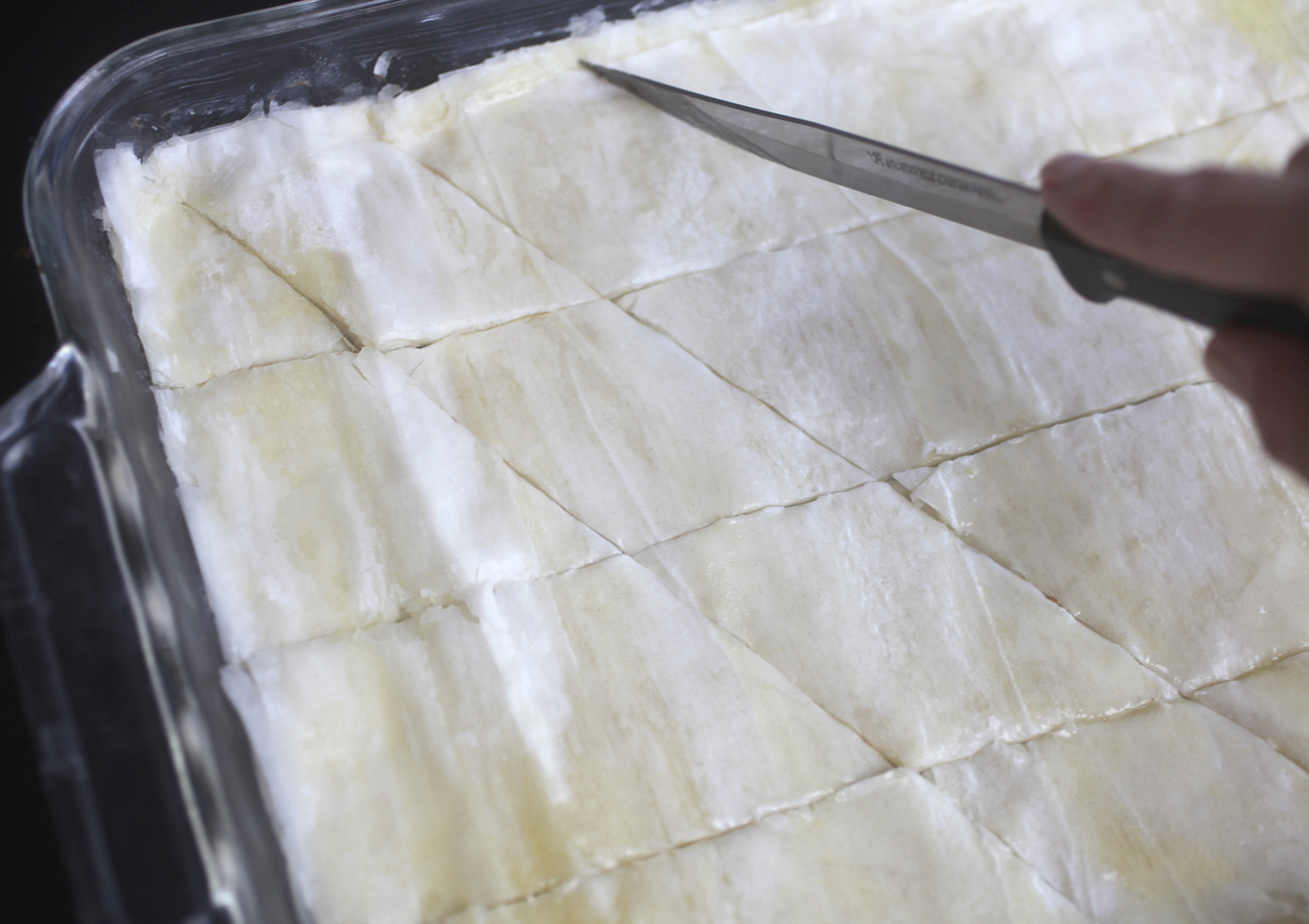 Then make 8-9 diagonal cuts.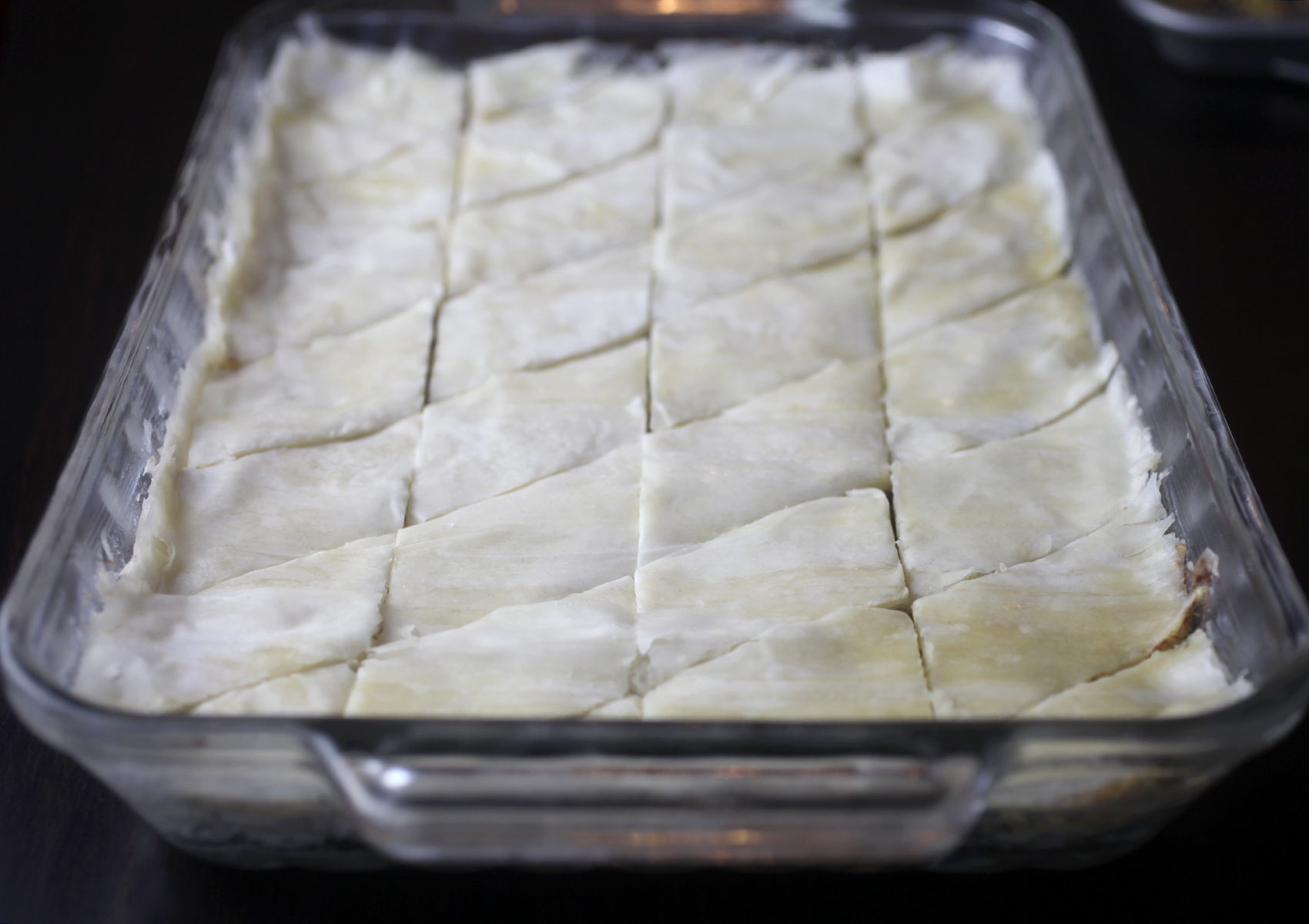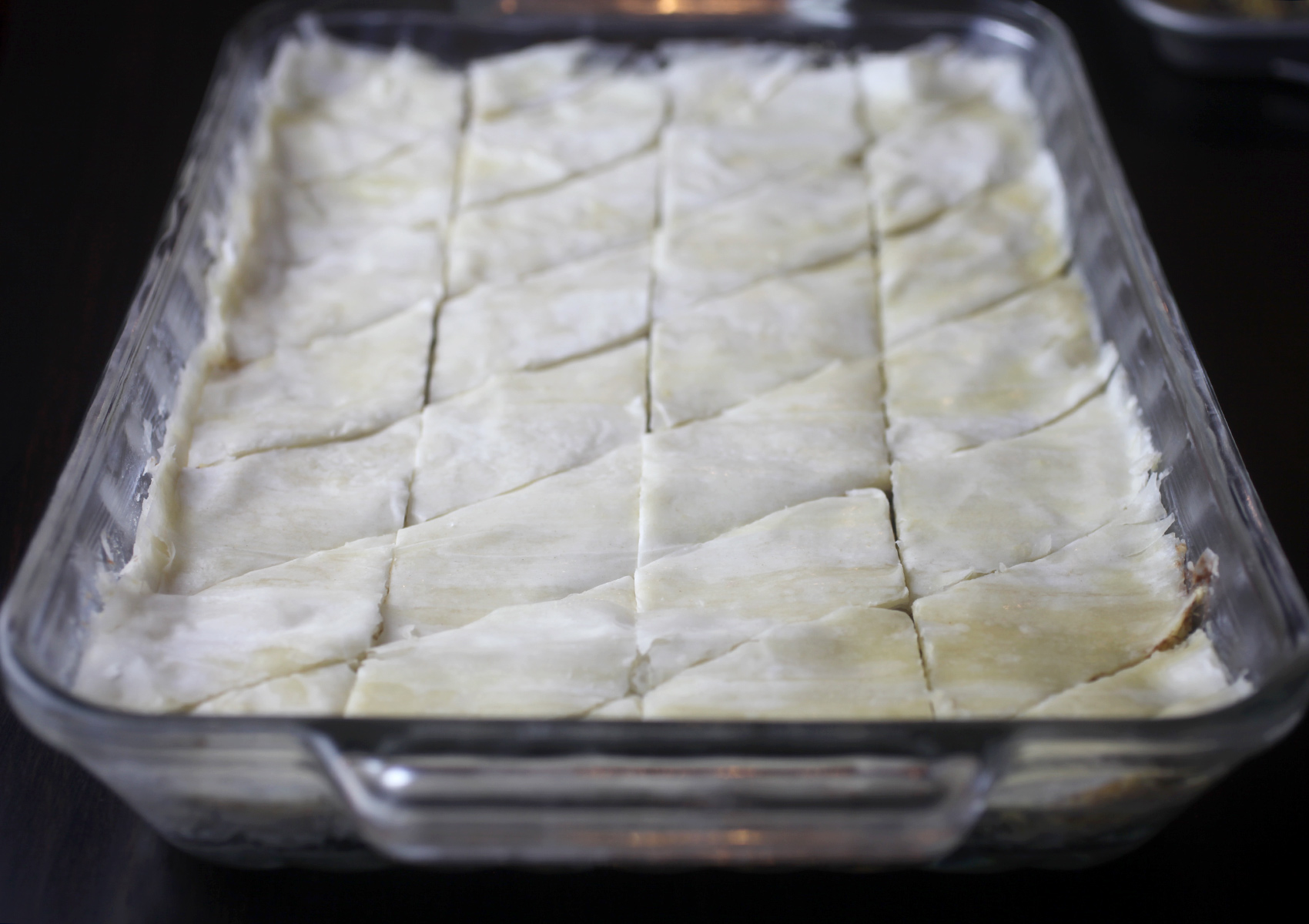 Voila… diamonds in the rough. Now 45 minutes in the oven.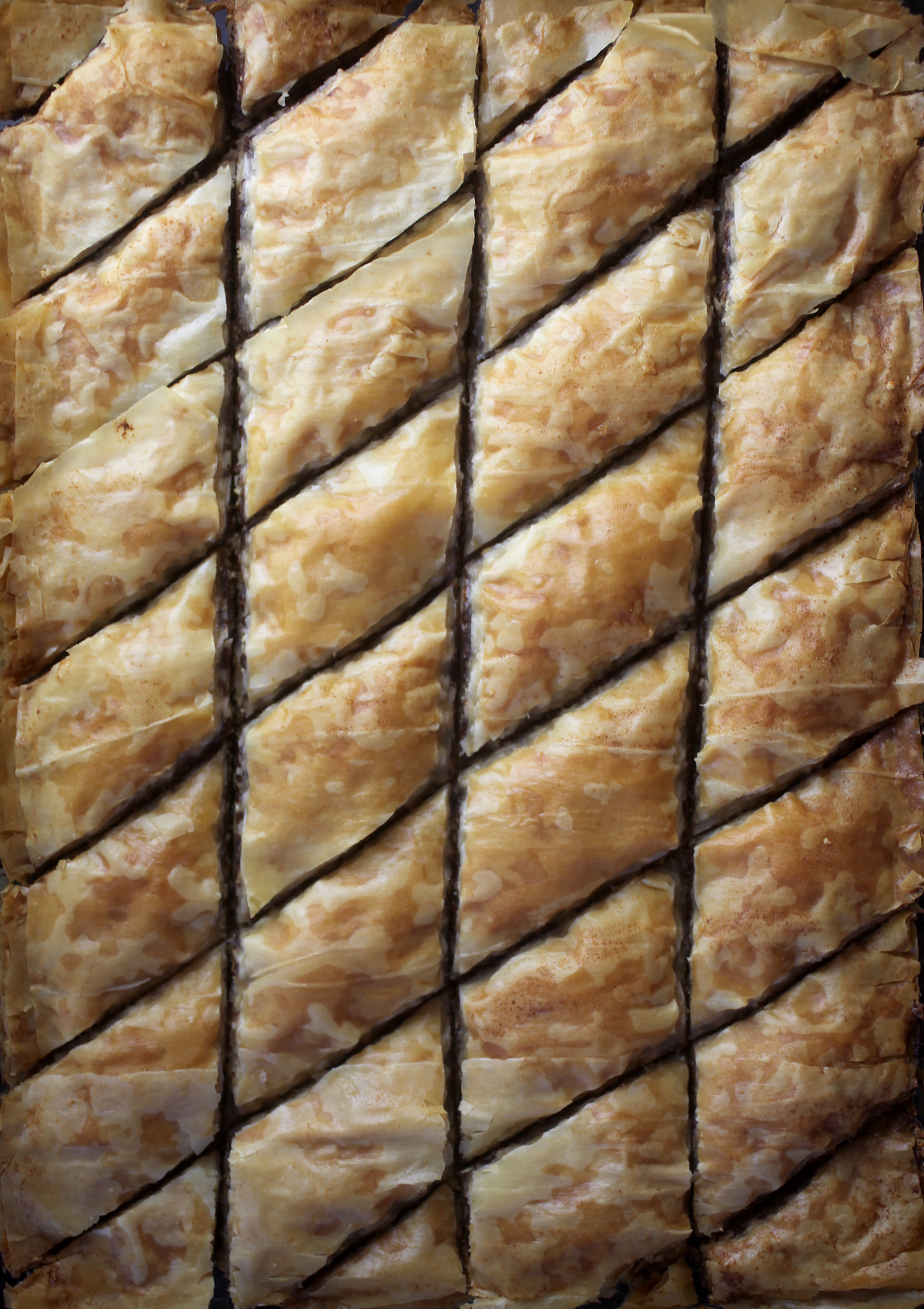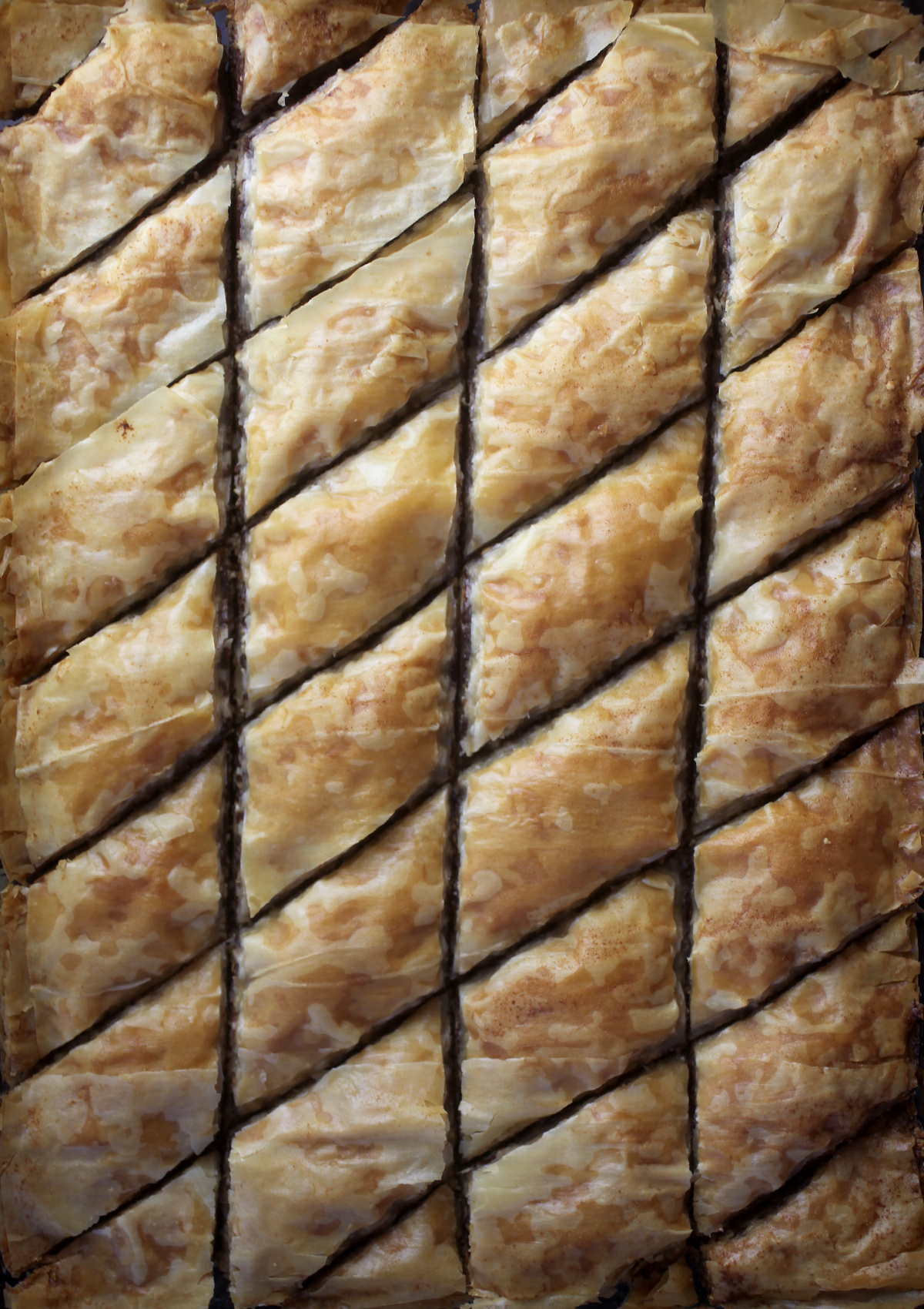 Wow… I feel like an adult.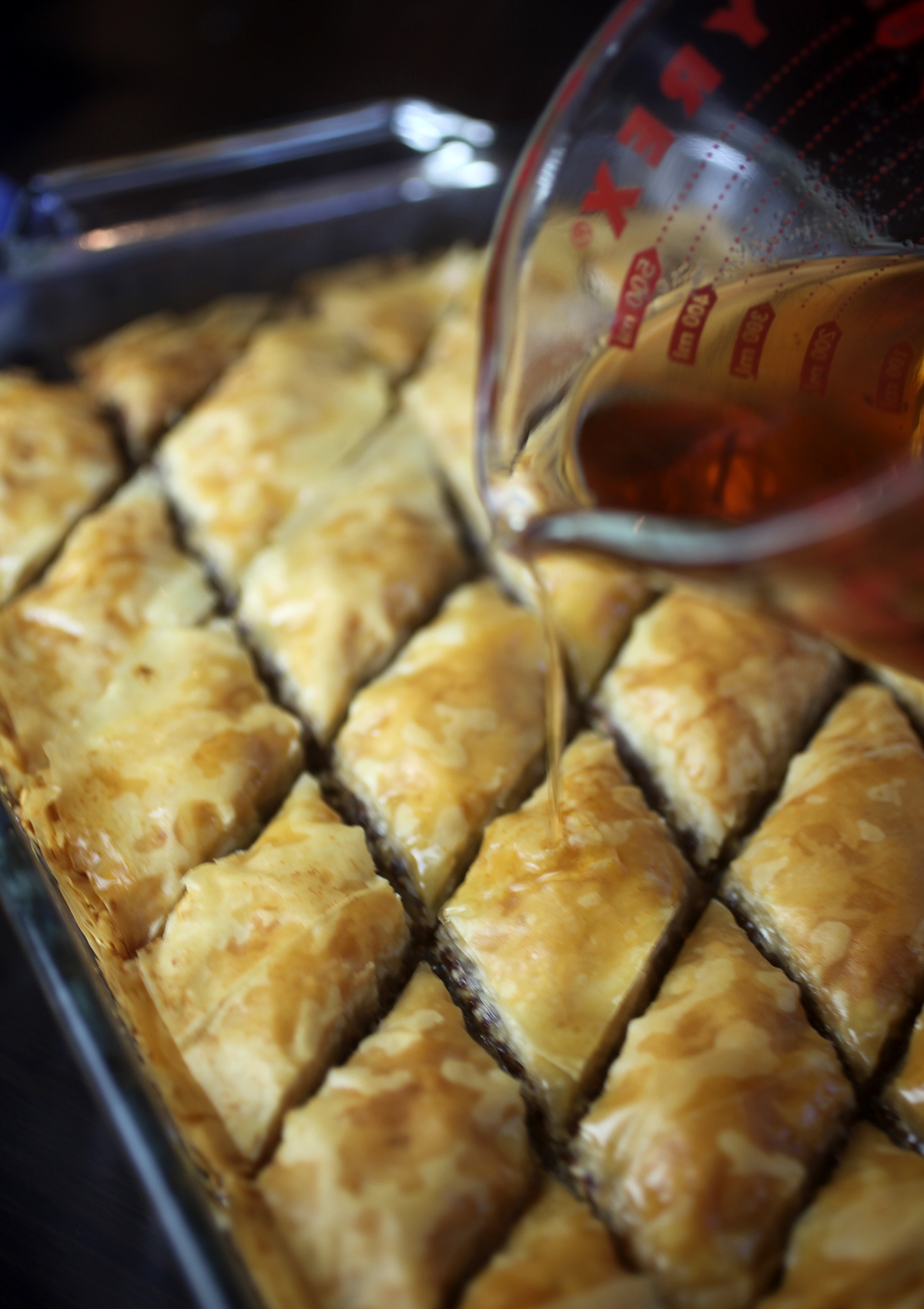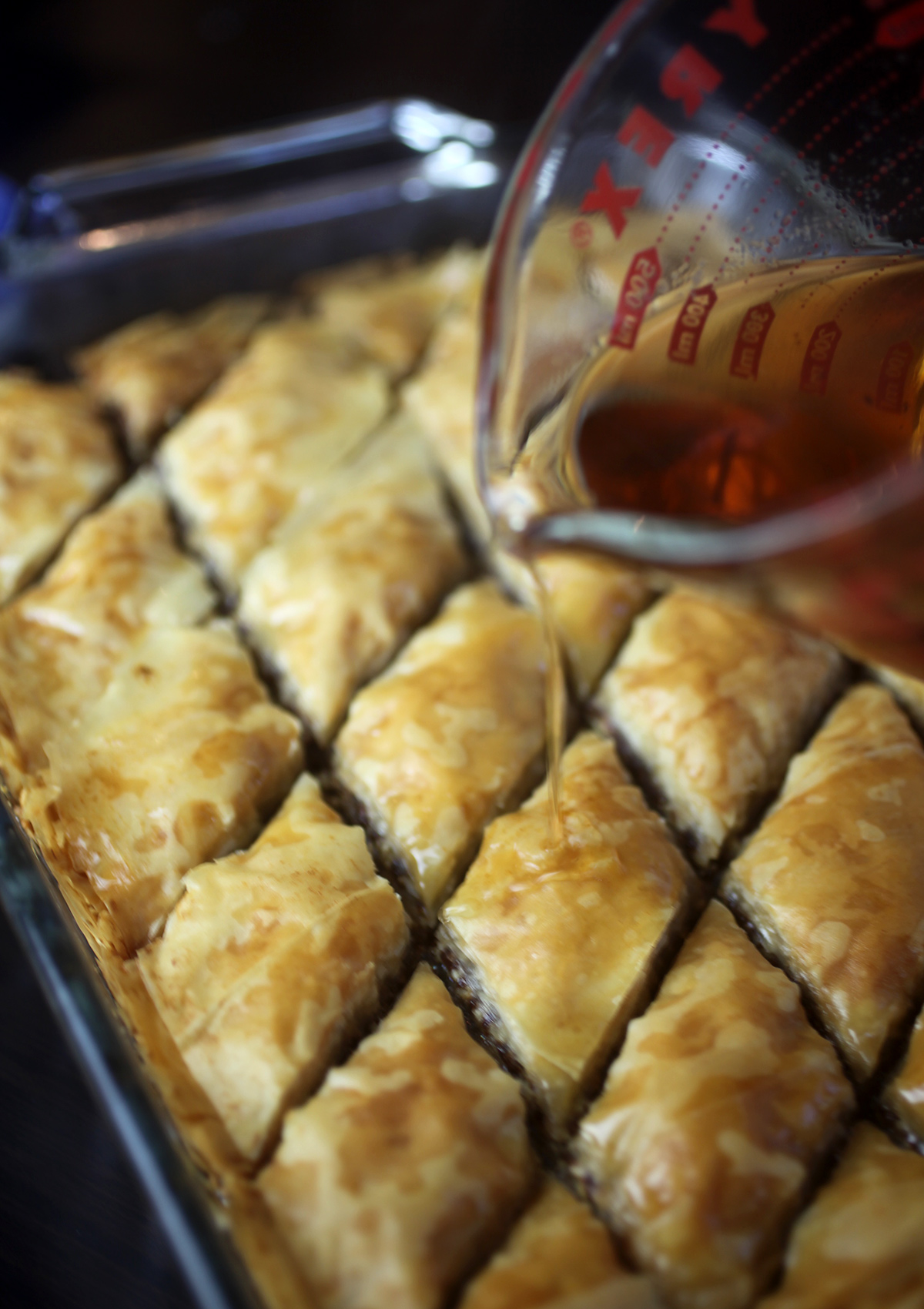 But we're not done. The Baklava gets a honey syrup poured all over the top before it goes back in the oven for another five minutes.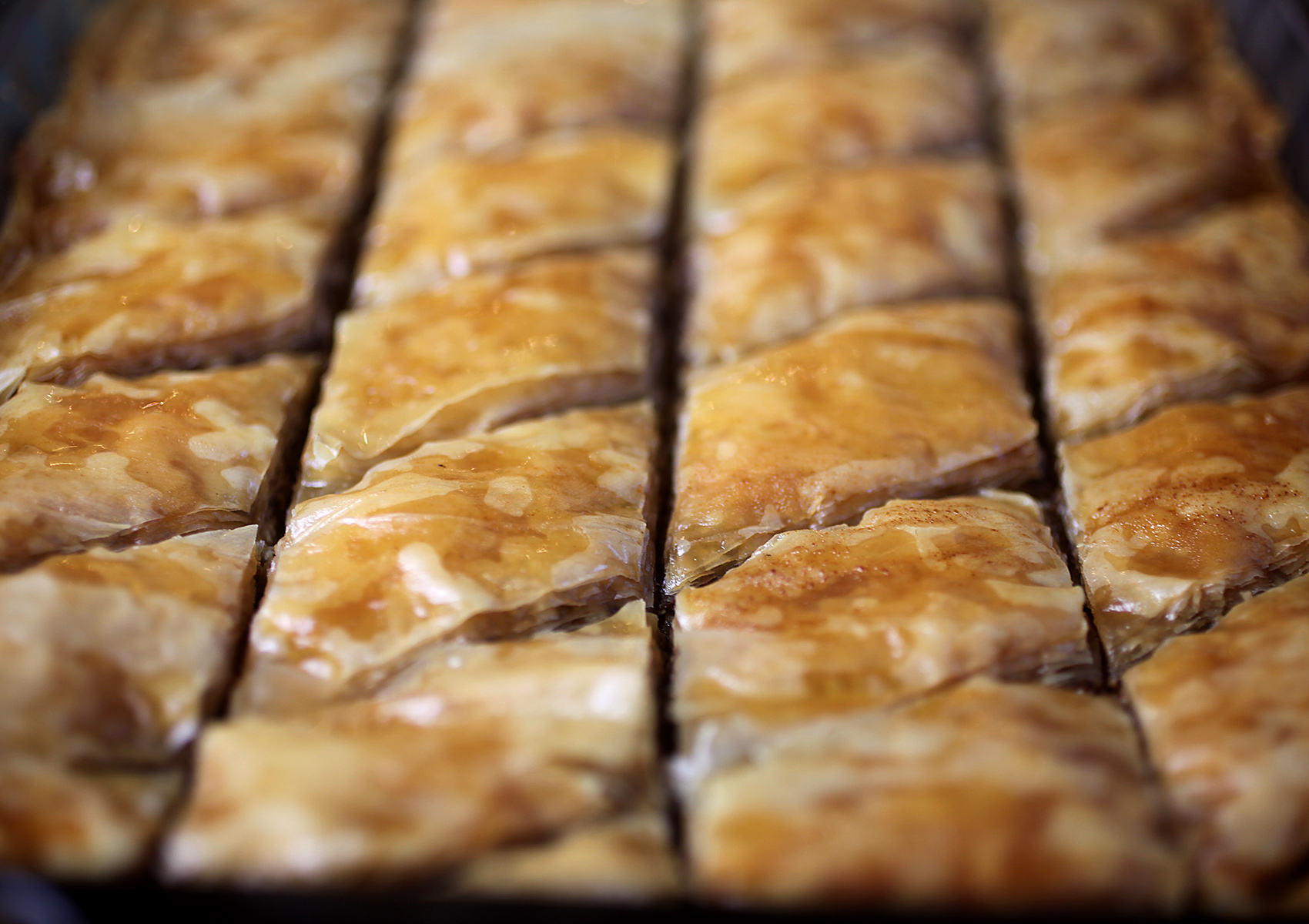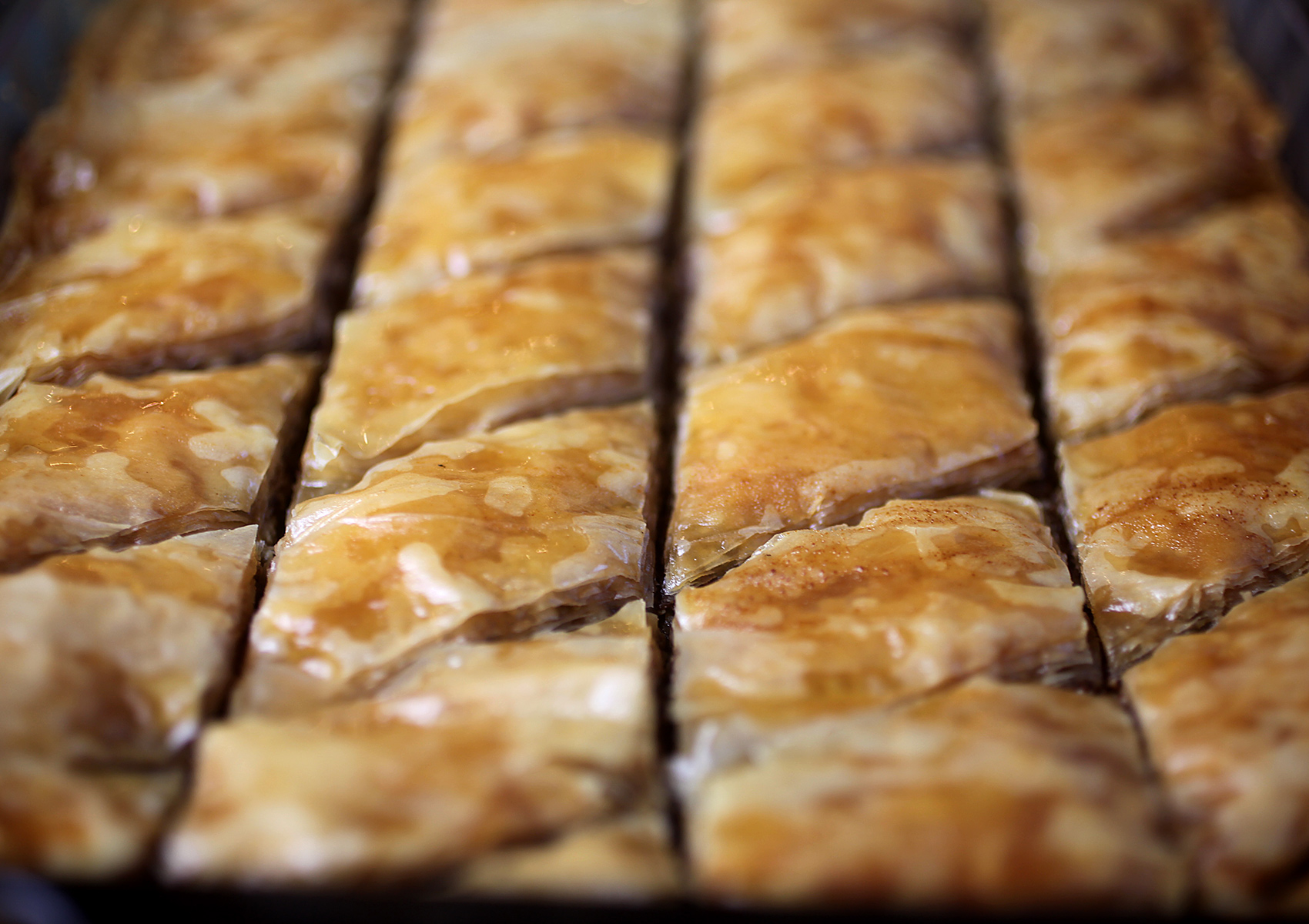 Golden and delicious!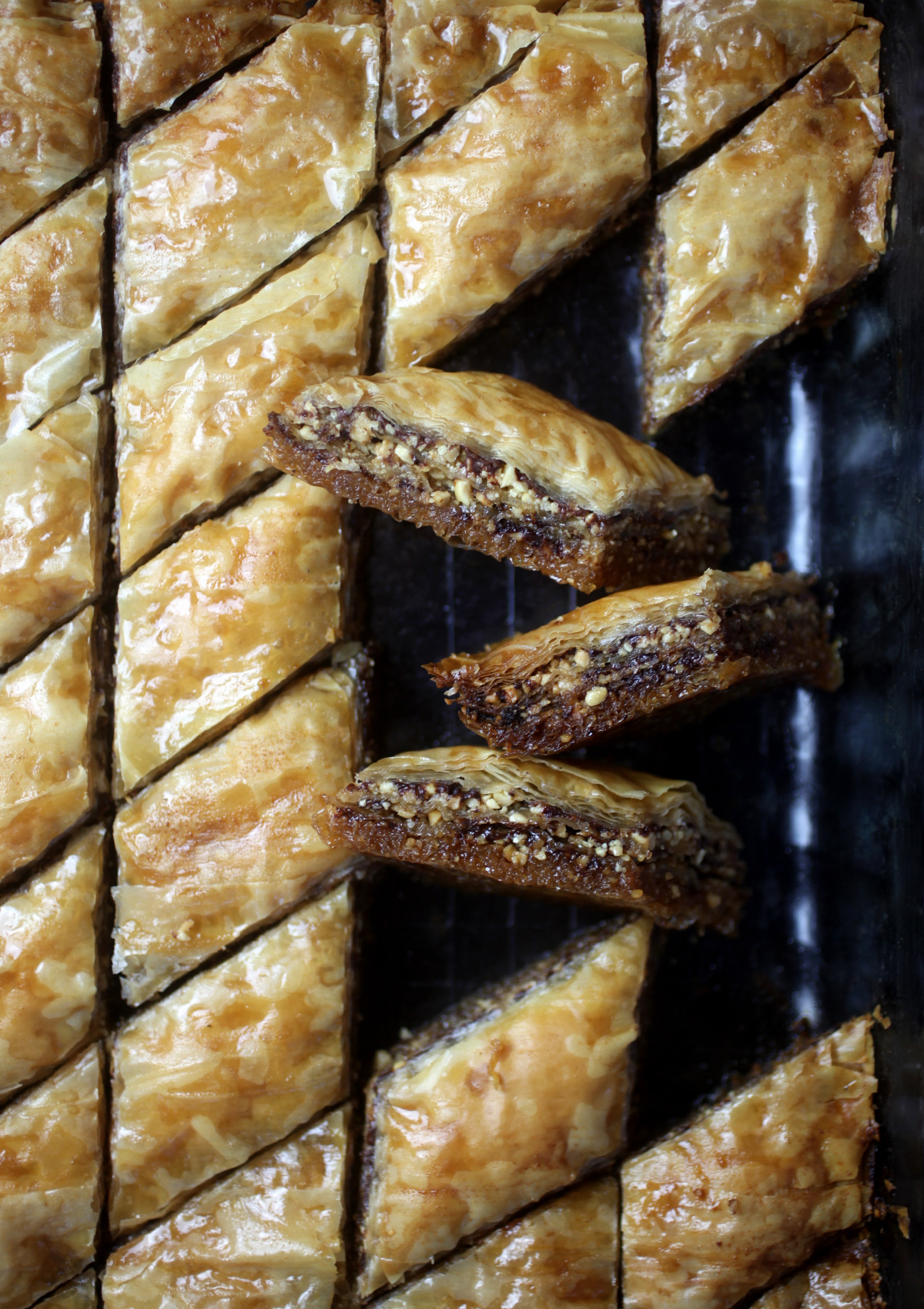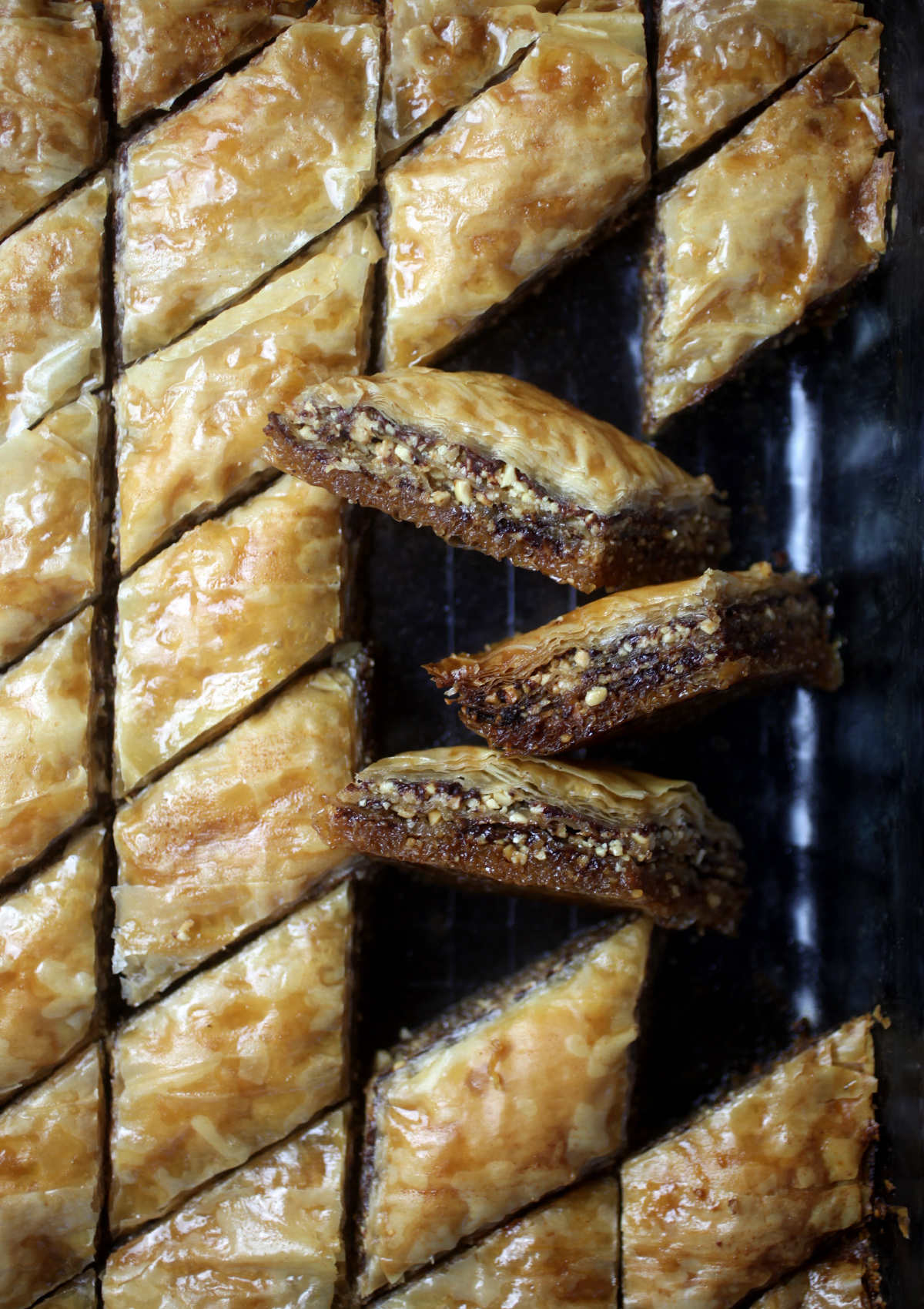 And look at the inside.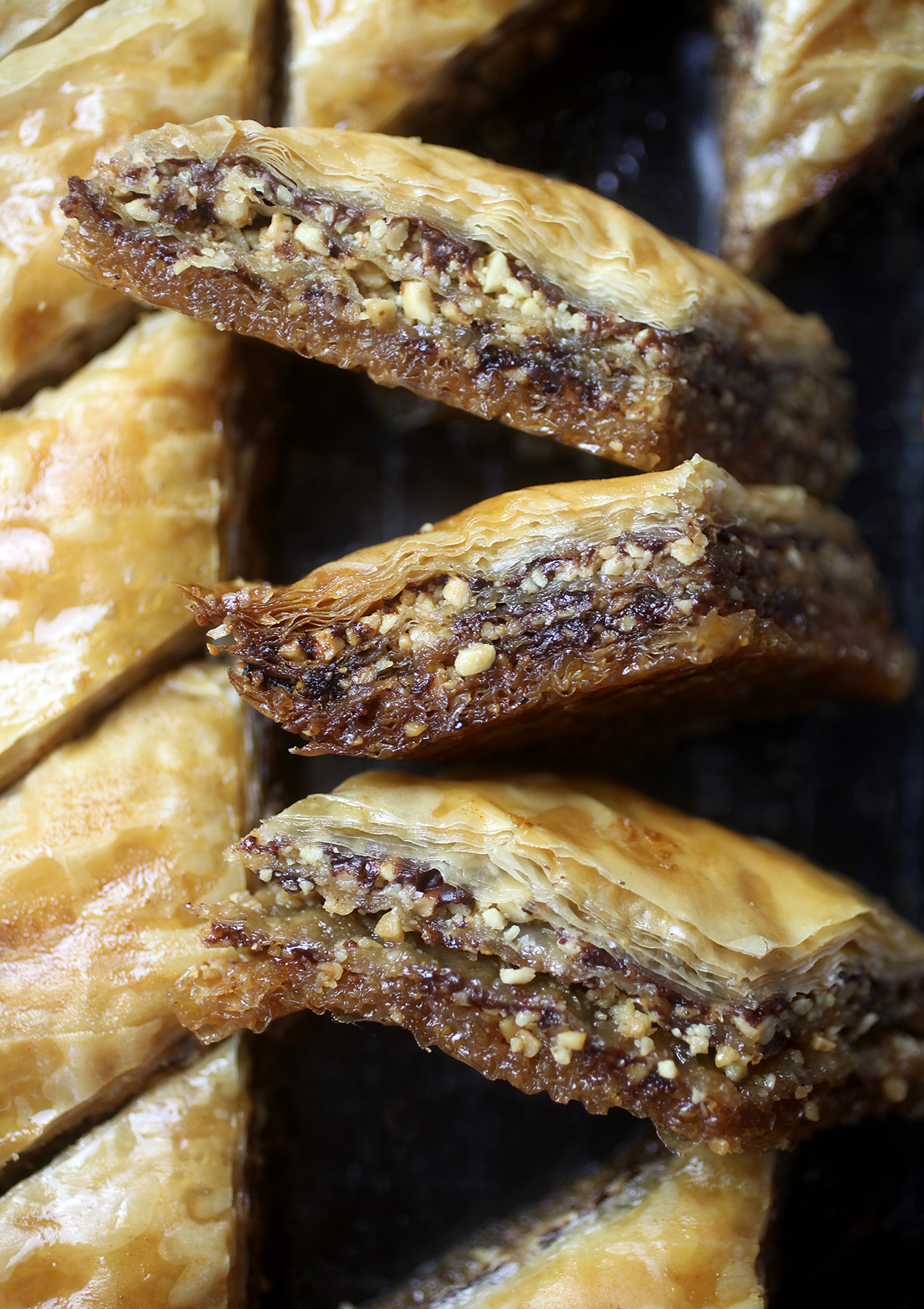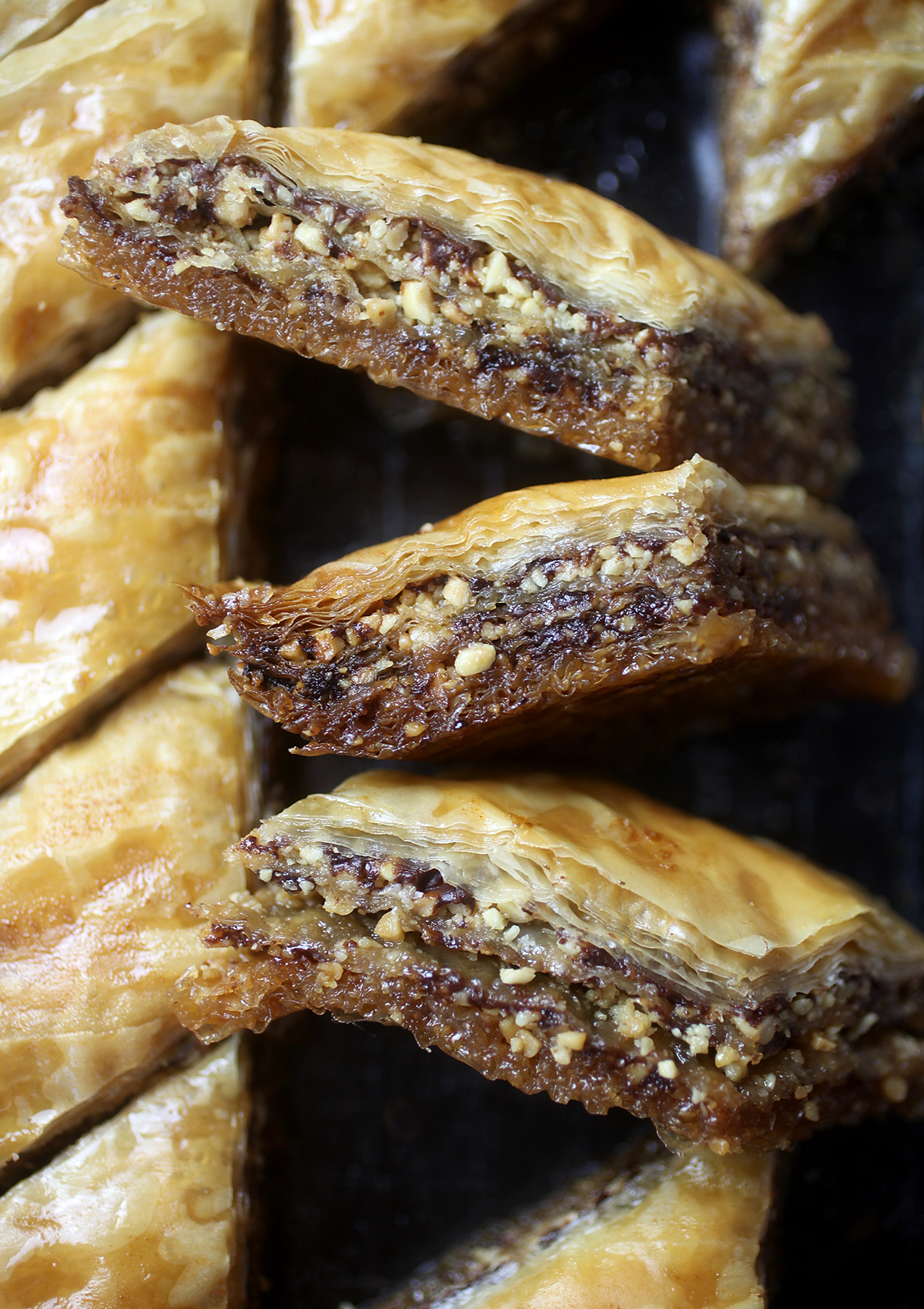 Look closer. Layers galore!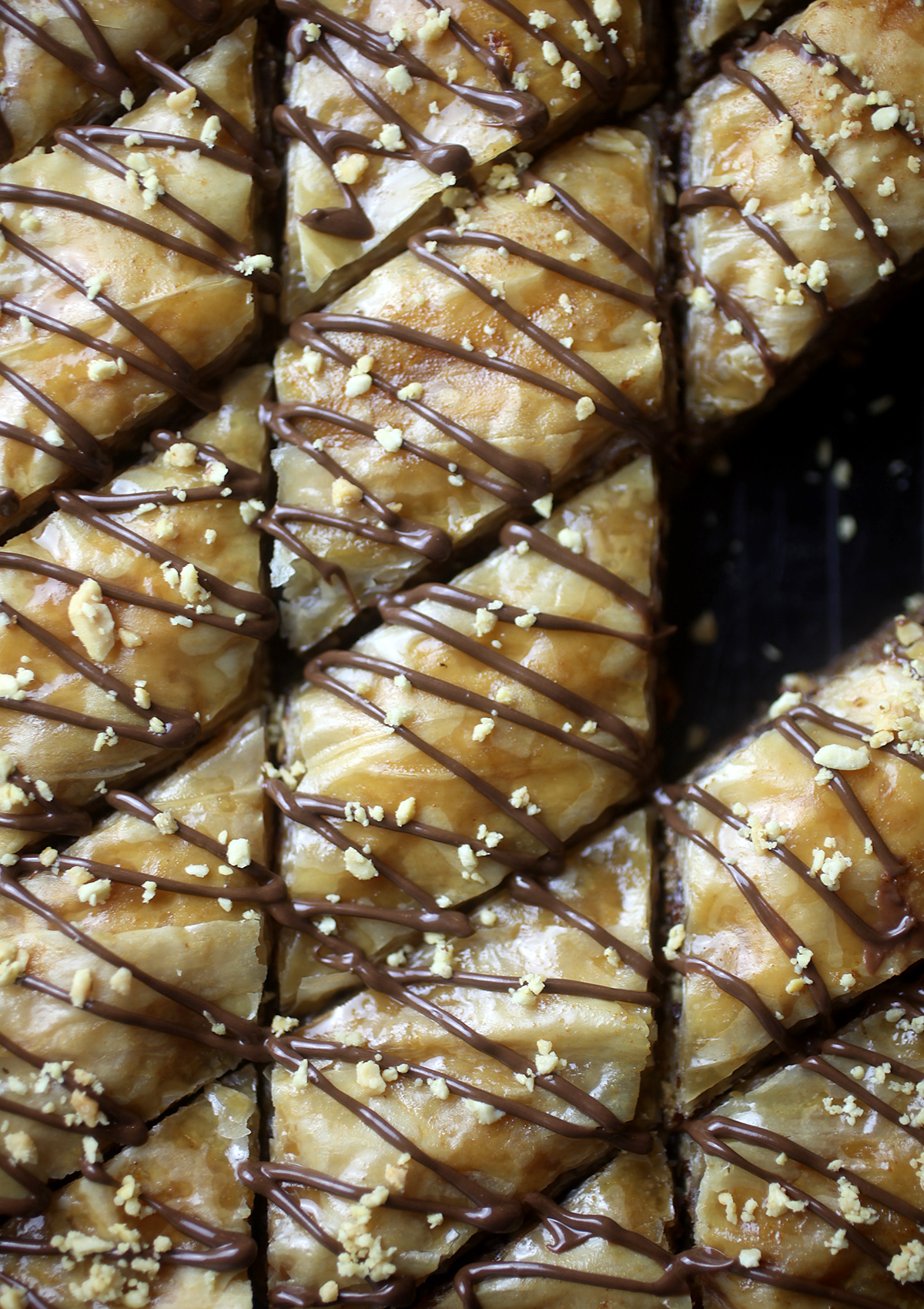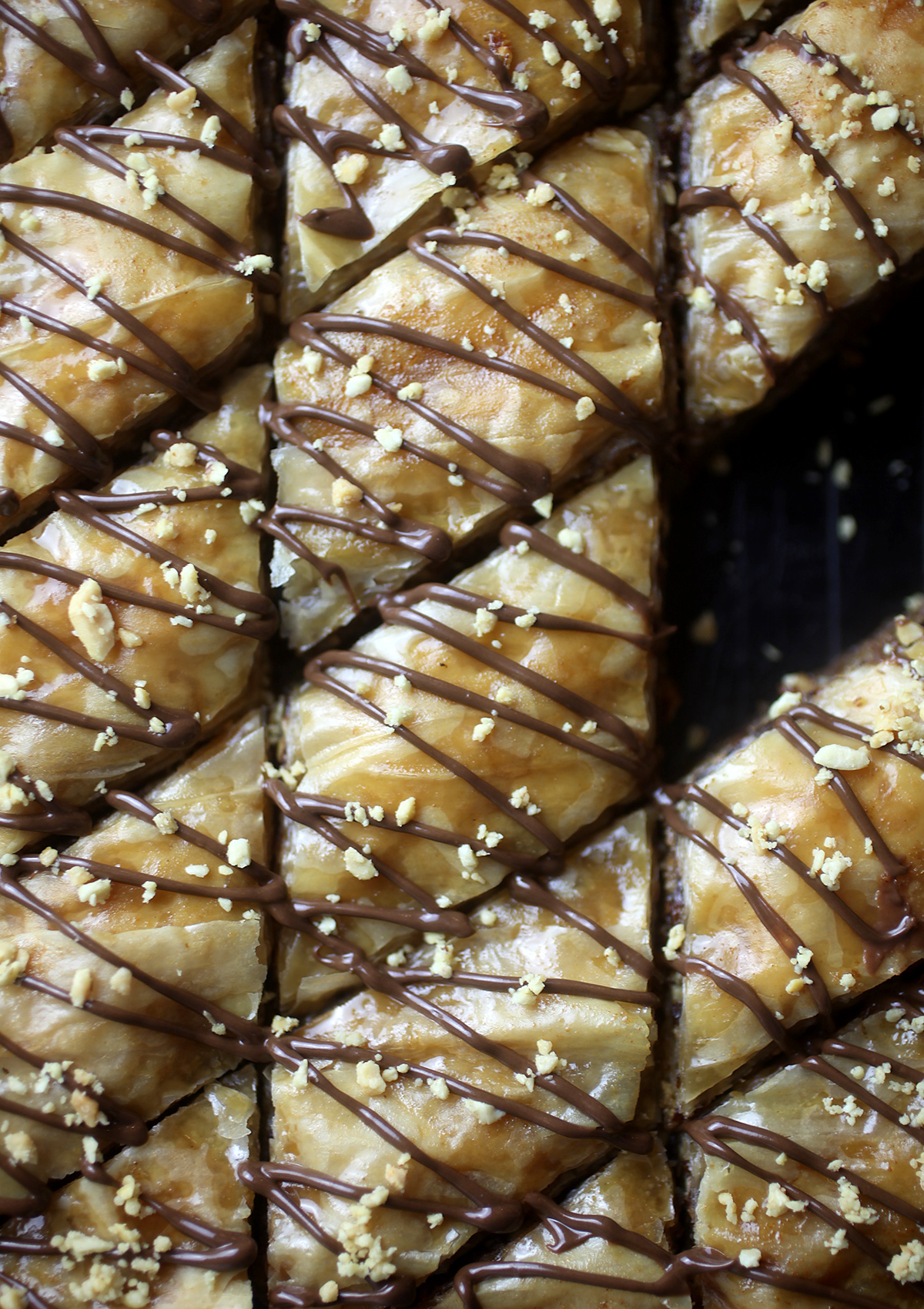 P.S. You can reserve a little bit of the chopped peanuts and hazlenut spread to drizzle on top to really sell the candy bar aspect.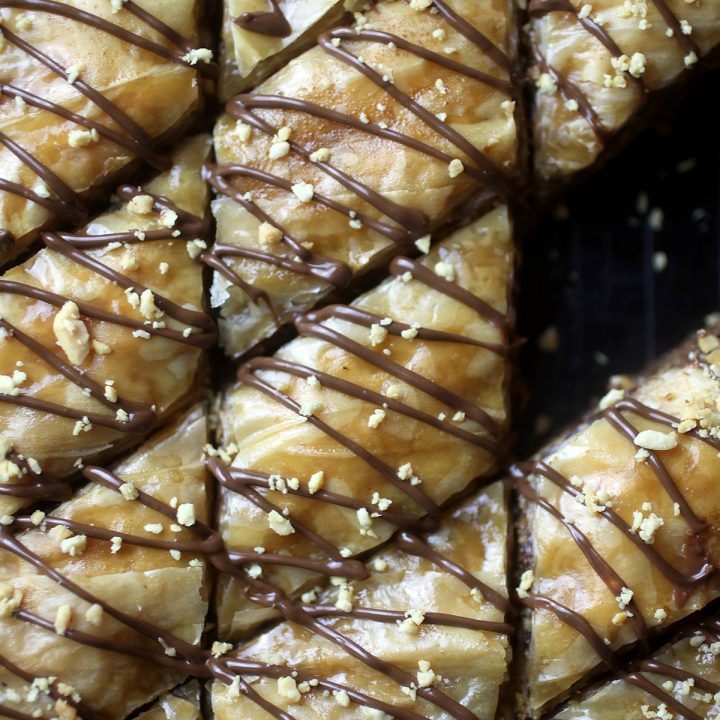 Yield: About 30 pieces
Candy Bar Baklava
Prep Time 1 hour

Cook Time 50 minutes

Total Time 1 hour 50 minutes
Ingredients
Layers:
1 cup unsalted butter
1/4 teaspoon plus 1/8 teaspoon fine sea salt, divided
1 cup chocolate hazelnut spread
1 (16-ounce) box phyllo dough, thawed - you'll need a total of 40-13X9 sheets
3 1/2 cups salted cocktail peanuts, very finely chopped
Syrup:
1 1/4 cup lukewarm water, divided
1 cup granulated sugar
1 tablespoon honey
1/4 teaspoon fine sea salt 
1/2 teaspoon pure vanilla extract
Instructions
Position a rack in the center of the oven and preheat to 350 degrees F. Spray a 9 X 13 inch light colored metal or glass baking pan with nonstick cooking spray.
Prepare the layers: Brown the butter. In a 2 quart saucepan, combine the butter and 1/4 teaspoon salt over medium high heat. Allow the butter to melt, then continue to cook the butter until it turns brown and smells nutty, about 7 minutes. Using your ears, as well as your eyes, when the butter stops sizzling, that means the water has cooked out of the butter, while its butterfat and milk solids remain; the solids will be perfectly browned within seconds after the butter goes silent. Immediately pour the browned butter into a clean bowl, scraping out any brown bits along with it. Set aside to cool.
In a small, microwave-safe bowl, combine the chocolate hazelnut spread and remaining 1/8 teaspoon of salt. Heat in microwave for about 30 seconds until somewhat fluid.
Get your layering station ready: Unroll the phyllo dough into a stack on a work surface. If your dough comes in a box with two rolls, unwrap one roll to work with at a time. If the dimensions are larger than your pan, you can trim them to size with kitchen scissors. Wet a tea towel and wring it out until it's just damp and place it over the pastry to keep it from drying out while you work.
Have your bowls of chopped peanuts, browned butter, hazelnut spread and a pastry brush ready. (Note: I went ahead and divided my chocolate hazelnut spread into thirds and placed in disposable decorating bags for ease.)
Start layering: Place two sheets of phyllo in the bottom of the prepared pan. Lightly brush with browned butter. Add two more sheets and butter them. Repeat 3 more times until you have 10 sheets in total. Sprinkle with 1/3 of the peanuts and drizzle 1/3 of the chocolate hazelnut spread on top.
Layer with another 6 sheets, buttering every two sheets. Add half of the remaining peanuts and drizzle another 1/3 of the chocolate hazelnut spread on top.
Again, layer with another 6 sheets, buttering every two sheets. Add remaining peanuts and drizzle the final 1/3 of the chocolate hazelnut spread on top. If either the butter or hazelnut spread solidify, you can melt them in the microwave for 10-15 seconds.
Add six more sheets of phyllo, buttering every two. For the last 4 sheets at the top, butter between every single sheet and then the top.
Using a thin sharp knife, cut the baklava into diamond-shaped portions, slicing all the way through to the bottom of the pan. Start with 3 straight cuts evenly spaced down the length of the pan. Then, make 8 or 9 diagonal cuts across the pan, evenly spacing them.
Bake until golden and crisp, about 45 minutes.
During the final 10 minutes of baking, prepare the syrup: Pour 1/4 cup of the lukewarm water into a 1-1/2 quart saucepan. Gently pour the sugar over the water in an even layer. Add the honey and salt. Place the pan over medium heat and stir slowly in a figure-eight motion to help the sugar dissolve while the mixture heats up. Once the syrup is nearly clear, increase the heat to high and stop stirring. Boil, swirling the pan occasionally, until the sugar caramelizes and turns a deep amber with a few wisps of smoke, 7-8 minutes total.
Briefly remove the pan from the heat and carefully pour in the remaining 1 cup of lukewarm water. Carefully swirl the pan to incorporate the water into the caramel. Place the pan back over high heat and boil to a thin syrup, reducing it to about 1-1/4 cups, about 5 minutes.
When the pastry has finished its 45-minute bake, transfer the pan to a wire rack to cool for 10 minutes. Leave the oven on. As soon as the syrup has finished reducing, whisk in the vanilla and slowly drizzle the hot syrup over the still-hot pastry. Return the pastry to the oven to bake for an additional 5 minutes. Remove and let cool completely in the pan set on a wire rack. Rest at room temperature for at least 4 hours before serving.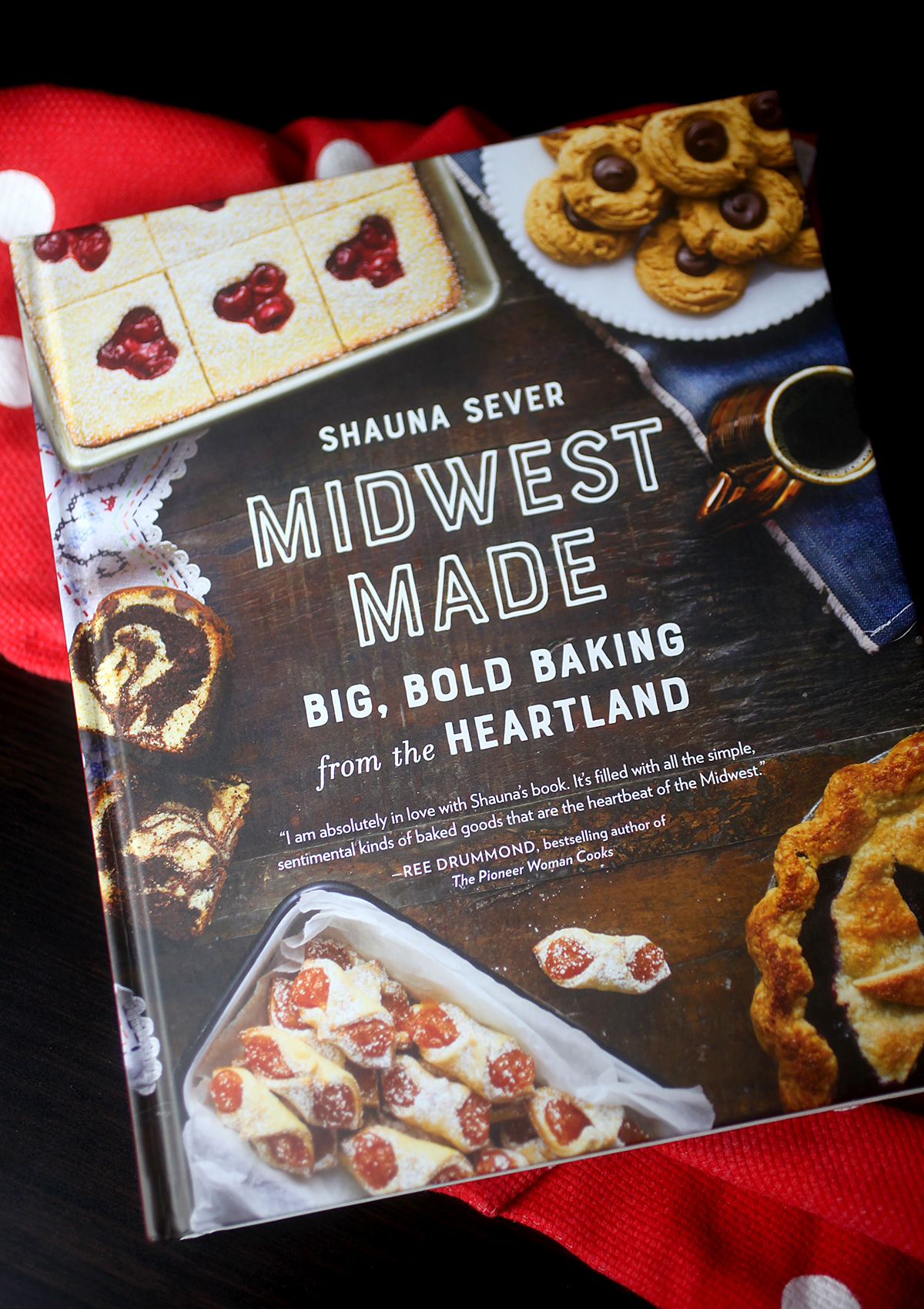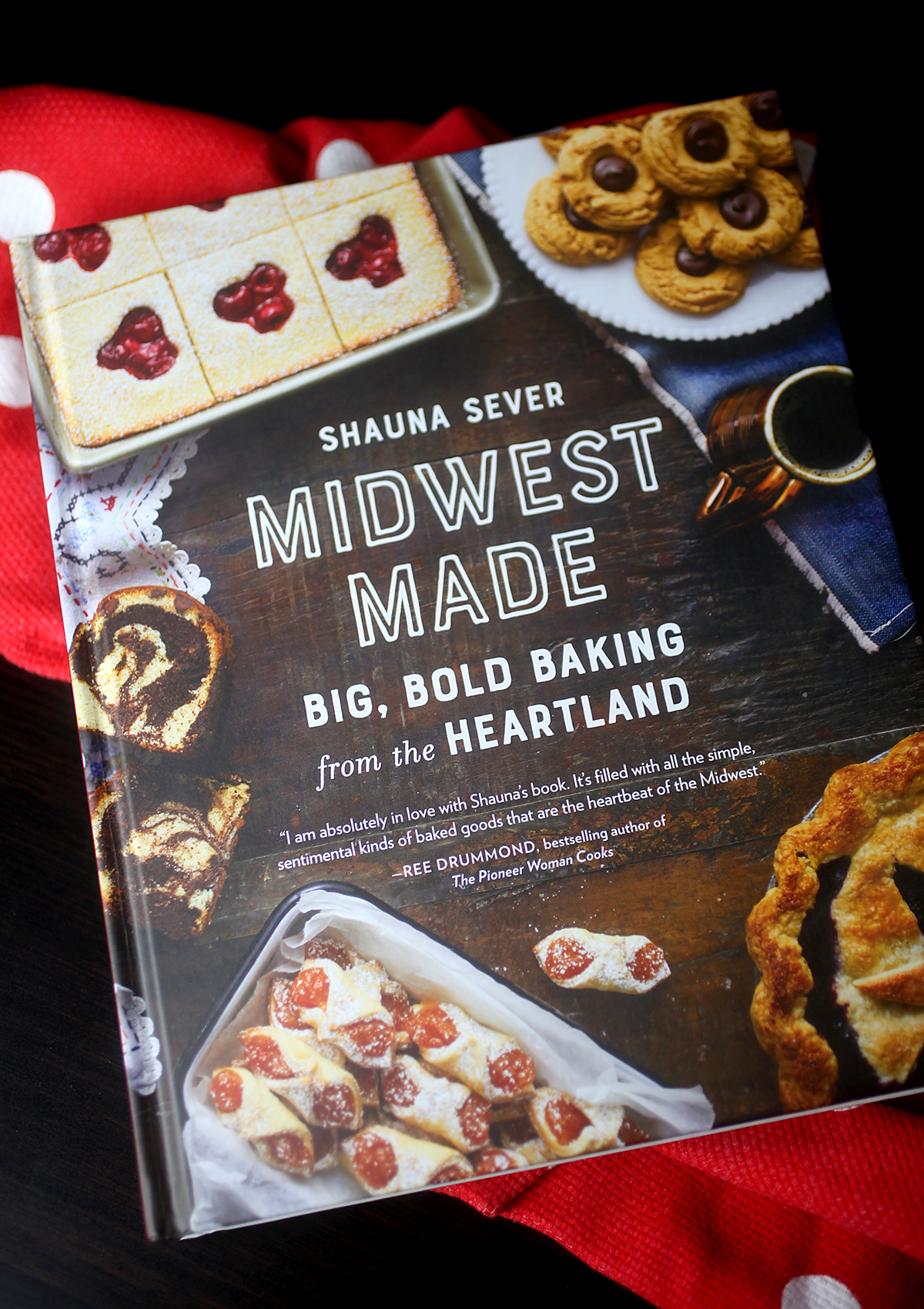 Here's Shauna's book. And let me tell you … it is fantastic! There are so many more things I want to bake.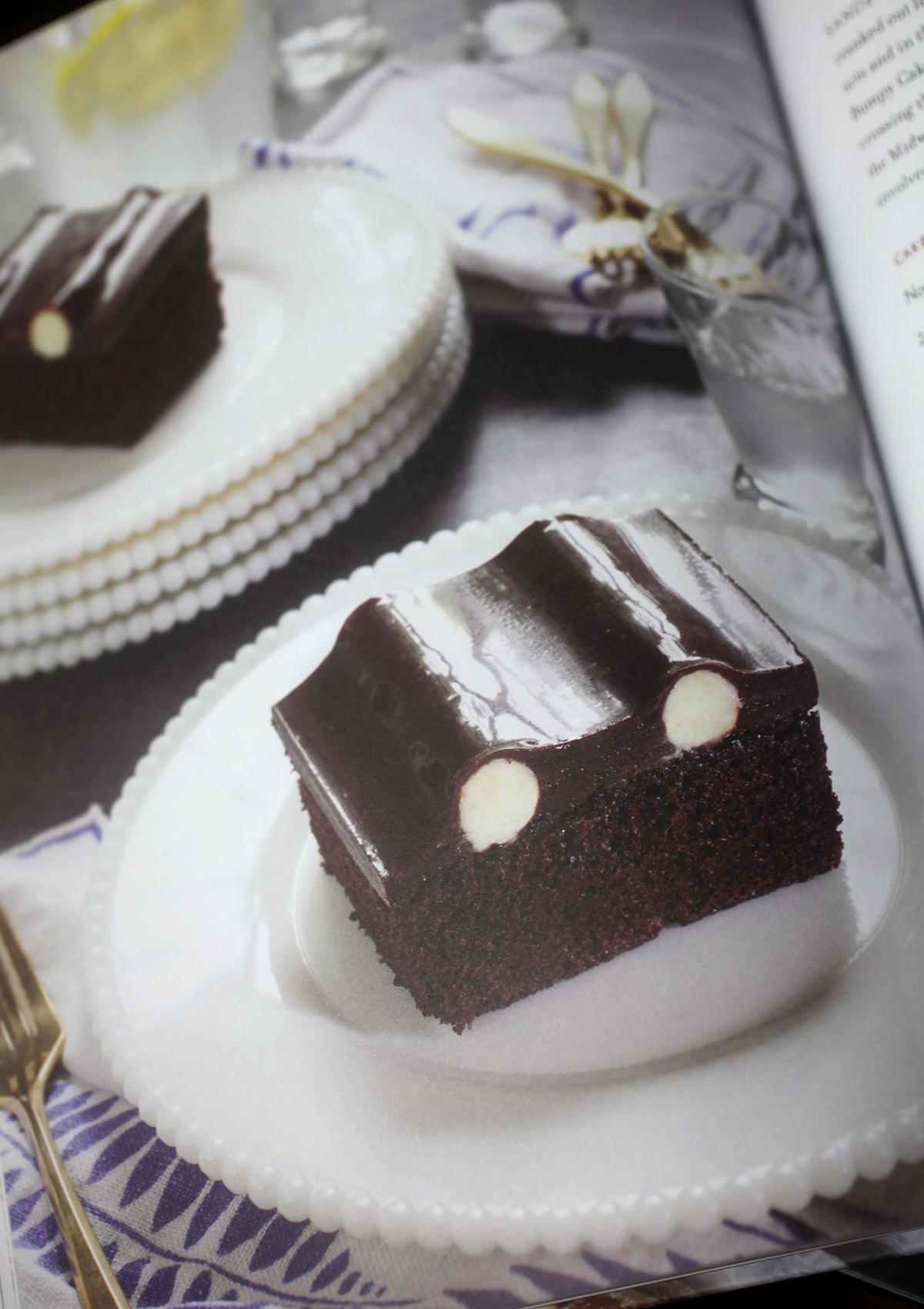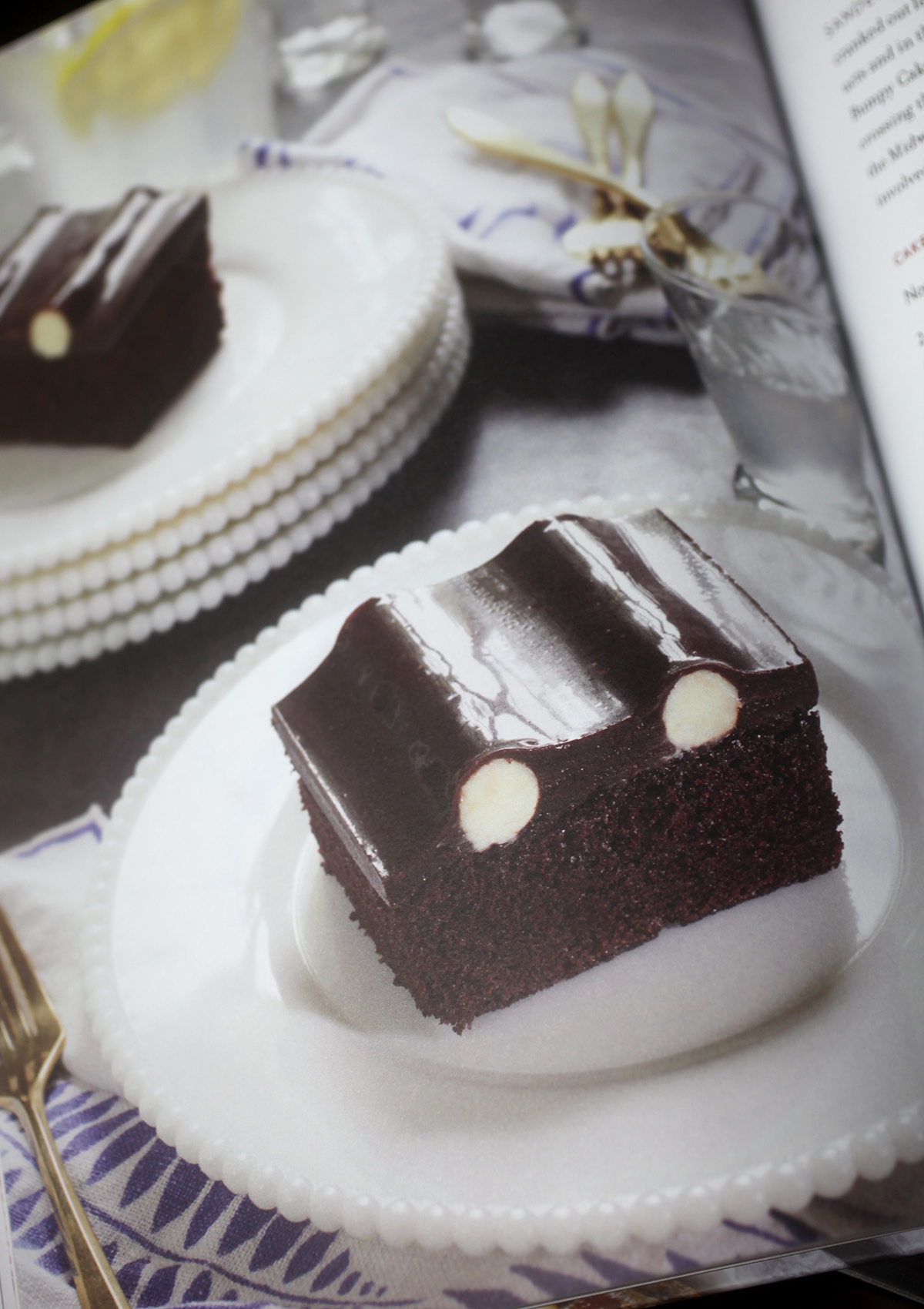 My favorite, section is probably the Counter Cakes (love that name) and this one called Chocolate Bumpy Cake is calling my soul. I had to force myself not to bake it because I always lean heavily toward chocolate overload.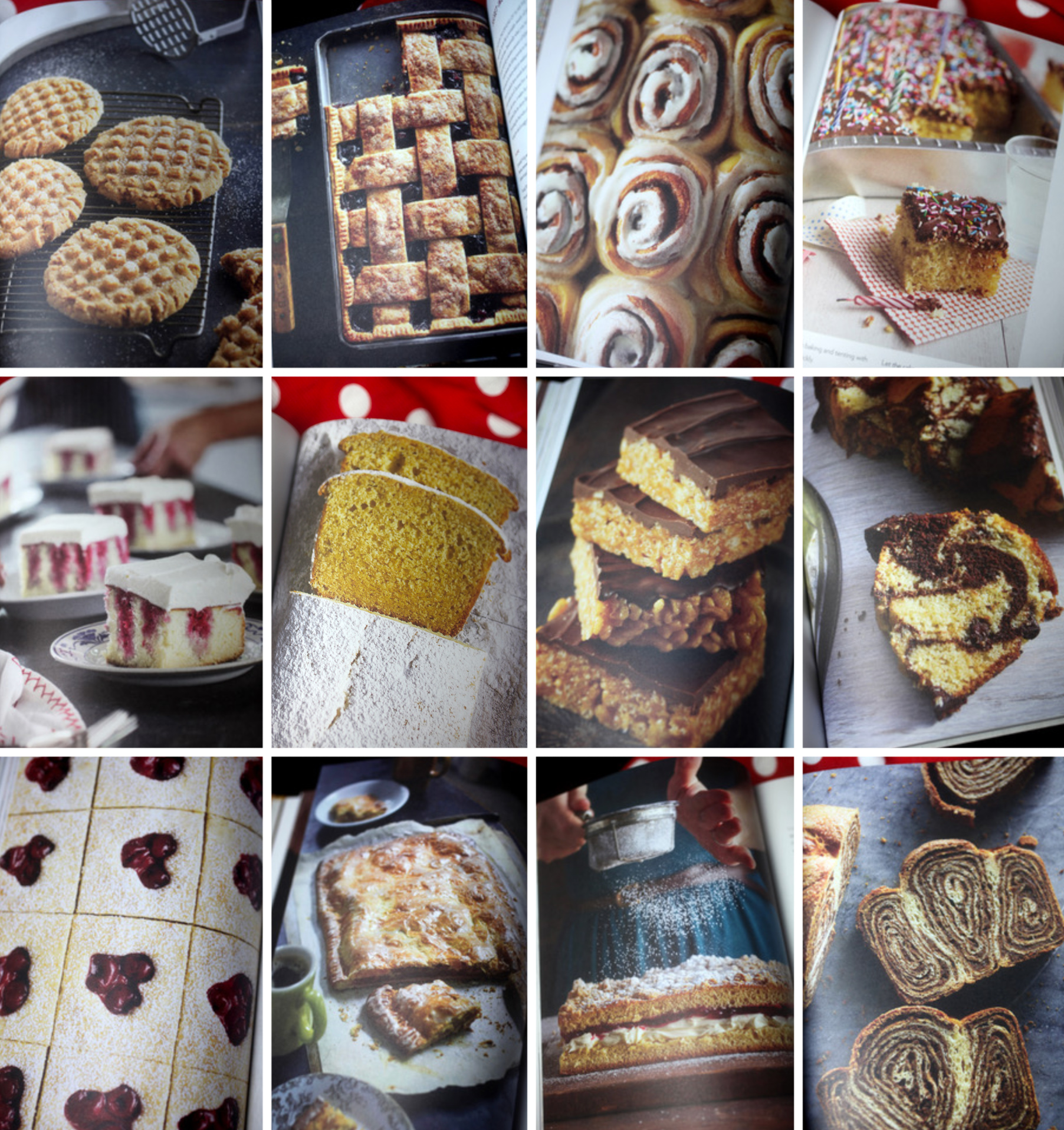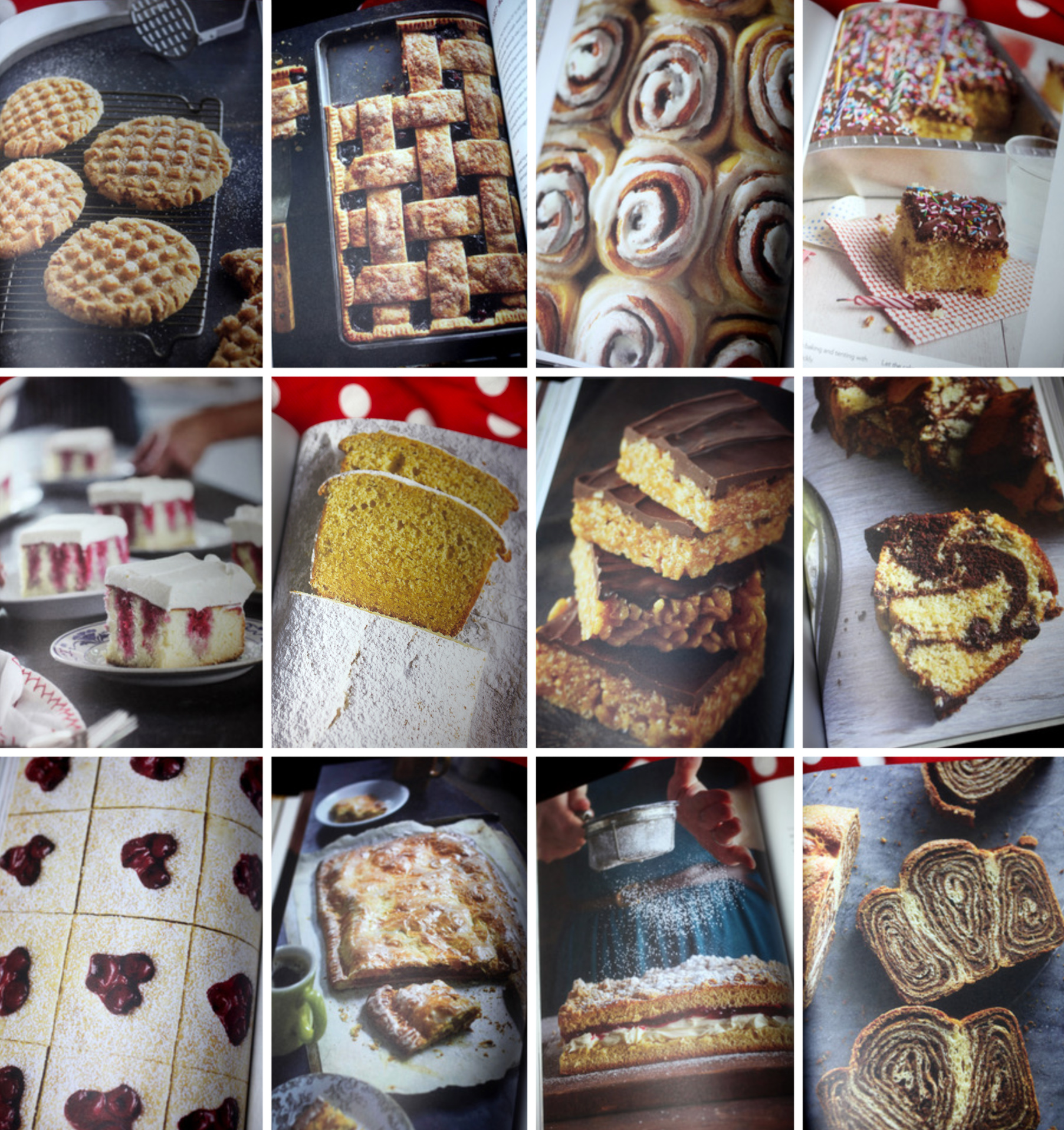 Here's more good stuff to tempt you. Cakes, Cookies, Pastries and Pies… Oh my! Check it out. I think you'll love Midwest Made as much as I do.