Happy Valentine's Day!
Here's a super last minute idea or more likely – an early idea for next year. Just something quick and cute.
And if you don't need any treats, you might want to mosey on down towards the middle of this post.
I made little heart chocolates. Hi.
And packaged them up like tiny candy bars. Too cute. And thanks for reading.
This is super easy. You'll need a candy mold though. The product number is in the photo below if you want to search for it. I found mine at Cake Art. The squares are 1.25 inch.
And because I have a mini candy coating store growing in my kitchen, I decided to use some of it up for these.
Melt pink candy coating and then using a toothpick, draw heart shapes in the cavity of the candy molds. Let it dry and then pour melted chocolate candy coating over the top. Mercken's is what I used for these. Fill the cavity enough so it reaches the corners without overflowing and then tap the mold on the counter to settle and even out the coating. Repeat with the remaining cavities. Place in the freezer for a few minutes to set and then pop them right out of the mold and place on wax paper. Repeat and repeat until you have what you need.
Of course, you make these even easier and unwrap existing candy bars to use.
Now the fun part. I had these pink foil wrappers that were lonely and waiting to cuddle something. They were really too big for the bars I made so I cut them in half.
Lay the chocolate on the wrapper, fold the two short pieces first and then the long ones.
The foil is super thin so you can press it pretty flat.
These are also fun to wrap up your cake pops if you do simple decorations.
After your bars are all wrapped in foil, you can add paper wrappers.
I created these with different sayings.
Even one for the pinterest lovers out there.
Making your own wrappers is a cute gift or favor idea. Use the same process and create your own wrappers for your theme. You can turn any candy bar into something a little more special.
But now let me tell you why I really made these.
I bought something for myself a few weeks ago that I thought was the cutest thing ever.
Or at least the cutest thing that week.
It was on sale thank goodness. Wanna see?
It goes with the theme so far.
And it's really what inspired these tiny wrapped chocolate bars.
But this chocolate is a little bit bigger.
And sassier.
The good thing is it won't melt in my hands.
Check it out. A Cha Cha Chocolate Clutch.
Loving the label.
And look at the chocolate candy clasp.
I die.
And the inside lining. So cute.
It's pretty big, too. Actually it's a really big clutch.
Big enough to carry all my cha cha chocolates.
Thankfully it has a chain strap, too.
And yes, I couldn't help but make little Cha Cha labels. It's just too much fun to say.
But I haven't mentioned the best part about this bag. It turns out I didn't just buy one.
Yep. Right now I have one for each hand and that just looks plain silly.
So who wants to help me out and take one of these off my hands?
Anybody?
Somebody?
Enter for a chance to win a Kate Spade Cha Cha Chocolate Clutch.
Just leave a comment on this post and say something sweet about someone you love. It's that kind of day you know.
Deadline to enter is

Thursday, February 16, 2012 at 6 pm ET.

Sorry, Time's Up. Winner Announced Below.

One winner will be chosen at random and announced sometime Thursday evening.
Happy Valentine's Day and good luck!
Okay, cha cha time. Let's see who won the cute clutch. By the way, I'm so glad I didn't have to choose based on your comments. I would have never been able to pick. So many of you have the sweetest sweethearts in your lives. It made me so happy to read your comments. Smiles and smiles.
But the random winner is………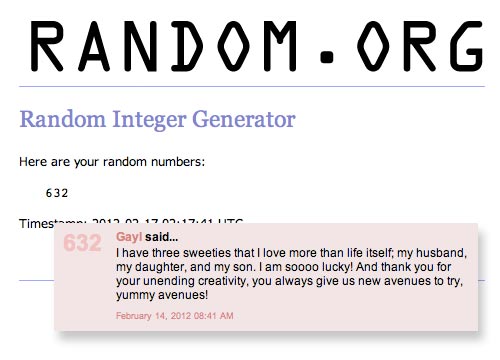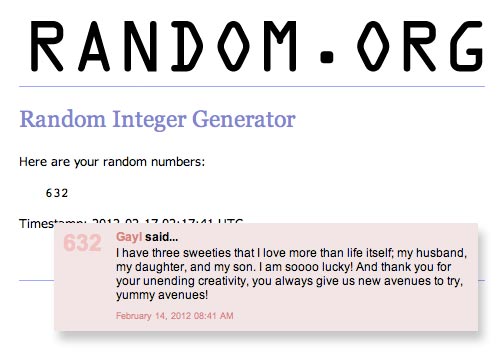 Yay! Congratulations Gayl! Hope you have fun with the clutch.
Note: Giveaway sponsored by moi.