If the Valentine's Day Cake I made last week seemed like a little too much, then I think you'll enjoy these. They require very little ingredients or effort and they're still pretty cute.
They are sweet and red and a perfect little treat to give on the 14th. And even better, they are super-easy!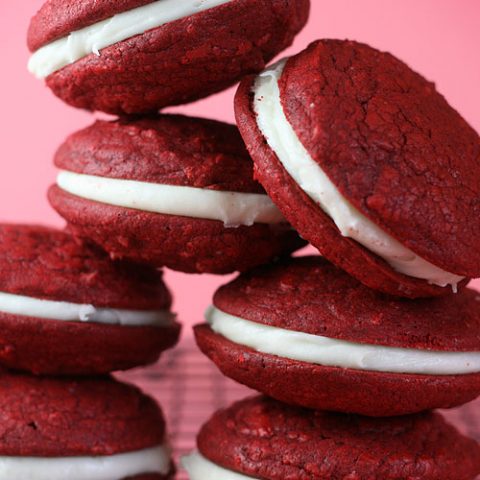 Yield: 12 sandwich cookies
Red Velvet Sandwich Cookies
Prep Time 20 minutes

Cook Time 12 minutes

Total Time 32 minutes
Ingredients
Cookies
1 Box red velvet cake mix*
1/2 cup butter, softened to room temperature
2 Eggs
Cream Cheese Filling
1/2 cup butter, softened to room temperature
8 oz. Package cream cheese, softened to room temperature
1 lb. Box of confectioners' sugar
1 tsp vanilla
Instructions
Cookies: Preheat oven to 350 degrees.
Mix ingredients until combined.
Drop spoonfuls of cookie batter onto baking sheet about two inches apart.
Bake for 10-12 minutes. Cool.
Filling: In a mixer, cream butter, cream cheese and vanilla.
Gradually add sugar and mix until smooth.
Spread filling between two cookies and press gently together.
Notes
* Any cake mix should work.
Tip: For consistent size cookies, use a 1.5 inch small ice cream scooper when placing batter on the baking sheet.
The finished cookie size will be about 3 inches wide.
To assemble, spoon a small amount of frosting on the flat side of one cookie. Take another cookie and press together until frosting is flush with the edge.
And ENJOY, of course!
Now, some people would call using a cake mix cheating.
Nope.
This is cheating. Or maybe it's just being resourceful. Either way… still cute.
Look familiar?
You guessed it. Oreo Cakesters, baby. I have been wanting to try these for a while now.
I mean, one of my favorite cookies made into a cake has to be good.
And since I was in a valentine kinda mood, I decided to eat my heart out.
Cakesters… a cutter… and cute!
And the best part is eating the scraps along the way. Yum!
The cakesters are about 1.75″ wide. So you will need a cutter smaller than that.
Now, since Valentine's Day is almost here, here's another quick giveaway.
I have this cute little book called Megan Hearts Baking
that was given to me by the authors. It is the journey of a young girl learning to make cupcakes for a friend's birthday party and also includes a few recipes. It would make a sweet little Valentine's Day present for any young girl interested in baking. The winner will be chosen Monday evening, hopefully giving me just enough time to get this in the mail for Valentine's Day. I'll try.
To enter:
Just leave a comment below with what you'd like to have for Valentine's Day.
Make sure to leave an email or blog link with your comment so I can contact you if you win.
Deadline to enter is Monday, February 9th at 5:00 pm.
I'll announce the winner sometime Monday evening on this blog post.* The winner will be chosen at random using the random.org integer generator.
And don't forget to enter the other giveaway announced today. Hurry… there's not much time on this one either.
Time's up.
Thanks for sharing all your Valentine wishes. They were all very sweet. They made me smile and some even made me a little teary-eyed. I really hope each and every one of you have a Happy Valentine's Day!
Now for the winner of the Megan Hearts Baking book. It's comment #72!
Congratulations Julie … I hope you have someone sweet to give it to.