…because you'll want some with this one.
See what happens when I crave chocolate. I've been waiting to make this cake after seeing the recipe in a magazine. It's based on a mix, and has buttermilk and peanut butter cups added to it. The frosting is made from dark chocolate, peanut butter and heavy cream.
What more could you ask for?
…maybe that tall glass of milk.
While you contemplate, here's the same Peanut Butter Cup Cake recipe online.
And here's what I did different:
• Baked it in two 6″ cake pans
instead of the recommended 9″
• Made 6 cupcakes with the leftover batter.
• Used twice as many peanut butter cups. I went a little crazy with the extra and used them on top of the cake.
• Also, I didn't let it set for an hour in the fridge like recommended. I couldn't wait that long.
As a side note, I found the dark chocolate in the grocery store. It was the new Starbucks brand that's been advertised lately on TV.
And if you find that double chocolate and peanut butter just isn't enough, try it heated a little and served with vanilla ice cream. I did, and it fixed my craving… for now anyway.
UPDATE: The recipe link no longer works, so here's the recipe adapted from Family Circle Magazine.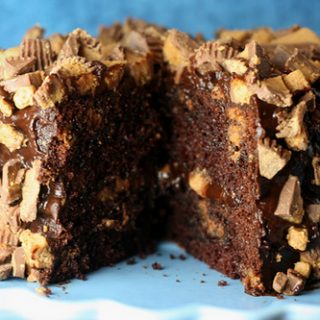 Yield: one 9-inch layer cake
Peanut Butter Cup Cake
Total Time
1 hour
30 minutes
Ingredients
1 devil's food cake mix
3 eggs
1 cup buttermilk
1/2 cup vegetable oil
2 cups chopped peanut butter cups (plus more for garnishing - I used 2 bags)
8 oz. dark chocolate, chopped
1 cup heavy cream
1/2 cup peanut butter
Instructions
Preheat oven to 350 degrees. Coat two 9-inch cake pans with non-stick cooking spray. Line with wax paper and coat paper.
In a large bowl, beat cake mix, eggs, buttermilk and vegetable oil on low for 30 seconds. Increase speed to medium-high and beat for 2 minutes. Scrape down sides after 1 minute. Fold in 2 cups of the chopped peanut butter cups.
Pour batter into pans and bake at 350 degrees for about 30 minutes or until toothpick inserted comes out clean. Cool cakes completely.
Place chopped dark chocolate in a medium bowl. Bring cream just to a boil and then pour over chocolate. Whisk until chocolate melts. Add peanut butter and whisk until smooth.
Trim each cake layer so the tops are flat. Place one layer on a cooling rack and pour 1 cup frosting on top. Spread evenly with a spatula. Add second layer and pour remaining frosting over top and sides of cake. Smooth out with spatula.
Allow frosting to set for a minute and gently press remaining chopped peanut butter cup pieces all over top and sides of cake. Place in refrigerator for about an hour to set. Remove and serve.
Notes
Adapted from Family Circle Magazine.