I feel like I should be baking Thanksgivingy, cinnamony, pumpkiny treats right now. But today just called for some serious chocolate chip cookies. And these were the perfect feel good Sunday sweet. They would have made an even better Friday treat though. Then I could have eaten them over the whole weekend instead of wanting to eat them all in one day. I try to start the week off sweet free you know. Try being the key word.
I don't know why it's taken me so long to make these. I know you've probably seen them all over the interwebs.
I mean jumbo chocolate chip cookies…
…stuffed with Double Stuf Oreo cookies.
Hello…
Heaven.
My friend Jenny of PickyPalate.com started making these cookies a while ago and I can't believe I have not baked any before today. But now that I have her new cookbook (filled with plenty of sweets by the way) in my kitchen, I guess baking her cookies is the next best thing to baking up cookies with her sweet, smiling face.
Your basic chocolate chip cookie ingredients all ready to go.
Ready to become cookie dough.
And now for the star. The surprise inside.
Just scoop cookie dough and place on top of an Oreo cookie.
I used a regular size ice cream scoop.
Sandwich the cookie sandwich with another scoop on the bottom.
That's some kind of awesome.
Now, gently seal the dough and tuck the cookie safely inside.
These make huge cookies by the way.
Giant Oreo-Stuffed Chocolate Chip Cookies.
Drastically delicious and easy, too.
I've made some brownie stuffed pillow cookies before, but these save you the extra step of baking the inside sweet. Love it.
Here's my attempt at gently biting away the cookie so you can see the pretty Oreo layers inside.
And this is what I would call a face plant.
Enjoy!
P.S. I finally added a printable recipe function.
I feel like a grown up food blogger now.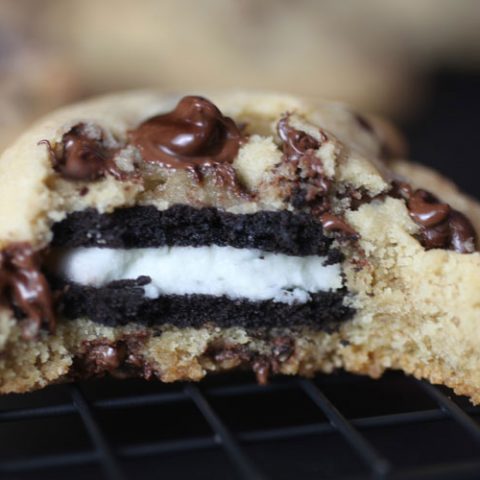 Yield: 18-24 cookies
Picky Palate's Oreo-Stuffed Chocolate Chip Cookies
Ingredients
8 oz (2 sticks) unsalted butter, room temperature
3/4 cup packed light brown sugar
1 cup sugar
2 large eggs
1 Tbsp vanilla extract
3-1/2 cups all-purpose flour
1 tsp kosher salt
1 tsp baking soda
10-12 oz bag semi-sweet chocolate chips
1 pkg Double Stuf Oreo Cookies
Instructions
Preheat oven to 350 degrees and line a large baking sheet with parchment paper.
Add butter and sugars to the bowl of a stand mixer. Beat until light and fluffy. Then add the eggs and vanilla and beat until combined.
In a large bowl, sift the flour, salt, and baking soda with a wire whisk until combined. Slowly add the dry ingredients to the wet ingredients and mix until combined. Add the chocolate chips and mix until combined.
Use an ice cream scoop to place a scoop of cookie dough on top of an Oreo cookie. Place another scoop on the bottom of the Oreo. Seal the edges together by pressing and cupping the dough in hand until the Oreo is completely enclosed. Shape into a thick patty. Repeat with remaining cookies and dough.
Place the stuffed cookies on the prepared baking sheet a couple of inches apart and bake for 11-15 minutes, until the cookies are cooked through. Let cool for 5 minutes and transfer to a cooling rack.


Notes
Source: © 2012 The Picky Palate Cookbook by Jenny Flake