March is here and this weekend I thought I would work on something cute and sweet for St. Patrick's Day. Shamrocks, leprechauns, pots of gold, maybe? But then I was bored … none of those things really inspired me for some reason. I just wasn't feeling green treats so much I guess. Instead I was feeling full of color. So I decided on rainbows … and cupcakes … minus the pots of gold at the end.
I was also feeling like rainbow colored sprinkles … in my cupcakes.
I love these delicate jimmies by Mr. Sprinkles. (I love these even better, but the pastel colors aren't available anymore. I'm still very upset about it. I could use them forever. For everything.)
Oh well, the rainbow sprinkles will work great for this bright little cupcake.
You'll just need a couple. ; )
Stir them in the batter and bake away.
Taste the rainbow.
Cupcakes … Yum!
And so bright and cheery.
But for this project we need sugar cookies, too… so we can easily cut out rainbows to the right round size and shape.
Use two different size circle cutters for the cookies. I used a 2-1/4-inch round cutter and the bottom end of a 1M Wilton decorating tip to cut out the center.
But any round sharp-edged shapes you have on hand can work. Try using the cap to your sprinkles containers for instance. More on that below…
So to make the rainbows, I cut 2-1/4-inch circles, cut out the centers and then just cut off the bottoms so they could stand easily in frosting.
In the pic above, I tried two different center sizes. I liked the larger opening better.
After the cookies are baked and cooled, they can be covered with fondant.
Roll out white fondant and then cut out circles using the same size round cutters used for the cookies. Apply a thin layer of frosting to the top of the cookie and then place the fondant shapes right on top to secure.
Cut off any excess so your fondant shape matches your rainbow cookie shape.
And then it's time to color. The fun part. For me anyway. I'm much better with a pen than directing icing from a tip in a smooth line, so this is right up my alley. Plus it's pretty quick and less messy.
I used these Americolor Gourmet Writing Pens that I often use on pops. They work really great on fondant, so I think you'll have fun with them.
First, make marks for each color so you can get a sense of how thick the lines need to be so each color is equal.
Start with red on the outside and draw even lines with each color until you reach the center.
Pretty cute.
But even cuter in the clouds.
To make the frosting look puffy, use a decorating bag fitted with an Ateco 807 tip and pipe large random dots of frosting around the edge of the cupcake. Use a knife to smooth out the sides and push the frosting up slightly so it looks like the clouds are bursting out of the cupcake liner.
Sprinkle a little powdered sugar on top so the frosting looks fluffier … plus it will create a barrier so you can gently shape the clouds. Pat down any peaks with your fingertip and use a toothpick to help define the clouds.
Fluffy and puffy.
So these are some smaller circles I also made sugar cookies with. I used the bottom of a sprinkles cap because I didn't have the right size cutter and for the center, I used the top of the Ateco 807 decorating tip.
I originally thought these would be the cupcake rainbow toppers, but they were just too small, so I did something else with them.
See… too little. They'd be great on mini cupcakes though.
After seeing how cute the puffy clouds on the cupcakes looked, I wanted to use them on the cookies, too.
So, I colored in about 2/3 of the rainbow.
And added frosting to the rest using the same technique for the cupcakes.
Too cute.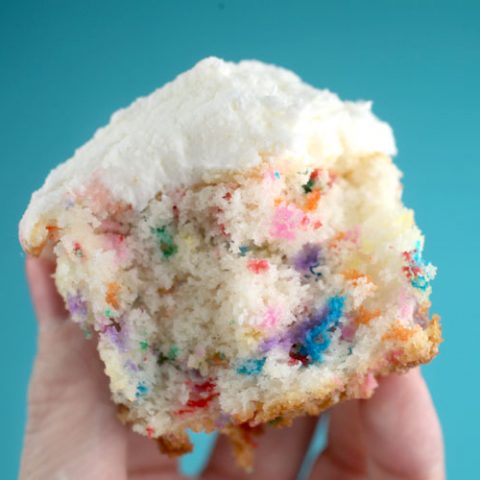 Yield: Two Dozen Cupcakes
Rainbow Bright Cupcakes
Ingredients
CUPCAKES
2-2/3 cups all purpose flour
1-1/2 cups sugar
1 Tbsp baking powder
4 egg whites
1 cup whole milk
1 Tbsp vanilla
2/3 cup salted butter, softened
1/3 cup rainbow sprinkles
FROSTING
1/2 cup butter, softened
1/2 cup shortening
1 tsp vanilla
4 cups powdered sugar
4 teaspoons milk
extra powdered sugar for dusting
Instructions
Preheat oven to 350 degrees and line cupcake tin with baking cups.
Sift flour, sugar and baking powder into a large mixing bowl and then mix together on low.
In another bowl, stir egg whites, milk and vanilla together.
Add butter to the flour mixture and mix together. As it starts to combine, slowly pour the milk mixture in and mix until completely combined. Stir in rainbow sprinkles.
Fill baking cups a little more than halfway. Bake for about 16 minutes or until done. Remove and cool. Makes about 24 cupcakes.
For frosting, beat butter, shortening and vanilla together. Add sugar slowly and beat until combined. Scrape down the sides and add milk. Mix until smooth and creamy.
Notes
Note: Double the recipe if you will be frosting all 24 cupcakes like the pictures above, because I piled it on.

To decorate, you'll also need:
24 sugar cookies – You can use the recipe from this post. 1/2 of the dough will make about two dozen cookies and you can freeze the rest for another time. Note: You can also make and decorate the cookies ahead of time.
2 1/4 inch cutter and Wilton 1M icing tip or similar size round cutters
Fondant
Ateco 807 or Wilton 1M Tip with decorator bag and coupler to pipe the frosting
Toothpicks
And just so you can get a little more of a St. Patrick's Day feel with these… look how just changing the background makes a difference. Sprinkle a few Rolos candies or gold wrapped chocolate coins on the tabletop and you'll be set for the seventeenth.
Enjoy! I hope you brighten someone's day with these.
P.S. What's your favorite St. Patrick's Day sweet? Mine is probably these simple and addictive little truffles. As a matter of fact, I may need to go make some right now.
Update: I found these awesome gold wrapped chocolate coins at the Fresh Market this weekend. They'd look great with these cupcakes.