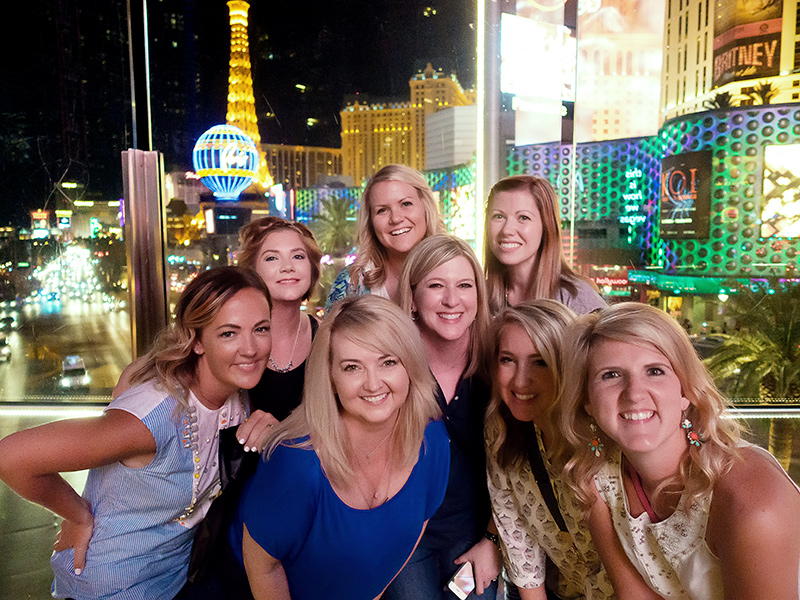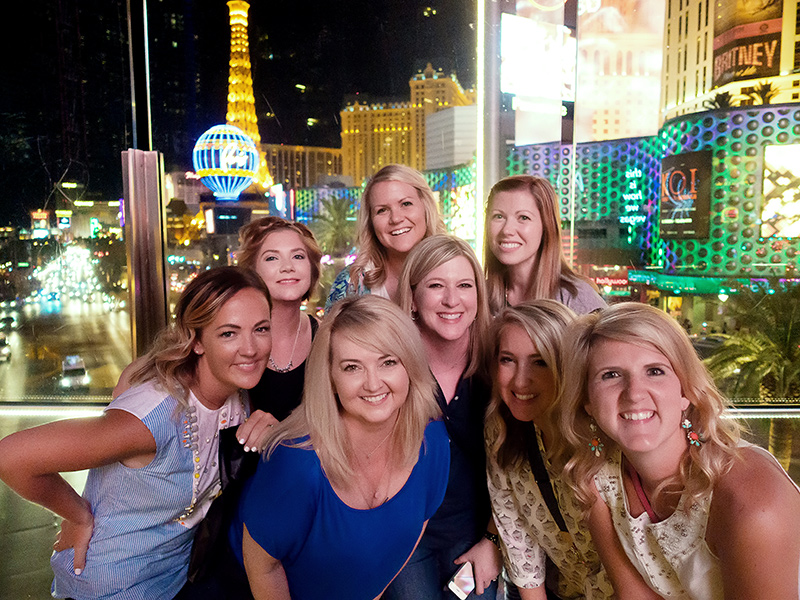 A few weeks ago I went on a super fun girls trip to Las Vegas planned by my sweet blogging friend Jenny of Picky Palate.  I loved hanging out with these girls … especially since they love sweets as much as I do. And, we had a blast trying as many treats in three days as we could.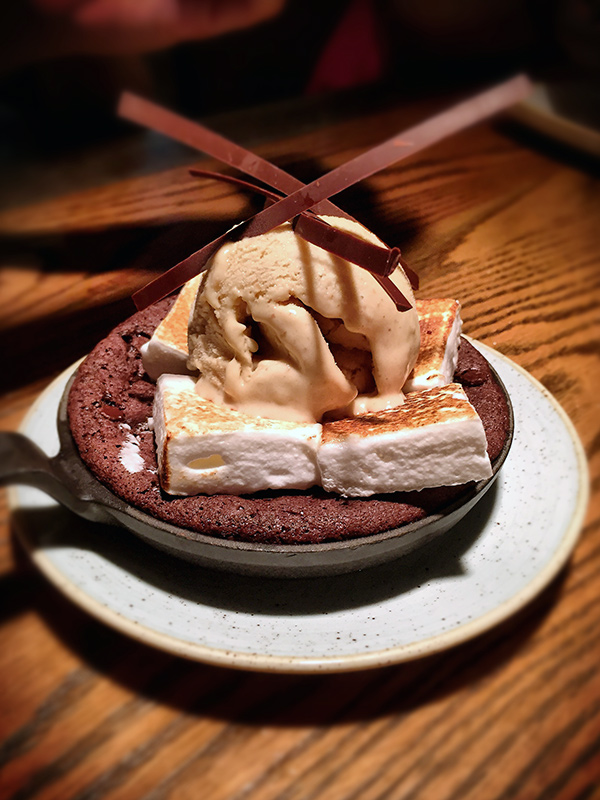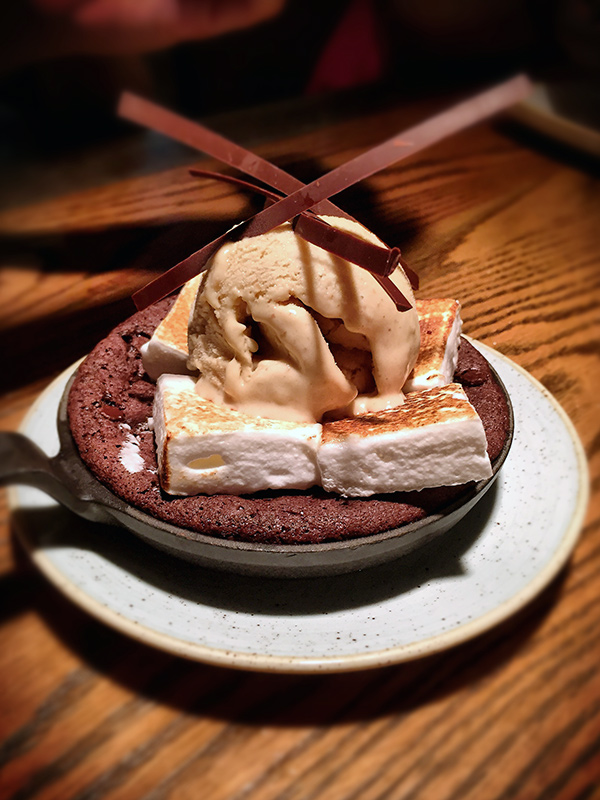 After landing in Vegas, we met up at Yardbird for lunch. We started the weekend strong with Chicken and Waffles followed by a few desserts to share. This s'mores brownie was served up in a cute little skillet.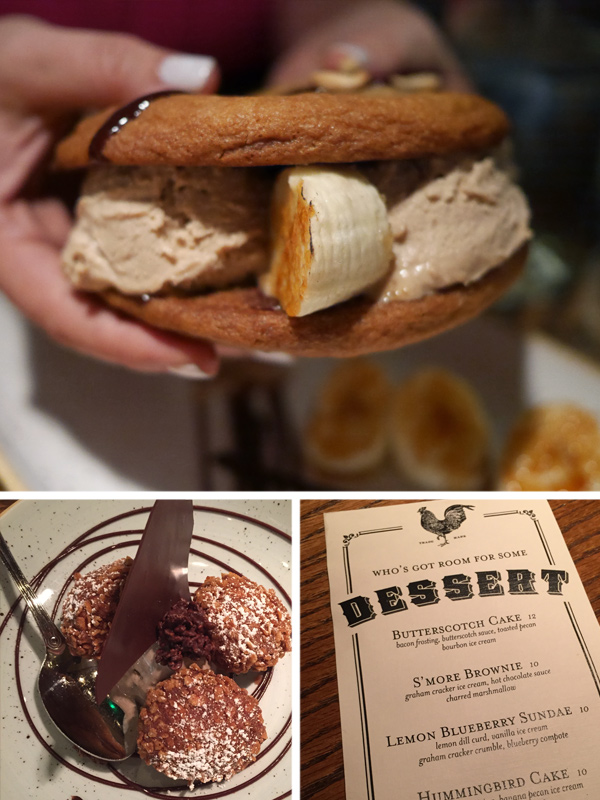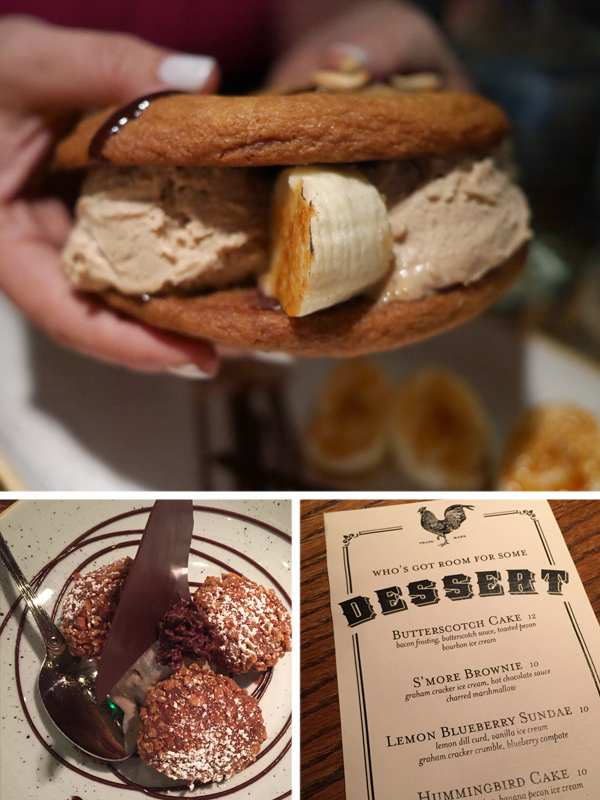 We had fried Oreos, too… but the chocolate chip cookie sandwich with peanut butter ice cream and bananas was by far my favorite. Definitely off to a good start.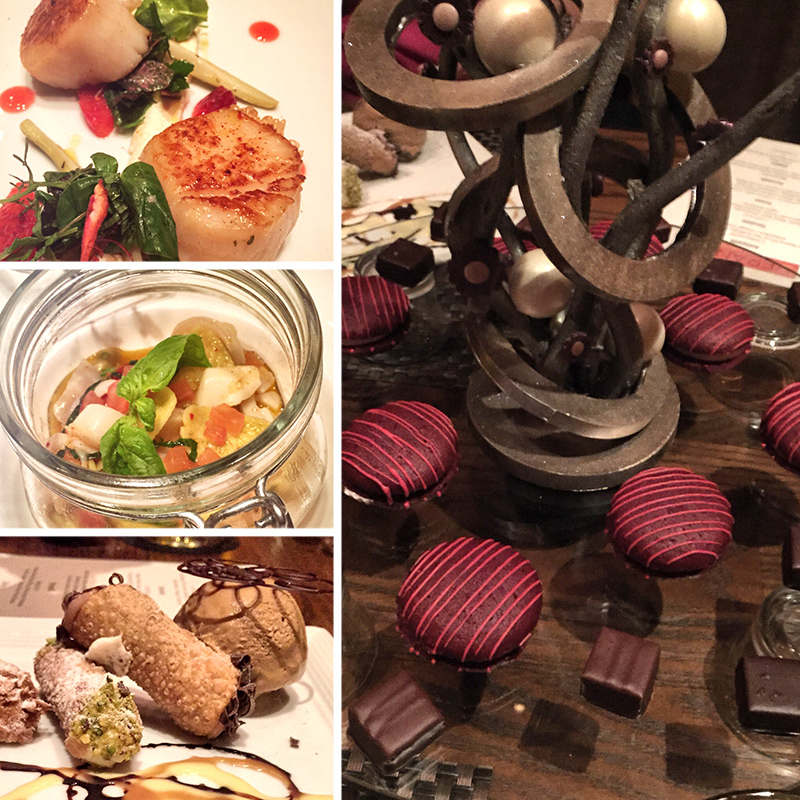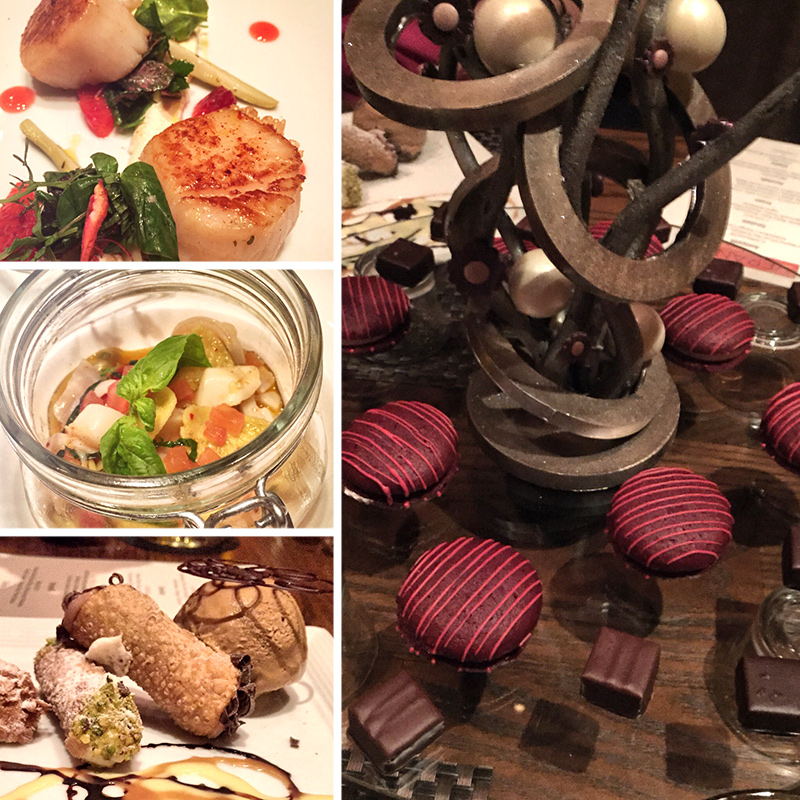 We stayed at the Four Seasons Hotel and enjoyed dinner at their restaurant Verandah. So amazing.
By the way… LOVE the Four Seasons Hotel. I'll definitely want to go back. It sits on the top floors of the Mandalay Bay, but has its own private entrance free of all the noise and smoke and slot machines. Not that I don't love slot machines. It was just nice to go back to the hotel and have a break from all the craziness. But then the elevator too conveniently stops on the casino floor to give you access to the Mandalay Bay Casino which I may have taken advantage of more than I should.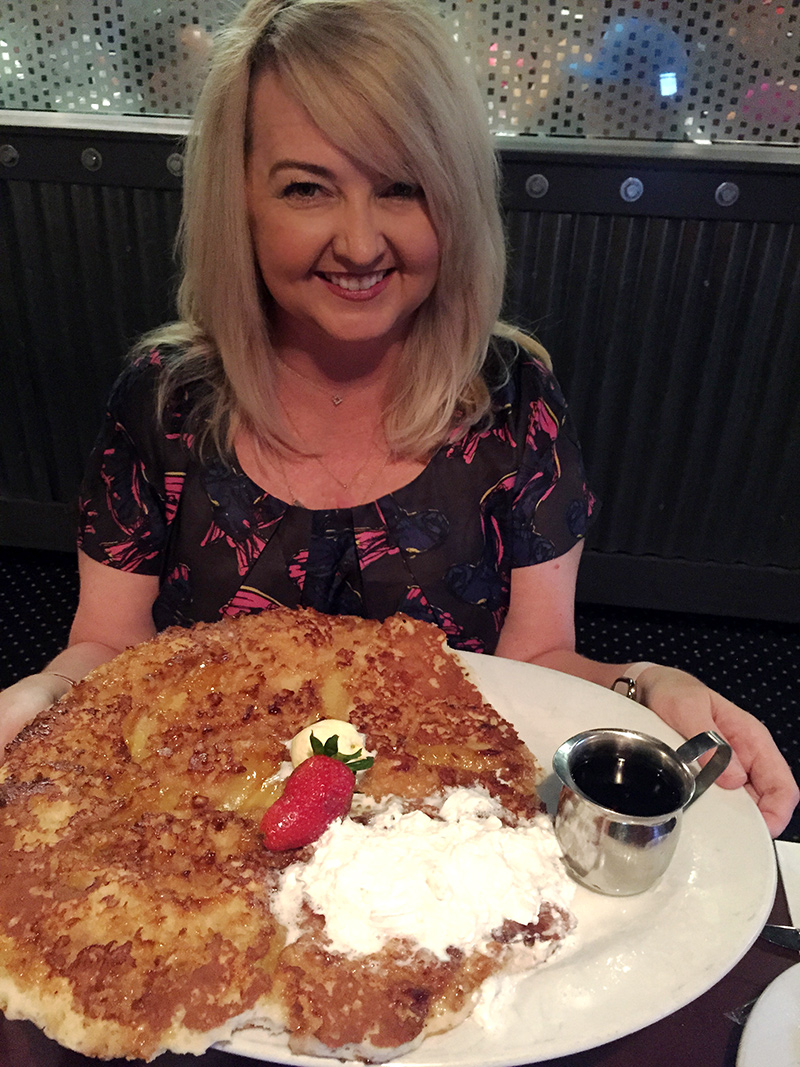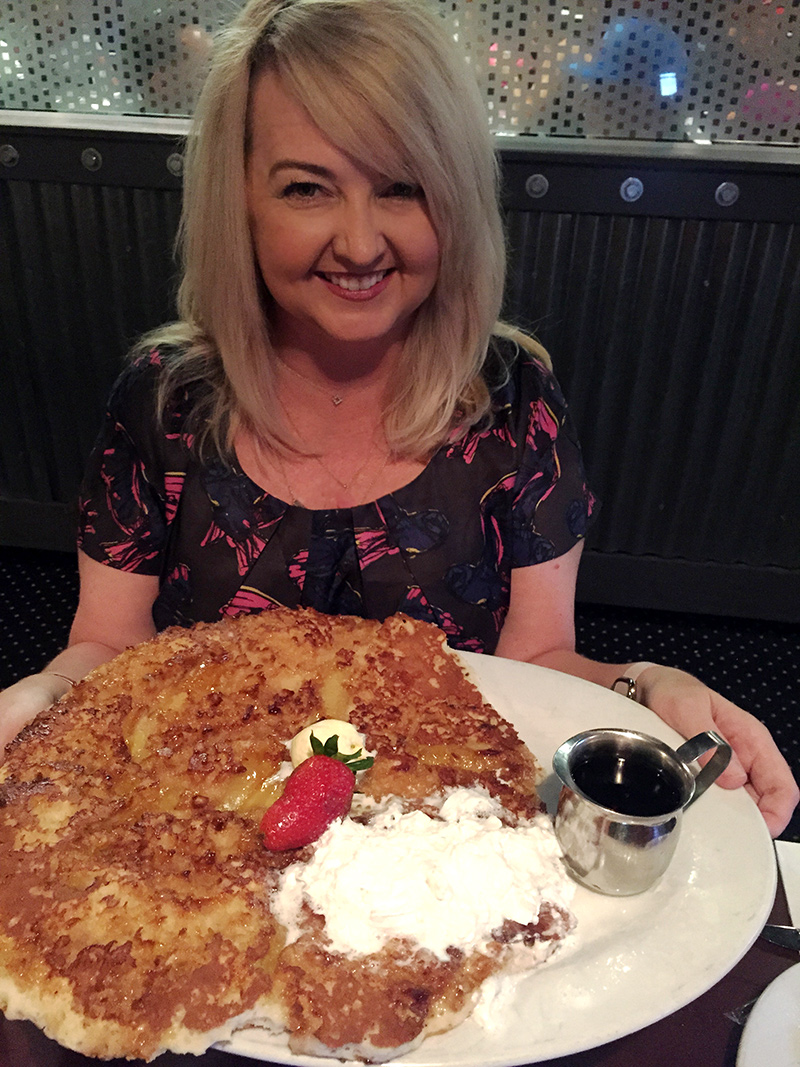 The next morning we headed over to Hash House a Go-Go and you guessed it. Kept eating. this Brown Sugar Banana Pancake was as big as a pizza. But all their dishes are ginormous. You'll feel guilty when you leave. But your tummy will feel happy.
Okay, in full disclosure. I did not eat all of this.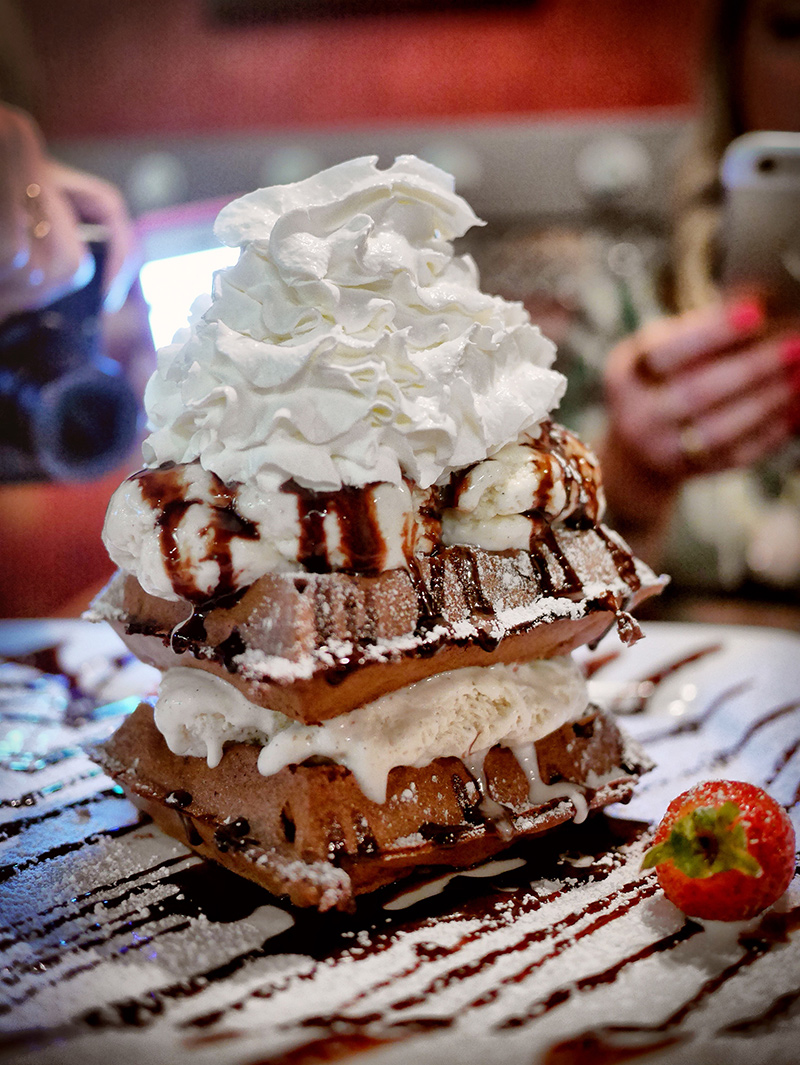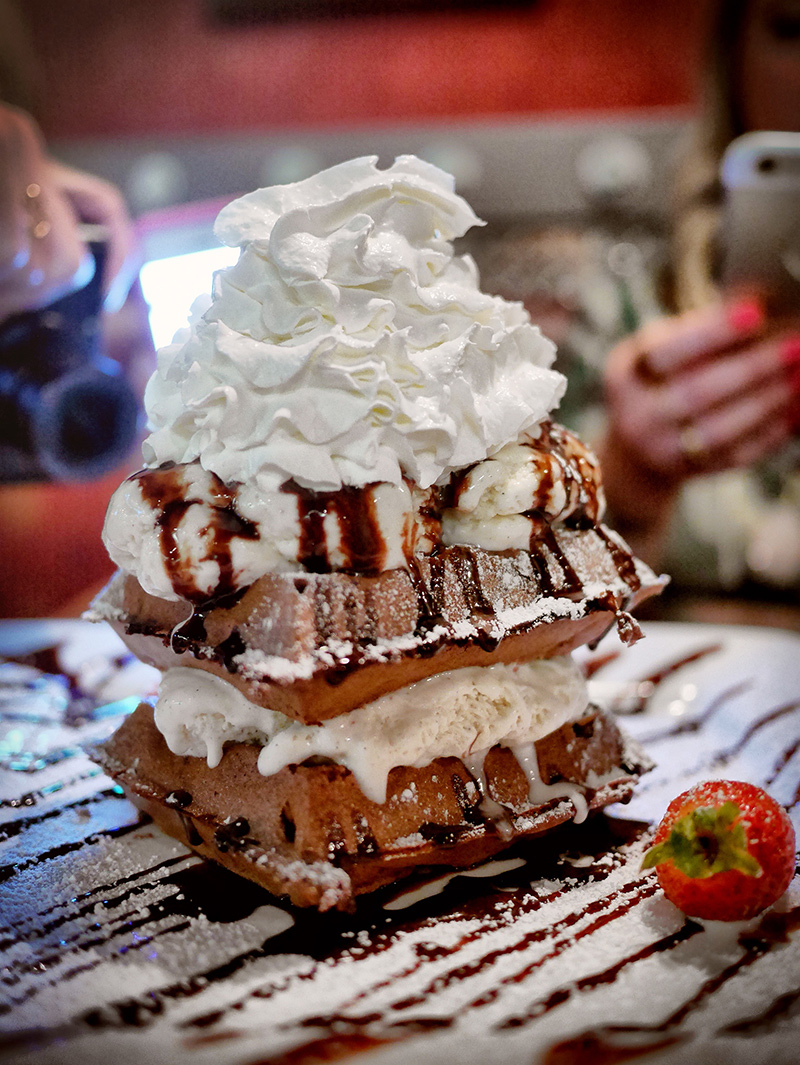 That's because … I had to try this tower of chocolate waffles, ice cream and chocolate syrup … and it stole my heart.
We all totally shared, though. I don't think I could finish even one of their dishes.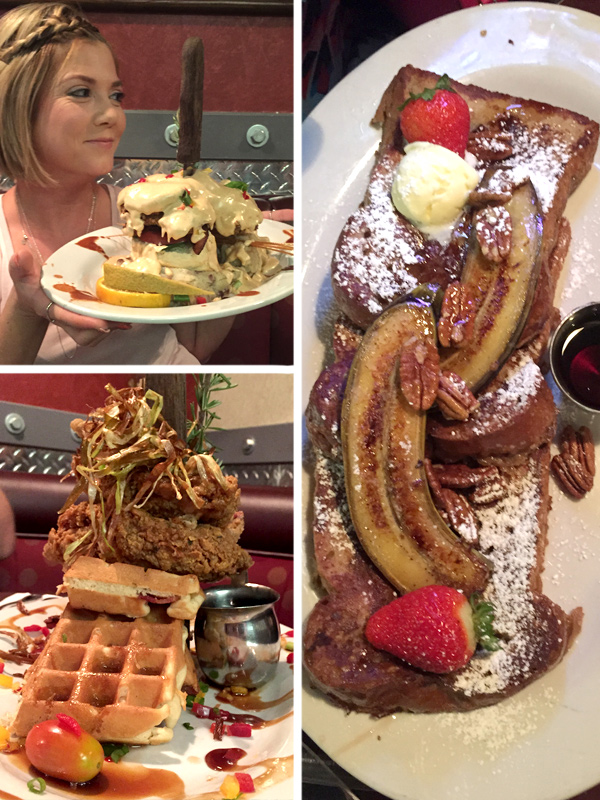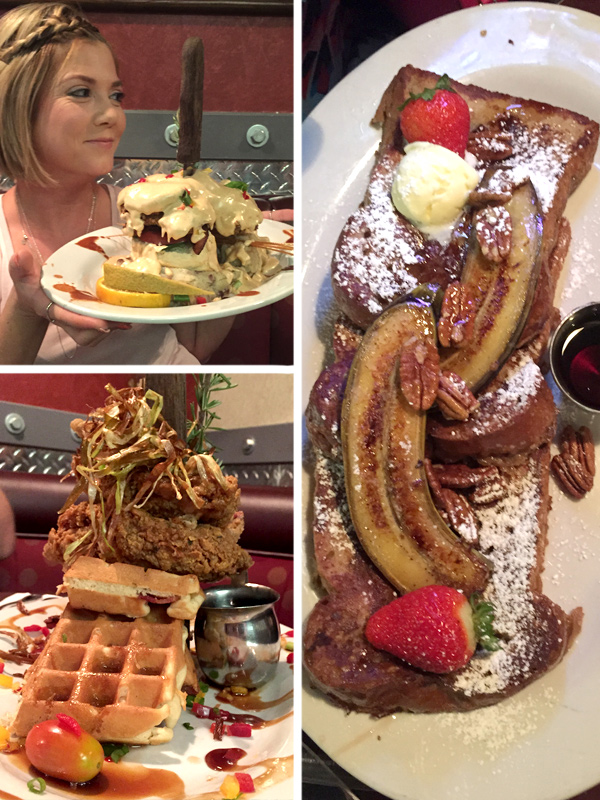 Also devoured by the group were Banana French Toast, Chicken and Waffles … (again), and Kristan ordered the Man vs. Food dish that helped make Hash House so popular.
We don't hold back.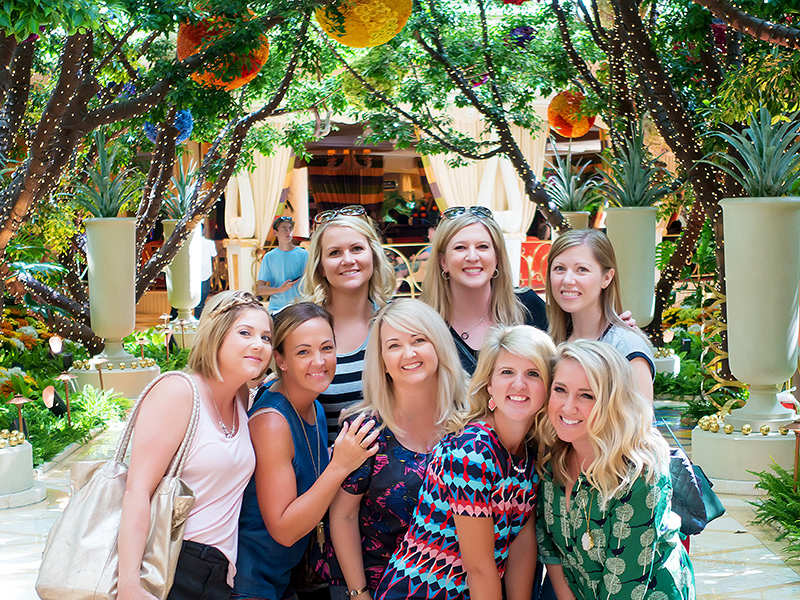 Here we all are at the Wynn Hotel entrance. Such a pretty hotel.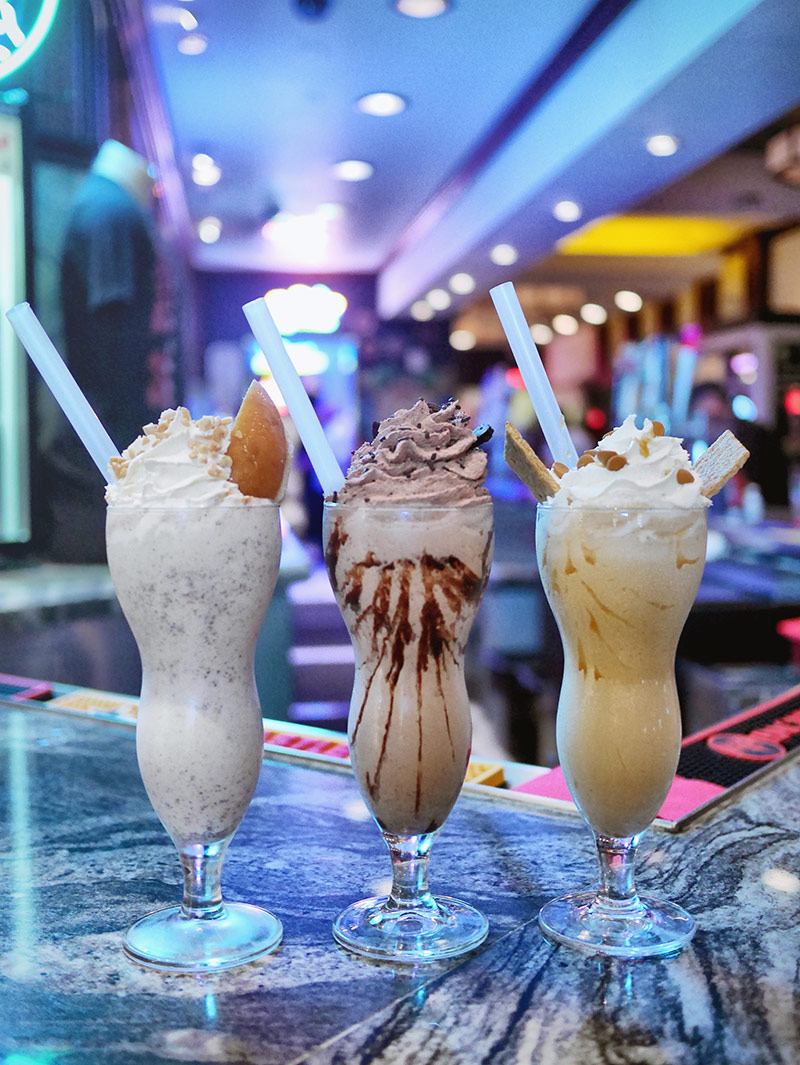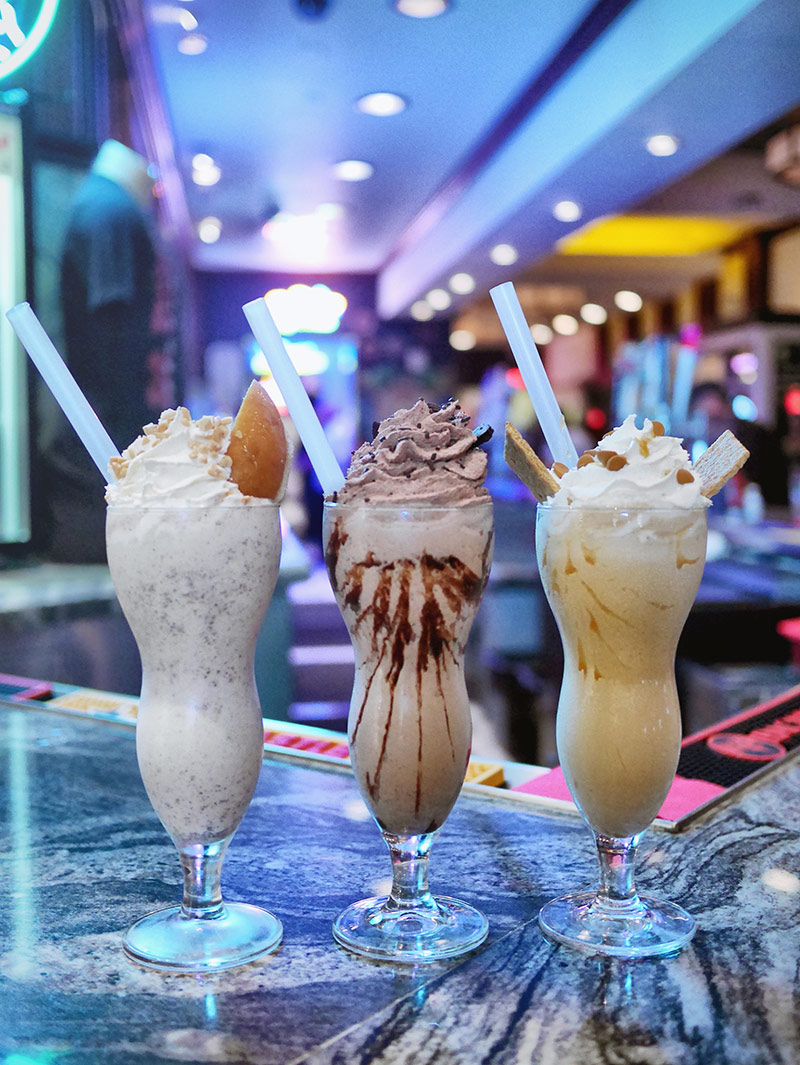 For lunch we slowed down a little bit and just ordered a few French Fry Sampler platters and washed them down with custom milkshakes at Burger Bar. I had the middle one… and it was amazing!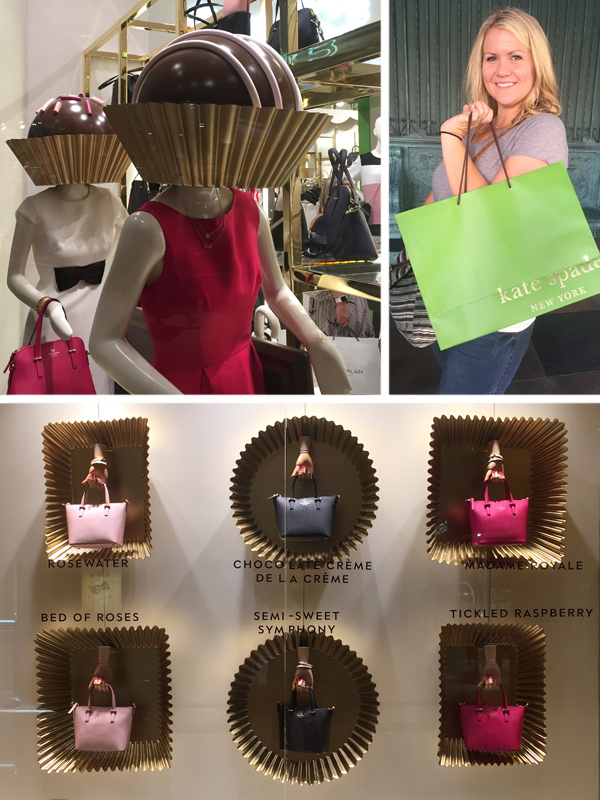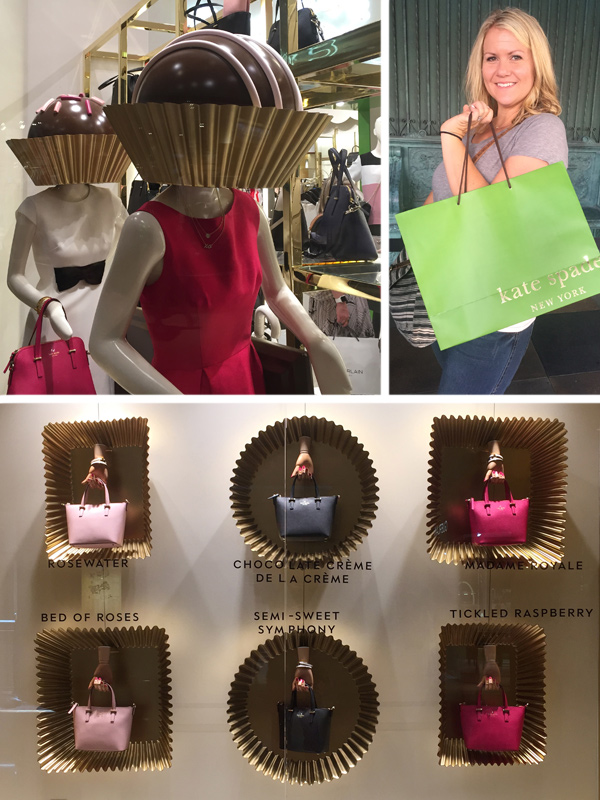 I love this Kate Spade window display. I mean, even our shopping adventures were sweet.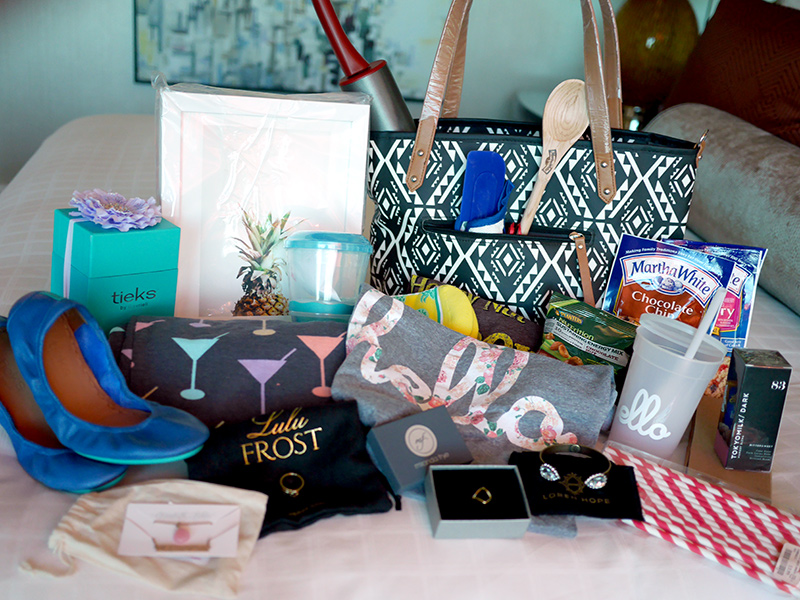 But not as sweet as Jenny was for surprising us with a bunch of amazing goodies to go home with. A big thanks to the brands who helped her make our trip so special:
Four Seasons Las Vegas, Sabra Hummus, Petunia Pickle Bottom, MZ Wallace, Tieks, Lulu Frost, Loren Hope, Miranda Frye Jewelry, Minted.com, Tokyo Milk, Hello Apparel, Bella Cotton Candy Maker, P.J. Salvage, KitchenAid, Retro Bakery, Tillamook, Nestle, Planters, Bon Apetit Pizza and Martha White.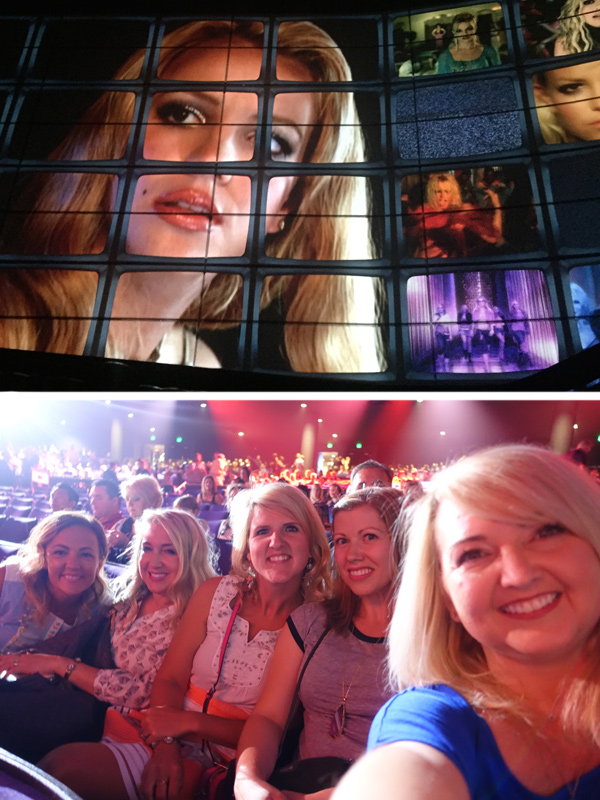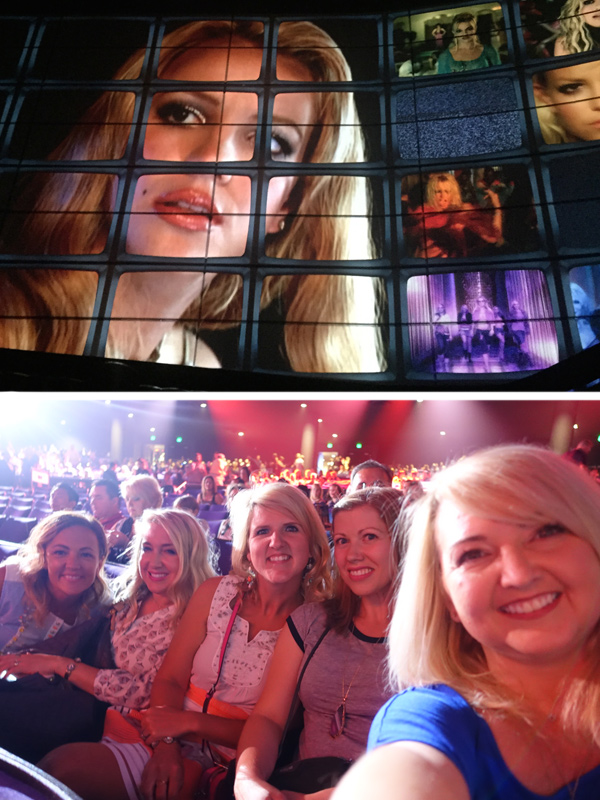 That night we met up with Miss Brit. She totally wanted to hang out with us.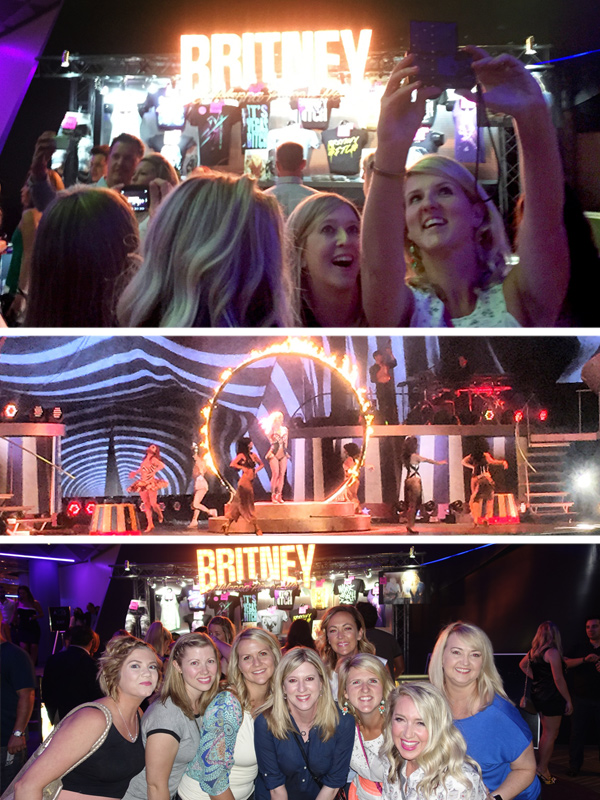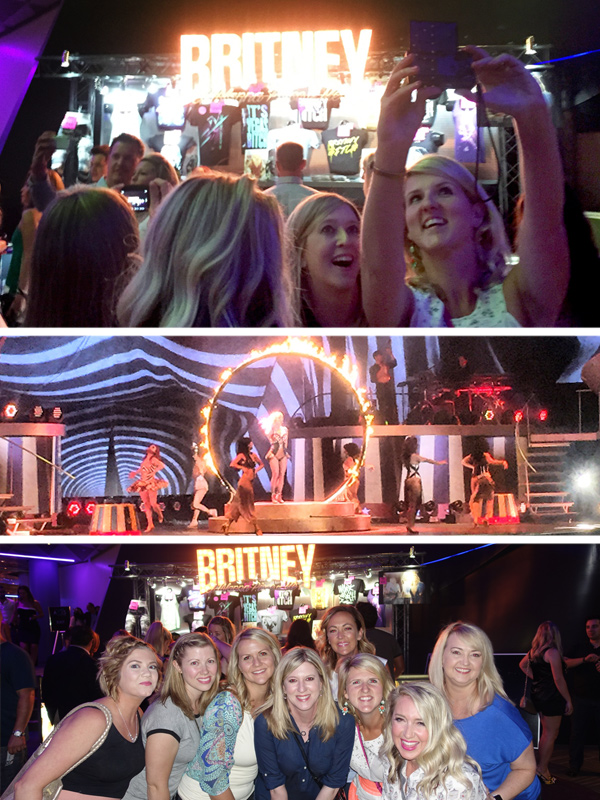 But she was busy dancing her butt off. Such a fun show.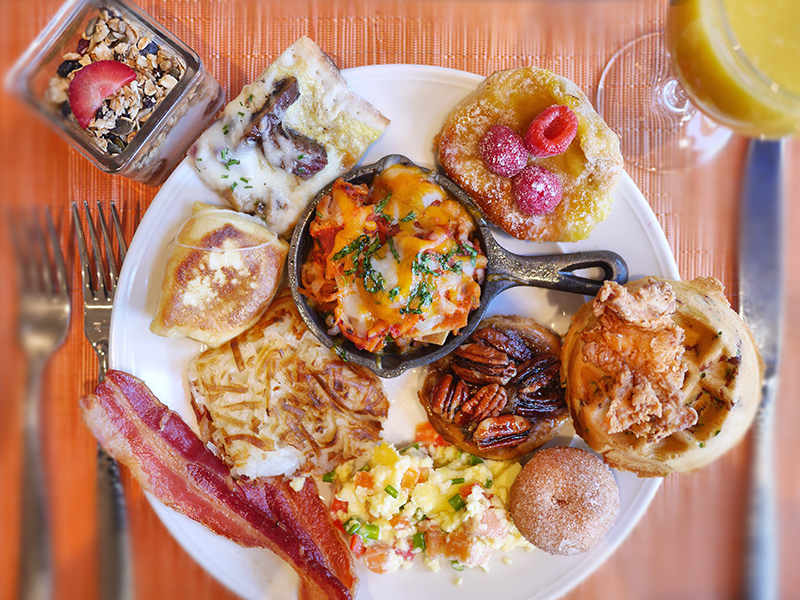 The next morning we had brunch buffet back at Veranda in the Four Seasons Hotel. It's most definitely worth going to. There is soooooooo much yumminess to choose from. I mean they have everything!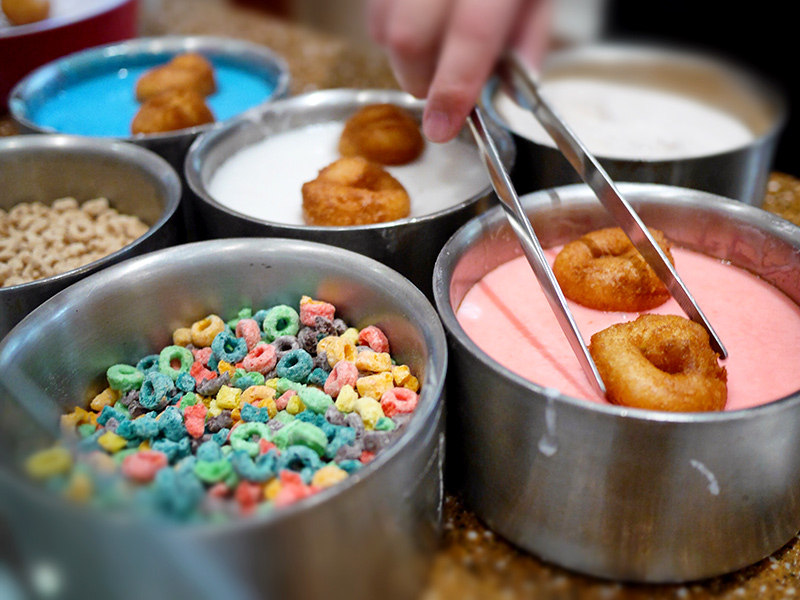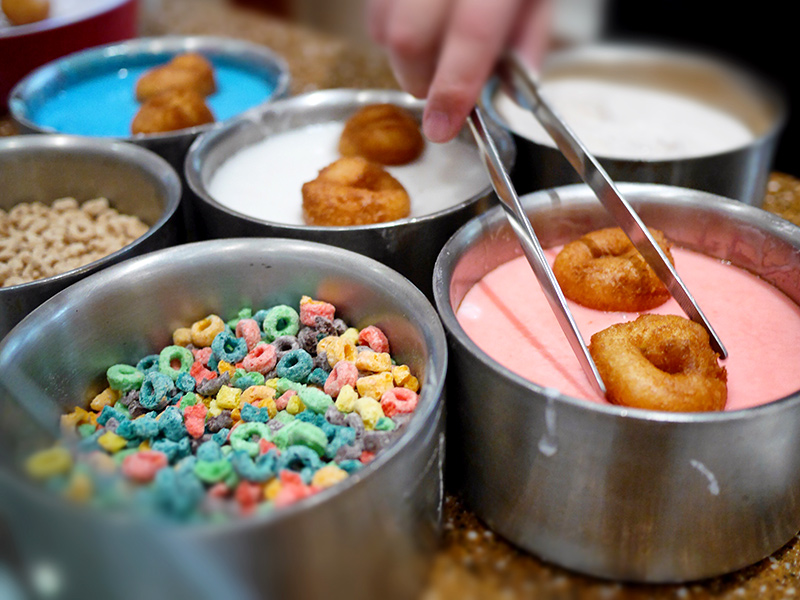 And how can you not love a place with their own adorable doughnut bar.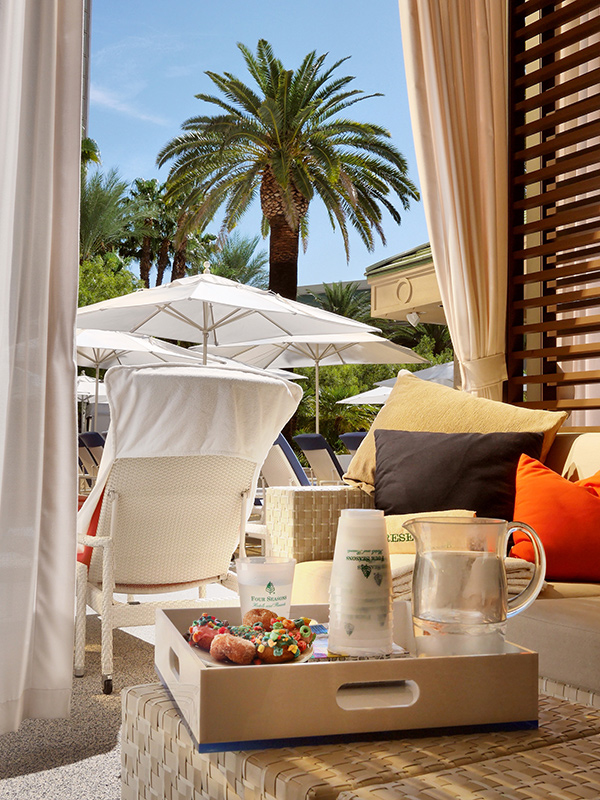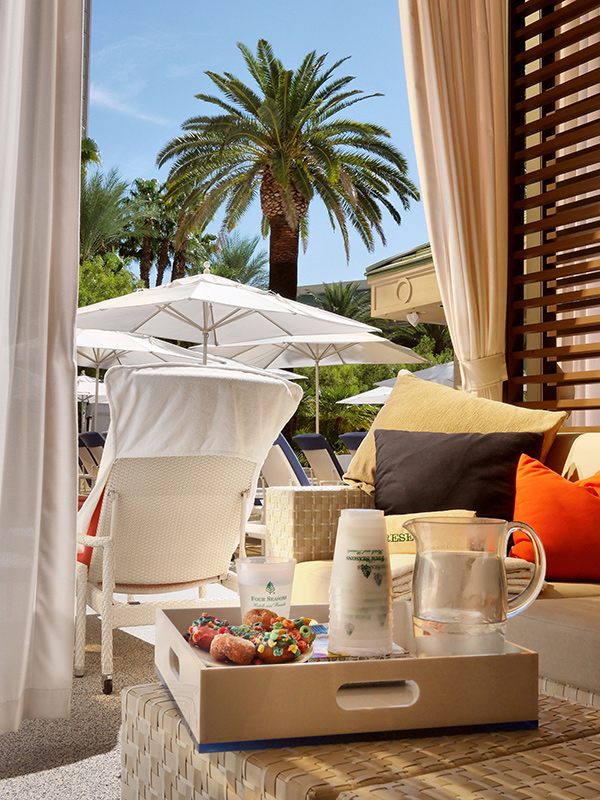 After brunch we hung out at the pool and enjoyed doughnuts in our cabana.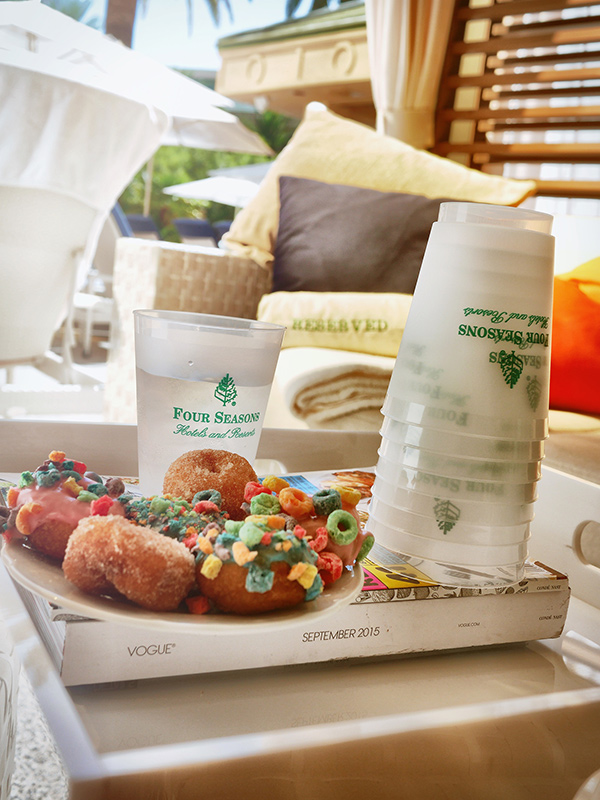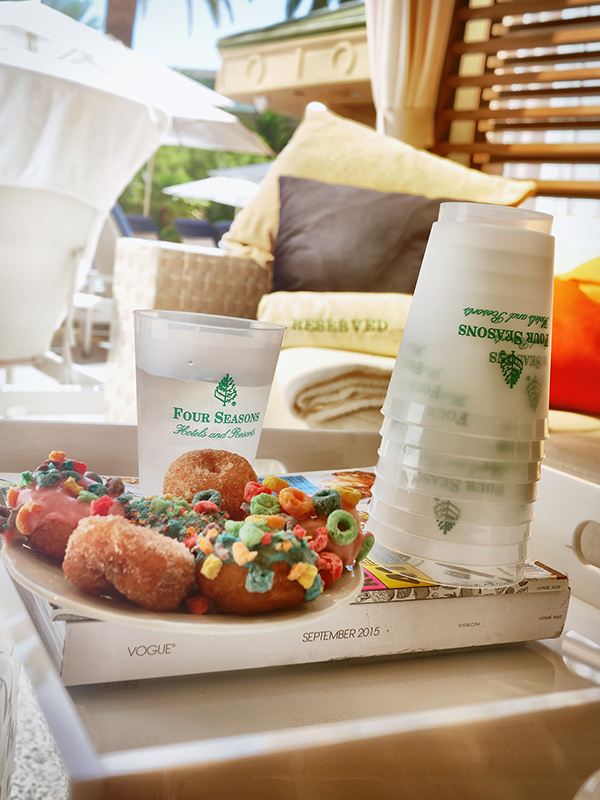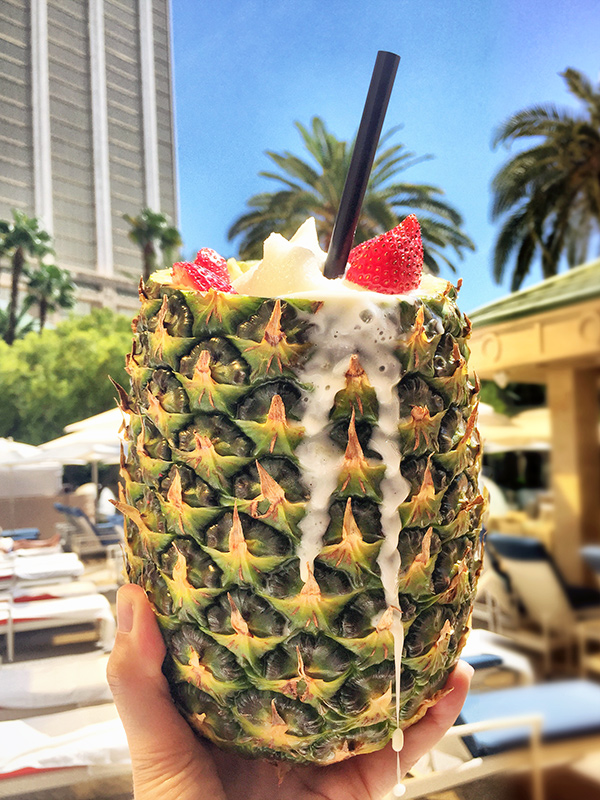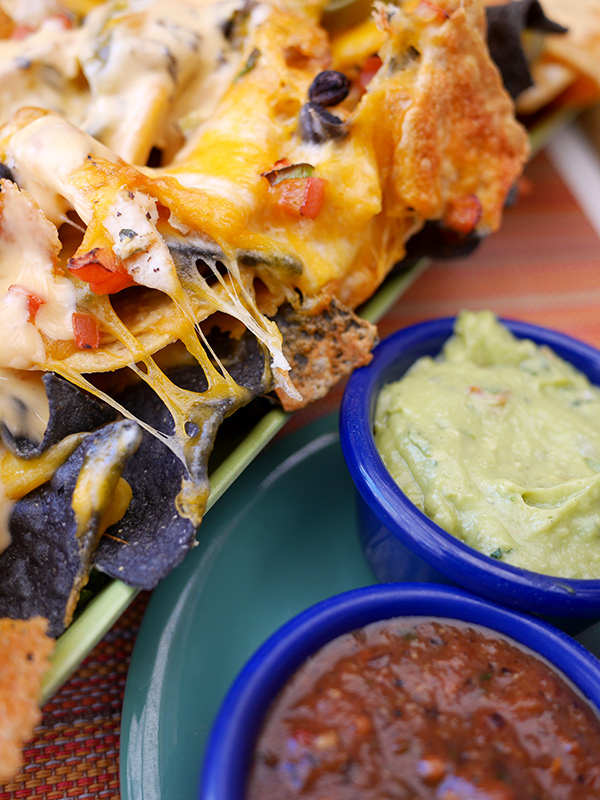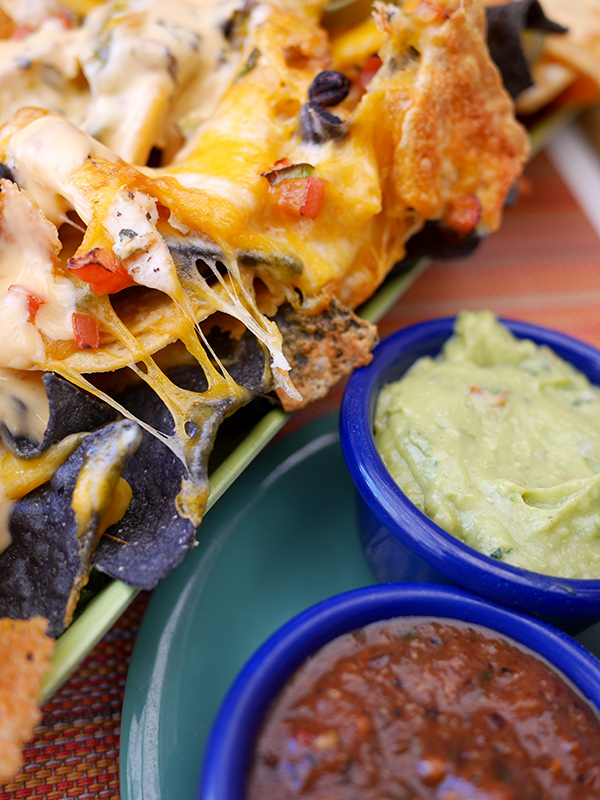 Okay… we also had nachos. But, let's talk about these nachos. They are one of the best things I had all weekend. And maybe some of the best nachos I've had ever. I did not want to stop eating them, but my bathing suit said otherwise.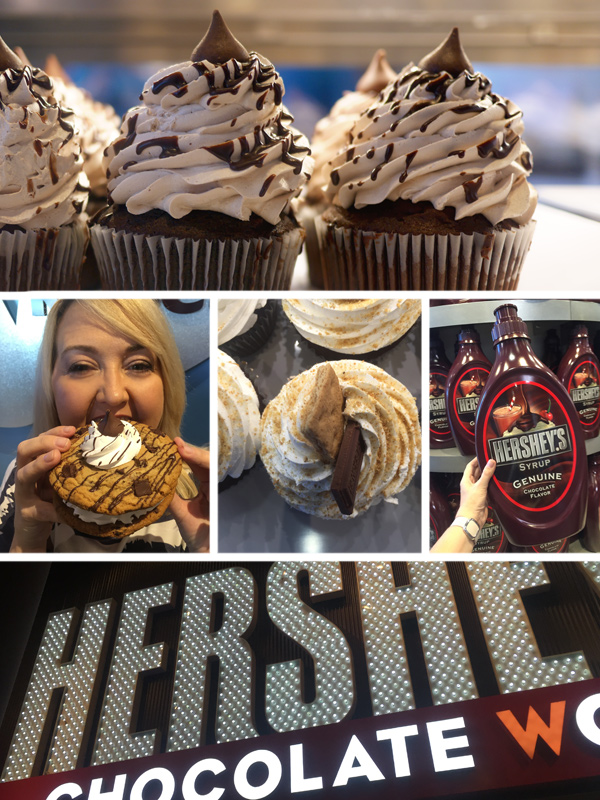 Later that afternoon we stopped by Hershey's Chocolate World. Such a happy place.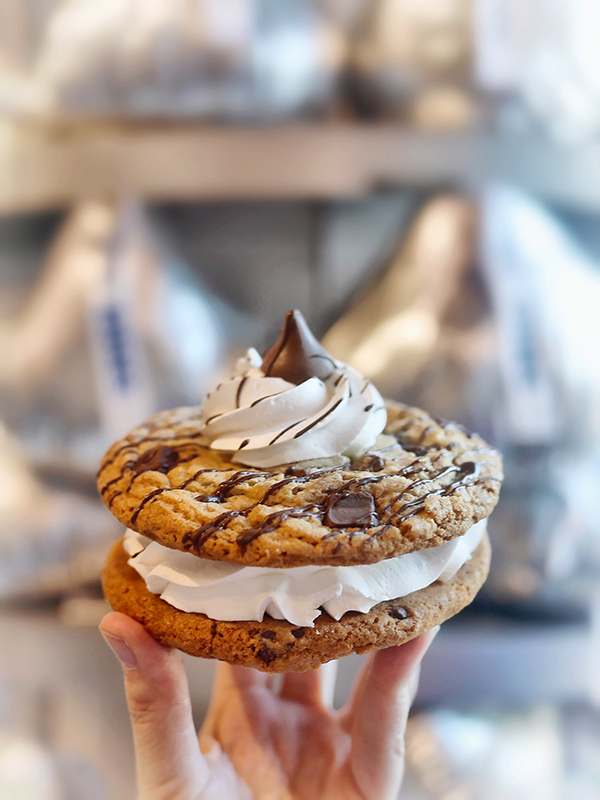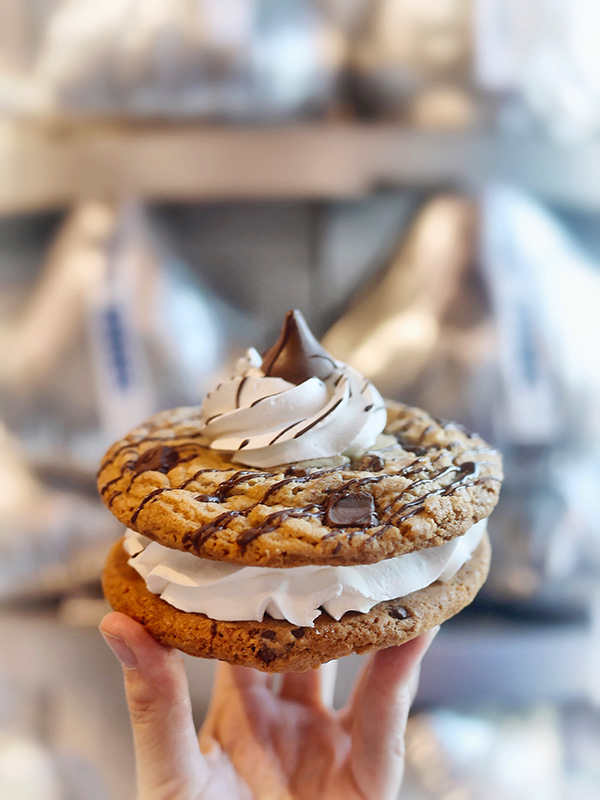 Look at this giant chocolate chunk sandwich cookie. It makes you smile doesn't it.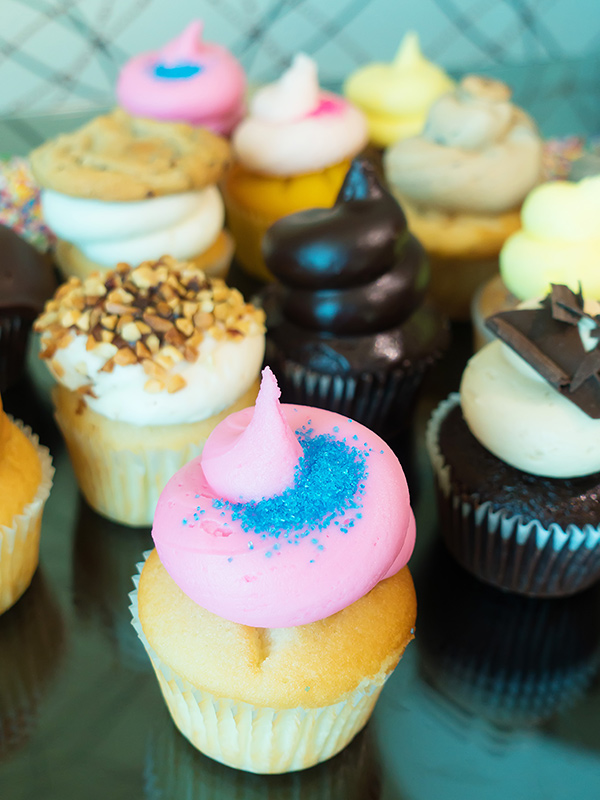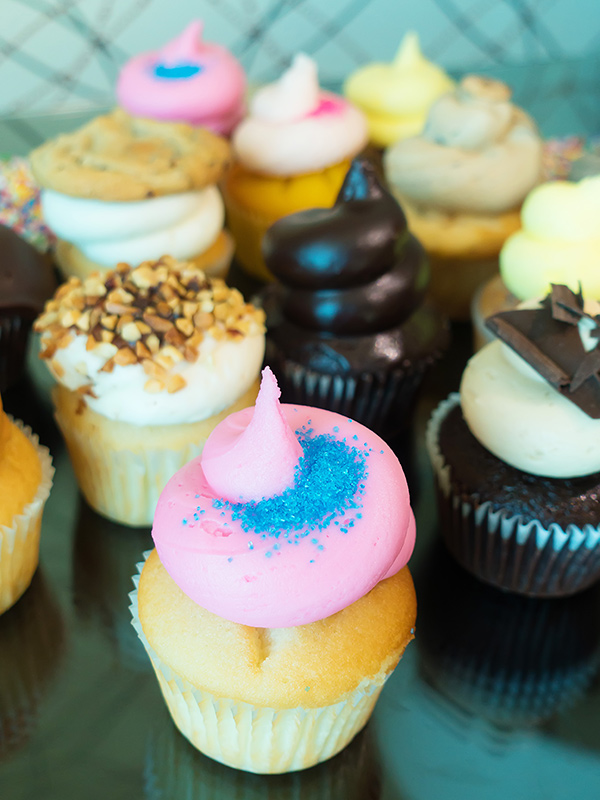 Saturday night we had cupcakes from Retro Bakery. My favorites in Vegas.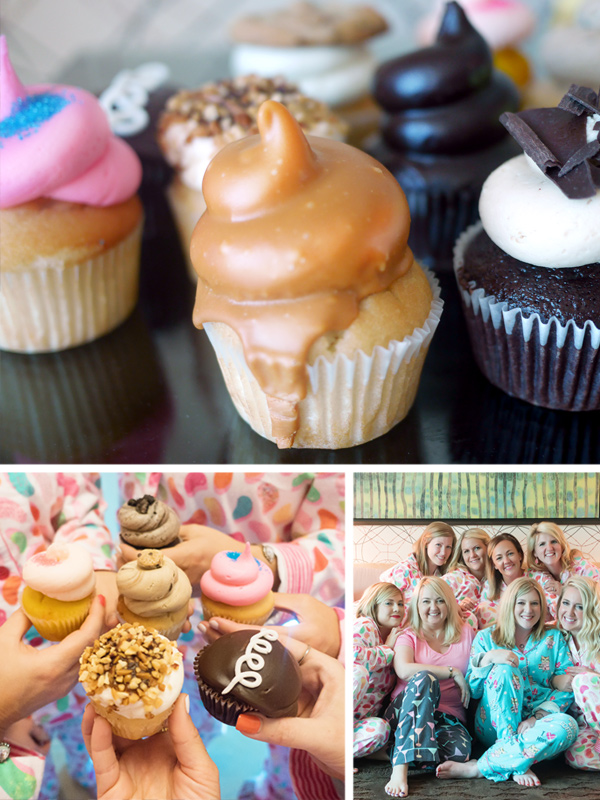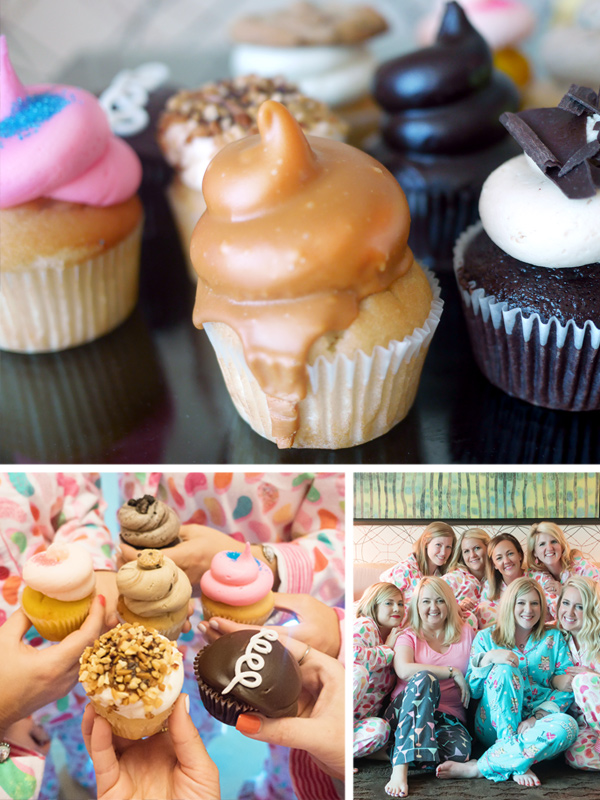 Get the Hopscotch in the above photo  and you won't regret it.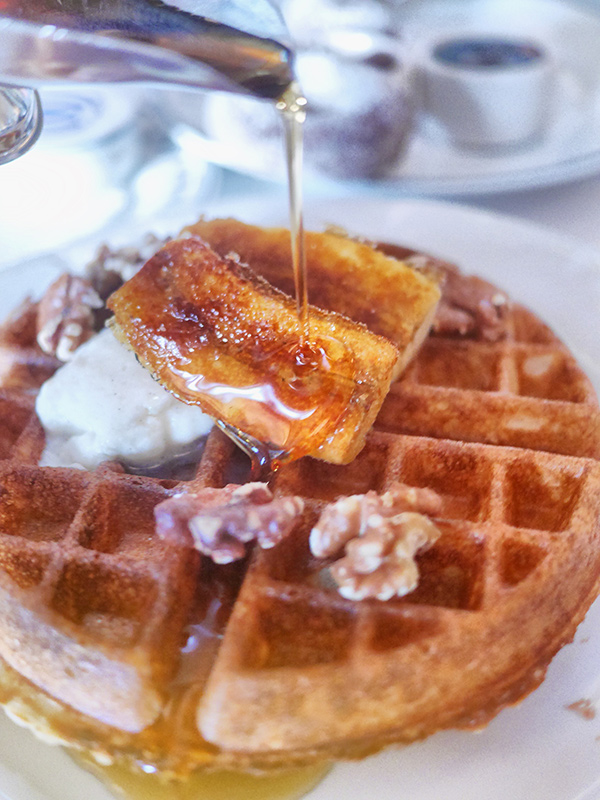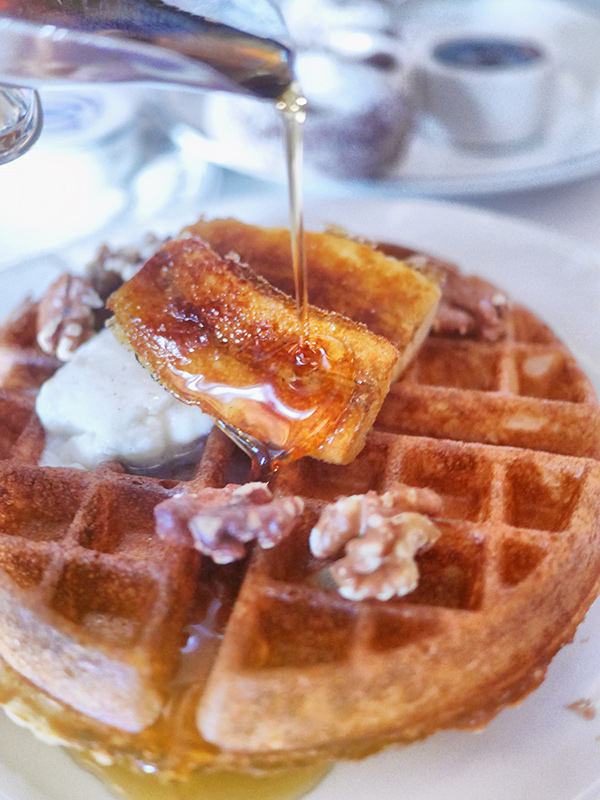 Sunday morning called for Banana Waffles from Bouchon Bistro …delicious. I was sad to leave and drowned my sorrows in a river of maple syrup.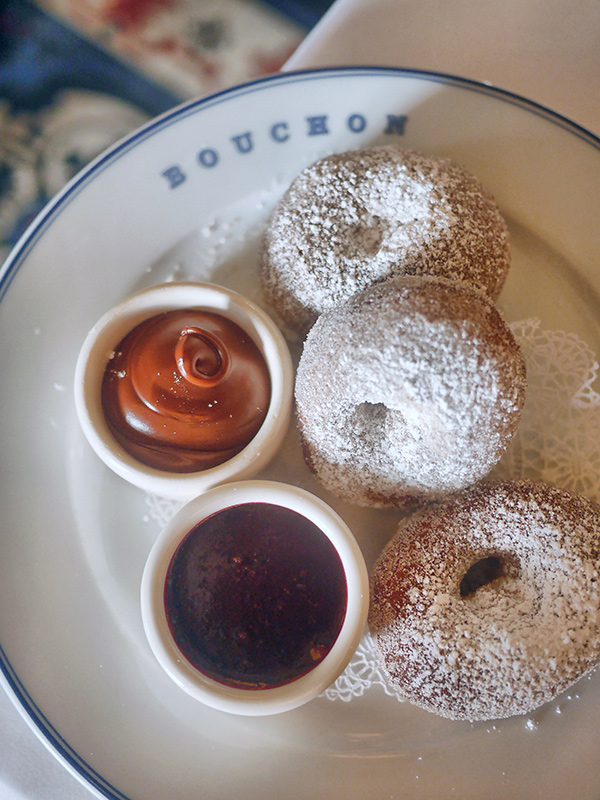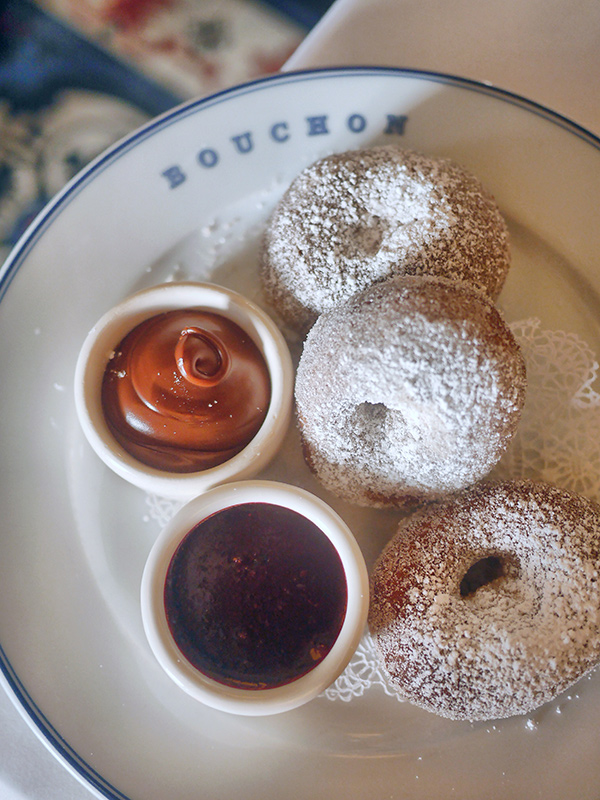 But these warm spiced beignets with Nutella cheered me right up. They were to die for delicious!!!
And now for a delicious end to a very sweet trip with a couple more over the top desserts from Serendipity 3. I didn't make it here before I left, but Amanda and Shawn did and sent these photos and I cried.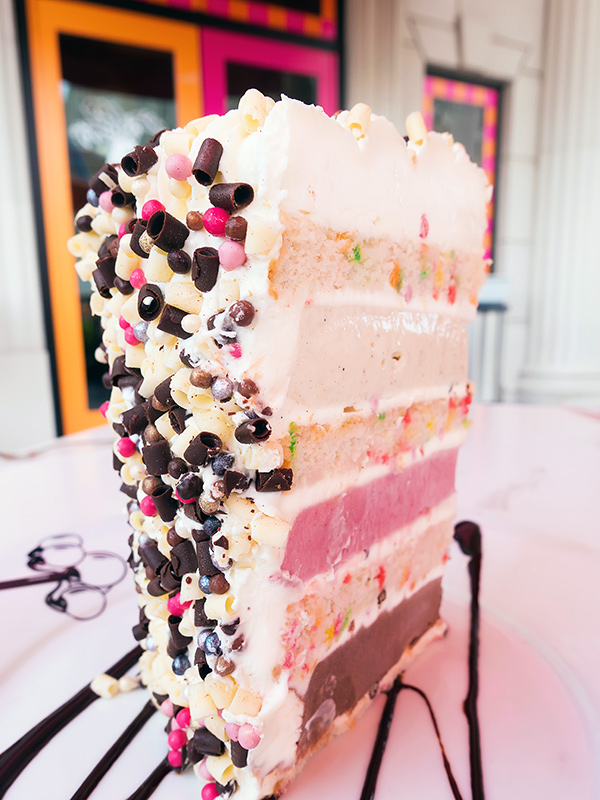 This Party Like it's Your Birthday Cake!!!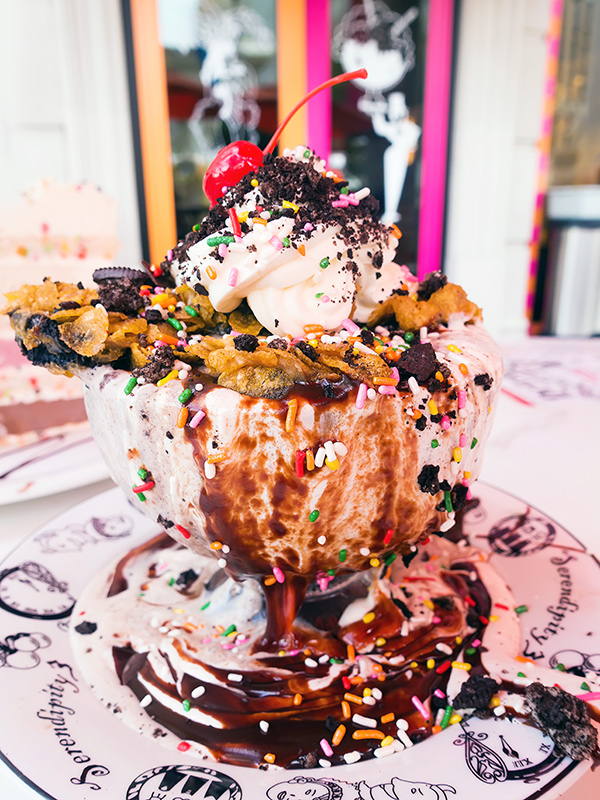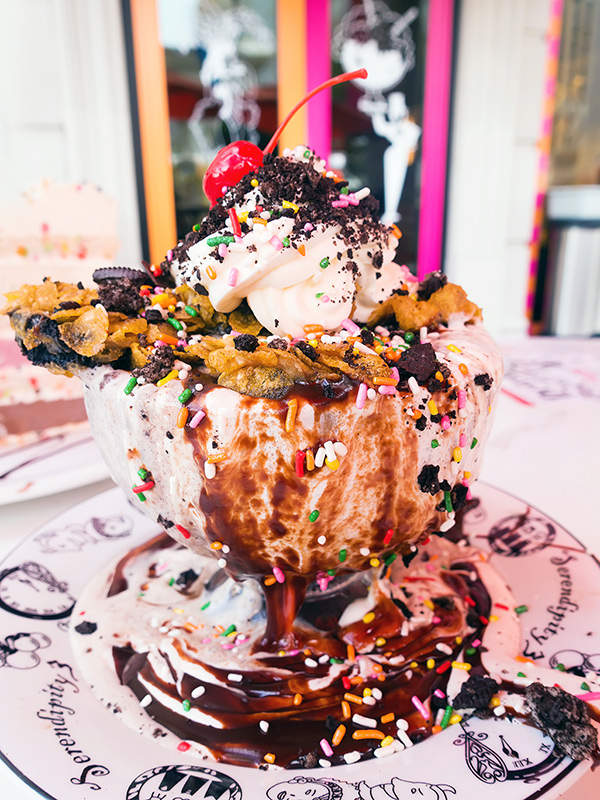 And this Deep Fried Oreos and Ice Cream Sundae!!!!! And now I know my first stop the next time I'm back in Vegas.
Do you have any favorite sweet stops we should try next time?