After yesterday's post, I thought it was only appropriate to follow up with the real thing. No purse this time. This is all cake.
Velvety and yes … red.
And delicious. And moist. And one of my favorites.
It's covered in cream cheese frosting that's to die for. Help me.
There's something about a red velvet cake that always makes me feel good inside. And it's not just the taste. It's the memories it brings of family and holidays and home. But it doesn't have to be saved for special occasions. I think it should be loved all year long.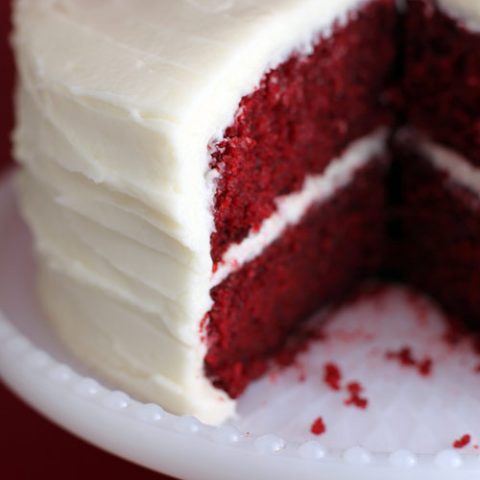 Yield: one 8-inch layer cake
Red Velvet Cake
Prep Time 20 minutes

Cook Time 30 minutes

Total Time 50 minutes
Ingredients
Red Velvet Cake
2-1/2 cups all purpose flour
2 cups sugar
1 Tablespoon cocoa
1 teaspoon salt
1 teaspoon baking soda
2 eggs
1-1/2 cups vegetable oil
1 cup buttermilk
1 Tablespoon vinegar
1 teaspoon vanilla
2 oz. red food coloring
Cream Cheese Frosting
8 oz. cream cheese, room temperature
1 cup butter, room temperature
1 teaspoon vanilla
6 cups confectioners' sugar
Instructions
Preheat oven to 350 degrees Fahrenheit.
Grease and flour two 8-inch cake pans.
Lightly stir eggs in a medium bowl with a wire whisk. Add remaining liquid ingredients and stir together with whisk until blended. Set aside.
Place all the dry ingredients in your mixing bowl and stir together really good with another wire whisk.
Add wet ingredients to the dry ingredients and mix on medium-high for about a minute or until completely combined.
Pour into cake pans and then drop the pans on the counter a few times to release any air bubbles.
Bake for about 30 minutes or until a toothpick inserted comes out clean.
After about ten minutes, remove from pans and cool completely on a wire rack. I also cover in plastic wrap while the cakes cool. Then make the frosting.
For the frosting: Sift sugar and set aside. Beat cream cheese and butter on high until creamy. Add vanilla. Then, add the sugar in batches. Scrape down the sides in between each addition. And frost away.
Notes
This cake has a pretty good amount of oil and is really moist. I haven't tried this one with cake balls yet. But, if I did, I would either use less oil or less frosting to mix together. Next time I make it, I'll do a little experimenting.
Please enjoy your heart out.