I made some peanut butter cookies the other day and topped them off with Hershey's Kisses. Yum and yummer!
You know the kind I'm talking about. They're an oldie but a goodie – and one I never get tired of.
Peanut Butter Kisses. Peanut Butter Blossoms. Whatever you want to call them they are hard to resist.
It's been a long time since I've had these simple cookies, but I still feel the same excitement whenever they come out of the oven.
I mean look at these tempting little guys in all their melty, chocolaty topped goodness and try not to eat one. Just try.
Aren't they a happy cookie?
And they are so easy to make. Roll the cookie dough into 1 1/2 inch balls.
And then roll the balls in sugar.
Bringing back any memories yet?
Bake. Let them puff up…
And then press.
Push the Kisses into the cookies as soon as they come out of the oven.
The heat from the cookies, will slightly soften the chocolate and give the candies a wonderful glossy look.
And that's exactly the best time to take a bite.
Have a voice of reason nearby so you don't eat them all in one sitting.
You can also use the same cookie dough with Reese's.
Roll the balls again.
But this time press the dough into a mini muffin tray. Just leave enough room to place a peanut butter cup in the middle.
And bake.
And bite.
And try to behave.
And if you make cookies with both of the candies, just use some of the extra Kisses to decorate.
Heat them up in the microwave and use a Ziploc bag with the corner snipped off to drizzle the melted chocolate across the tops.
You can bake them in the pan with or without liners. Whatever you prefer.
Or you can make them like the Kisses Cookies and just press them into the ball after they bake.
Either way, enjoy!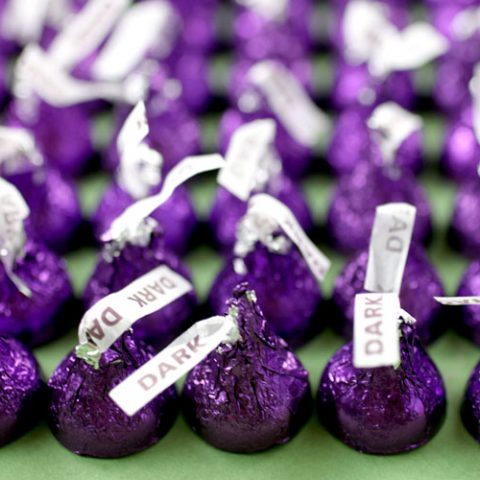 Chocolate Candy Cookies
Ingredients
1-1/2 cups all purpose flour
3/4 teaspoon baking soda
1/2 teaspoon salt
1/2 cup butter, slightly softened
1 cup peanut butter
1 cup sugar
1 egg
2 teaspoons vanilla
Hershey's Kisses or Reese's Peanut Butter Cups, or both
Instructions
Preheat oven to 350 degrees Fahrenheit and line baking sheet with parchment paper.
Sift flour, soda and salt with a wire whisk and set aside.
Beat butter and peanut butter until combined. Add sugar and beat until fluffy. Add egg and vanilla. Add flour mixture and mix until just combined.
Roll dough into 1 to 1-1/2 inch balls and then roll the balls in more sugar to coat.
For Peanut Butter Kisses: Place rolled balls on parchment paper covered baking sheet and bake for 8-10 minutes.
Remove from the oven and press an unwrapped Hershey's Kisses candy into the center of each cookie. Transfer to a wire rack to cool.
For Peanut Butter Cuppies: Press rolled balls into the cavities of a mini muffin tray.
Place an unwrapped Reese's peanut butter cup into each. Bake for 8-10 minutes.
Remove. Let cool and then drizzle with chocolate if desired.
Note: you can bake these in miniature wrappers or directly in the pan.
Notes
There are about 36 Reese's and around 70 Kisses in a regular size bag.  I forgot to count how many this recipe will make, but if you go with Kisses, you'll definitely have enough candies.