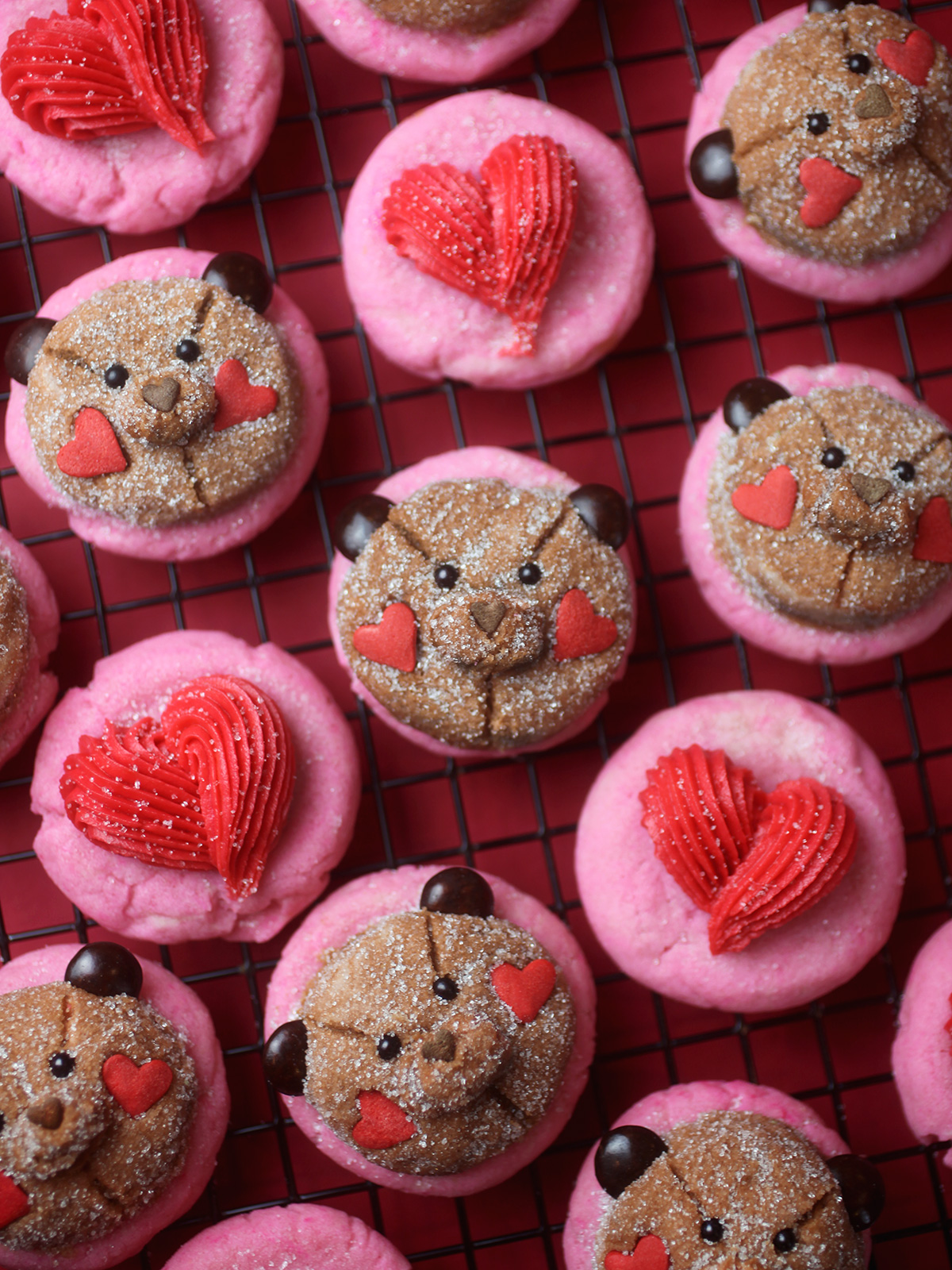 It's been too long since I last made these sugar cookies. They are so soft and sink your teeth worthy. I've made them several times now and love to decorate them for different occasions so obviously I had to dress them up a little for Valentine's Day since it's right around the corner. You can decorate them two ways: with quick and easy big buttercream hearts or with candy and sprinkles to make adorable teddy bears.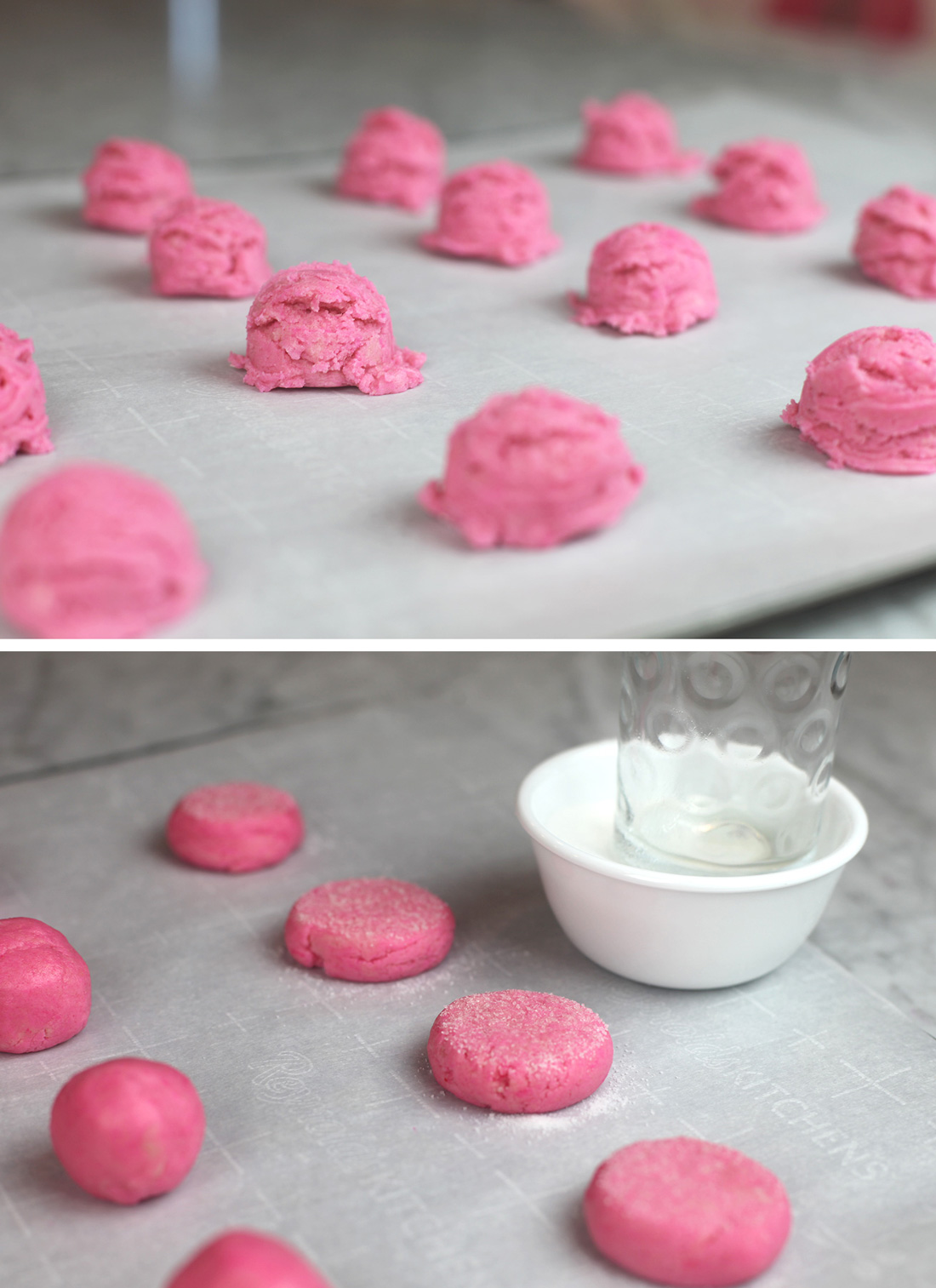 I started making this recipe from my blogging friend Maria's Two Peas and Their Pod's Cookbook and immediately fell in love and added it to my forever baking list. If you want to see some other fun designs based off this recipe, check out these cuties:
Darling Duckling Sugar Cookies
Frosted Frostys Soft Sugar Cookies
This time I tinted the sugar cookie dough with pink icing color to make them a little more festive. When ready to bake, scoop the dough, roll into balls and then gently each press with a clean, flat surface coated in granulated sugar.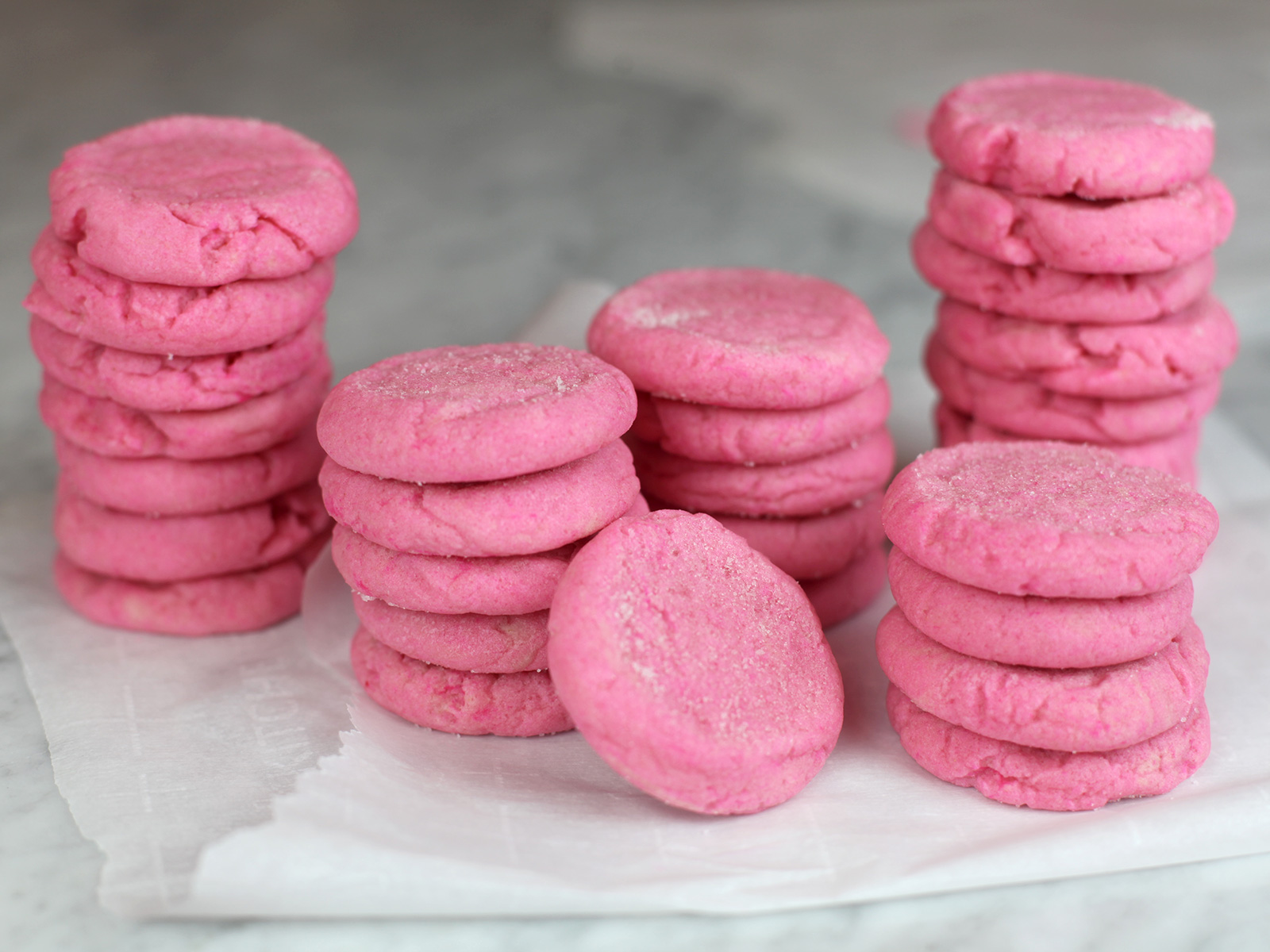 They only need to bake for 8 minutes, so even if you don't decorate or add buttercream, you can enjoy these cookies in no time. Easy to prepare and too easy to eat.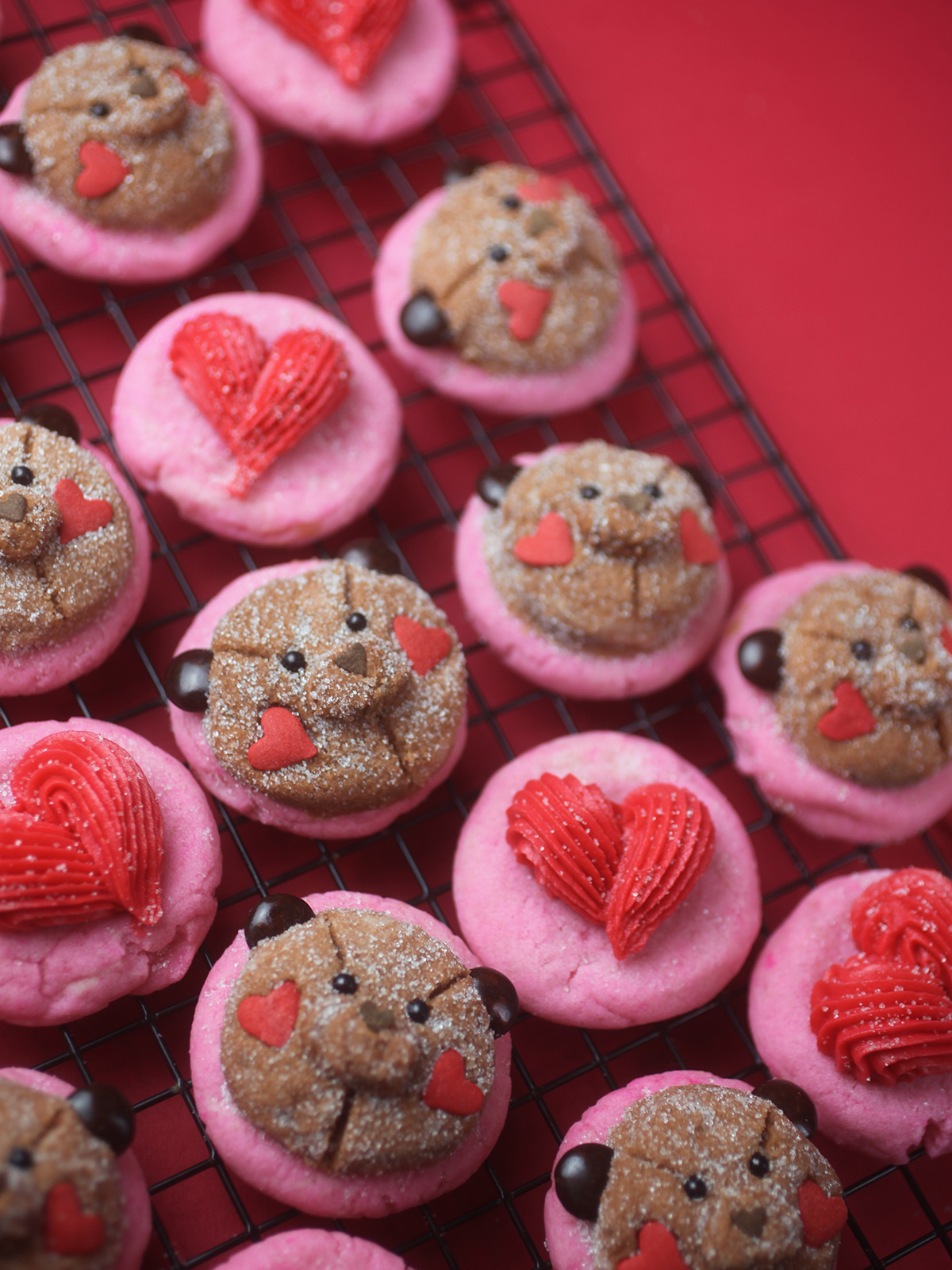 But let's get into how to decorate these cute teddy bears. Start out by making buttercream frosting and tinting it brown, or make chocolate buttercream frosting depending on your preferred flavor combination.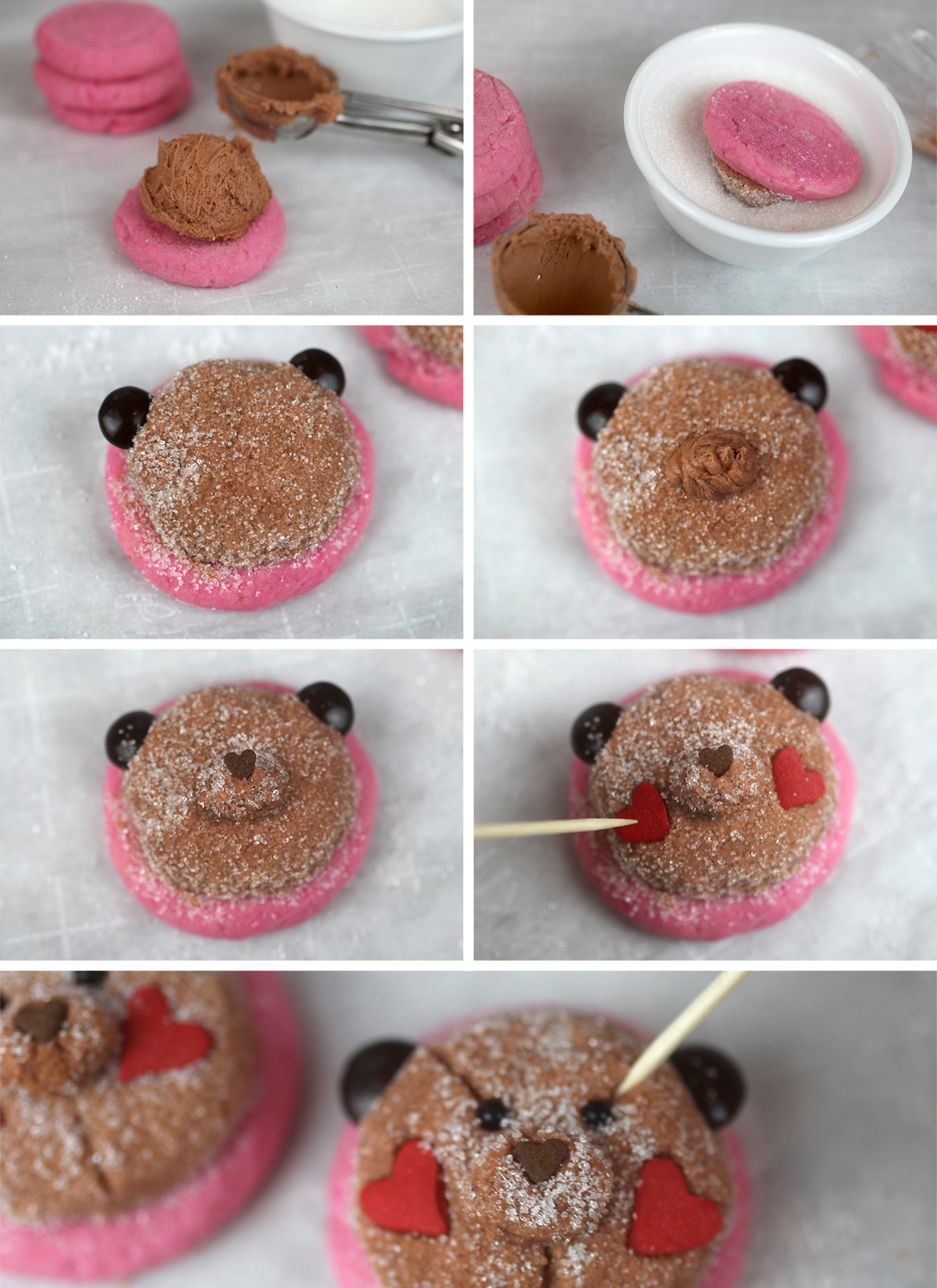 Scoop buttercream using a 1.5 inch scoop and place on top of cookie. Then press into a bowl of decorative white sanding sugar to shape into a smooth mound. Reshape if necessary – the sanding sugar creates a barrier to aid in shaping and helps keep your fingers from getting buttercream all over them.
Place two brown M&M's in position for ears.
Use a toothpick to remove some of the buttercream where the nose goes and then pipe on a cute little snout. Then sprinkle sanding sugar right on top this time.
If you try to pipe the buttercream directly over the sanding sugar, it won't really stick. That's why it's helpful to remove the buttercream where you want to pipe – so that it attaches.
Now press a tiny heart sprinkle in position for the nose and jumbo heart sprinkles in position for cheeks. You can totally use other shapes, I just had these hearts handy for Valentine's Day.
Finish off the face with two black sugar pearls in position for eyes and use a toothpick to gently draw lines through the buttercream to emulate stuffed animal seams.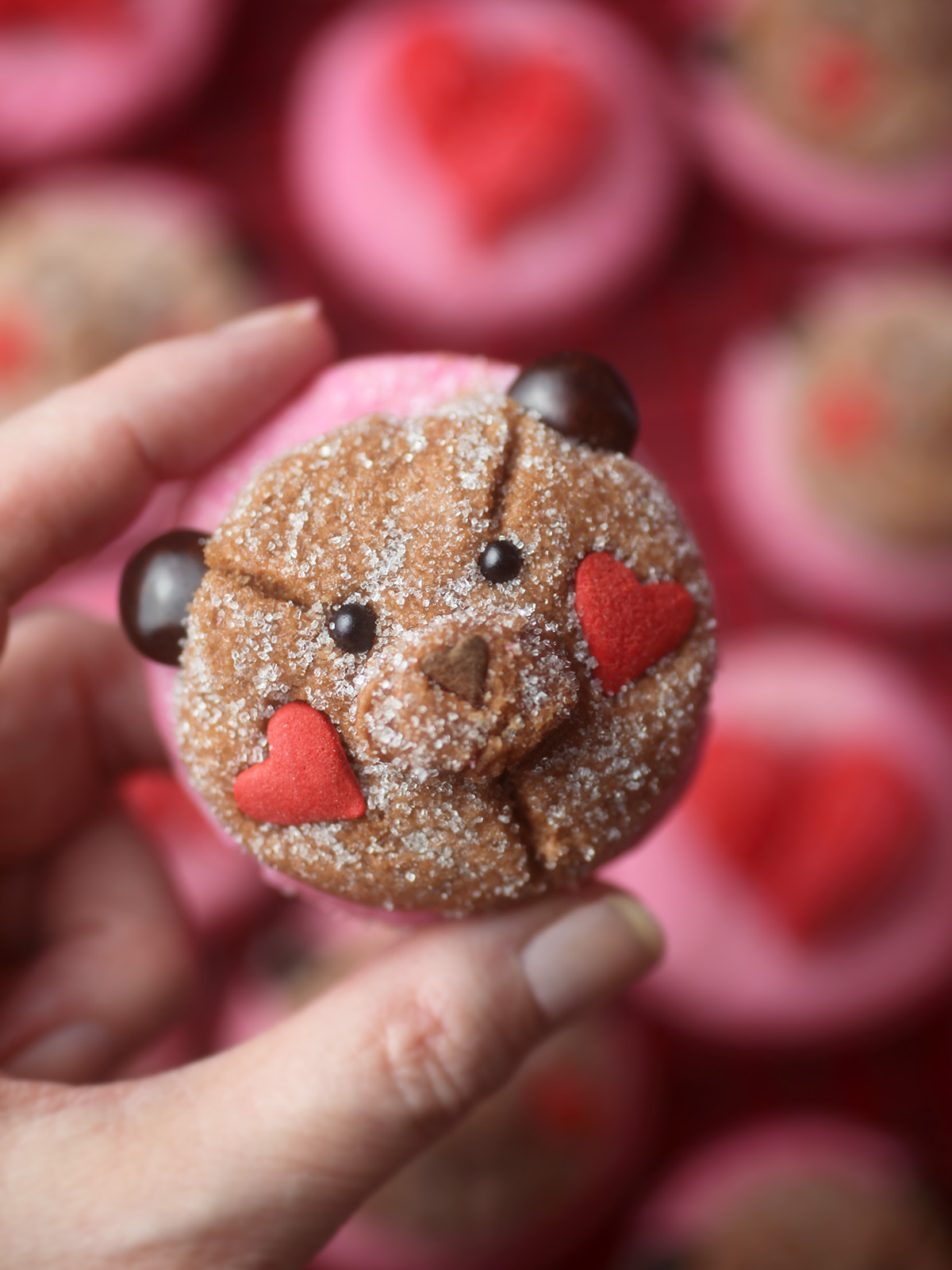 Thank you for coming to my teddy talk. : )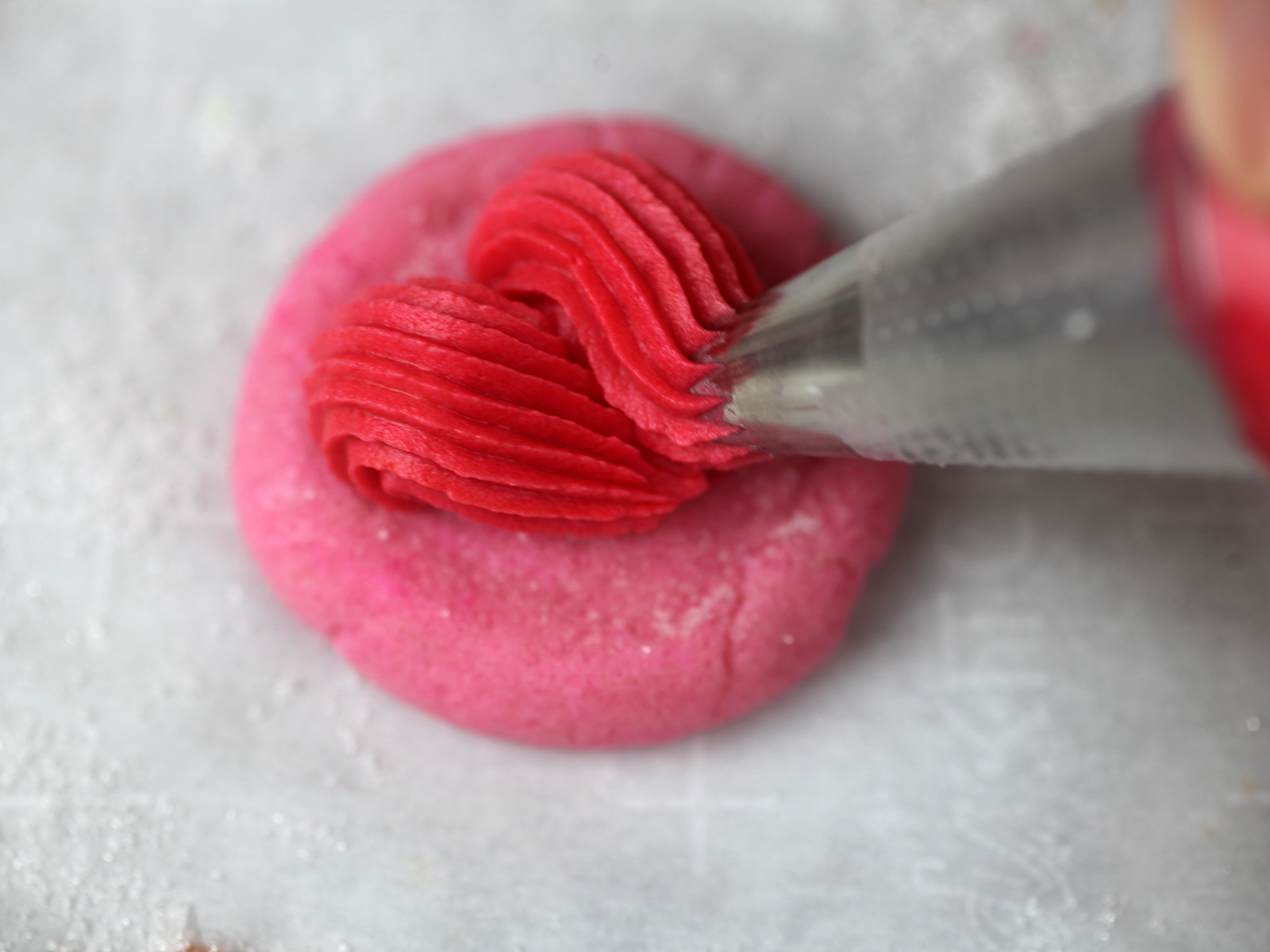 For a much faster decorating approach, just pipe hearts on the cookies using an Ateco 864 decorating tip. Pipe a dollop with pressure, gently releasing the buttercream to a point and then do the same motion creating a v-shape and slightly overlapping the bottom of the first piped section.
That's it.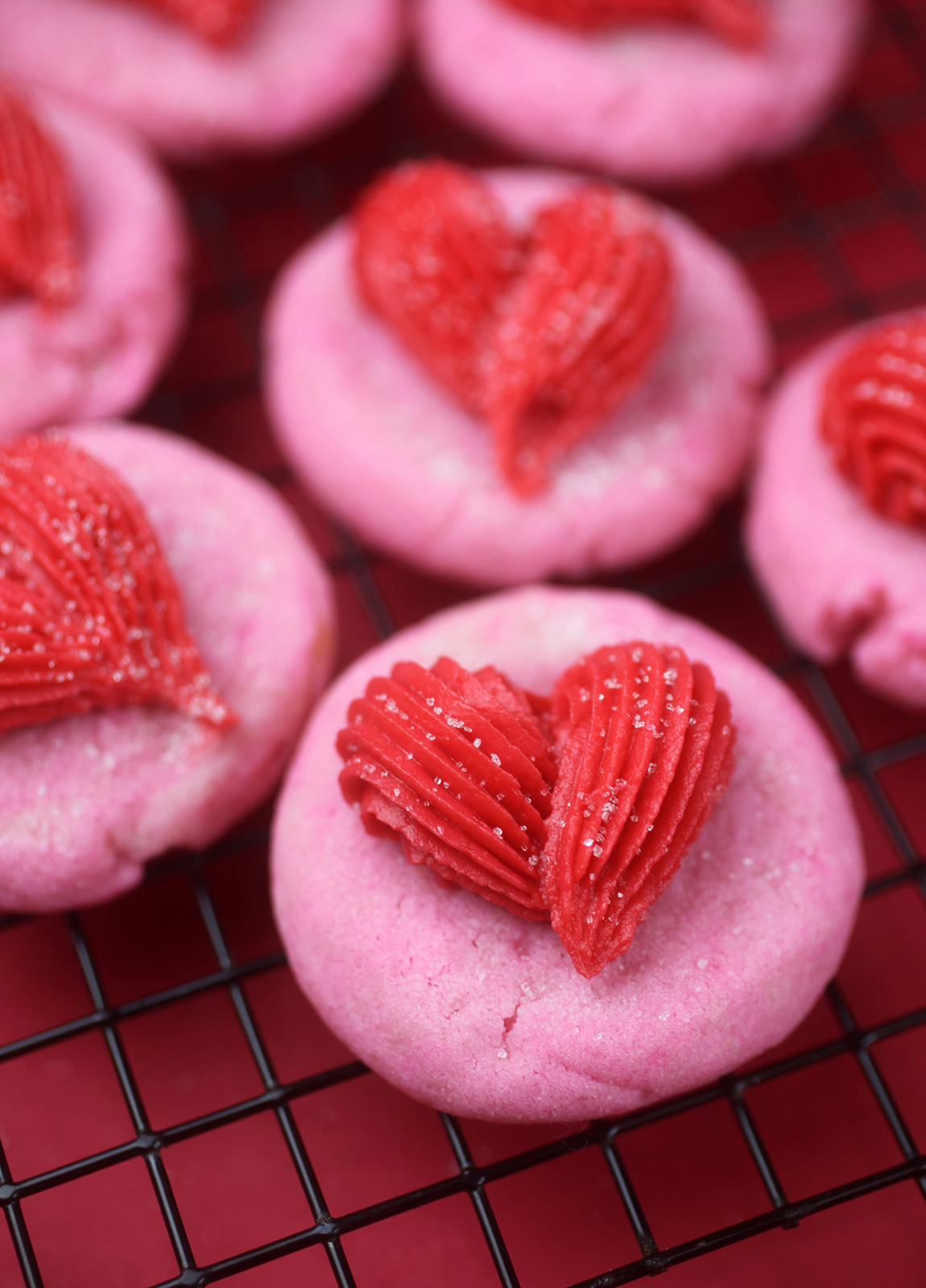 Pretty in pink … and red!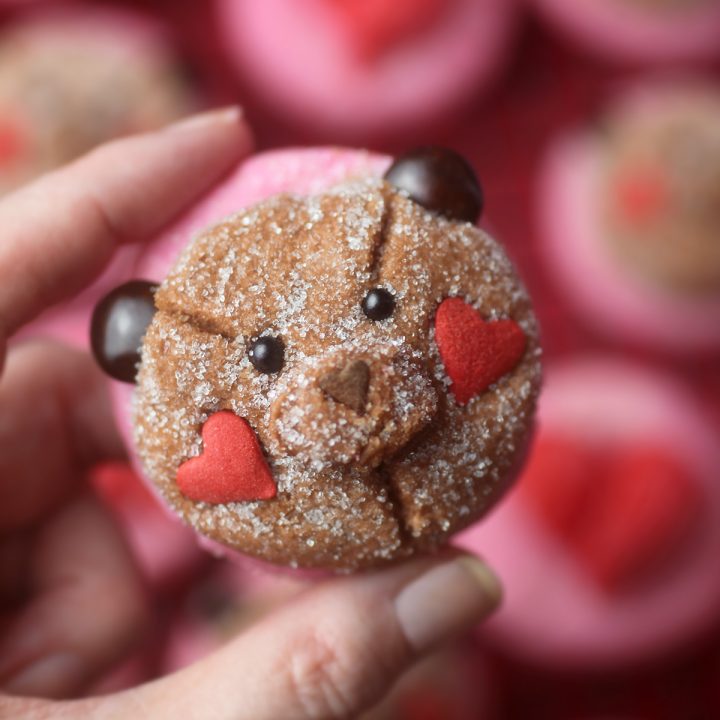 Yield: 24-28 cookies
Soft Sugar Cookie Bears
Additional Time
15 minutes
Ingredients
SUGAR COOKIES
2-3/4 cups all-purpose flour
1/2 teaspoon baking soda
1/2 teaspoon cream of tartar
1/2 teaspoon kosher salt
1/2 cup (8 tablespoons unsalted butter, room temperature
1/2 cup vegetable oil
1/2 cup granulated sugar, plus another 1/4 cup to use for flattening cookies
1/2 cup confectioners' sugar
1 large egg
1-1/2 teaspoons pure vanilla extract
Pink icing color
nonstick cooking spray
FROSTING
3/4 cup (12 tablespoons) unsalted butter, room temperature
3 cups confectioners' sugar, sifted
3 tablespoons heavy cream or milk
1 teaspoon pure vanilla extract
Brown icing color
White sanding sugar
Black sugar pearls
Brown M&M's
Jumbo red heart sprinkles
Instructions
Make the Cookies: Preheat oven to 350 degrees fahrenheit. Line a large baking sheet with parchment paper.
In a large bowl, whisk together the flour, baking soda, cream of tartar and salt and set aside.
In the bowl of a stand mixer fitted with the paddle attachment, cream together the butter, oil, 1/2 cup of the granulated sugar, and the confectioners' sugar until smooth. Add the egg, and vanilla extract. Mix until combined. Add the dry ingredients and mix on low. Add pink icing color, continuing to mix until just combined.
Scoop the dough using a 1-1/2 inch scoop and place on baking sheet about 2 inches apart for evenly sized cookies. Roll the dough into balls. Not all the cookies will fit on the sheet for one batch.
Pour the reserved 1/4 cup of granulated sugar into a small bowl or dish. Spray the bottom of a drinking glass with nonstick cooking spray. Press the bottom of the glass into the sugar to evenly coat. Press the sugared glass bottom on top of each cookie dough ball and press down gently. Repeat for each cookie and reapply cooking spray as needed.
Bake the cookies for 8 minutes. Don't overbake. Let cool 5 minutes before transferring to a wire rack to cool completely. (Note: I slide the parchment paper and cookies off my flat cookie sheet and onto the counter to cool just a couple of minutes after they come out of the oven.
Repeat with remaining dough.
Make the Frosting: In the bowl of a stand mixer fitted with the paddle attachment, beat the butter until smooth. Add the confectioners' sugar and mix until combined. Add the vanilla extract and one teaspoon of milk at a time for desired consistency.
To Decorate Bears: Tint buttercream brown. Scoop the buttercream using a 1-1/2 inch scoop and place on top of a cookie. Gently press the cookie and frosting into a small dish filled with white sanding sugar. Very gently rock and rotate to coat the surface. Use the palm of your hand to reshape into a nice mound.

Place brown M&M's in position for ears. Pipe a buttercream nose and sprinkle with more sanding sugar to coat. (You'll need to remove any sanding sugar where you will be piping to allow the buttercream to stick.) Place a miniature heart sprinkle on top of the nose, two jumbo red heart sprinkles in position for cheeks, and black sugar pearls for eyes. Press firm, but gentle so they are secure. Decorate one cookie at a time to make sure the sprinkles attach. Use a toothpick to draw lines on the face to mimic stuffed animal seams.
To decorate hearts: Reserve some of the buttercream to tint red. Use an Ateco #864 tip to pipe a short line on the cookie with more pressure at the beginning and tapering pressure as you pull away to create a pointed end. Then pipe another section to create a V shape that slightly overlaps the first section.

Store in an air tight container at room temperature for up to 3 days.
Notes
Recipe adapted from the Two Peas and Their Pod Cookbook by Maria Lichty.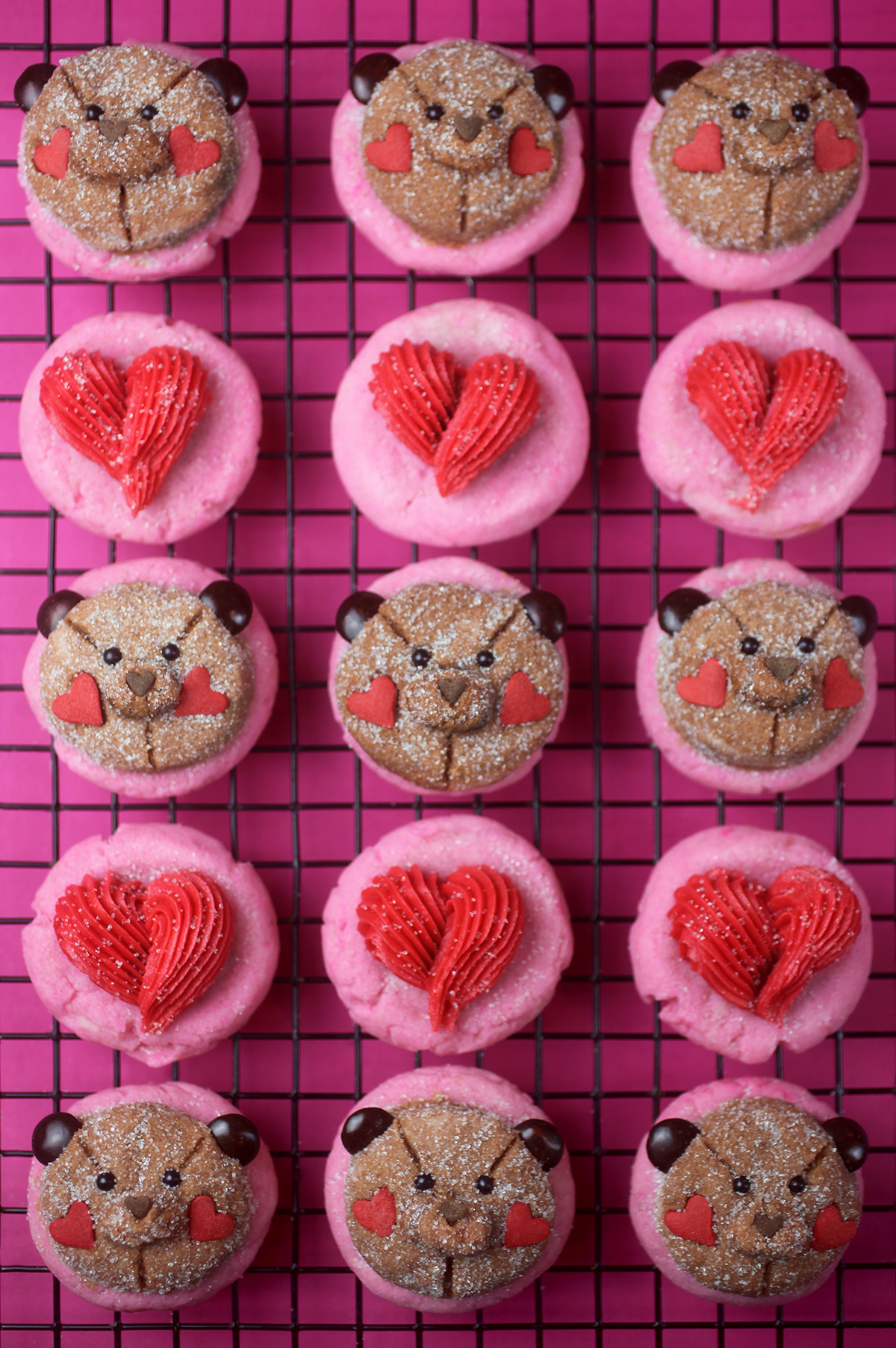 Hugs and hope you have a Happy Valentine's Day!