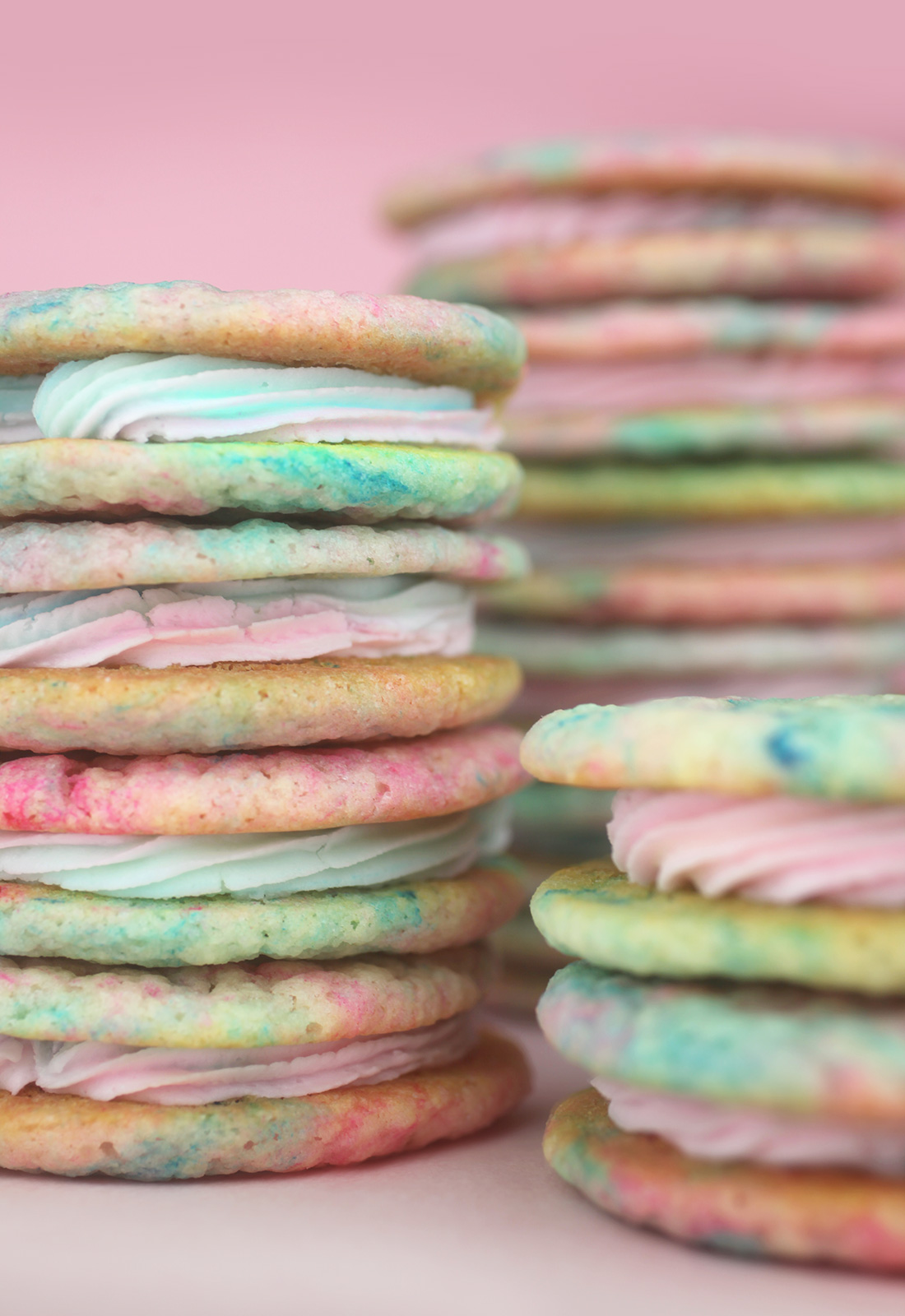 These pastel colored cotton candy cookies are as sweet as they look – made with a duo of pink and blue cookie batter and buttercream, too. I made them from a recipe in the new Jenna Rae Cakes and Sweet Treats book.
By the way – stop what you are doing and go follow @jennareaecakes on instagram. I have a total crush on their bakery and all of their beautiful pastel colored-sweets, treats and confections. Their aesthetic is the dreamiest. I just need to visit Winnipeg to try them in person one day. In the meantime, I have their cookbook. YAY! And I also bought their Liquid Cotton Candy so I could make these cookies.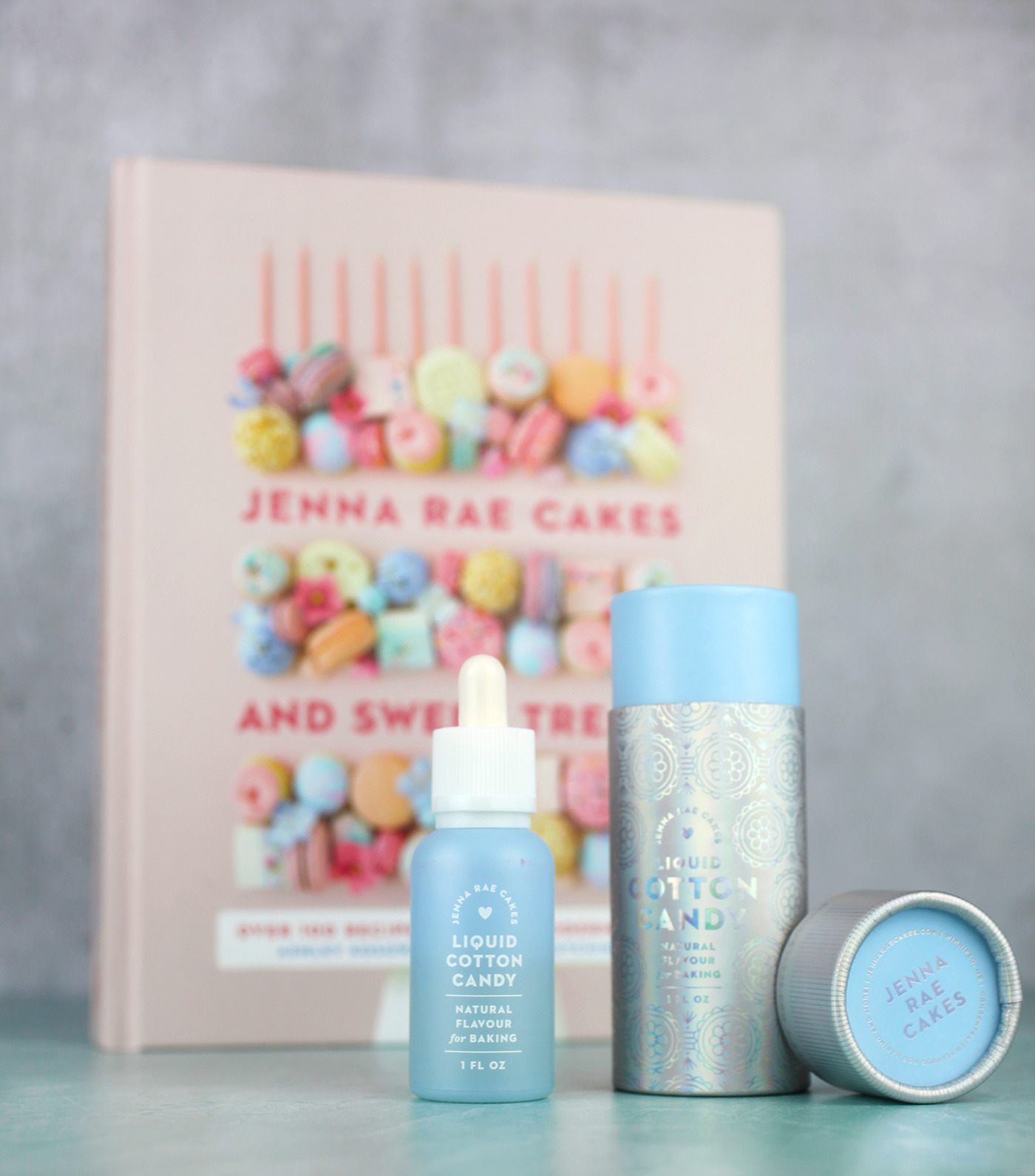 The cutest packaging! They also sell Liquid Cake Batter and Liquid Magic Mallow. Love!
(Also – you can use other cotton candy flavoring for these – I just wanted to try their product.)
Take a peek below at some of the treats inside their book.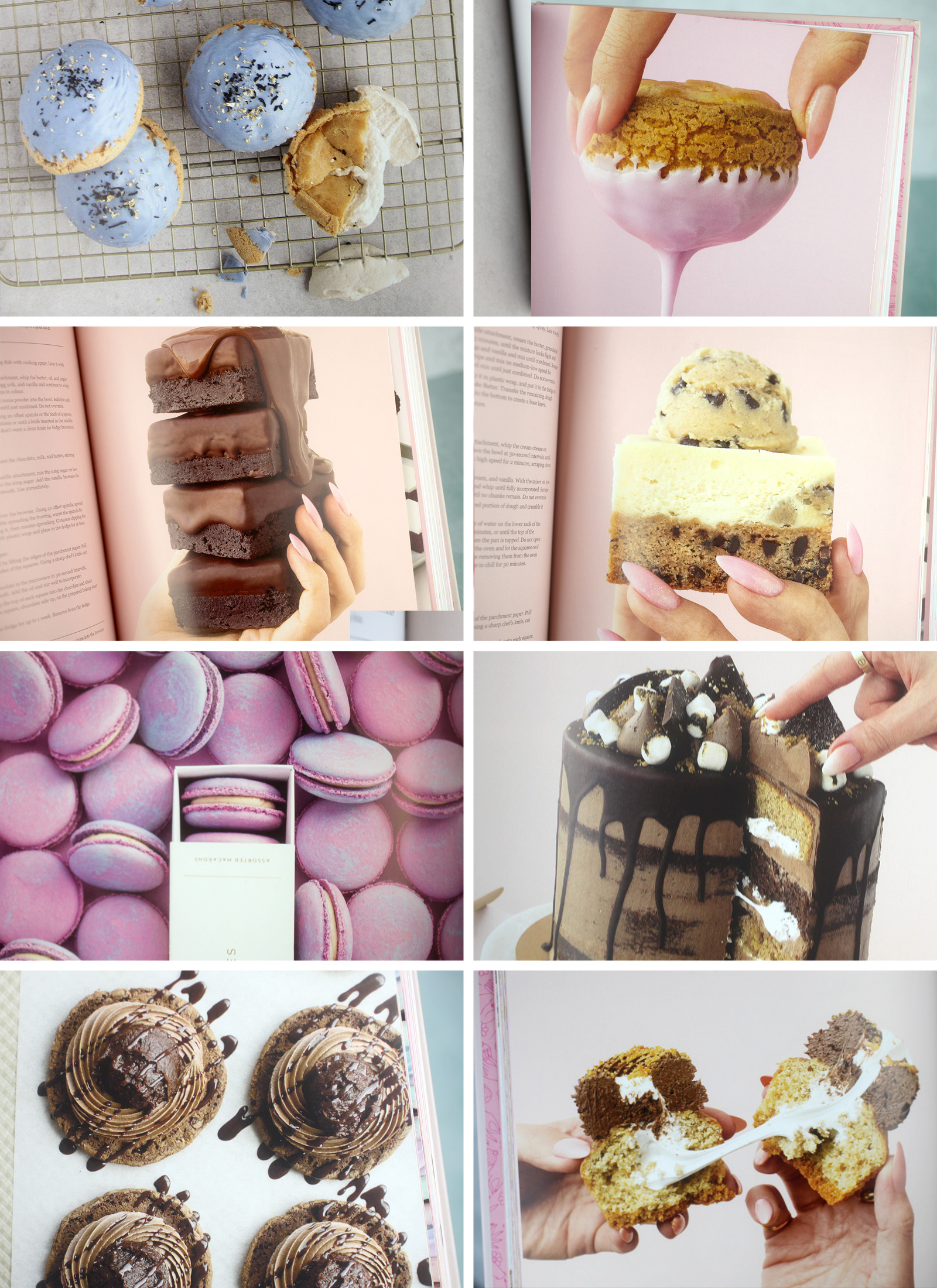 There are way too many that I want to make. Tons of cookie sandwiches, creme puffs, cupcakes, cakes, macarons and more.
But let's get back to these cotton candy sandwich cookies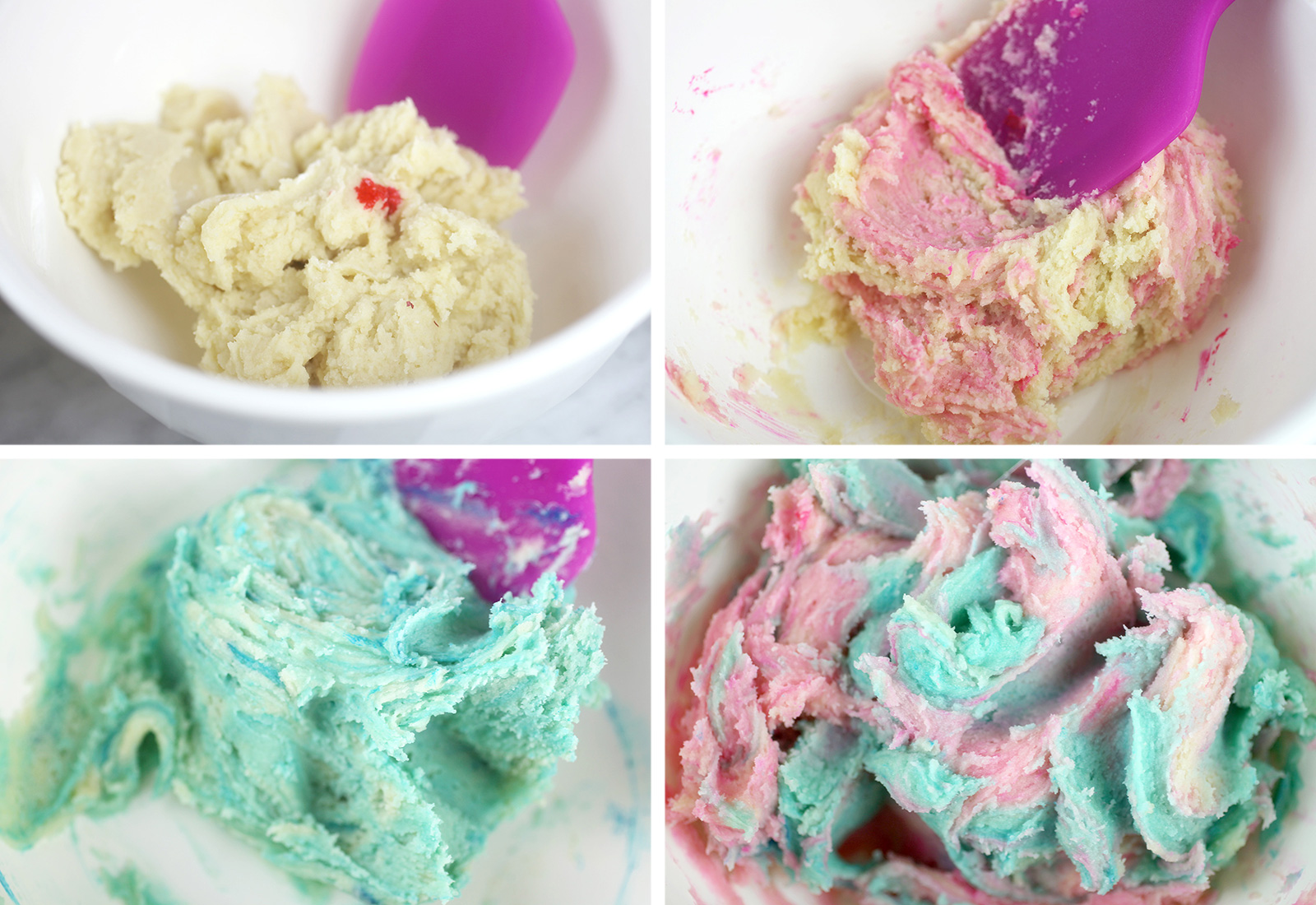 When you make the cookie dough, divide it in half and add one drop of sky blue and pastel pink gel food coloring to each portion. Gently mix until almost combined.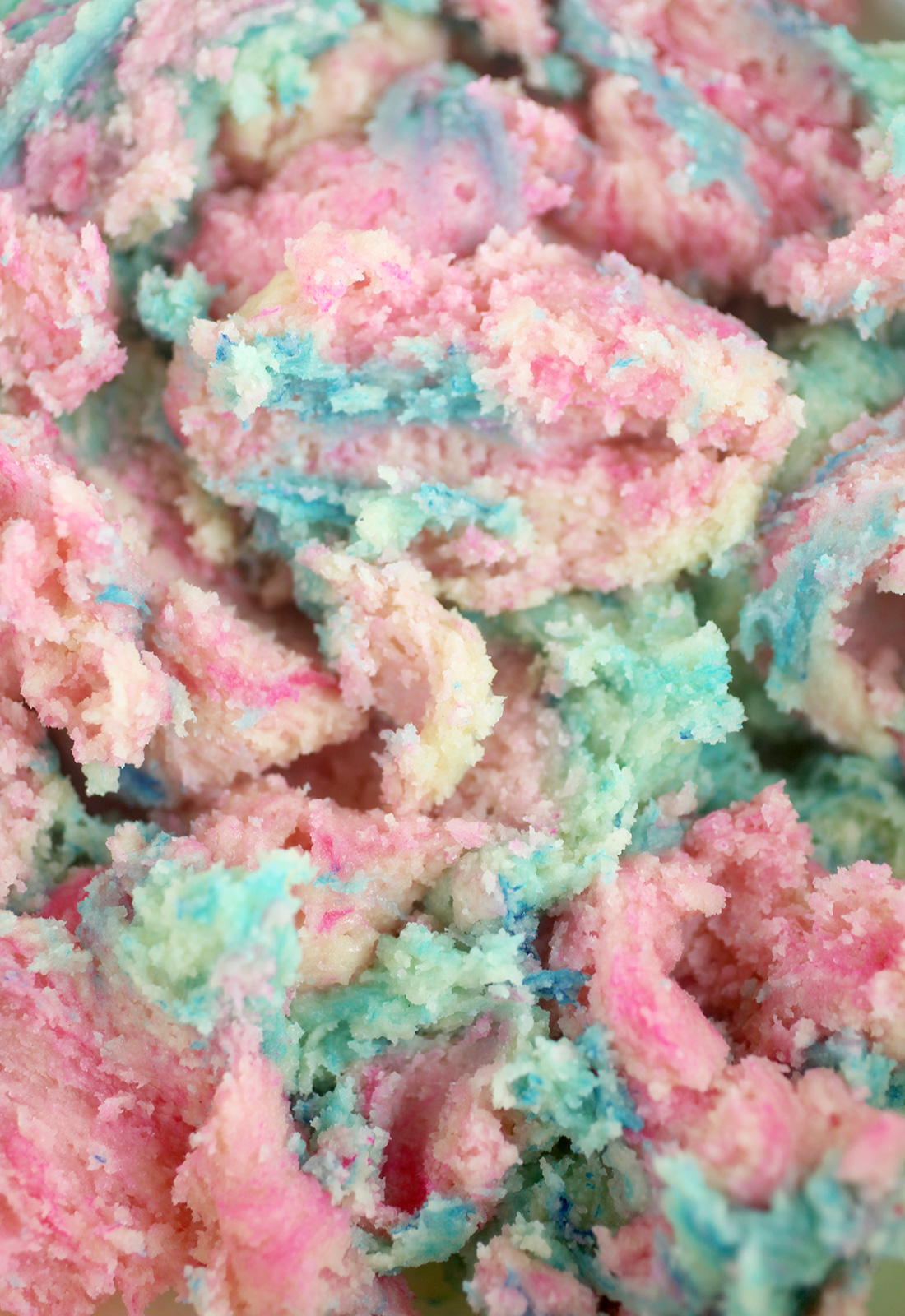 Then gently mix both colors together. Be very careful so that you don't over mix. You still want to see the plain cookie dough in the mix.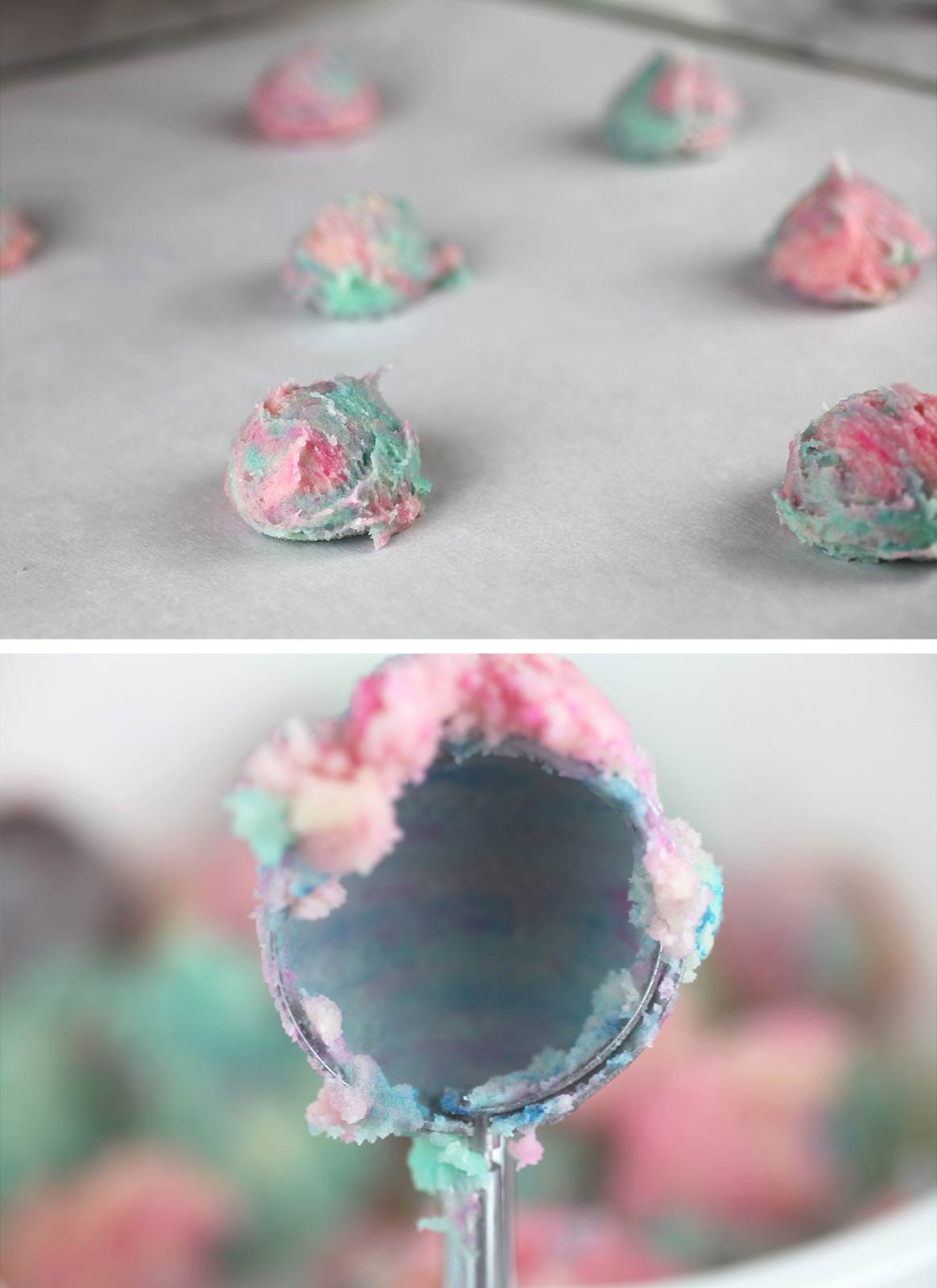 Place scoops of the pastel sugar cookie dough on a parchment paper covered baking sheet about two inches apart.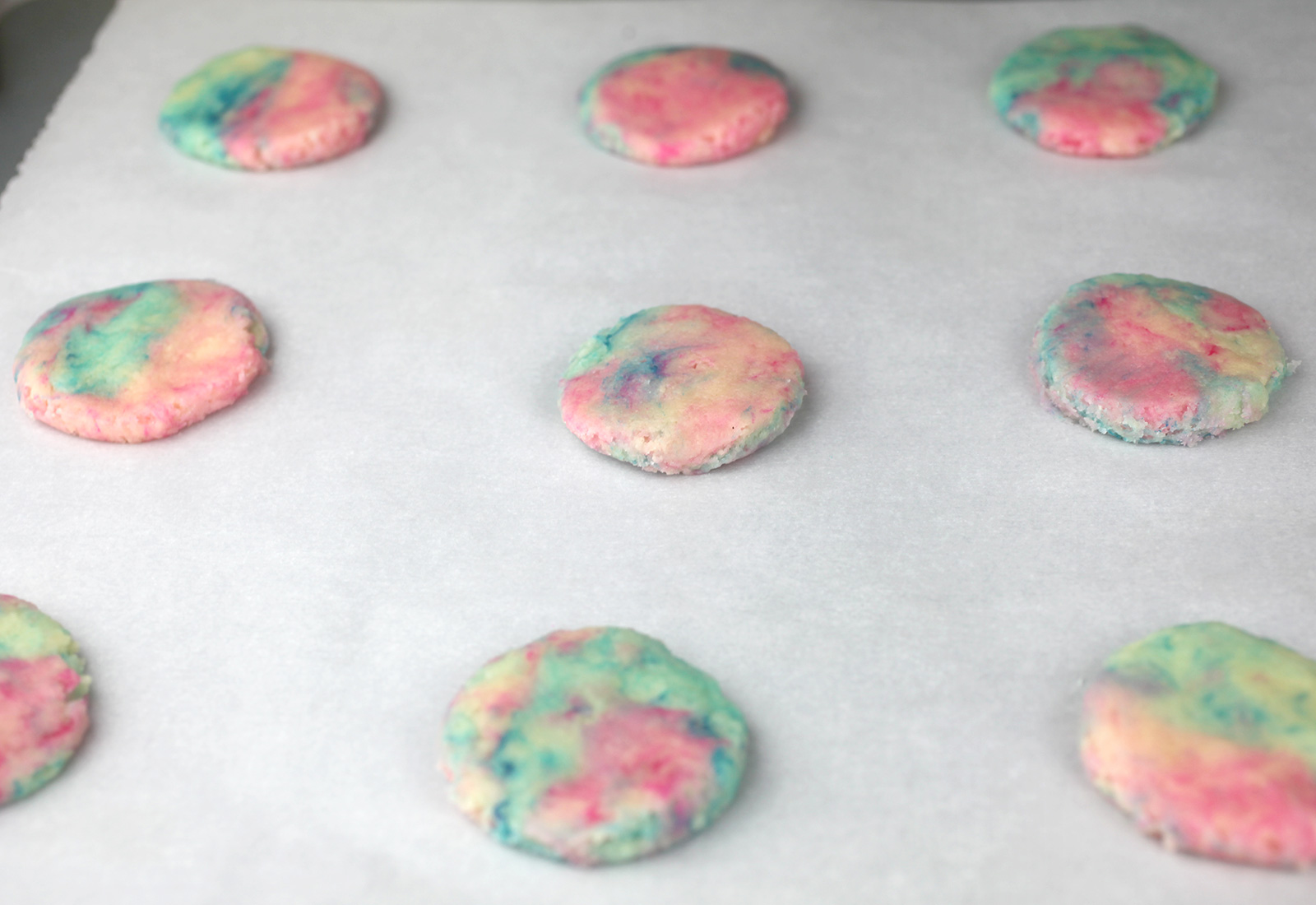 Flatten the cookies and bake away.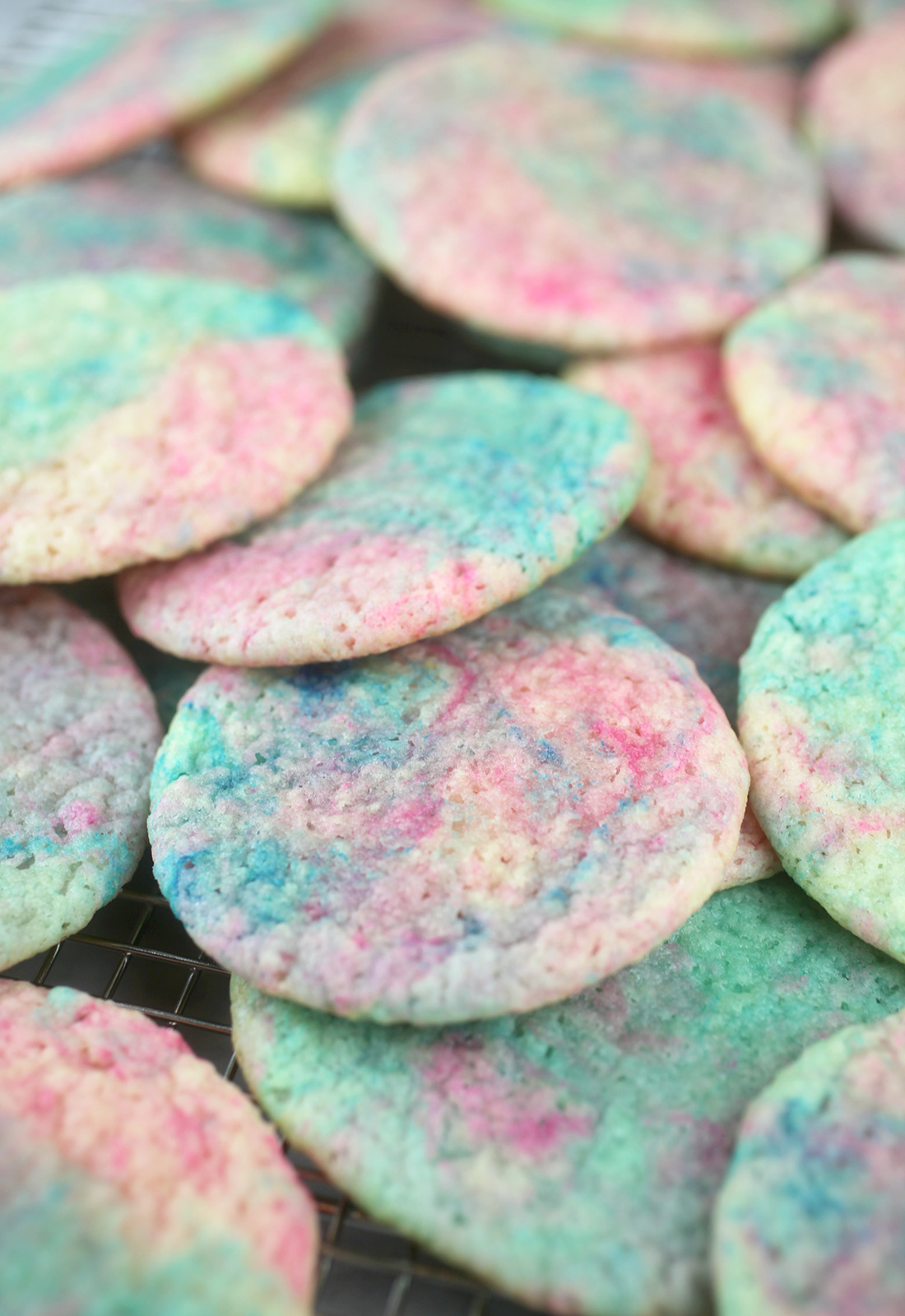 So pretty… I could enjoy them just like this.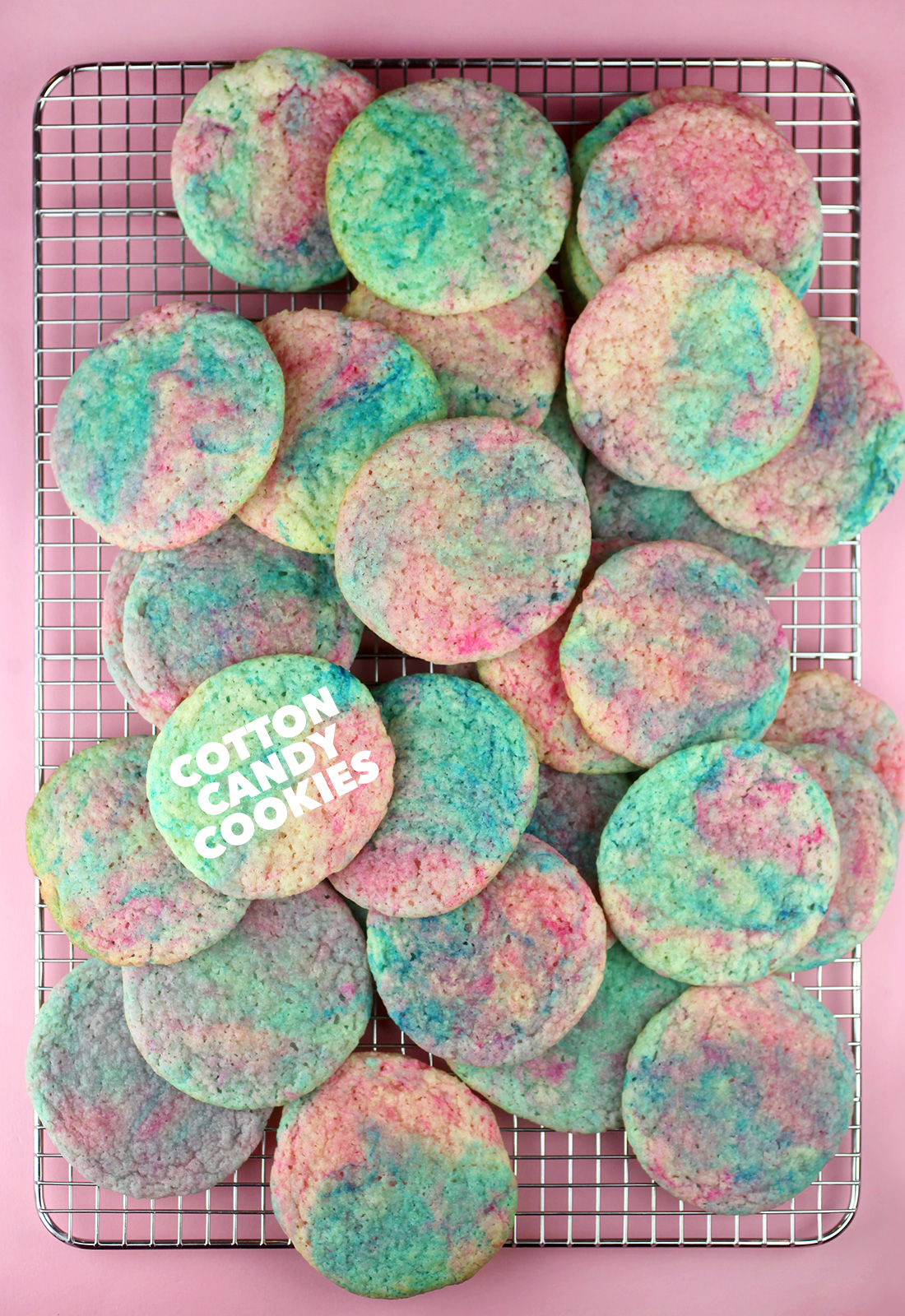 But let's add some cotton candy buttercream to them, too.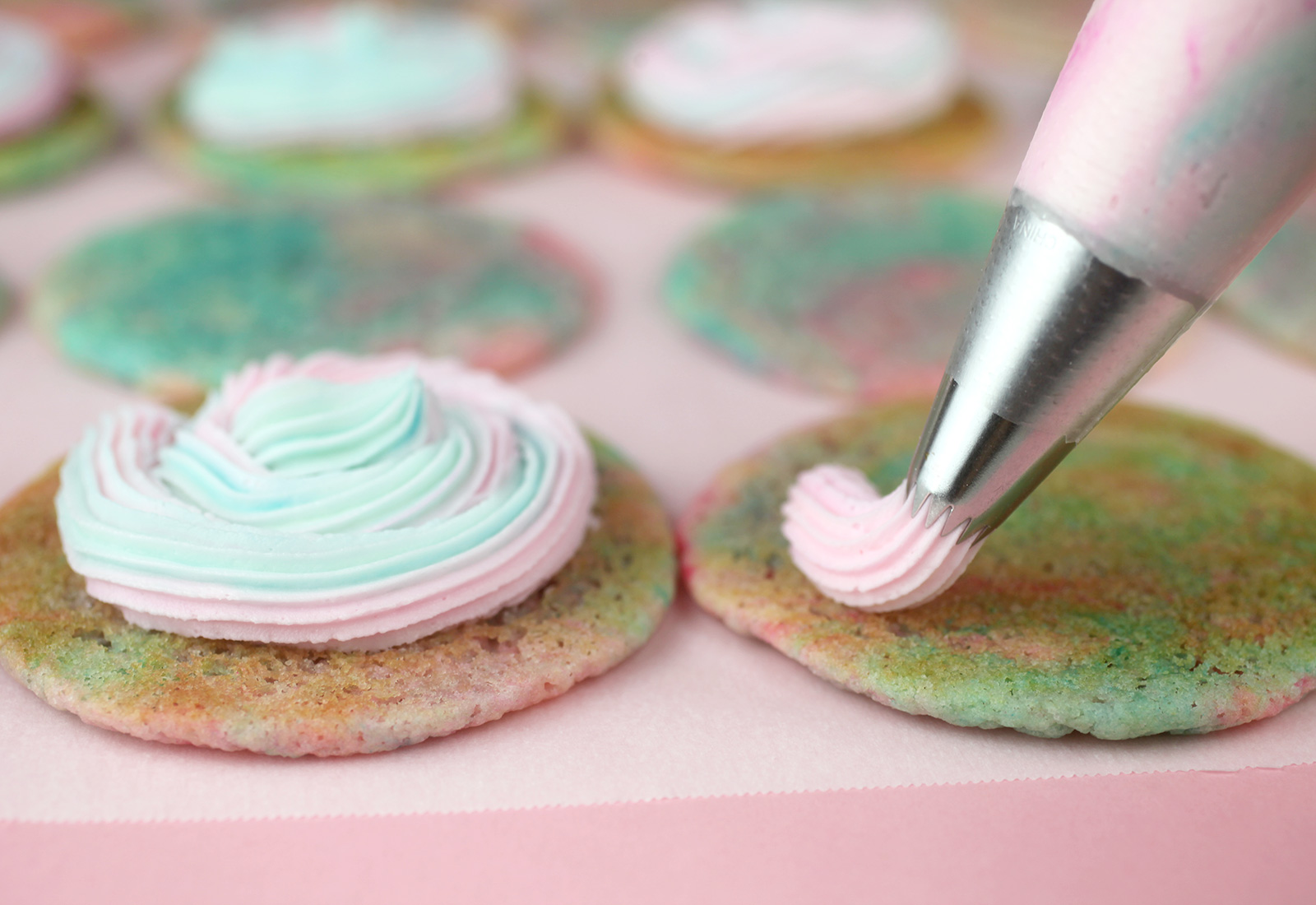 That's right – swirls of pink and blue.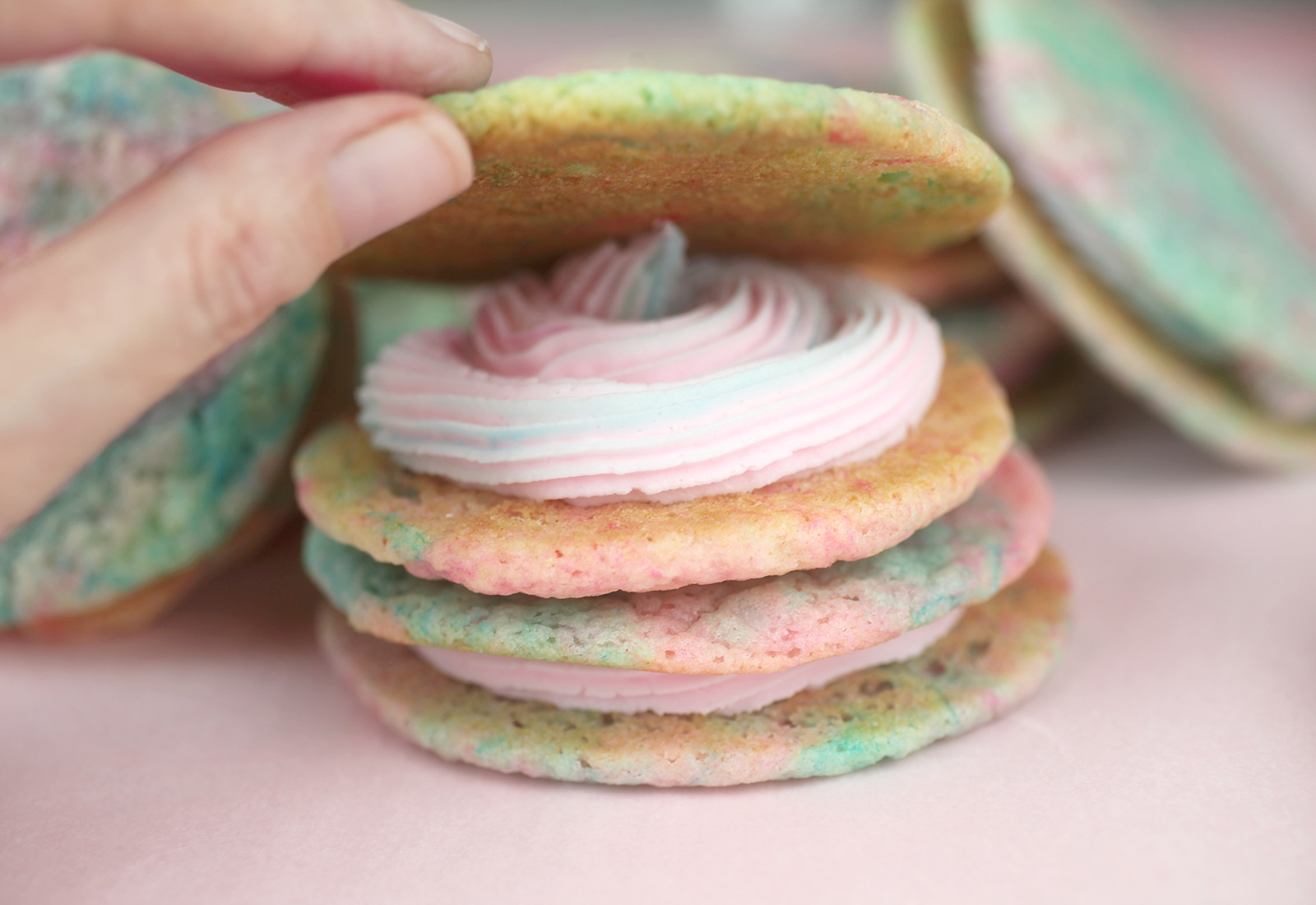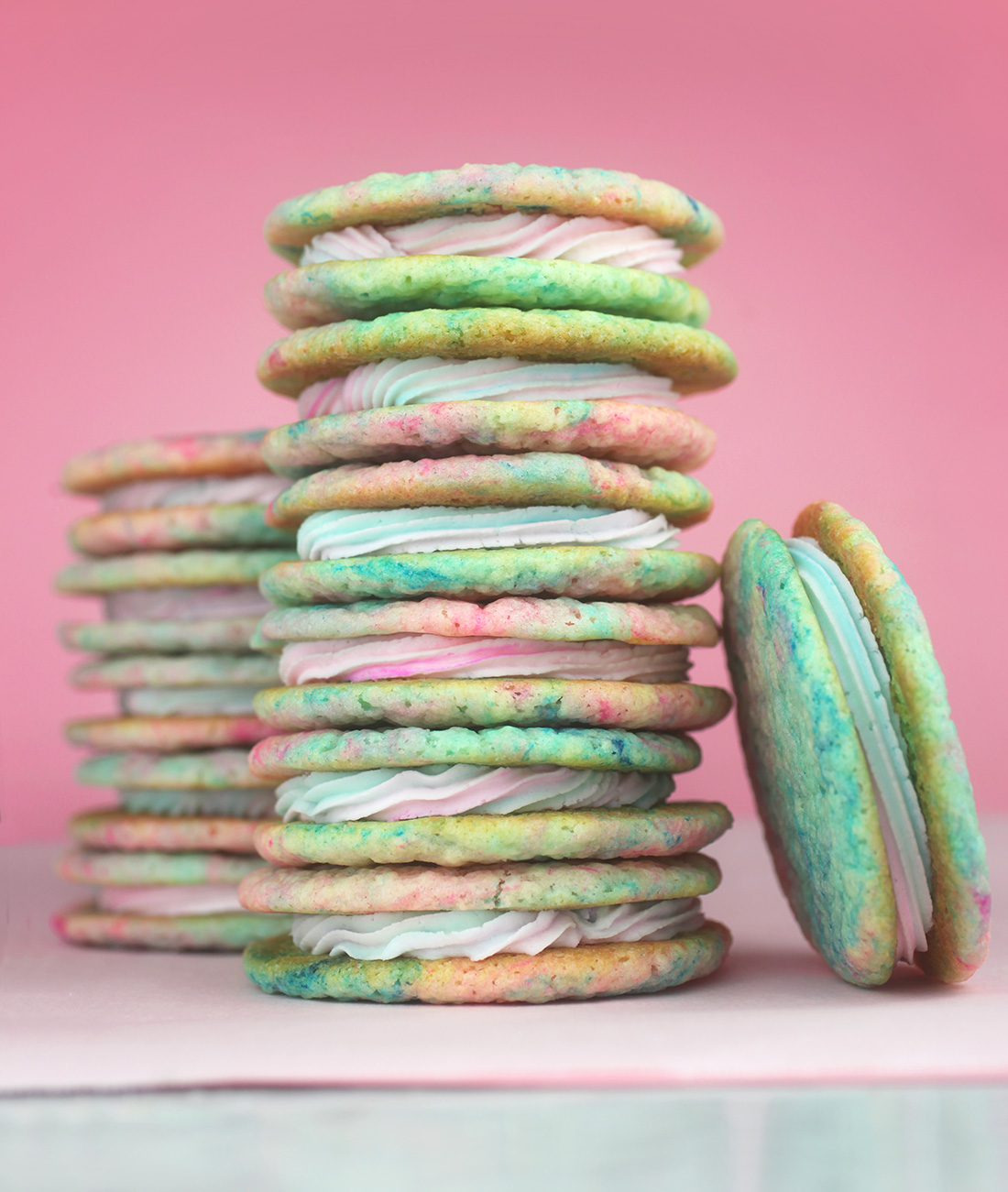 Look at those sweet stacks.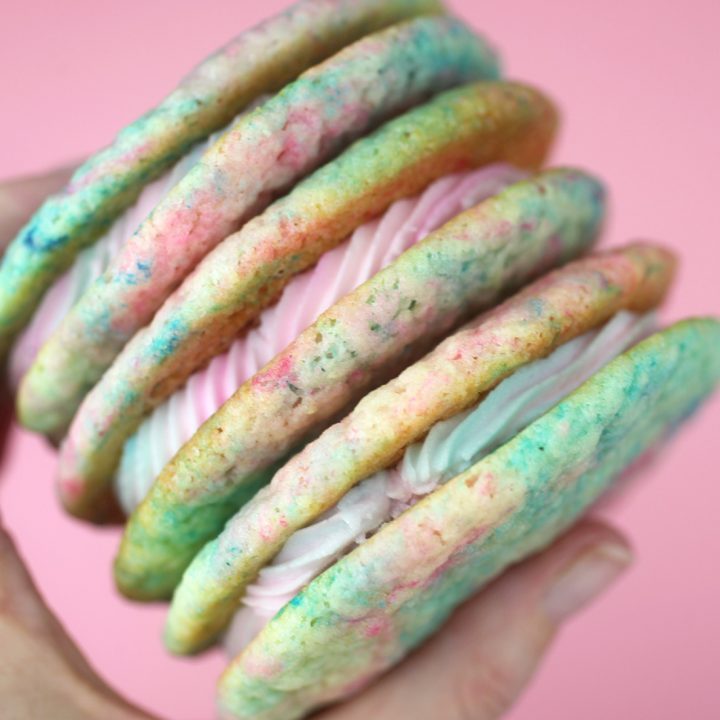 Yield: 12 sandwich cookies
Cotton Candy Cookies
Prep Time 20 minutes

Cook Time 10 minutes

Additional Time 30 minutes

Total Time 1 hour
Ingredients
Cotton Candy Cookie Sandwiches
1-1/4 cups granulated sugar
1/2 cup unsalted butter, room temperature
1/4 cup buttermilk
1 egg
1 teaspoon JRC Liquid Cotton Candy* or cotton candy flavoring
2-1/4 cups all-purpose flour
3/4 teaspoon baking soda
1/4 teaspoon salt
1/2 teaspoon baking powder
1 drop soft pink gel food coloring
1 drop sky blue gel food coloring
Cotton Candy Buttercream
1 cup unsalted butter, room temperature
1-1/2 cups confectioners' sugar
2 teaspoons JRC Liquid Cotton Candy* or cotton candy flavoring
1 drop soft pink gel food coloring
1 drop sky blue gel food coloring
Instructions
Prepare sugar cookies: Preheat oven to 350 degrees F and line baking sheets with parchment paper.
In the bowl of a stand mixer fitted with the paddle attachment, cream the sugar and butter on medium for 2 to 3 minutes until light and fluffy.
In a small bowl, whisk together the buttermilk, egg, and cotton candy flavoring. With the mixer on low, slowly pour the buttermilk mixture into the butter mixture and mix until fully incorporated. Scrape bottom of the bowl with spatula and mix for an additional 15-30 seconds until combined.
Add flour, baking soda, salt and baking powder to the wet ingredients and mix on low speed until just combined. Dough is fully mixed when it comes together and pulls clean away from the sides of the bowl. If mixture is dry, add a teaspoon of buttermilk at a time until you can easily scoop it.
Divide cookie dough evenly between 2 medium bowls. To one bowl, add a drop of the soft pink food coloring. Mix by hand or knead to combine until mostly pink. To the other bowl, add a drop of the sky blue food coloring with a toothpick and combine until mostly blue. Place both doughs in a medium bowl and gently swirl together, being very careful not to over mix.
Using a 1-1/2 inch scoop, scoop dough onto prepared baking sheets two inches apart. Using the base of your palm, flatten cookies to about 2-1/2 inches in diameter.
Bake for 6 minutes until the edges start to brown. Cool on baking sheets for 5 minutes before transferring to a wire rack to cool completely. NOTE: I ended up baking mine longer than the original recipe calls for – about 10 minutes - because the cookies weren't quite done. Check your cookies at 6 minutes and bake longer if needed.
Prepare buttercream: In the bowl of a stand mixer, beat butter for about 2 minutes. With mixer on low, slowly add confectioners' sugar. Increase speed to medium high and beat for 2 minutes until light and fluffy. Add cotton candy flavoring. Beat on high for another minute.
Divide buttercream evenly between two medium bowls. To one bowl, add a drop of the soft pink food coloring and mix until the color is uniform. Repeat with blue food coloring and the second bowl of buttercream.
Assembly: Transfer cotton candy buttercream to a piping bag fitted with a No. 8B tip by adding small scoops to the bag and alternating between the pink and blue buttercream.
Flip over half the cookies and pipe buttercream starting in the center of the cookie and moving outward in a circular motion. Leave 1/2 inch ring of the cookie exposed around the exterior edge.
Place the remainder of the cookies, right side up, on top of the buttercream and press down gently to make them stick. The buttercream will spread slightly to the edges of the cookies.
Place the finished cookie sandwiches the fridge to chill for easier handling. Store cookies in an airtight container in the fridge for up to 4 days.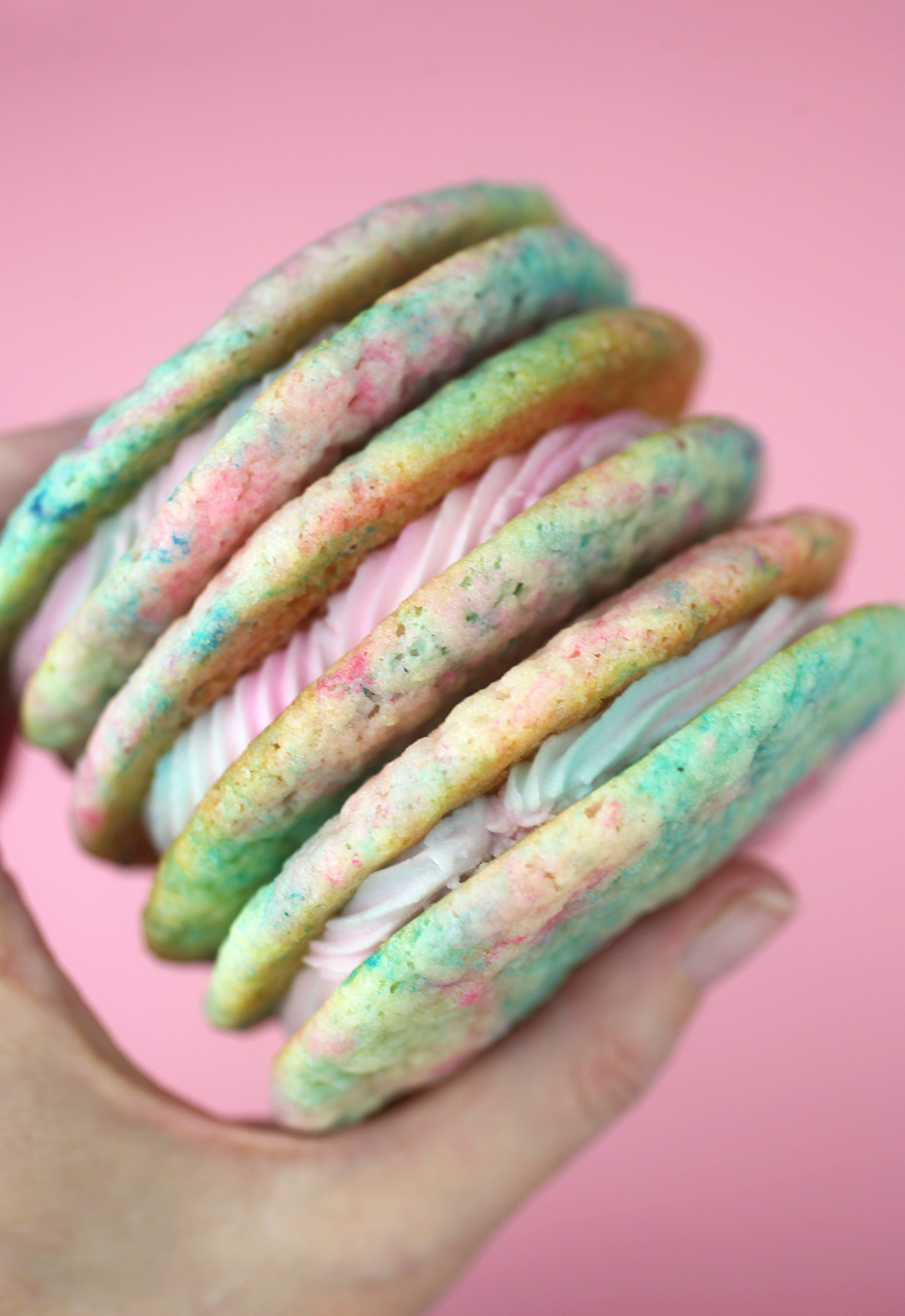 Hope you enjoy!