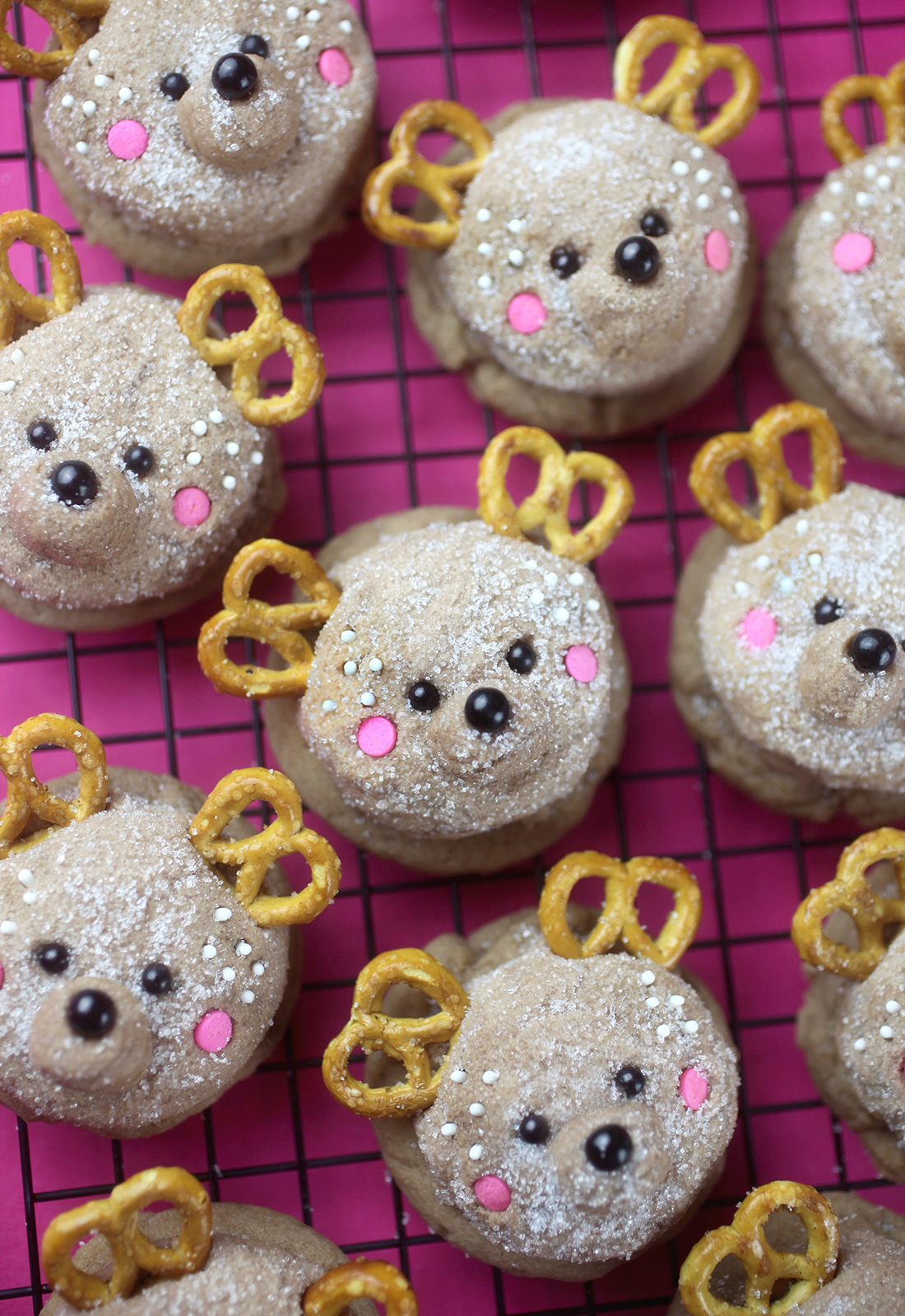 It's sugar cookie season! And these frosted fawns are a super cute cookie to sink your teeth into over the holidays. They are a variation of the soft vanilla sugar cookie snowmen I made last winter and love so much!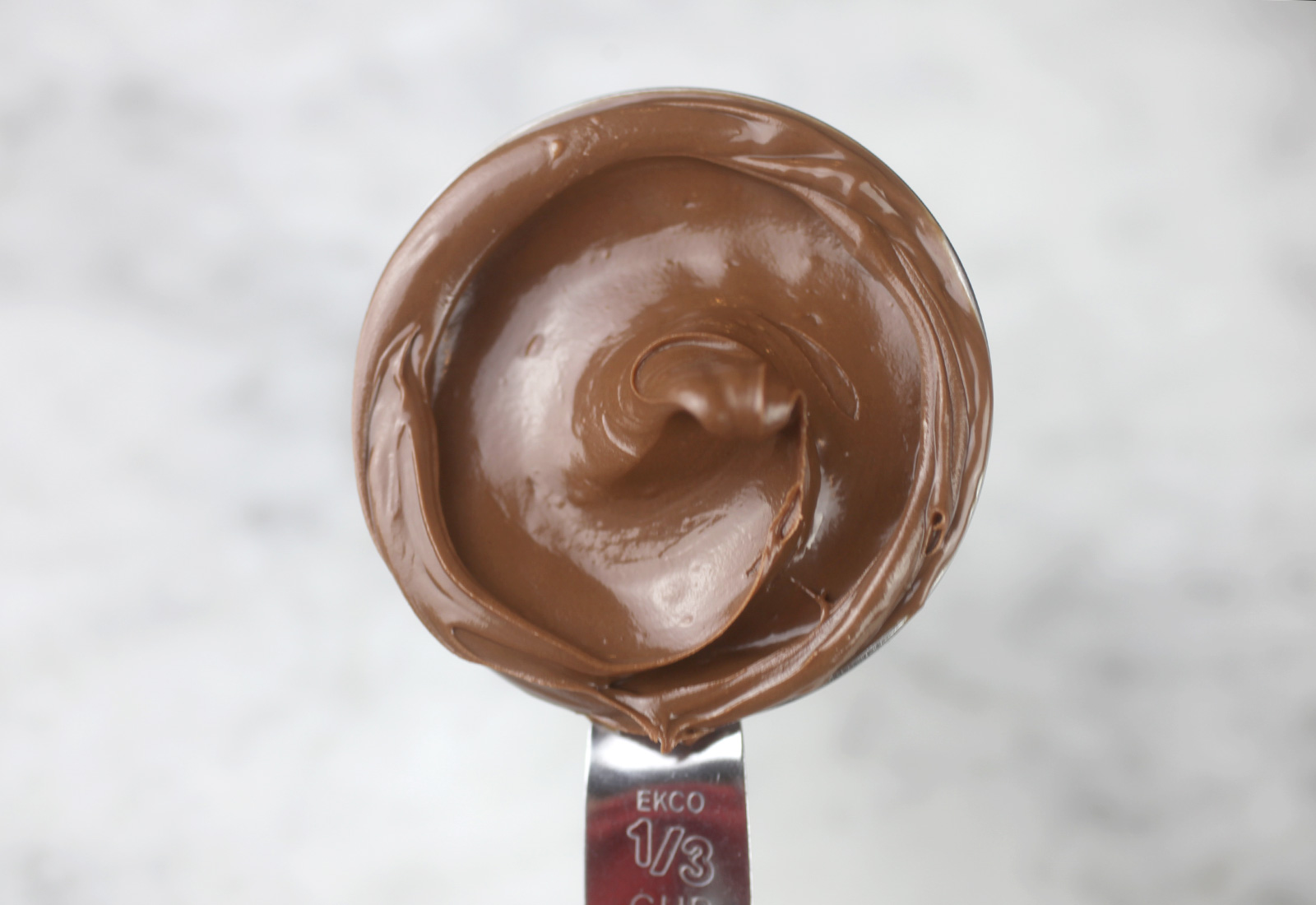 These are different though with the addition of nutella for the frosting and dough. I wanted the deer to be light brown in color and thought using nutella would be a perfect way to get there.
The flavor is not strongly influenced by the nutella because I didn't use large amounts in the recipe, but they are still really good.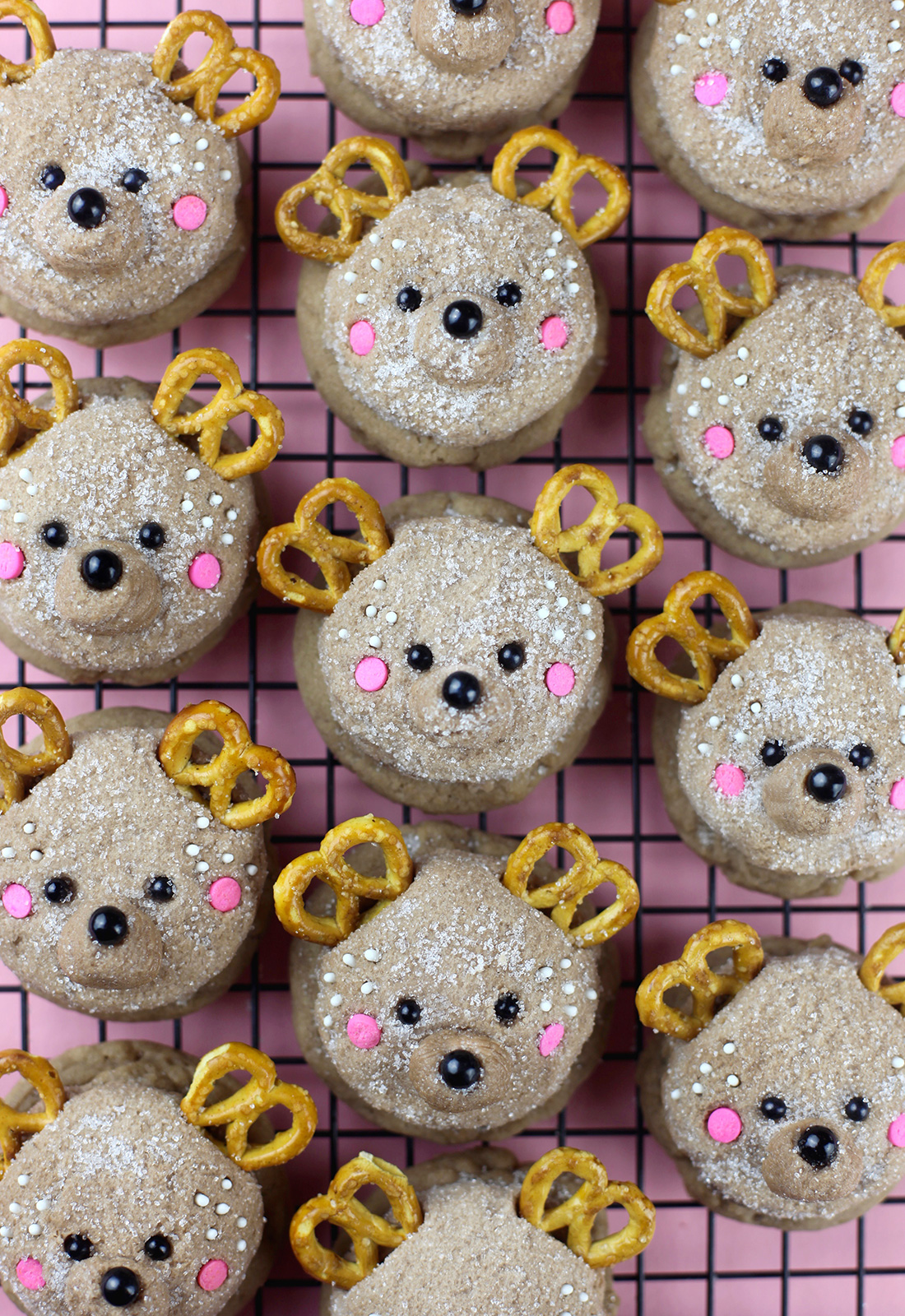 What do you think?
Light brown cookies with light brown frosting make a great color/flavor combo for these sweet little fawns. But you can certainly make them with the vanilla (FAVE!!!) or chocolate sugar cookie version, too.
(Also – I'm trying to ignore that my deer look kind of like bears with antlers. We're just going to roll with it.)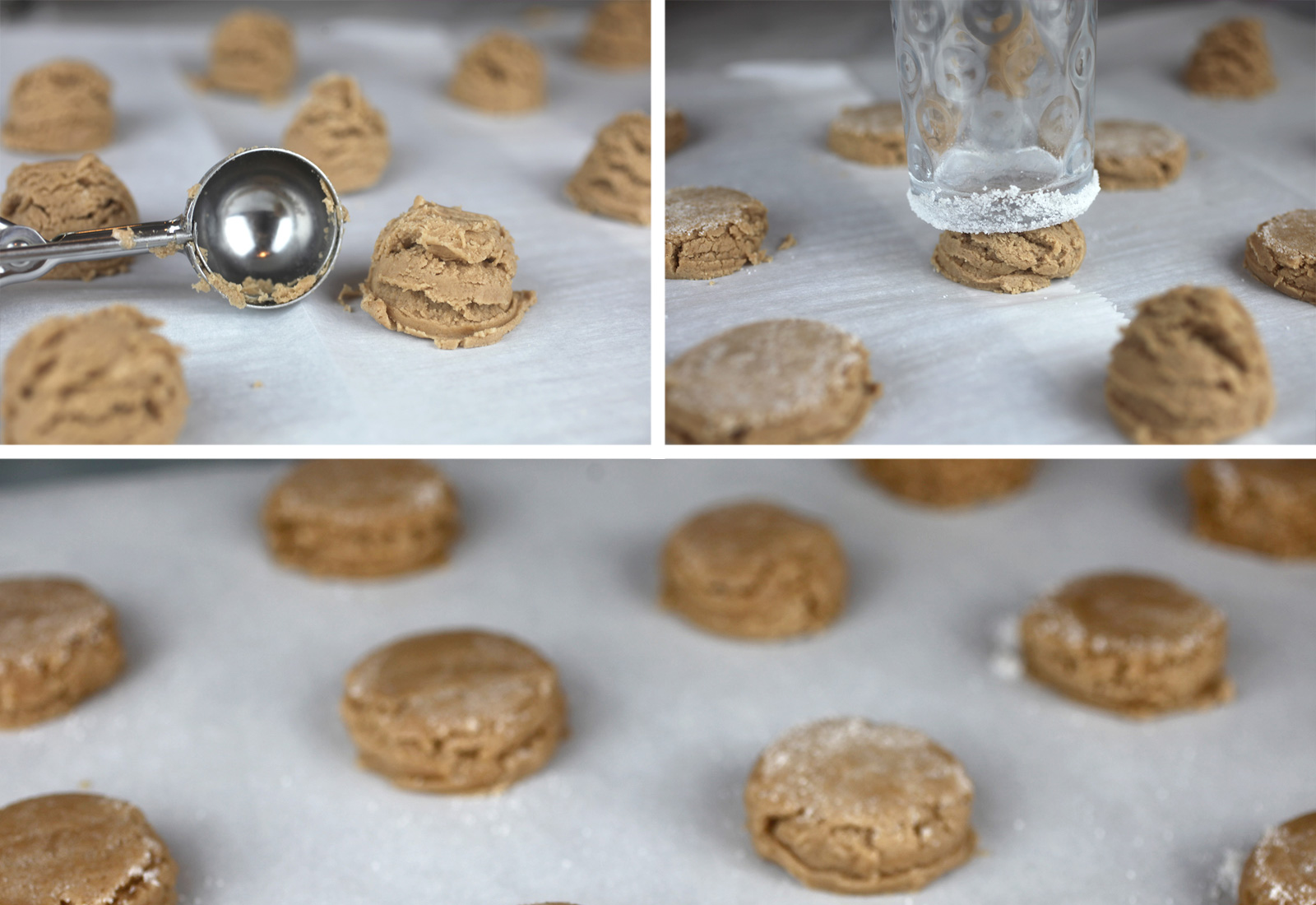 When preparing to bake, the cookie dough is scooped, and then pressed into thick, flattened circles. Just spray the bottom of a glass with non-stick spray and dip it in granulated sugar before gently pressing the dough down.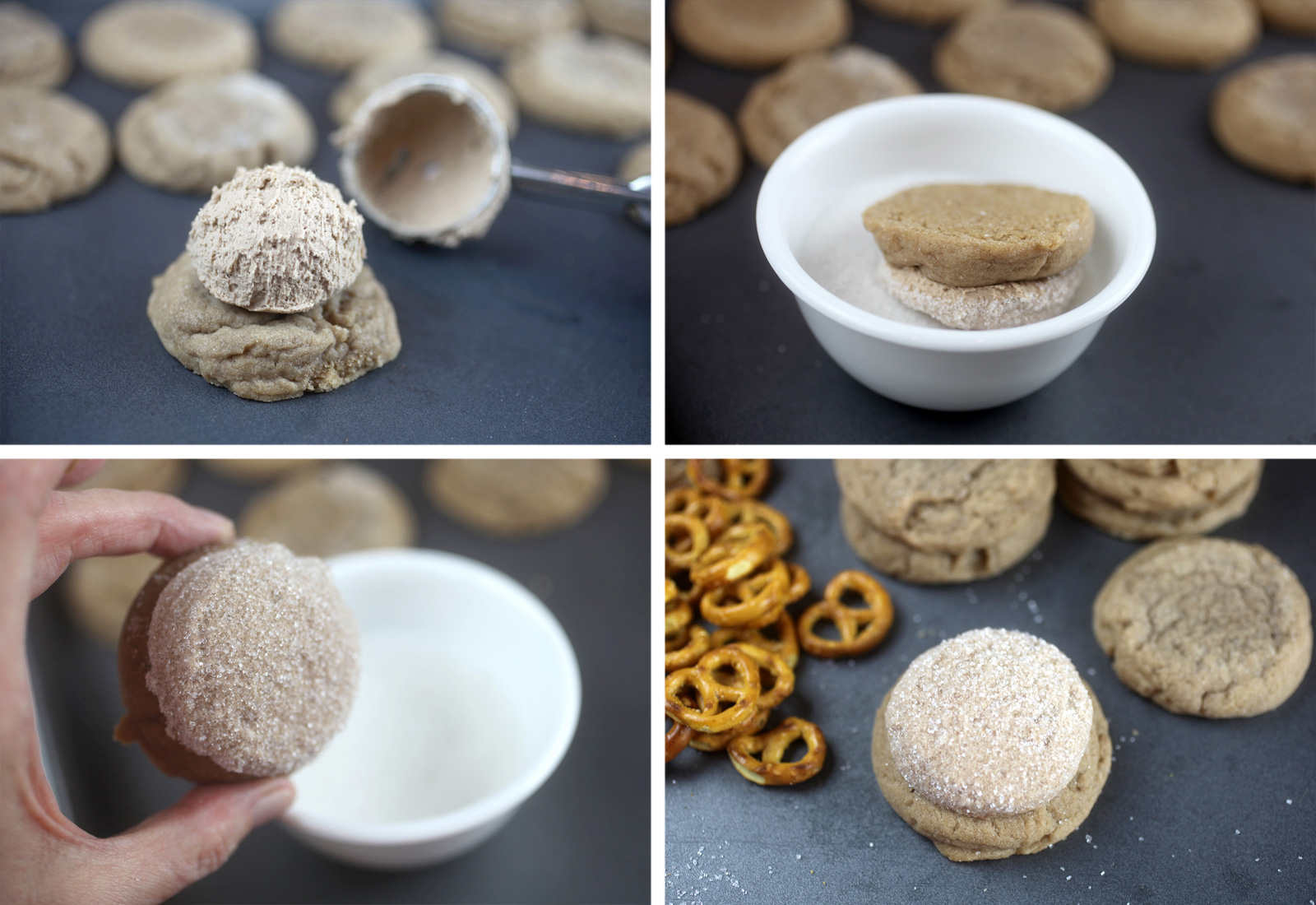 After the cookies are baked and cooled, you can start turning them into deer. I decorated each cookie from start to finish with the following steps.
Scoop the dough onto the cookie, and then press into a small bowl of white sanding sugar to help shape the frosting into even mounds.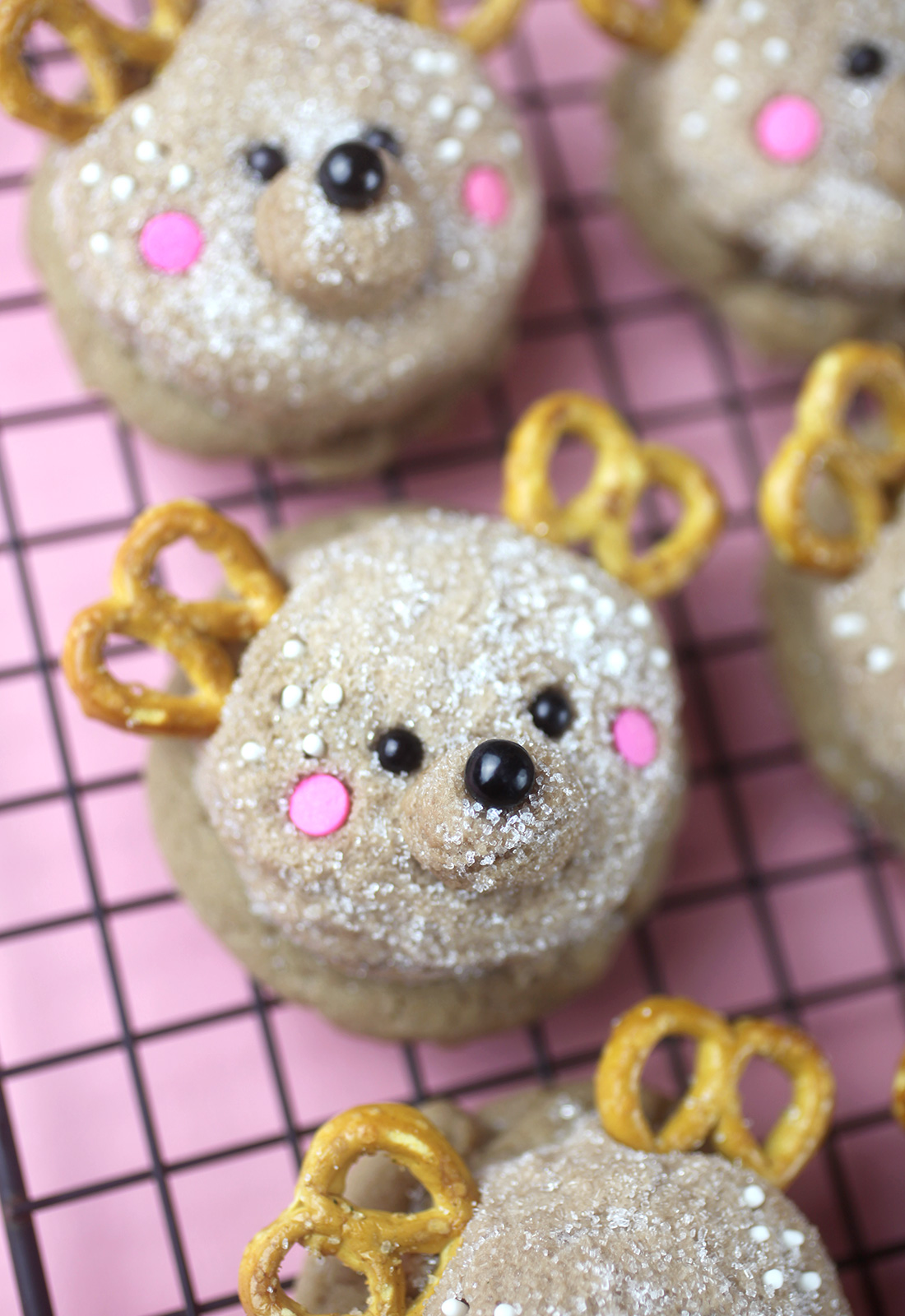 Now let's make some sweet faces.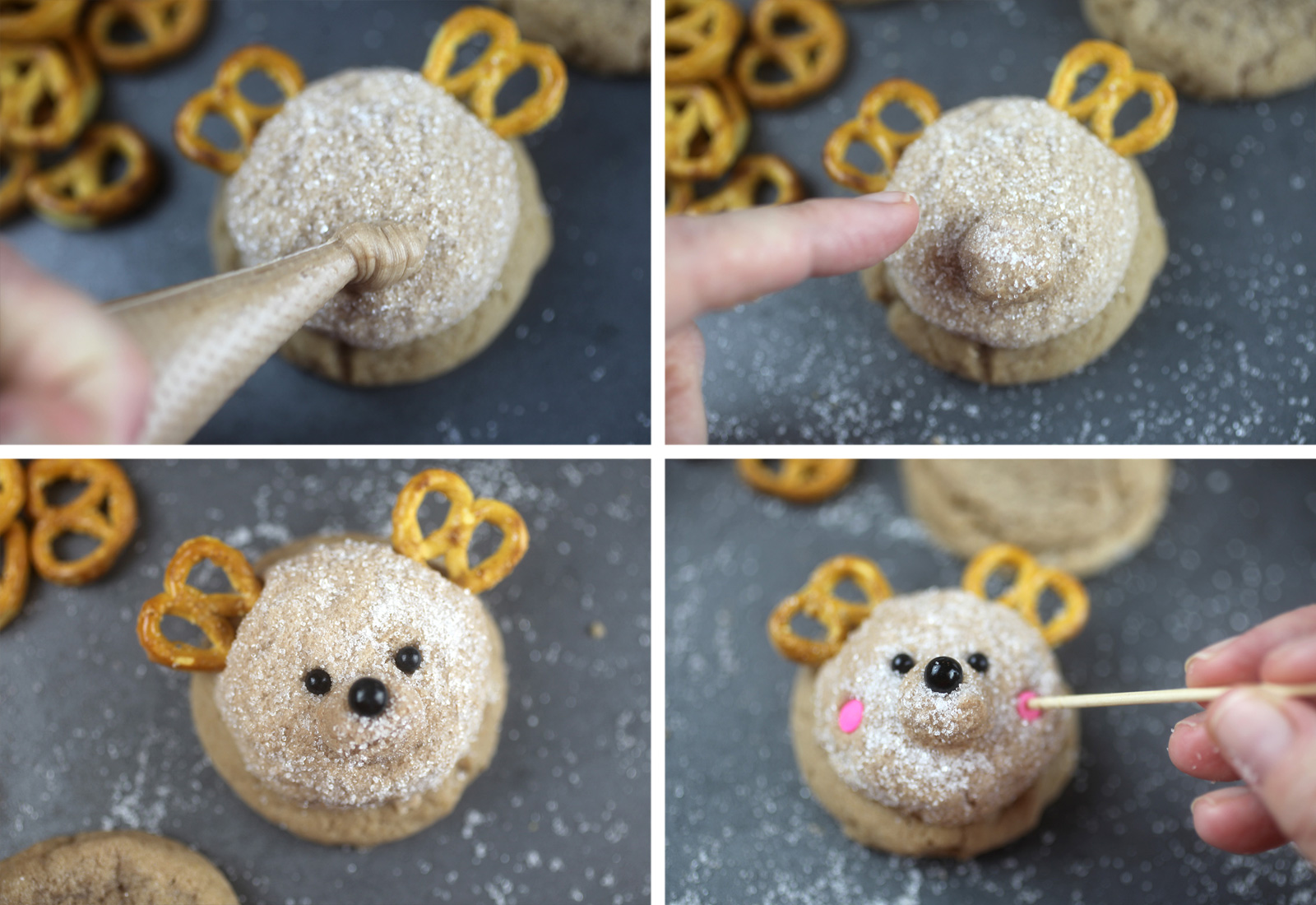 Continue decorating the cookies one at a time.
Press two mini pretzel twists in position for antlers.
Pipe frosting for a little snout and sprinkle more sanding sugar on top to coat. You may need to scrape some of the sanding sugar away from the surface, so the piped frosting will stick to the mounded frosting underneath. The sanding sugar in between can create a barrier.
Press two black sugar pearls in position for eyes and one black candy bead (slightly larger) in position for the nose. (Note: you could stop right here if you want and be done with them.)
Use a toothpick to gently press two pink confetti sprinkles in position for cheeks.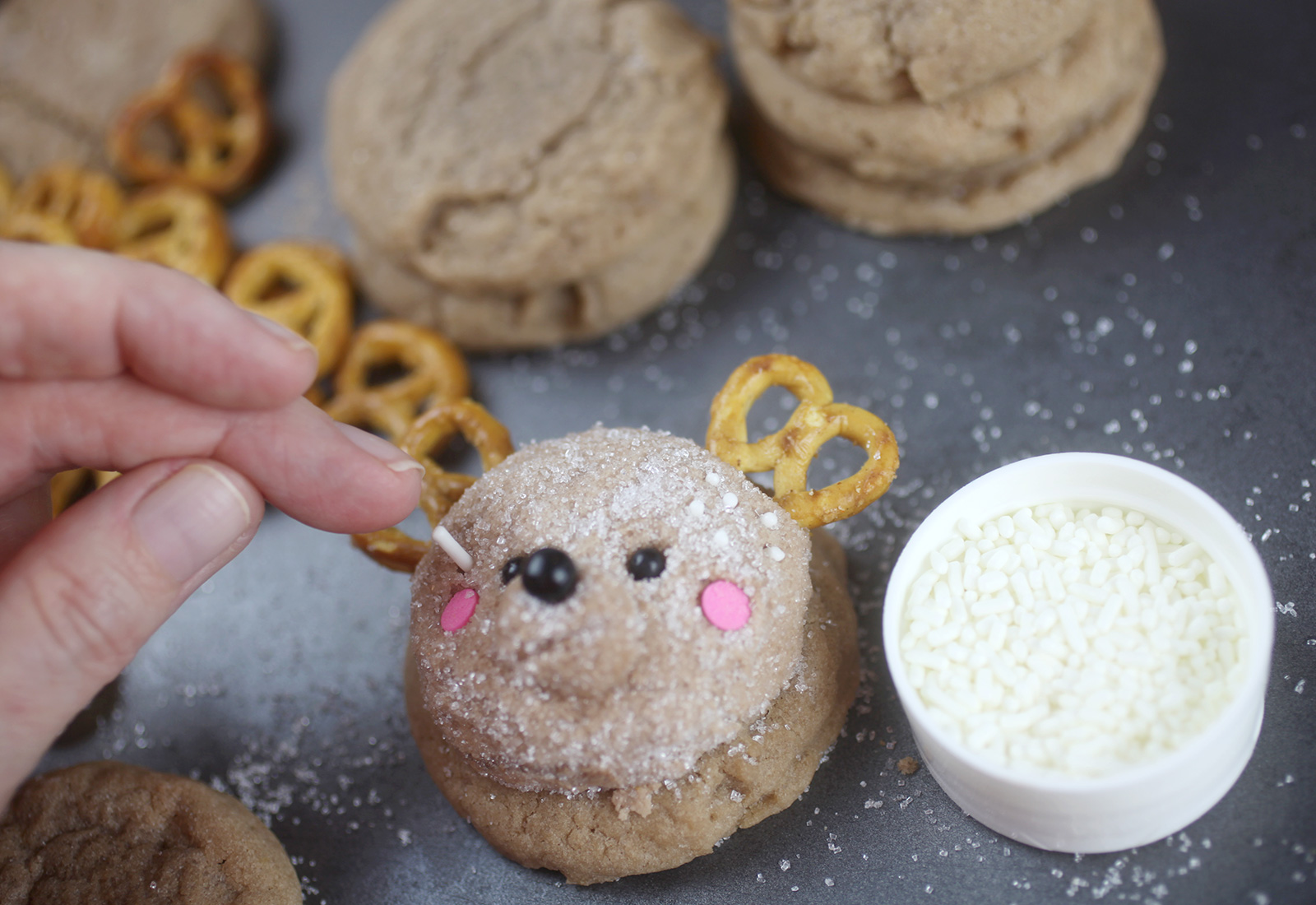 Okay, here's a little extra trick to add sweetness to their faces. You can use white jimmies to press directly into the frosting for tiny spots.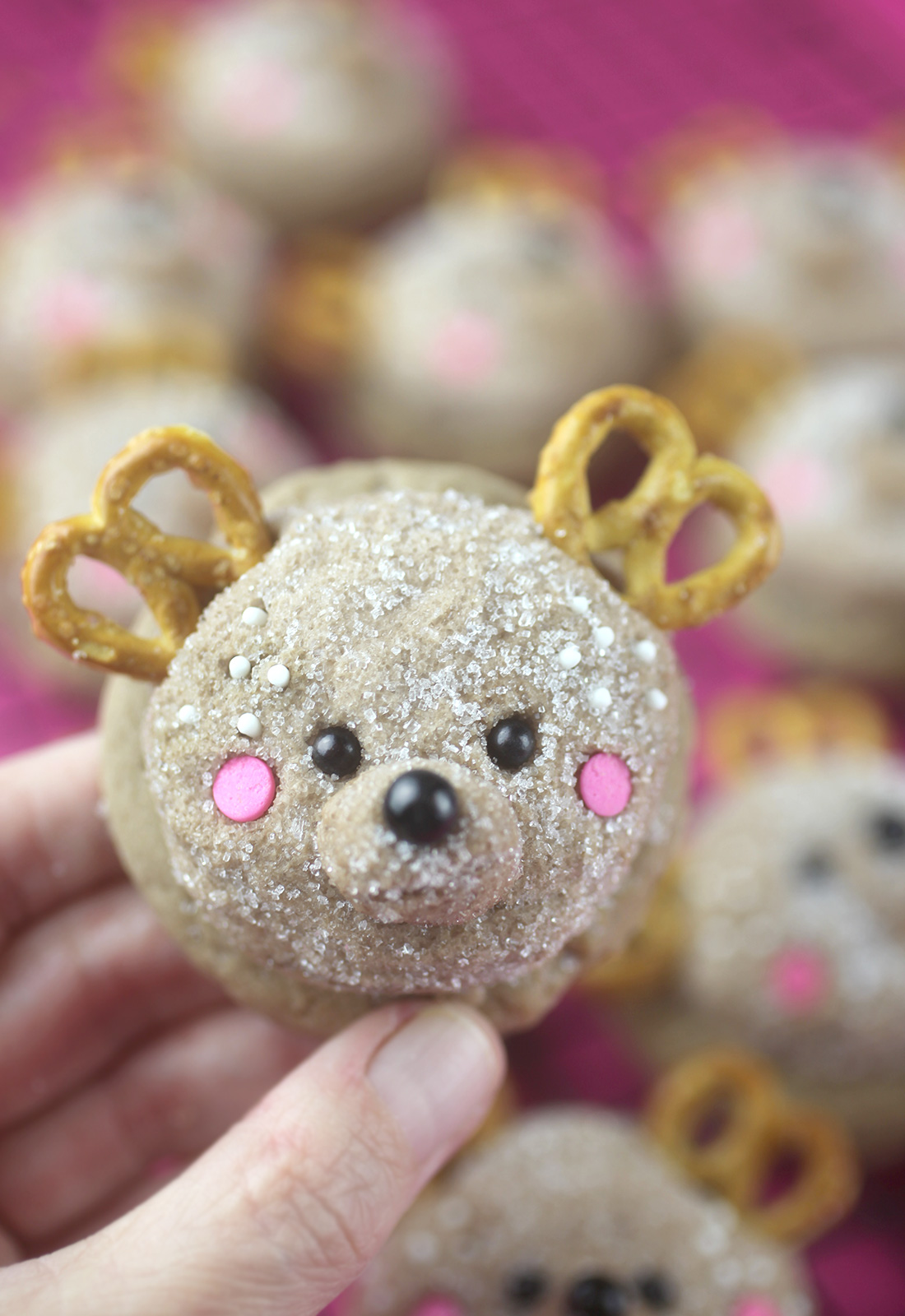 So cute! And so little.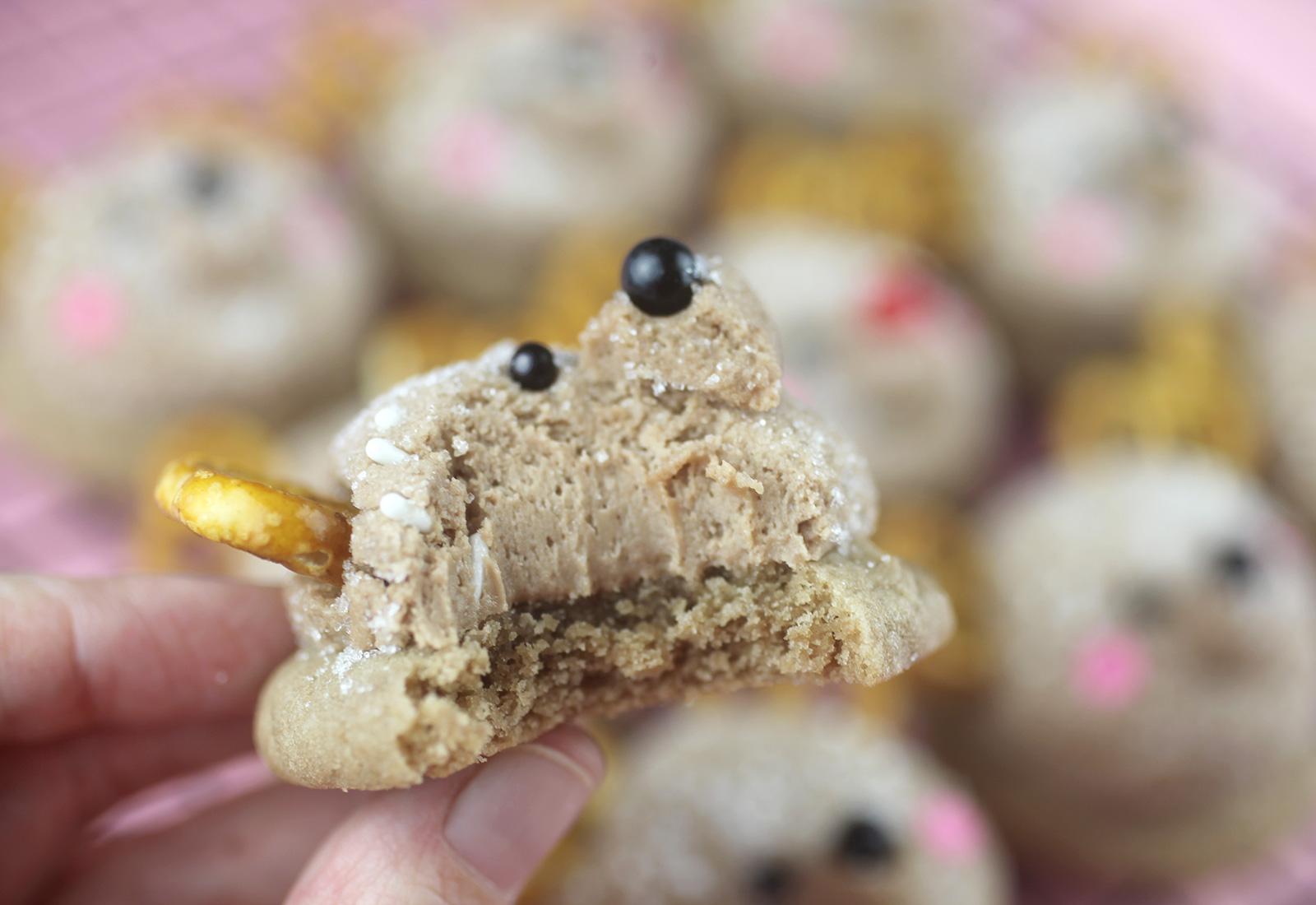 And oh so good!!!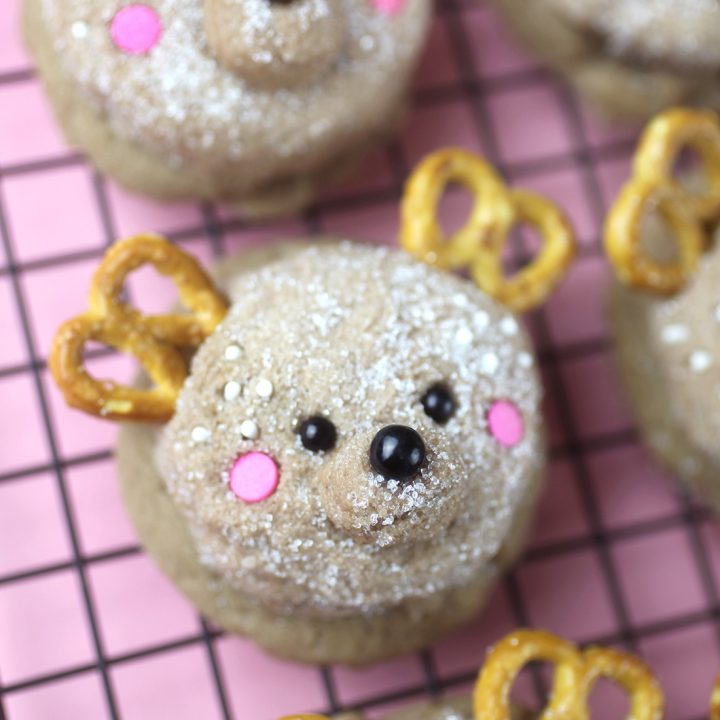 Yield: 24 cookies
Frosted Nutella Sugar Cookies
Prep Time 15 minutes

Cook Time 8 minutes

Additional Time 30 minutes

Total Time 53 minutes
Ingredients
Nutella Sugar Cookies
2-3/4 cups all-purpose flour
1/2 teaspoon baking soda
1/2 teaspoon cream of tartar
1/2 teaspoon kosher salt
5 tablespoons unsalted butter, room temperature
1/4 cup Nutella
1/2 cup vegetable oil
1/2 cup granulated sugar, plus another 1/4 cup to use for flattening cookies
1/2 cup confectioners' sugar
2 large egg
1-1/2 teaspoons pure vanilla extract
nonstick cooking spray
Nutella Buttercream Frosting
3/4 cup (12 tablespoons) unsalted butter, room temperature
1/4 cup Nutella
3 cups confectioners' sugar, sifted
1-2 tablespoons milk
Decorations
White sanding sugar
Miniature pretzel twists
Black sugar pearls
Black candy beads
pink confetti sprinkles
white jimmies
Instructions
Make the Cookies: Preheat oven to 350 degrees Fahrenheit. Line a large baking sheet with parchment paper.
In a large bowl, whisk together the flour, baking soda, cream of tartar and salt and set aside.
In the bowl of a stand mixer fitted with the paddle attachment, cream together the butter, nutella, oil, 1/2 cup of the granulated sugar, and the confectioners' sugar until smooth. Add the eggs and vanilla. Mix until combined. Add the dry ingredients and mix on low until just combined. Chill dough for 15-20 minutes.
Scoop the dough using a 1-1/2 inch scoop and place on baking sheet about 2 inches apart for evenly sized cookies. Not all the cookies will fit on the sheet for one batch.
Pour the reserved 1/4 cup of granulated sugar into a small bowl or dish. Spray the bottom of a drinking glass with nonstick cooking spray. Press the bottom of the glass into the sugar to evenly coat. Then, press the sugared glass bottom on top of each cookie dough scoop and press down gently. Repeat for each cookie and reapply cooking spray as needed.
Bake the cookies for 8-9 minutes. Be careful not to over bake. Let cool 5 minutes before transferring to a wire rack to cool completely. (Note: I like to slide the the parchment paper and cookies off my flat baking sheet and onto the counter to cool just a couple of minutes after they come out of the oven.
Repeat with remaining dough.
Make the Frosting: In the bowl of a stand mixer fitted with the paddle attachment, beat the butter and nutella until smooth. Add the confectioners' sugar and mix until combined. Add one teaspoon of milk at a time for desired consistency. Beat until smooth.
Spread buttercream frosting on cookies and decorate with sprinkles. Store in an air tight container at room temperature for up to 3 days.
To Decorate as Deer: Scoop the nutella buttercream using a 1-1/2 inch scoop and place on top of a cookie. Gently press the cookie and frosting into a small dish filled with white sanding sugar. Very gently rock and rotate to coat the surface. Use the palm of your hand to reshape into a nice mound if needed. Pipe a small amount of frosting in position for a snout and sprinkle with more sanding sugar to shape. Press mini pretzel twists in position for antlers, black sugar pearls in position for eyes, black candy beads for noses, pink confetti sprinkles for cheeks and white jimmies for tiny spots. Press gently until they are secure. Decorate one cookie at a time to make sure the sprinkles attach. If you have trouble with the sprinkles or candies attaching, gently scrape away the sanding sugar in that area to expose the frosting underneath and then place the sprinkle/candy in place.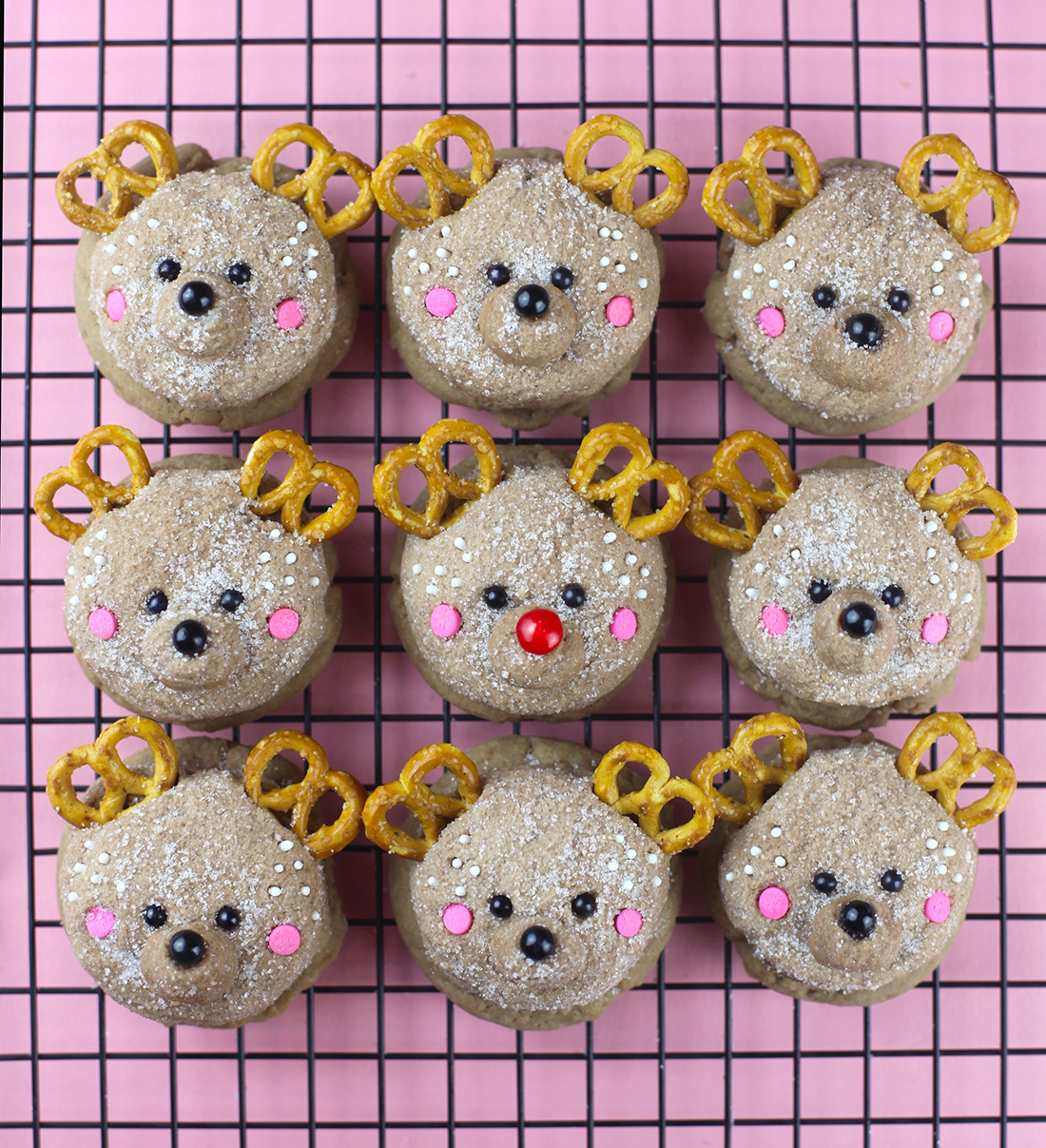 Hope these make you smile and that your holidays are full of sweetness.
Enjoy!