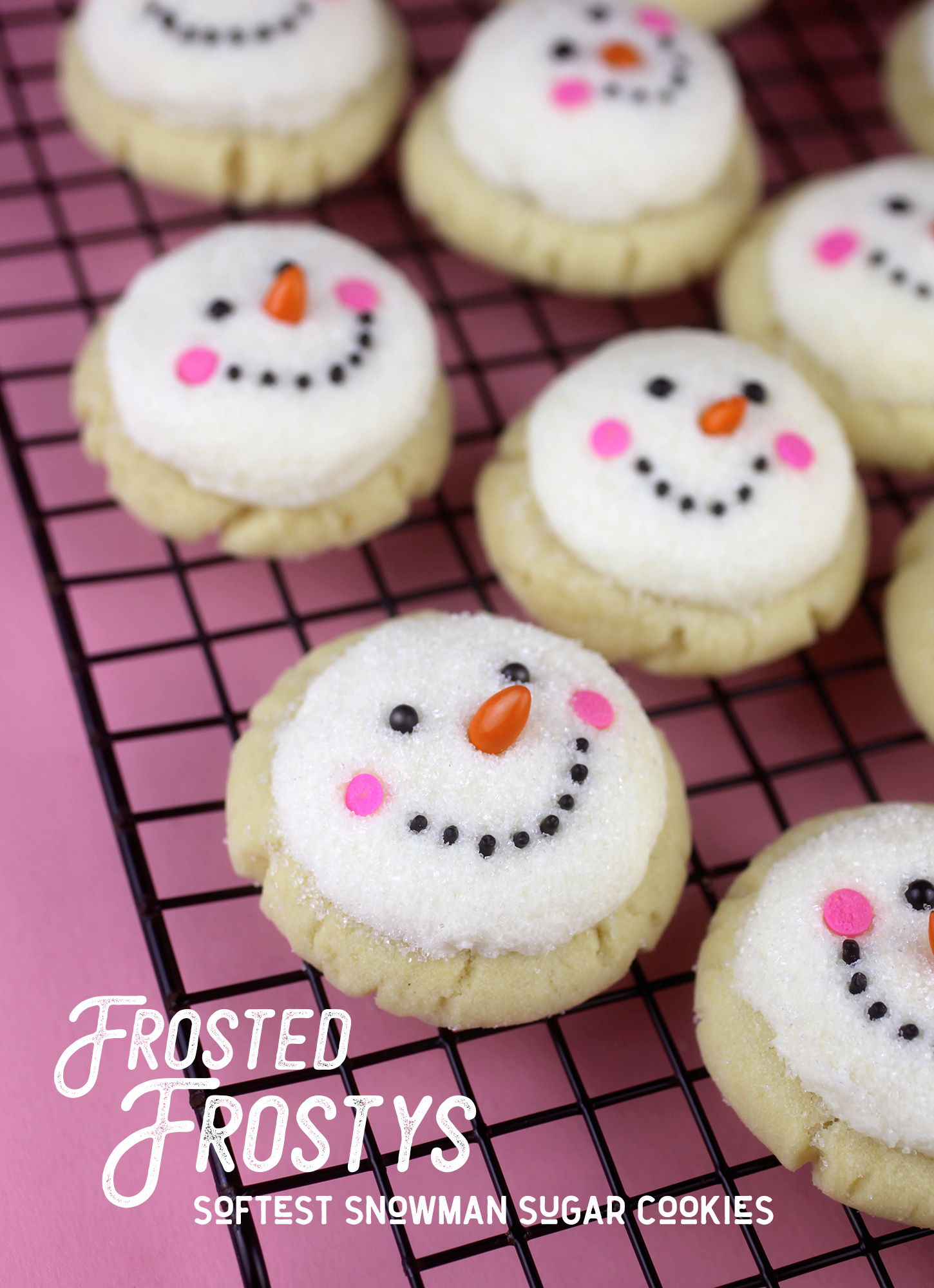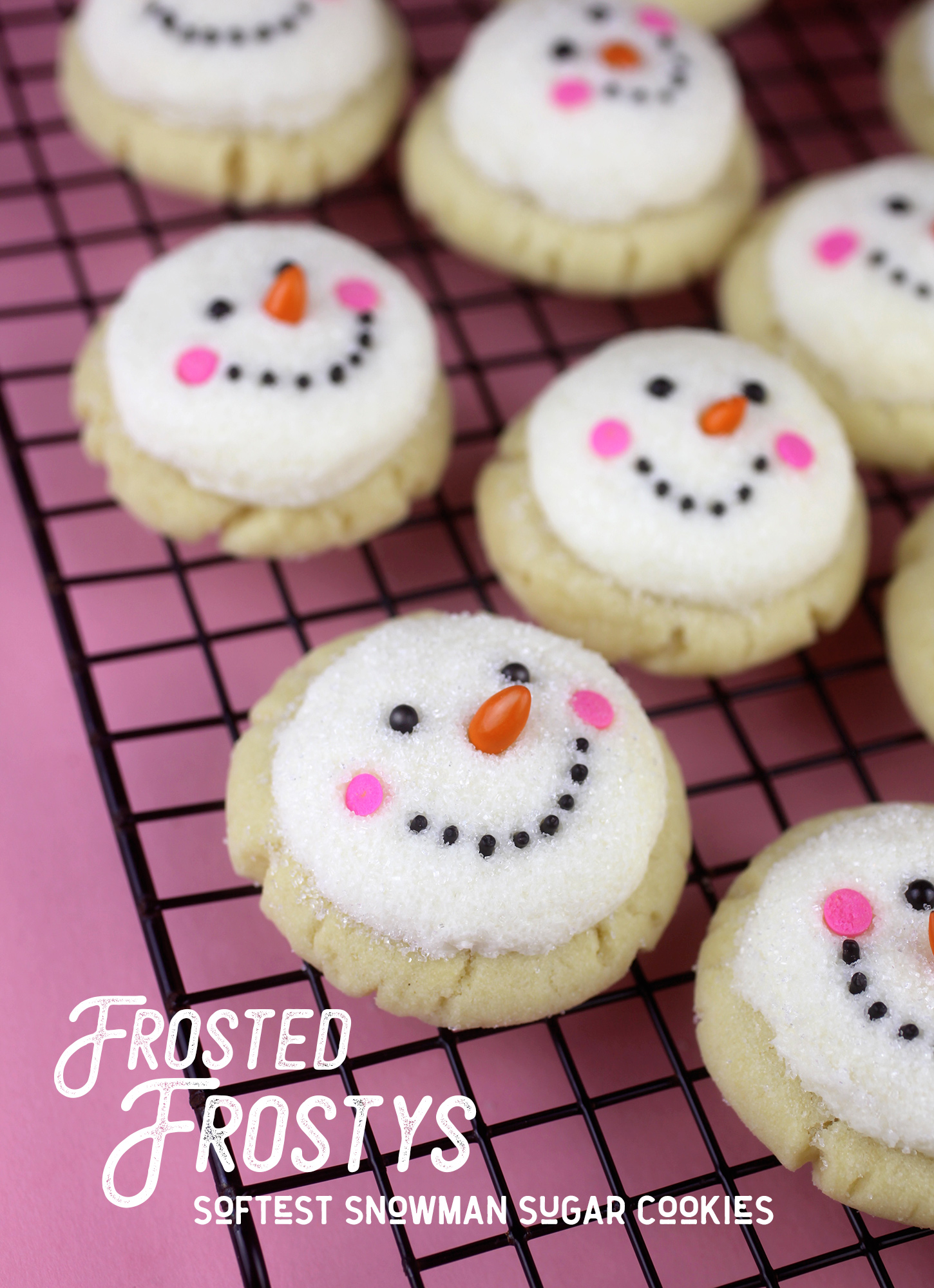 Let's start the year off with the most delicious frosted soft sugar cookies. The kind you can sink your teeth into and it feels like you are biting into sweet little pillows of sugar and vanilla.
I made some of them for my Christmas Eve Party after I realized all of my treats included peanuts or peanut butter and my niece wouldn't be able to have any because of her allergies. So I thought I would try a sugar cookie recipe from my friend Maria's cookbook, Two Peas and Their Pod, that I had been coveting. And oh my gosh… these cookies are now on my must make list forever. I usually make cutout sugar cookies for decorating, but didn't want to go to all that trouble for a last minute Christmas addition, so I just frosted these and sprinkled them with green sanding sugar for the evening. And over the next few days, every time I would eat another cookie, all I could say is how freaking good they were, so I decided to make them again for you guys here on the blog. I just dressed them up a bit and turned them into frosty little snowmen and now I love them even more.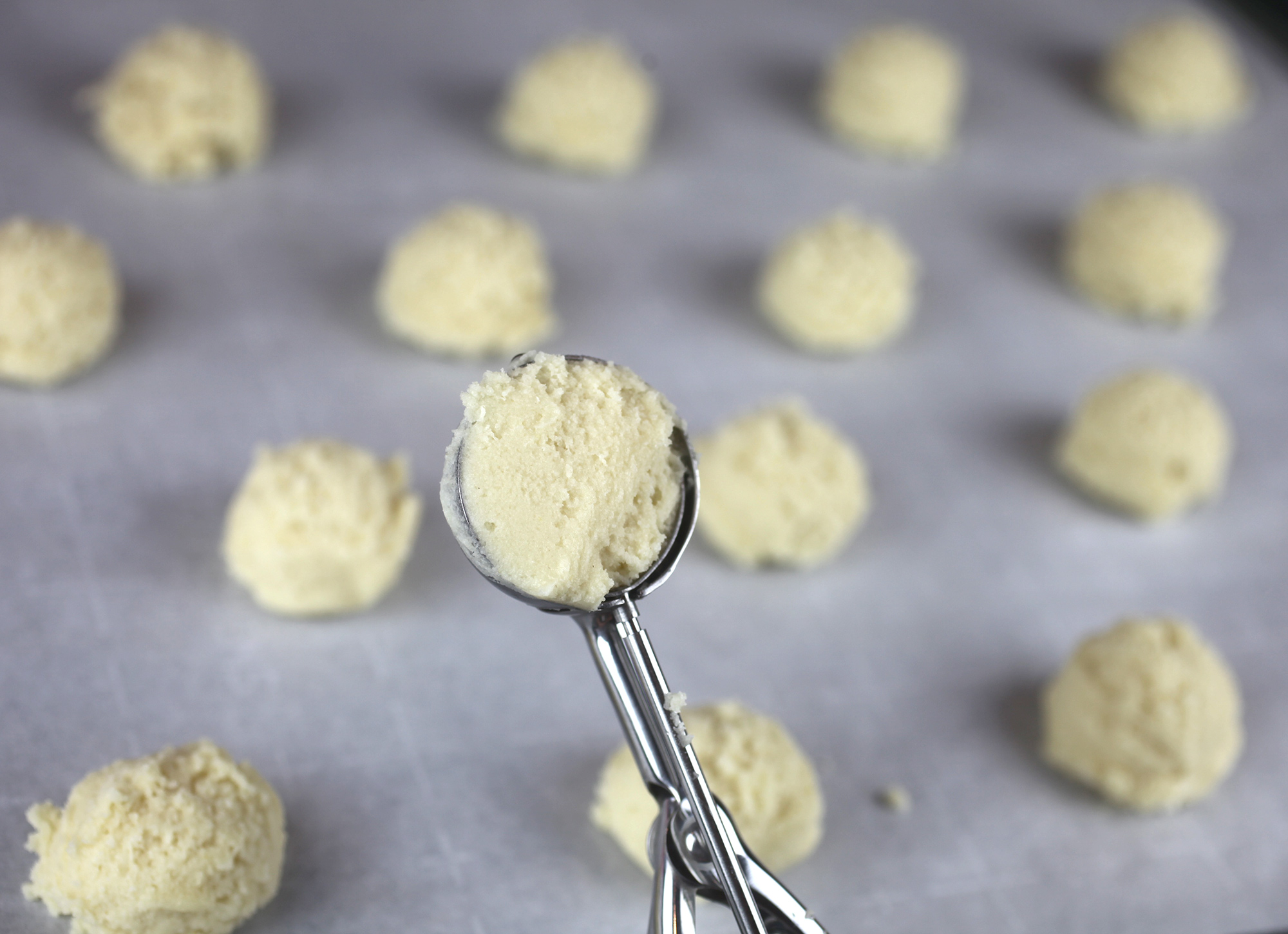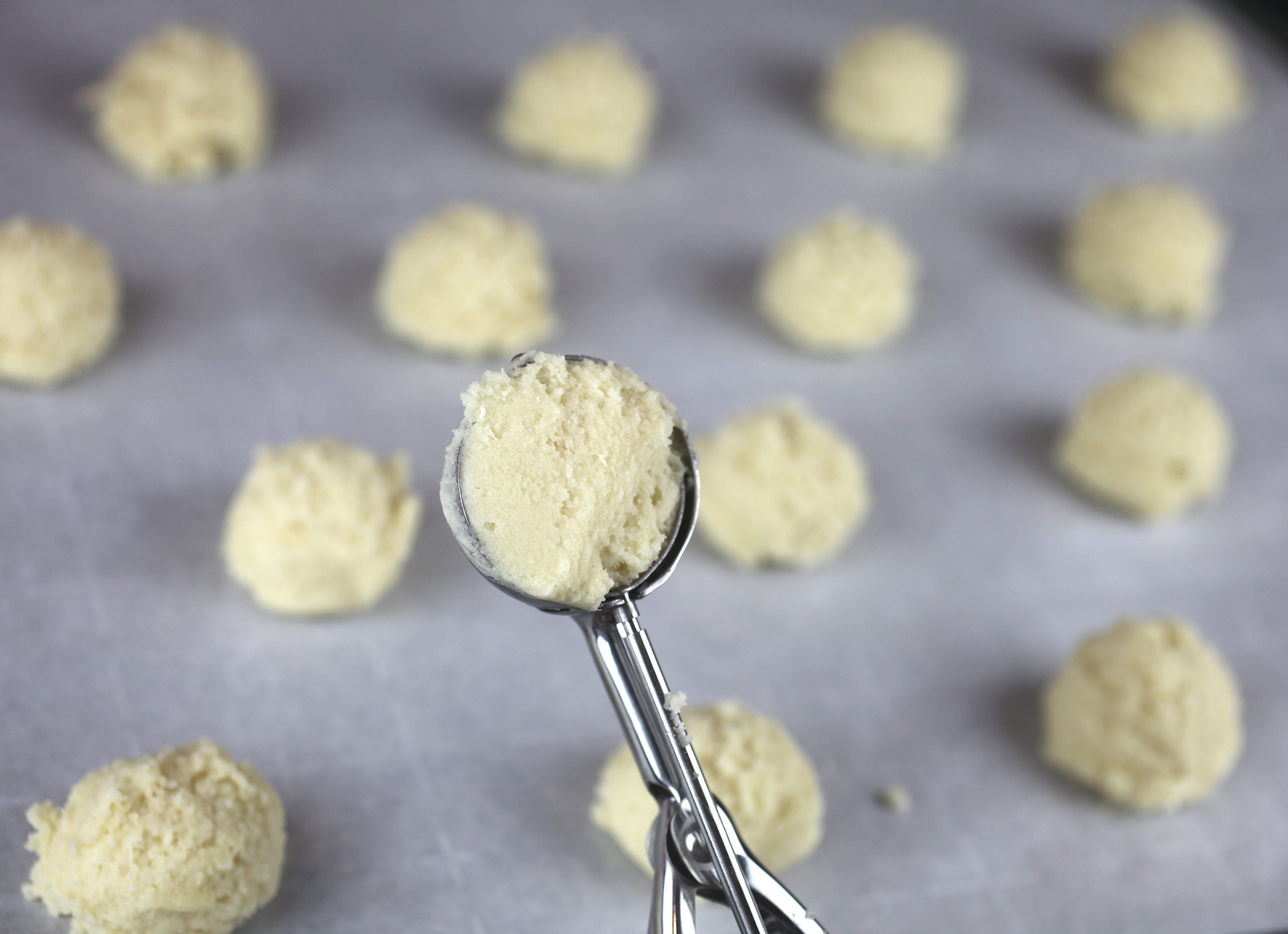 The dough is soft and luxurious. I scooped the dough out and placed on a parchment lined cookie sheet.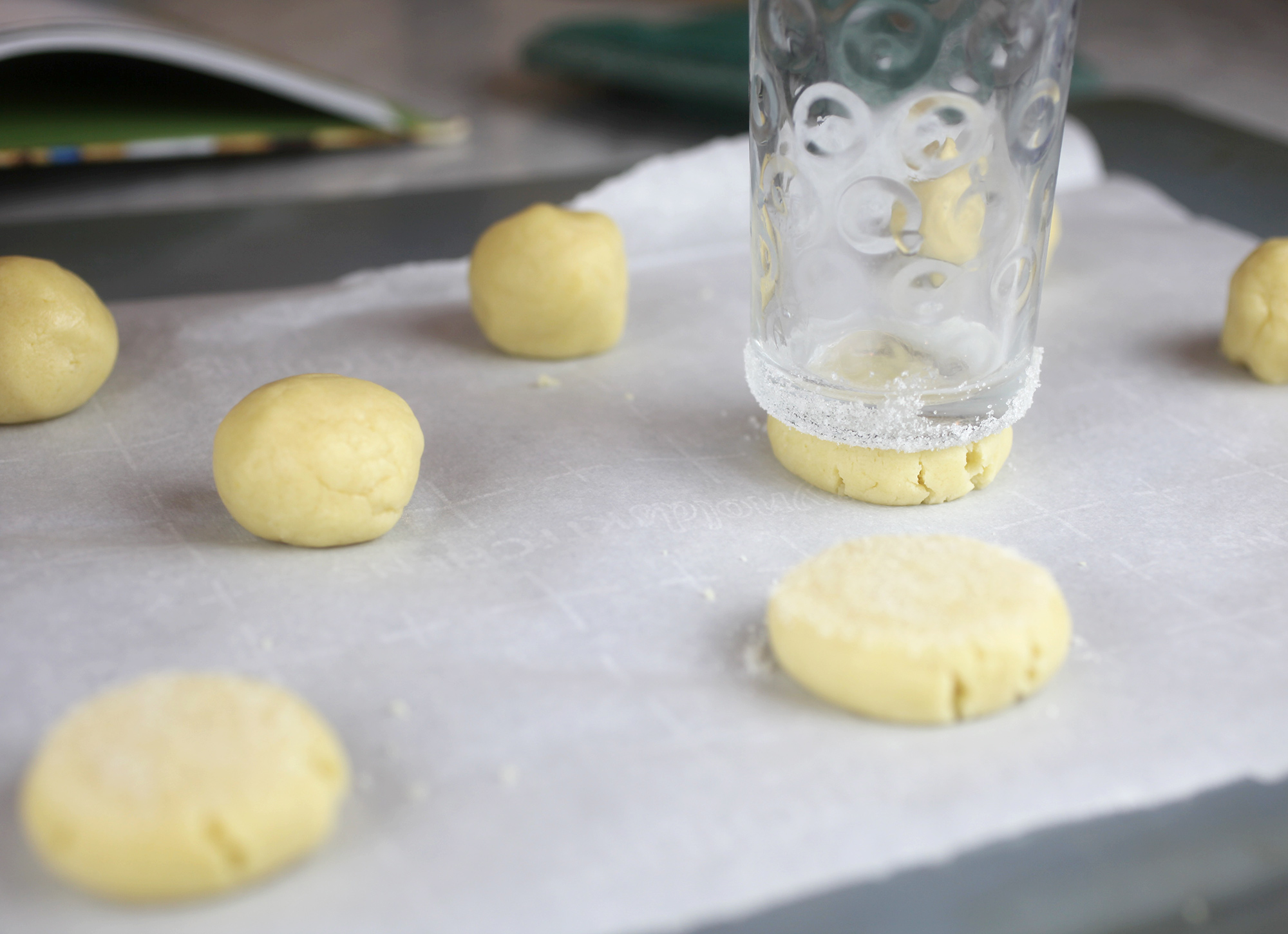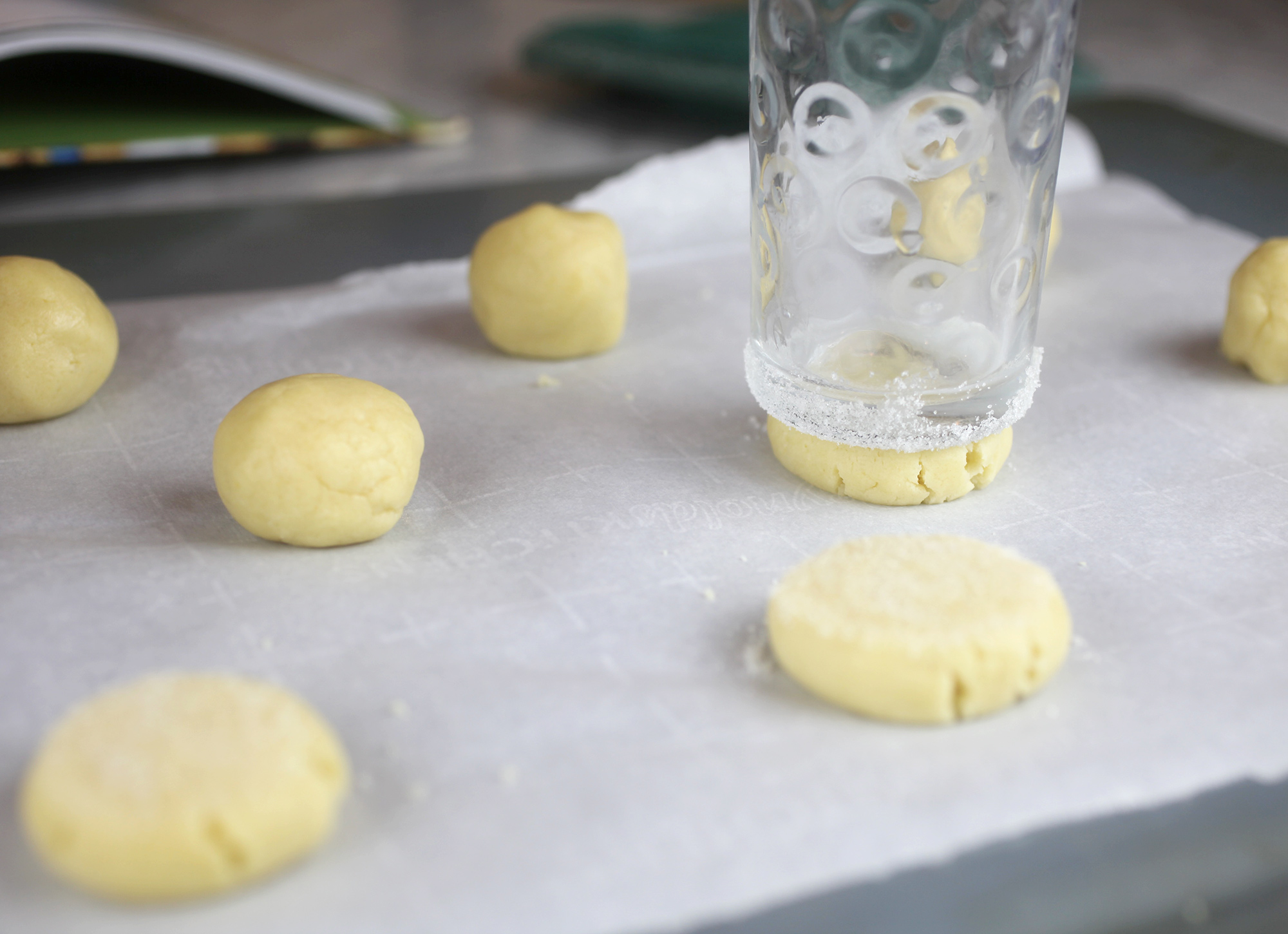 After that roll them into balls and press them flat (but still thick) with the bottom of a glass sprayed with oil and dipped in sugar to keep the glass from sticking to the dough.
Sidenote: Make sure you press them instead of leaving them scooped or rolled. I tried baking a scooped shape and it just did not look very cute.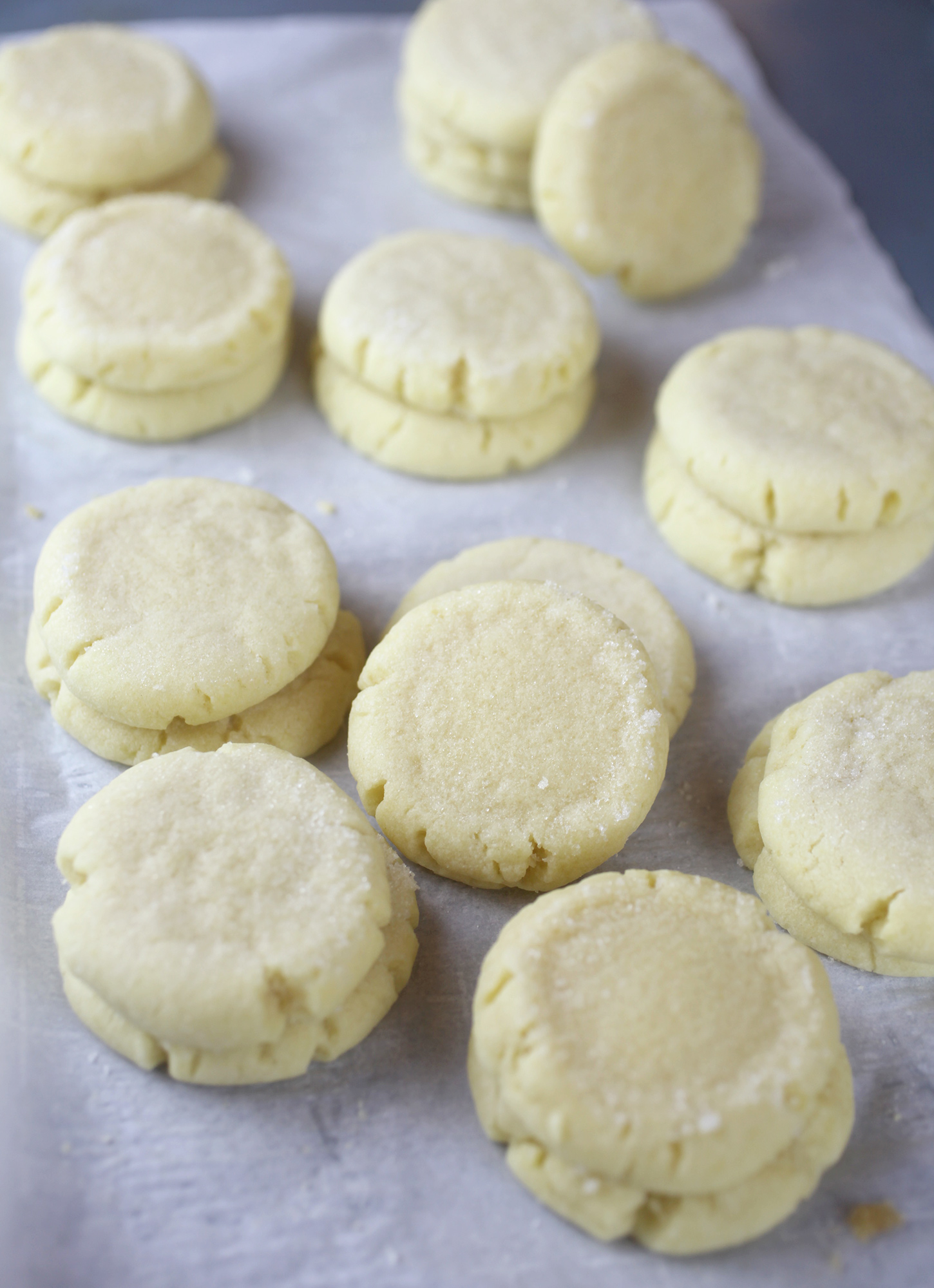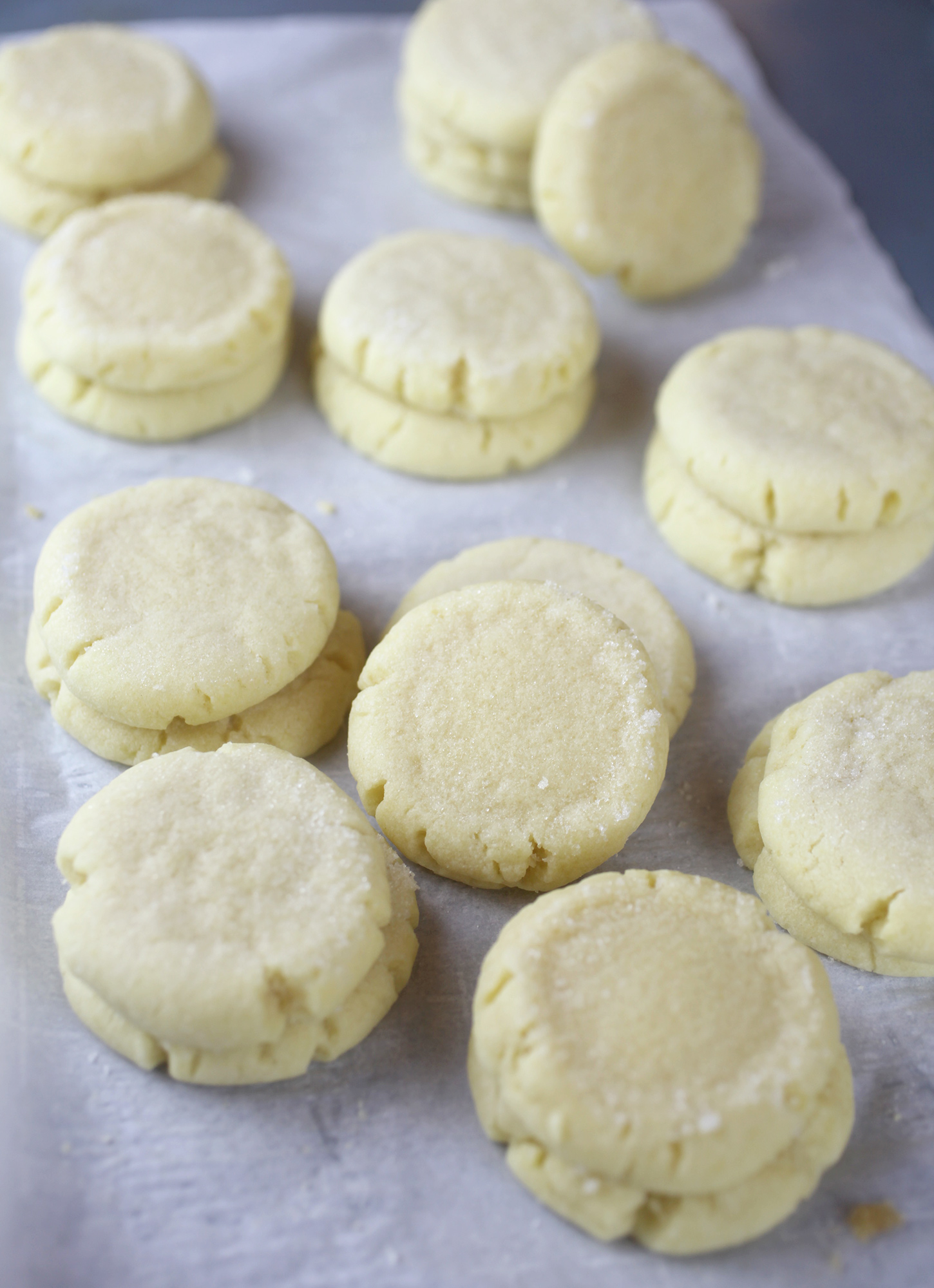 These only bake for about 8 minutes. No more. And you'll end up with the softest texture.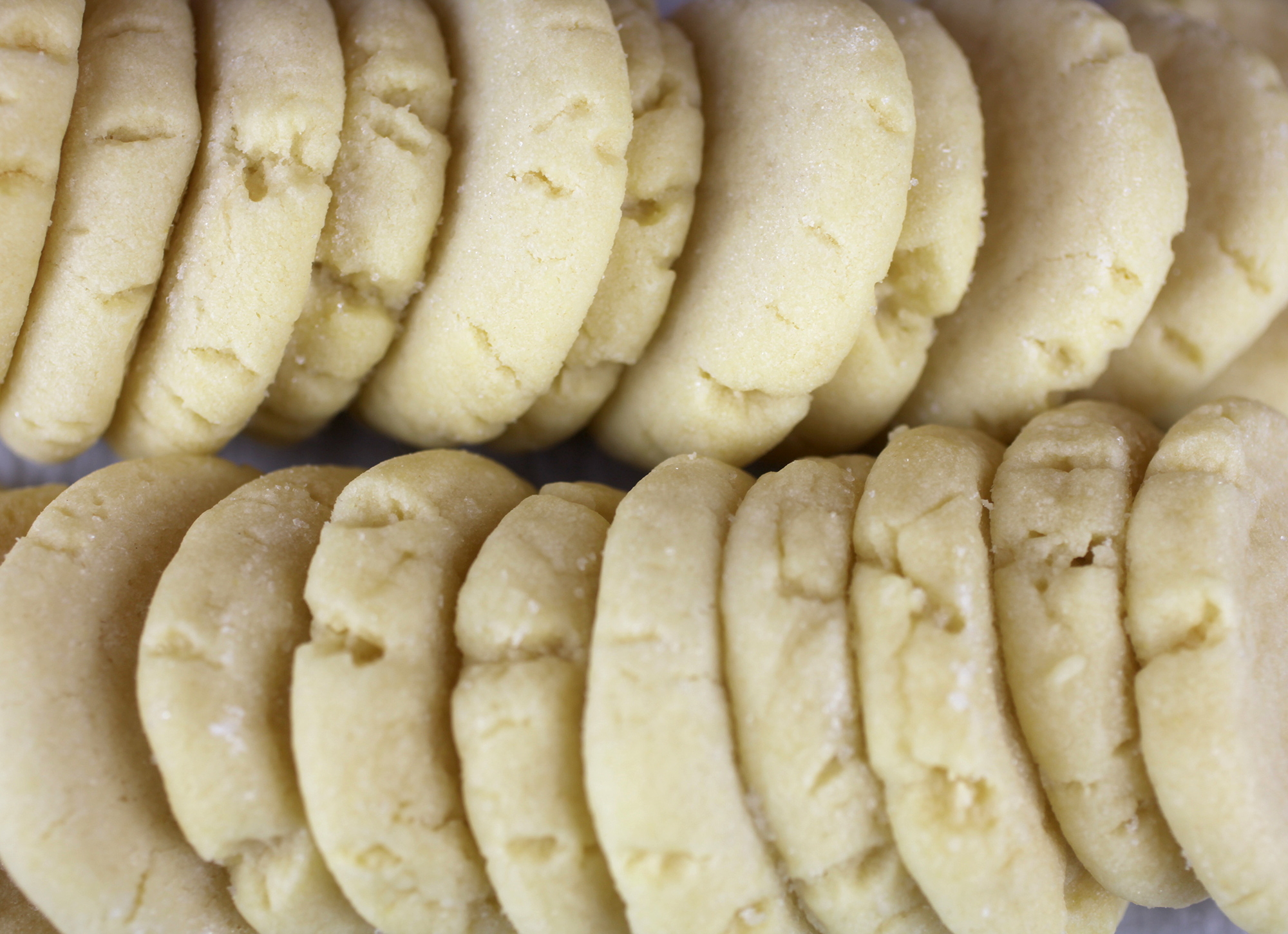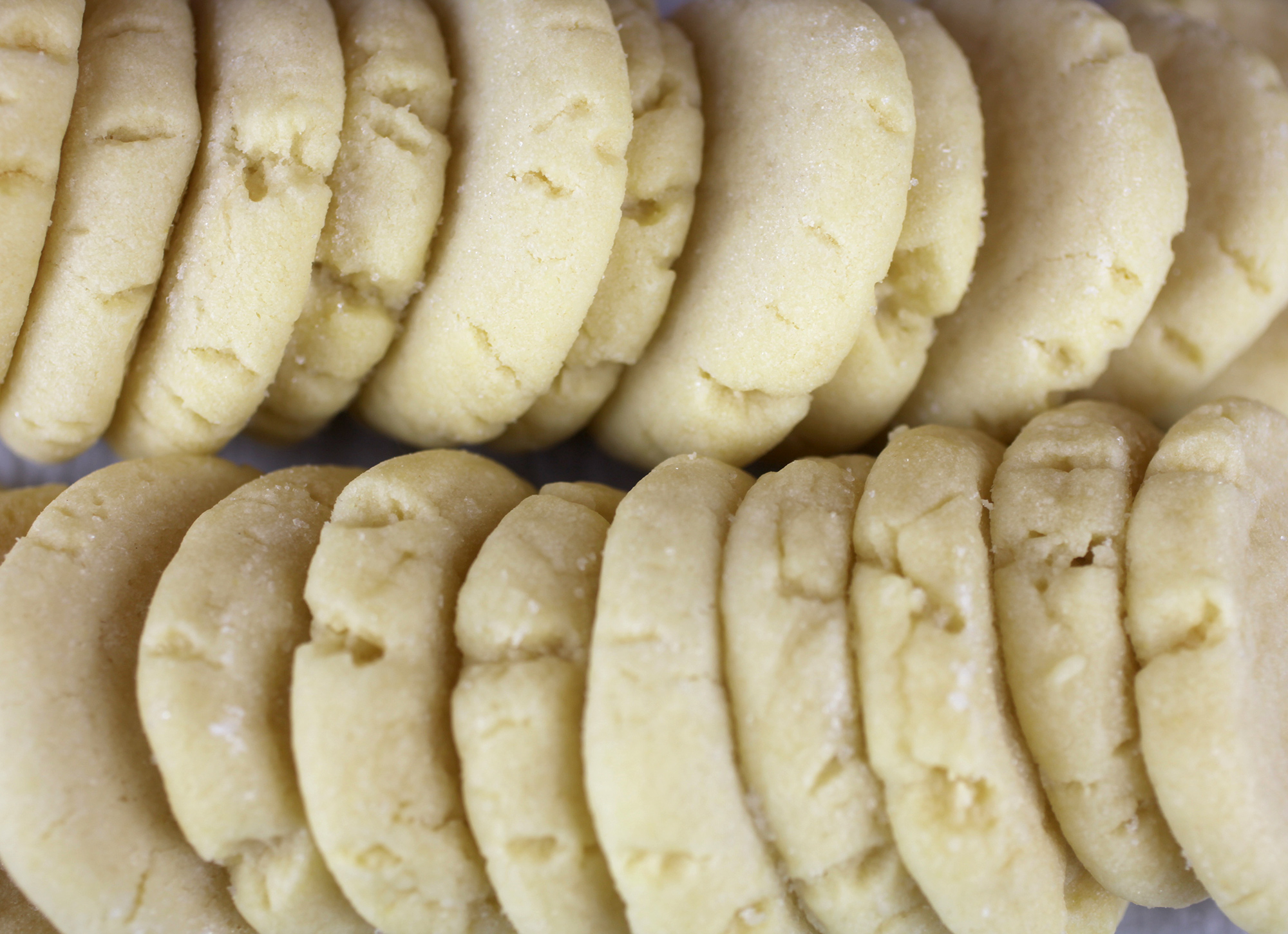 They're a little round blank canvas for decorating with buttercream or sprinkles or you can even just leave them blank. You won't be disappointed.
The recipe makes about 24, but you can double it if you like. And I would highly recommend that if you think you'll give any away to friends or family.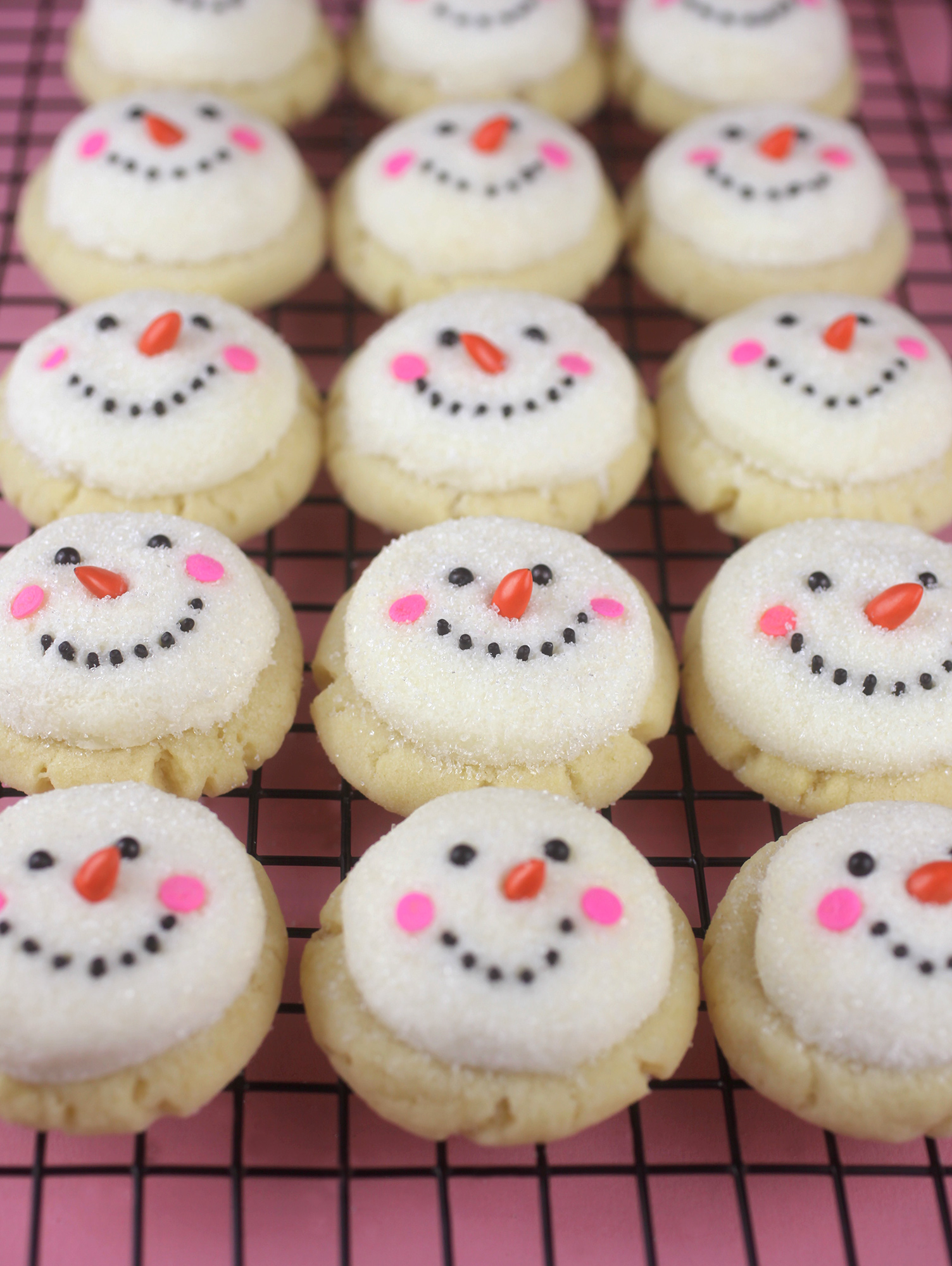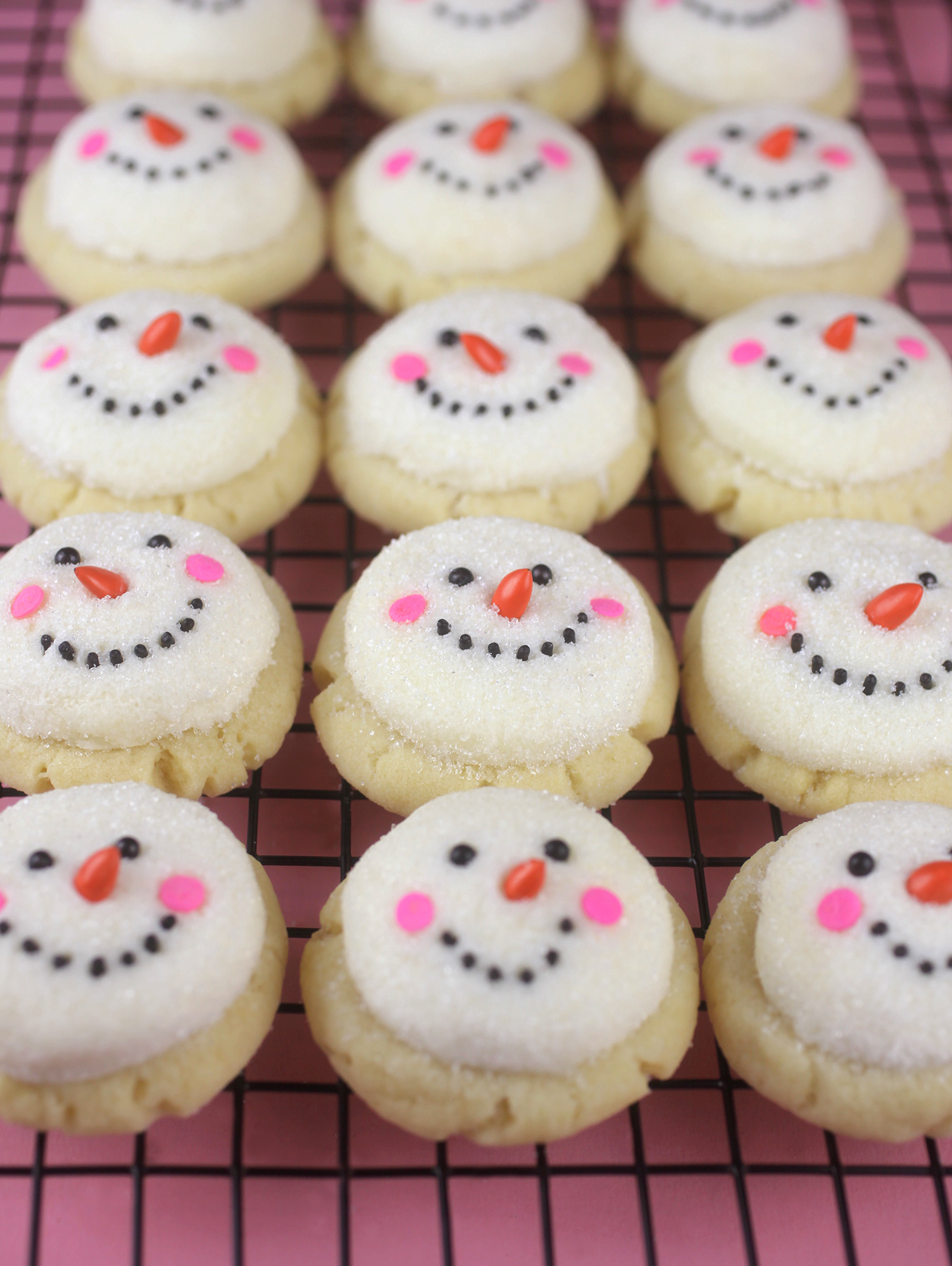 But since I like to break out the cute over here on the site, let's breakdown how I turned these into frosty little snowman faces.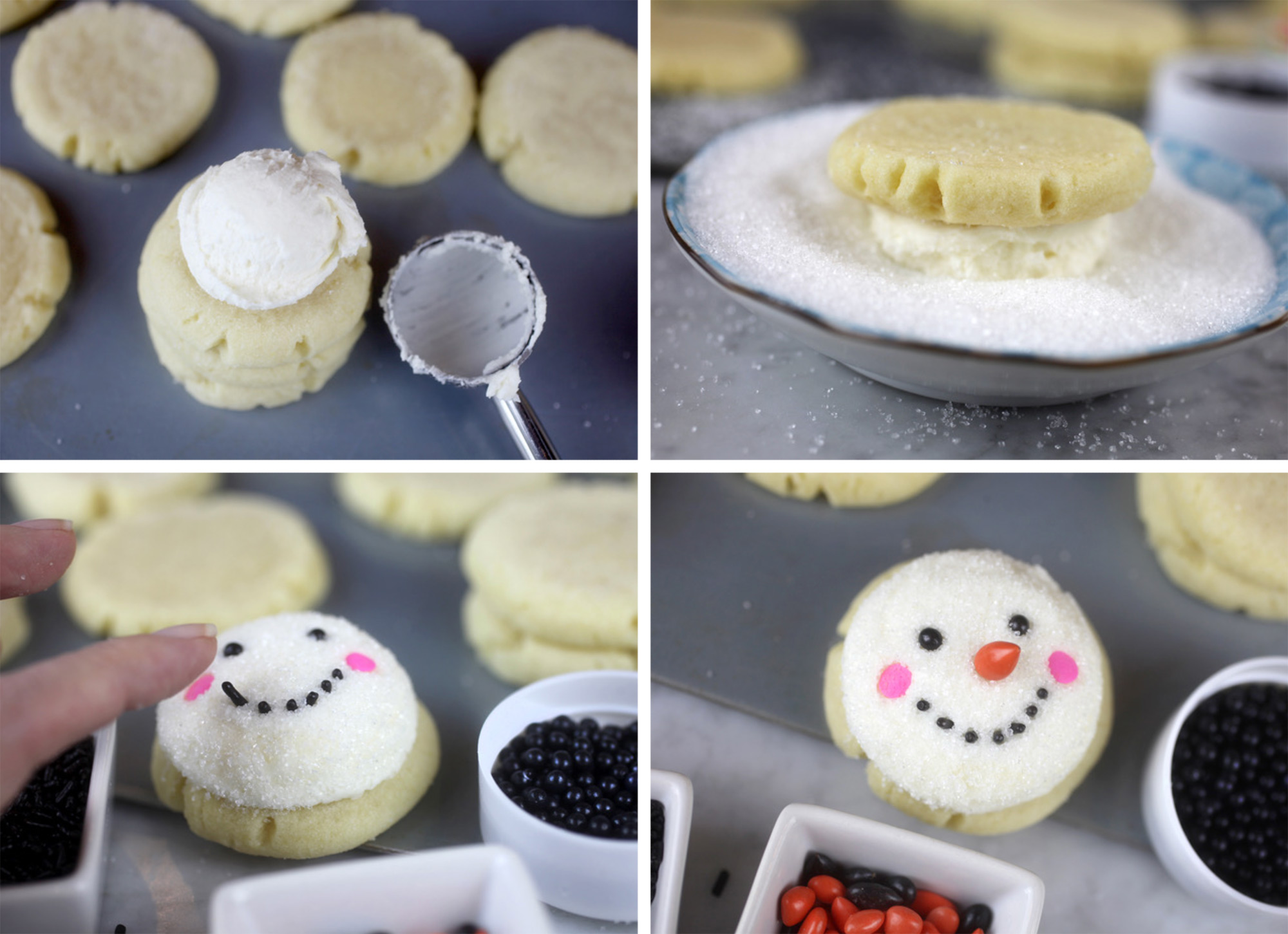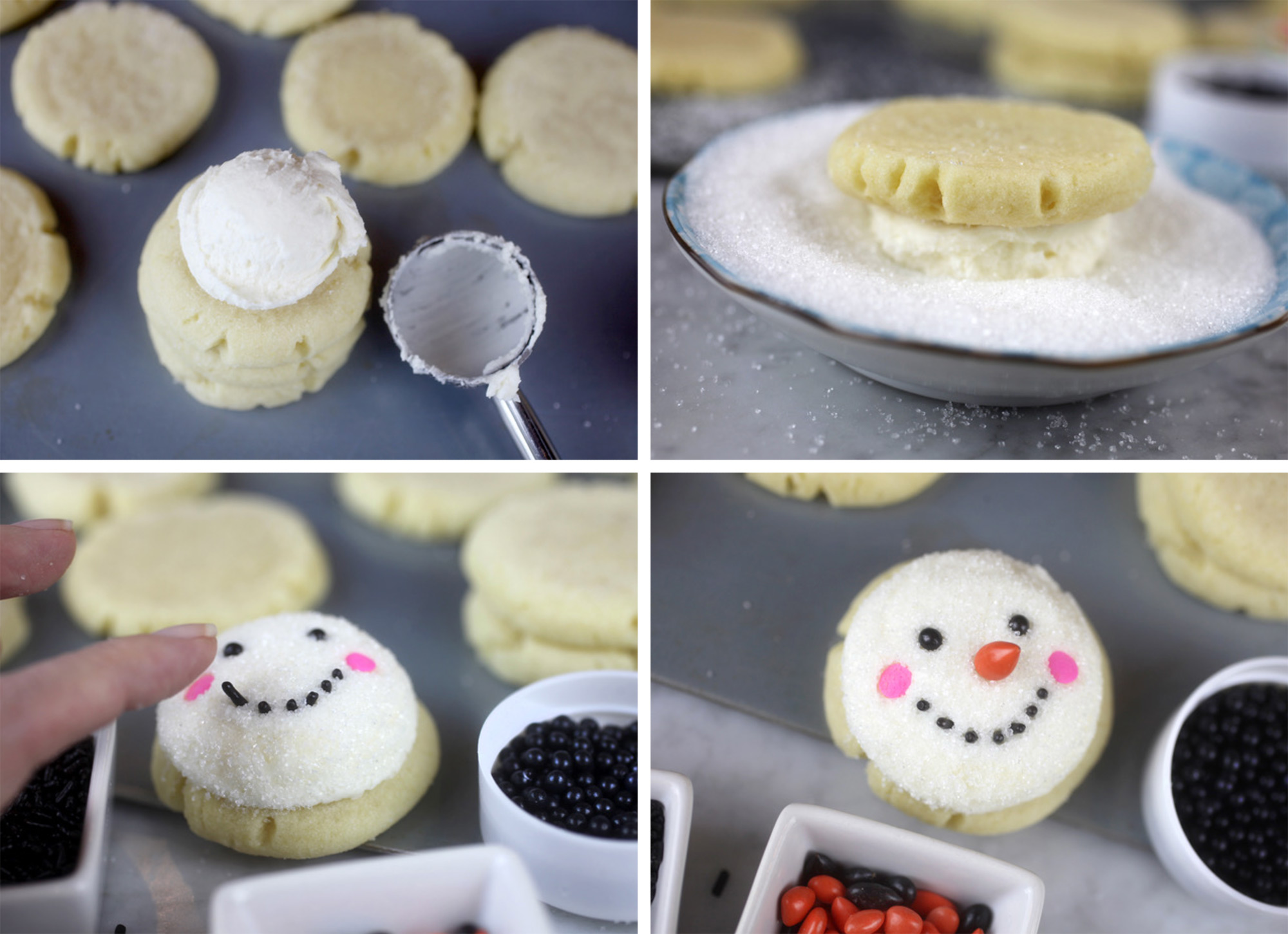 Whip up the buttercream frosting and use a small cookie scoop to place some right on top of a cookie.
Gently turn the cookie over and roll it around in a dish of sanding sugar to coat. Be gentle here and press with your hand flat because they could break easily if you press the wrong way. They are that soft.
Once coated in sanding sugar, you can use your hand to help shape the frosting into a pretty mound.
Then add sprinkles for facial features. Start with pink confetti sprinkles for cheeks, black sugar pearls for eyes, black jimmies for a big smile and then orange coated sunflower seeds for a carrot nose.
Make sure to frost and decorate as you go and insert the sprinkles enough so they stick.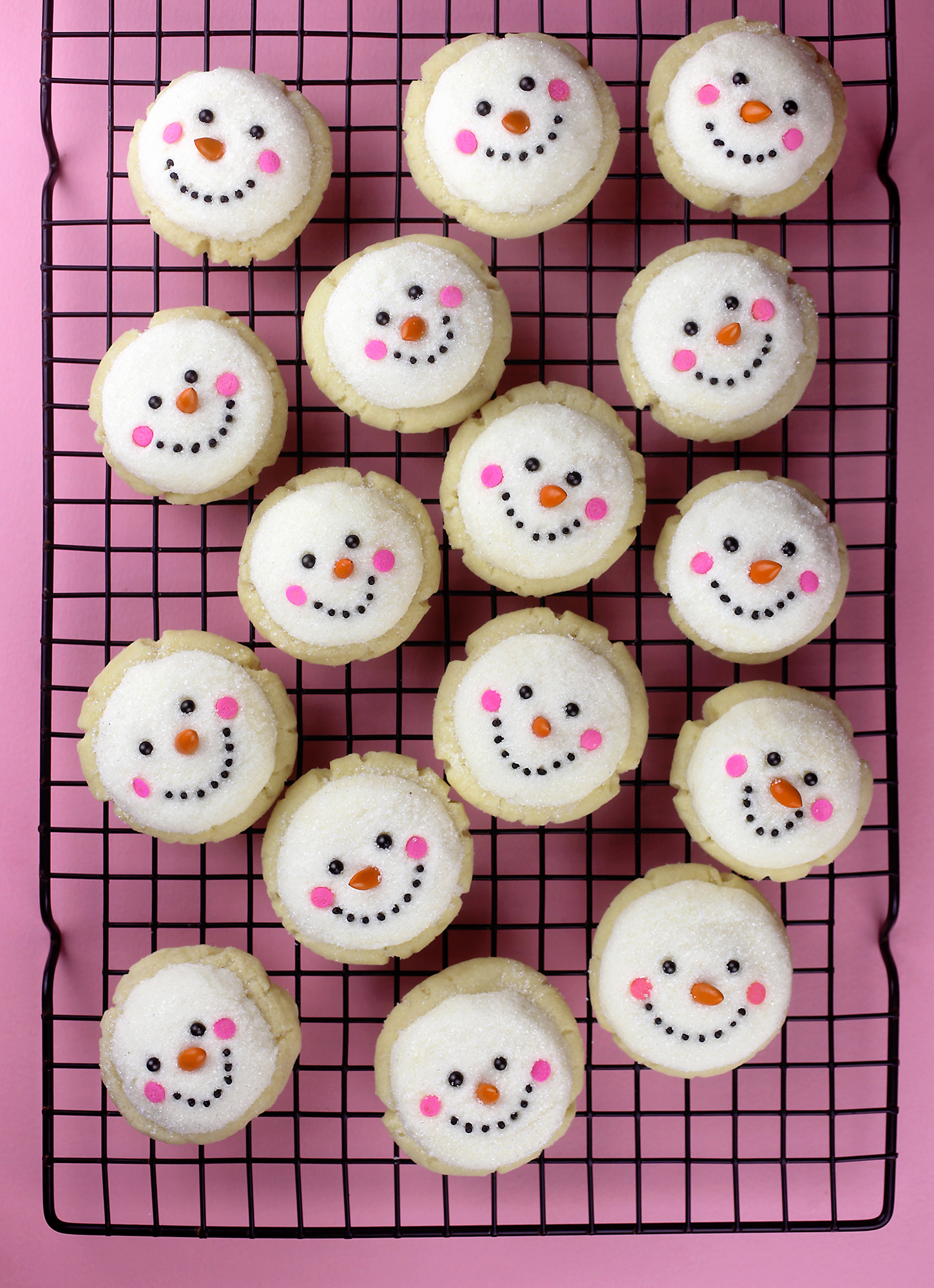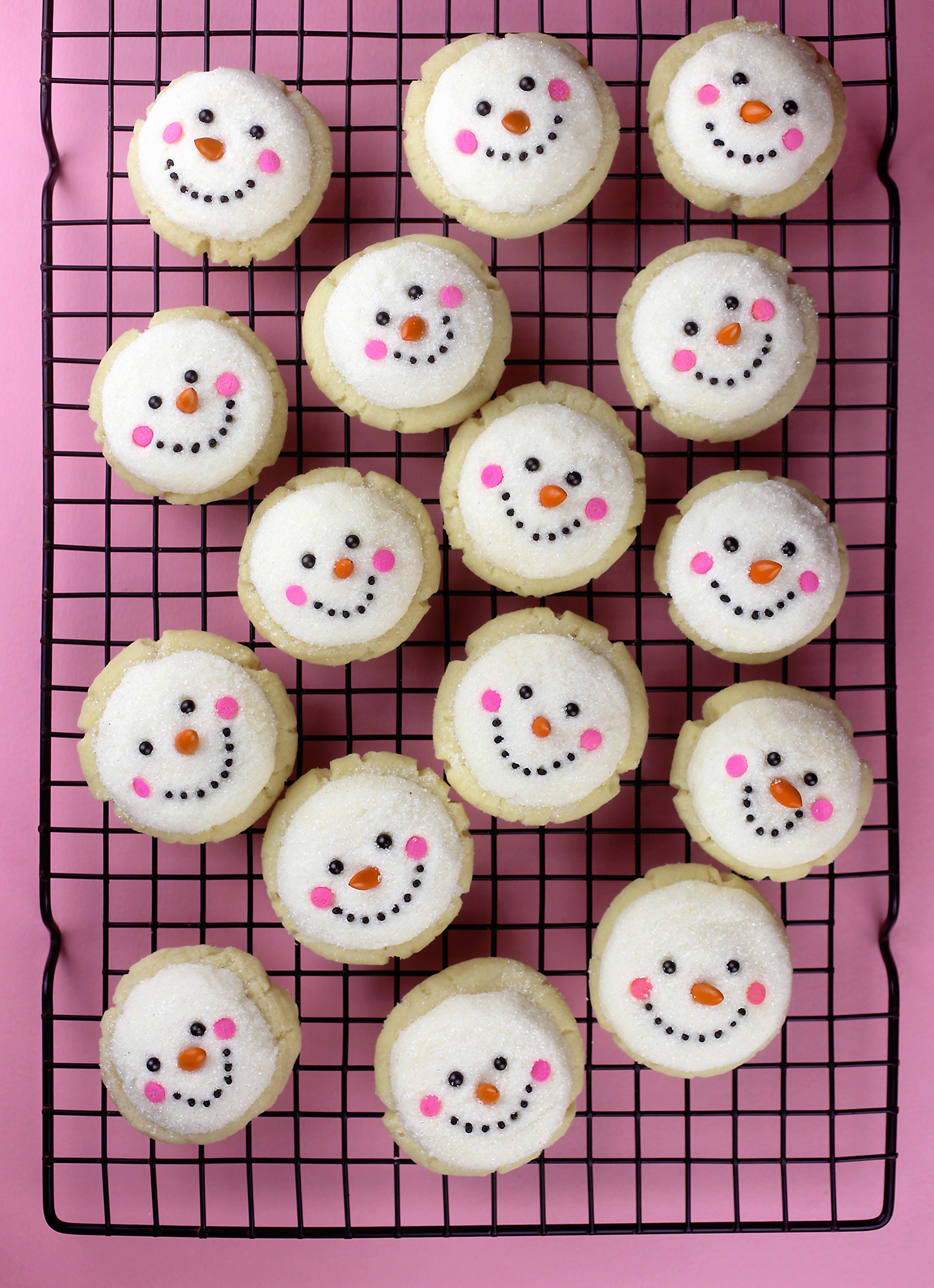 Snow cute!!!!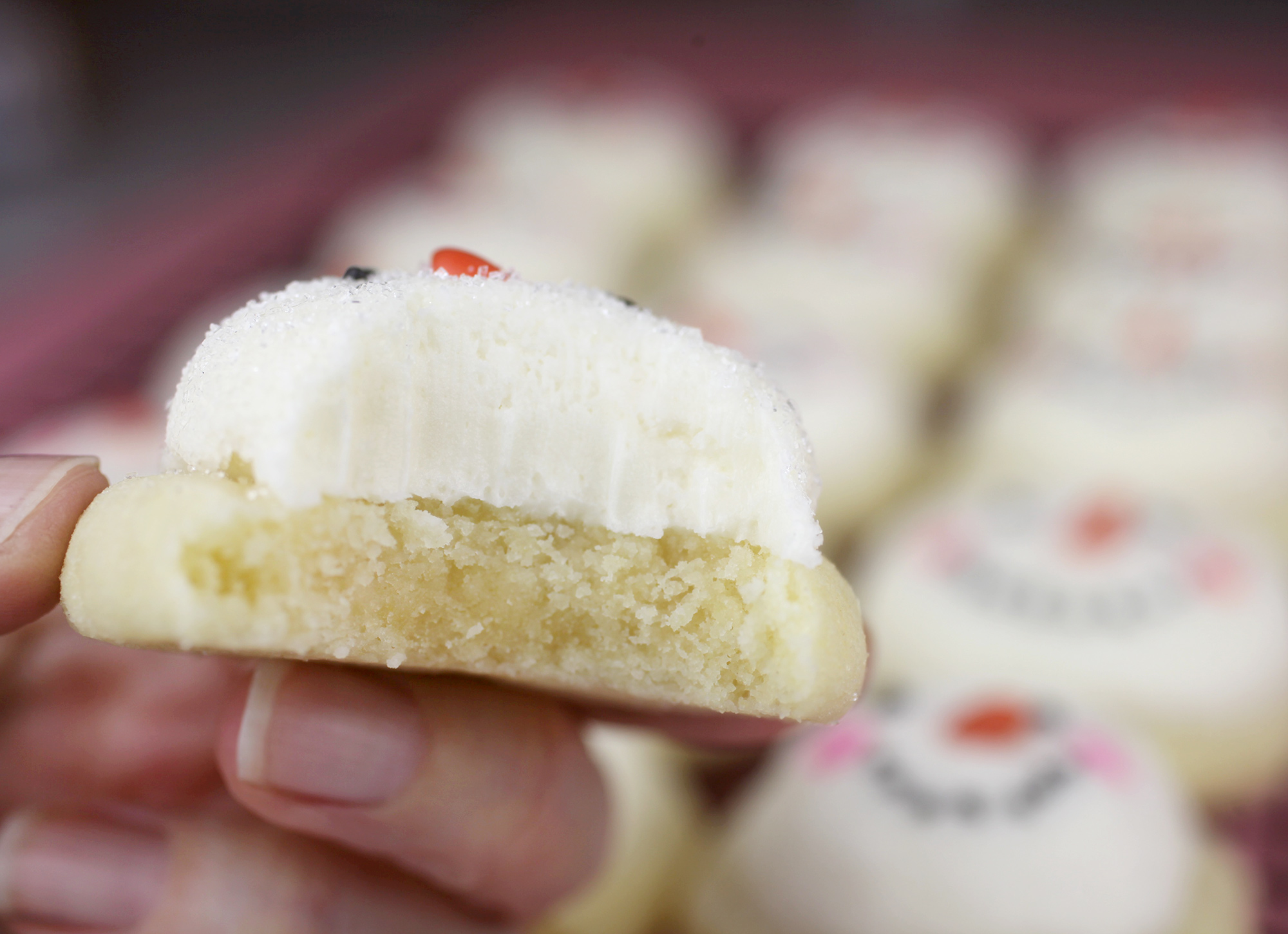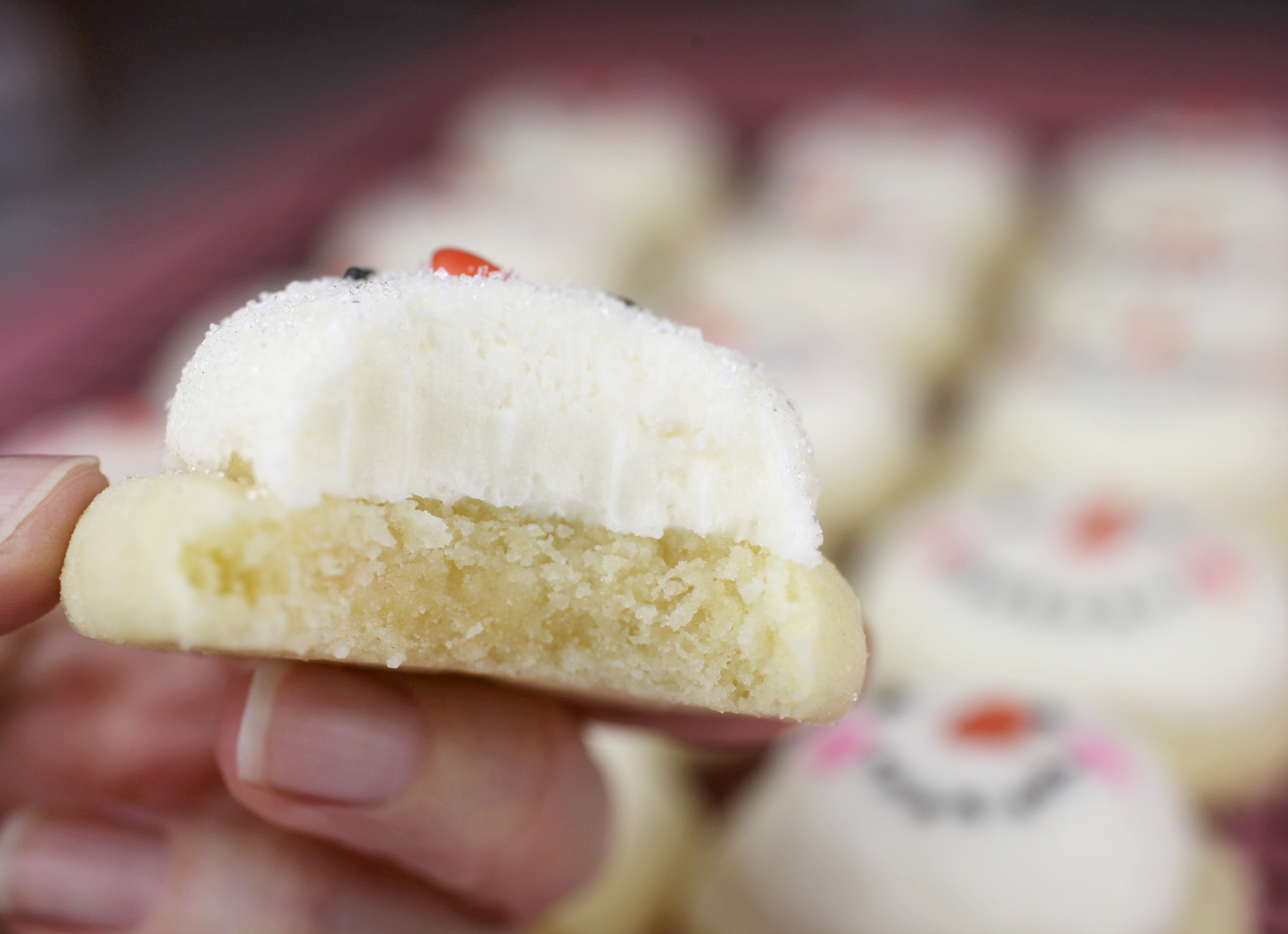 And even more delicious. I gave these away to several people and more than one came back to say they were amazing or the best sugar cookies they've had. I agree.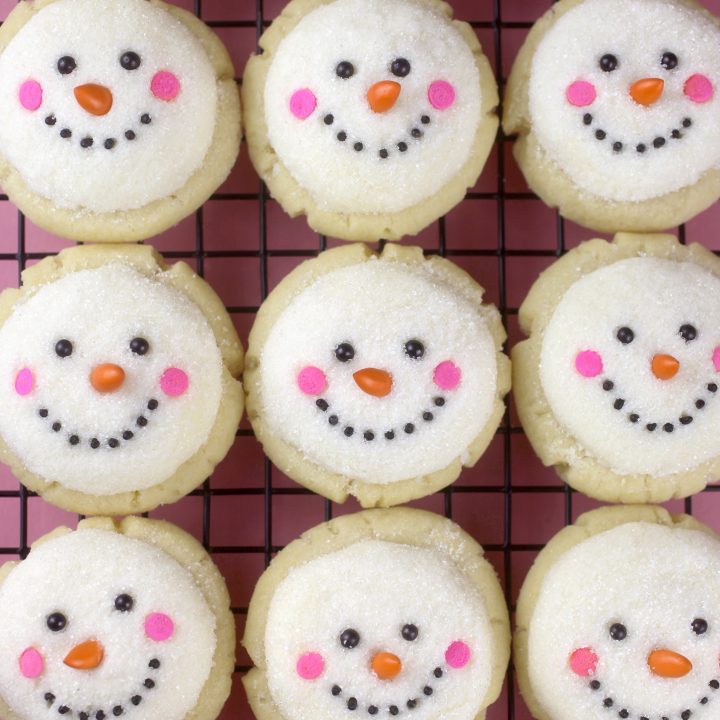 Yield: 24 cookies
Easy Frosted Sugar Cookies  
Prep Time 15 minutes

Cook Time 8 minutes

Additional Time 15 minutes

Total Time 38 minutes
Ingredients
Sugar Cookies
2-3/4 cups all-purpose flour
1/2 teaspoon baking soda
1/2 teaspoon cream of tartar
1/2 teaspoon kosher salt
1/2 cup (8 tablespoons unsalted butter, room temperature
1/2 cup vegetable or canola oil
1/2 cup granulated sugar, plus another 1/4 cup to use for flattening cookies
1/2 cup confectioners' sugar
1 large egg
1 teaspoon pure vanilla extract
1/2 teaspoon almond extract
nonstick cooking spray
Frosting
3/4 cup (12 tablespoons) unsalted butter, room temperature
3 cups confectioners' sugar, sifted
3 tablespoons heavy cream or milk
1-1/2 teaspoons pure vanilla extract
3/4 teaspoon almond extract
White sanding sugar
Black sugar pearls
Orange coated sunflower seeds
pink confetti sprinkles
black jimmies
Instructions
Make the Cookies: Preheat oven to 350 degrees fahrenheit. Line a large baking sheet with parchment paper.
In a large bowl, whisk together the flour, baking soda, cream of tartar and salt and set aside.
In the bowl of a stand mixer fitted with the paddle attachment, cream together the butter, oil, 1/2 cup of the granulated sugar, and the confectioners' sugar until smooth. Add the egg, vanilla and almond extract. Mix until combined. Add the dry ingredients and mix on low until just combined.
Scoop the dough using a 1-1/2 inch scoop and place on baking sheet about 2 inches apart for evenly sized cookies. Roll the dough into balls. Not all the cookies will fit on the sheet for one batch.
Pour the reserved 1/4 cup of granulated sugar into a small bowl or dish. Spray the bottom of a drinking glass with nonstick cooking spray. Press the bottom of the glass into the sugar to evenly coat.
Press the sugared glass bottom on top of each cookie dough ball and press down gently. Repeat for each cookie and reapply cooking spray as needed.
Bake the cookies for 8 minutes. Do not overbake. They will be light in color and soft in the center. Let cool 5 minutes before transferring to a wire rack to cool completely. (Note: I like to slide the the parchment paper and cookies off my flat baking sheet and onto the counter to cool just a couple of minutes after they come out of the oven.
Repeat with remaining dough.
Make the Frosting: In the bowl of a stand mixer fitted with the paddle attachment, beat the butter until smooth. Add the confectioners' sugar and mix until combined. Add the extracts and and one teaspoon of milk at a time for desired consistency. Beat until smooth.
Spread buttercream frosting on cookies and decorate with sprinkles. Store in an air tight container at room temperature for up to 3 days.
To Decorate as Snowmen: (you'll need to double the buttercream recipe) Scoop the buttercream using a 1-1/2 inch scoop and place on top of a cookie. Gently press the cookie and frosting into a small dish filled with white sanding sugar. Very gently rock and rotate to coat the surface. Use the palm of your hand to reshape into a nice mound. Place confetti sprinkles in position for cheeks, sugar pearls for eyes, black jimmies for a dotted mouth and orange sunflower seeds for noses. Press firm and gentle so they are secure. Decorate one cookie at a time to make sure the sprinkles attach.
Notes
Note: I've made these cookies using White Lily flour and King Arthur Flour. The photos in this post are made with King Arthur flour and yielded a thicker cookie. The White Lily flour is a softer wheat and yield thinner and wider cookies than the ones in this post. Both cookies were still soft and delicious but I would recommend spreading the buttercream on with a knife if your cookies bake thinner and wider instead of scooping as they might not be thick/sturdy enough to support a larger scoop of frosting.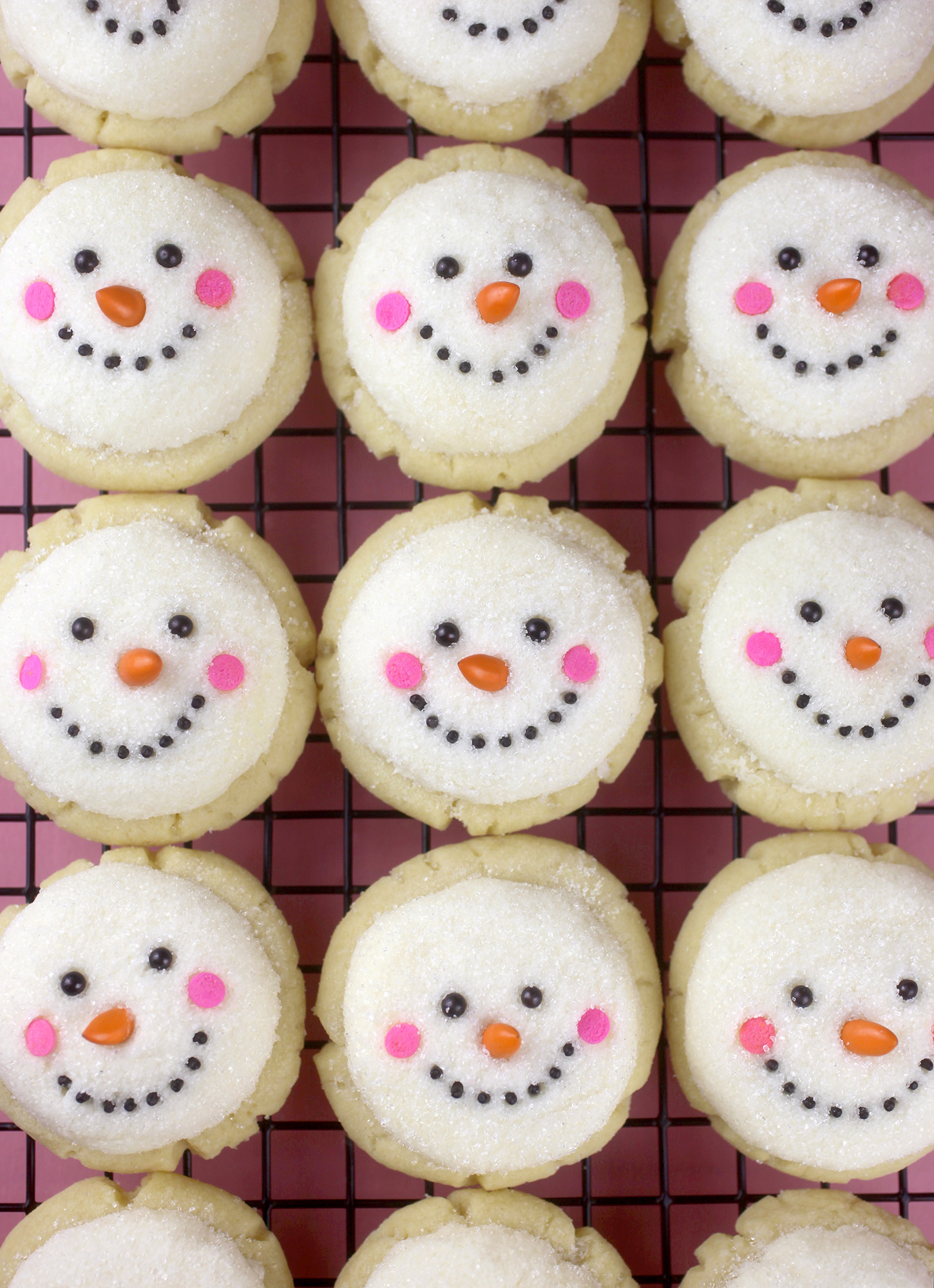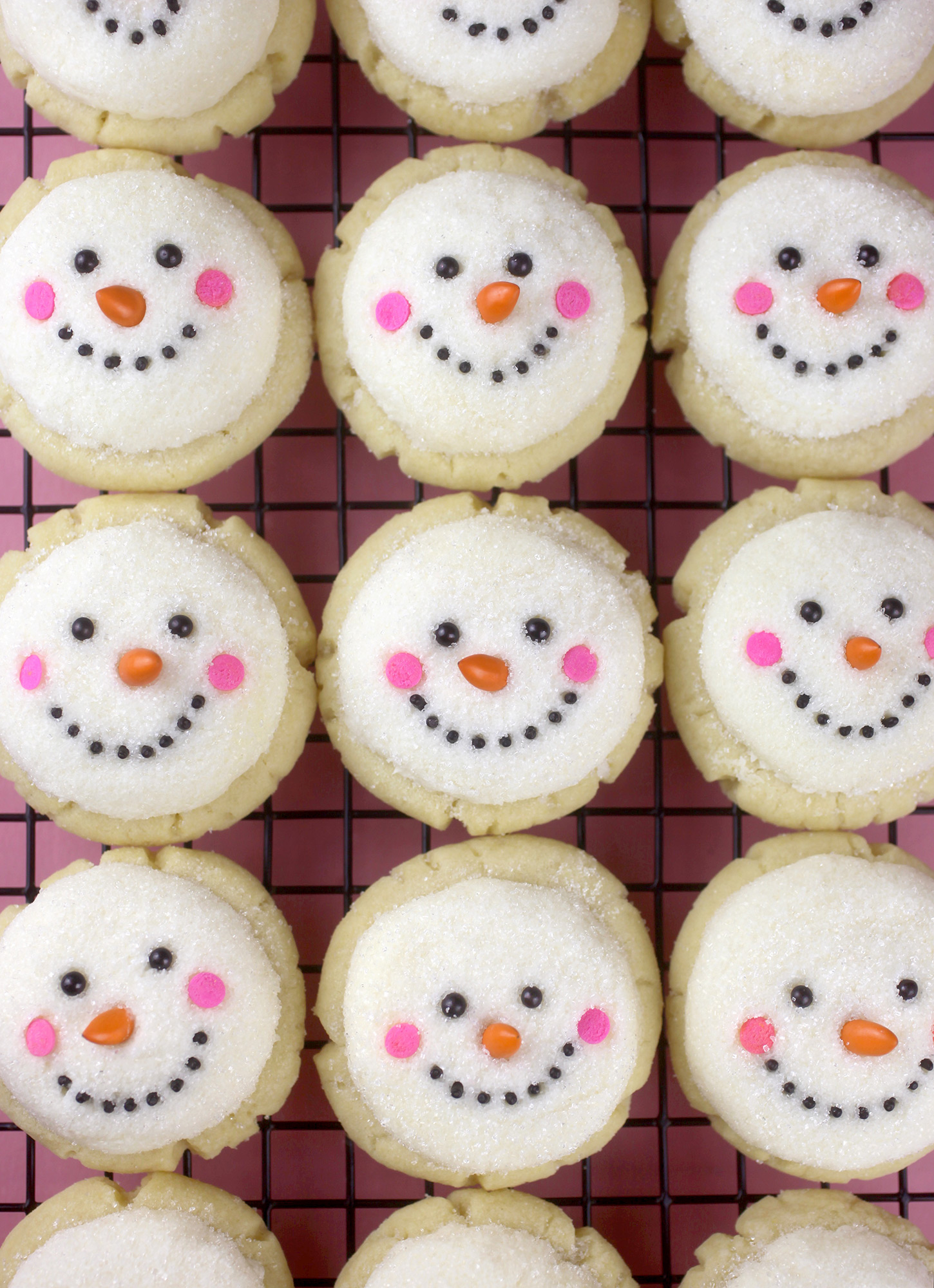 They make me smile … hope they'll make you smile, too.
Enjoy!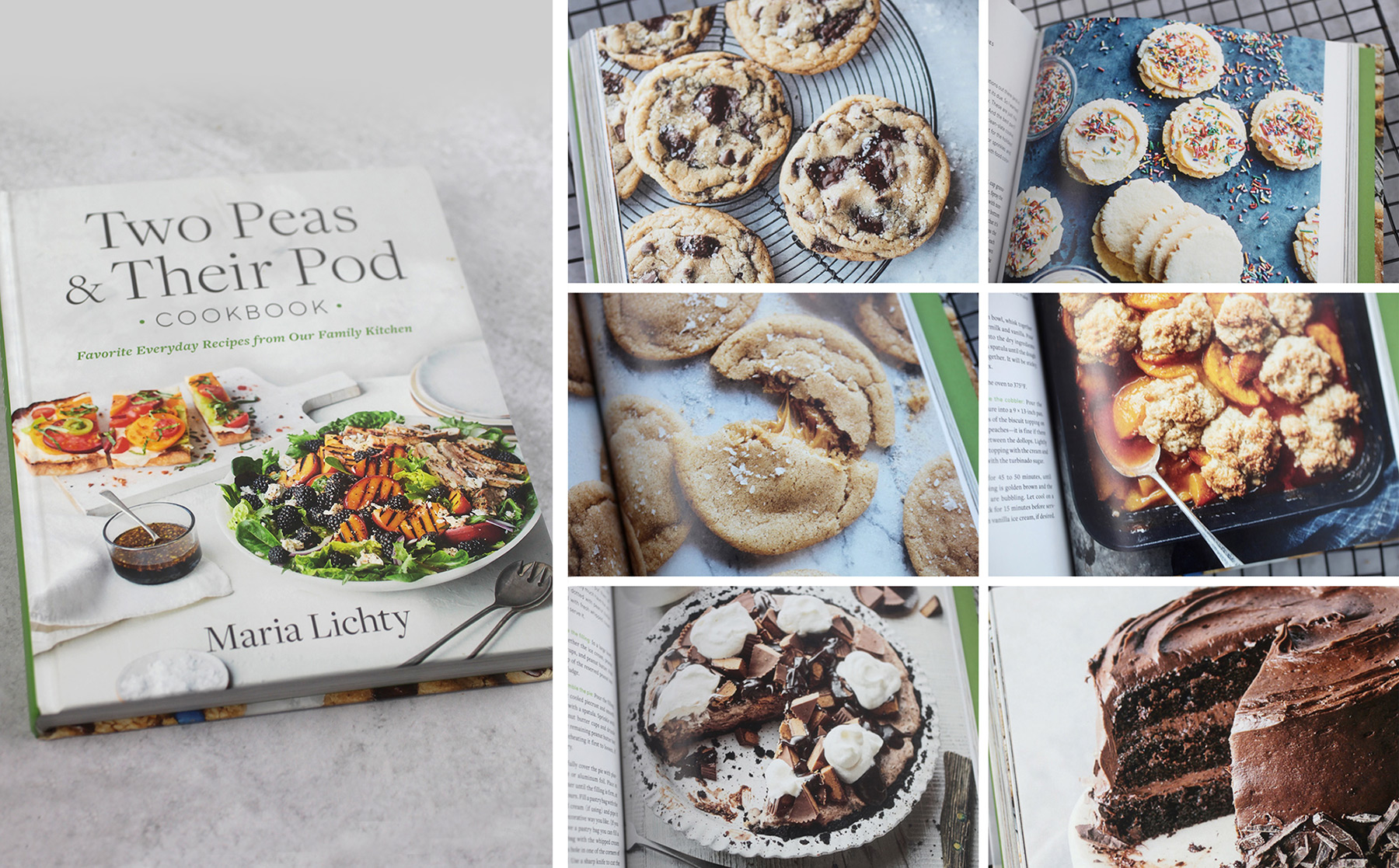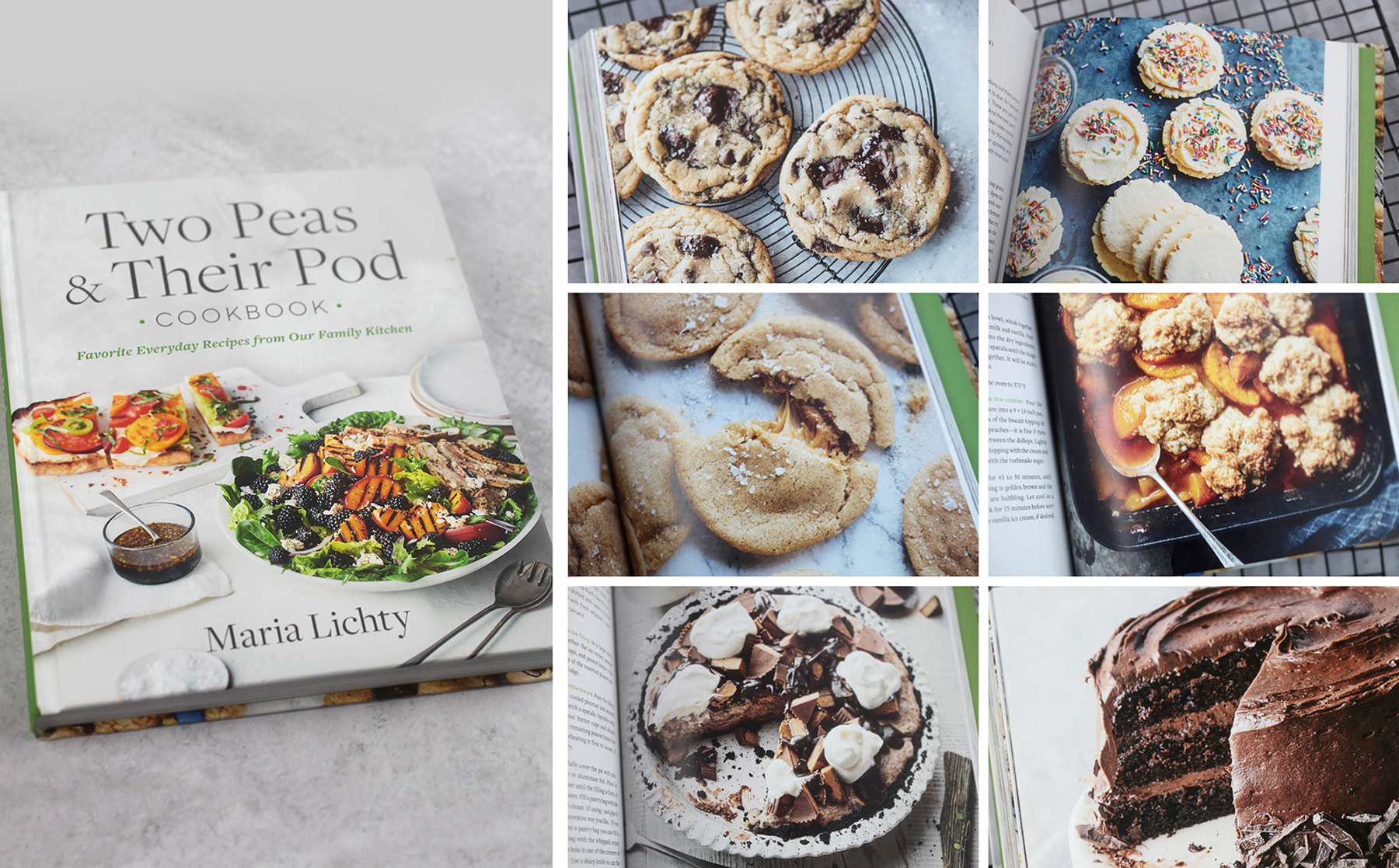 Here's the link to Maria's book on Amazon and also a link to a recent post where I made her Biscoff Oatmeal Sandwich Cookies.