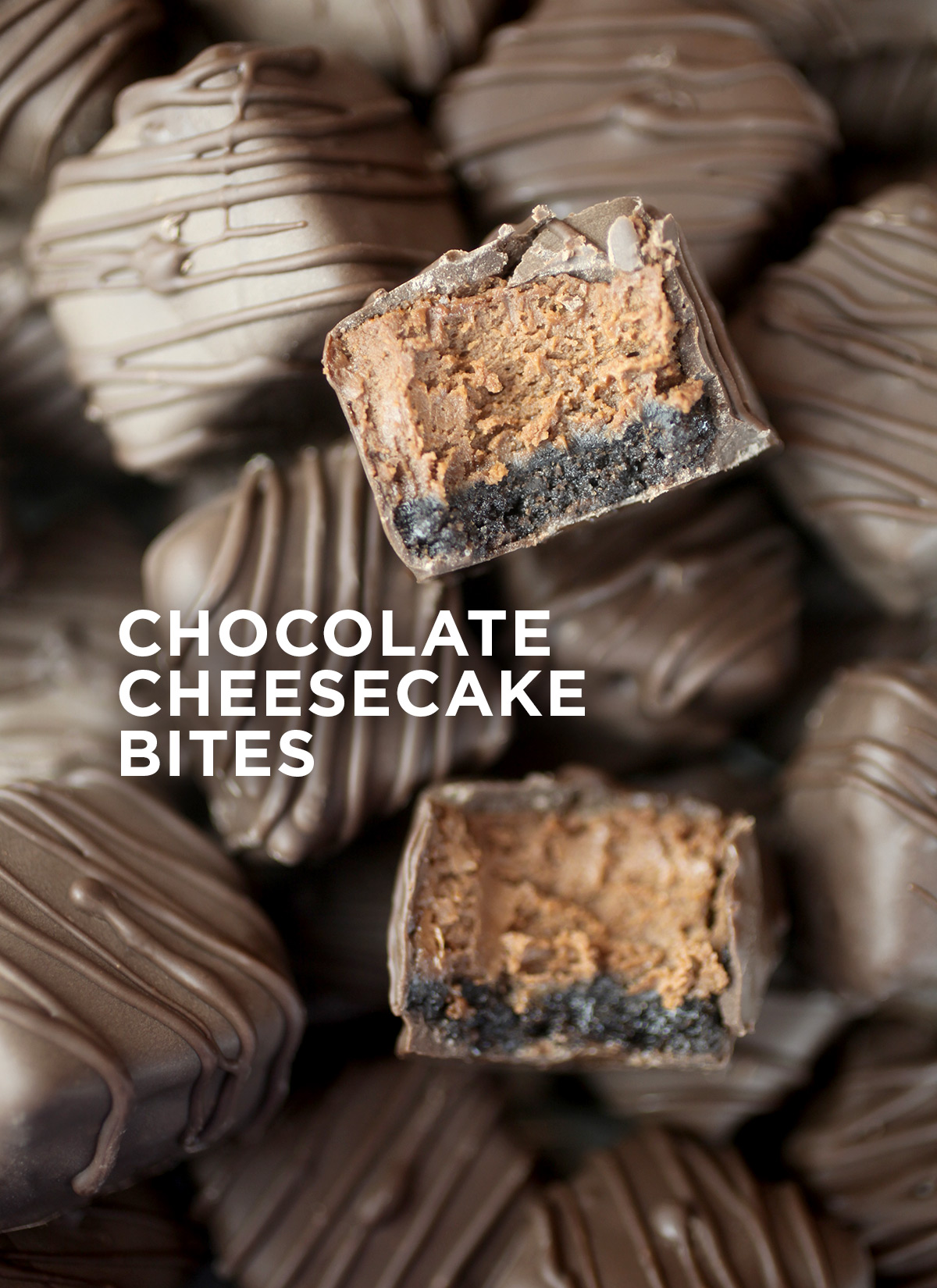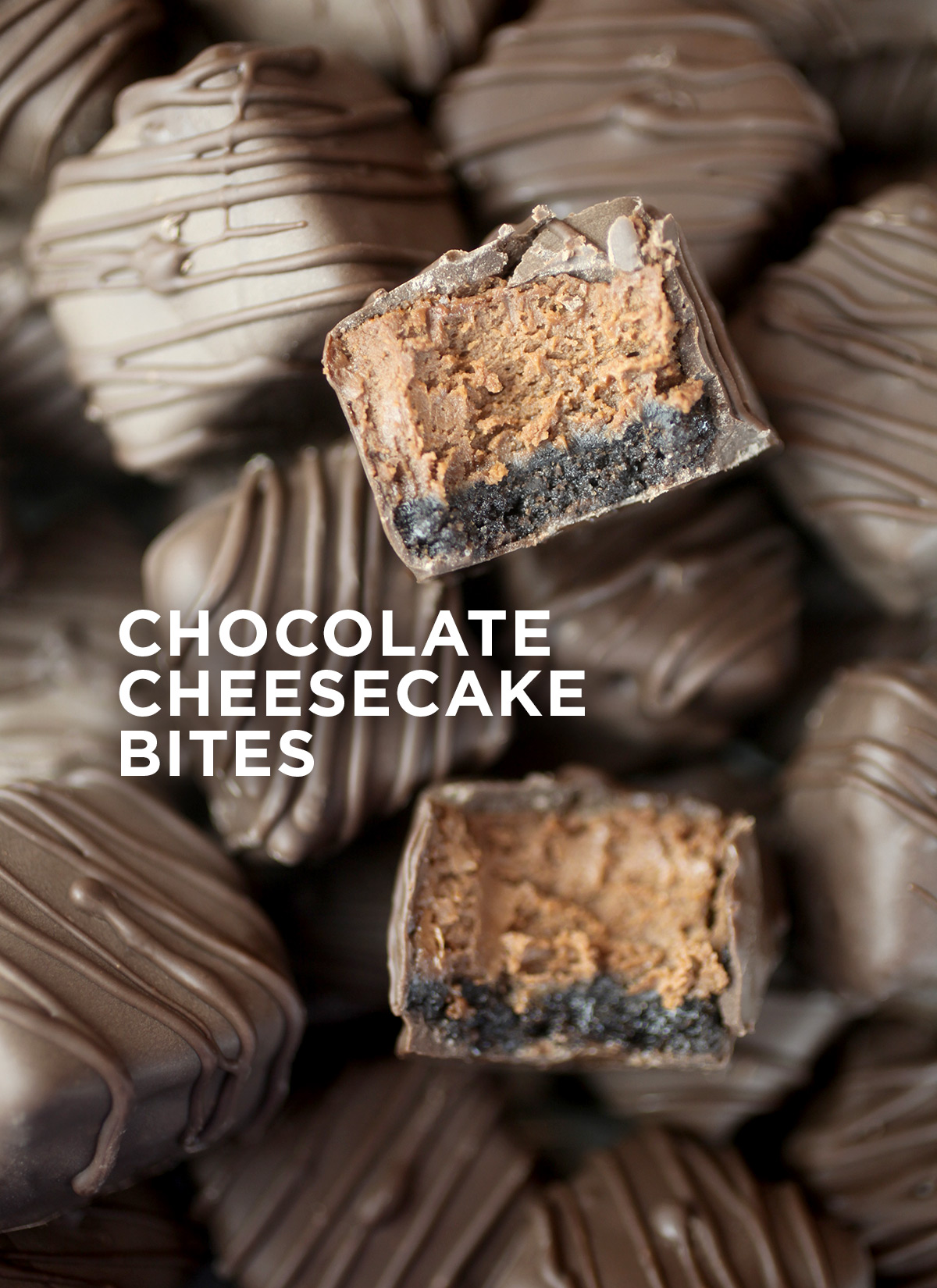 Look at these little bites of thick, rich chocolate bliss. If you're a big chocolate lover, then I think you'll really enjoy these miniaturized cheesecakes.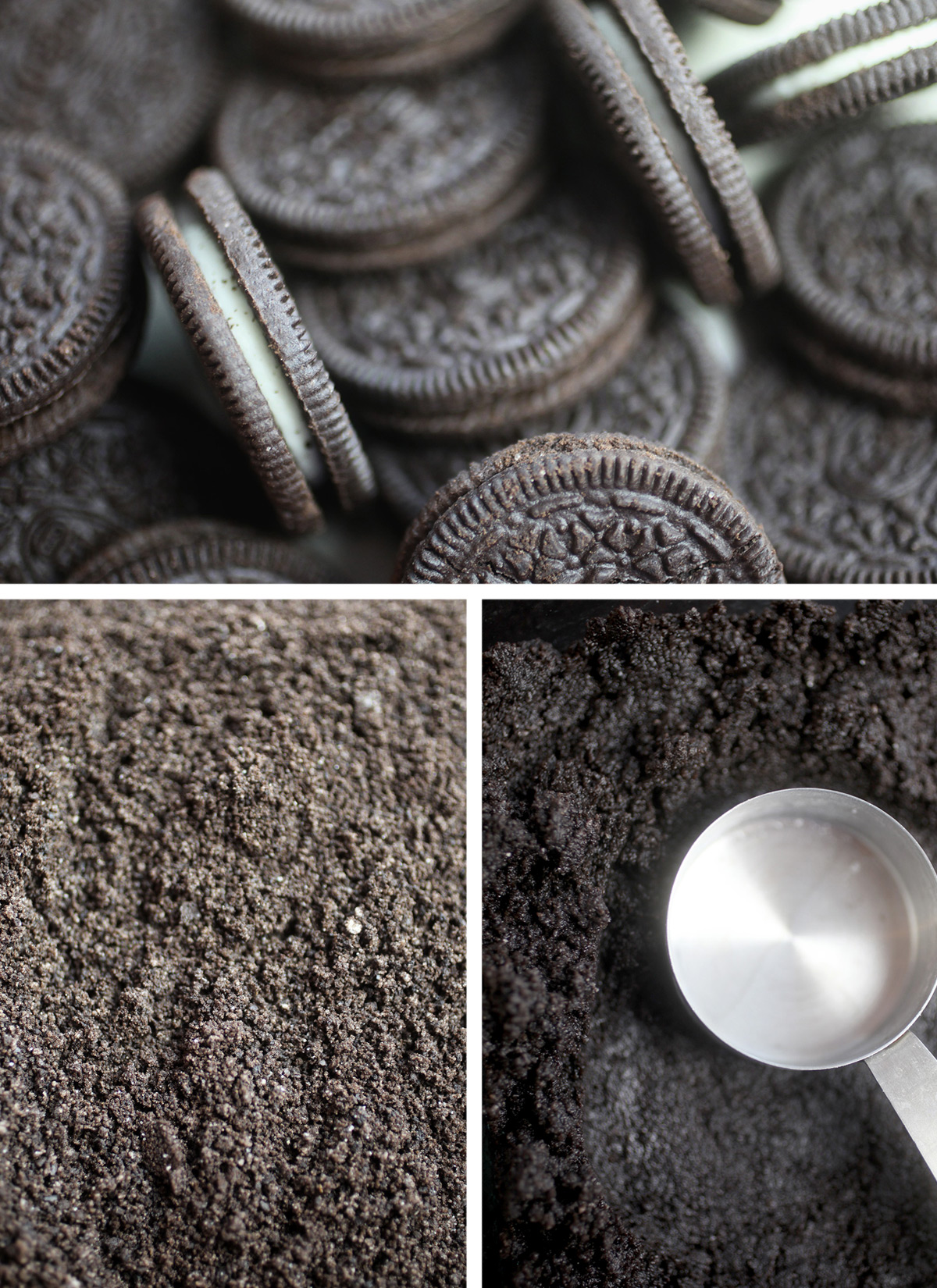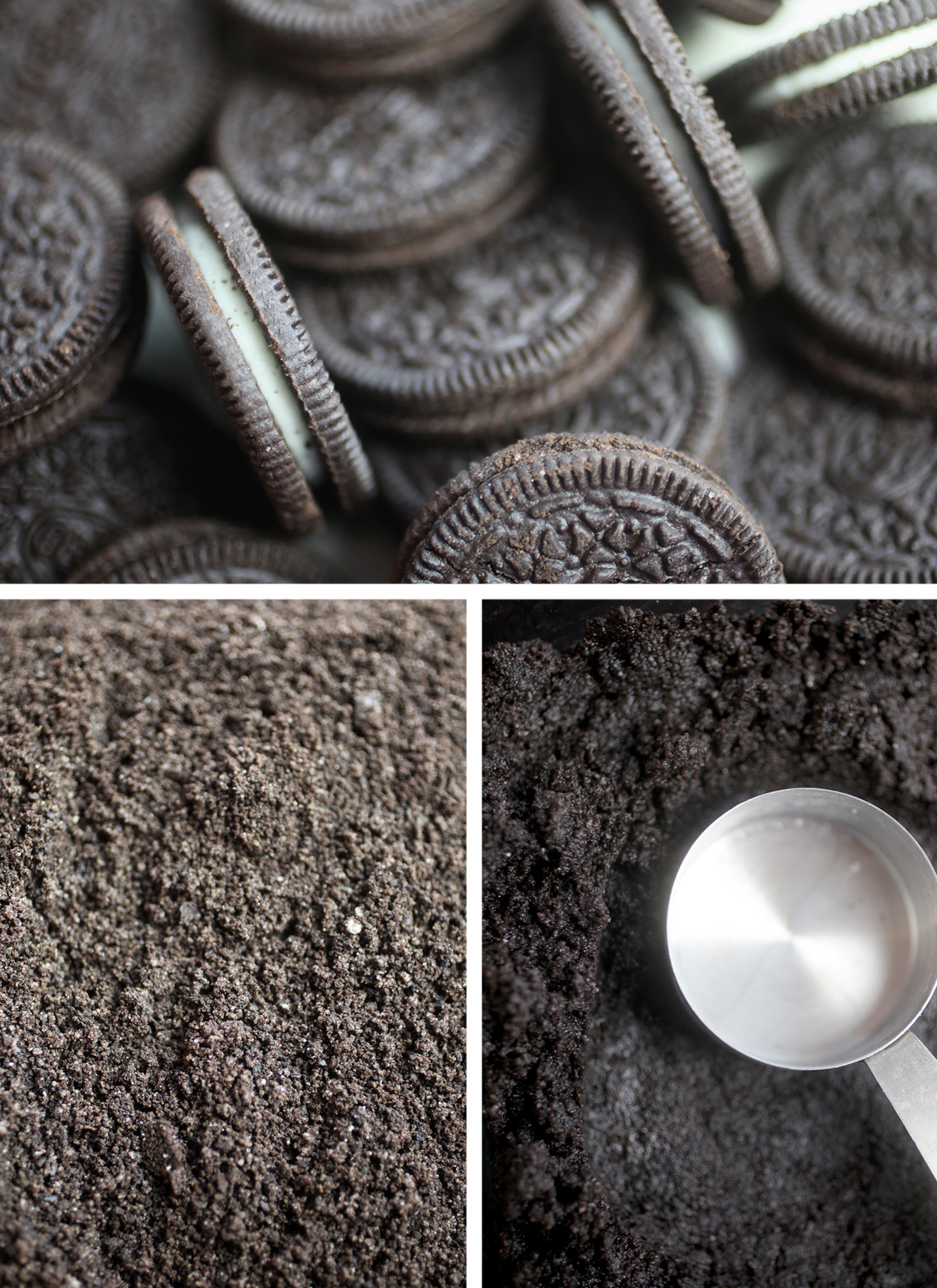 The crust is your basic Oreo variety, crushed into crumbs, mixed with sugar and butter and then pressed firmly into the bottom of a baking dish before baking.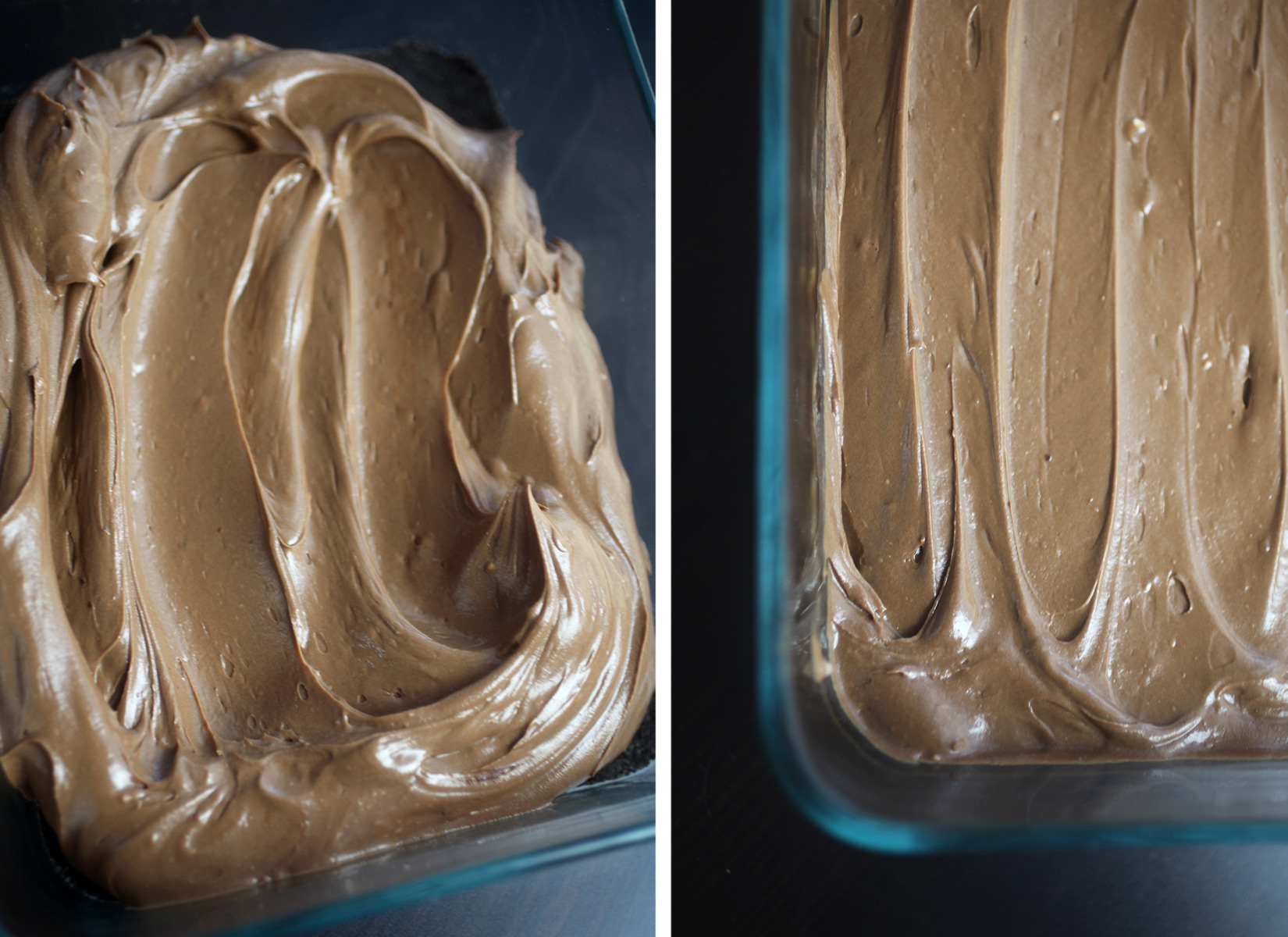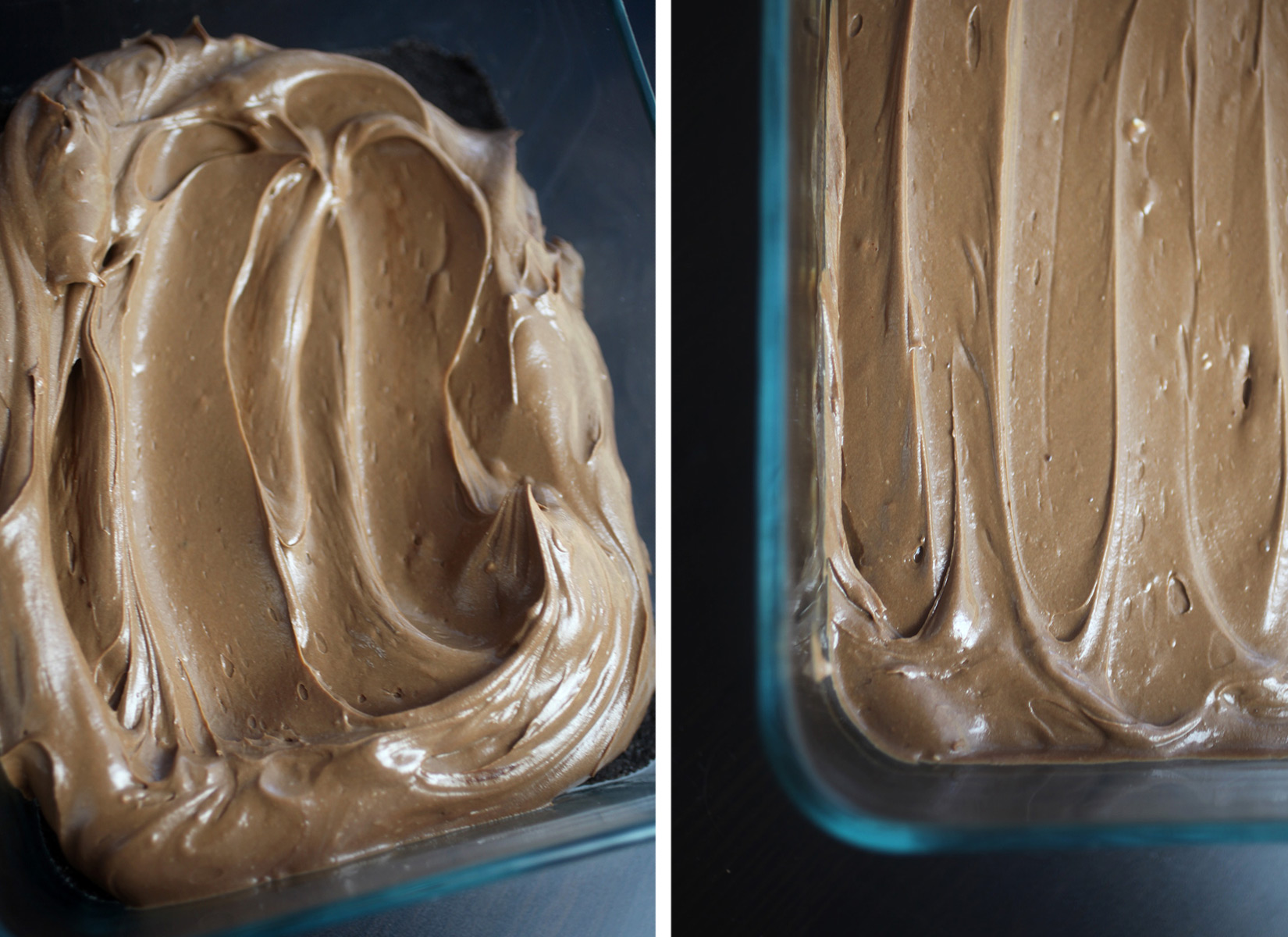 Then there's the cheesecake filling. OMG … send help and a spoon.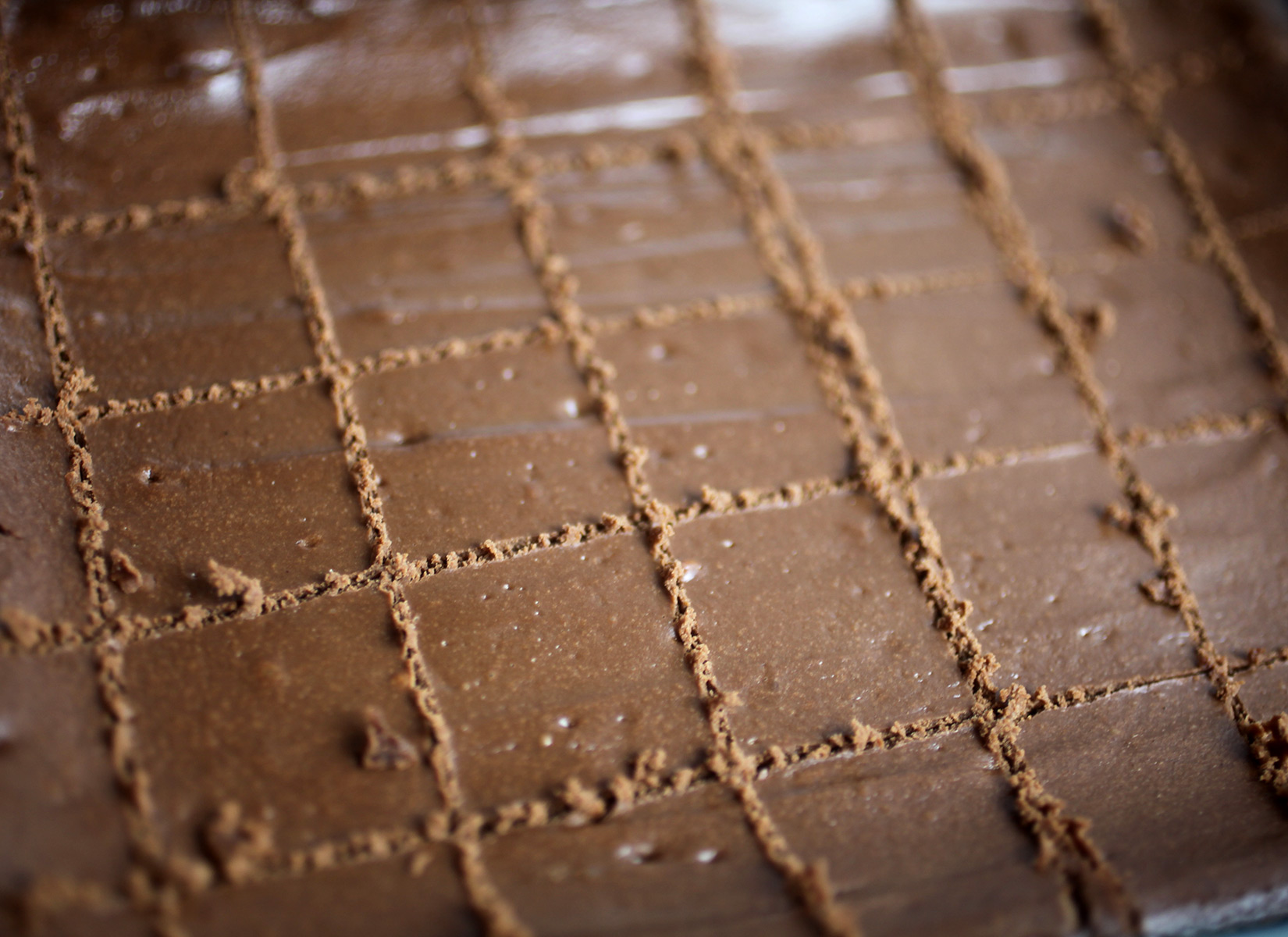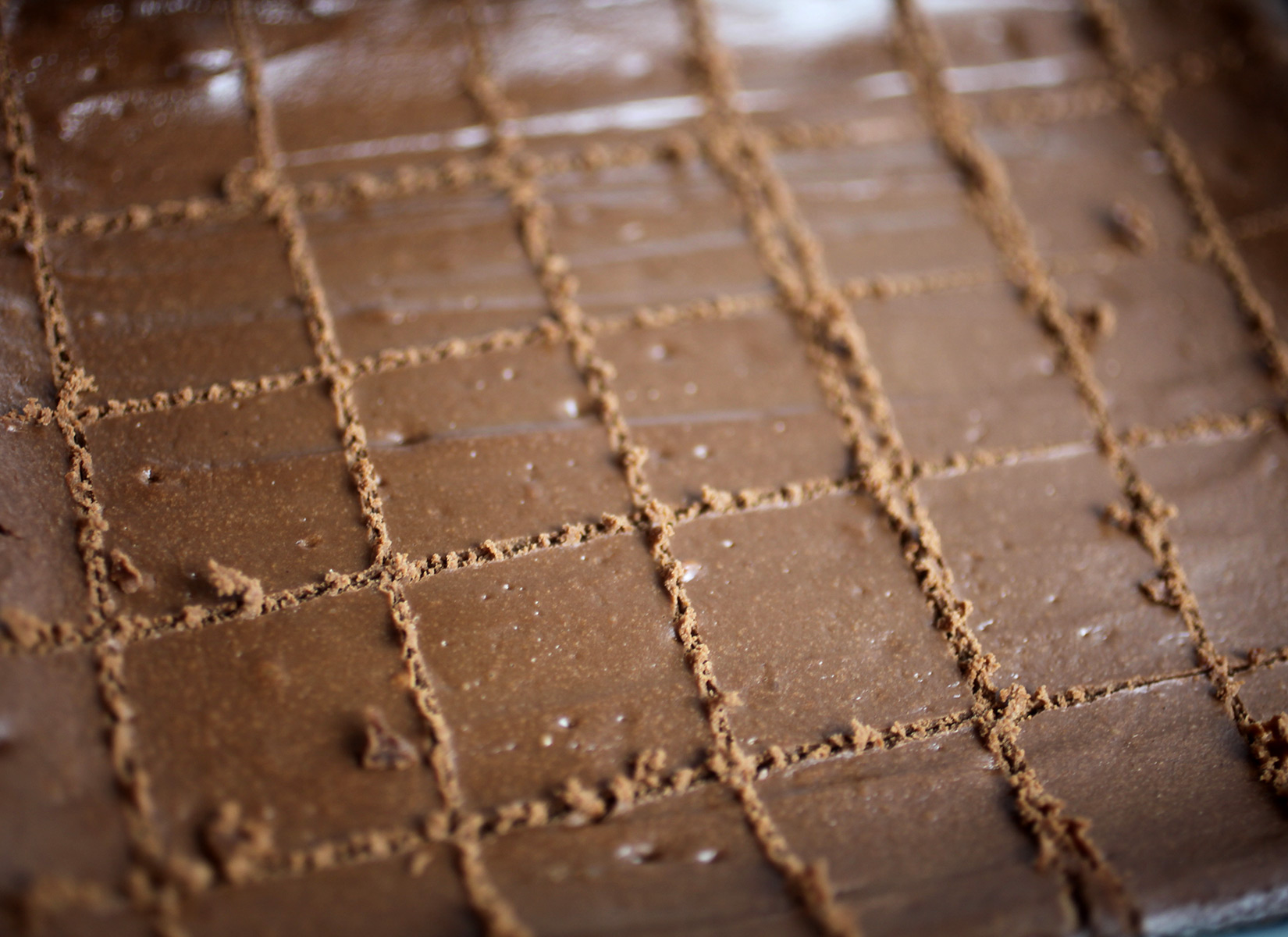 After baking the cheesecake, let it cool completely and then cut into small squares. About 1.25 inches is where I landed when I made these. It's a good size for dipping!
But, you can also skip the dip and just enjoy these as larger squares.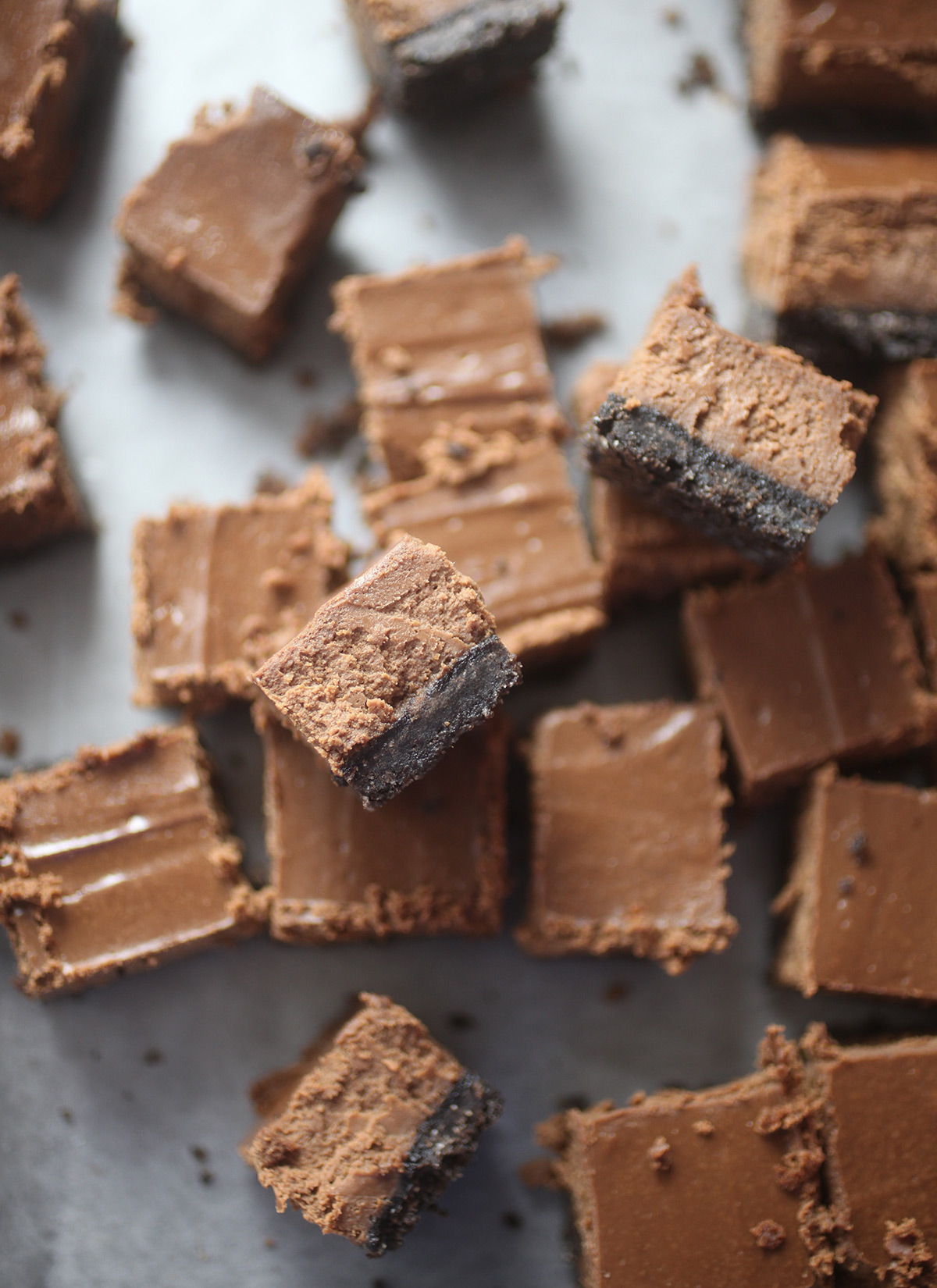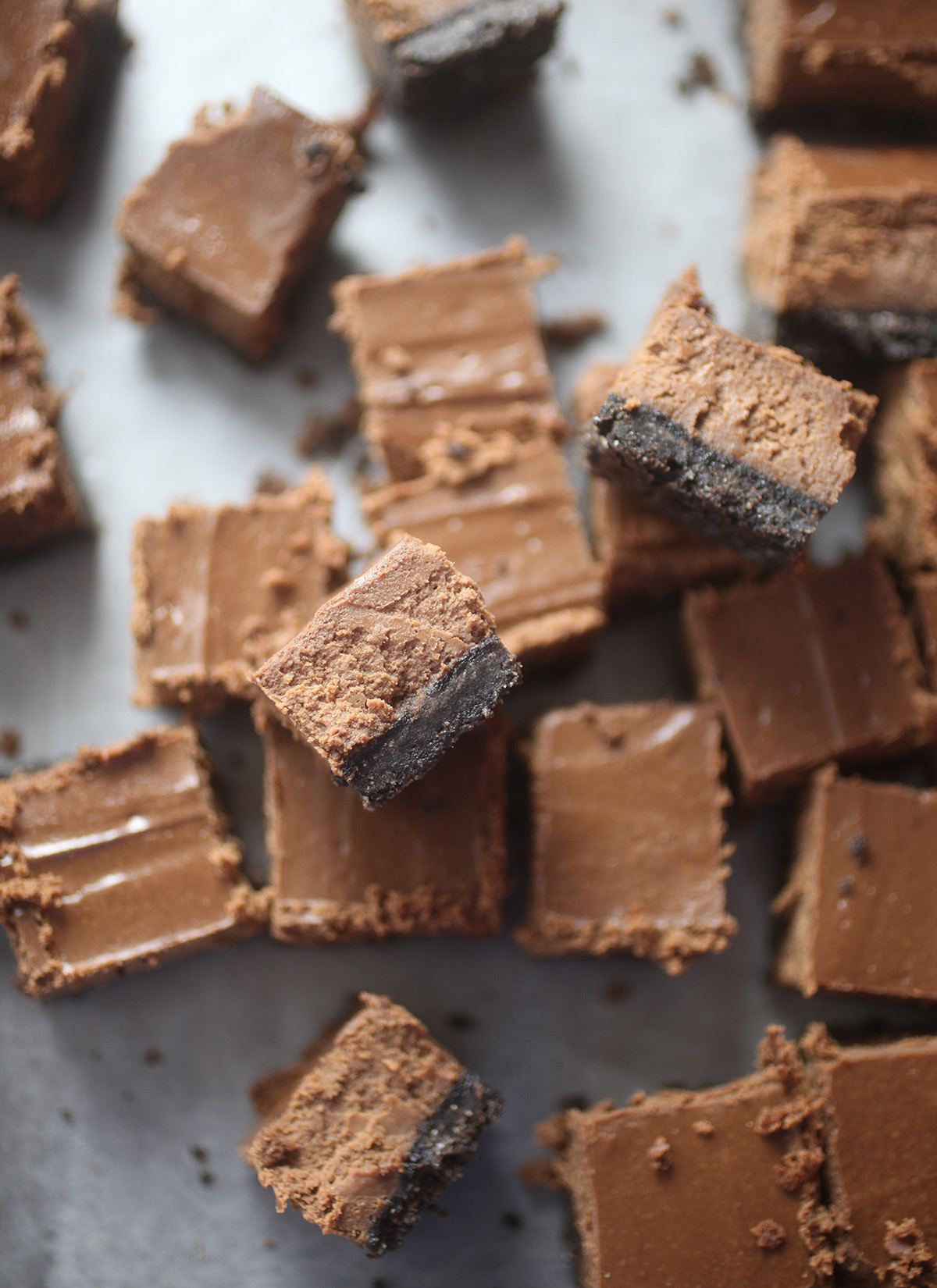 Little or large, you can't lose.
This cheesecake is dense so, take your time when cutting and try to make clean, straight lines. It also helps to use a sharp, non-serrated knife that you run under hot water before each cut as well.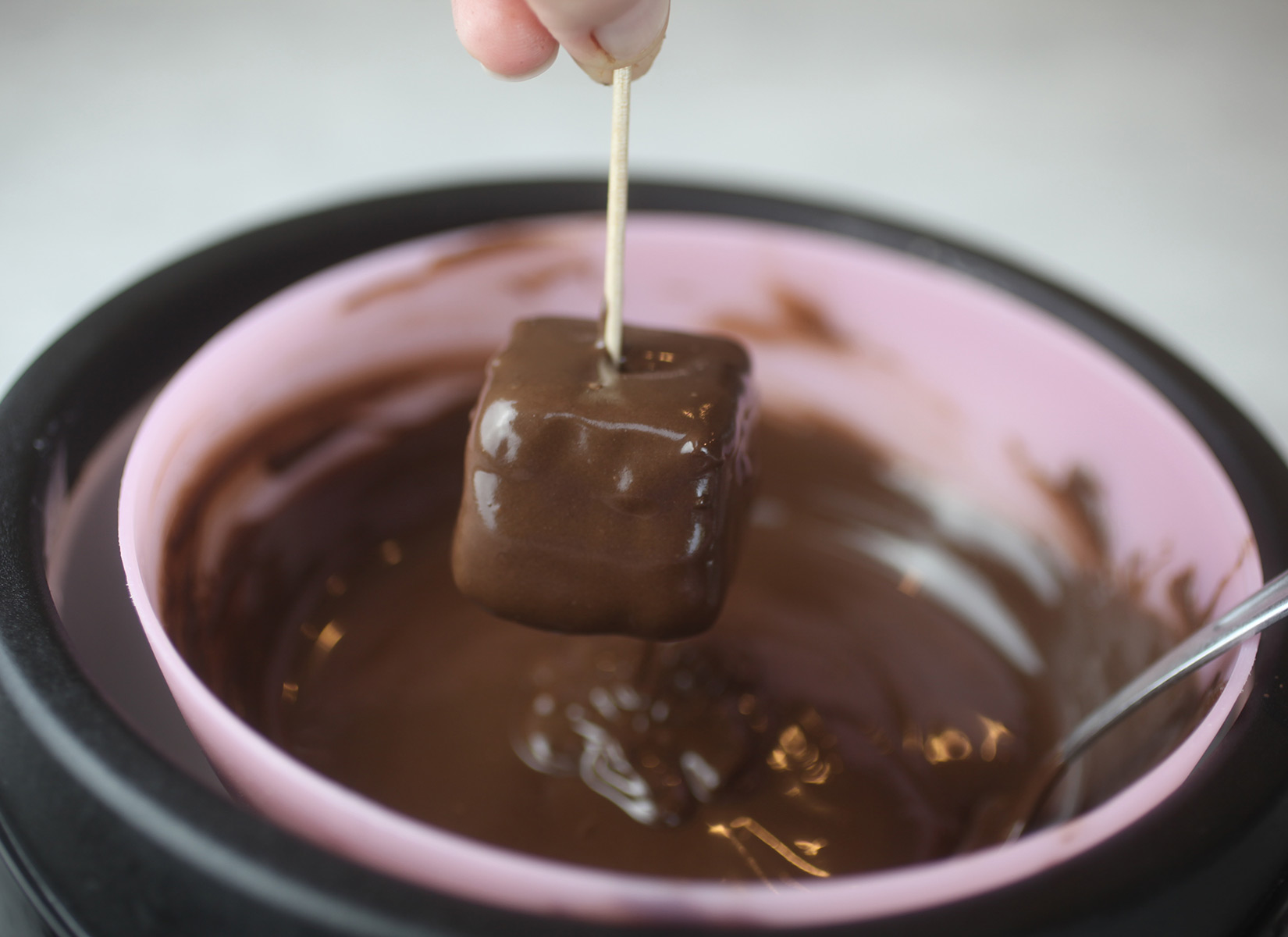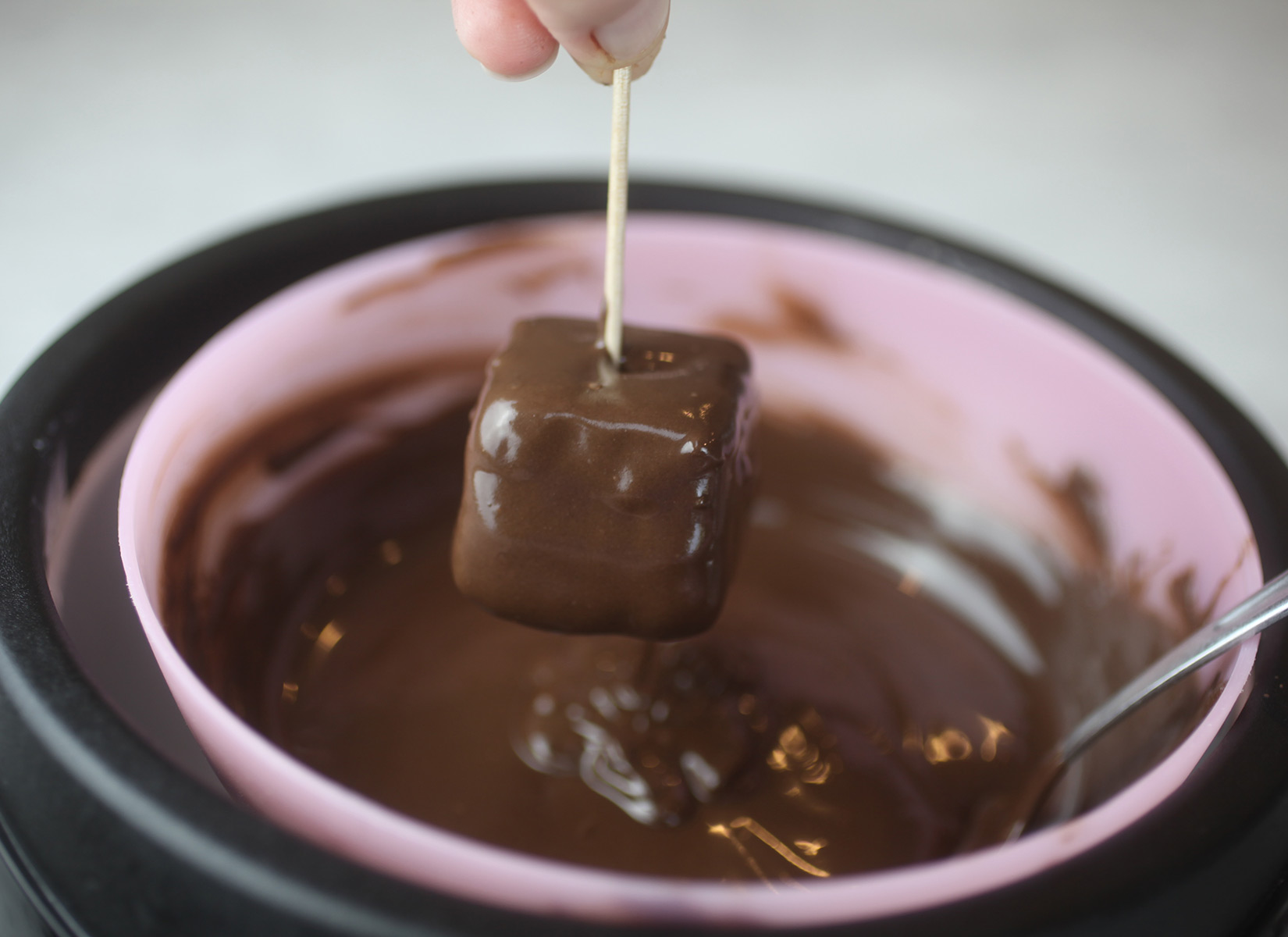 Dipping time.
With the cheesecake, cut into small squares, you can insert a toothpick in the top to use to dip into melted chocolate candy coating. Keep in mind, that larger squares would likely fall off the toothpick due to the heavier weight.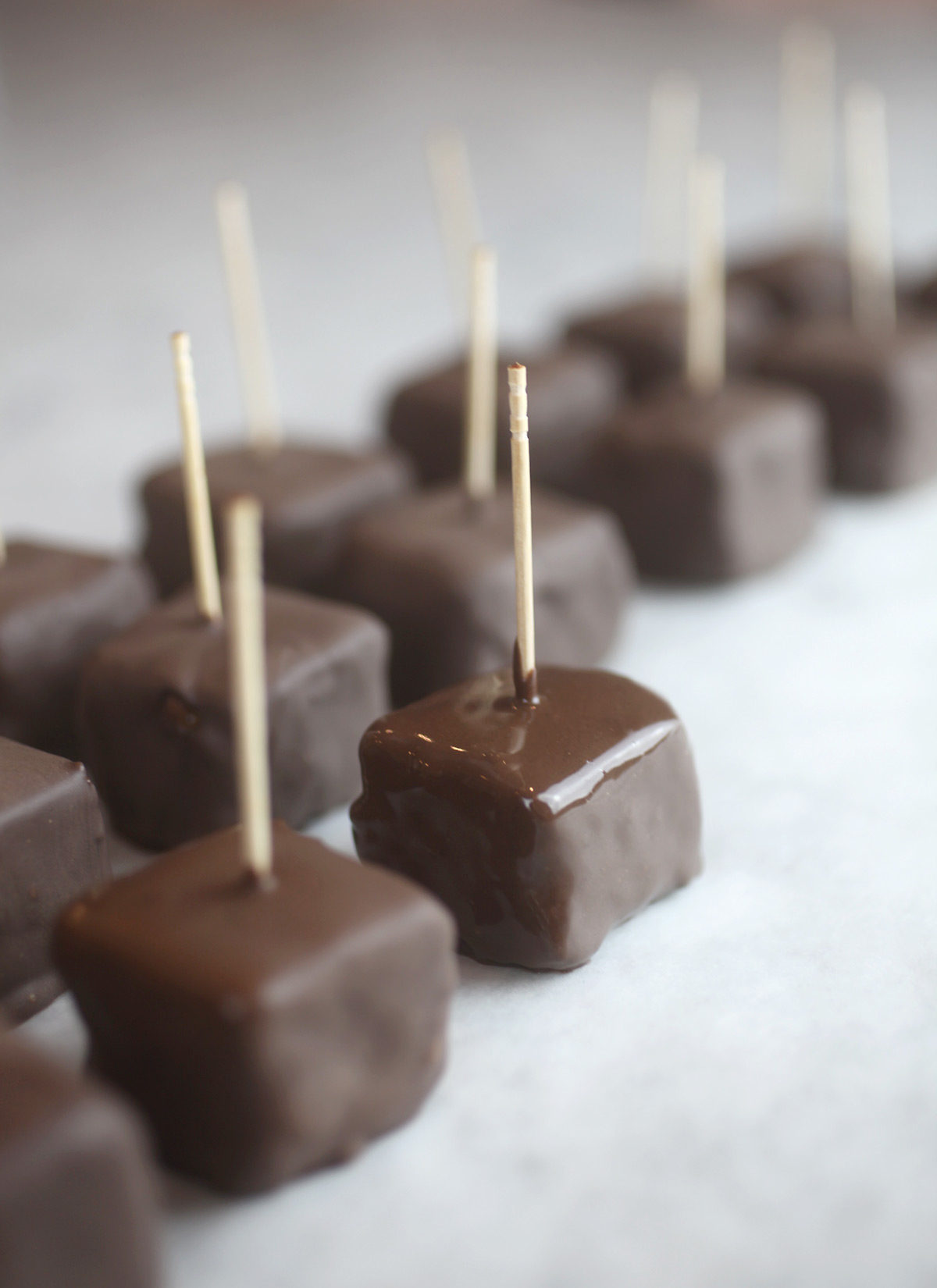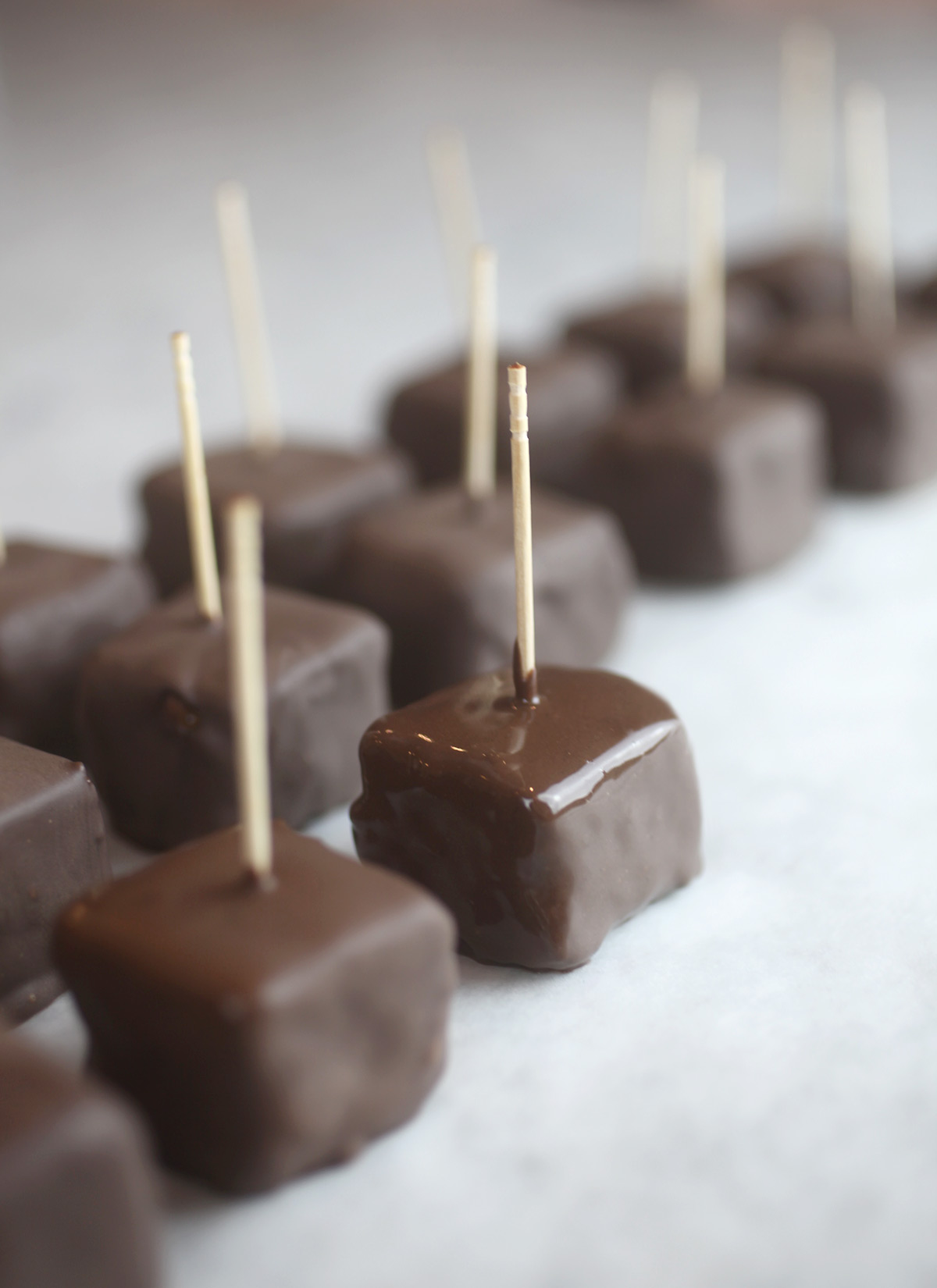 Let any excess chocolate coating fall off and place bites on a wax paper-covered surface to dry completely.
Then, you can leave them just like this to serve on a "stick" if you like.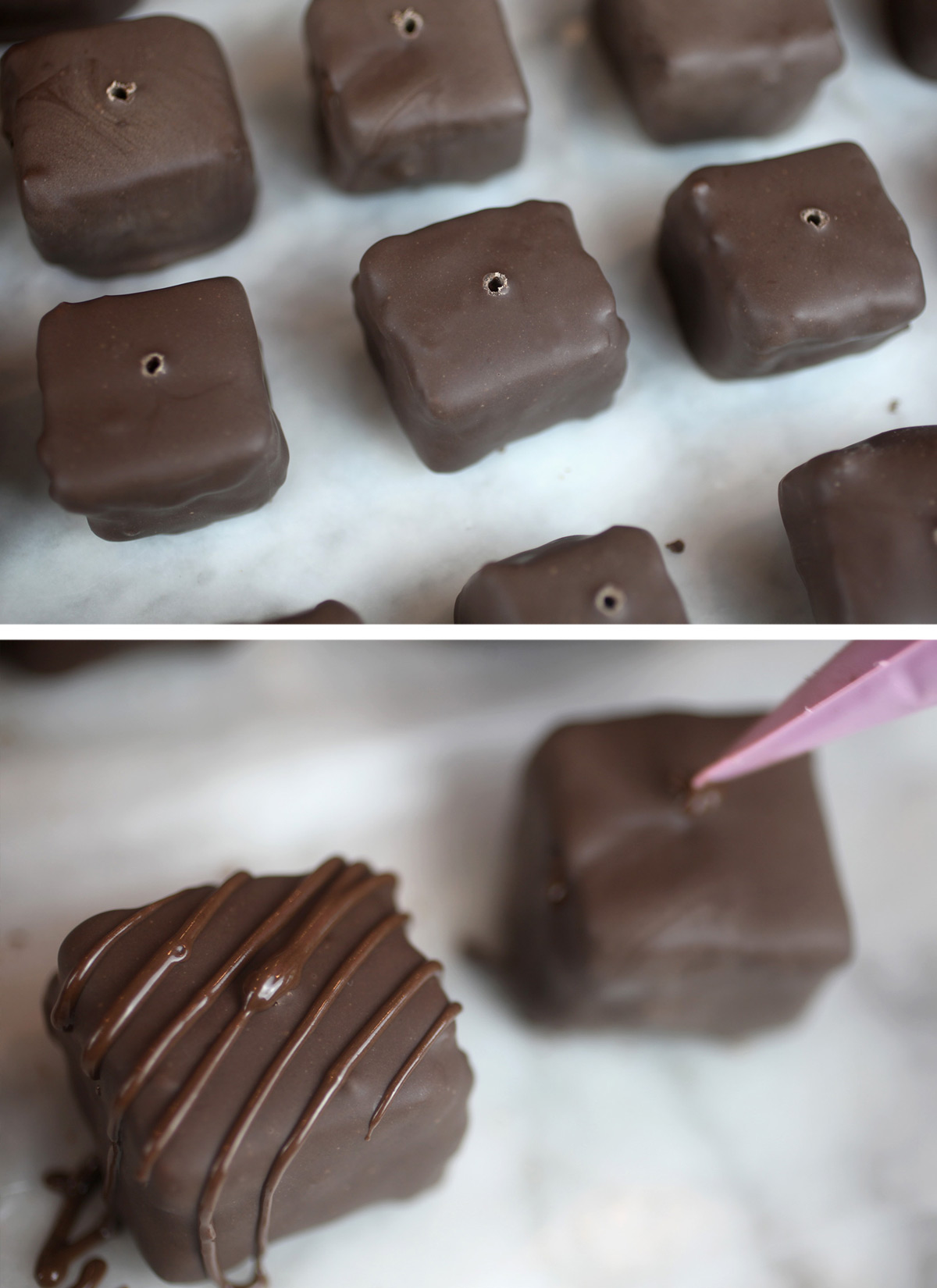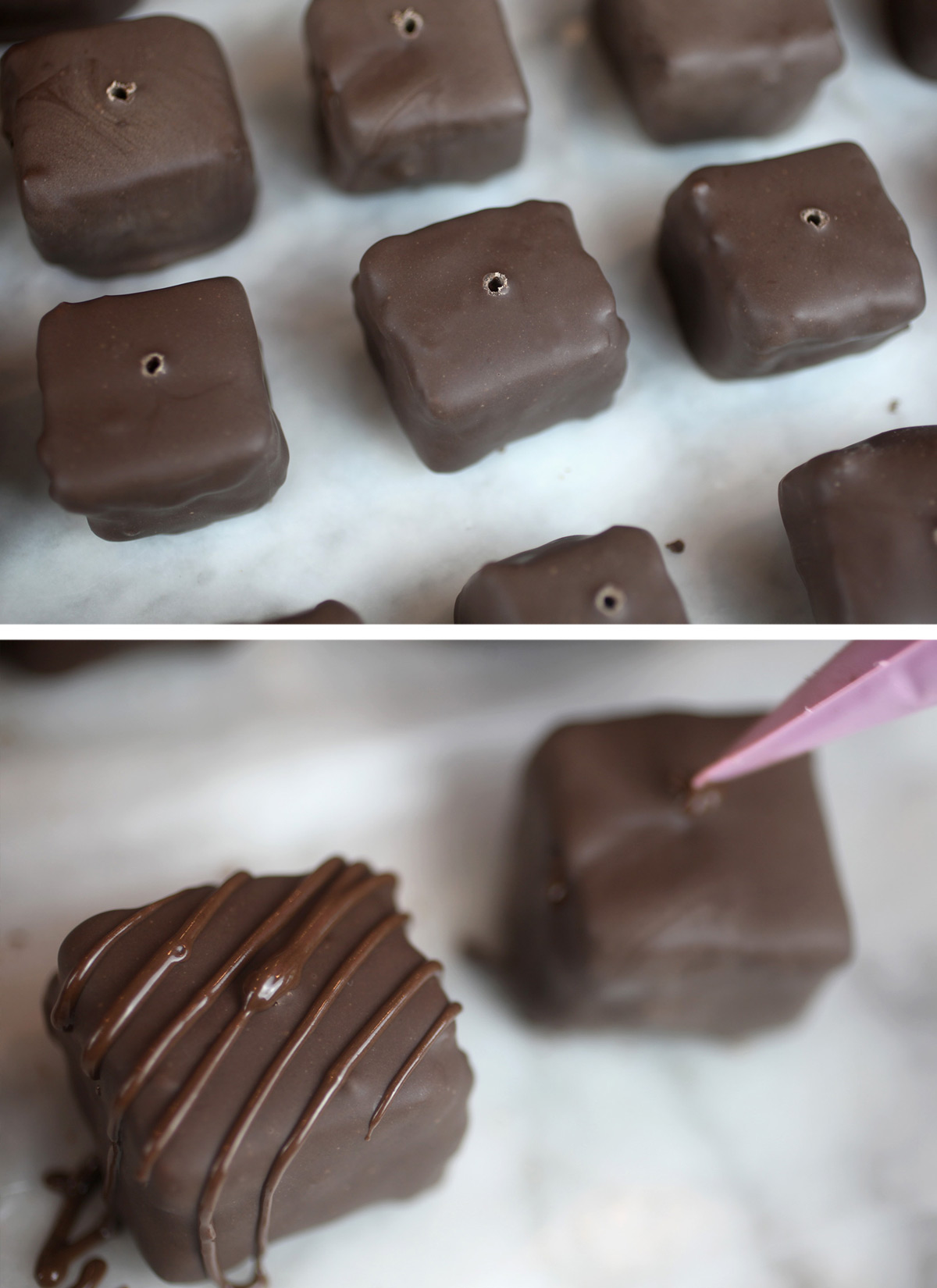 But for bites, just gently twist and remove the toothpicks and pipe decorative lines starting at the center hole and going diagonally across the top.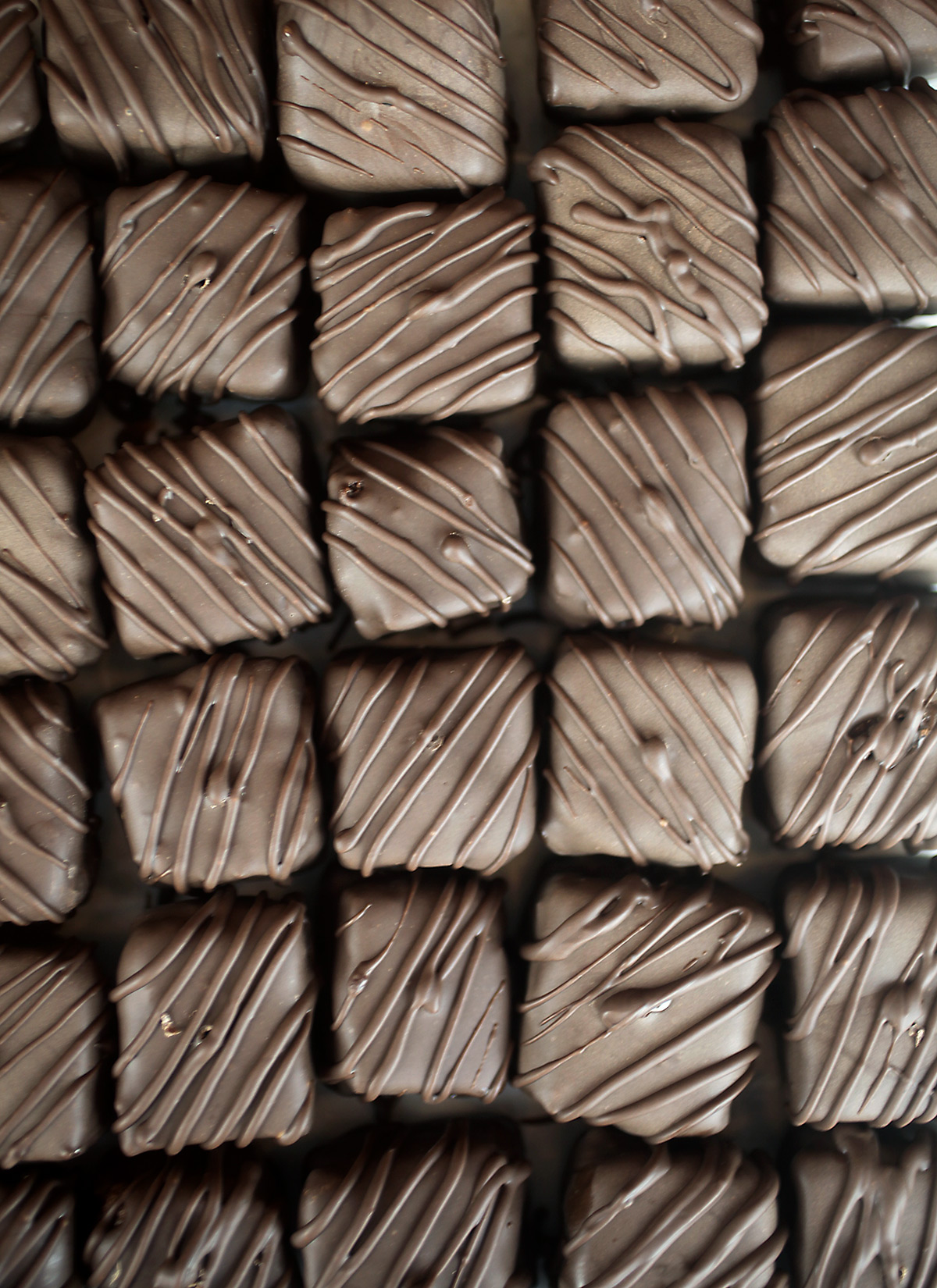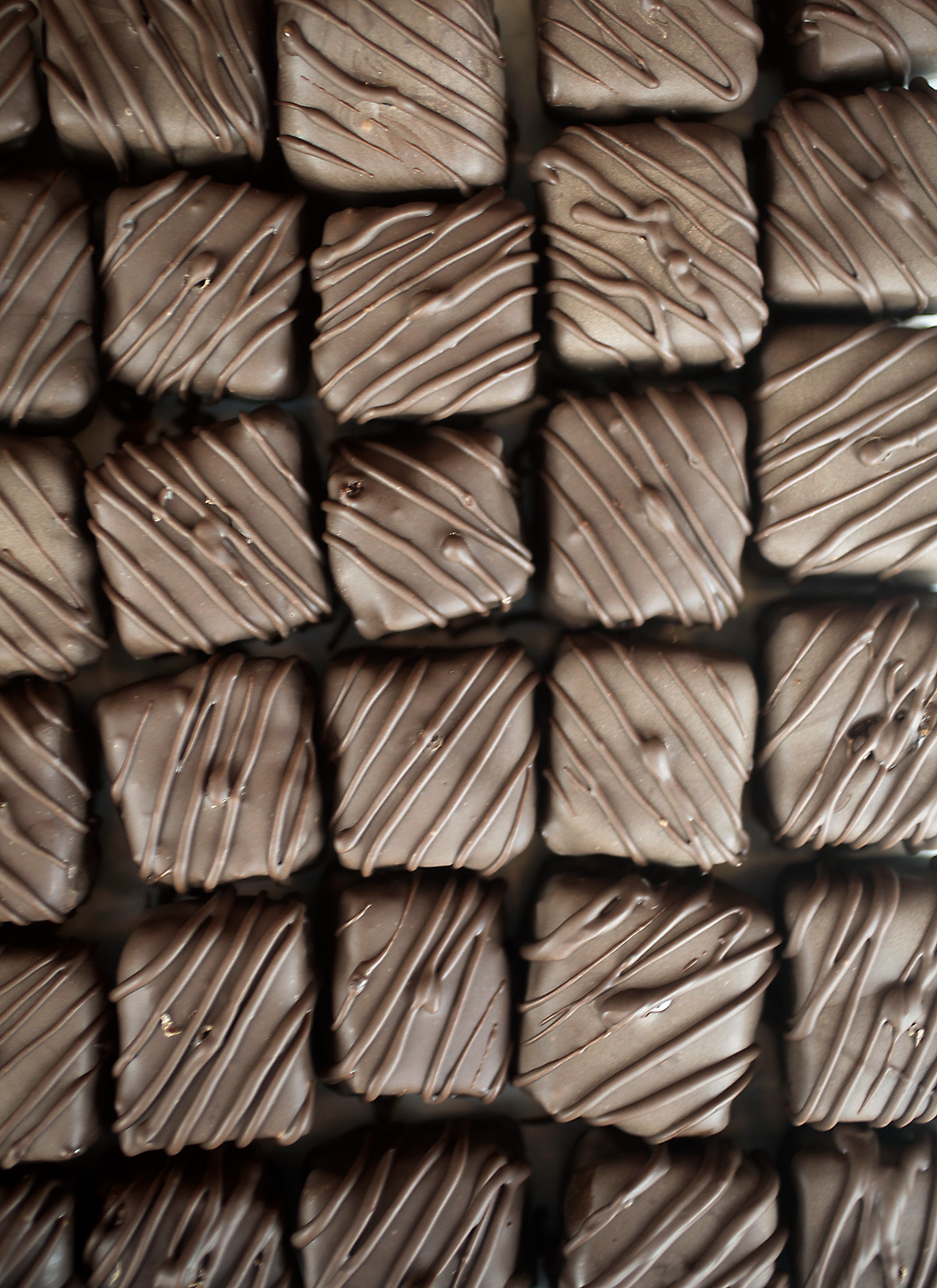 Definitely not perfect lines, but I'm okay with that.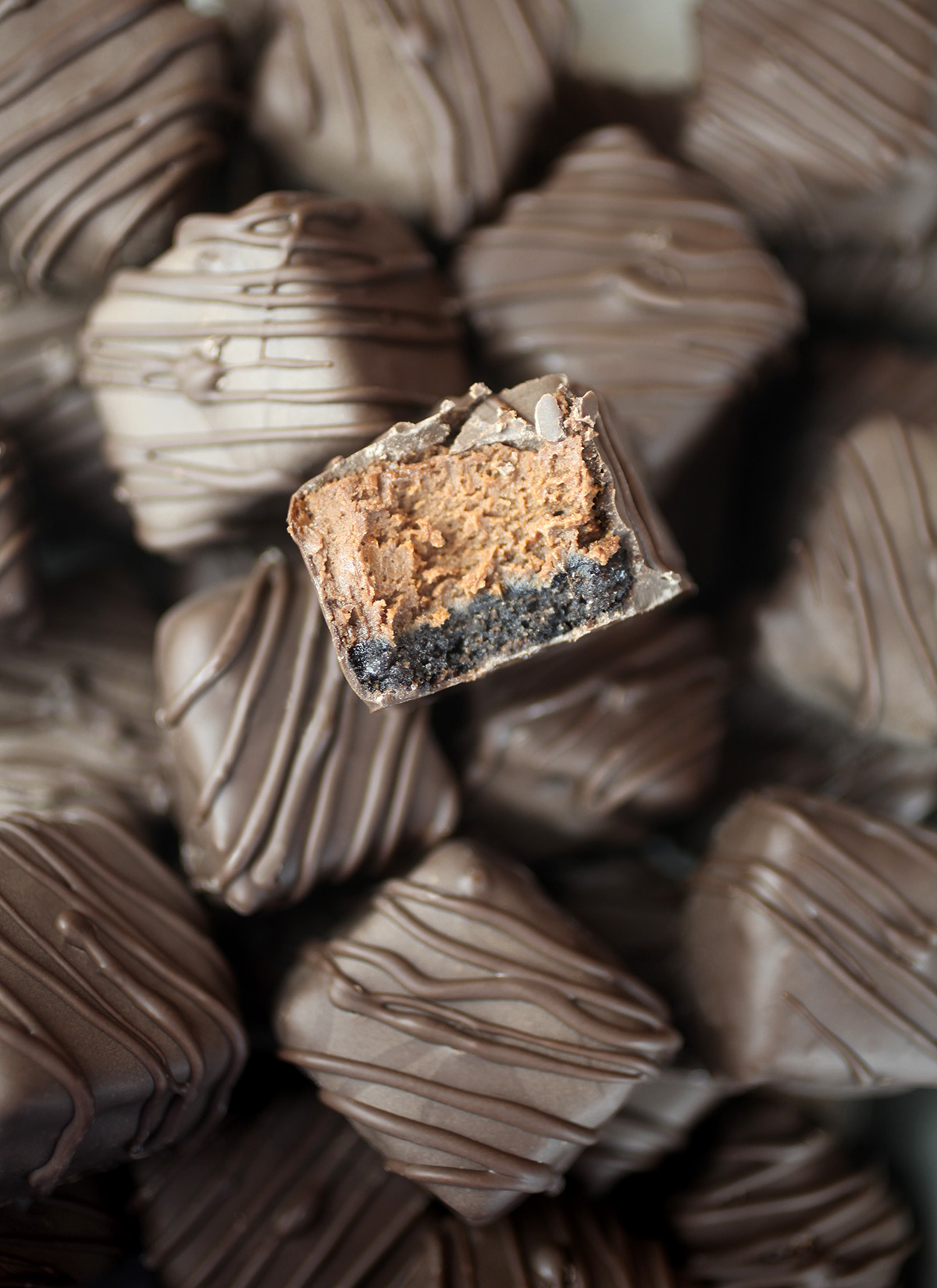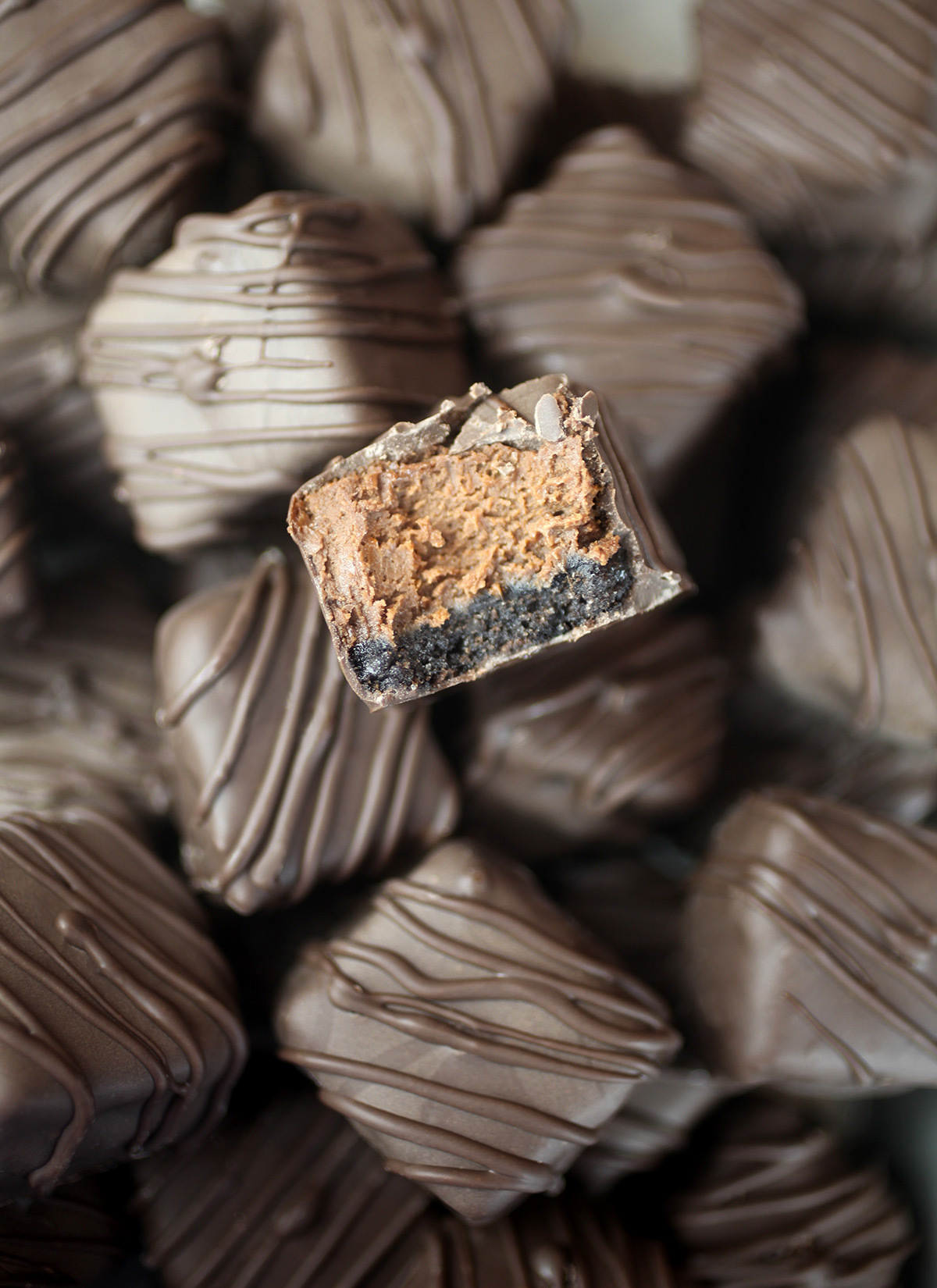 And so is my tummy. Yummy!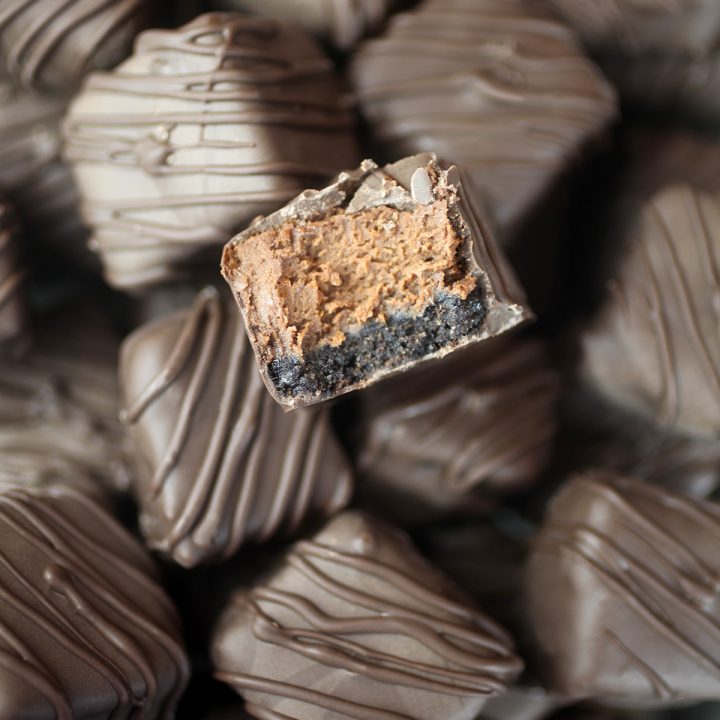 Chocolate Cheesecake Bites
Prep Time 20 minutes

Cook Time 45 minutes

Additional Time 20 minutes

Total Time 1 hour 25 minutes
Ingredients
18 Oreos, crushed into crumbs
3 Tablespoons granulated sugar
6 Tablespoons butter, melted
12 oz. cream cheese, softened
1/2 cup granulated sugar
1 tablespoon all purpose flour
2 tablespoons natural unsweetened cocoa powder
1 egg, plus 1 yolk
1/2 cup sour cream
1 teaspoon vanilla
1 cup bittersweet chocolate morsels (Used Ghiradelli)
24 oz. chocolate candy coating
Instructions
Preheat oven to 325 degrees fahrenheit.
Stir crumbs and sugar in a medium bowl. Add the melted butter and stir until combined. Use a flat bottom utensil and firmly press crumb mixture into an 8 X 8 baking dish. I used 6 X 9, but it's probably not a size you have handy. Bake for 10 minutes and let cool. Once cool, gently pat off any excess moisture resulting from the cookie creme centers if needed using a paper towel.
Heat chocolate morsels in the microwave on low until melted, fluid and smooth. Let cool somewhat while continuing with recipe.
Add cream cheese, sugar, flour and cocoa to the bowl of a stand mixer. Beat until creamy and combined.
Turn mixer to low and add egg and yolk, mixing until combined. Add sour cream and vanilla, mixing until combined.
Slowly pour in cooled, melted chocolate and beat until combined
Bake 40-45 minutes.Remove from oven and let cheesecake cool completely. Chill for several hours or overnight. Cut the cheesecake into 1.25 inch squares. Make straight, deep cuts all the way through the cookie crust. Run a non-serrated knife under hot water in between each cut. (If using an 8X8 pan, you can get 36. In my 6X9 pan, I yielded seven rows of 5, so 35 bites.
Place the cut squares back in the refrigerator to remain chilled while you melt the candy coating. Microwave in a plastic, heat-proof bowl for 30 seconds at a time stirring in between until melted and smooth.
Working with just a couple of chilled squares at a time from the refrigerator, insert a toothpick into the dense cheesecake and dip the square into the melted candy coating. Gently swirl to let any excess fall off and then place on a large sheet of wax paper to dry.
Serve with toothpicks inserted or remove toothpicks by gently twisting them out and then drizzle with more melted coating to cover up the hole from the toothpick.
Place in a tightly covered container and store in the fridge. Enjoy for several days.
Enjoy!