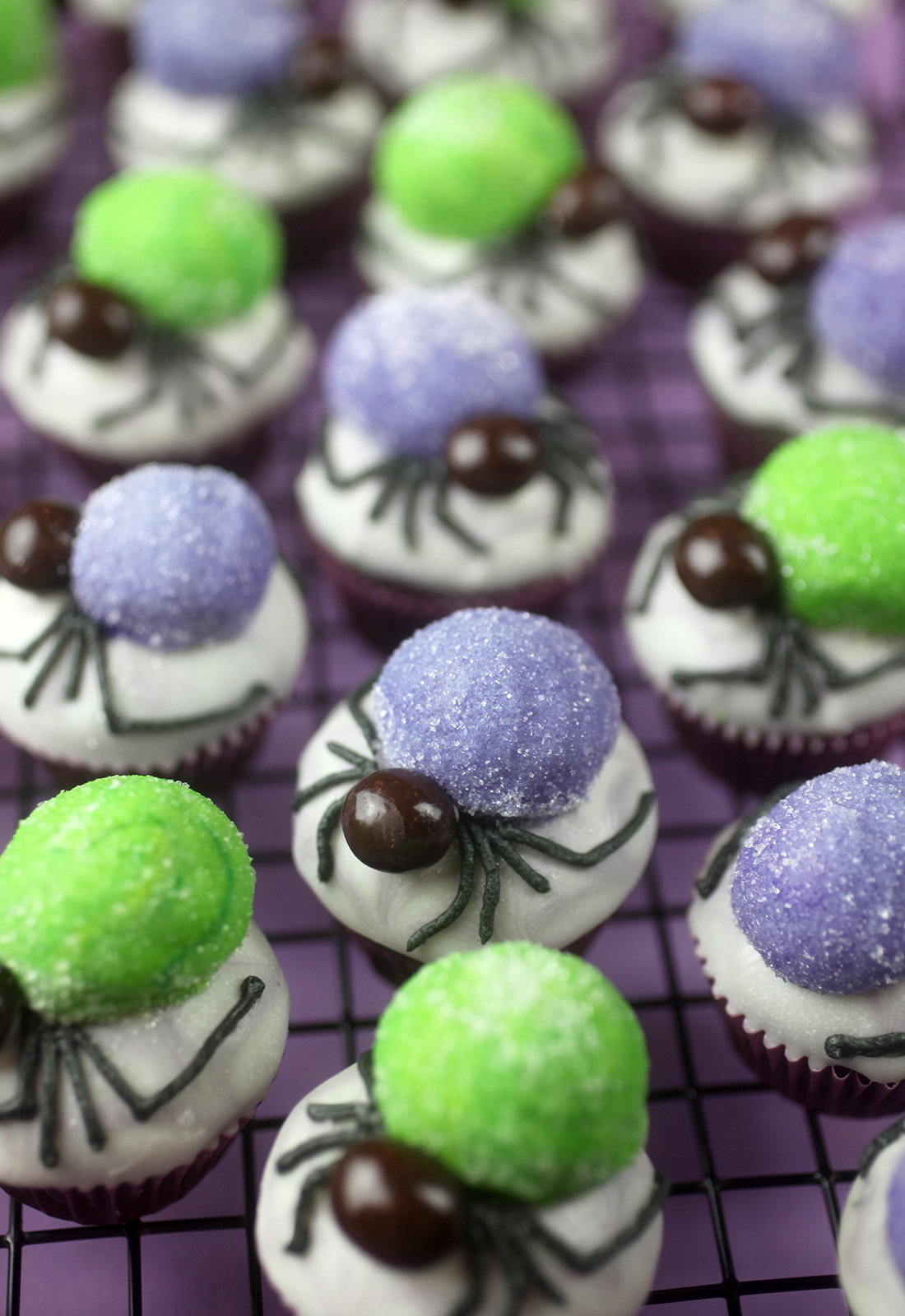 Creepy, crawly and cute. These bite-size spider cupcakes are a perfect little treat for Halloween. And they are pretty easy to decorate, too.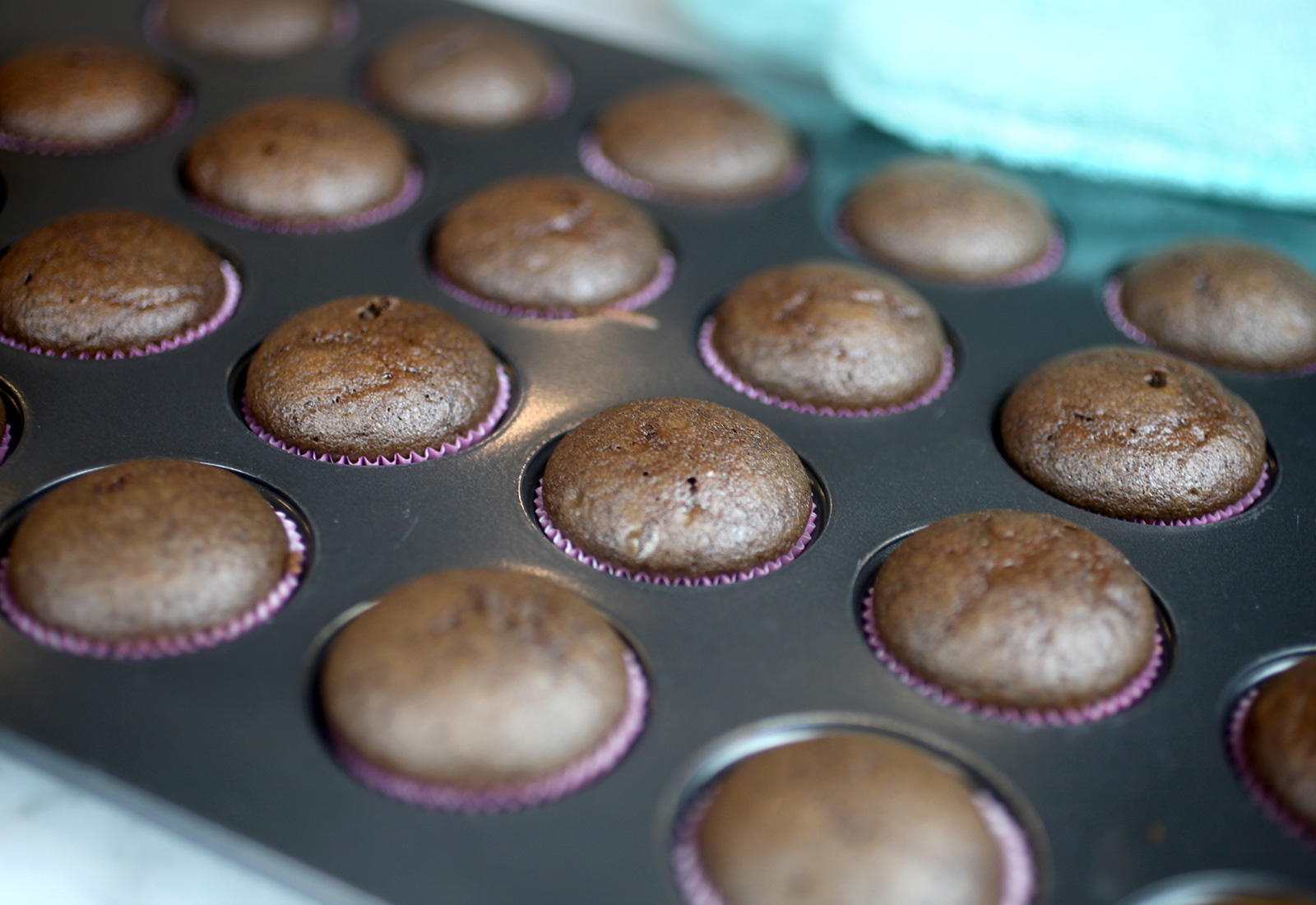 They are mini in size, so you'll want to have a 24-cup miniature baking pan handy.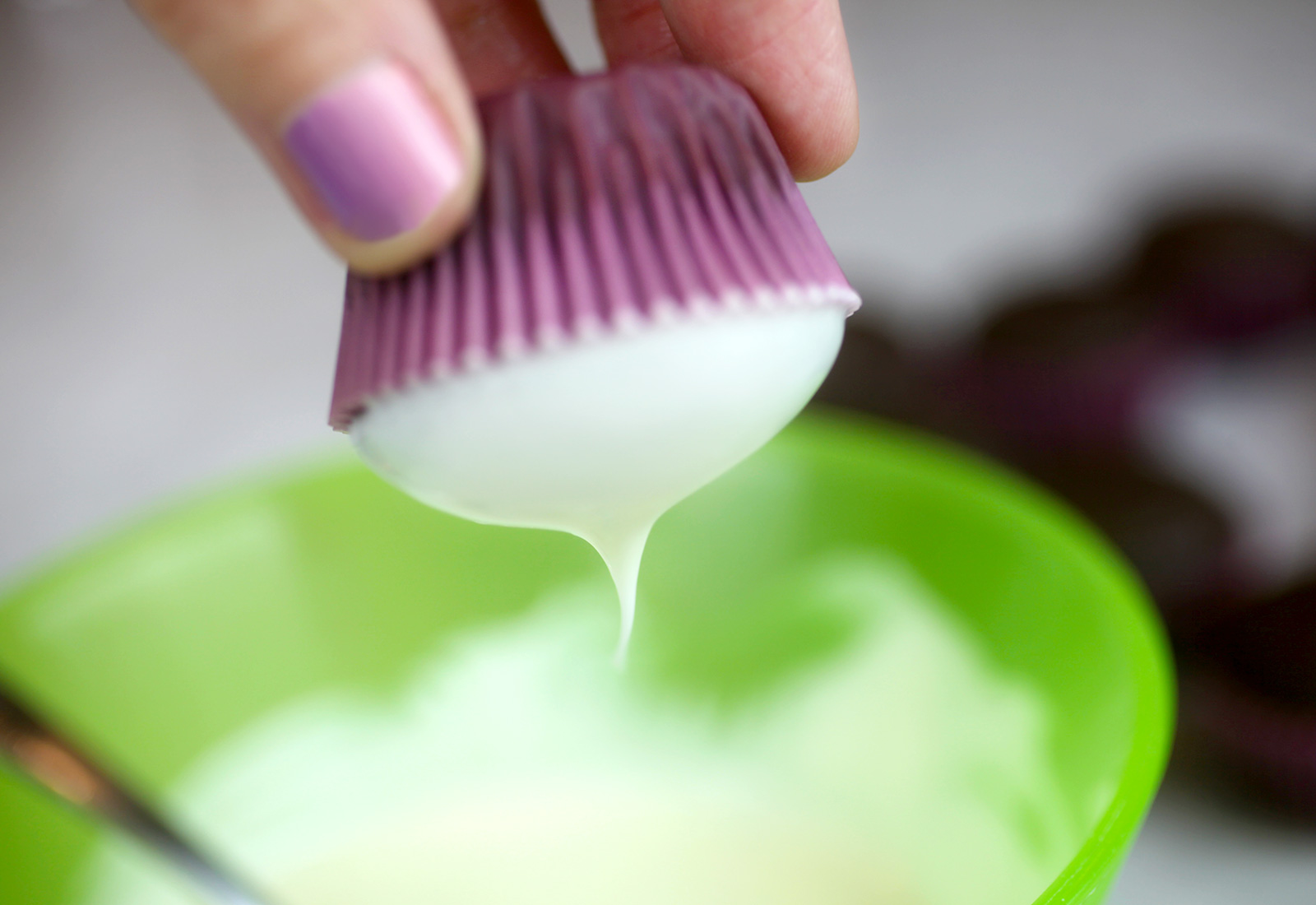 After the cupcakes are baked and cooled, start decorating by covering the cupcake tops.
Not with butterceam, but with melted candy coating for a smoother canvas to aid in making the spiders later on. Don't worry, I'll show you.
I love this because it's a quick little trick to get all your cupcakes covered without a lot of mess. Just dip them in melted candy coating right up to the cupcake liner. Flip them over gently and give them a little swirl to settle and that's it.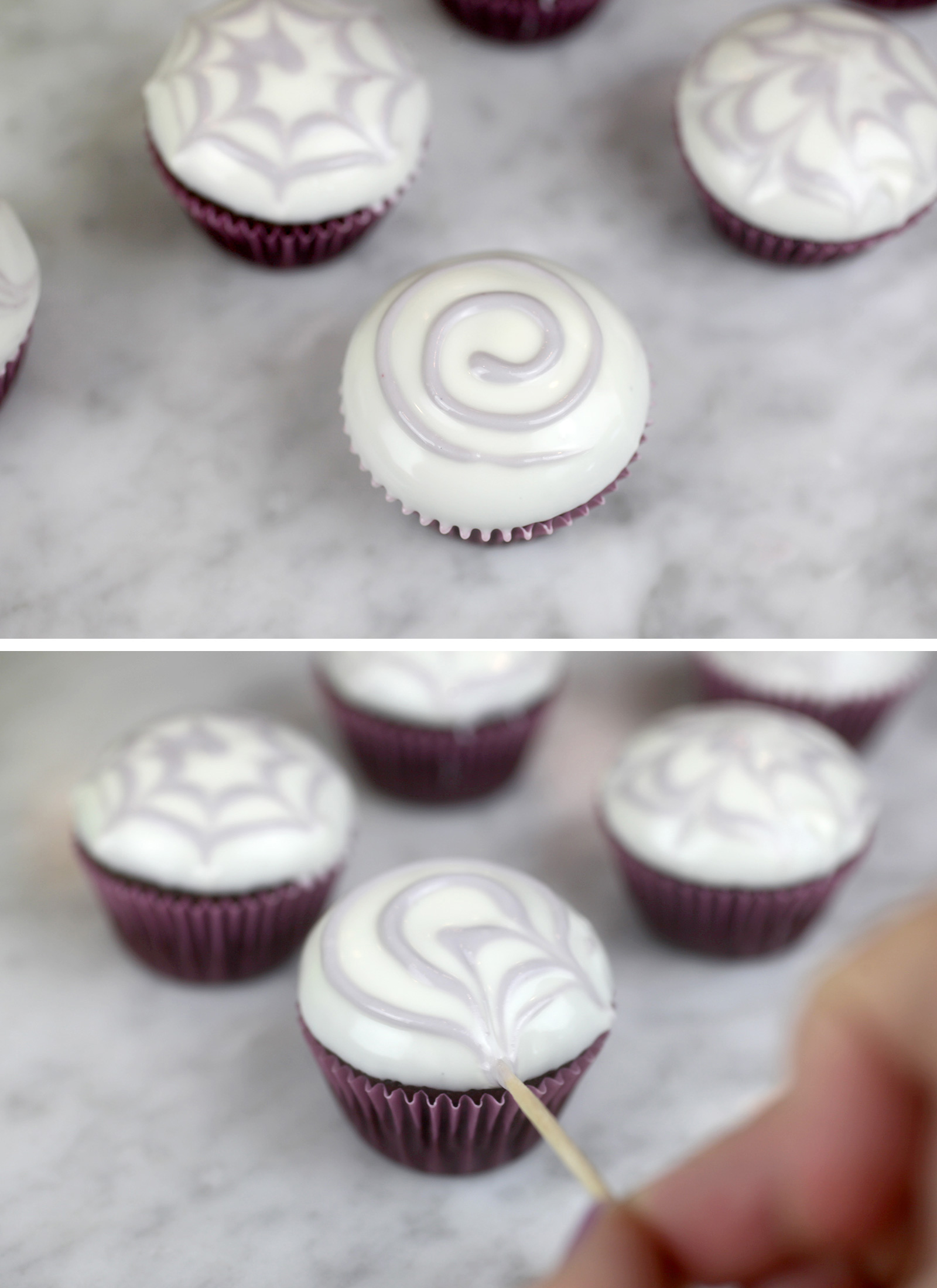 Okay, this step is pretty but actually completely unnecessary as I discovered by the end of decorating these cupcakes. But, I want to show you anyway in case you can find a use for this method.
I had wanted to make spider webs with the melted candy coating – so the webs could be as smooth as the surface of the cupcake tops. In theory these work and look cute. But as you'll notice once the spiders are added on top – well, you can't really see the webs. So this ended up being a wasted effort on my part.
Any who. If you want to do this for another purpose. Dip the tops of your cupcakes in melted and fluid candy coating. Then use a secondary color of melted candy coating in a small squeeze bottle to pipe swirls on top before the first color sets. Immediately drag a toothpick just on the surface, starting from the center and pulling to the edge in several strokes. Don't insert too deep or you can pull too much of the base candy coating down and over the edge.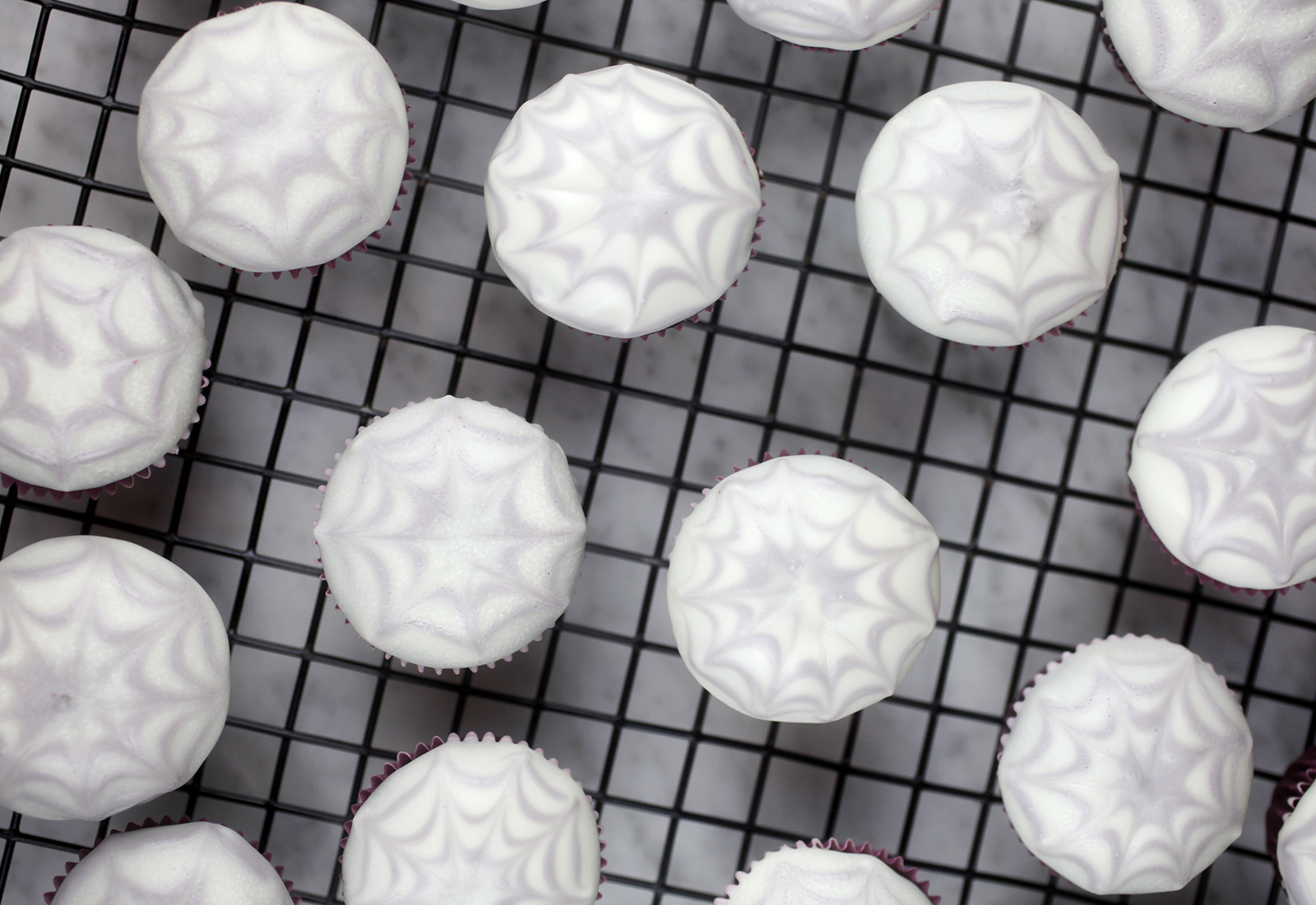 Voila. Cute.
Sidenote: You could do these and make tiny, tiny spiders on top with a single candy and tiny piped legs. That would work and allow you to still see the webs underneath as well.
Okay let's keep going and make the spider bodies.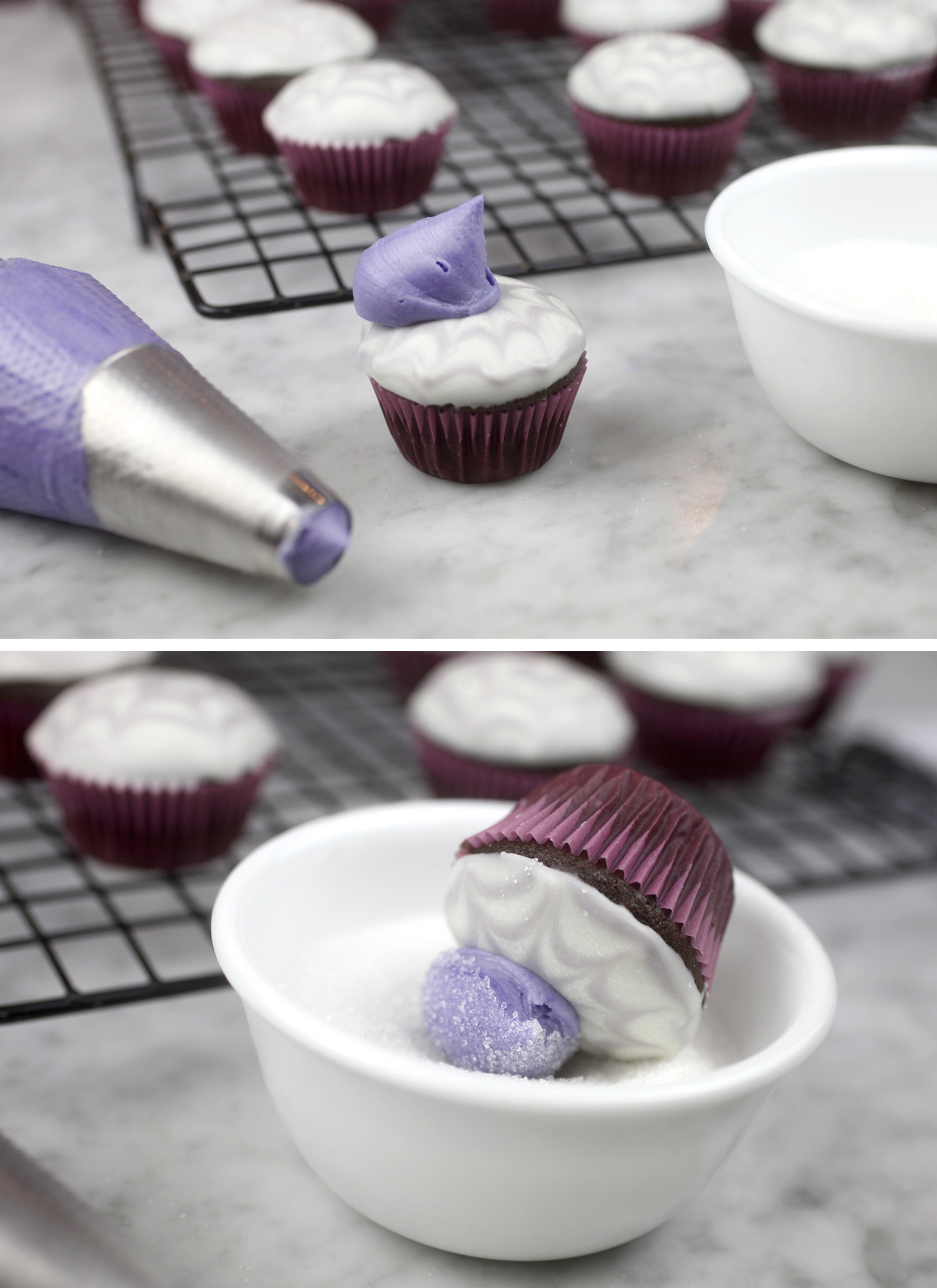 We're making buttercream bums first! Pipe a decent size dollop of tinted buttercream on one side of the top of the cupcake. I went with purple and green to stay on theme. Then gently press into a small bowl filled with white sanding sugar. Press lightly and rotate to form a ball. You can reshape using your fingers if needed. The sanding sugar creates a barrier to keep things from getting sticky.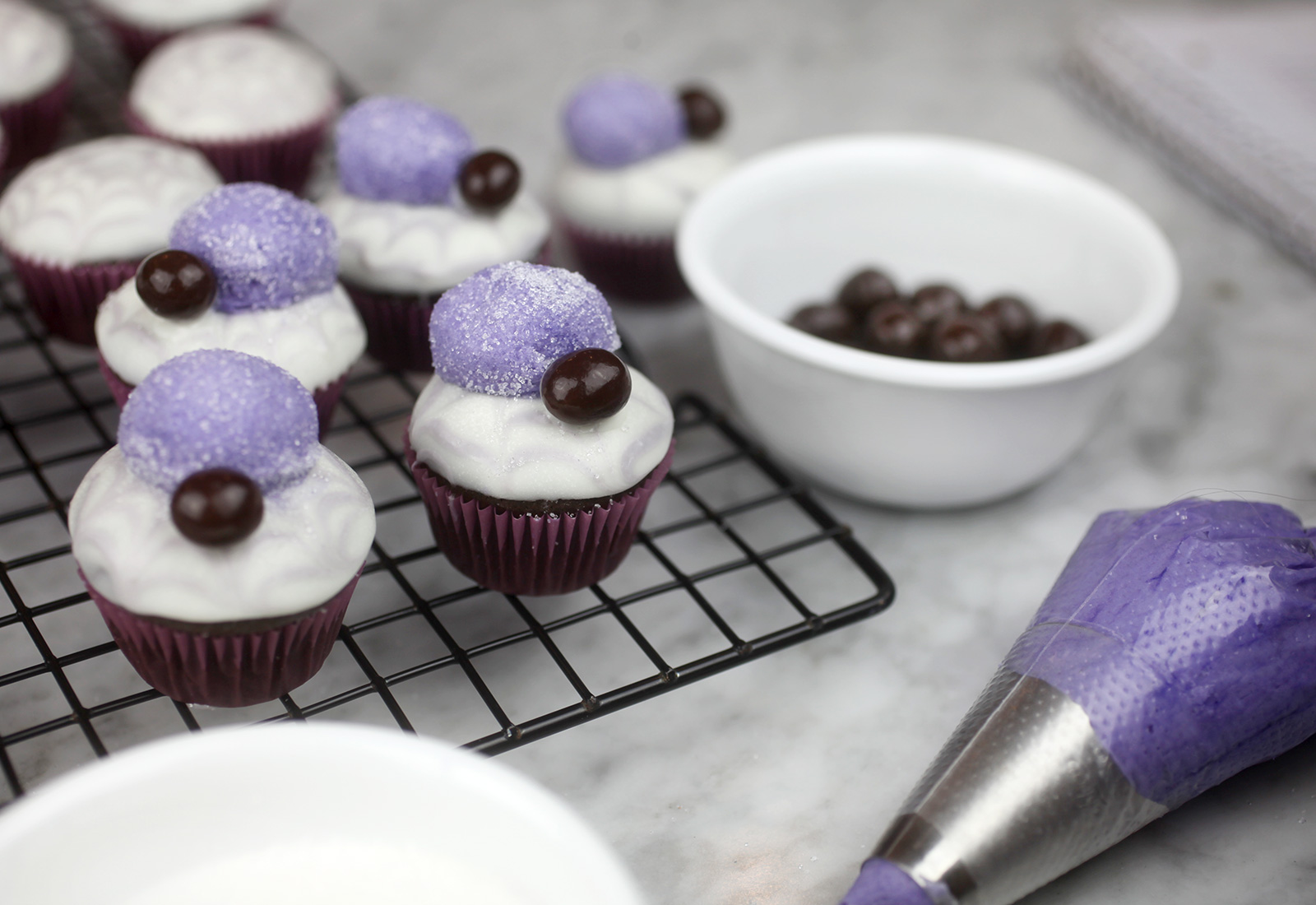 Look at those bulbous buttercream bums! Once piped and shaped, use a tiny dot of melted candy coating to attach a candy piece in front for the spider's head. I used chocolate covered espresso beans by the way.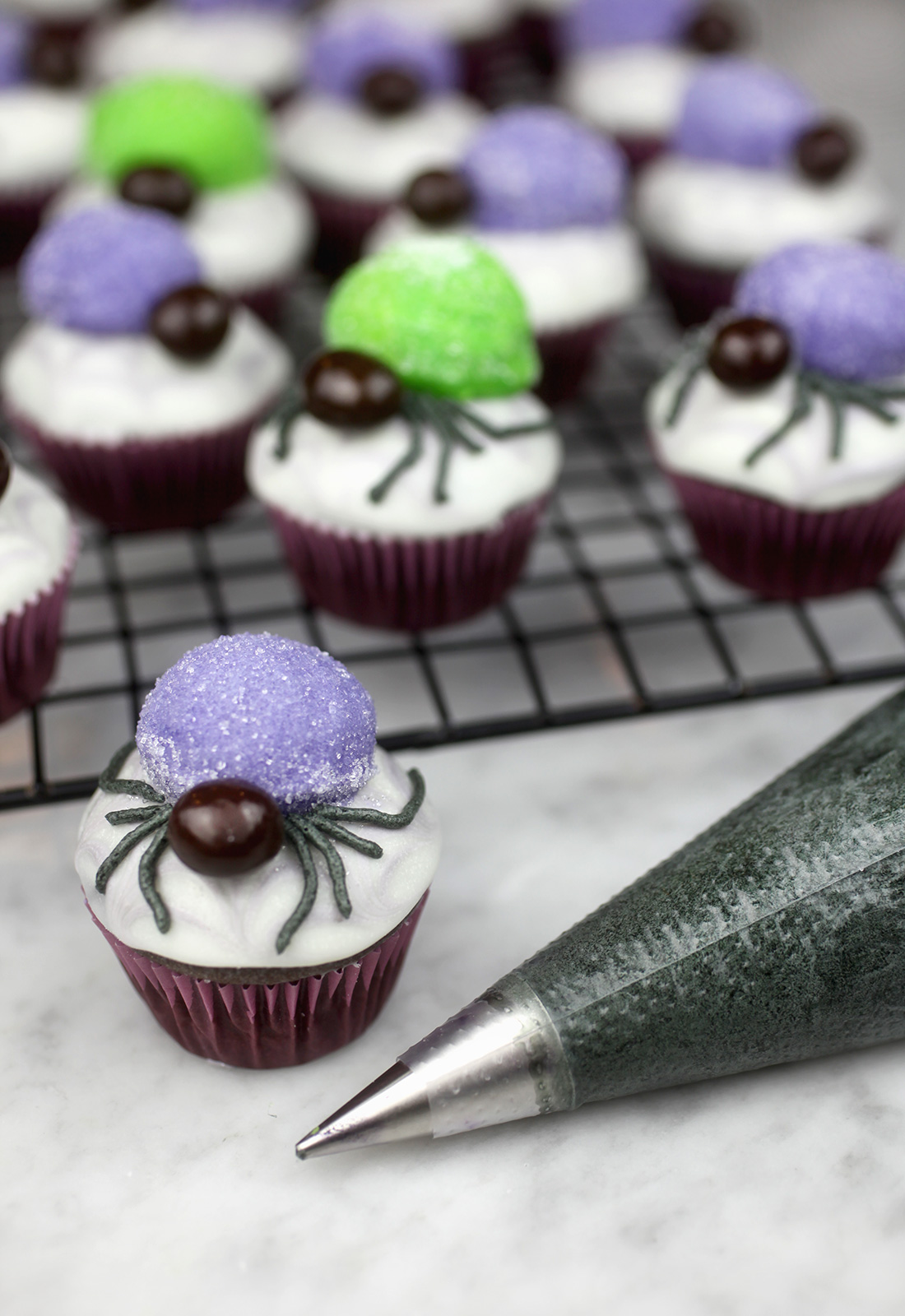 Now all that's left is piping the legs. Tint some buttercream a black or a very dark color and pipe eight legs. Pipe them generating from in between the candy head and the buttercream body as shown – two in front reaching forward, four shorter ones on the sides and two bigger ones wrapping around toward the back of the cupcake.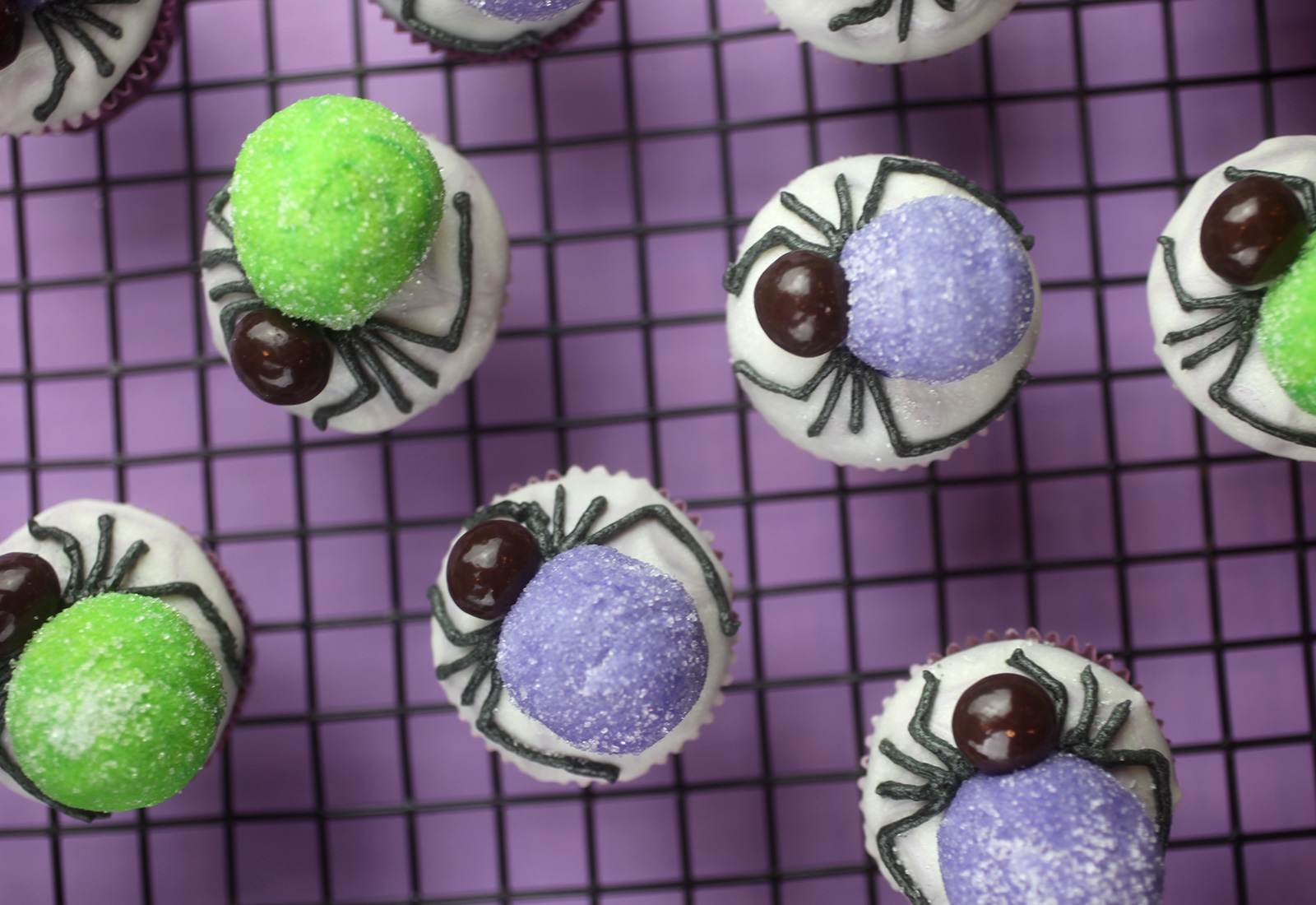 Eeek! So cute.
And actually, looking at them in this picture, you could totally turn these into bugs, too. Just shape the bodies a little more oblong and pipe one extra line down the center of the body. You would probably also want to arrange the legs a little differently, too.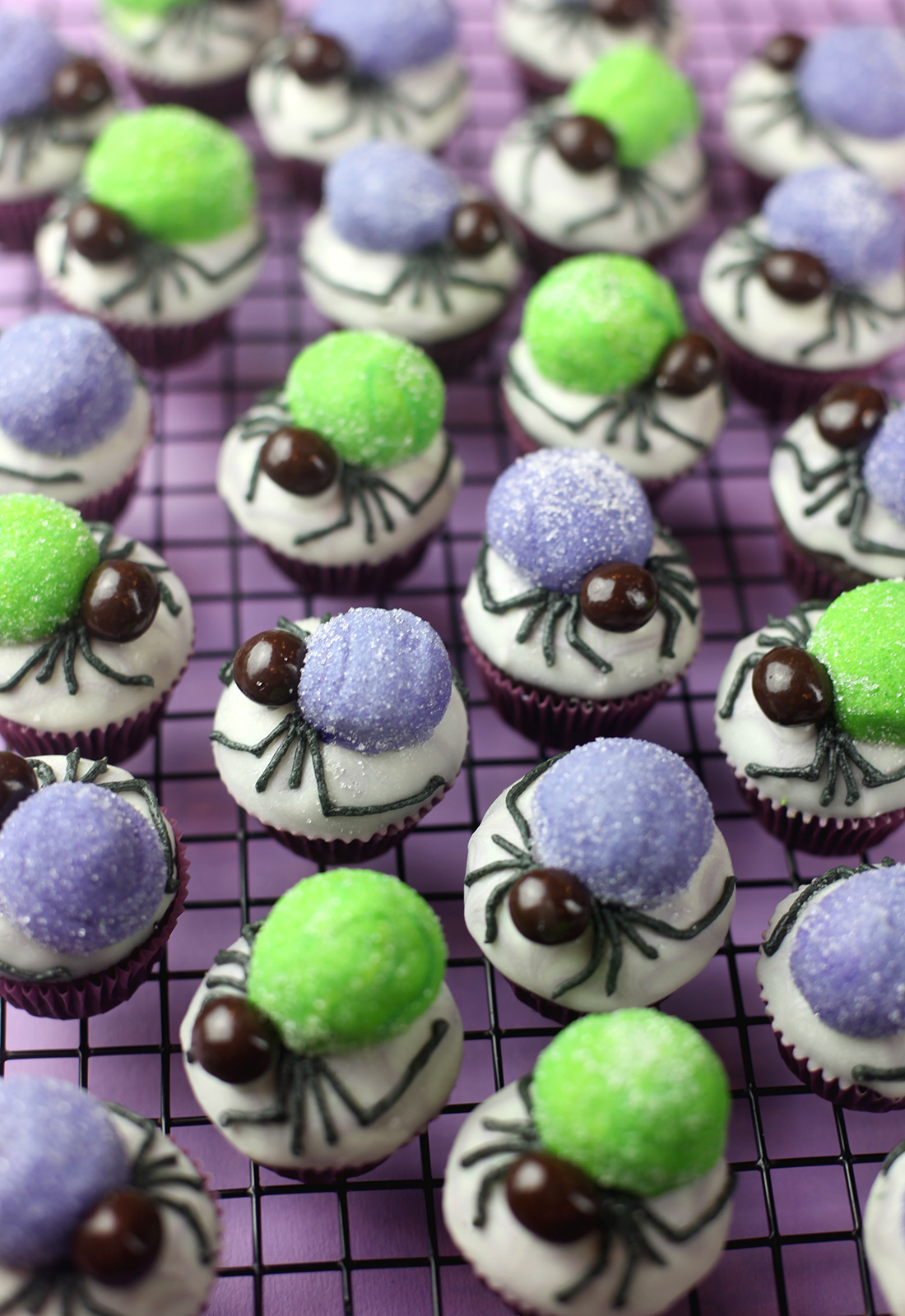 So cute and the smooth candy-coated surface helps to keep things from getting wonky. I think my legs would have looked really bumpy if I had tried to pipe them over a buttercream base at this small scale.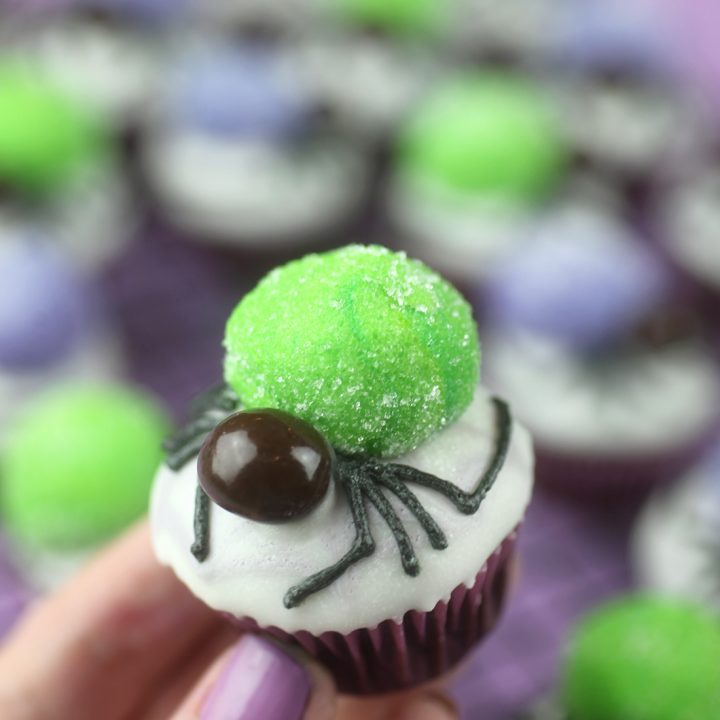 Yield: 24 mini cupcakes
Spider Bites Mini Cupcakes
Prep Time 15 minutes

Cook Time 10 minutes

Additional Time 2 hours

Total Time 2 hours 25 minutes
Ingredients
Mini Cupcakes
1 cup all purpose flour
1/4 cup natural unsweetened cocoa
1/2 cup granulated sugar
1/2 teaspoon baking powder
1/4 teaspoon baking soda
1/4 teaspoon salt
1 egg
1/3 cup buttermilk
3 Tablespoons vegetable oil
1/2 teaspoon vanilla extract
3 Tablespoons hot water
Buttercream
1 cup (two sticks) butter, room temperature
1 lb. confectioners' sugar
1 teaspoon vanilla extract
1-3 Tablespoons milk
Decorations
Vanilla candy coating
White sanding sugar
Purple or green gel icing color
Dark chocolate covered espresso beans
Instructions
CUPCAKES: Preheat oven to 350 degrees Fahrenheit and line mini cupcake pan with 24 miniature baking cups.
Sift dry ingredients together in the bowl of a stand mixer.
Add egg and mix followed by buttermilk, oil and vanilla, mixing until combined.
Slowly add hot water and mix until combined.
Use a small scoop to fill cupcake liners with batter about 2/3 full.
Bake for 10-12 minutes until done. Cool.
BUTTERCREAM: Beat butter for 3-4 minutes until whipped and creamy. Add confectioners' sugar 1 cup at a time, mixing on low to start and increasing until incorporated. Add vanilla extract. Add milk, 1 tablespoon at a time until you achieve your desired consistency. Note: The buttercream should be thick to hold a firmer shape when piping the spider body and later when ready to pipe legs, you may need to add a bit more milk for the consistency to be fluid enough.
DECORATE: Dip tops of cupcakes into a bowl of melted and fluid vanilla candy coating. Let coating dry.
Tint a majority of the buttercream with a color for the spider bodies. Pipe large dollops of buttercream on the top and side of cupcake with an Ateco #808 decorating tip.
Gently dip piped buttercream in a small bowl of white sanding sugar to shape and form a ball.
Attach chocolate coated espresso beans in front of buttercream for the spiders head using a small amount of melted candy coating to act as glue.
Tint remaining buttercream black and pipe spider legs using a Wilton #2 decorating tip.
Sink your teeth into a spider cupcake and enjoy.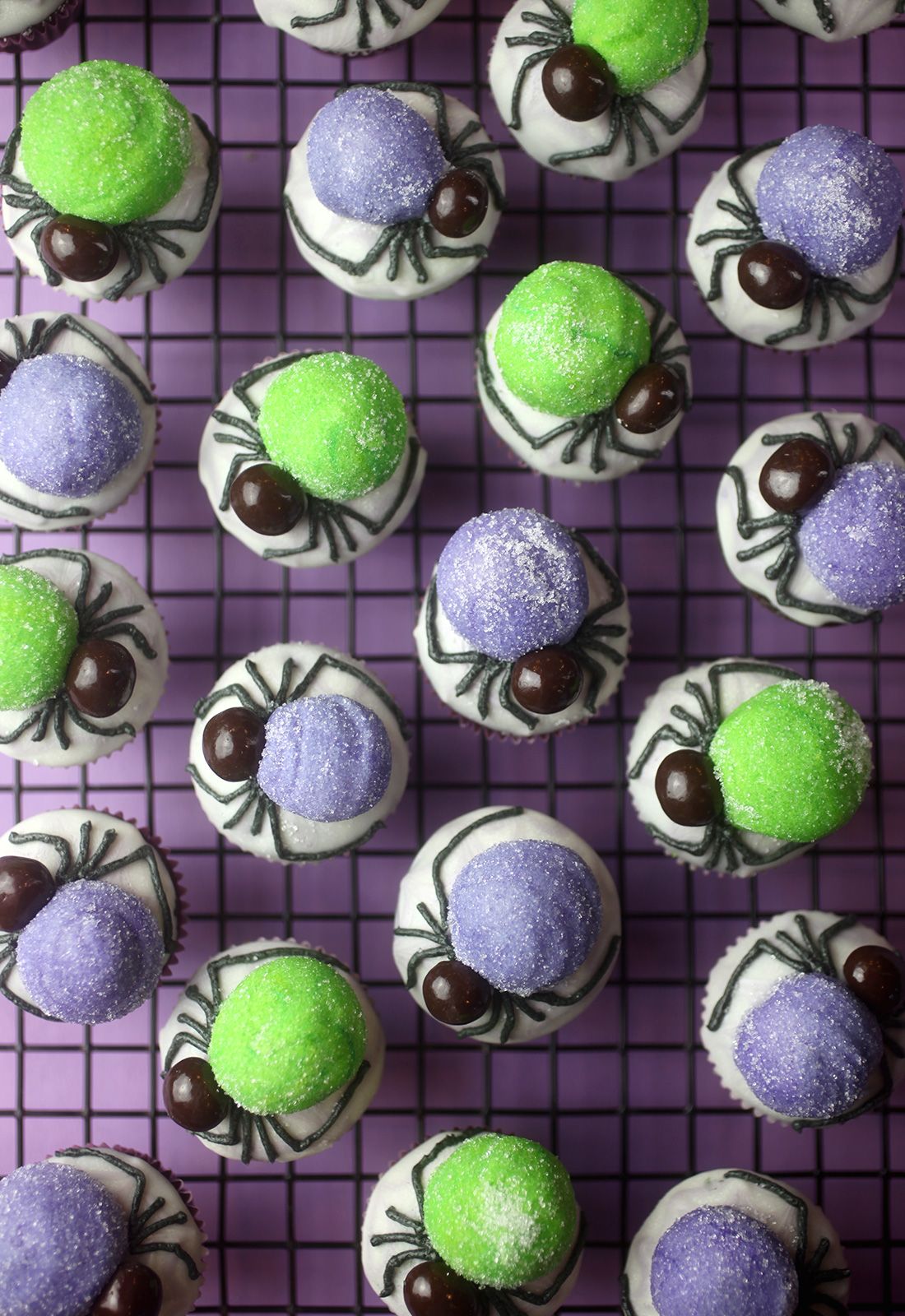 So, see what I mean, the spider webs are not worth the extra effort in this case. And if I had used a darker color for the webs, they would have conflicted way too much with the spider legs and been distracting. The only way I can see webs working at this scale would have been to draw them on with a very thin edible ink pen. But again – totally effective without all that extra work.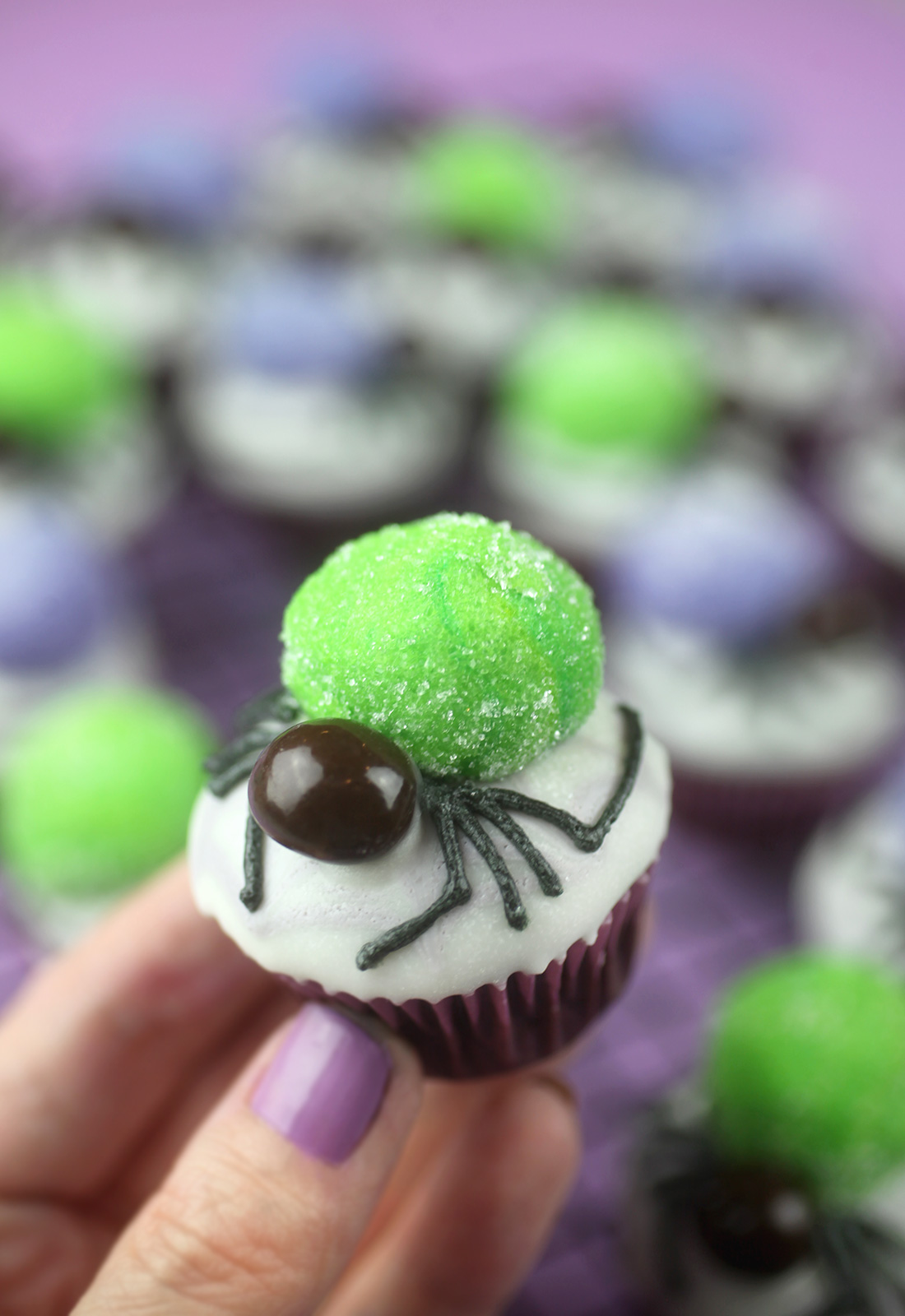 Here's a better idea of the scale of these. Much smaller than a regular size cupcake and a perfect little two-bite treat.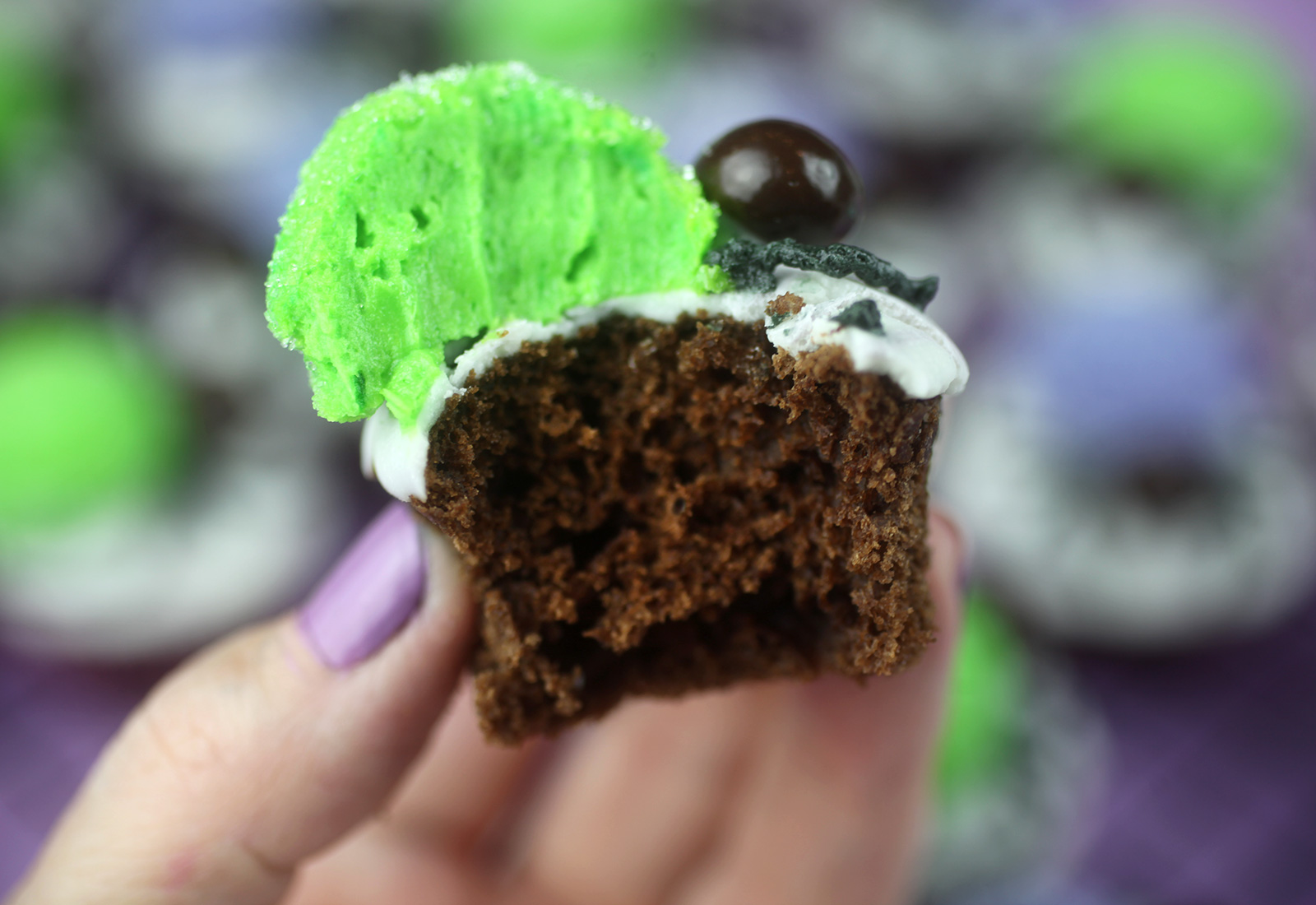 Yumm!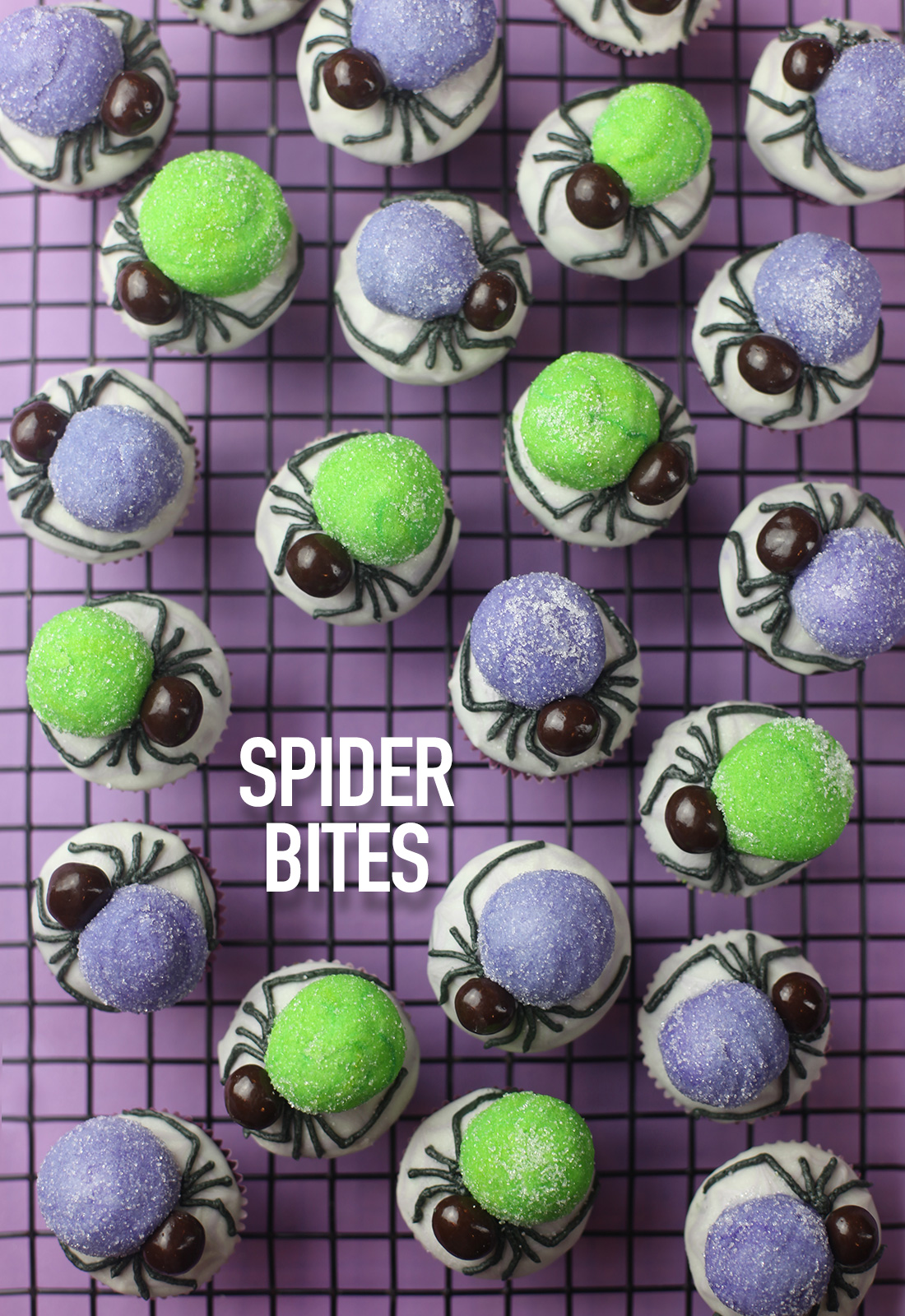 Enjoy sinking your teeth into some spiders this Halloween!