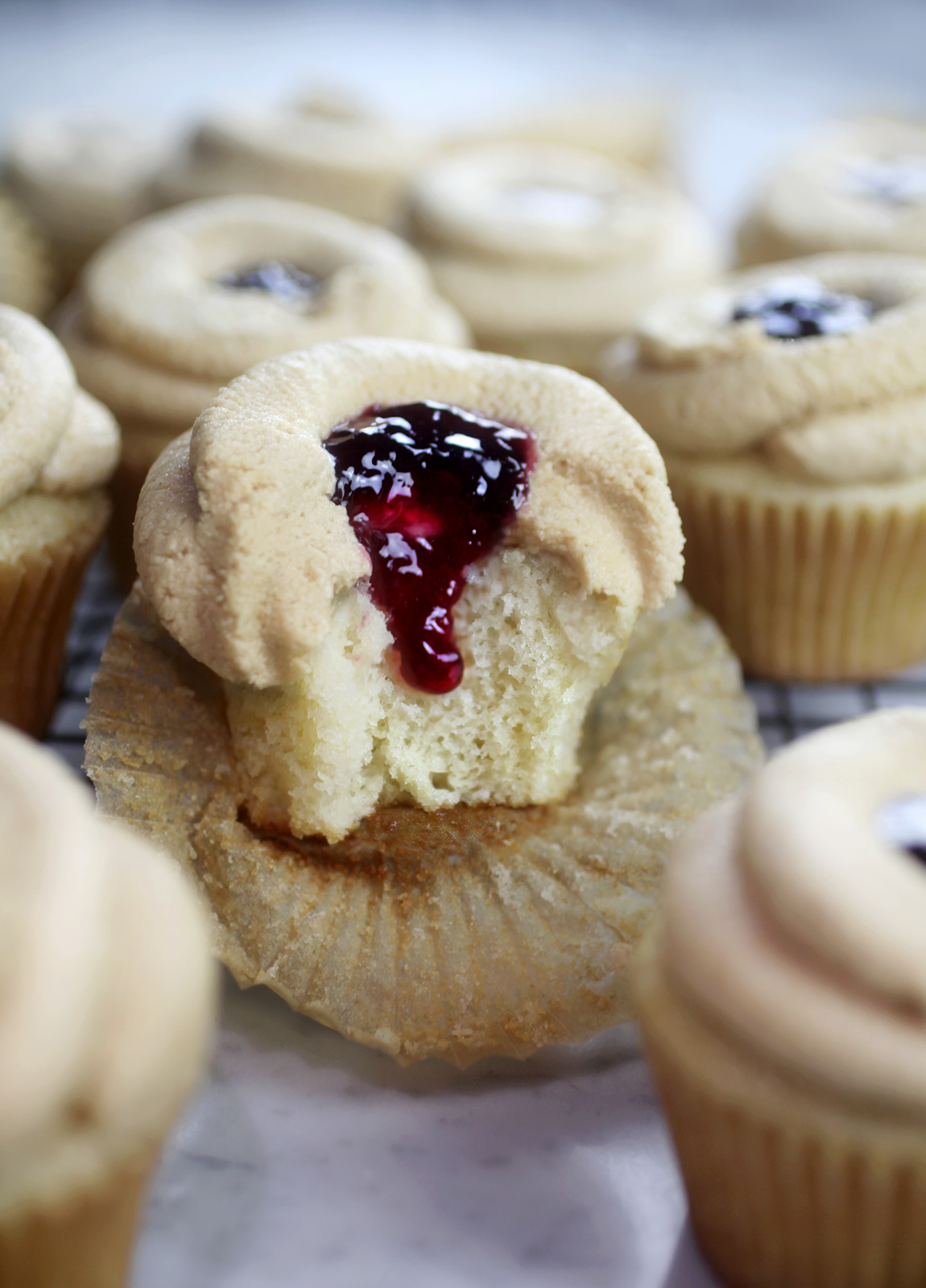 Peanut butter and jelly is such a comforting flavor combo. Whenever I make a pb & j sandwich, I'm reminded just how good they are and ask myself why I don't enjoy them more often. So simple. So classic. And with my sweet tooth, it only makes sense that I should try trading in loaf bread for cake. Want to go from lovable lunchable to a delish dessert? Let's get to it!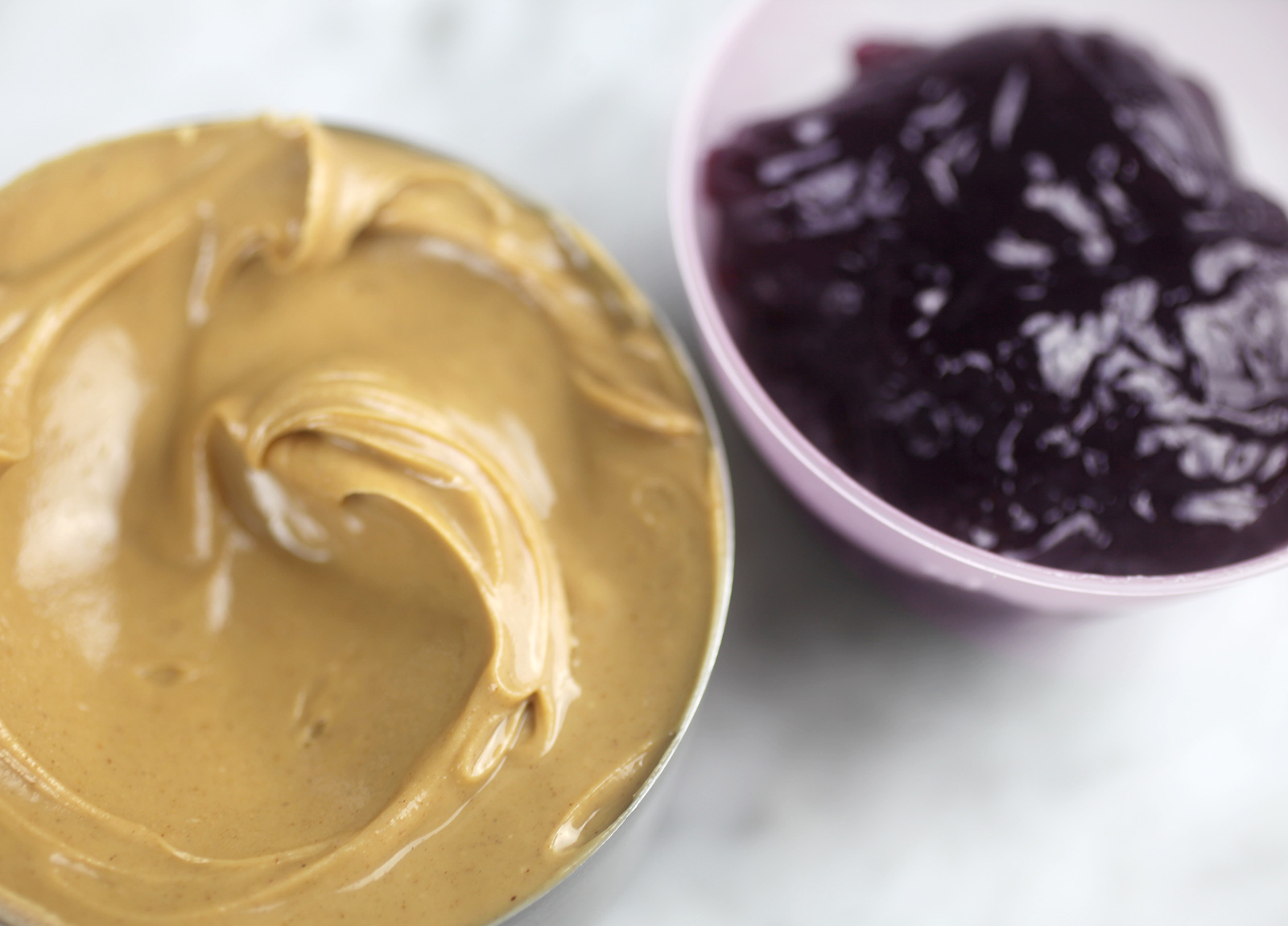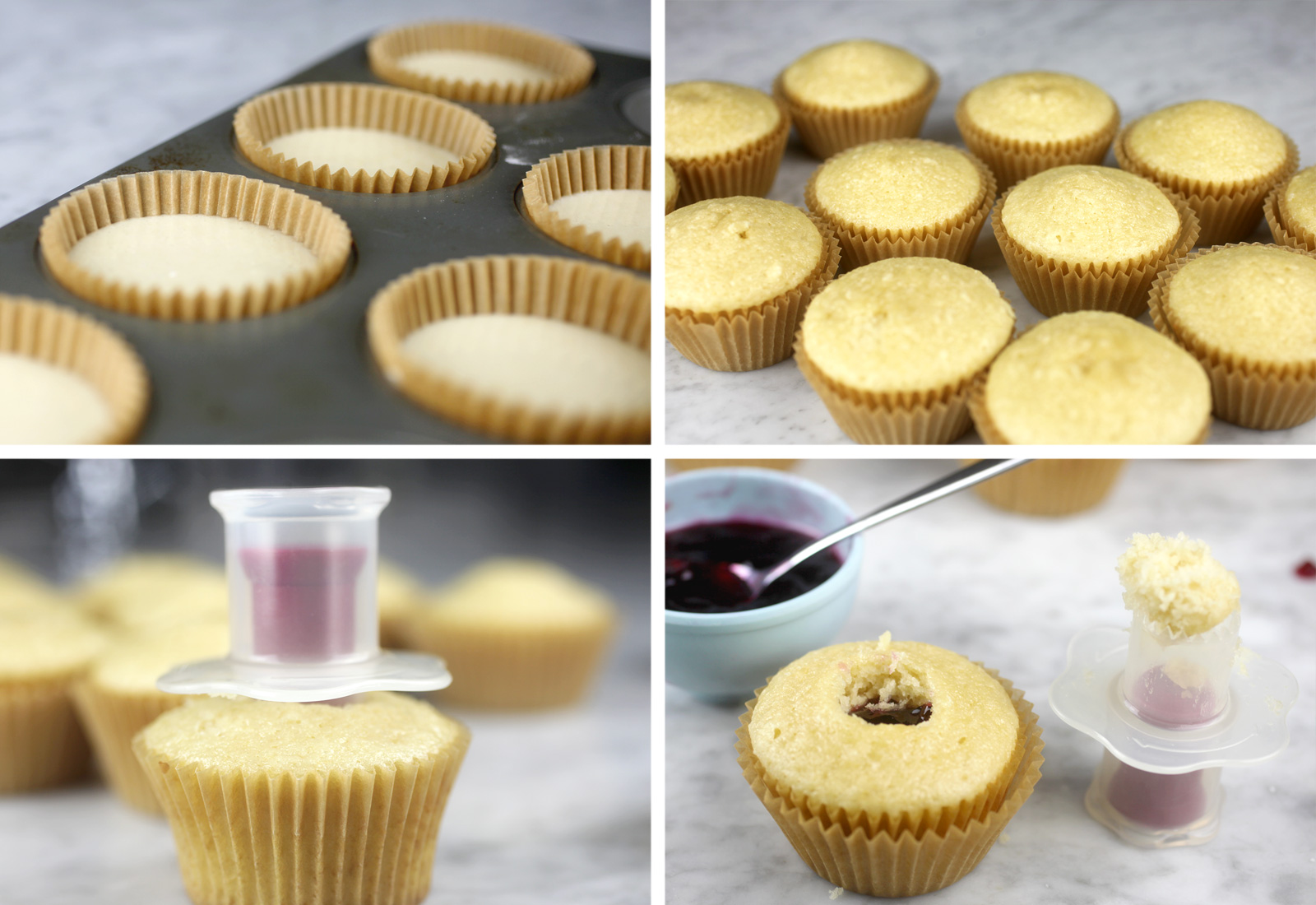 Let's start by baking some moist vanilla cupcakes. You can remove a portion of cake from the top and fill with your favorite jelly. It's grape all the way for me, but raspberry or strawberry would be tasty, too!
I have this handy little cupcake corer, but you can also use a melon baller tool, apple corer or simply just cut out a portion from the top with a knife. Fill with jelly and replace the cake section right back on top to cover. (And let's be real, you can also totally skip this step all together and keep the jelly solely on top of the frosted cupcake.)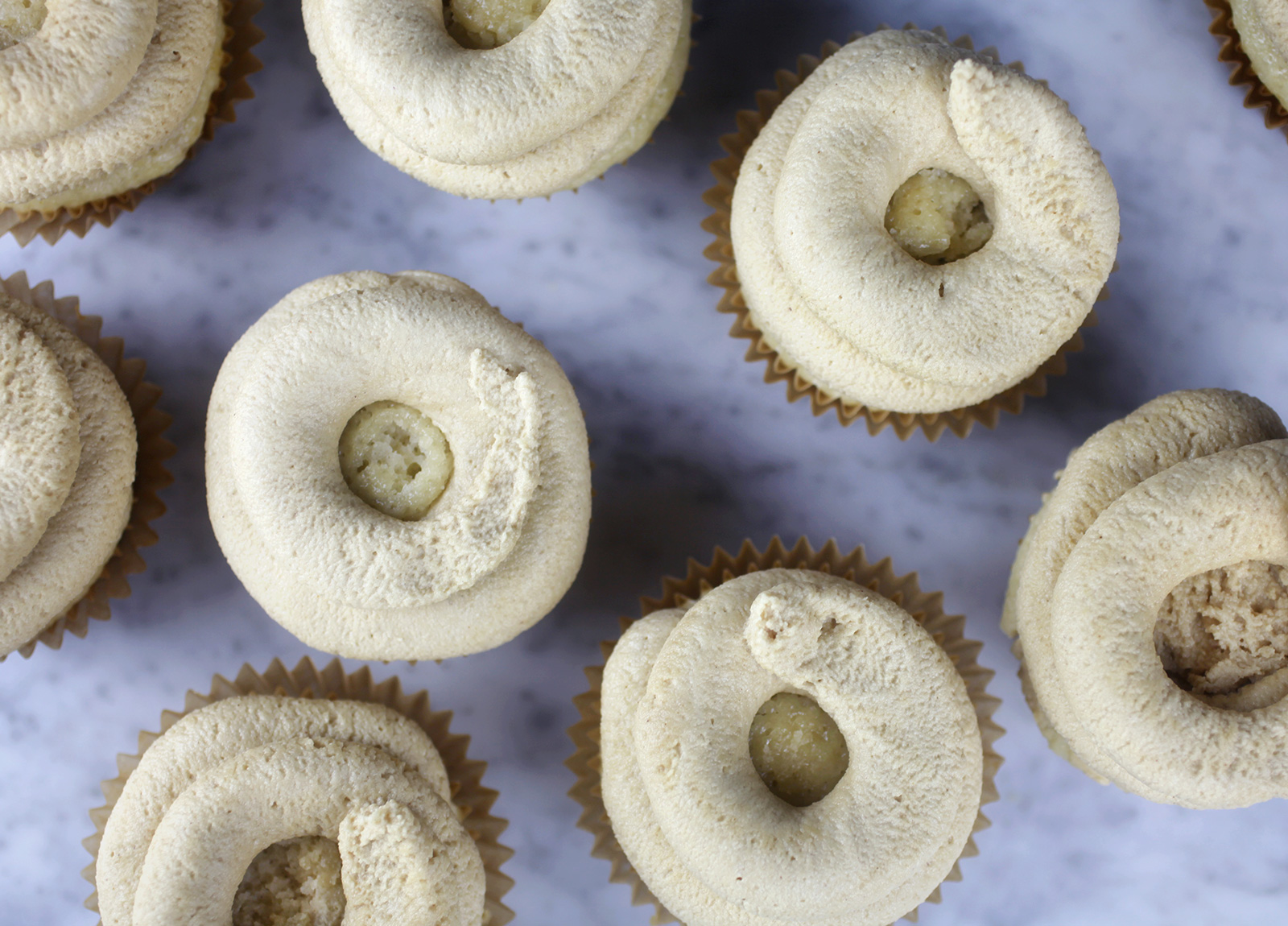 Now whip up some peanut butter frosting and pipe a lofty amount on top of the cupcakes, leaving a well in the center. I used an Ateco 807 decorating tip to pipe these.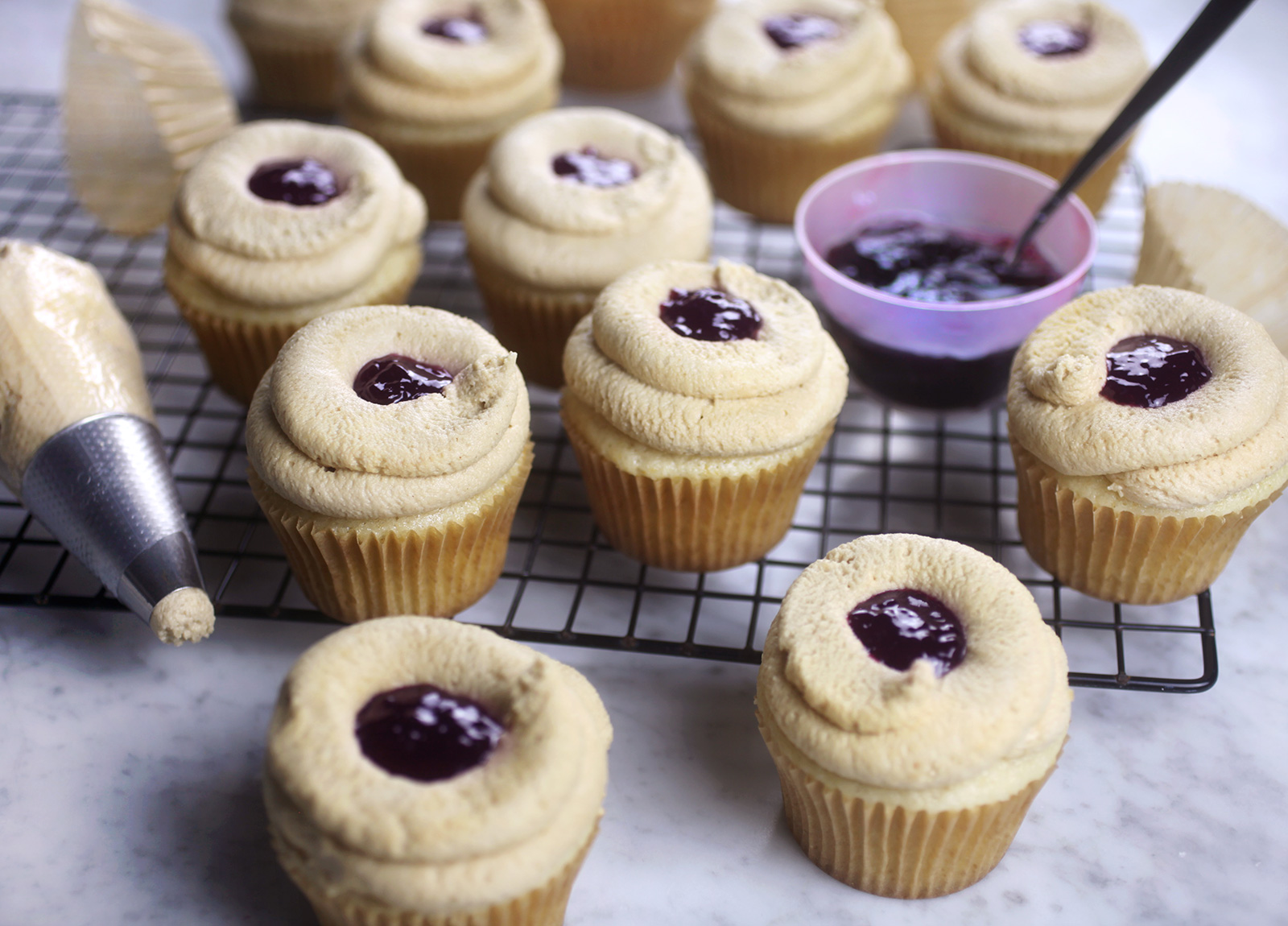 Fill the center of each frosted top with a small amount of jelly. You can use a spoon … or put some in a squeeze bottle if you want to be extra careful when filling the centers.
And if you are someone who loves crunchy peanut butter (not me so much), then sprinkle finely chopped peanuts on top, too.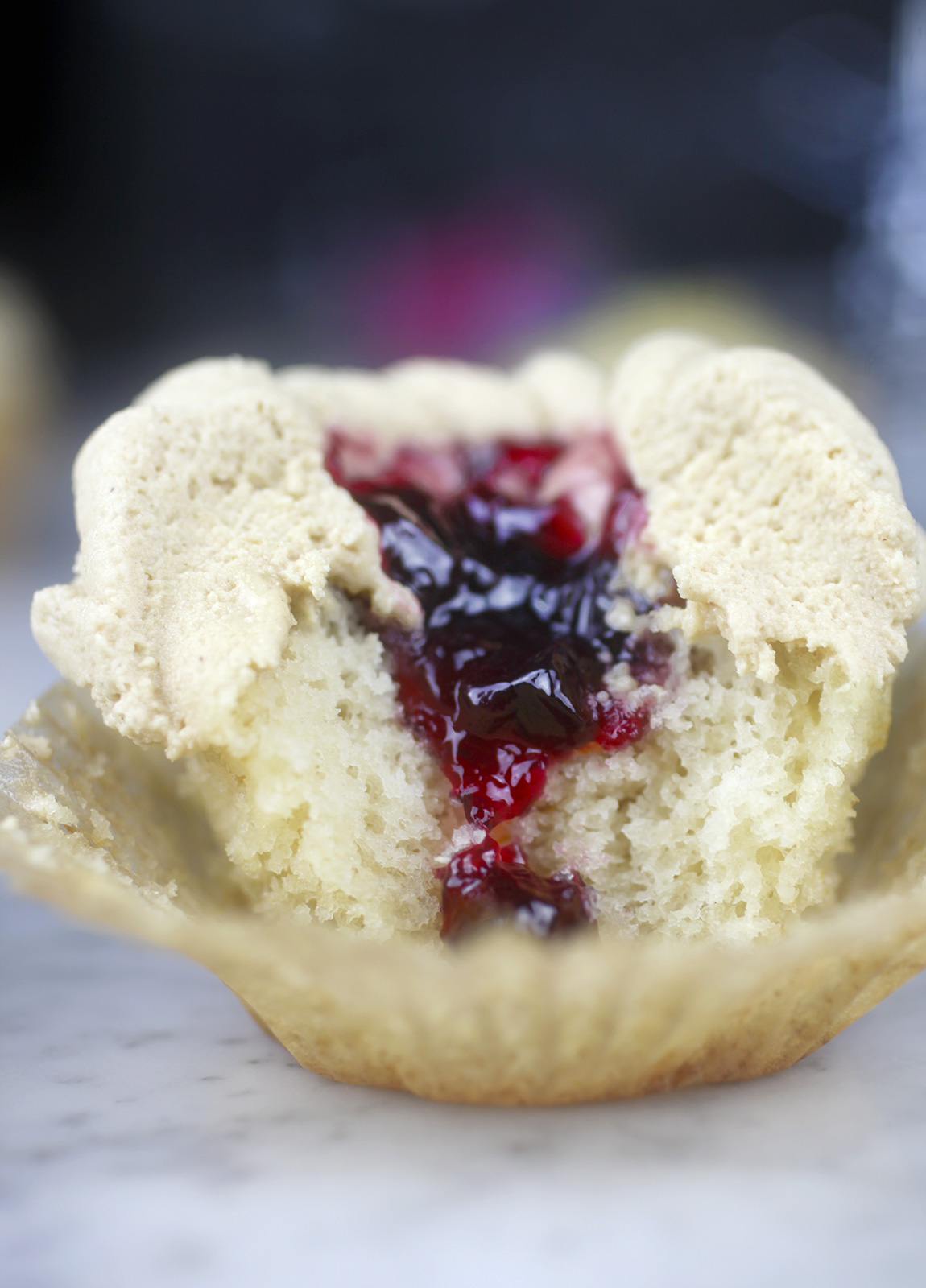 These are easy to assemble and oh so enjoyable to eat. Okay, devour is more appropriate. Oh my gosh they are so good. I gave some to my mom and her facial expressions said it all. She didn't have to speak a word for me to know she LOVED them. And that makes me super happy.
Hope you bake them someday and they make you smile, too.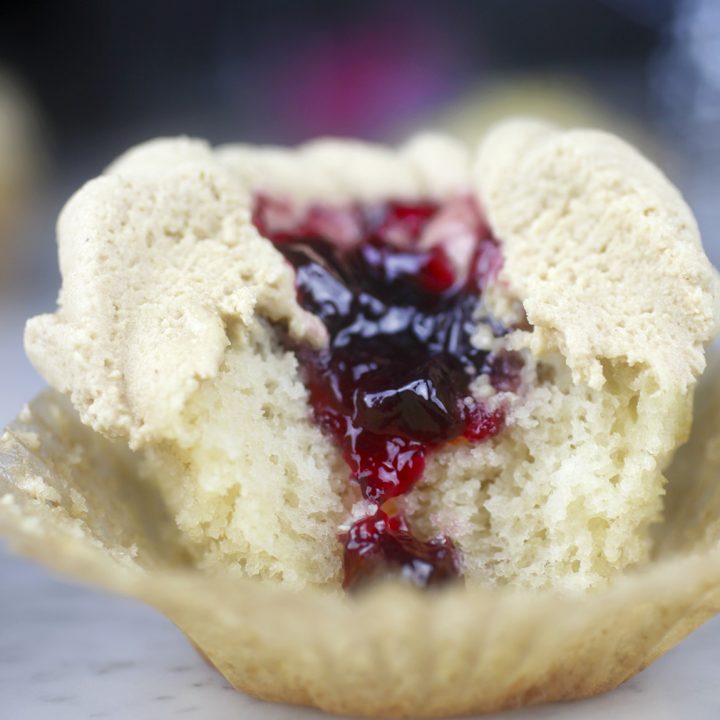 Yield: one dozen cupcakes
Peanut Butter & Jelly Cupcakes
Prep Time 15 minutes

Cook Time 15 minutes

Additional Time 45 minutes

Total Time 1 hour 15 minutes
Ingredients
Vanilla Cupcakes
1-1/3 cups all-purpose flour
1-1/2 teaspoons baking powder
1/4 teaspoon salt
1 cup granulated sugar
1/3 cup vegetable oil
1 egg, plus 1 yolk
2 teaspoons vanilla extract
2/3 cup whole milk
1/3 to 1/2 cup grape jelly 
Peanut Butter Frosting
1/2 cup butter, room temperature
1-1/2 cups peanut butter
3 cups confectioners' sugar
1 teaspoon vanilla
2-4 Tablespoons whole milk
Instructions
For the cupcakes: Preheat oven to 350 degrees Fahrenheit and line cupcake tray with a dozen paper liners.
Whisk flour, baking powder and salt together in a medium bowl and set aside.
In the bowl of a stand mixer fitted with a paddle attachment, mix sugar, oil, egg, egg yolk and vanilla until completely combined.
Add flour in three additions, alternating with milk in between, in two additions. Mix until combined.
Fill each cupcake liner about 2/3 full and bake for 12-15 minutes or until a toothpick inserted comes out clean.
For the frosting: Cream butter and peanut butter together until combined and smooth. Add confectioners' sugar slowly in several additions, mixing on low to start and increasing speed to medium high until smooth. Add vanilla and mix. Add milk a tablespoon at a time until the desired consistency is achieved.
Assemble: Remove a portion of each cupcake top and fill with jelly. Place cupcake portion back on top. Pipe peanut butter frosting around top of cupcake using a large round tip (like an Ateco #807). Then fill the center of each frosted cupcake top with more jelly.
Notes
Try piping jelly on top to control placement. It may also help to stir in a teaspoon or two of water to dillute the jelly a bit, making it easier to pipe.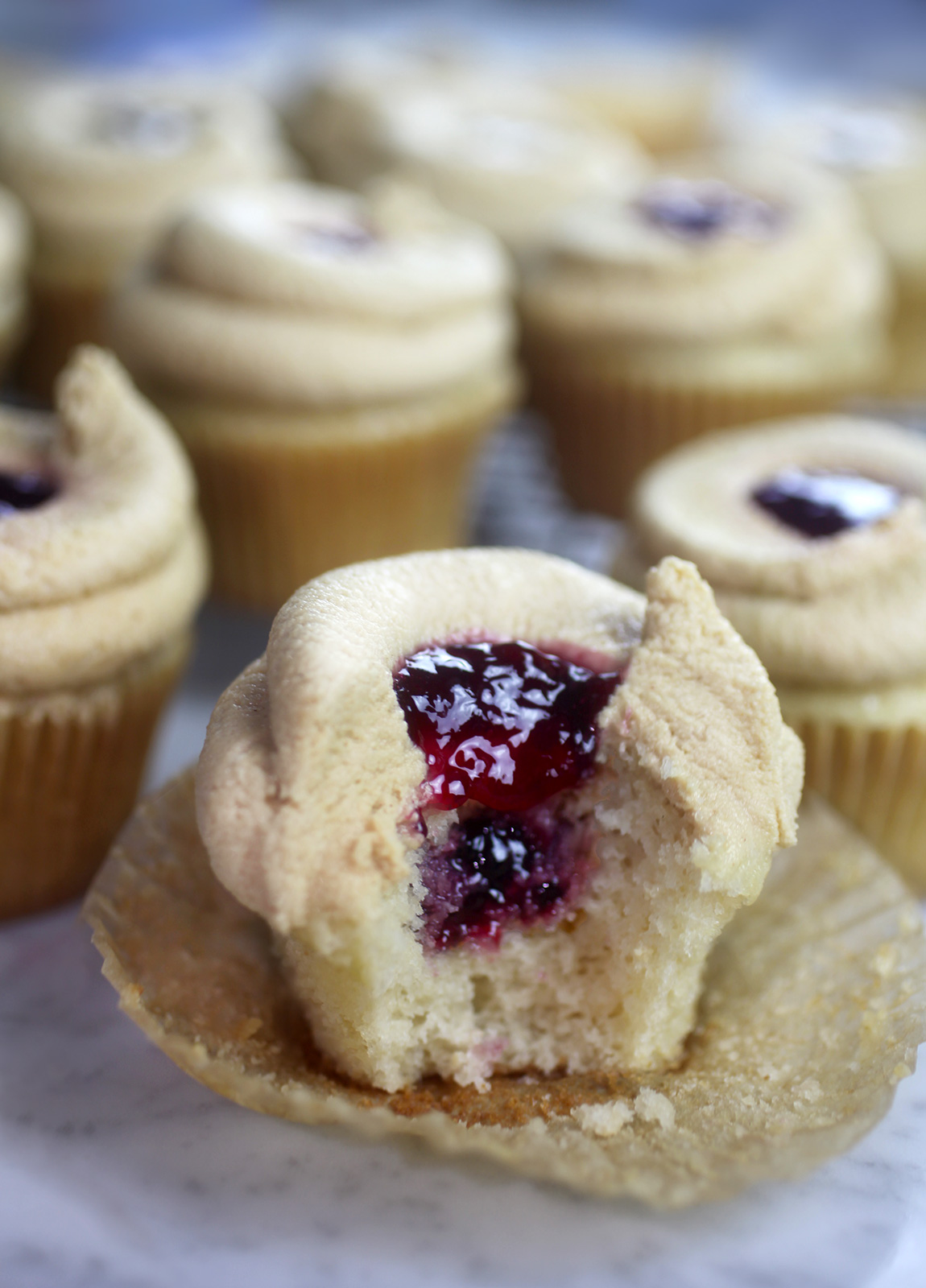 Enjoy!!!