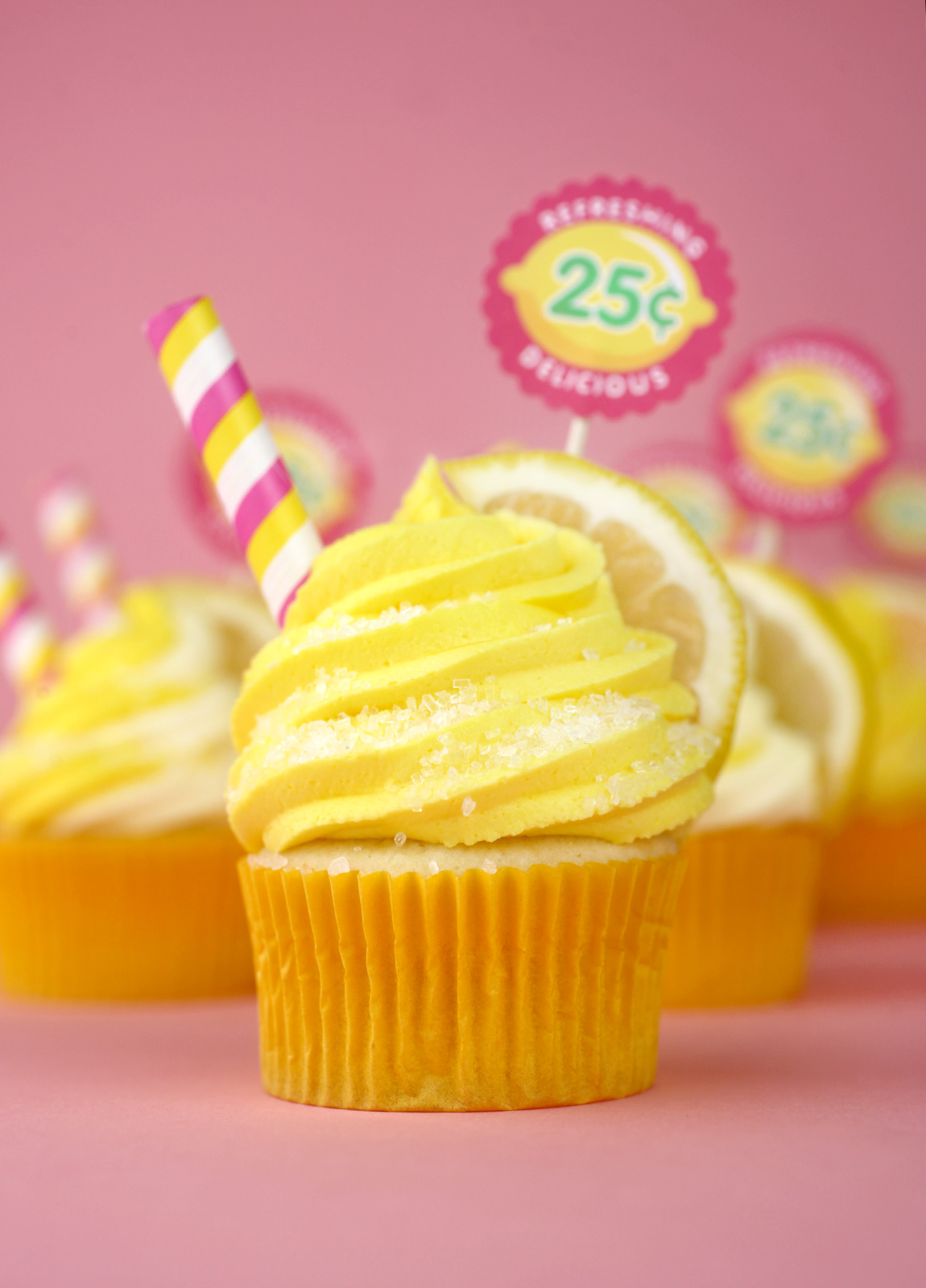 Take a big bite of sunshine! These lemon cupcakes are a fun take on your favorite summertime drink.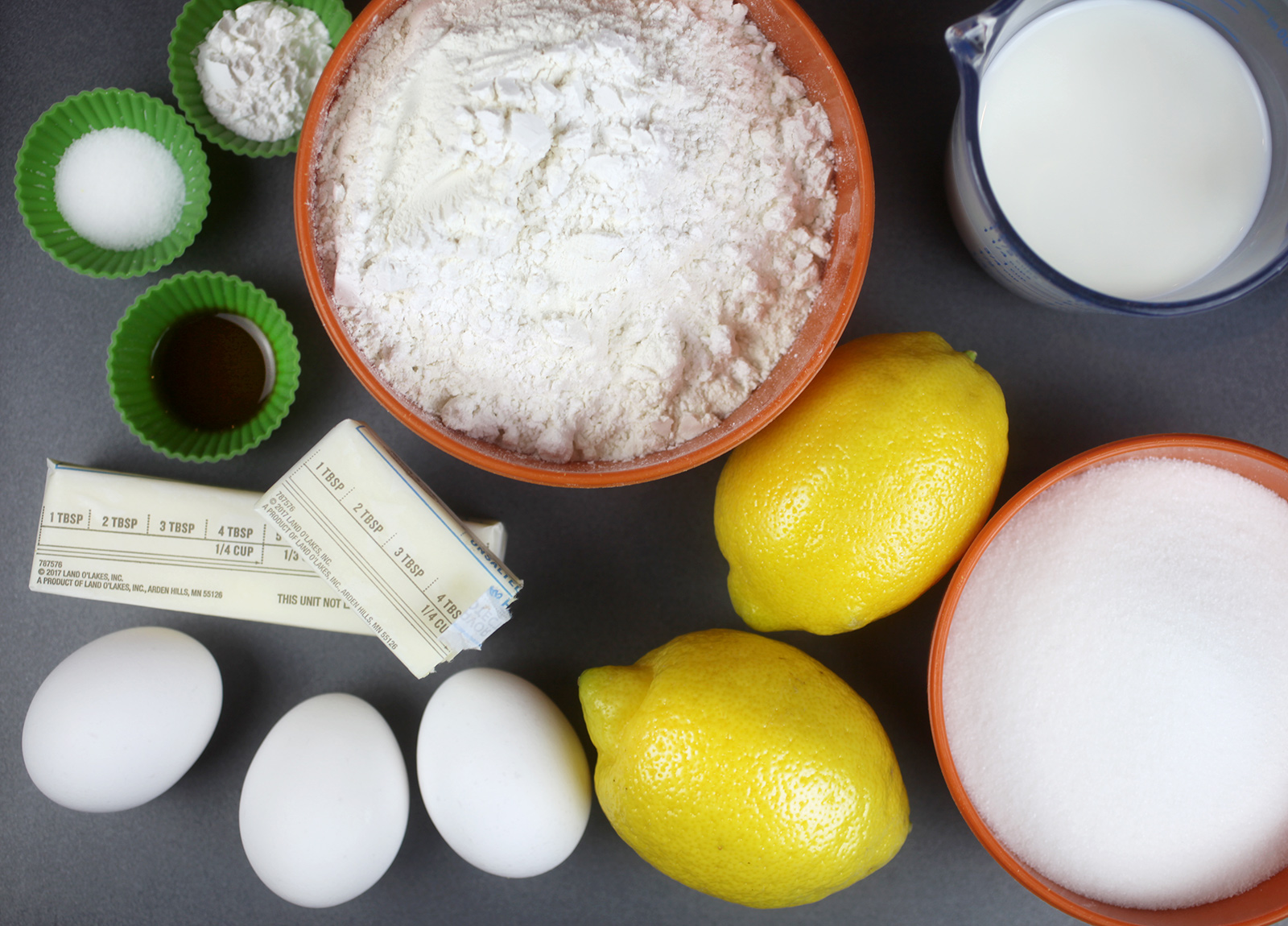 And they are super easy to make and decorate … which I love.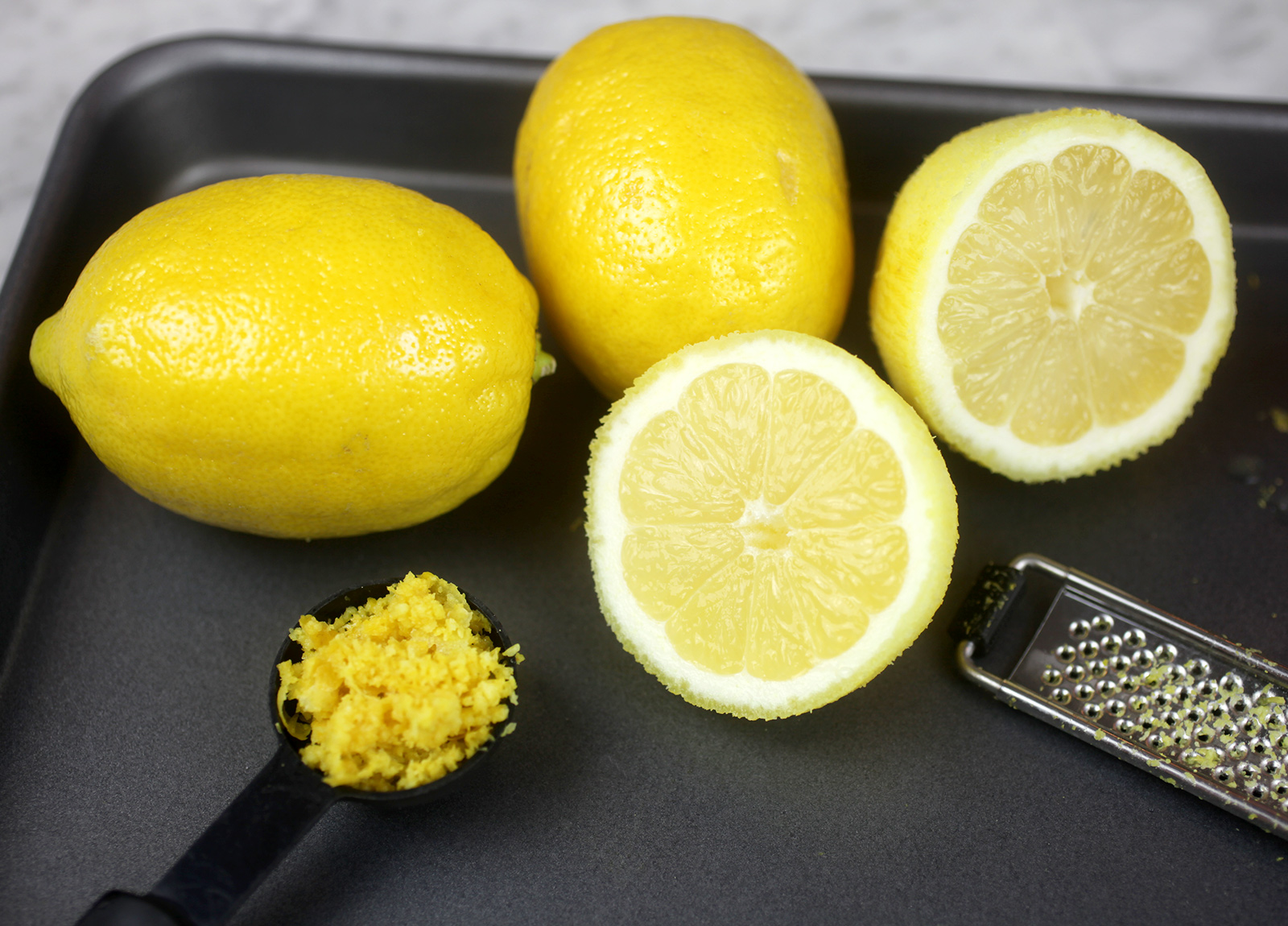 Obviously, lemons are the star of this sweet treat. A combination of lemon juice and lemon zest add all the flavor you need to feel like you're enjoying a tangy drink … just a little fluffy instead of fluid. One large lemon = up to 4 tablespoons lemon juice and 1 tablespoon lemon zest.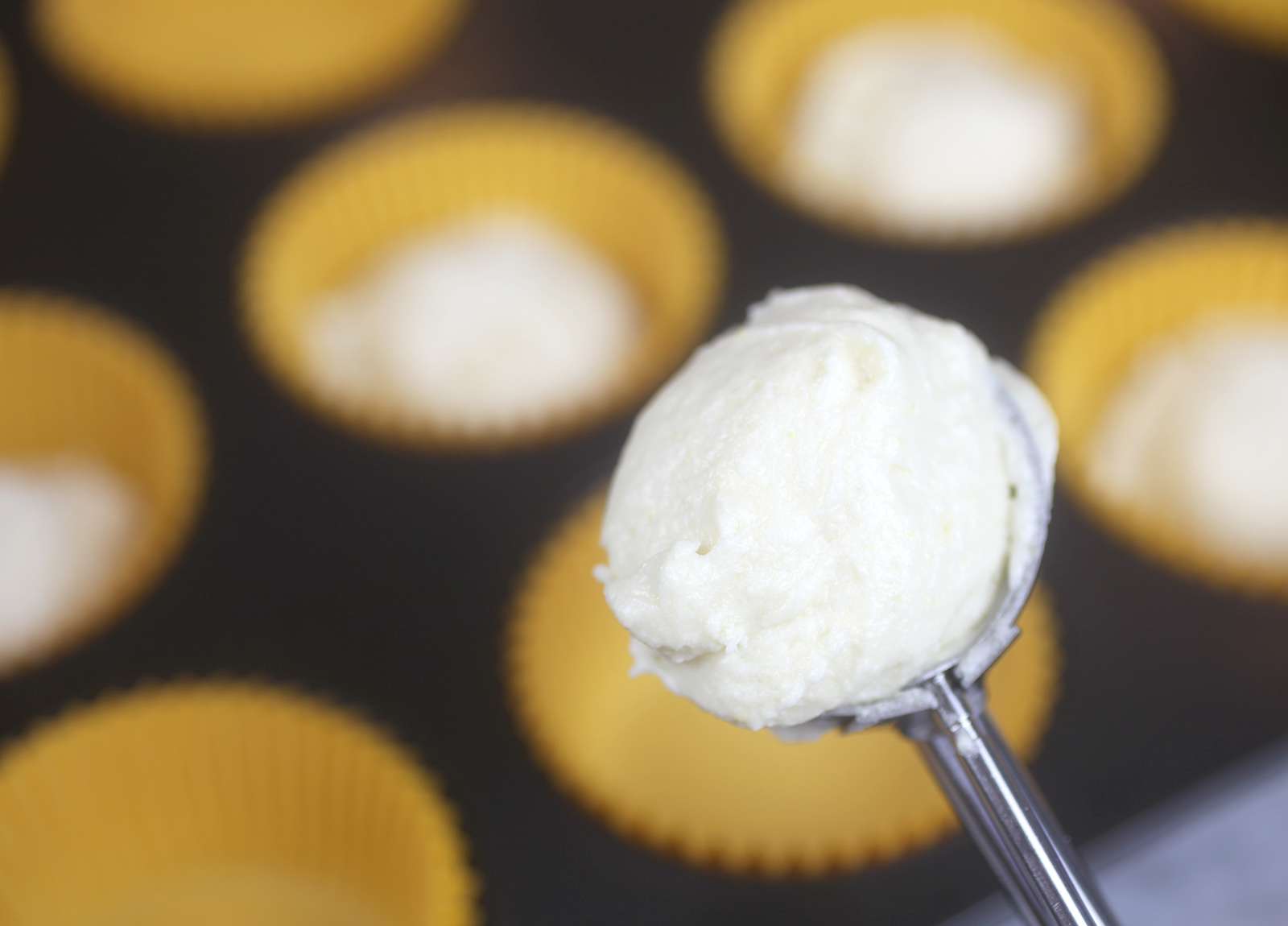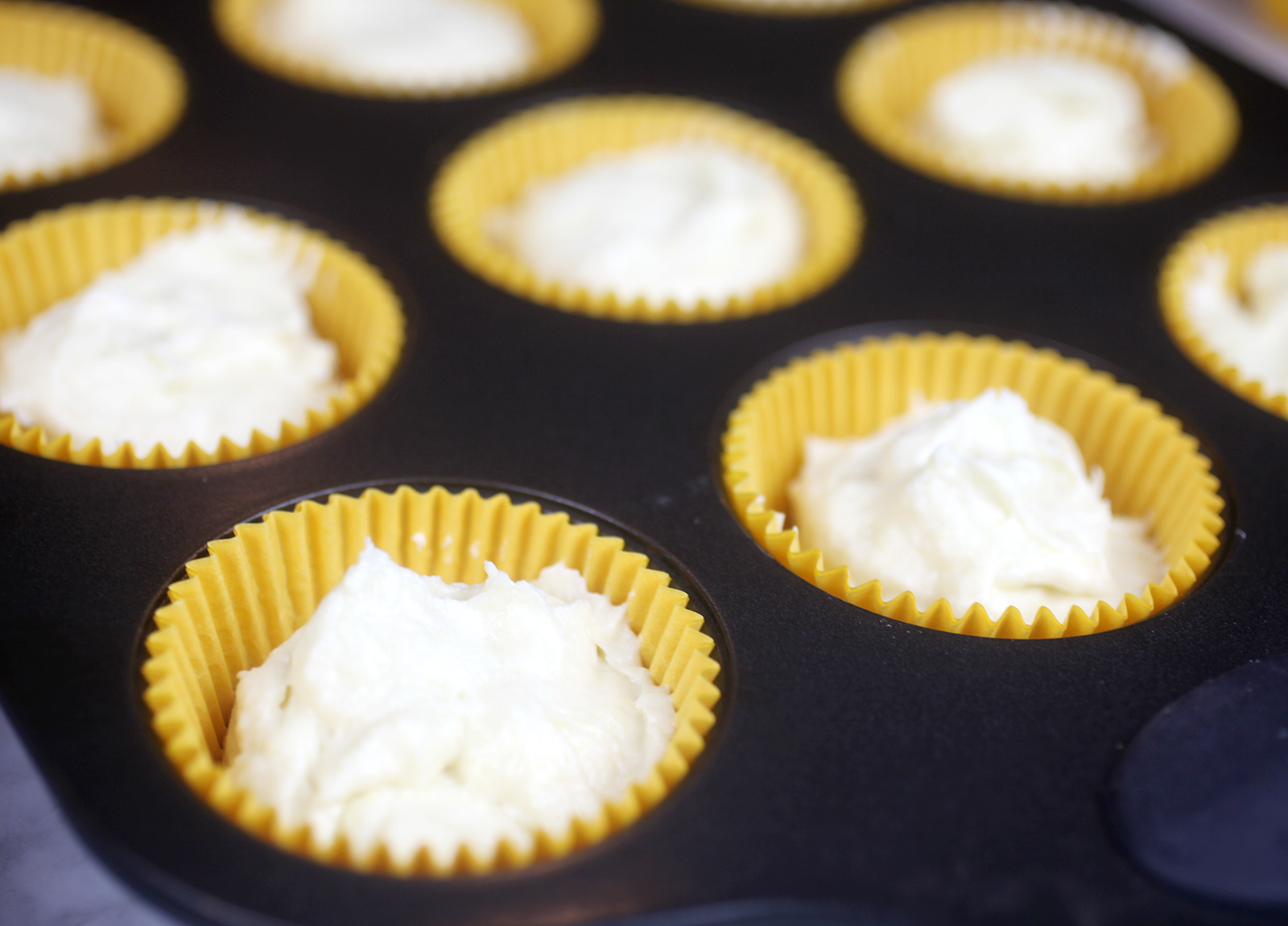 Scoop the batter evenly into 18 baking cups. I recommend going with yellow cupcake liners to really finish off the look. But a light pink color would look good, too.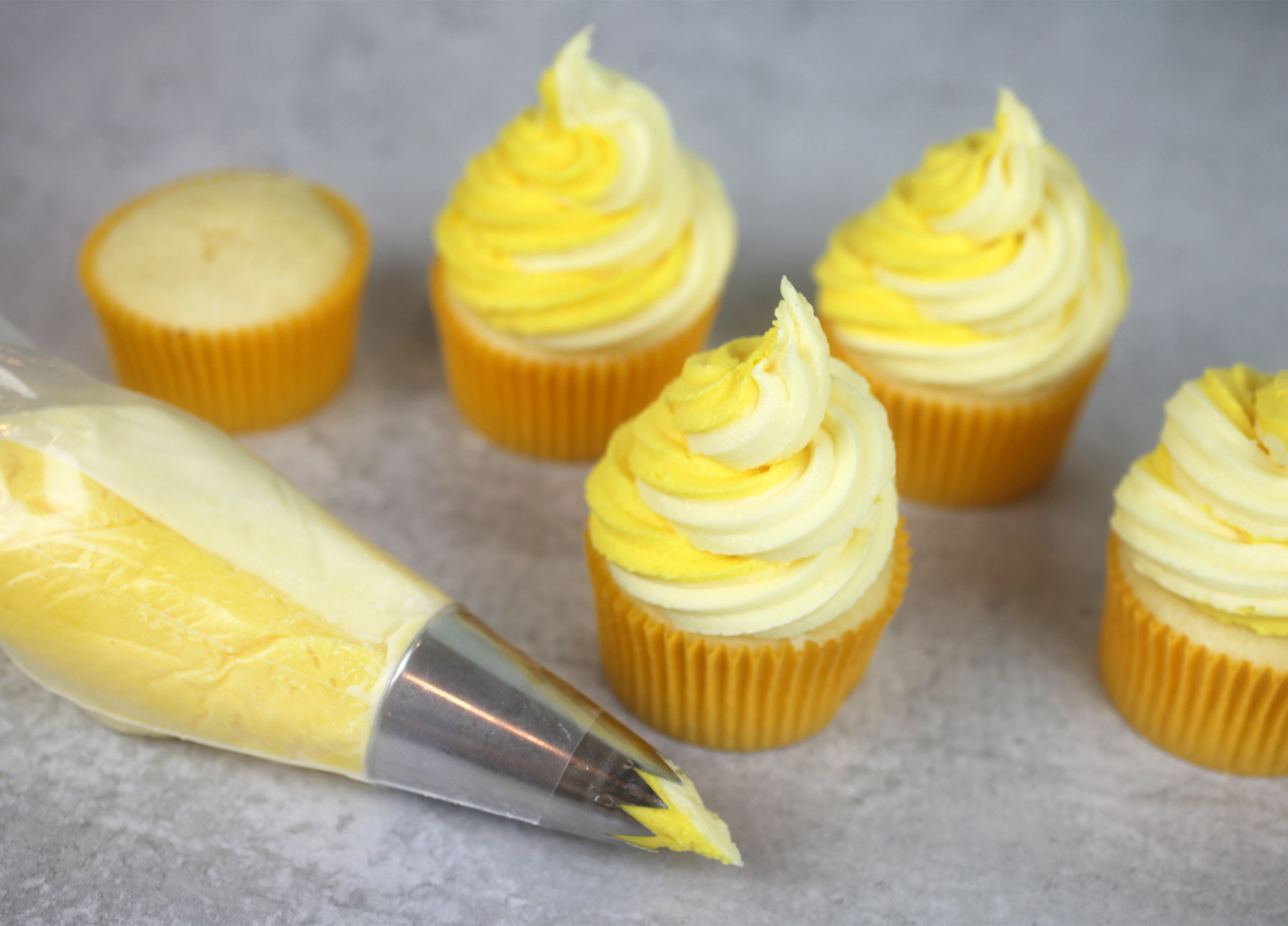 Once the cupcakes are baked and cool, pipe yellow-tinted buttercream frosting right on top. You can also create a two tone look with a light and darker shade of yellow. Fill two separate decorating bags with two shades of frosting. Snip off the tips. Then place the two icing bags into one larger icing bag fitted with your favorite tip. I used an Ateco #827 tip to pipe tall swirls of buttercream.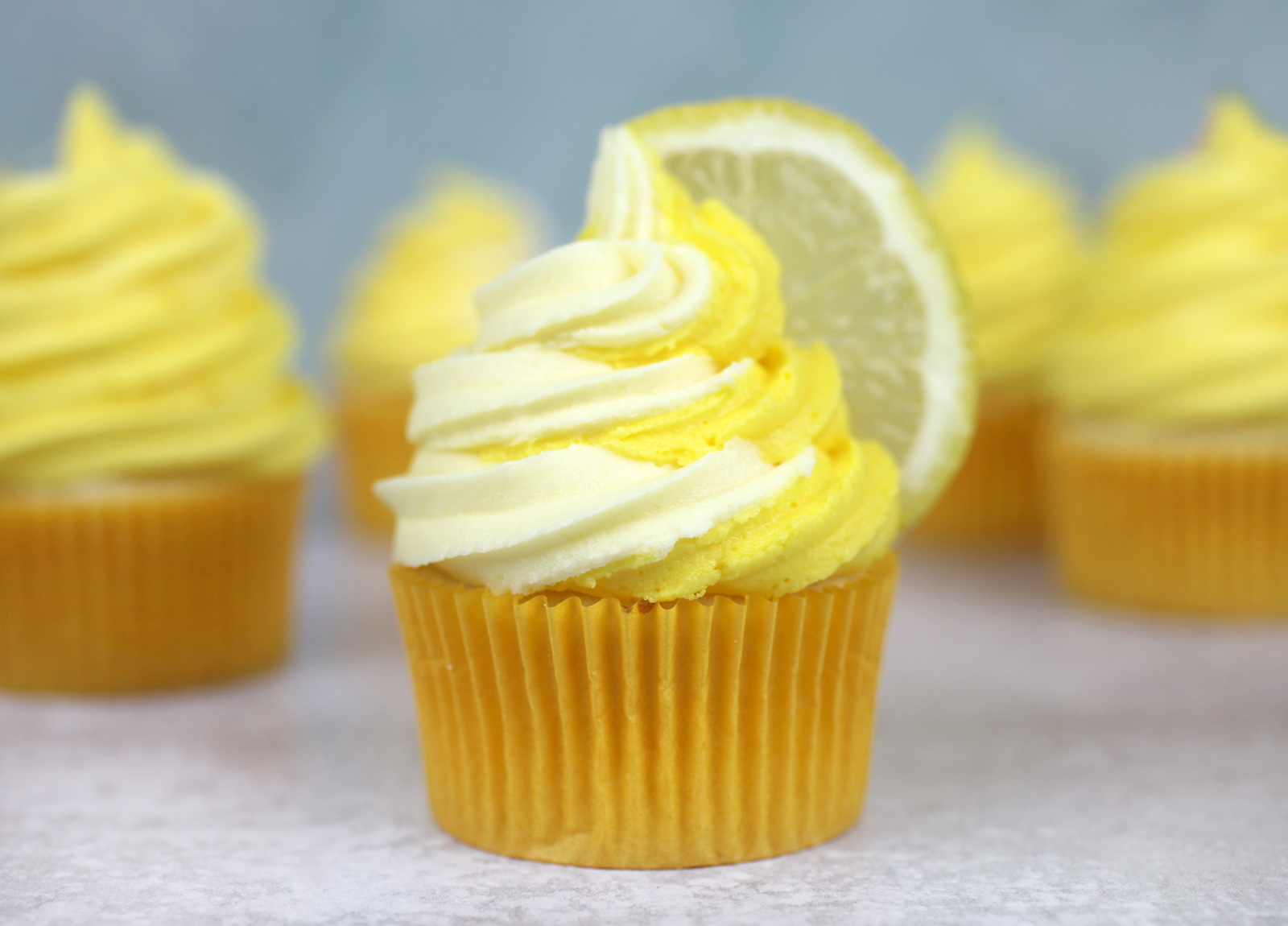 Place a thin slice of lemon right into the side of your buttercream frosting.
You could stop right here and have cute little lemonade cupcakes. But let's make them even cuter.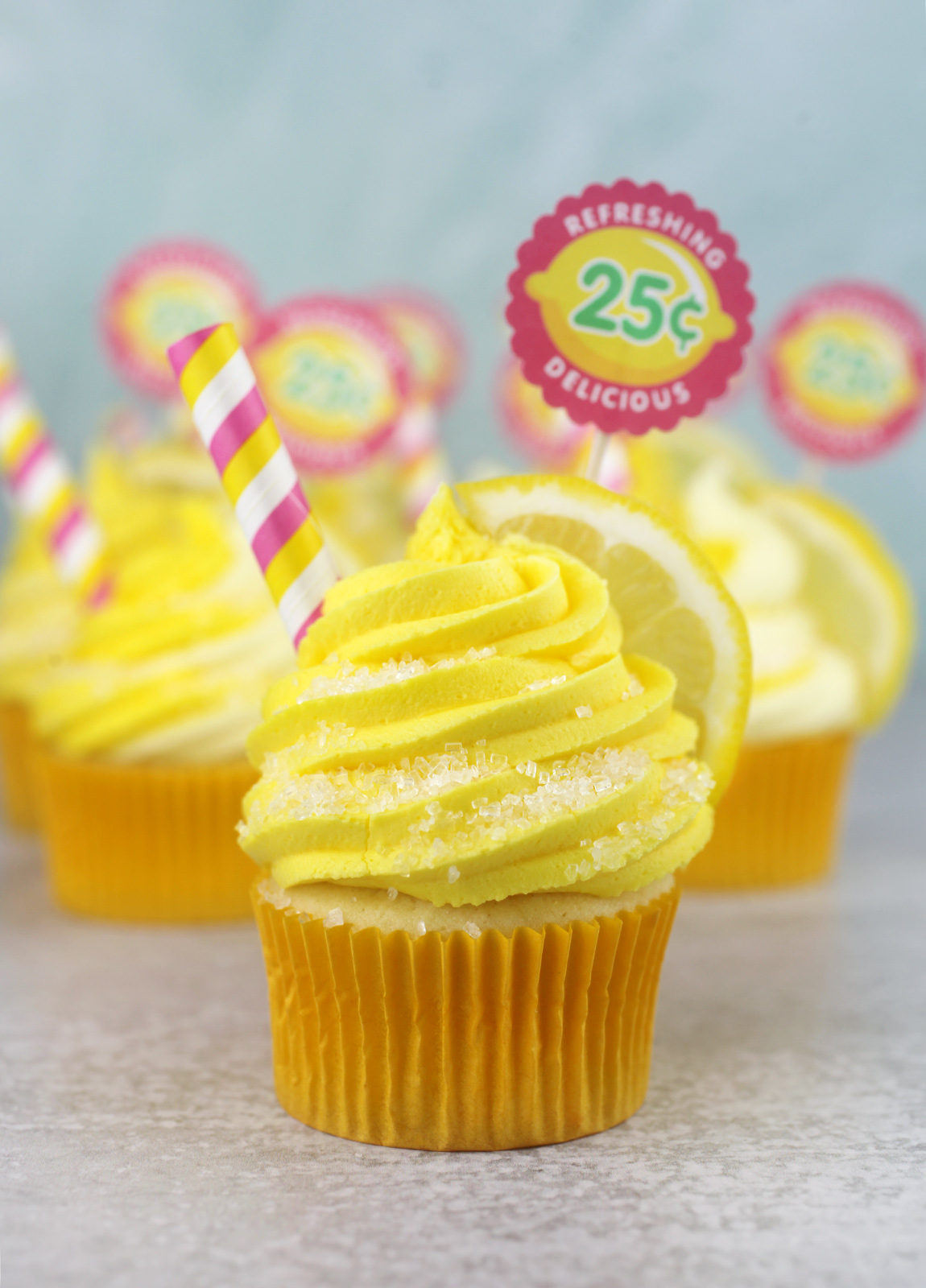 Yes! I like it. Lemons, striped straws, and adorable little price tags for effect. But you could totally change the price if you wanted to actually sell your cupcakes.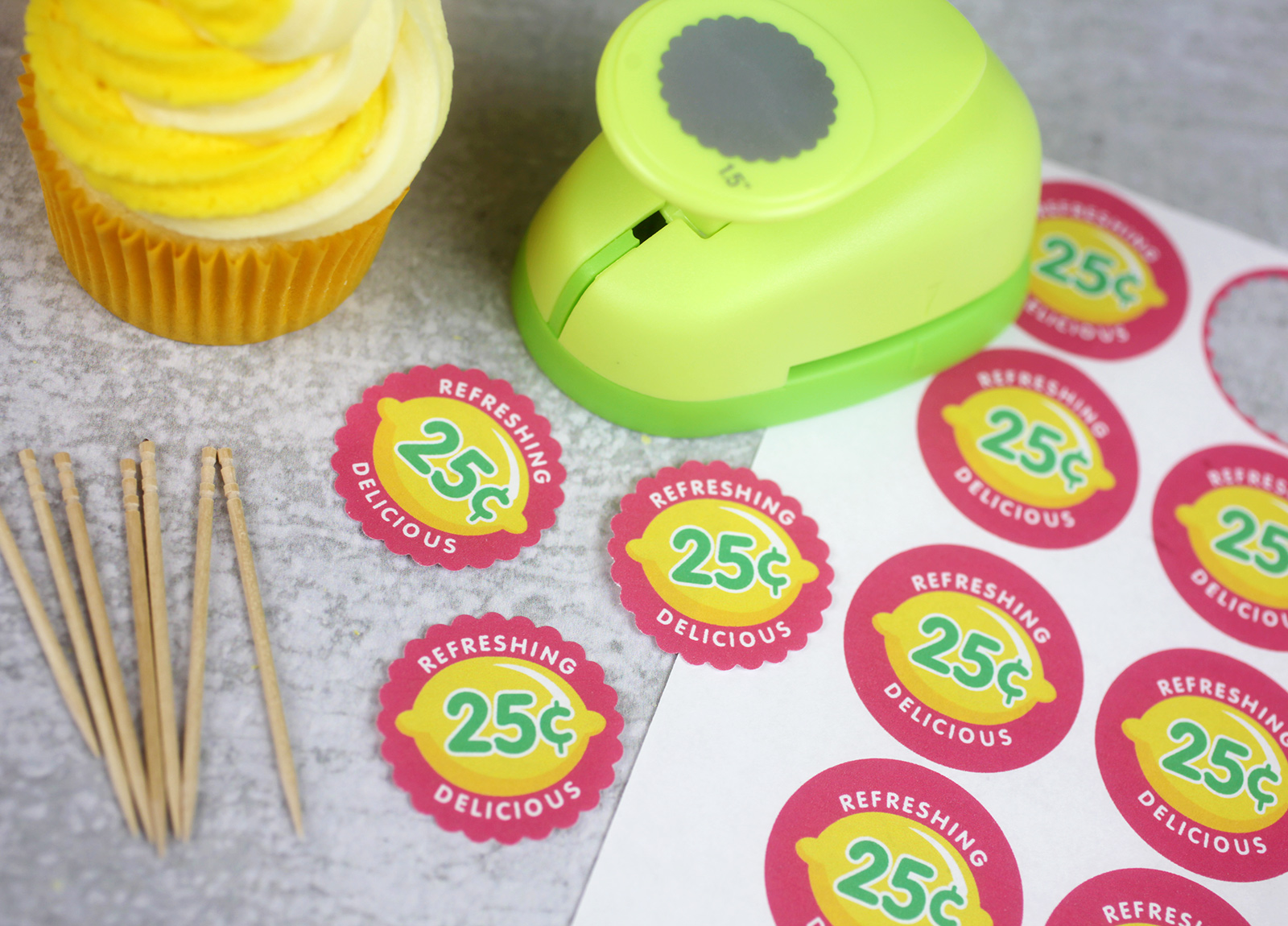 The paper tags are made using a small 1.5 inch circle punch and then just taped to a toothpick.
Download the PDF
I want you to make these, so here is a 25¢ lemonade tag pdf that you can download and use.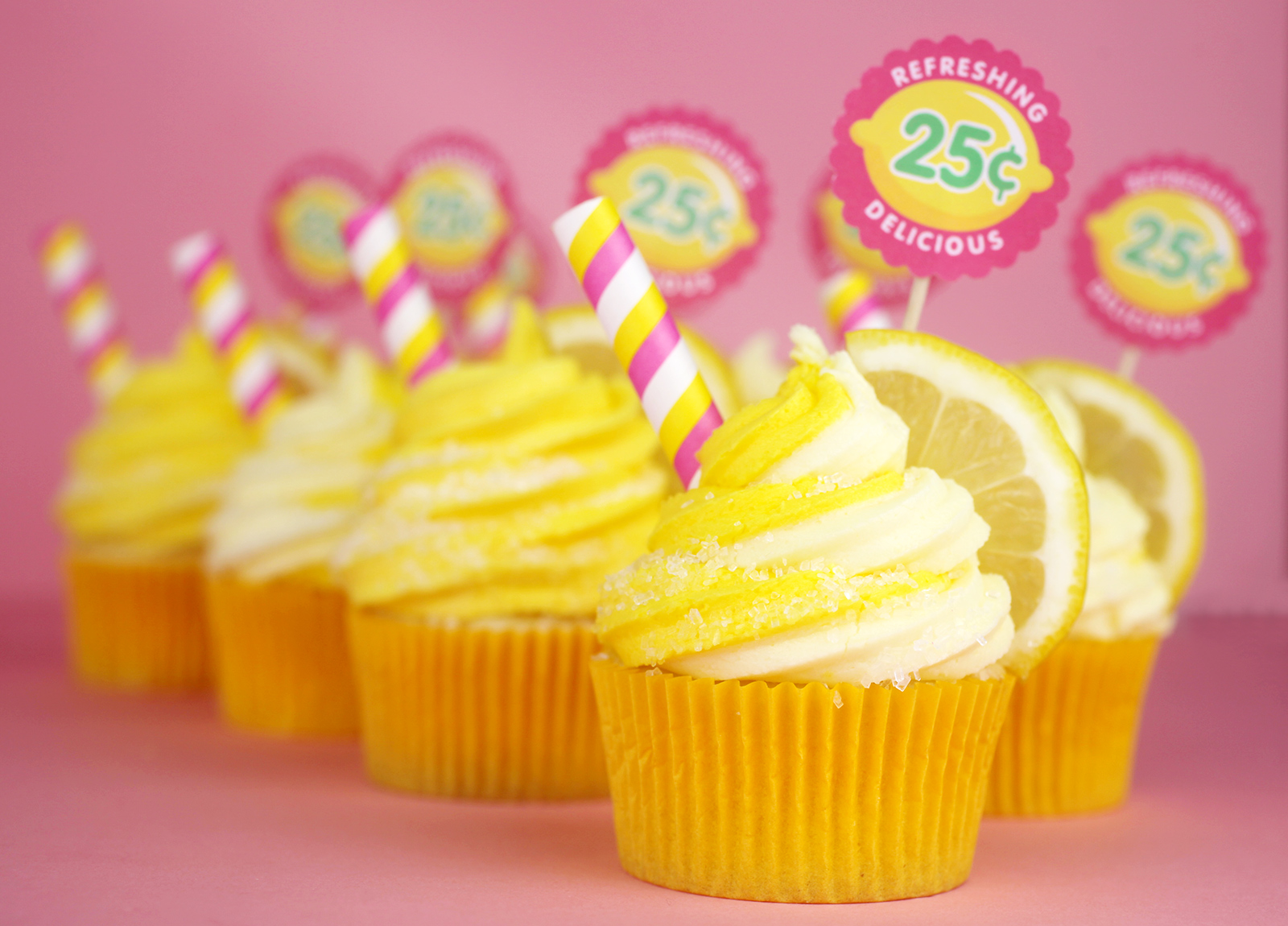 Eeeek! So super sweet.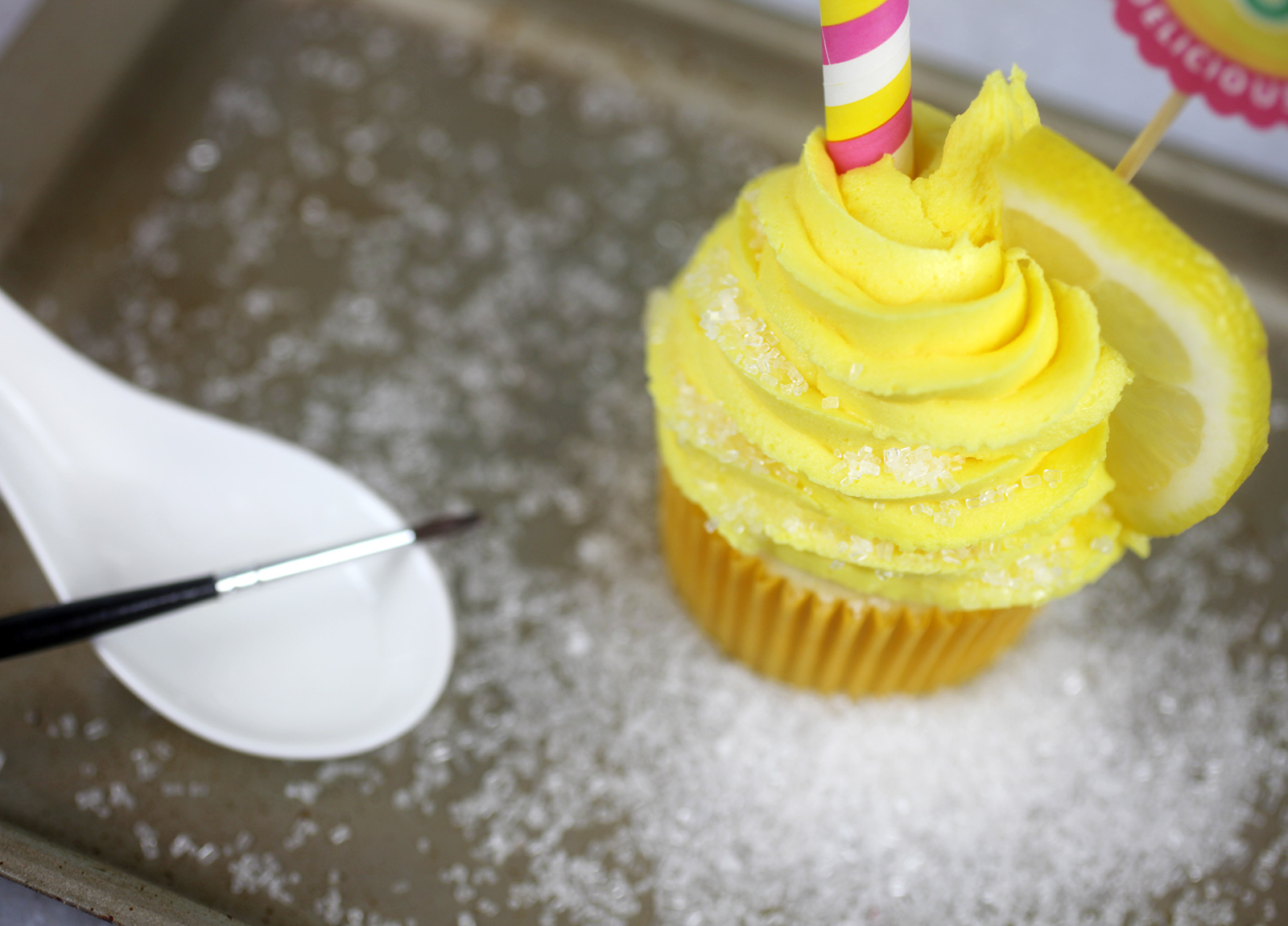 Oh yeah … here's another tip. Add some sugar crystals to the edges of your piped frosting for an "icy look." If your frosting has already hardened, the sugar crystals won't really stick to it. But … you can use a small kitchen brush to paint a little bit of water on the edges and then sprinkle the crystals over it. The water will help them attach when they dry.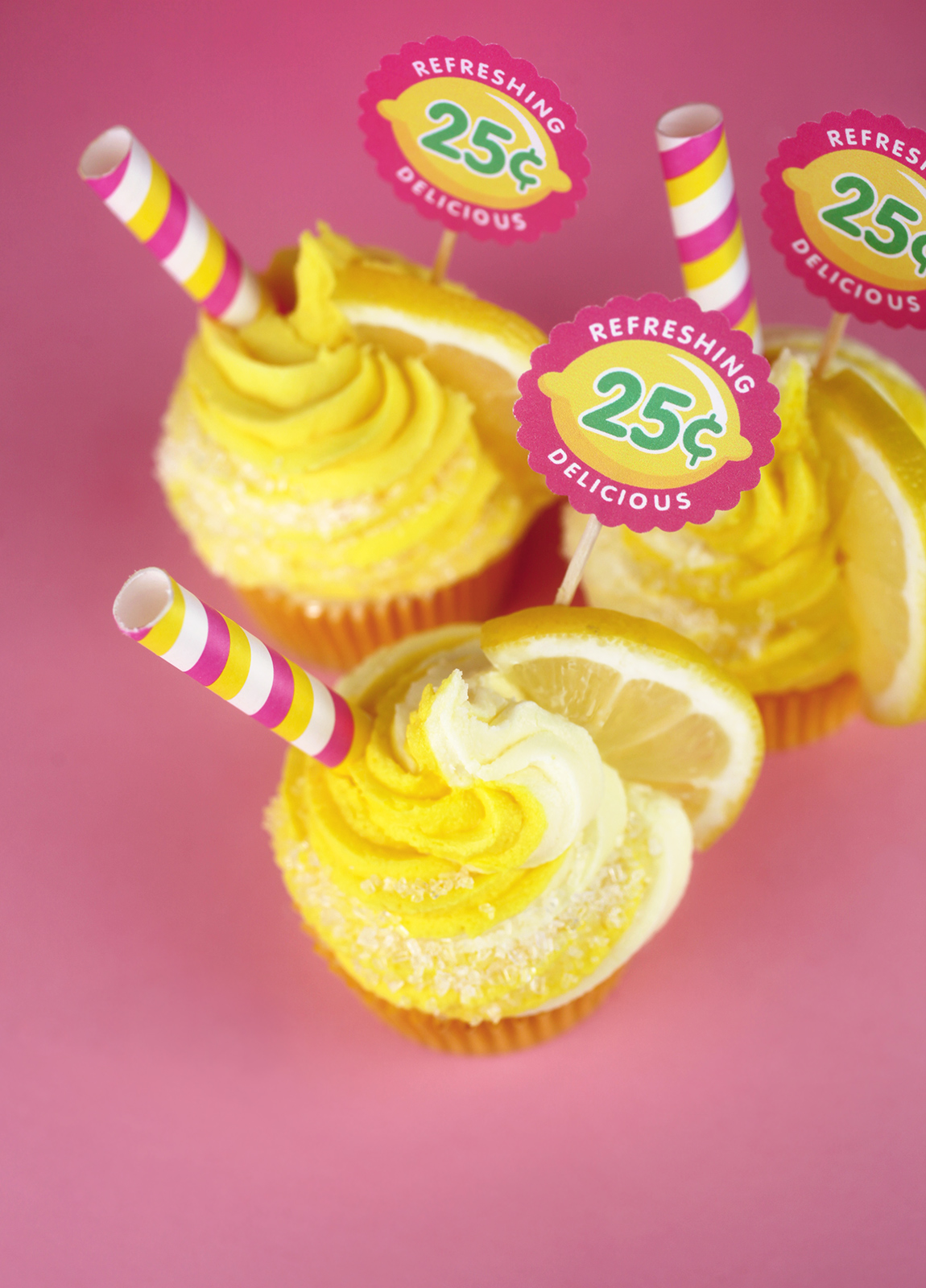 I just love how that little extra bit makes them look.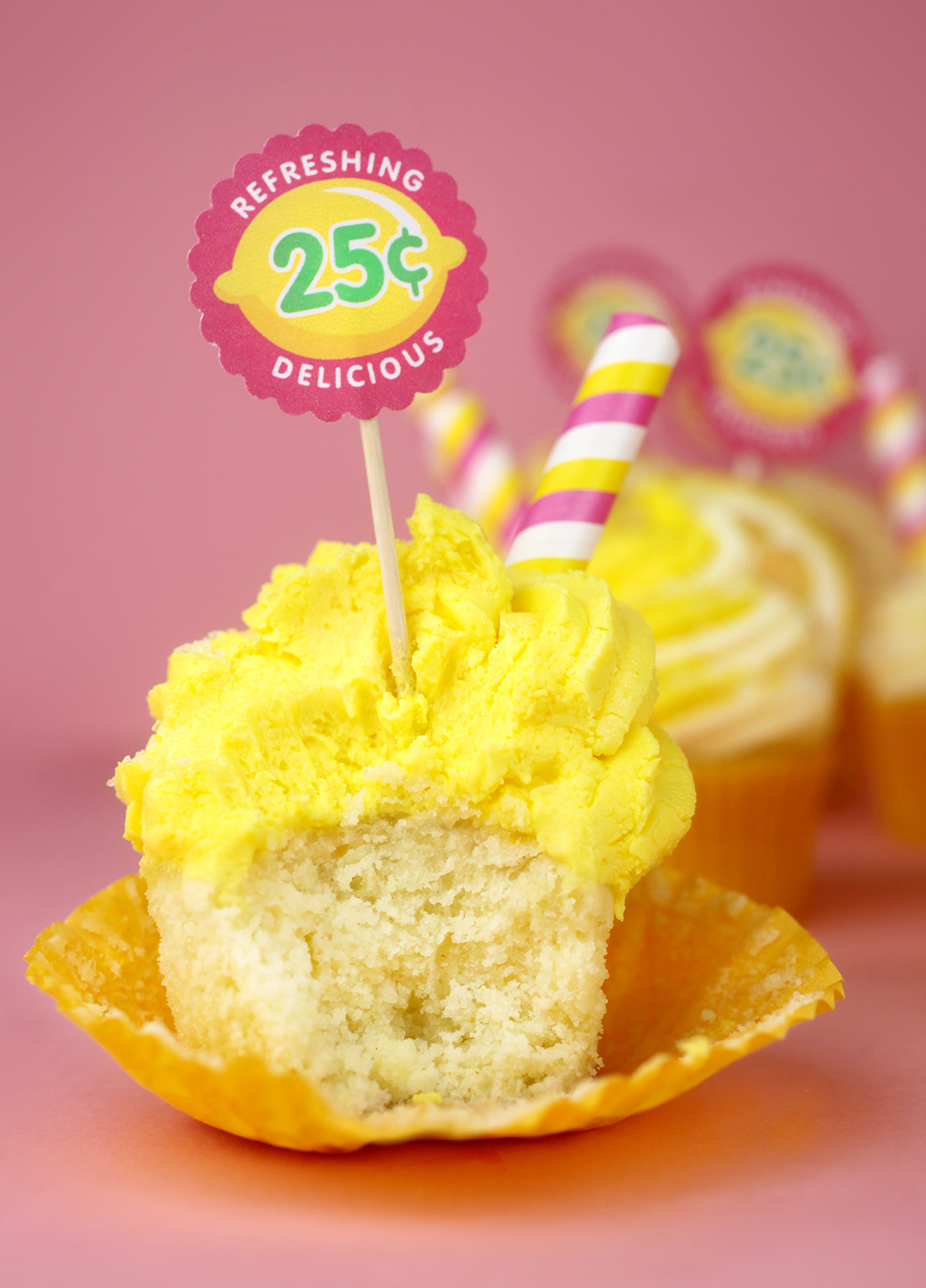 And they are refreshing and delicious, too!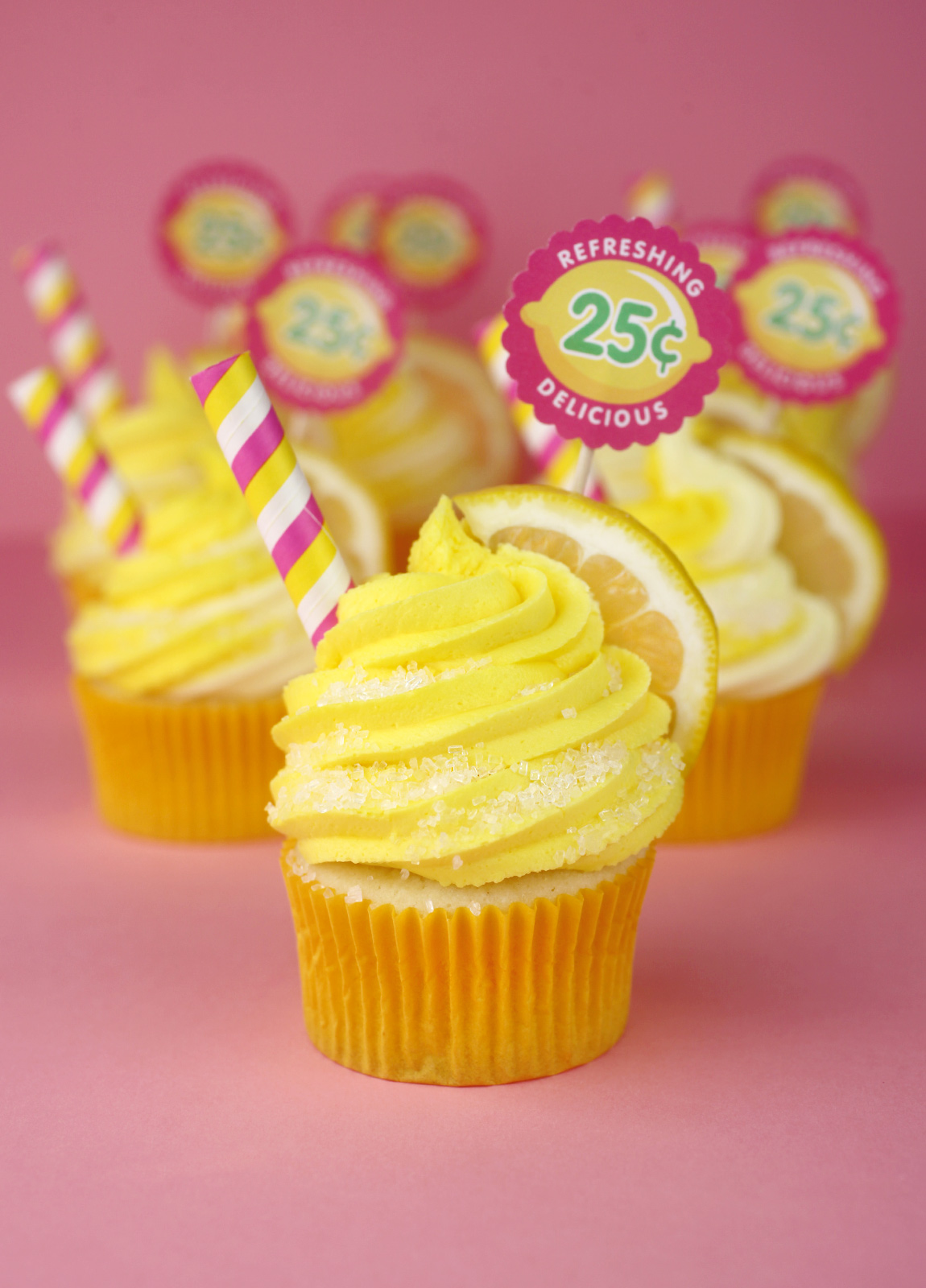 Hope you enjoy and find fun ways to have a bright, happy summer!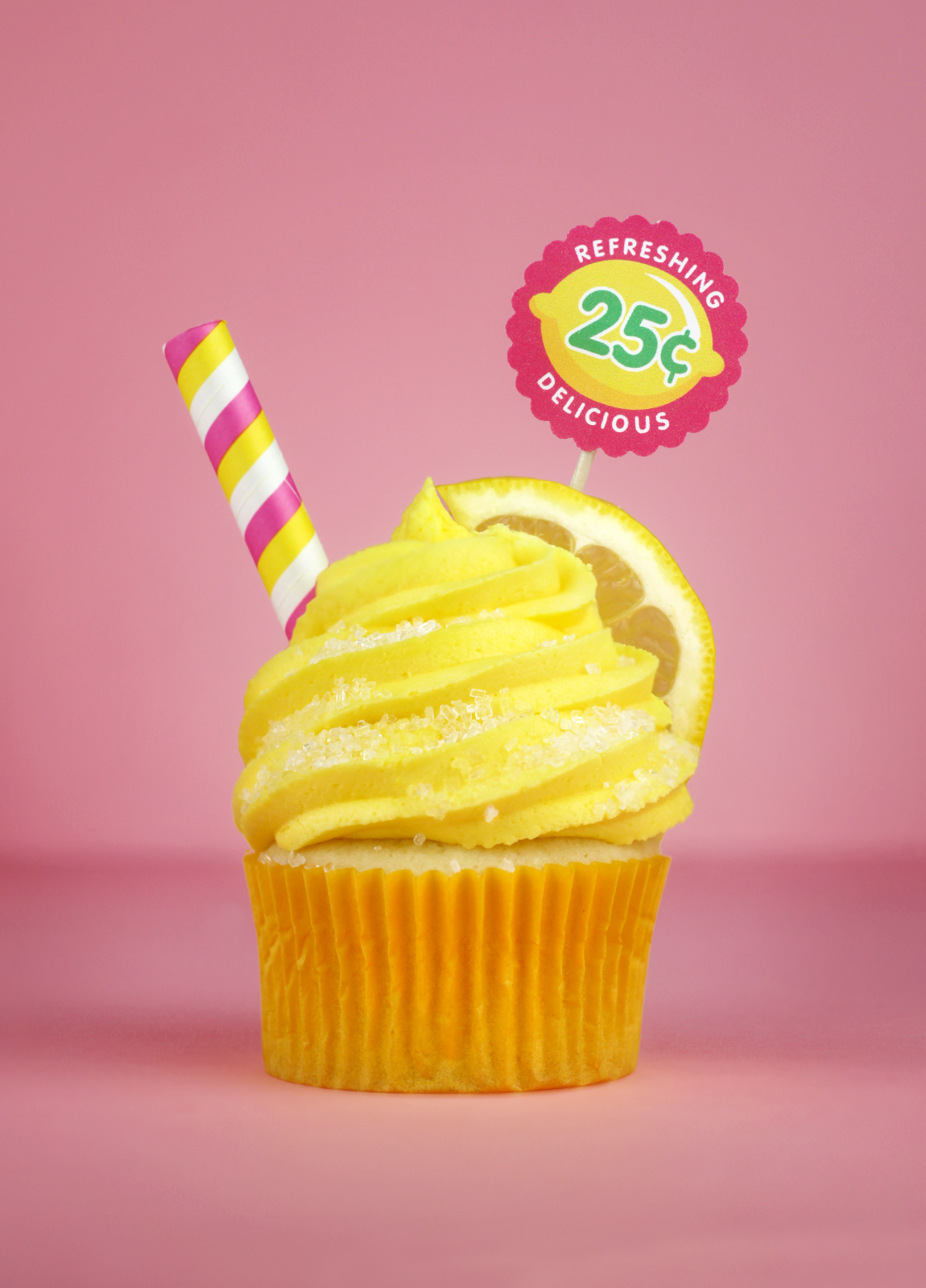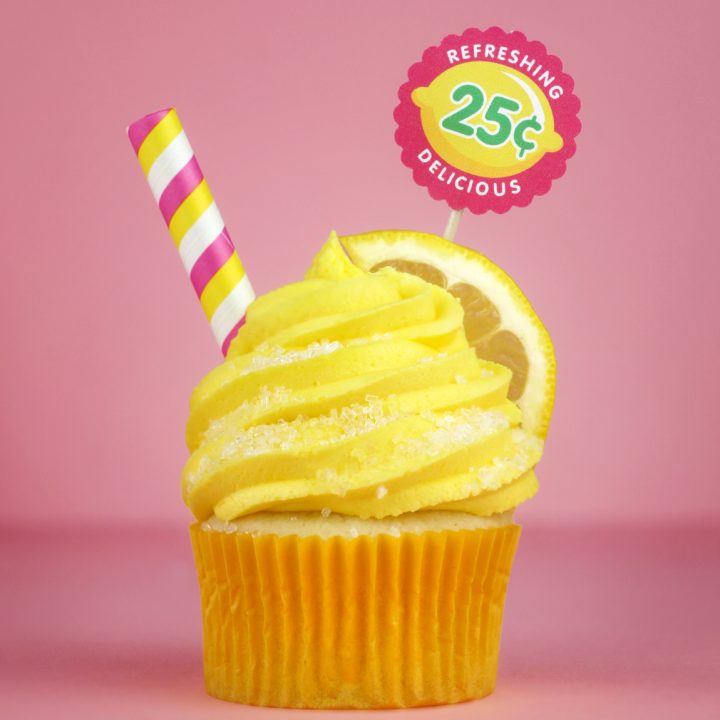 Yield: 18 cupcakes
Lemonade Cupcakes
Additional Time
20 minutes
Total Time
1 hour
4 minutes
Ingredients
Lemon cupcakes
2-1/4 cups all purpose flour
2 teaspoons baking powder
3/4 teaspoon salt
1-1/2 sticks (3/4 cup) unsalted butter, room temperature
1-1/3 cup granulated sugar
2 eggs, plus 1 yolk, room temperature
3/4 cup whole milk, room temperature
1-2 Tablespoons grated lemon zest
1/4 cup fresh lemon juice
Lemon Buttercream Frosting
1 cup butter, room temperature
6 cups sifted confectioners' sugar
4 Tablespoons lemon juice
1-2 teaspoons lemon zest
1 teaspoon milk
Extra lemon slices for garnishing
Sugar crystals
paper straws
Instructions
Make the cupcakes:

Preheat oven to 350 degrees Fahrenheit and line cupcake tray with 18 baking cups.
Sift flour, baking powder and salt in a medium bowl and set aside.
Cream butter and sugar together using a stand mixer fitted with the paddle attachment until light and fluffy, about two minutes.
Add eggs and yolk one at a time, mixing until just combined. Scrape down the sides in between each addition.
Mix the milk, lemon juice and zest together.
Add the flour in three additions alternating with the milk/lemon mixture in two additions until combined.
Scoop batter into divide evenly into prepared pans.
Bake for 14-16 minutes or until a toothpick inserted comes out clean.

Make the frosting:

Cream the butter in a mixer fitted with the paddle attachment. Mix on medium high for 3-4 minutes.
Add the sifted confectioners' sugar one cup at a time, making sure it's completely combined.
Add the lemon juice and zest. Add more sugar to make the frosting thicker or a little milk, one teaspoon at a time to make it thinner/softer.
Notes
Note: I piped a very tall swirl of frosting on each cupcake. Make two batches of this frosting to have enough for all 18 cupcakes. However, if decorating with a more normal portion, this recipe will be enough.
One large lemon = up to 4 tablespoons lemon juice and 1 tablespoon lemon zest.  Three lemons should be enough and up to five five depending on whether or not you want to add slices to decorate your buttercream.