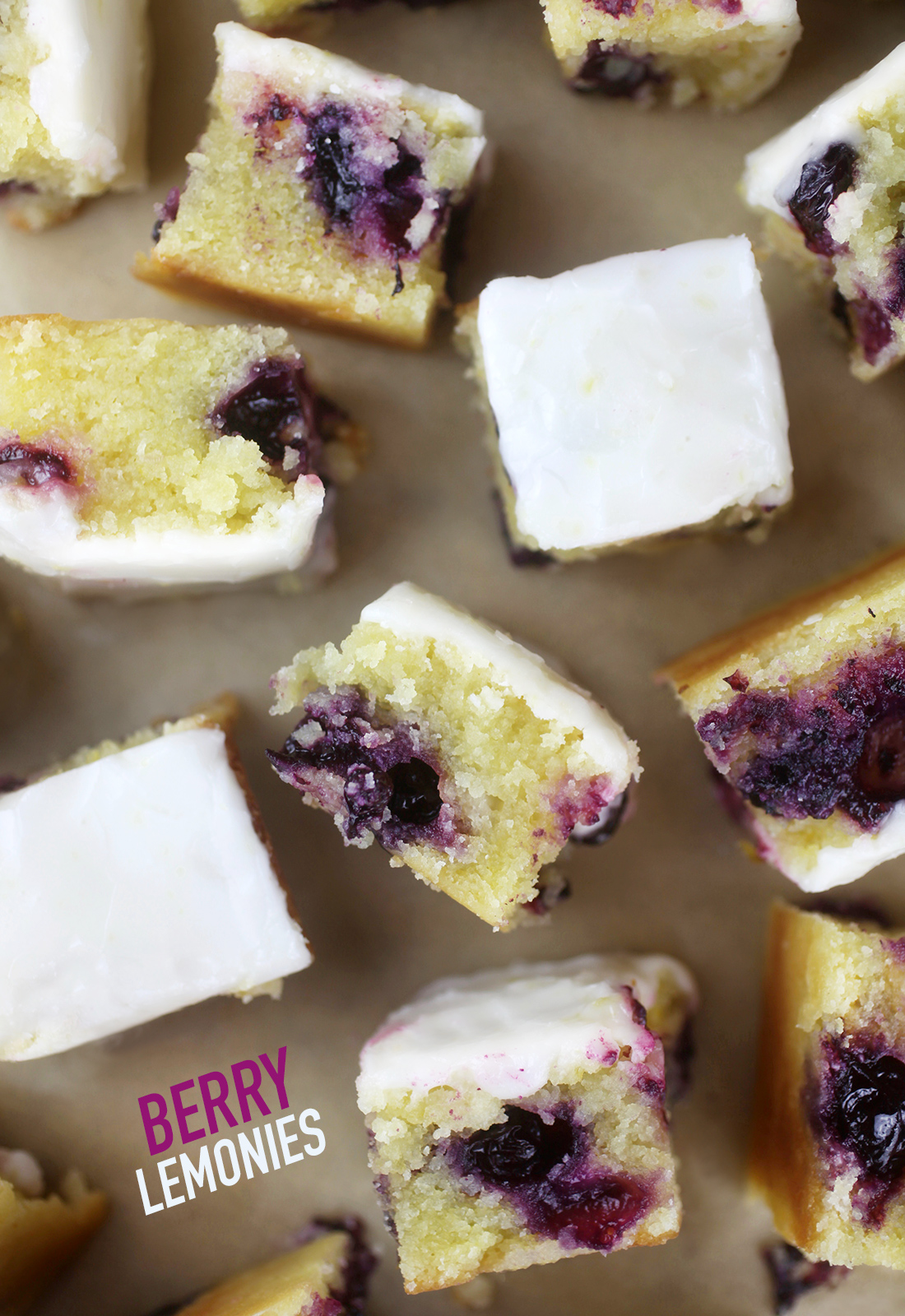 Hey friends! I'm sharing the recipe for these super sweet squares today and they are berry berry good. This crowd pleaser is based off my regular Lemony Lemonies recipe and I think you'll love it. They're like brownies, but totally lemony.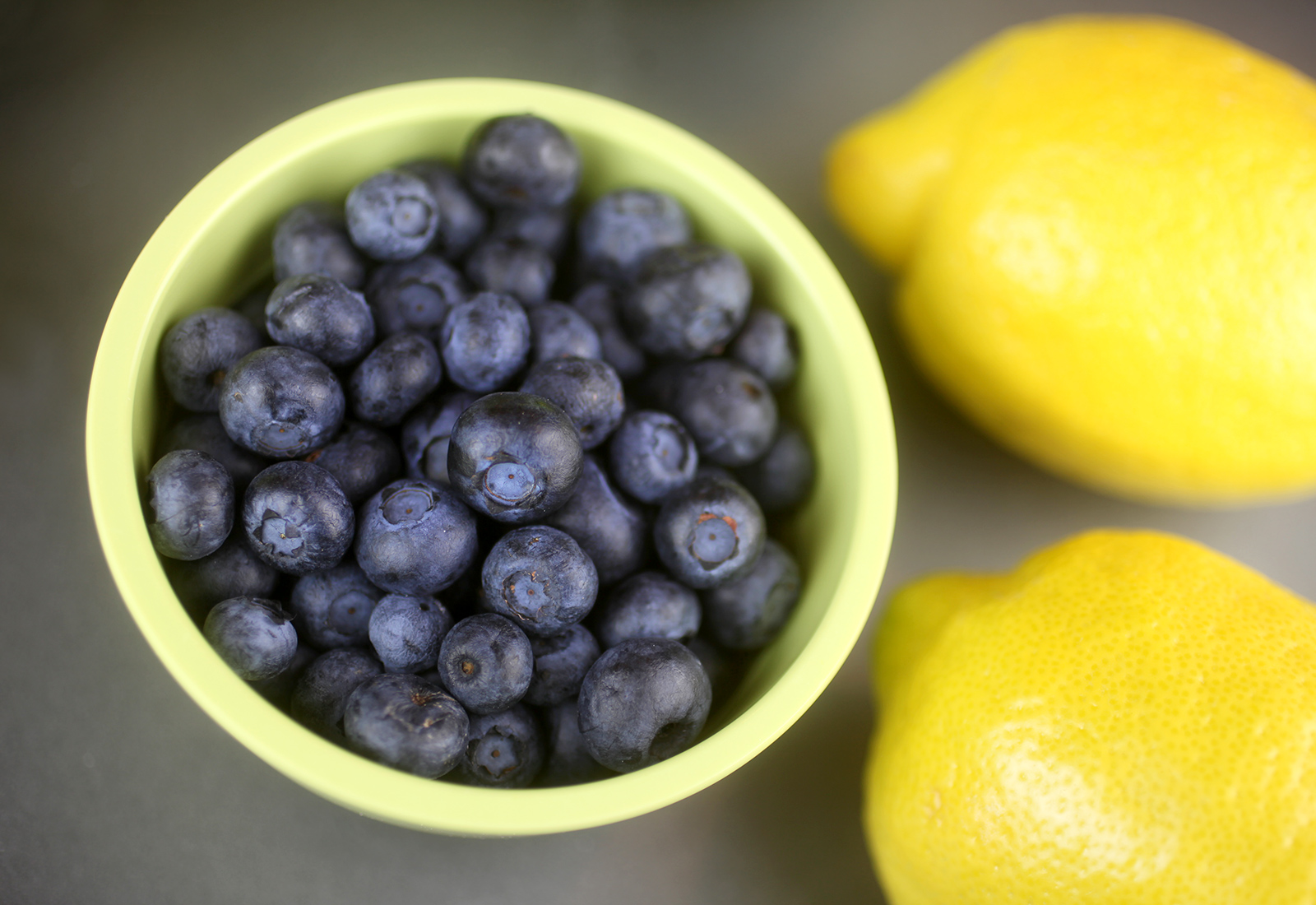 They are packed with lemon flavor and dotted with fresh blueberries throughout. And when I say packed, I mean you better pucker up because these are for all my lemon lovers out there.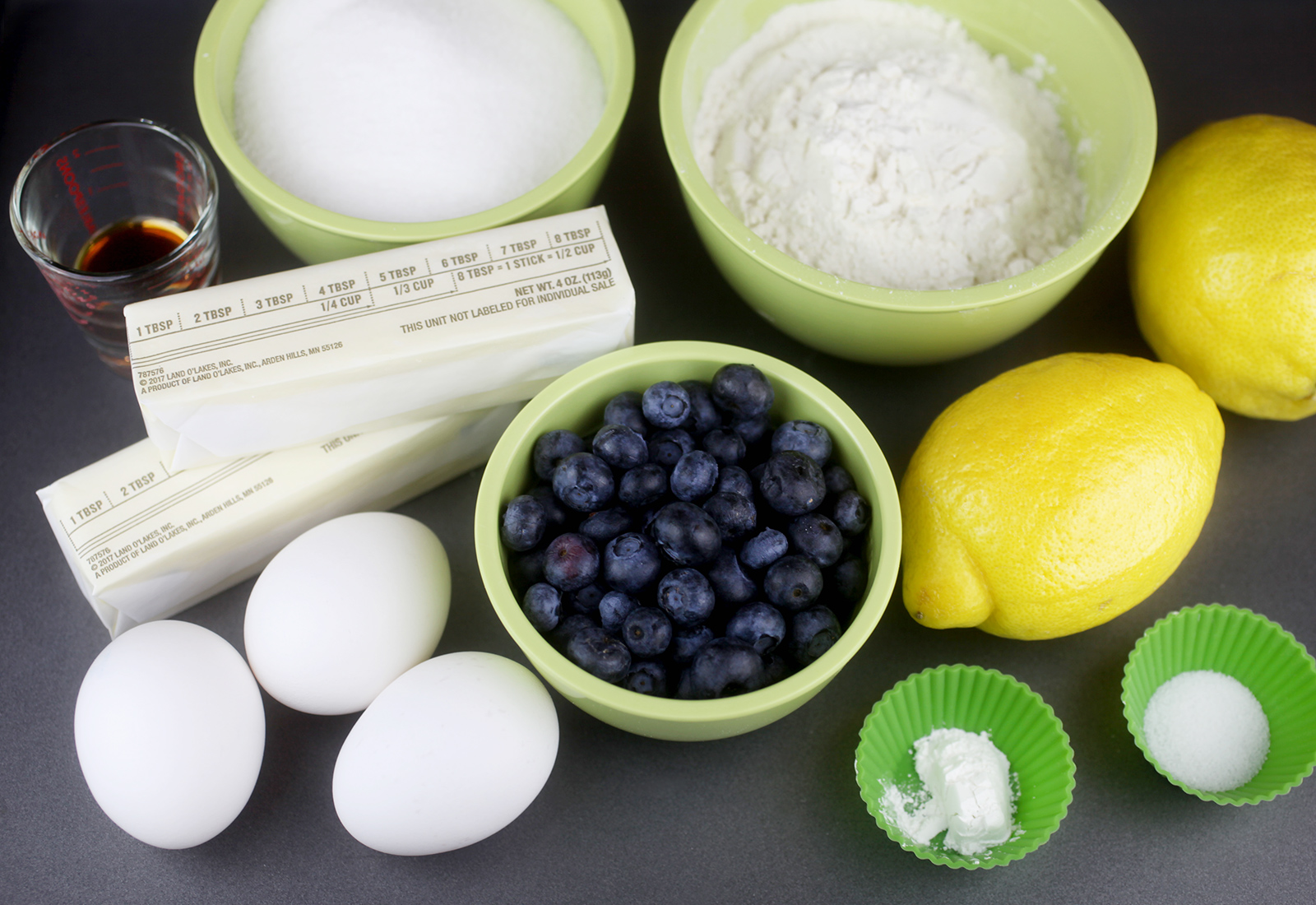 Now, let's grab our ingredients and get baking.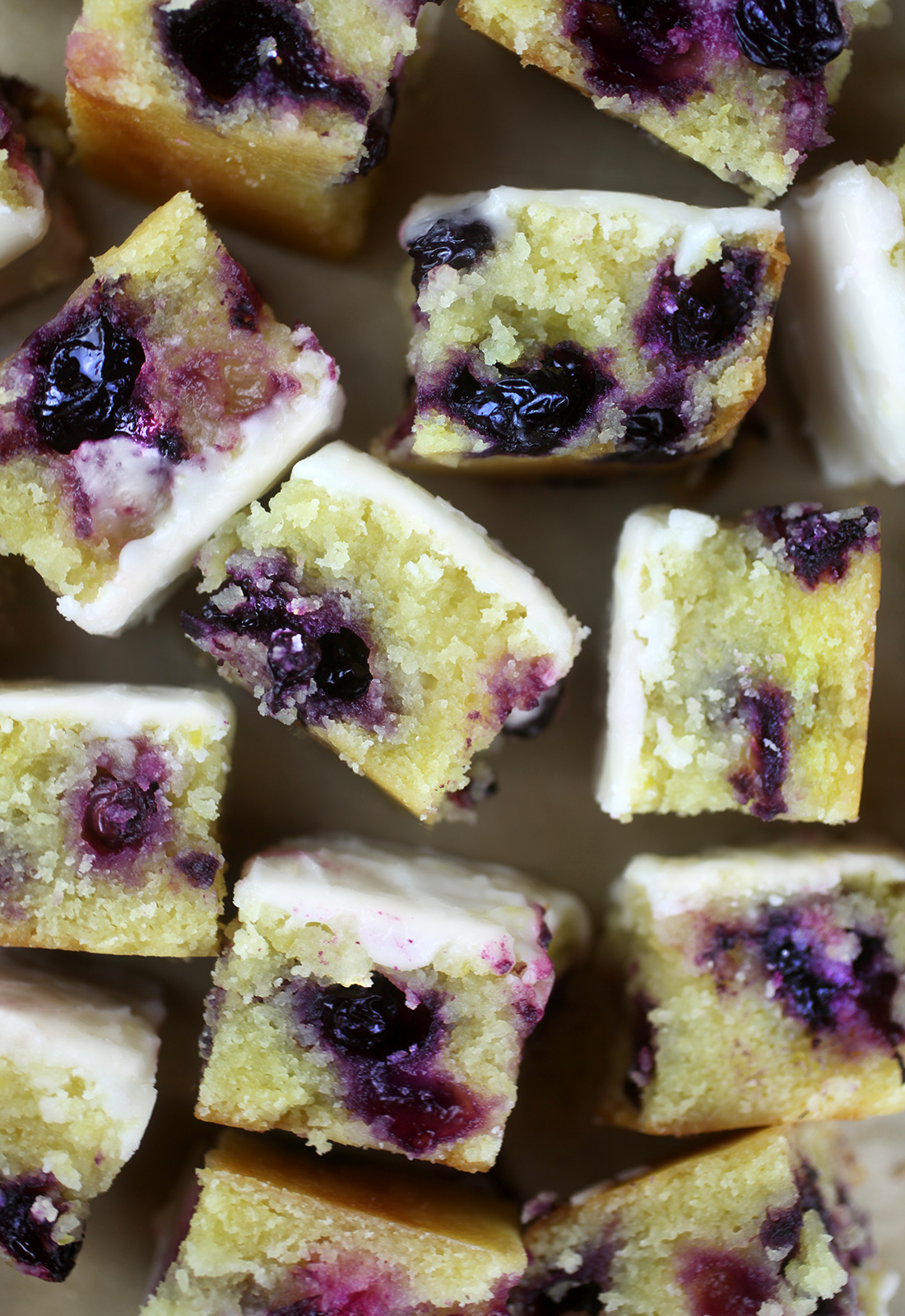 Done. Just kidding. But dang, these look so good. I can taste them through the screen.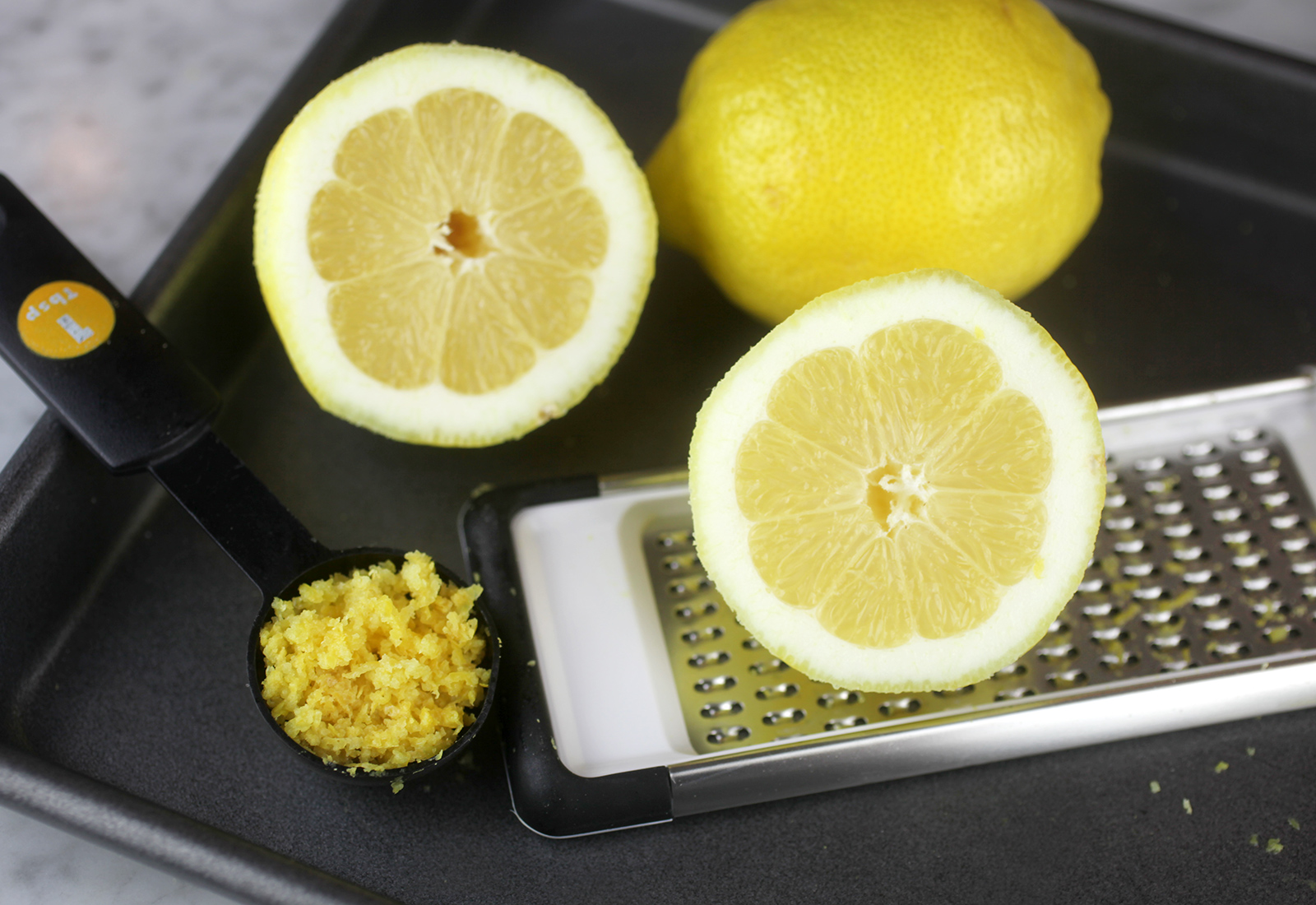 Fresh lemons and lemon zest are key to sweet success when baking these. I used a grater for zesting this time and I don't think I will ever go back. So much easier than a regular zester. And the best part about making them is that you don't even need a mixer. Just stir all the ingredients together in a large mixing bowl and you are good to go.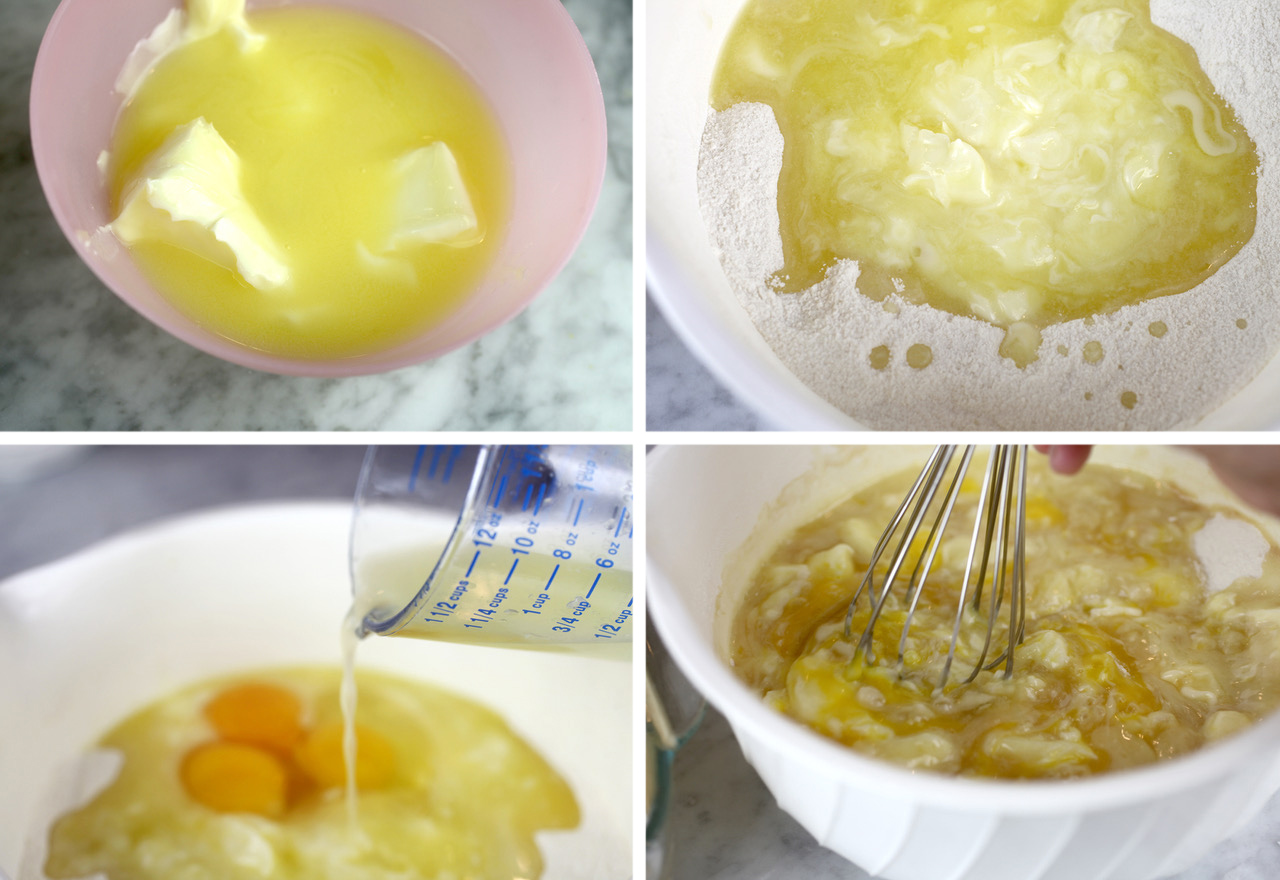 Semi-melted butter, flour, salt, baking powder, eggs, sugar, vanilla, lemon juice and zest. Mix it all until just combined.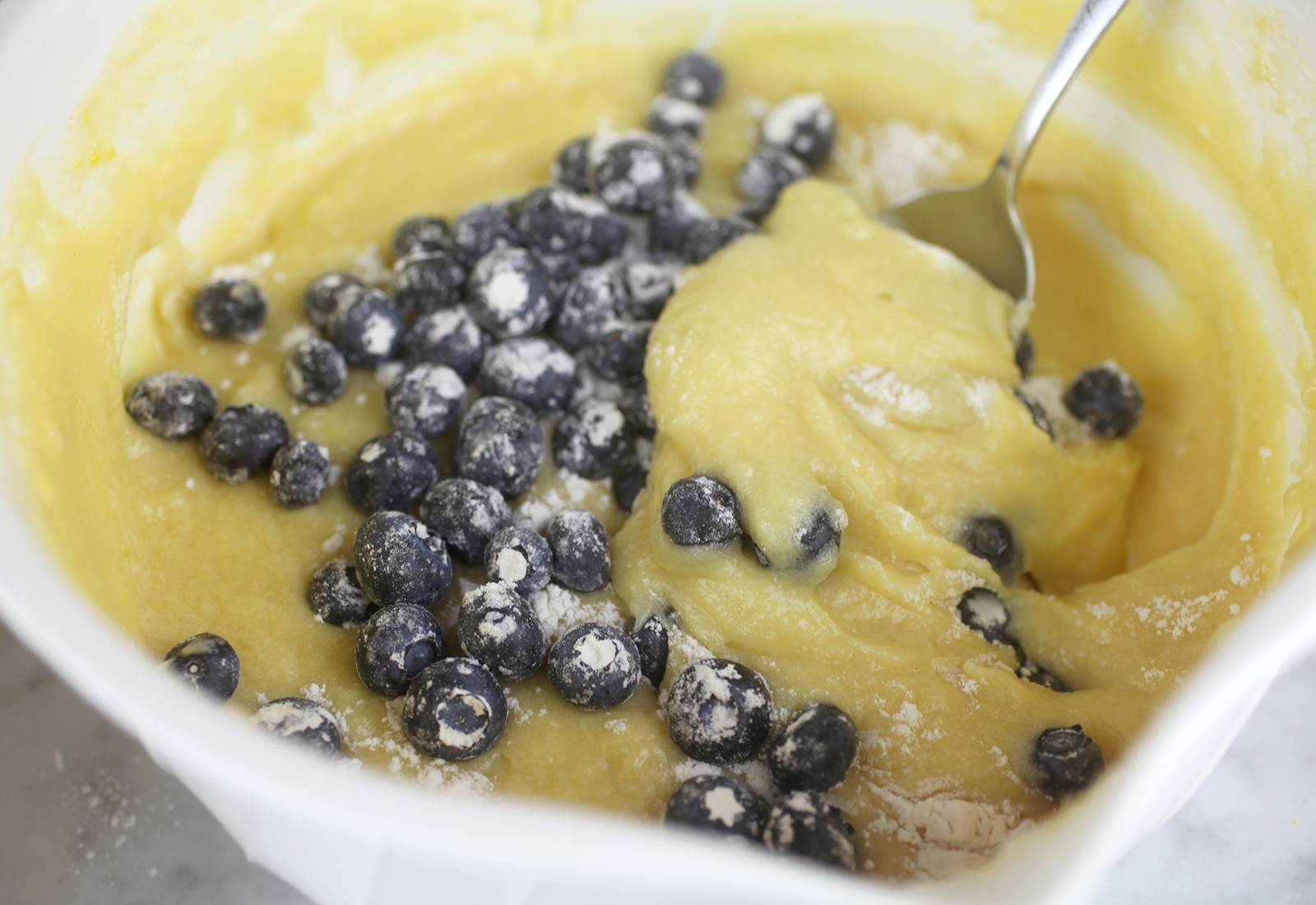 Stir the blueberries in at then end. I like to dust them in a little flour to help them from sinking in the batter.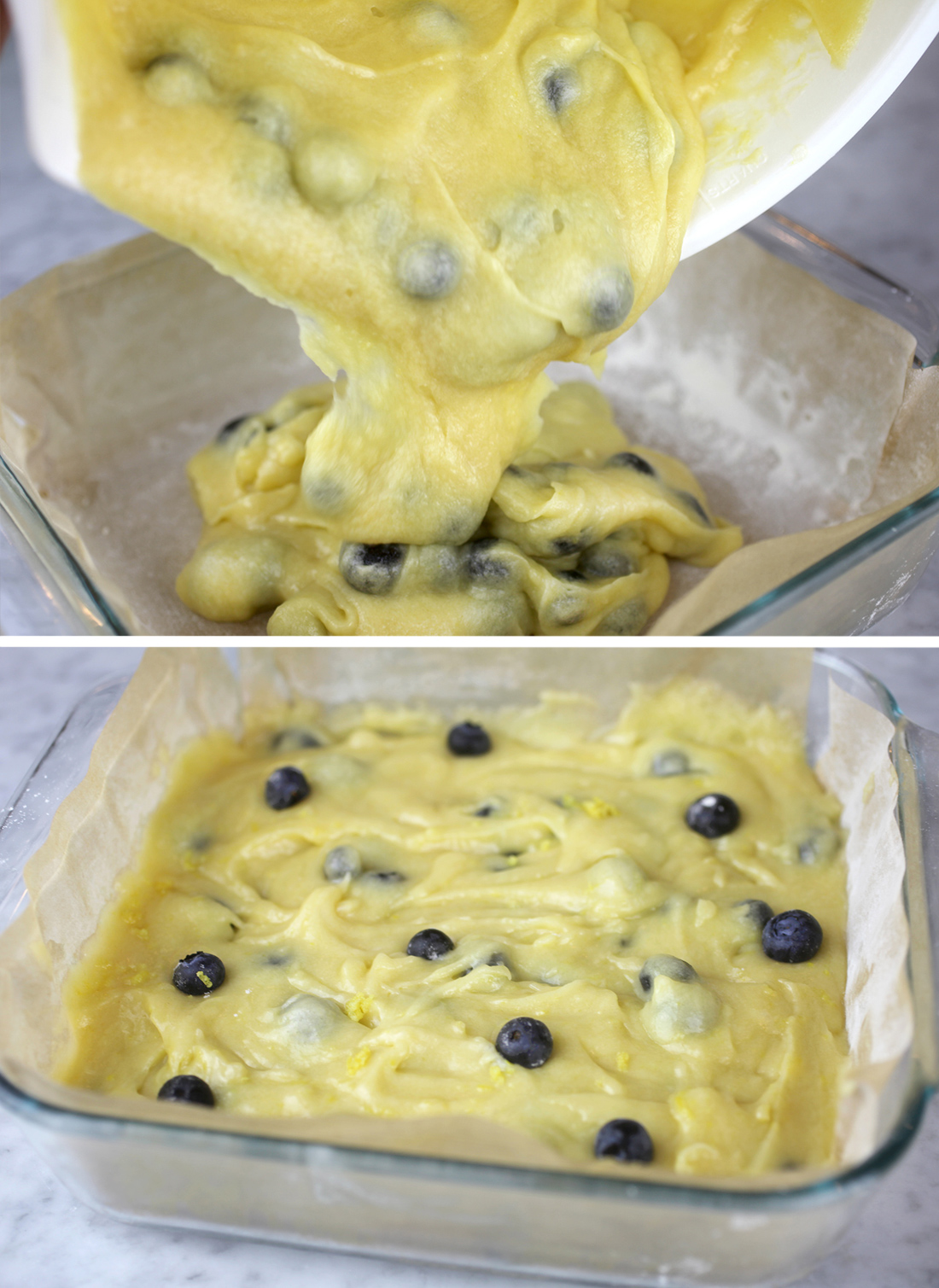 Pour everything in a prepared 8 X 8 inch pan. Grease the pan, line with parchment paper and then grease and flour the paper. This way you can lift everything easily out from the pan. I will do this when I need to take photos, but if my game plan is devouring them, then I'll just grease and flour the pan. Glass baking dishes are my go-to for squares, bars and brownies. But only if they come with a lid.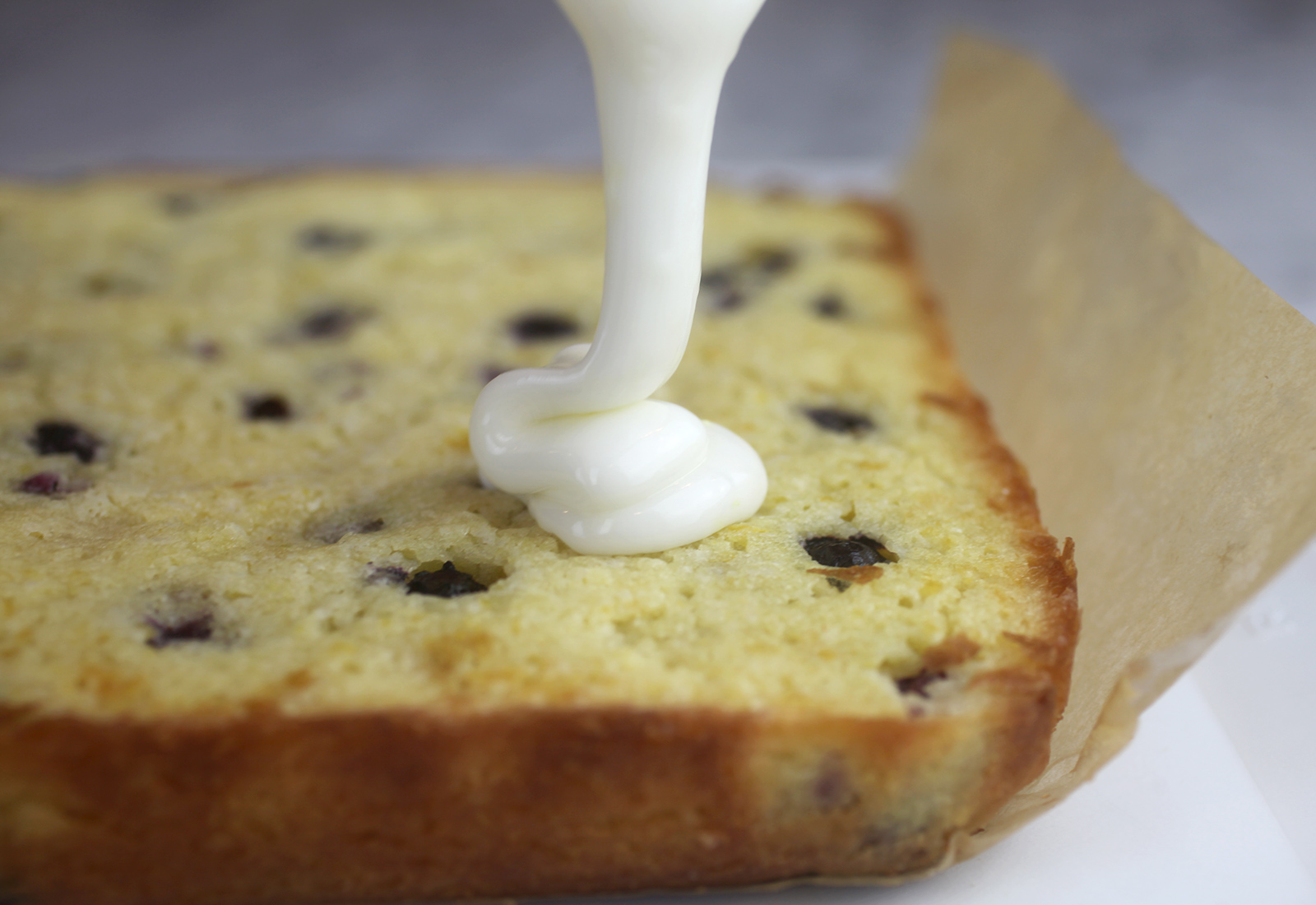 After the lemonies are baked and cooled. Pour the lemon icing on top in a thin layer and let it set. Then cut them into squares.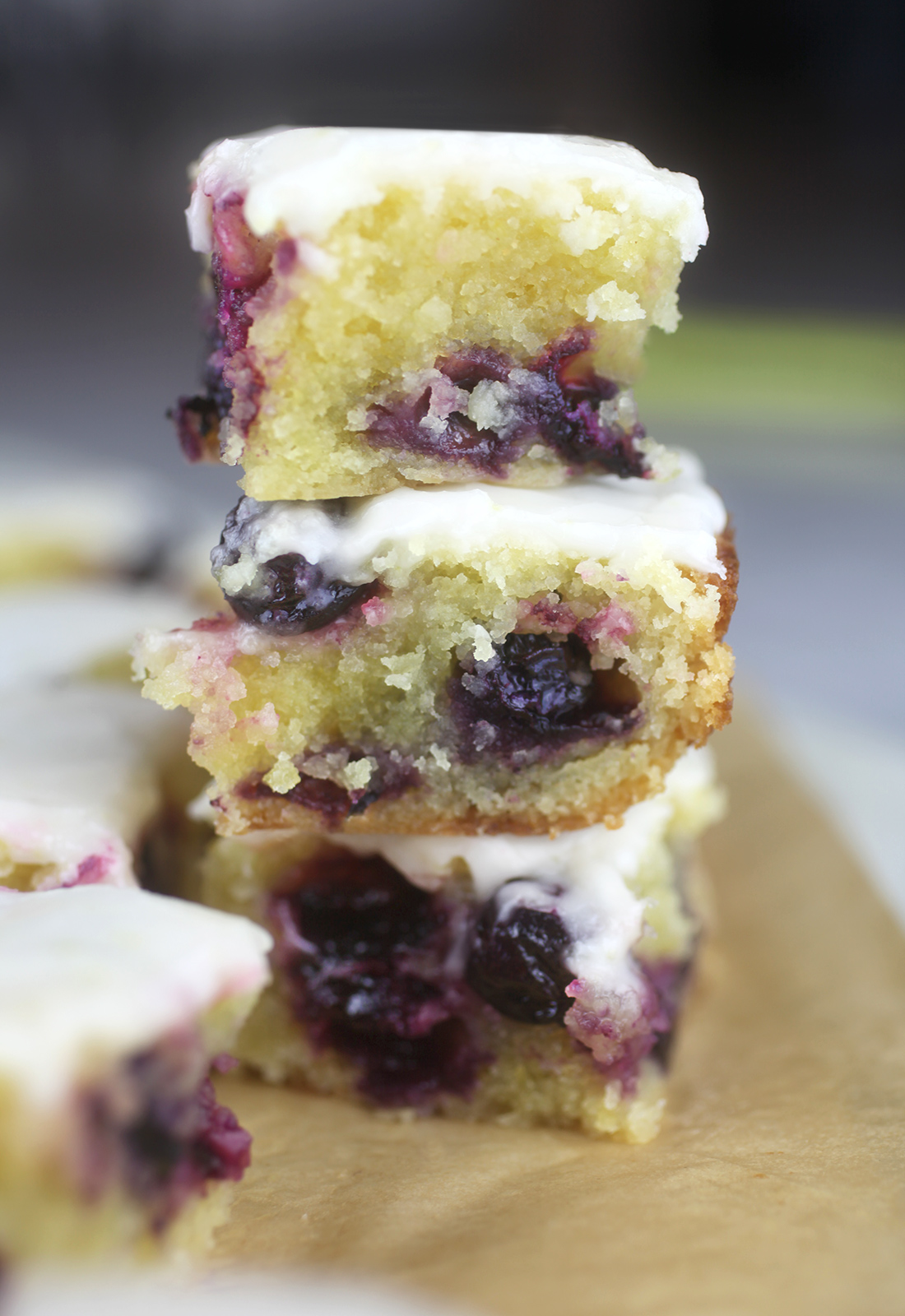 Look at that lusciousness. Obviously I could not wait. My icing is a little melty. But it was totally worth it.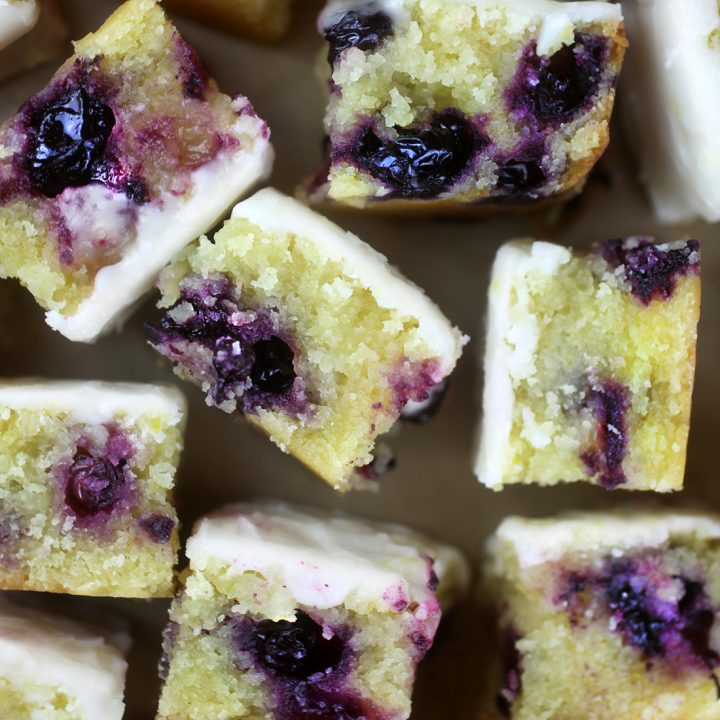 Yield: 25 little lemonies
Berry Lemonies
Additional Time
20 minutes
Total Time
1 hour
10 minutes
Ingredients
BERRY LEMONIES
1-1/4 cups all purpose flour
1-1/4 cups granulated sugar
1/4 teaspoon salt
1/2 teaspoon baking powder
1 cup unsalted butter, melted some and cooled, but not completely fluid
2 eggs, plus 1 egg yolk
1/4 cup fresh lemon juice
1 Tablespoon, plus 1 teaspoon lemon zest
1-1/2 teaspoons vanilla
1 cup fresh blueberries
LEMON ICING
1-1/2 cups confectioners' sugar
2 Tablespoons lemon juice
1 teaspoon lemon zest
Instructions
Preheat oven to 350 degrees Fahrenheit.
Grease and flour an 8 X 8 inch baking dish.
Whisk flour, sugar, salt and baking powder together in a large bowl.
Add semi-melted butter, eggs, lemon juice, lemon zest, and vanilla. Stir until combined.
Toss blueberries in a tablespoon of flour to coat, then gently stir blueberries into the batter.
Pour into prepared baking dish and bake for 32-35 minutes or until done. Let cool.
For the icing: Sift confectioners' sugar in a medium bowl. Stir in lemon juice and zest until completely combined and fluid. Pour evenly over lemonies. Allow the icing to set completely and cut into 25 small squares. Store in an airtight container on the counter or enjoy them cold from the fridge.
Notes
Have 3 large lemons on hand for the lemon juice and zest.