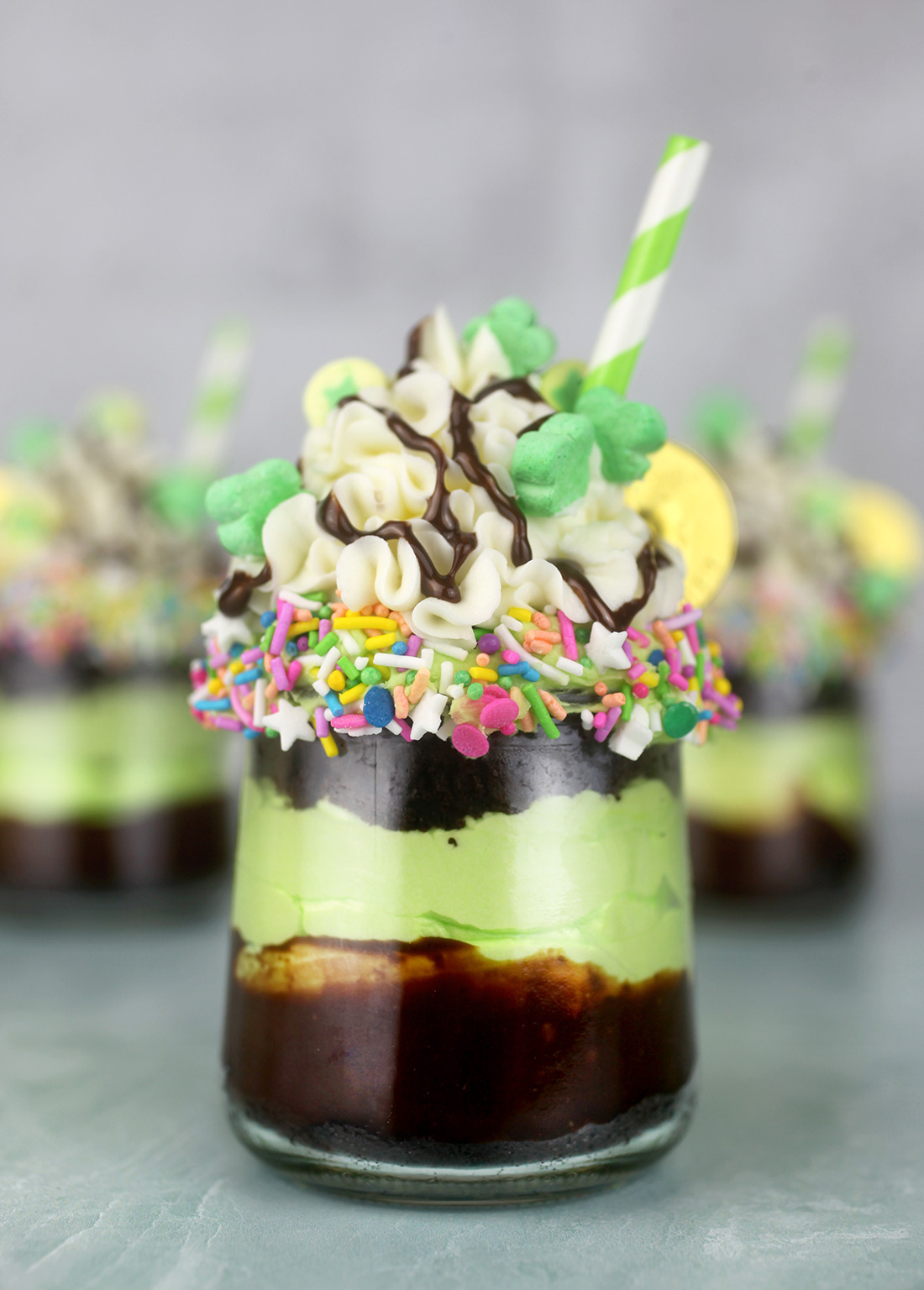 Let's shake things up for St. Patrick's Day with festive little cakes all dressed up for the occasion. These little shamrock shakes are full of cake, ganache and frosting layered in a little glass jar to simulate a very mini melt-free milkshake.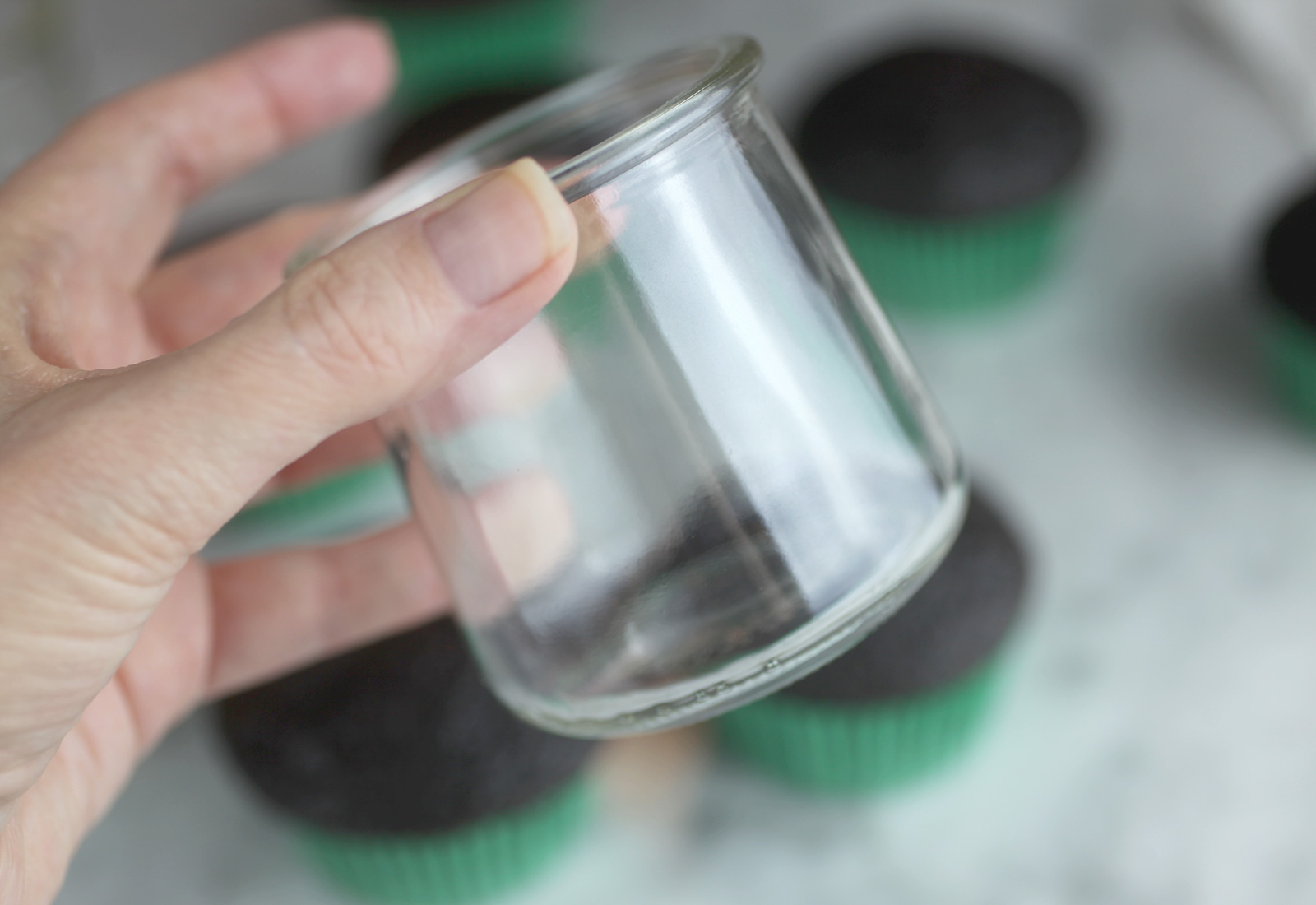 Look at these glass jars. So cute. I saved a few of these from a brand of yogurt I bought recently called Oui Yogurt and I just had to keep them knowing they would come in handy someday. And today's that day.
You can make these mini cakes from the recipe below, but let's get layering so I can show you how I assembled everything together.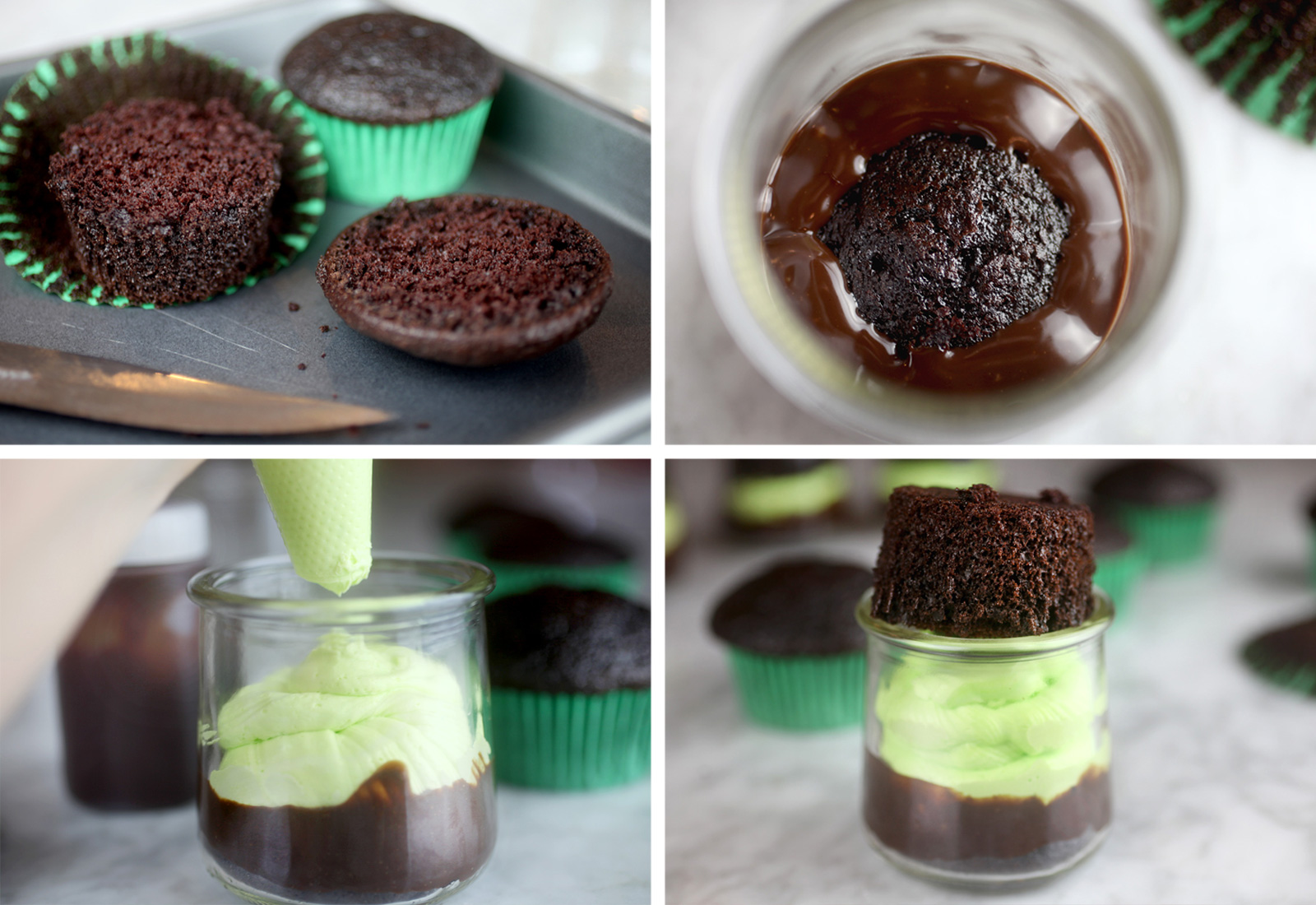 Bake the chocolate cupcakes and let them cool. These cupcakes bake up with a nice domed top. Trim the domes off as shown in the top left photo above and then place it flat side down in the bottom of the glass jar.
Then pipe some ganache inside the jar, around the edges to about the same level as the height of the domed cupcake.
Now pipe in some mint-flavored and green-tinted buttercream frosting. Then just use the remaining portion of the cupcake and press it, cut side down into the frosting until it pushes and fills the buttercream in against the side of the jar.
These Oui yogurt jars worked perfectly with my cupcakes, but you can also use other small glass jars you have access to. You just may need to fill in with more frosting or ganache and if the jar is wider than the diameter of your cupcake, you can also cut the cake up into smaller sections and treat layering them in the glass jar more like you would a trifle.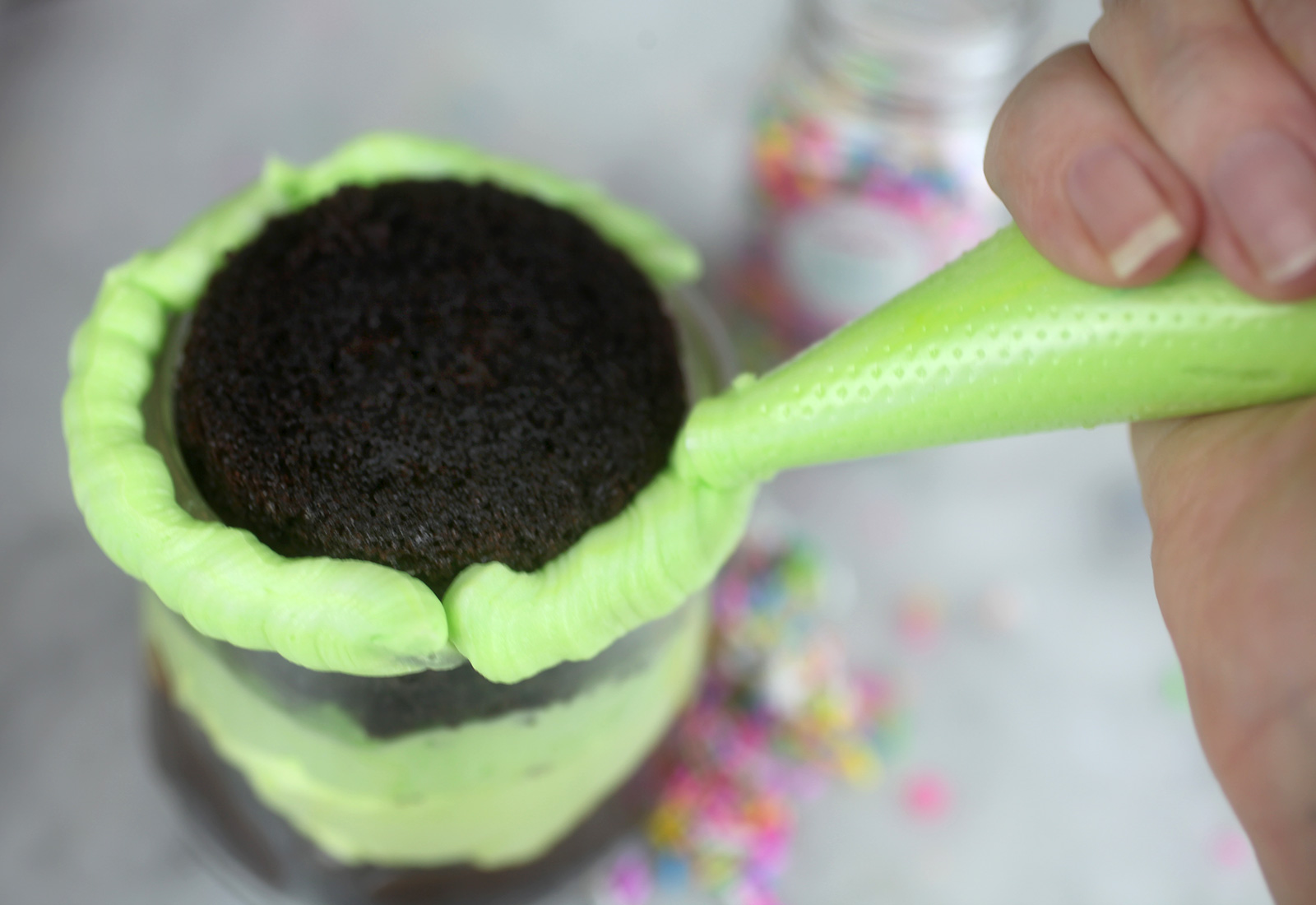 Once the jar is filled, it's time to decorate the tops. Pipe a ring of buttercream around the rim of the glass.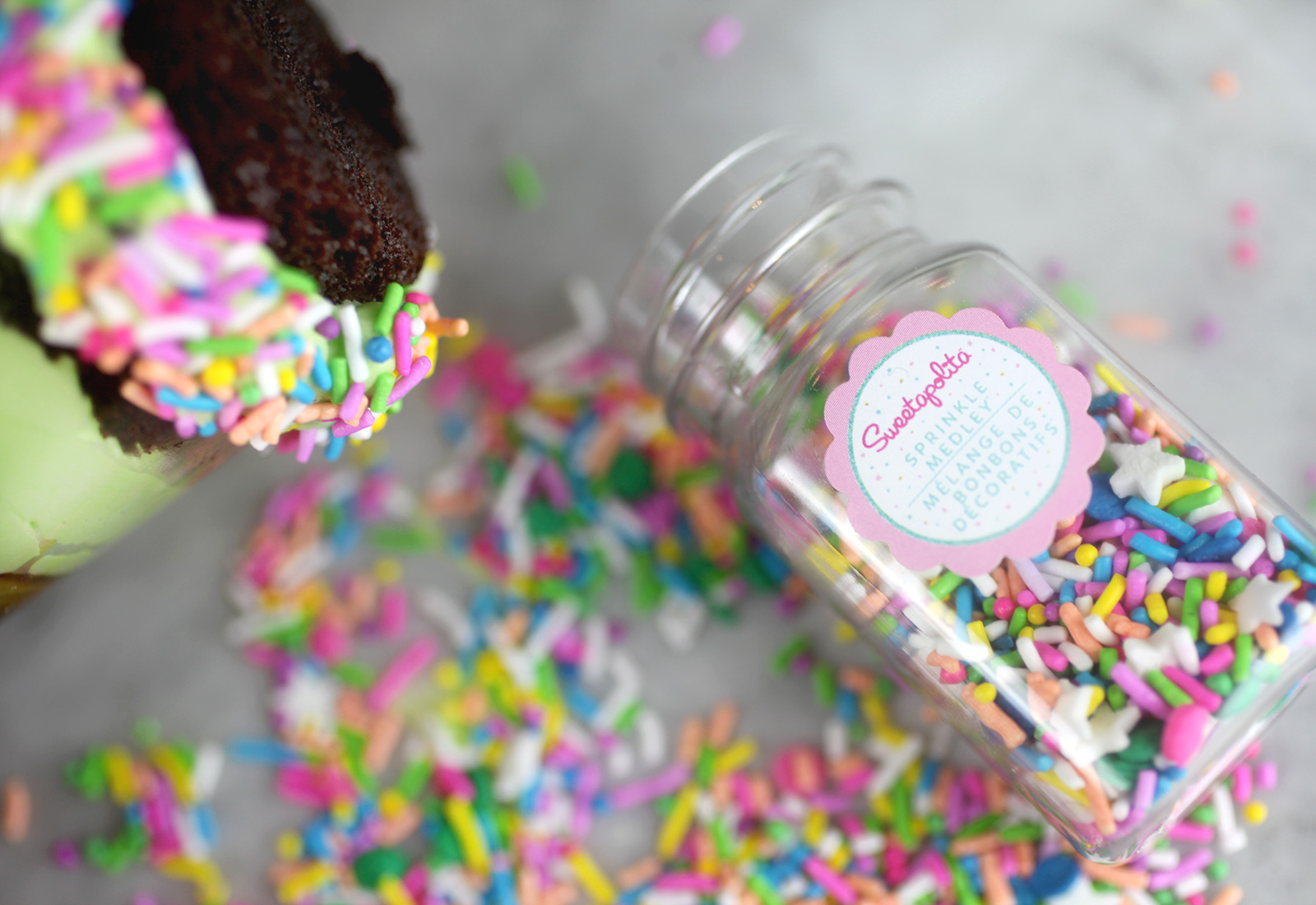 Then sprinkle on some pastel jimmies or confetti sprinkles and press gently into the frosting to make sure they are attached. I used my Sweetapolita sprinkles for these.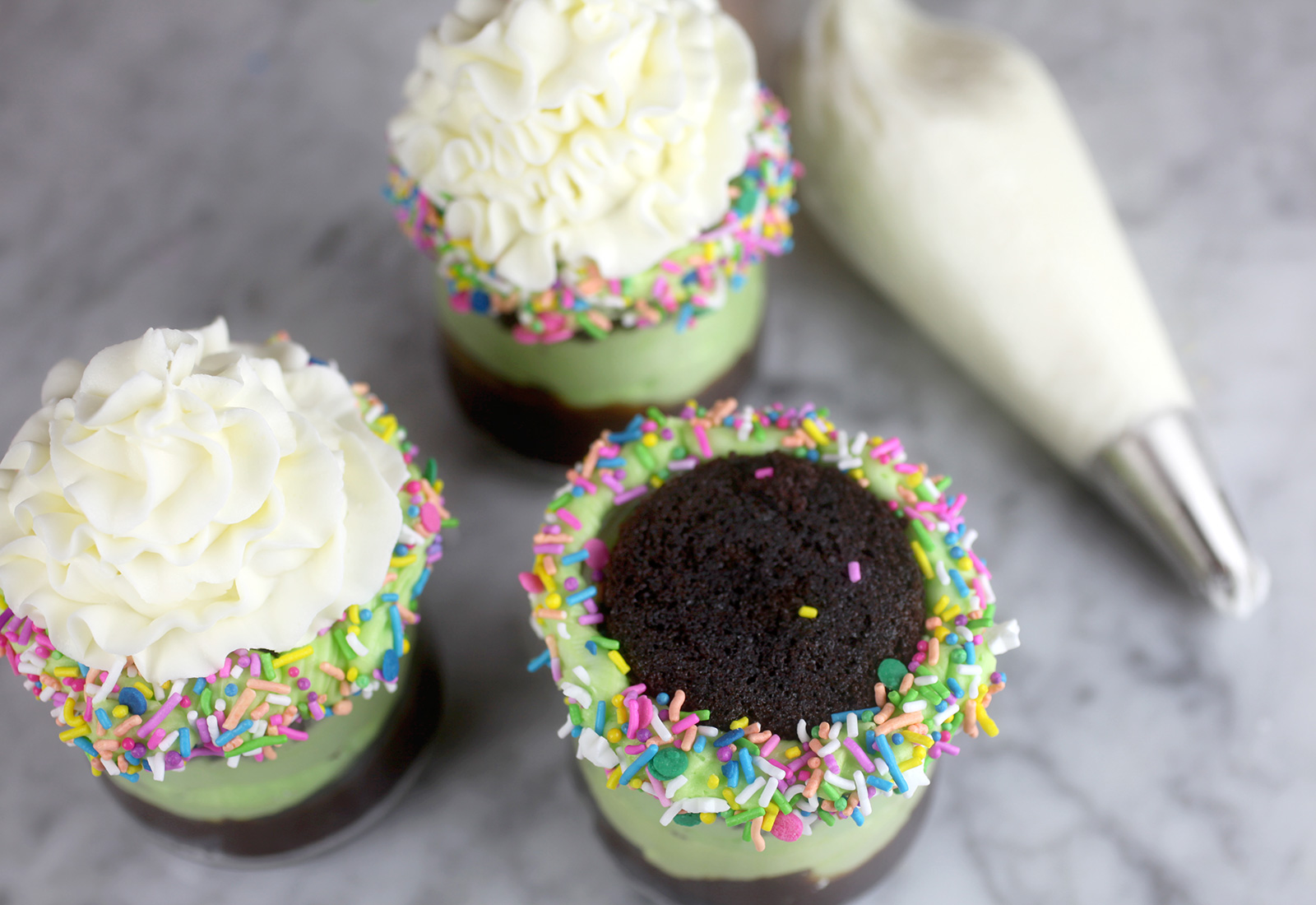 Pipe white buttercream frosting using a Wilton 2D decorating tip to simulate a whipped cream topping.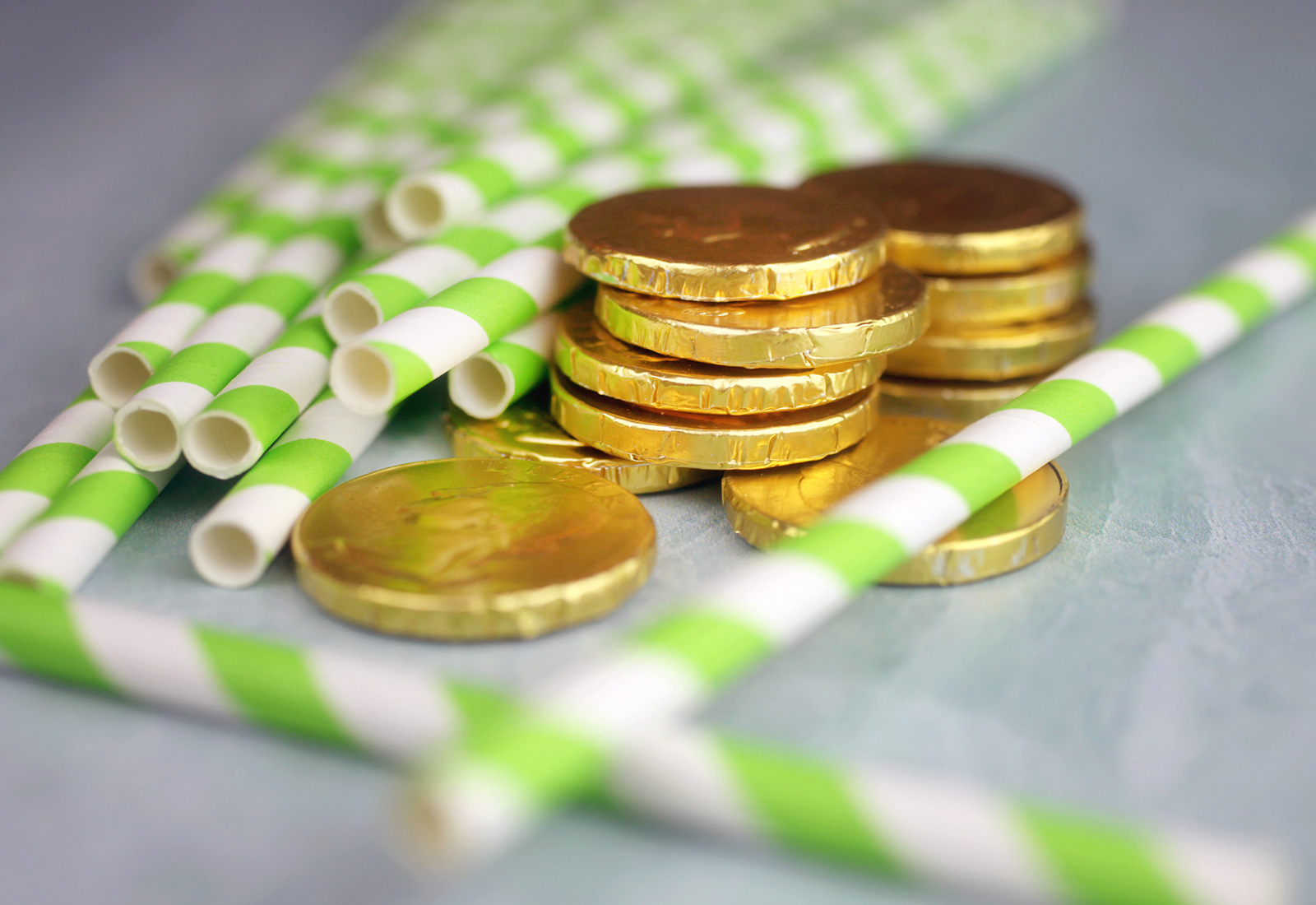 Striped straws and chocolate coins you say. Yes, yes, I do.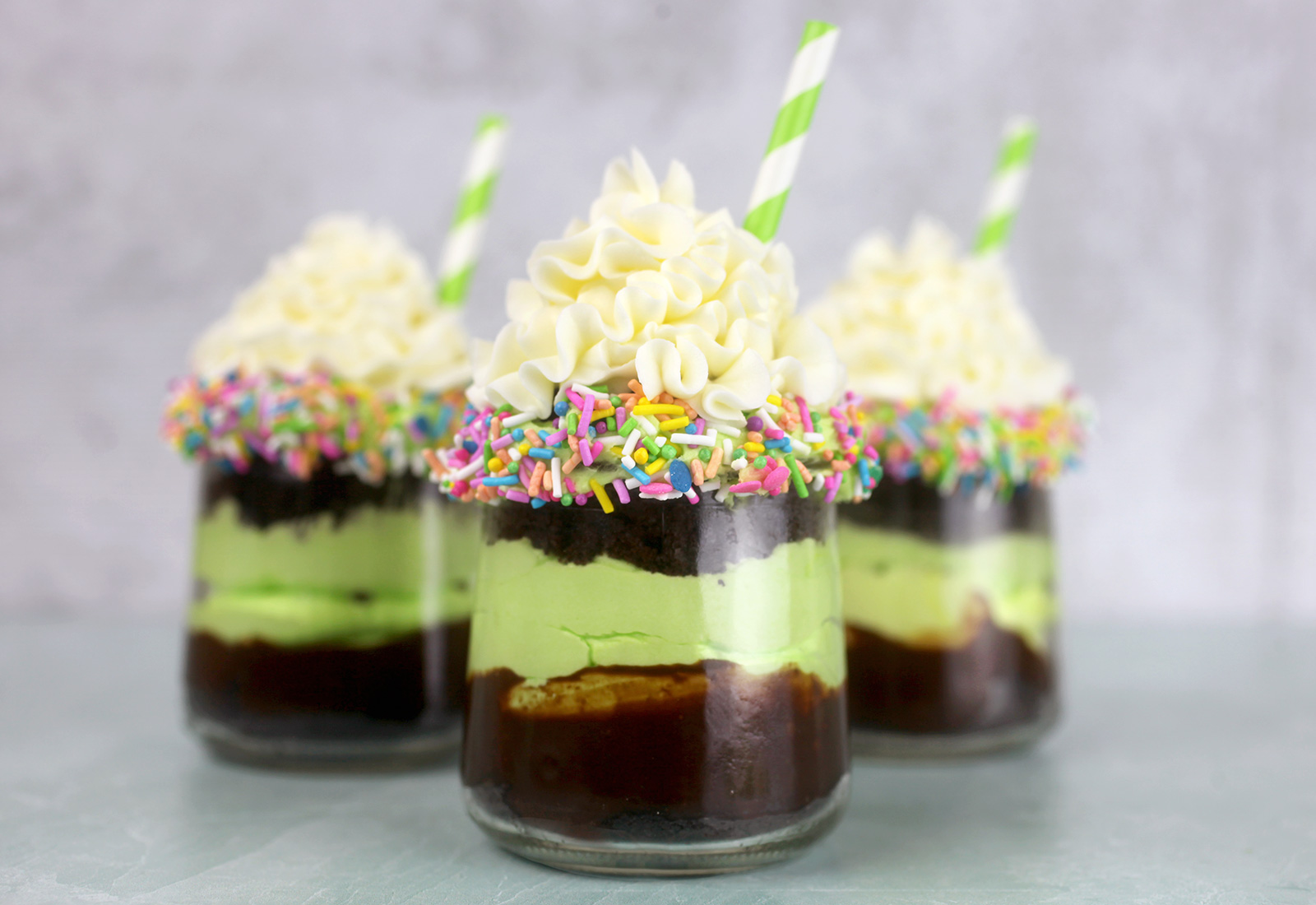 Look how cute. But we're not done yet.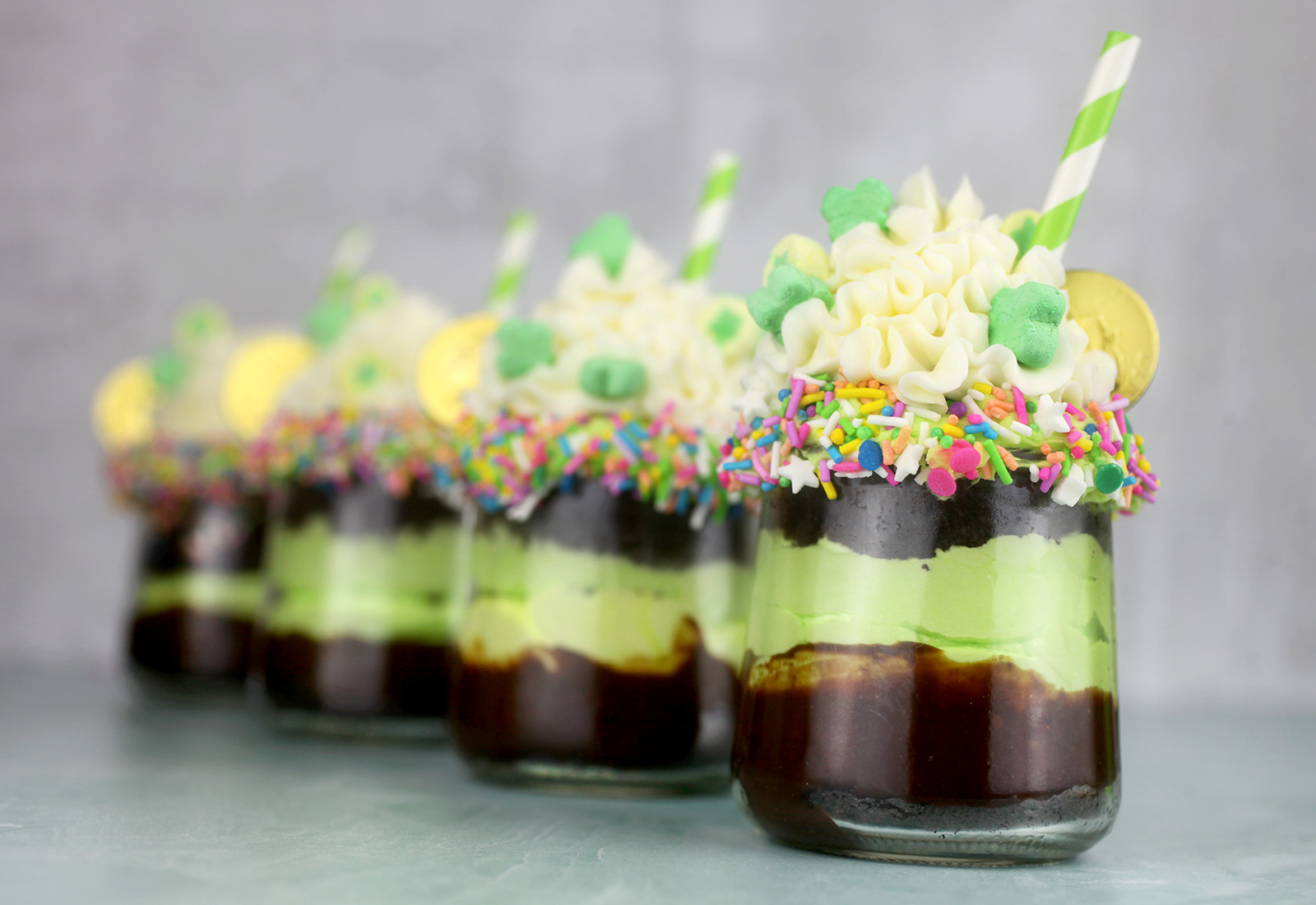 Add a few Lucky Charm shamrock marshmallow shapes right on the top.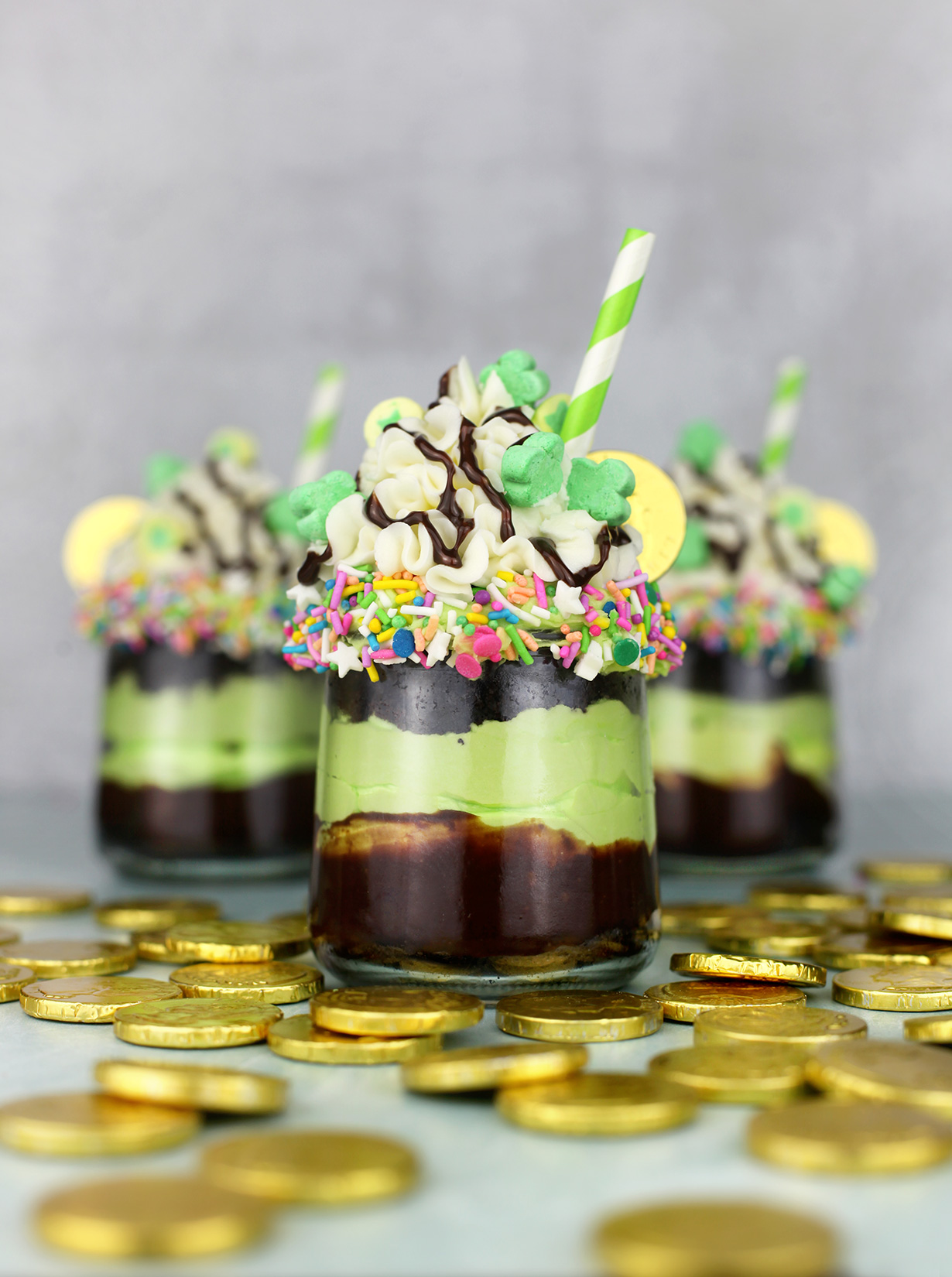 Oh my ganache! They are even cuter with chocolate drizzled on top.
Note: If you want to add the ganache, do it before attaching the shamrock shapes.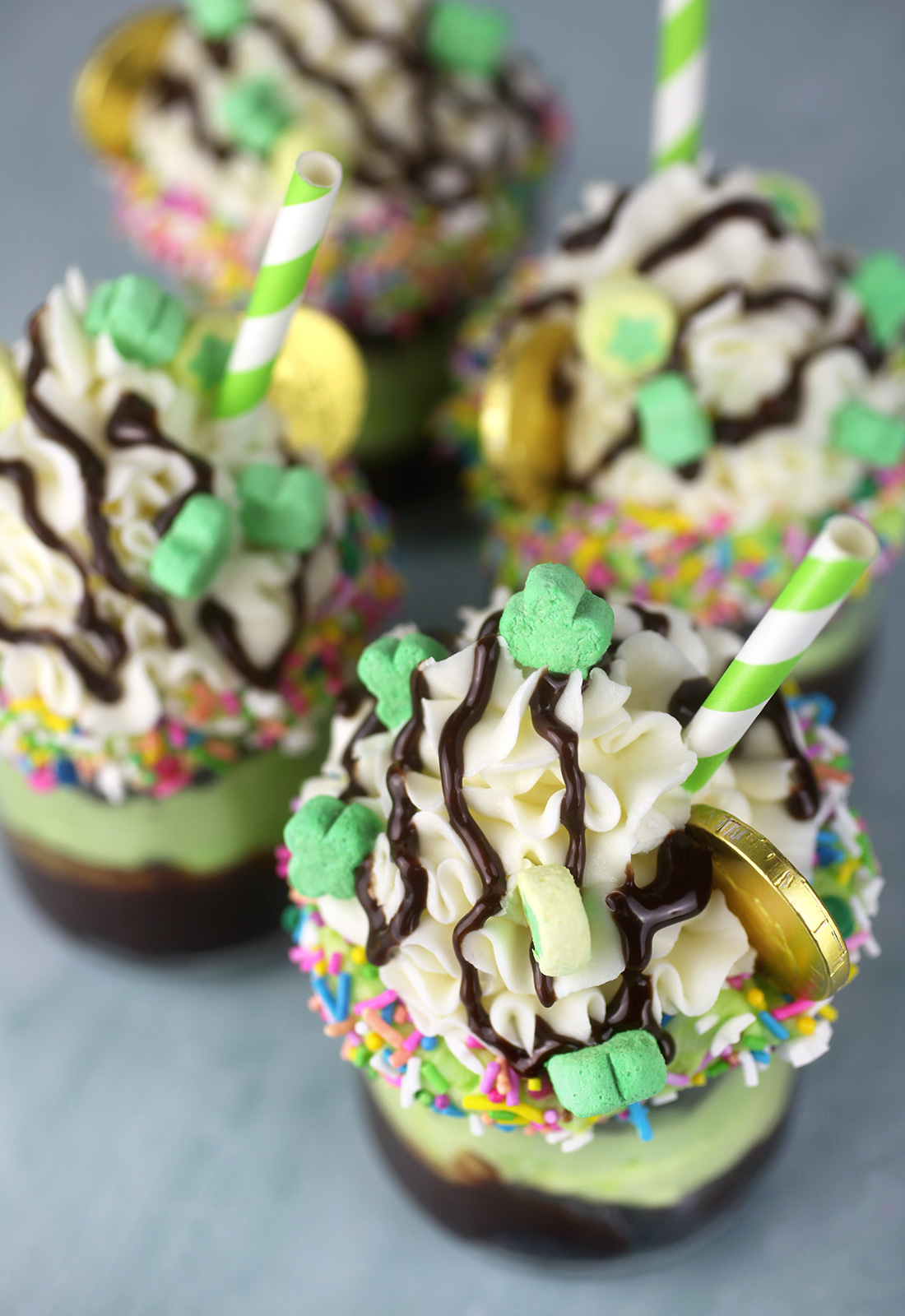 Someone would be really lucky to get these yummy treats!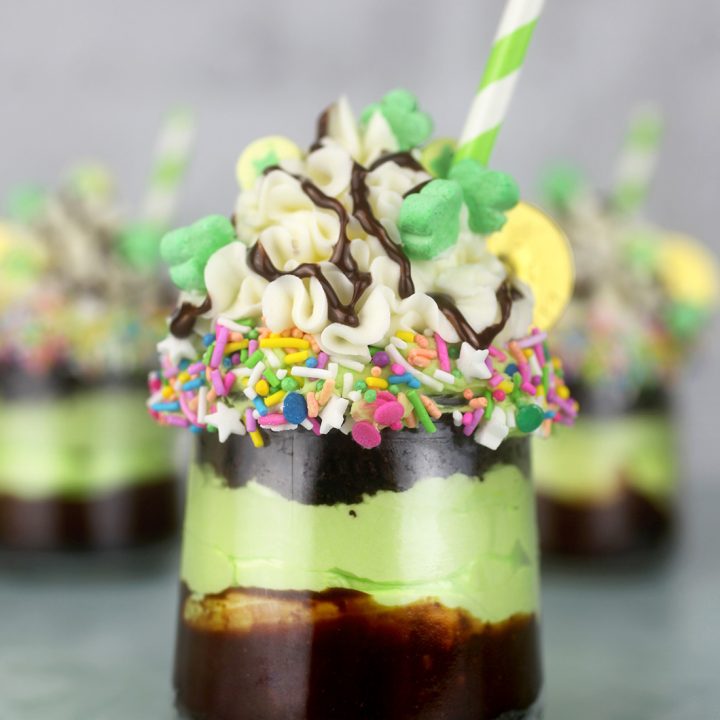 Mini Shamrock Shake Cakes
Ingredients
Chocolate Cupcakes
1-1/2 cups all purpose flour
2/3 cup natural unsweetened cocoa
1-1/2 cups granulated sugar
1 teaspoon baking soda
1/2 teaspoon baking powder
1/2 teaspoon salt
2 eggs
1/3 cup vegetable oil
2 teaspoons vanilla
2/3 cup whole milk
1/2 cup hot water
Ganache
1/2 cup heavy whipping cream
2 tablespoons butter
1/2 cup semisweet chocolate morsels
Mint Buttercream
2 sticks butter, room temperature
16 oz (1 lb. package) confectioners' sugar
Mint flavoring (peppermint (see notes)
1-2 tablespoons milk
1-2 drops green gel food coloring
Decorations
small glass jars (I used Oui yogurt jars)
green striped paper straws
pastel jimmies or confetti sprinkles
Lucky Charms cereal shamrock marshmallows
chocolate gold coins
Tools
Small squeeze bottle
piping bags
Wilton 2D decorating tip
Instructions
For the cupcakes: Preheat oven to 350 degrees Fahrenheit and line cupcake trays with 16 paper liners.
Sift dry ingredients together in the bowl of a stand mixer using a wire whisk.
Add eggs, oil, vanilla and milk and mix until combined.
Add the hot water slowly and mix until incorporated. The batter will be very liquid. Fill cupcake liners with batter about 2/3 full using a measuring cup for ease.
Bake cupcakes for about 15 minutes or until done.
For the ganache: Heat heavy cream and butter in a saucepan over medium heat until melted and combined. Stir often and remove before it begins to boil.
Pour cream and butter over chocolate morsels and let sit for about five minutes in a heatproof bowl. Whisk together until fully incorporated and smooth. The ganache will thicken as it cools. You can warm in microwave for about 10 seconds as needed for piping.
For the mint buttercream: Beat butter until creamy and smooth. Add confectioners' sugar slowly about a cup at a time and mix until completely combined. Add a teaspoon of milk at a time to the frosting to achieve your desired consistency. Add the mint flavoring and mix until combined. Divide the frosting in half and tint one half light green with gel food coloring. Start with one drop at a time until you achieve the desired color.
To Decorate: Remove cupcake wrapper and cut the dome of a cupcake off. Place the cupcake dome, cut side down in the bottom of the glass jar.
Pipe ganache inside the jar around the edge of the cupcake top using a small squeeze bottle until level with the cupcake.
Pipe green tinted frosting on top and then place the remaining portion of the cupcake, cut side down into the glass jar. Press gently, allowing the buttercream to push against the sides of the jar.
Pipe a thin line of green frosting around the rim of the jar and sprinkle jimmies on top to attach. Press them in gently if needed.
Prepare a piping bag with the 2D tip and pipe vanilla buttercream frosting to cover the top of the cupcake. Pipe in a circular motion starting on the outside and bring to a pointed tip.
Pipe ganache on top of the frosting using the squeeze bottle. Insert a paper straw angled to one side, sprinkle on shamrock marshmallows and insert a gold wrapped chocolate coin if desired.
Notes
Mint Flavoring Options: Peppermint flavoring, creme de menthe candy flavoring, and mint chocolate chip flavoring are all options. Read instructions on packaging to determine best amount. Candy oils usually have more concentration of flavor and a little can go a long way.

How many cake jars will the recipe make? The cupcake recipe makes 16 cupcakes and the buttercream recipe yielded enough for four glass jar cakes using a large amount of frosting for each. You can dip the remaining cupcakes in chocolate ganache or make another batch of buttercream for another group of four cupcakes. You can also use less frosting to decorate more little cakes.

The fun thing about these shake cakes is trying different color and flavor combinations for different holidays and events.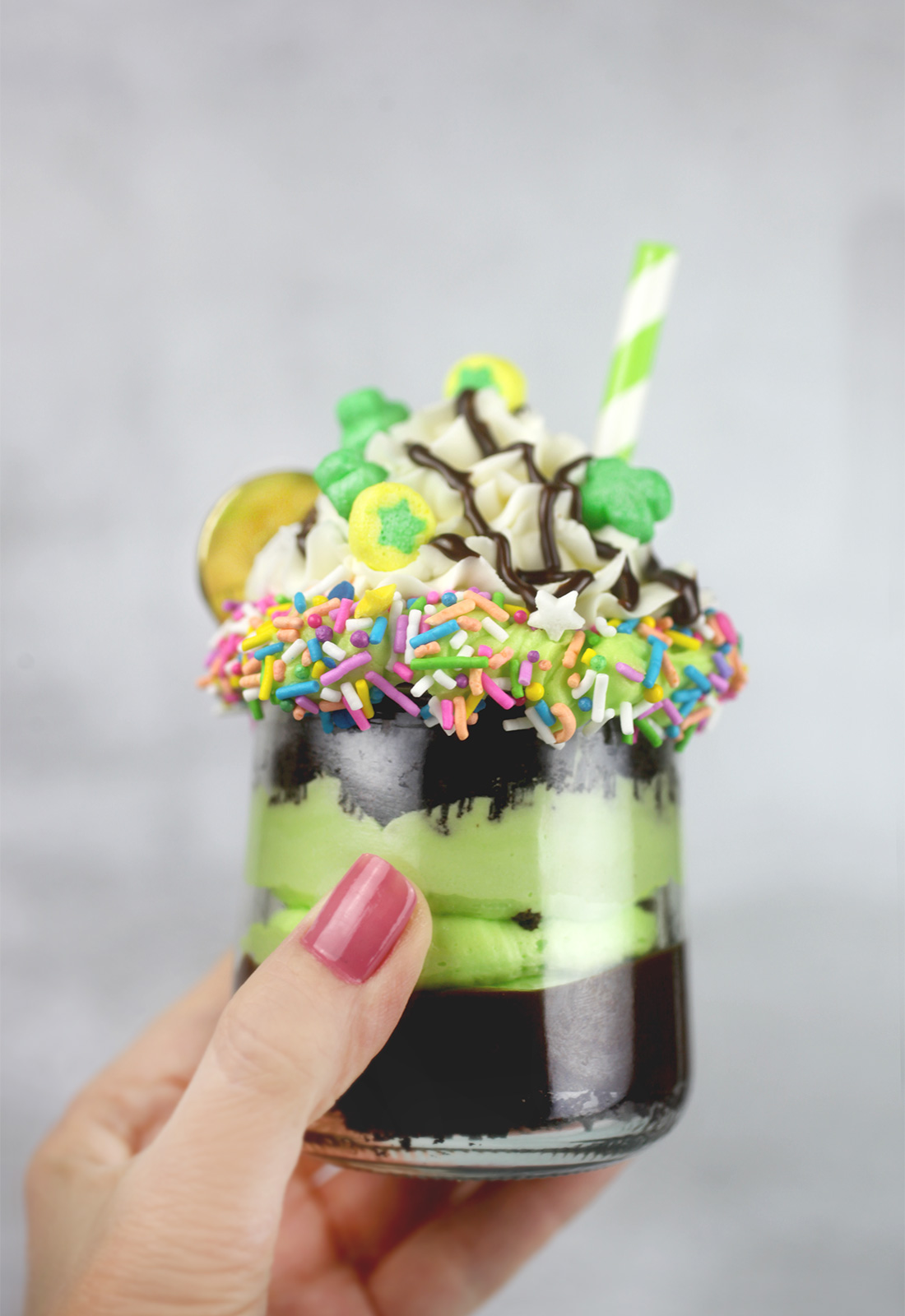 Bottoms up!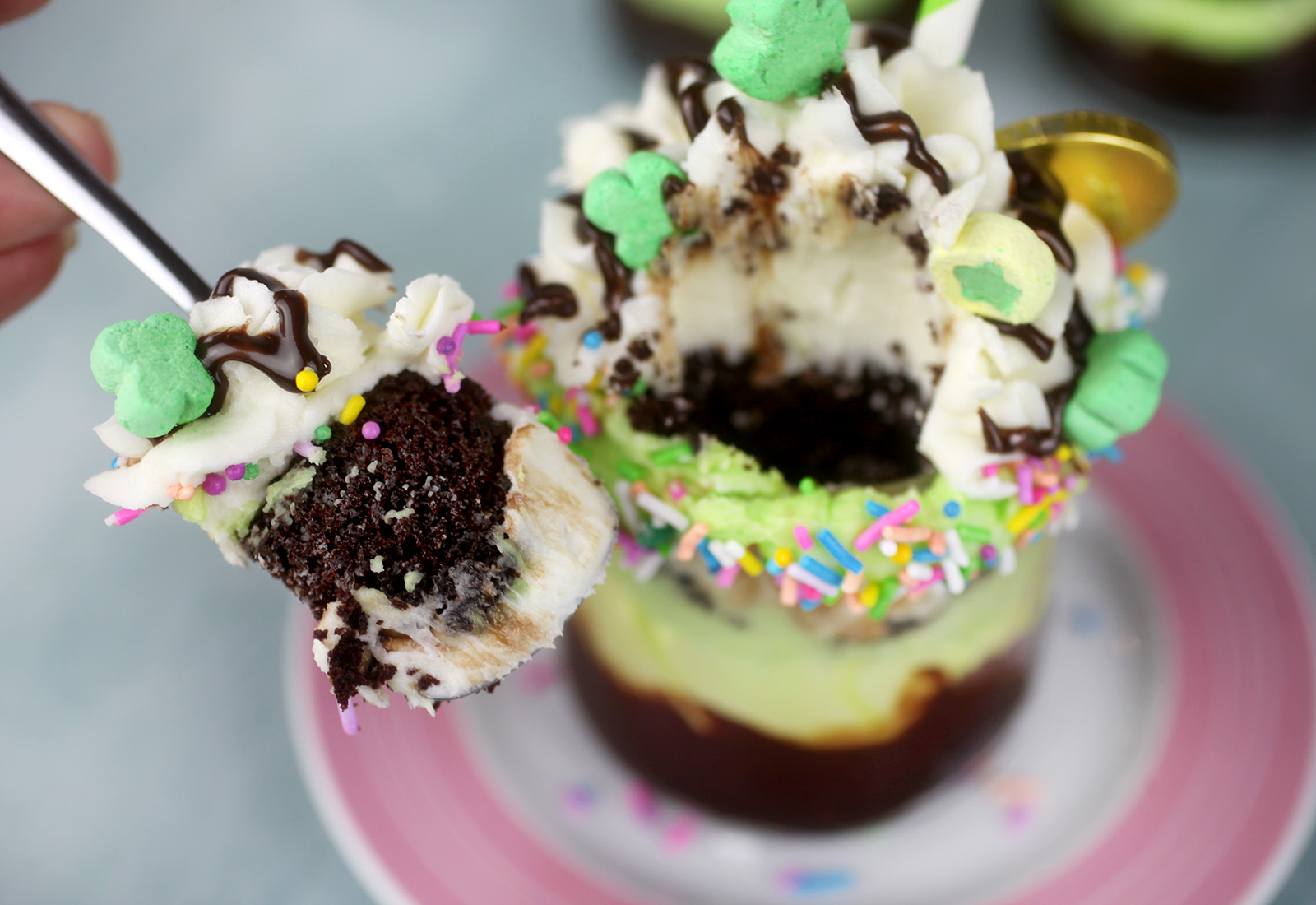 Hope you enjoy and Happy St. Patrick's Day!