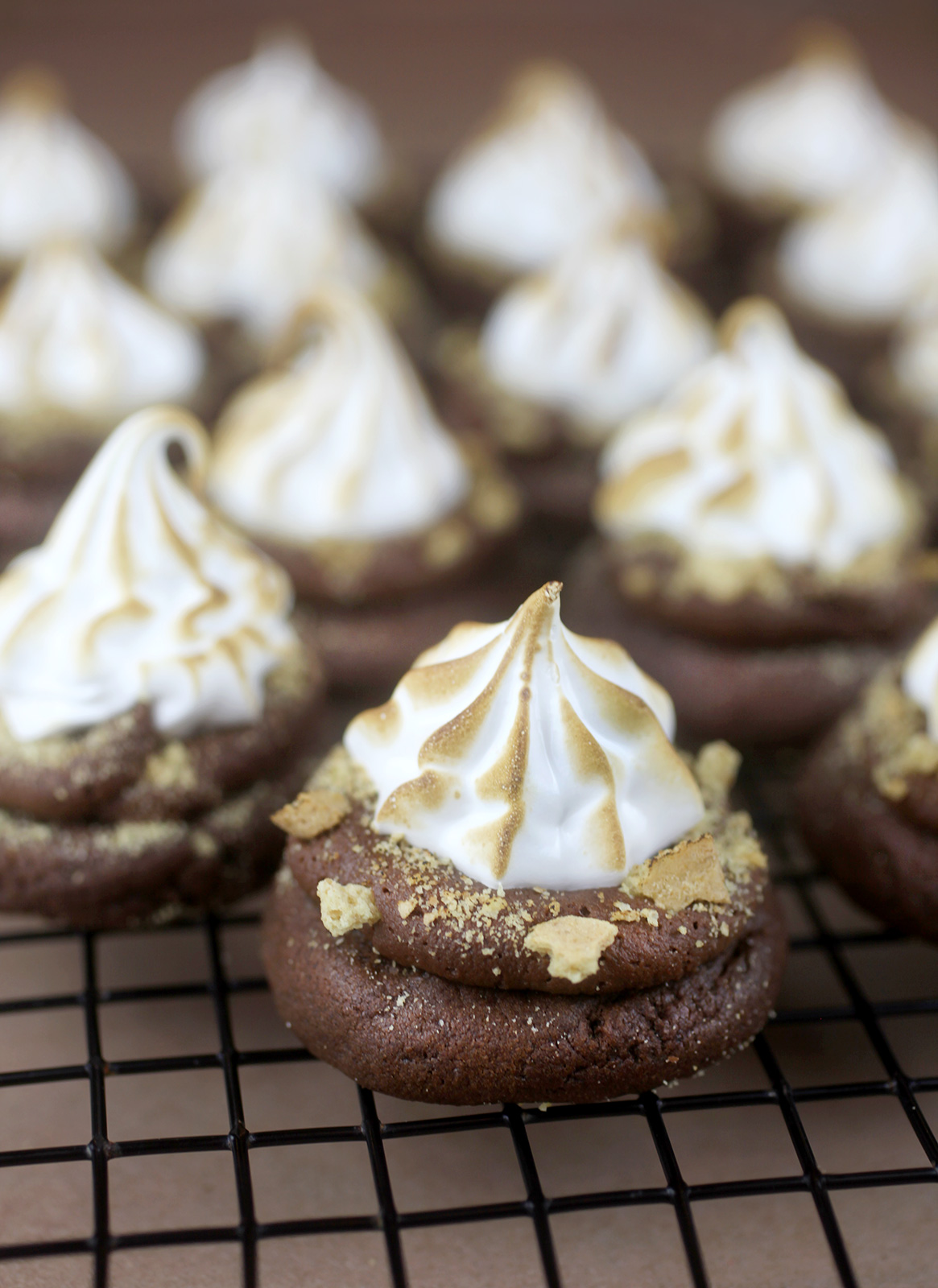 Campfire in a cookie sums up these summer fun treats with chocolate ganache, buttecream, graham cracker crumbs and toasted meringue.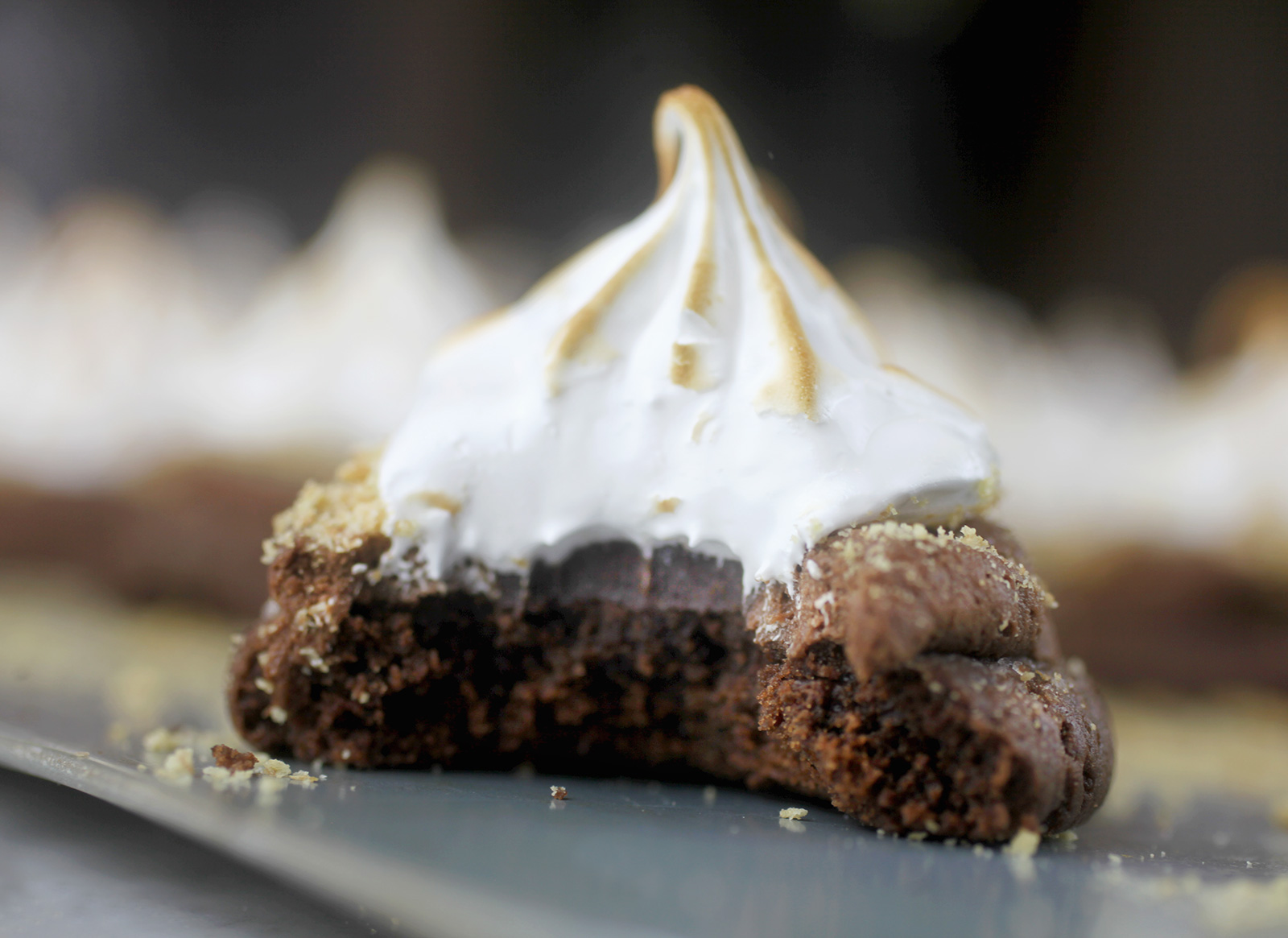 You'll be saying gimme s'more with every bite.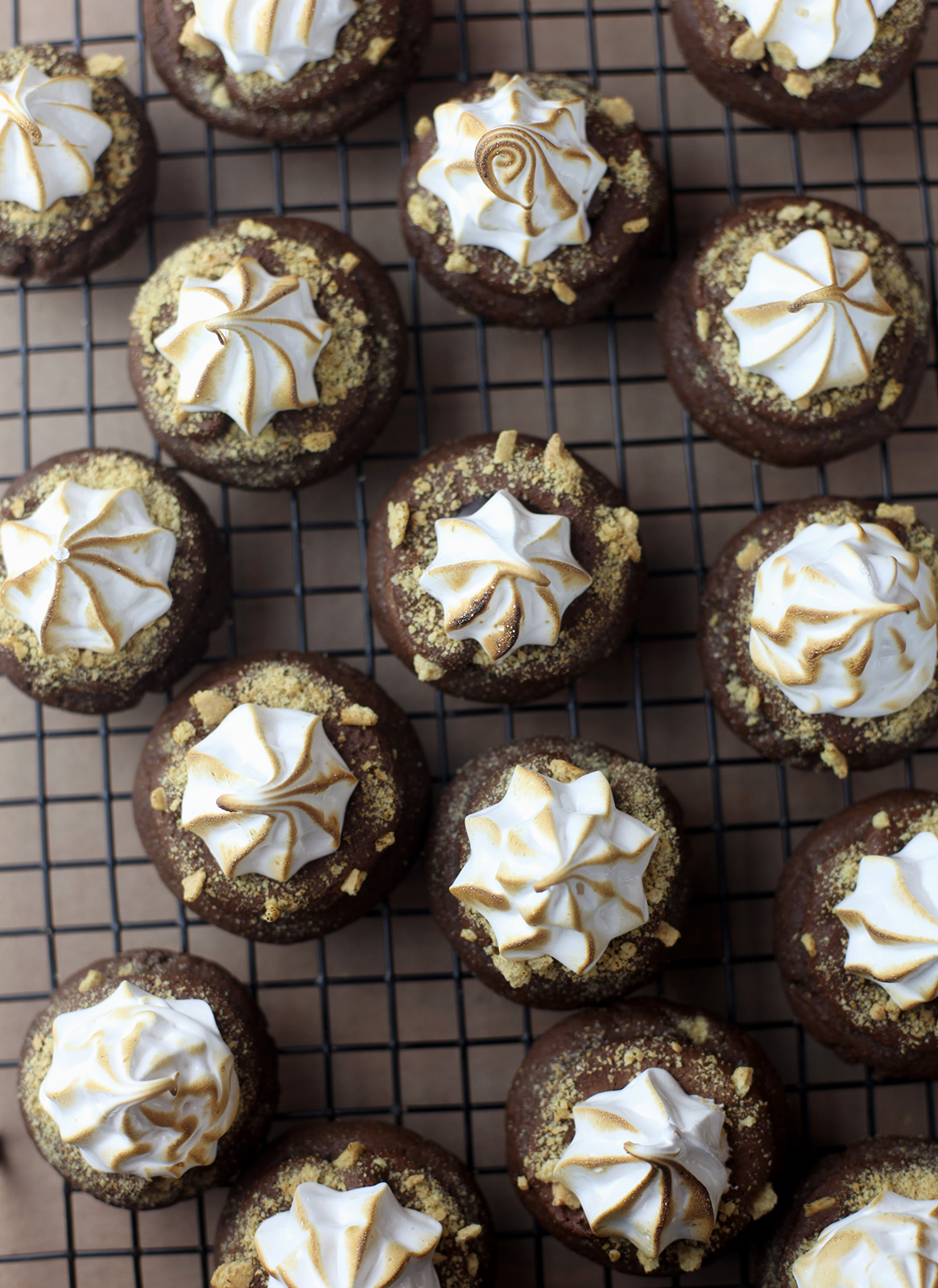 Bonus: you don't need a fire pit to make them. Just a handy little kitchen torch and you'll be ready to go. Let me show you.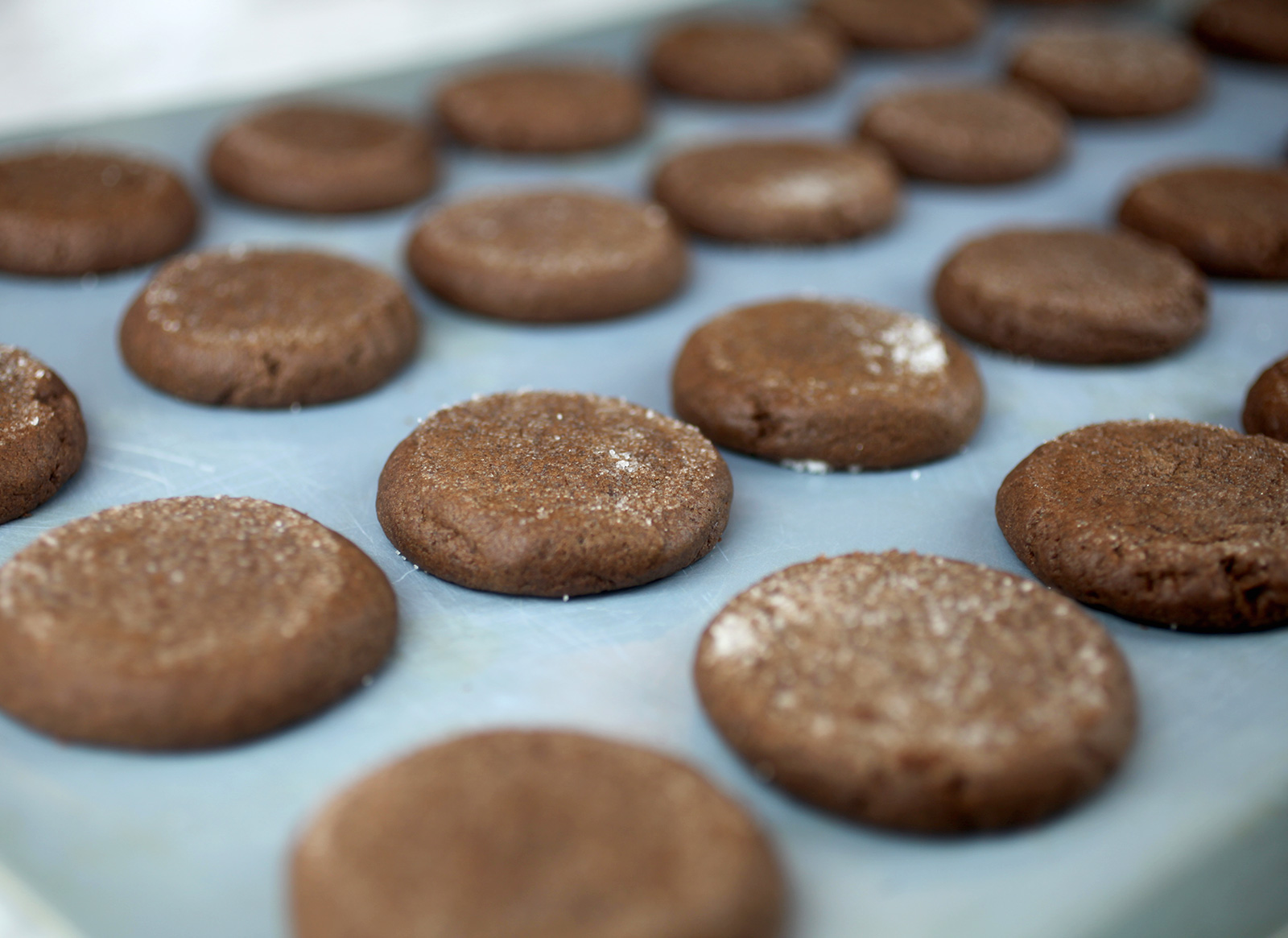 Okay, let's layer these toasty topped treats.
Up first. Soft chocolate sugar cookies. I've made these cookies before (see photos here) but you can also get the instructions in the full recipe below.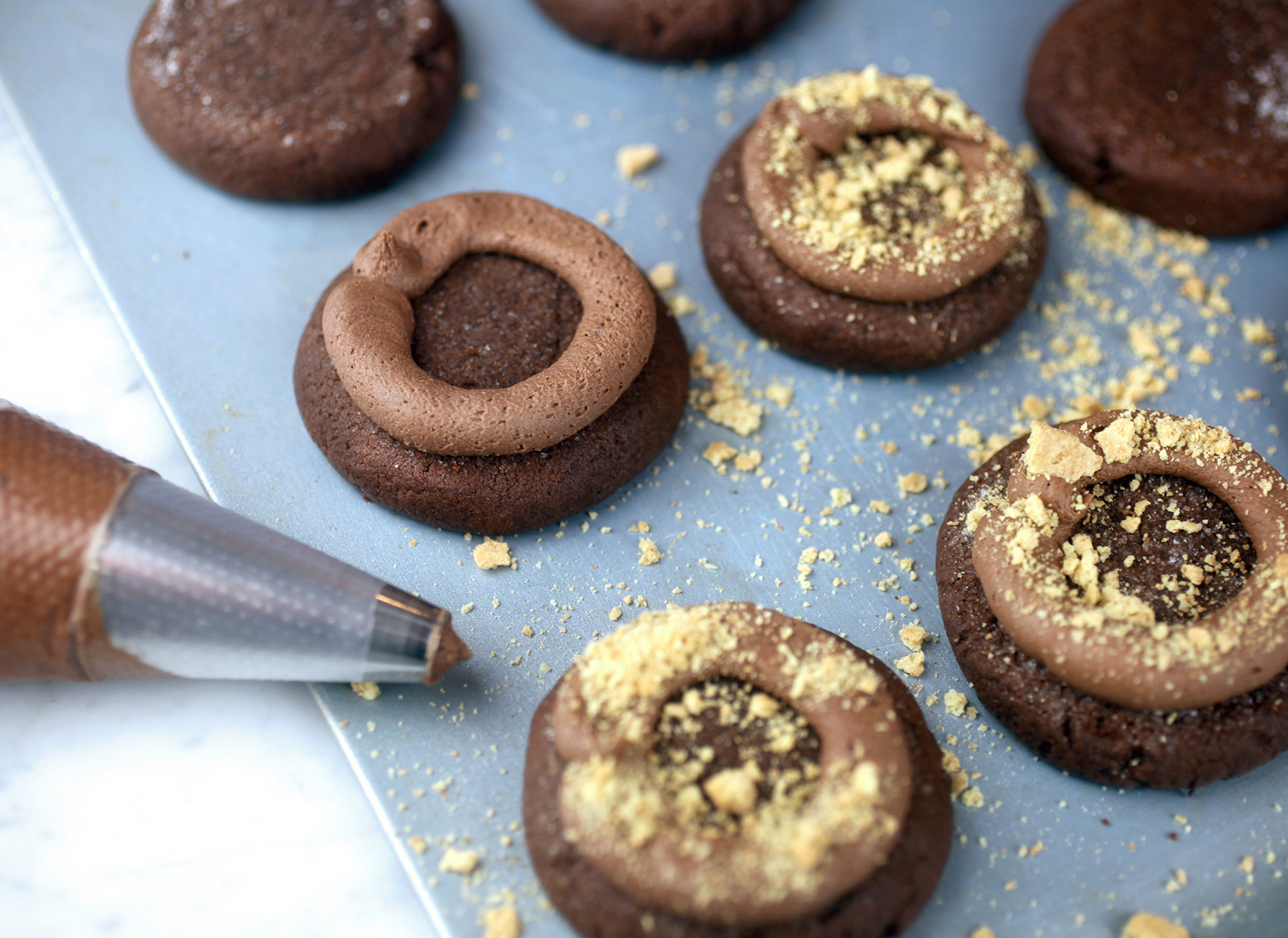 Next up, let's pipe these bad boys with chocolate ganache buttercream and top the piped circles with graham cracker crumbs. Yum!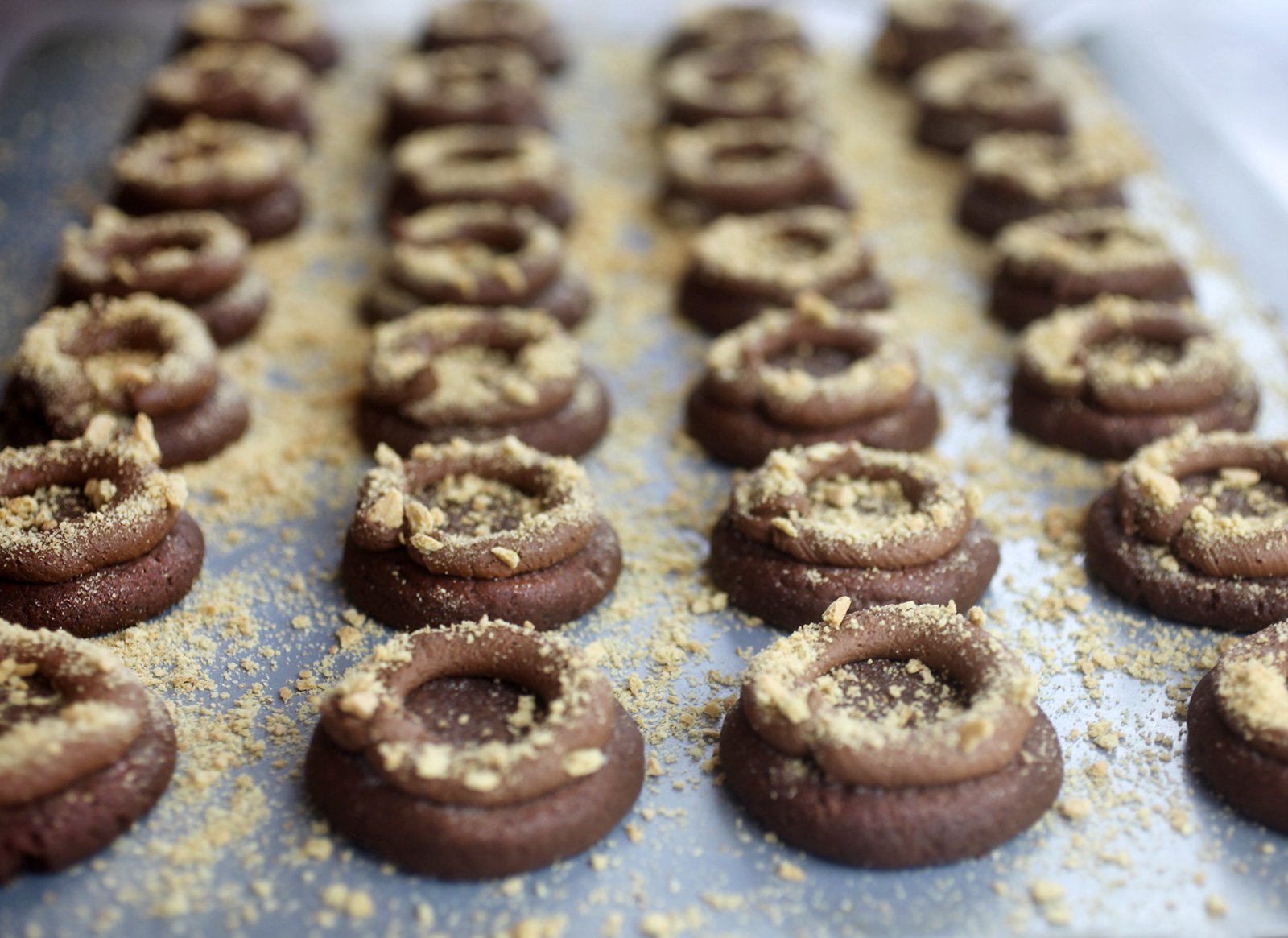 Should we just stop here? I don't think so.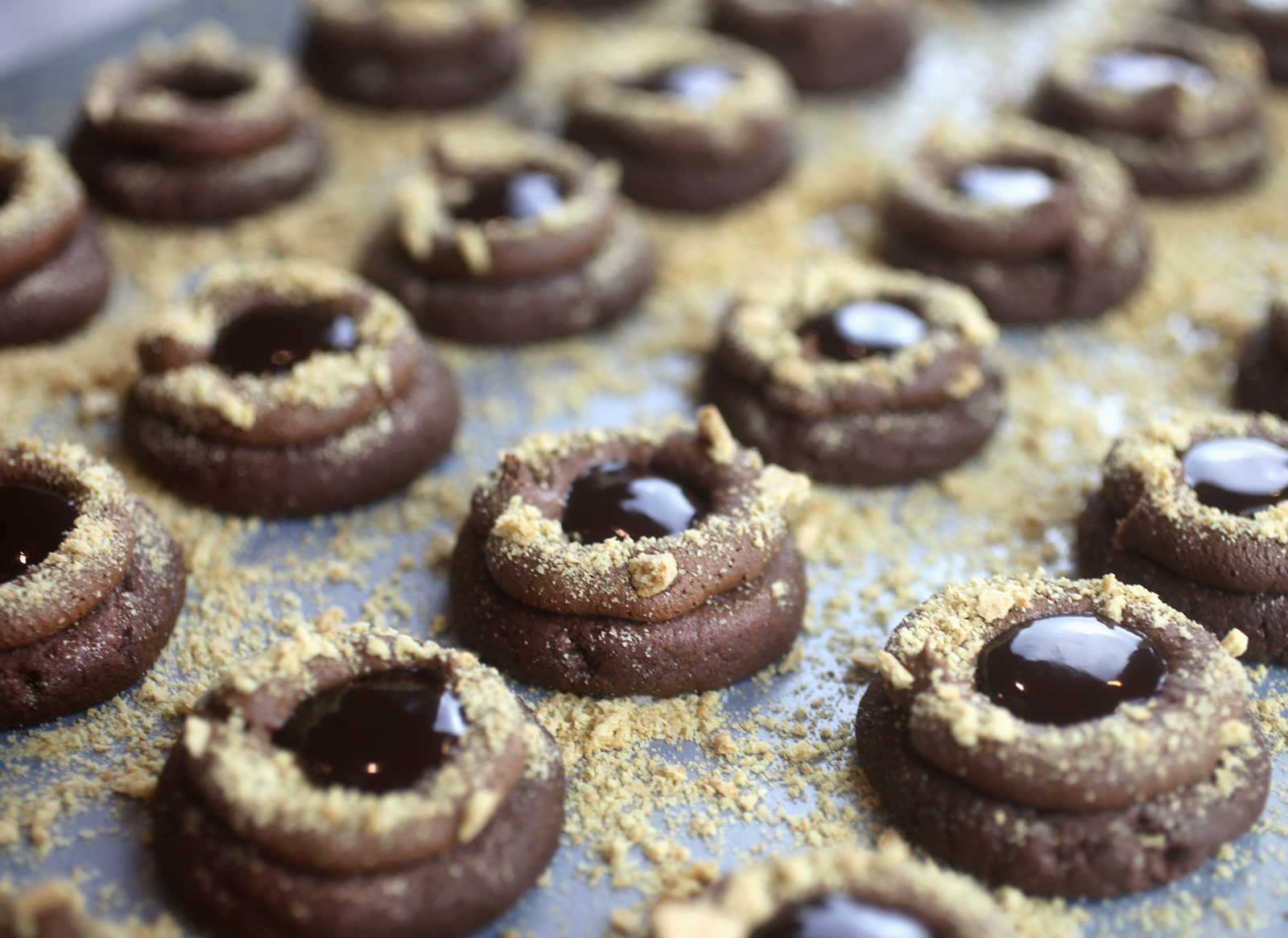 Use a small squeeze bottle to fill the centers with some reserved chocolate ganache used for the buttercream.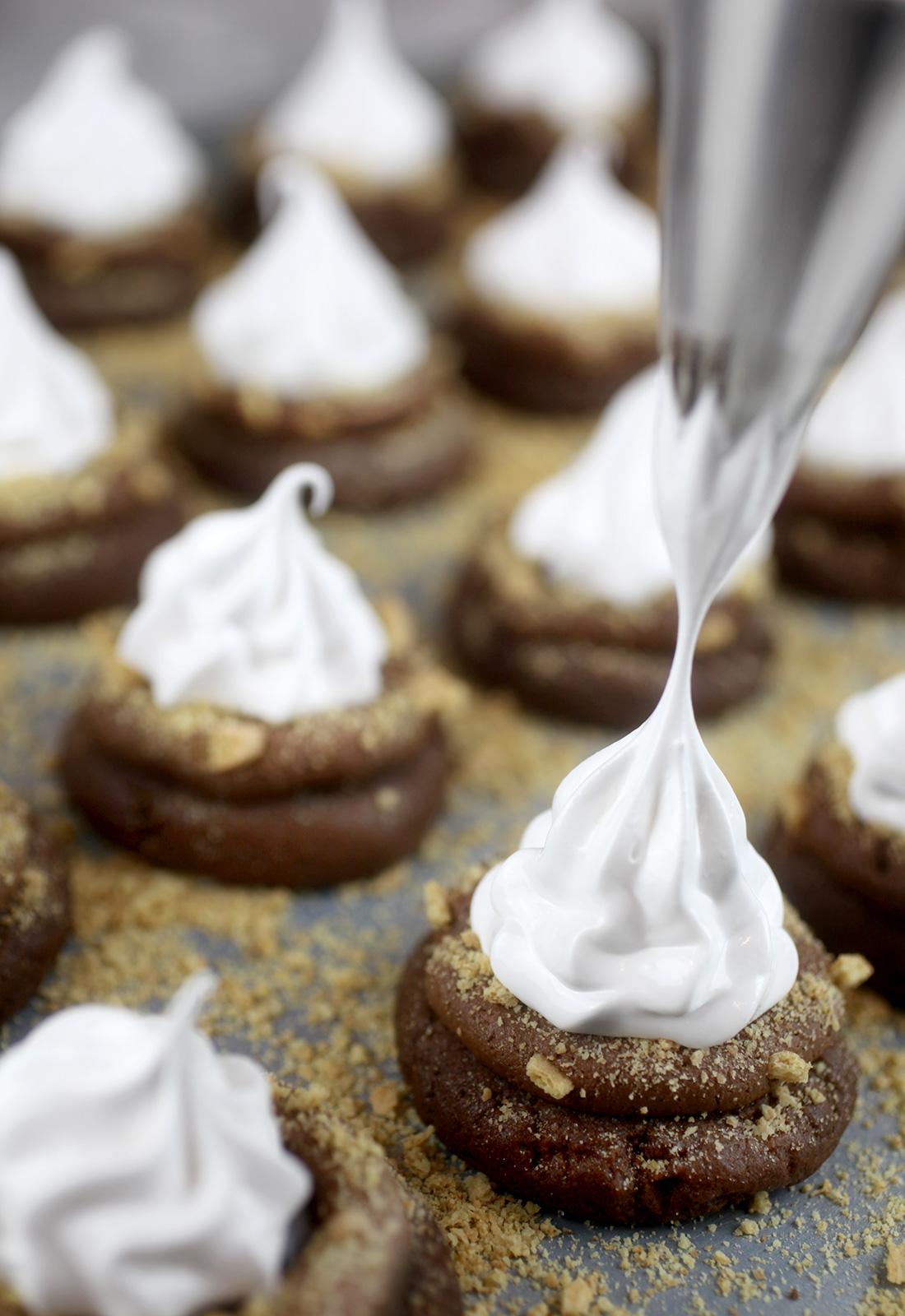 Now for the part you've been waiting for. Use something like an Ateco #827 decorating tip and pipe marshmallowy meringue on top of each cookie. Squeeze gently, release pressure and pull to make them pretty.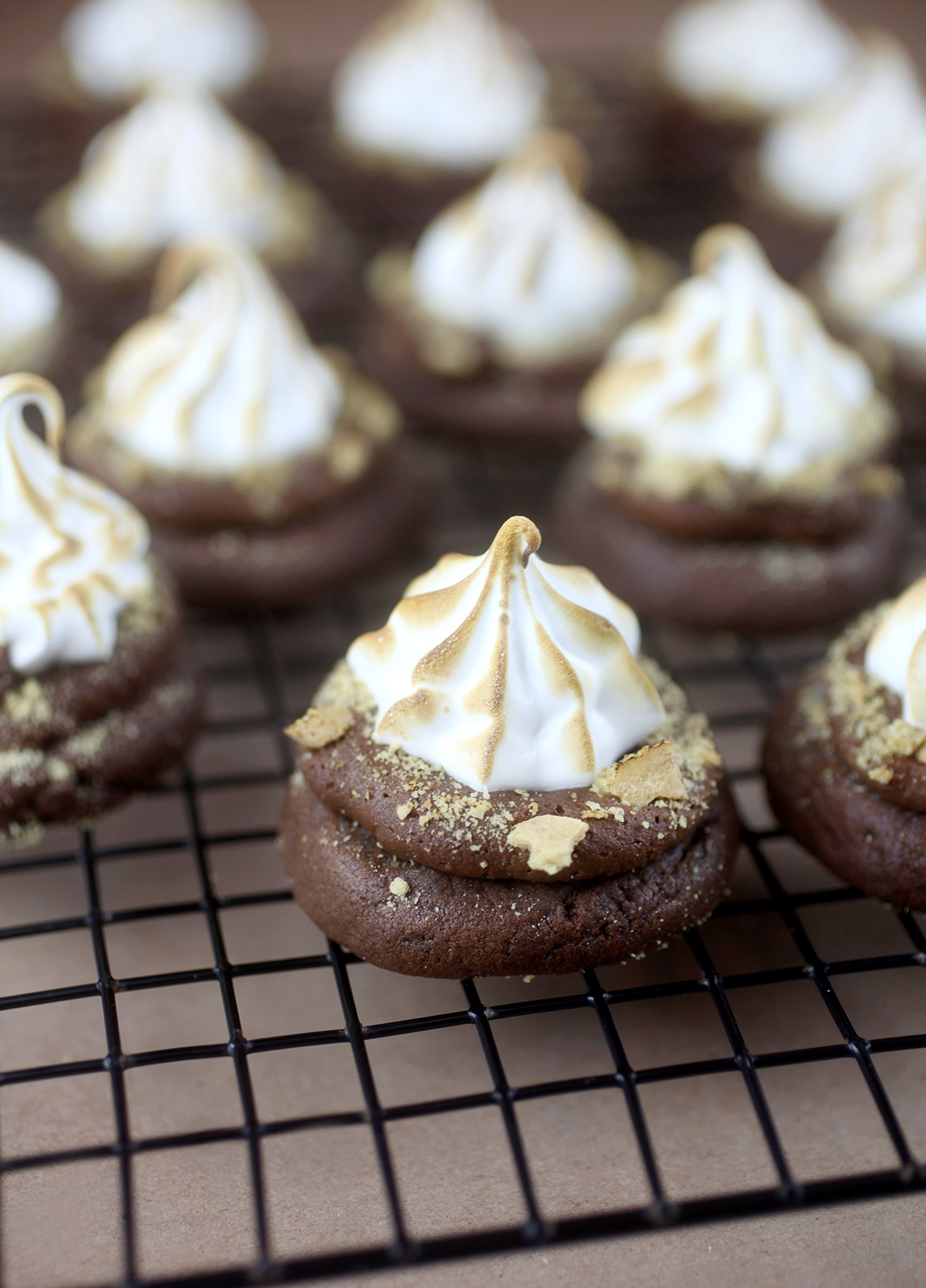 And here's where you'll get giddy inside. Grab your kitchen torch and carefully toast the tops. I used this one I found from amazon.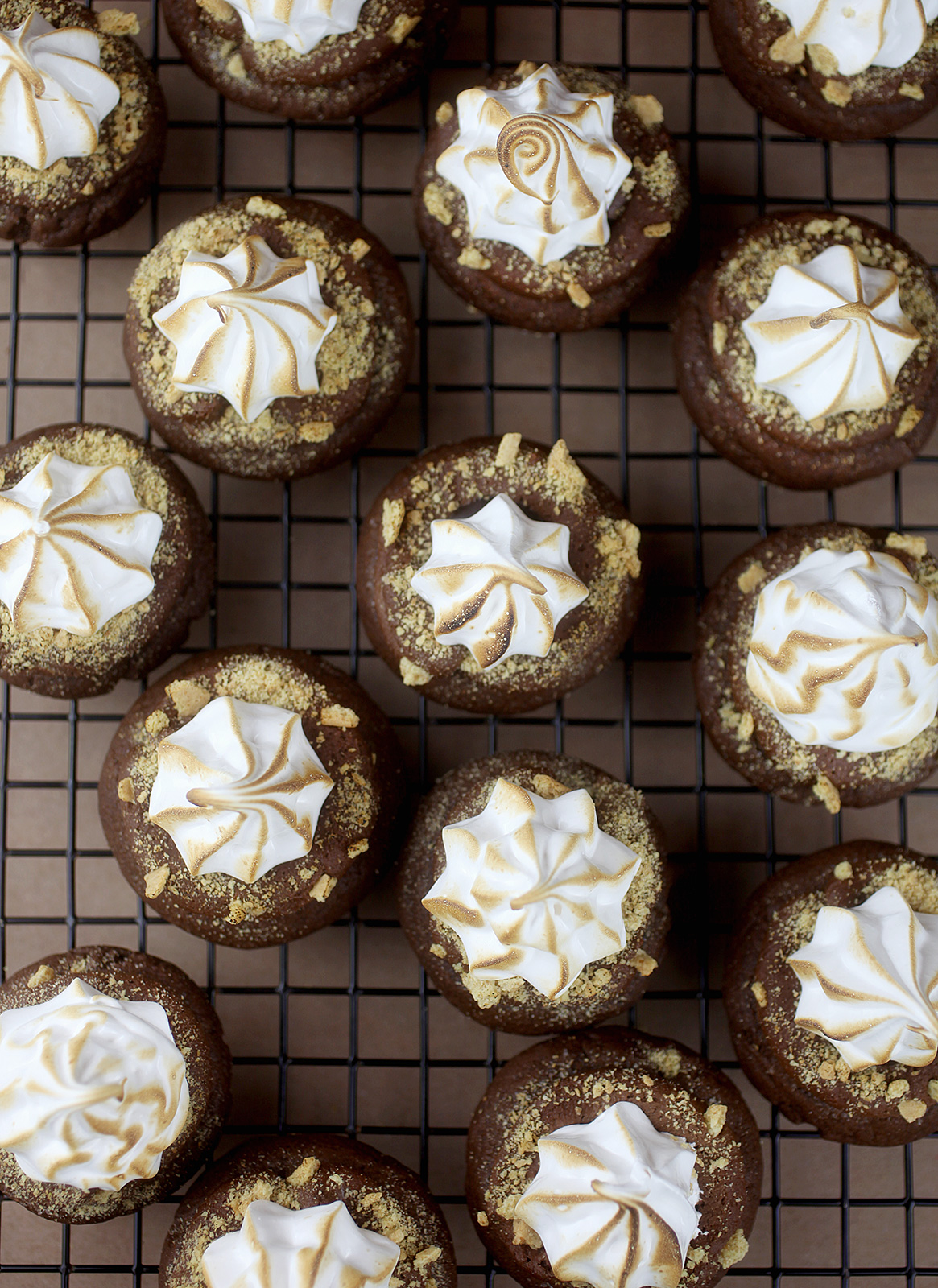 These are sooo yummy. I couldn't stop eating them. Good thing they're small.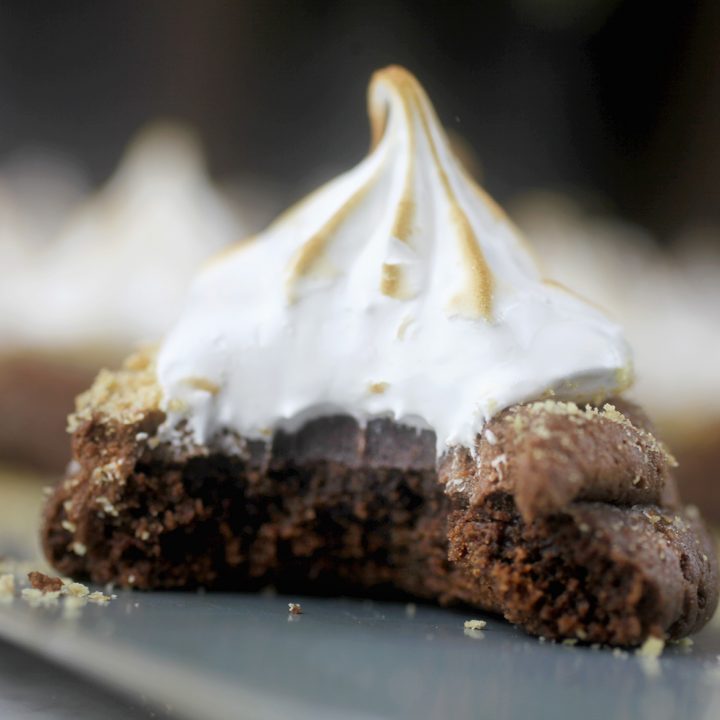 Yield: 24 cookies
S'mores Cookies
Ingredients
Chocolate Cookies
2 cups all-purpose flour
3/4 cup natural unsweetened cocoa
1/2 teaspoon baking soda
1/2 teaspoon cream of tartar
1/2 teaspoon salt
1/2 cup unsalted butter, room temperature
1/2 cup vegetable oil
1/2 cup granulated sugar
1/2 cup confectioners' sugar
2 eggs
2 teaspoons vanilla
(nonstick cooking spray and 1/4 cup sugar for flattening cookies)
Chocolate Ganache
4 oz. heavy whipping cream
2 tablespoons butter
3/4 cup dark chocolate morsels
Chocolate Ganache Buttercream
2 cups confectioners' sugar
1/4 cup natural unsweetened cocoa
1/2 cup butter, room temperature
1/4 cup of prepared chocolate ganache
1 teaspoon vanilla
1/2 cup of graham cracker crumbs
Meringue Frosting
3 egg whites
3/4 cup granulated sugar
1/4 teaspoon cream of tartar
1 teaspoon vanilla
Instructions
Make the Cookies: Preheat oven to 350 degrees Fahrenheit. Line a large baking sheet with parchment paper.
In a large bowl, whisk together flour, cocoa, baking soda, cream of tartar and salt. Set aside.
In the bowl of a stand mixer fitted with the paddle attachment, cream together the butter, oil, 1/2 cup granulated sugar, and the confectioners' sugar until smooth, about three minutes.
Add the eggs, and vanilla. Mix until combined. Add dry ingredients and mix on low until just combined. Chill dough for about 20 minutes.
Scoop dough using a 1-1/2 inch scoop and place on prepared baking sheet about 2 inches apart. Roll the dough into balls. (Note: Not all the cookies will fit on the sheet to bake in one batch.)
Pour about 1/4 cup of granulated sugar into a small dish. Spray bottom of a glass with nonstick cooking spray. Press bottom of the glass into the sugar to evenly coat. Then, press the sugared glass bottom gently on top of each cookie dough ball to flatten. Repeat for each cookie and reapply cooking spray as needed.
Bake the cookies for 7-8 minutes. Do not over bake. Let cool 5 minutes before transferring to a wire rack to cool completely. (Tip: I like to slide the parchment paper and cookies off my flat baking sheet and onto the counter to cool just a couple of minutes after they come out of the oven.) Repeat with remaining dough.
Make the ganache: Place dark chocolate morsels in a medium-sized heat-proof bowl and set aside. Add whipping cream and butter to a small saucepan and heat on stove at medium high. Remove just before boiling and pour over morsels. Let sit for a minute and then whisk until completely combined and smooth. Use 1/4 cup of the melted ganache to add to the buttercream and save the rest to pipe on cookies.
Make the Buttercream: Whisk the confectioners' sugar and cocoa in a medium bowl and set aside. In the bowl of a stand mixer fitted with the paddle attachment, beat butter until smooth and creamy. Add confectioners' sugar and cocoa and mix until combined. Add vanilla and the 1/4 cup of chocolate ganache. Beat until smooth. If too thick, add a teaspoon or so of heavy cream or milk.
Start assembling the cookies. Pipe thick circles of buttercream on cookies with an Ateco #804 or 805 decorating tip and top generously with crushed graham cracker crumbs, trying to avoid the center of the cookies. Then use the remaining ganache to fill the centers of each piped cookie - just enough so it does not overflow. Use a squeeze bottle for ease.
Next, make the meringue: Combine egg whites, sugar, and cream of tartar in the heatproof bowl of a stand mixer. Set bowl over a saucepan of simmering water without letting the bottom of the bowl touch the water in the saucepan. Hold the handle of the bowl with an oven mitt while continuously whisking the egg white mixture until the sugar is dissolved and the whites are hot to the touch… about 4 minutes. Then transfer bowl back to the stand mixer. Now, using the whisk attachment, beat mixture, starting on low and increasing to high. Beat until stiff, glossy peaks form and the meringue has cooled, 5-7 minutes. Add vanilla and whisk just to combine. Pipe meringue on top of each cookie using an Ateco #827 decorating tip. Then use a kitchen torch to toast the edges of the piped meringue.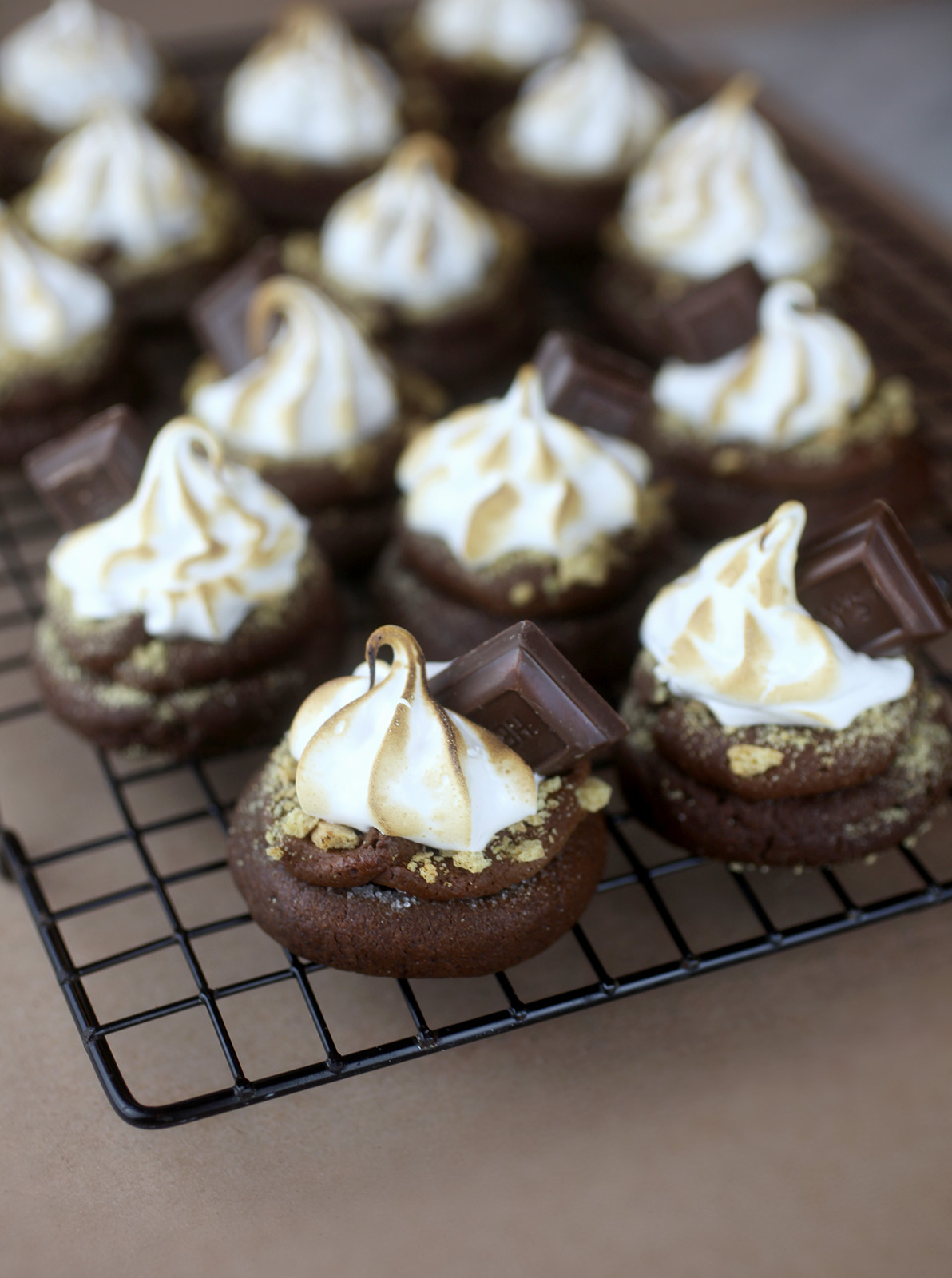 Oh yeah, if you have any Hershey's miniatures laying around. They make a nice added touch as well.
Hope you enjoy them as much or s'more than I do.