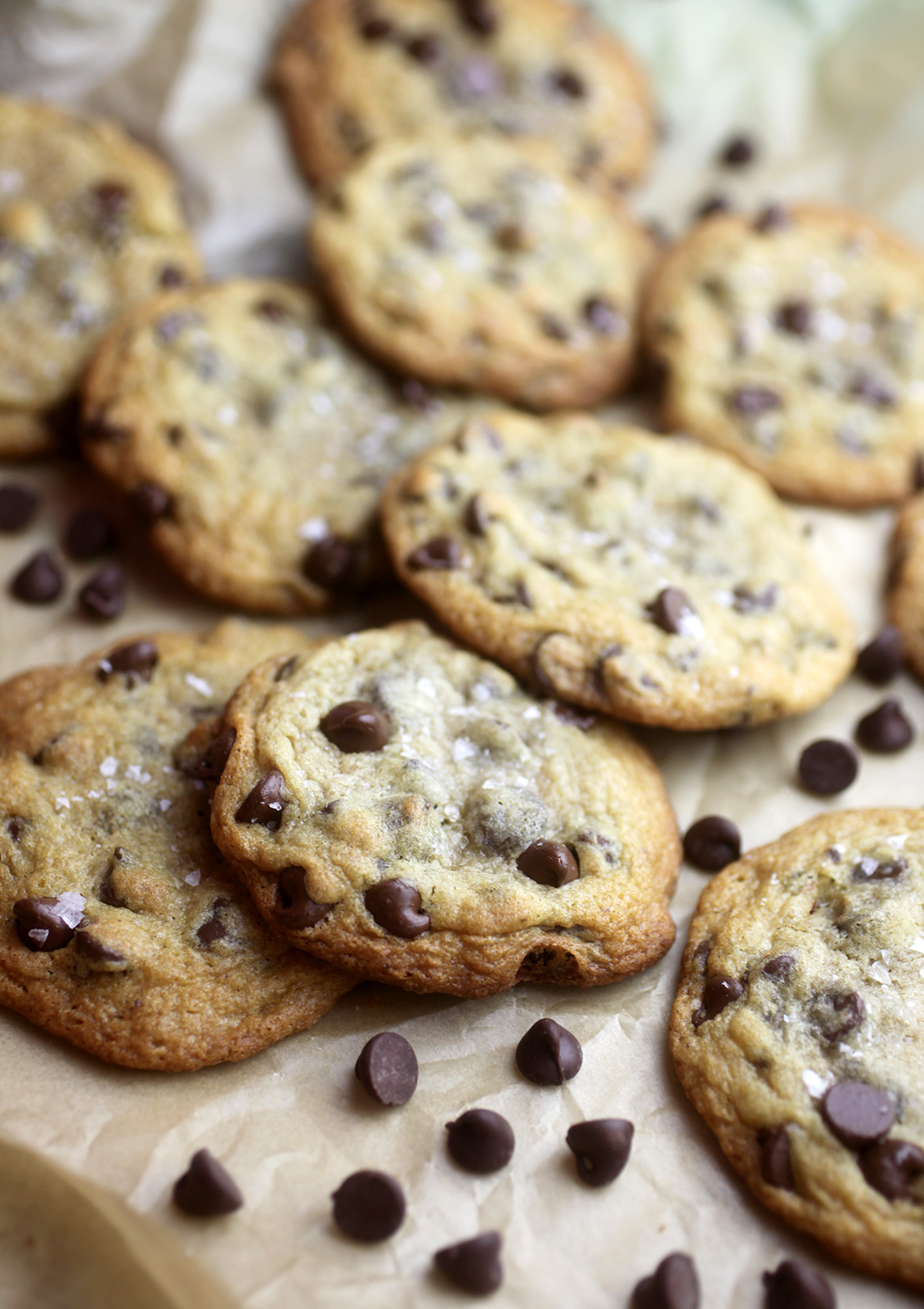 I've made chocolate chip cookies a million times and a bunch of different ways, but I've never made them with this secret ingredient addition. The recipe for these satisfying, soft and chewy cookies comes from my blogging friend, Kelly Senyei, creator of Just a Taste and new author of The Secret Ingredient Cookbook. Her book is full of familiar recipes with a twist. And if these cookies are any indication, you'll want to try them all.
Want to know the secret? Let's find out.
The base of this chocolate chip cookie is very familiar with one unexpected addition.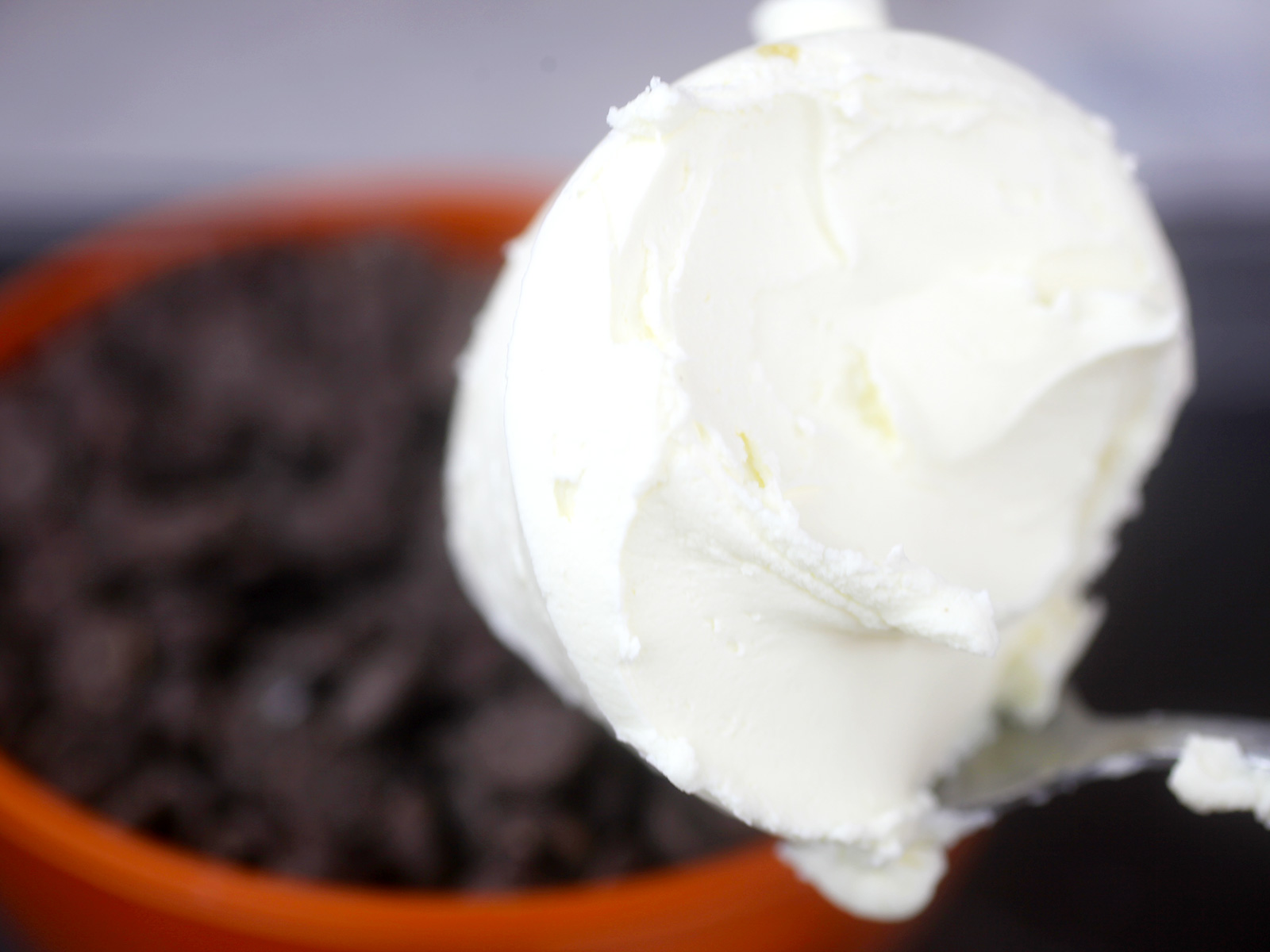 Cream Cheese! How have I not thought of this before.
I couldn't wait to bake these and see what difference, if any, that I noticed by swapping out a portion of the butter with cream cheese.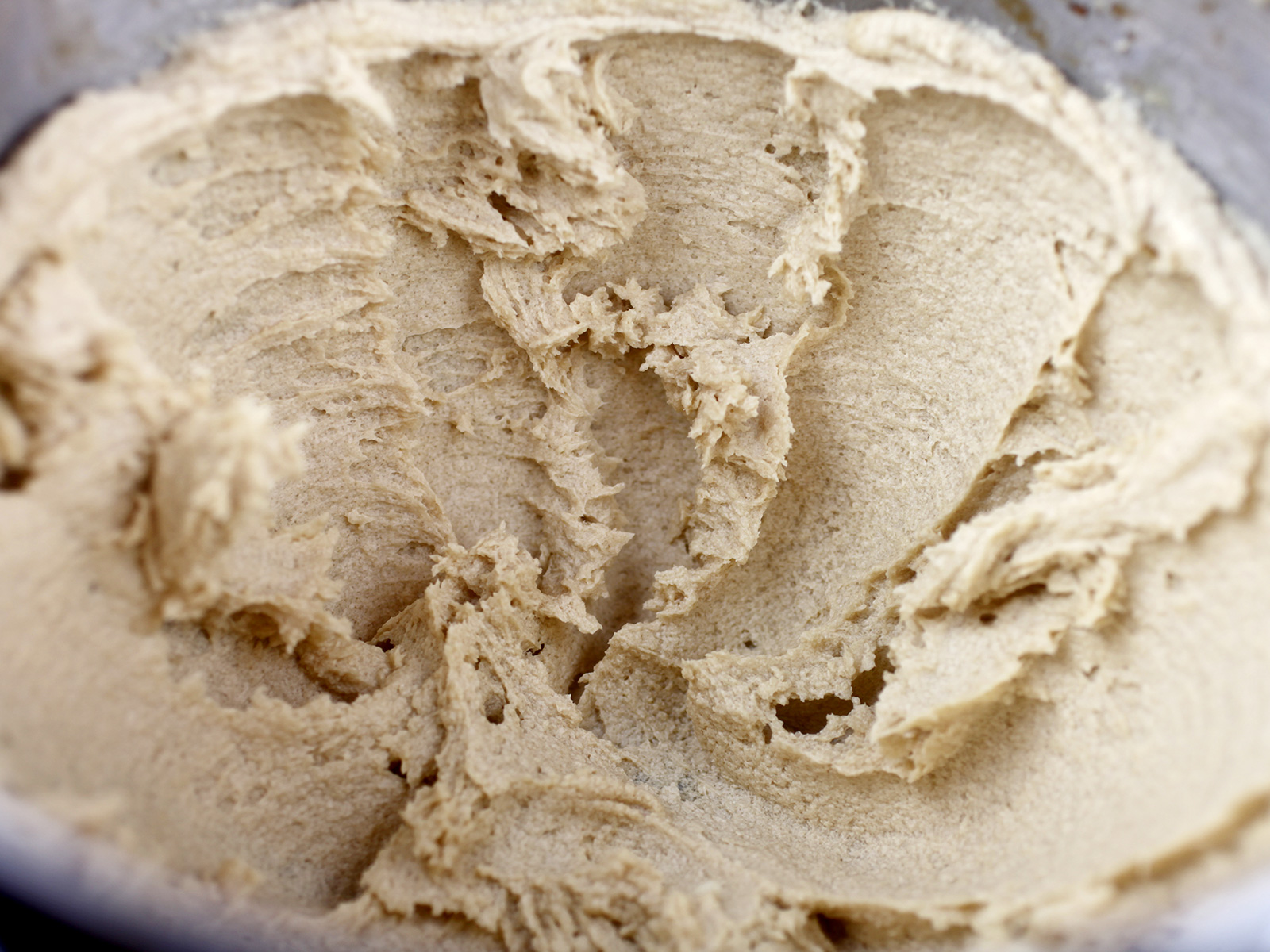 This is such a beautiful sight. Whipped sugar, brown sugar, butter, vanilla, and yes, some cream cheese.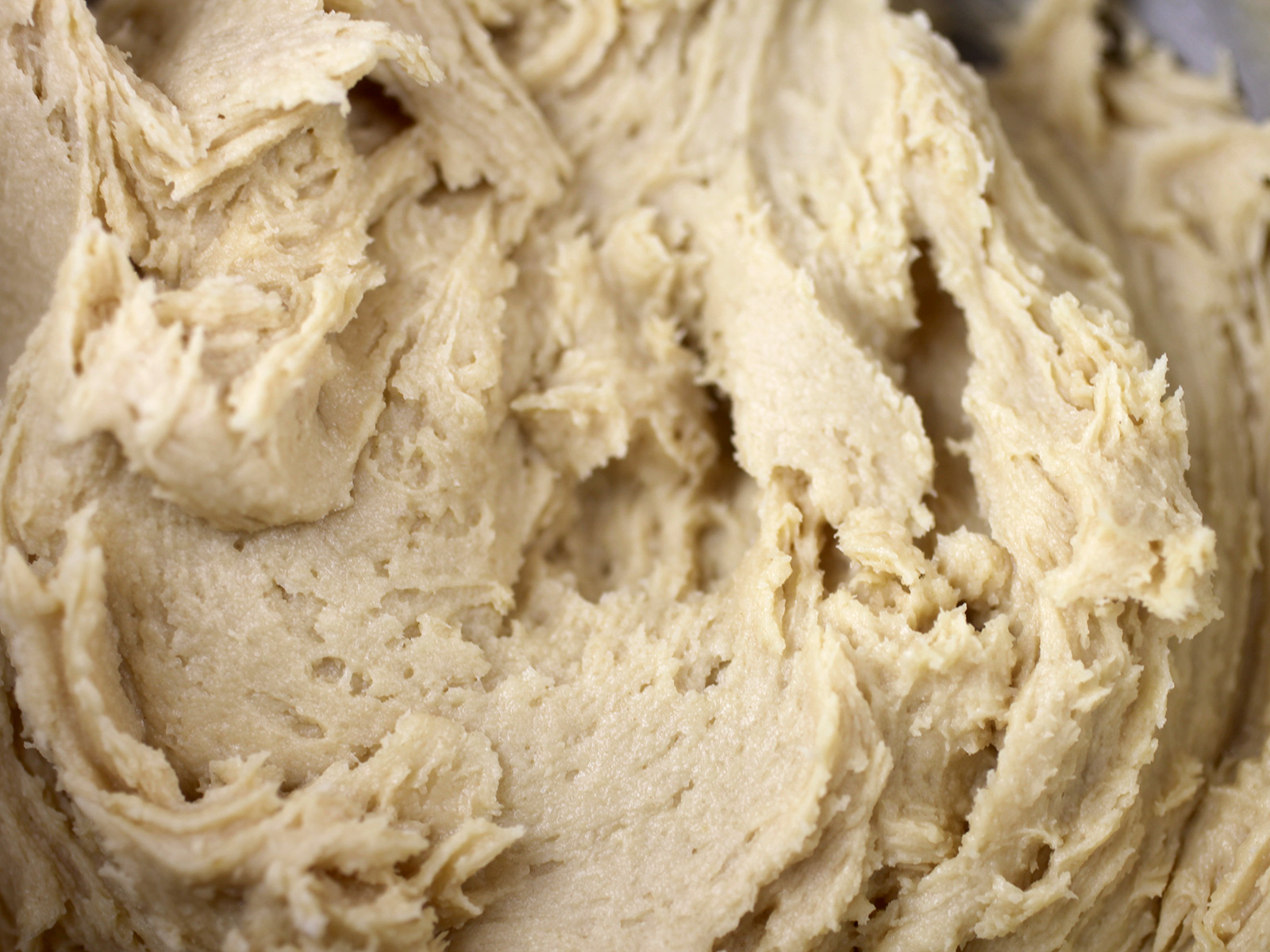 Add in the eggs, and then the flour, baking soda and kosher salt until you have your base cookie dough. Then mix in your semisweet chocolate chips. I added a bit more than Kelly calls for in her recipe, but I'm always adding extra chips.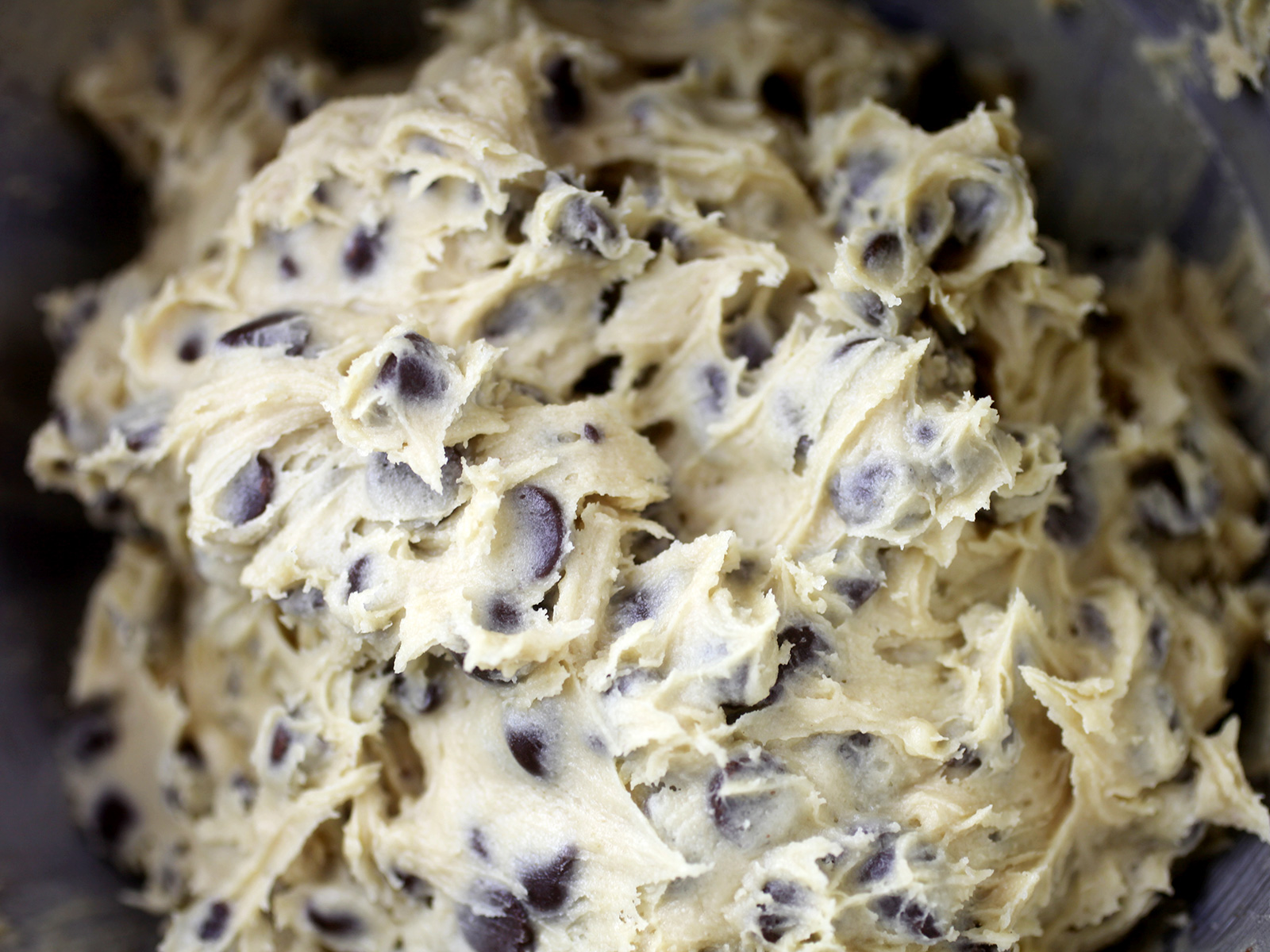 Look at that! I think it's impossible not to get in a good mood with a big bowl of cookie dough in front of you.
This dough needs to chill for at least 2 hours but will be worth the wait.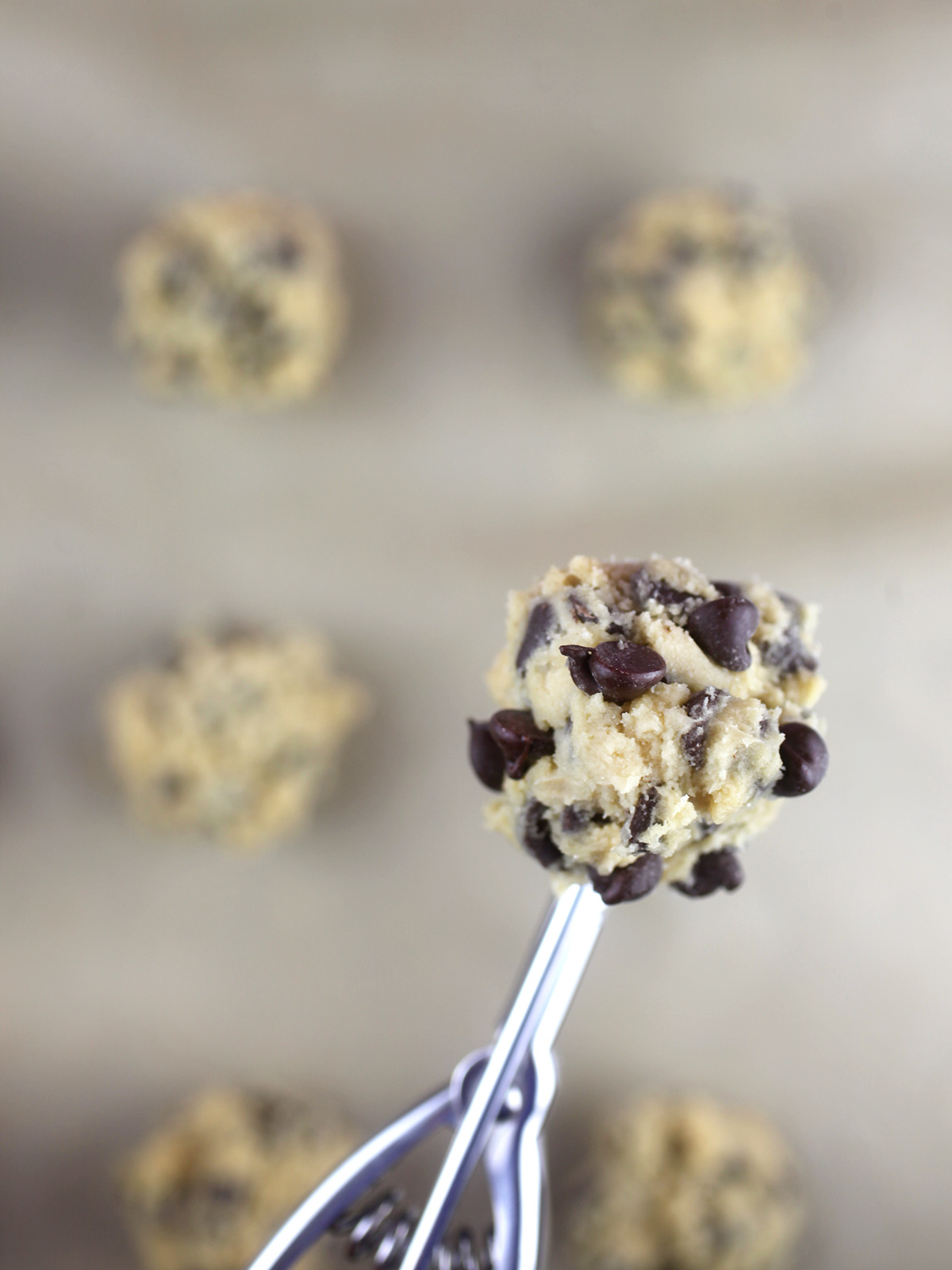 Instant happiness.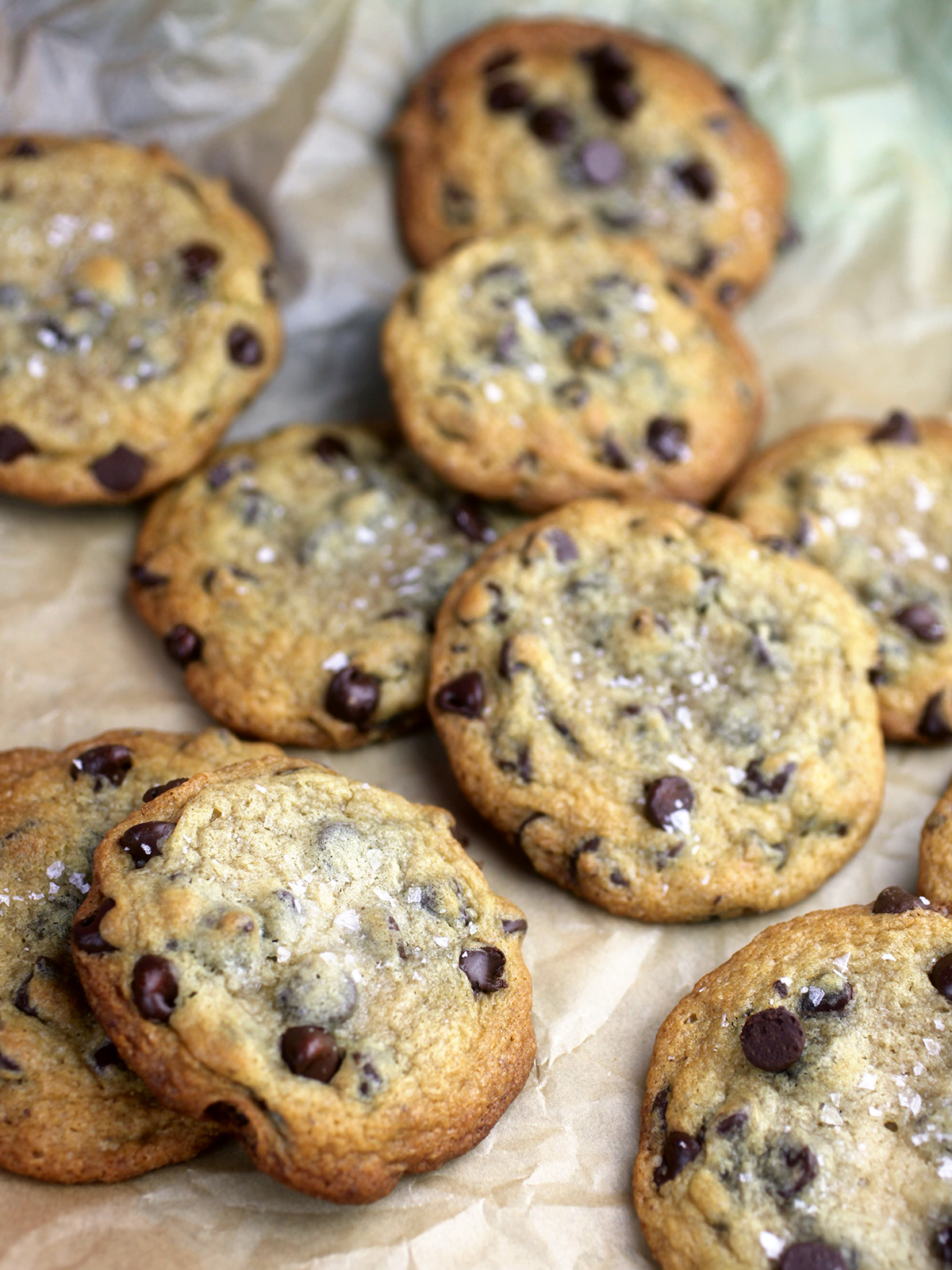 Bake the cookies for about 12-15 minutes and right when you take them out of the oven, sprinkle the tops with large flake sea salt. You'll be glad you did. A little bit of salty and sweet in every bite.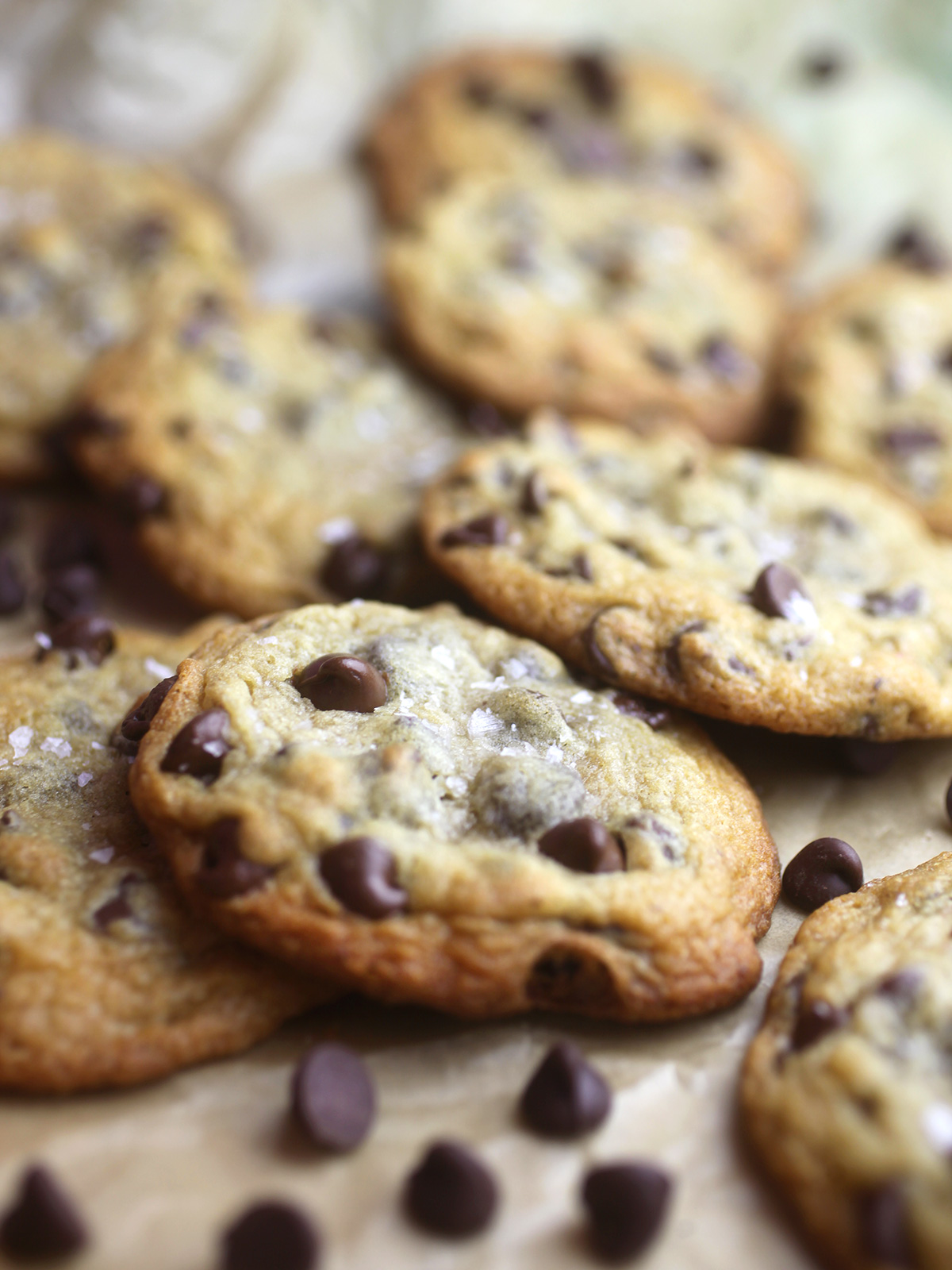 And what about that secret ingredient? Delicious, subtle and smooth. Those are the first words that came to mind when I started devouring them and I'll definitely be making them again.
Yield: 24 cookies
Secret Ingredient Chocolate Chip Cookies
Prep Time 20 minutes

Cook Time 15 minutes

Additional Time 2 hours

Total Time 2 hours 35 minutes
Ingredients
2-1/4 cups all-purpose flour
1 teaspoon baking soda
1 teaspoon kosher salt
3/4 cup (1-1/2 sticks) unsalted butter, at room temperature
1/3 cup cream cheese, at room temperature
1/2 cup granulated sugar
1 cup packed light brown sugar
1-1/2 teaspoons vanilla extract
2 large eggs, at room temperature
1 (12-ounce) package semisweet chocolate chips (2 cups)**
Large-Flake sea salt, for topping
Instructions
In a medium bowl, whisk together the flour, baking soda and salt. Set aside.
In the bowl of a stand mixer fitted with the paddle attachment, cream the butter, cream cheese, both sugars and vanilla extract until light and fluffy, about 2 minutes, scraping down the sides of the bowl as needed. Add the eggs, one at a time, beating well after each addition.
Add the flour mixture, beating until just combined. Then add the chocolate chips and beat until combined.
Cover the bowl with plastic wrap and refrigerate the dough for a minimum of 2 hours or overnight.
When ready to bake, preheat the oven to 375 degrees Fahrenheit and line baking sheet with parchment paper.
Drop 2-tablespoon mounds of dough onto the baking sheet, spacing them 2-3 inches apart. Bake cookies for 12-15 minutes, rotating the baking sheet halfway though until cookies are golden brown on the edges and slightly brown in the centers.
Remove cookies from the oven and immediately sprinkle them with sea salt. Cool cookies on baking sheet for 5 minutes and then transfer to wire rack to cool completely.
Notes
I used 3 cups chips for these instead of the recommended two cups. 2-1/2 went in with the dough and then I pressed the remaining 1/2 cup into the tops of the cookie dough mounds.

I used a 1-1/2 inch cookie scoop to scoop almost two full scoops and then pressed the two together to form a mound.

I used a light-colored aluminum rimless cookie sheet and baked the cookies in separate batches, allowing cookie sheet to cool in between batches.

Recipe adapted slightly from The Secret Ingredient Cookbook by Kelly Senyei, 2021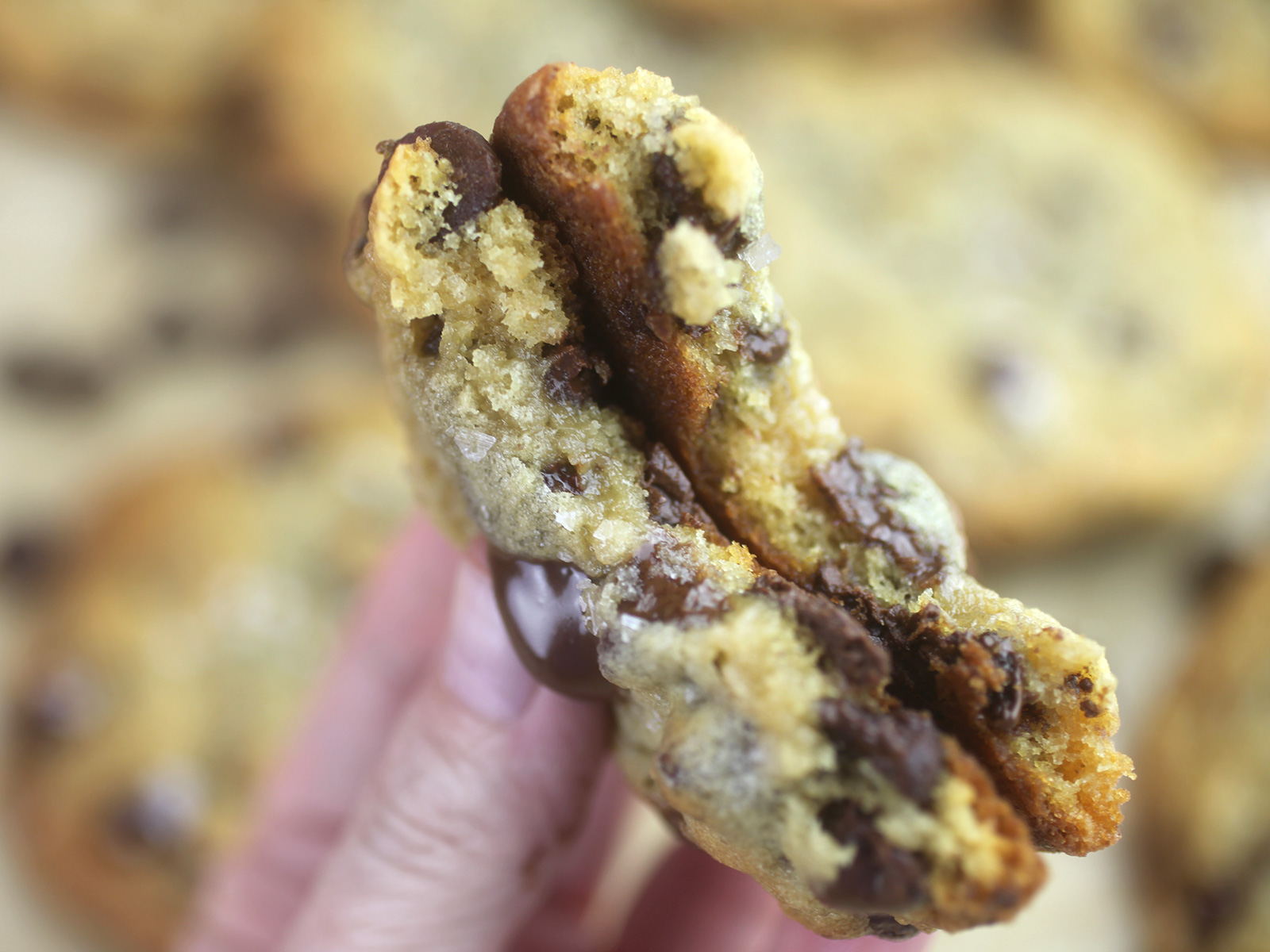 Wanna bite? Of course you do.
Wanna see a peek at Kelly's new book?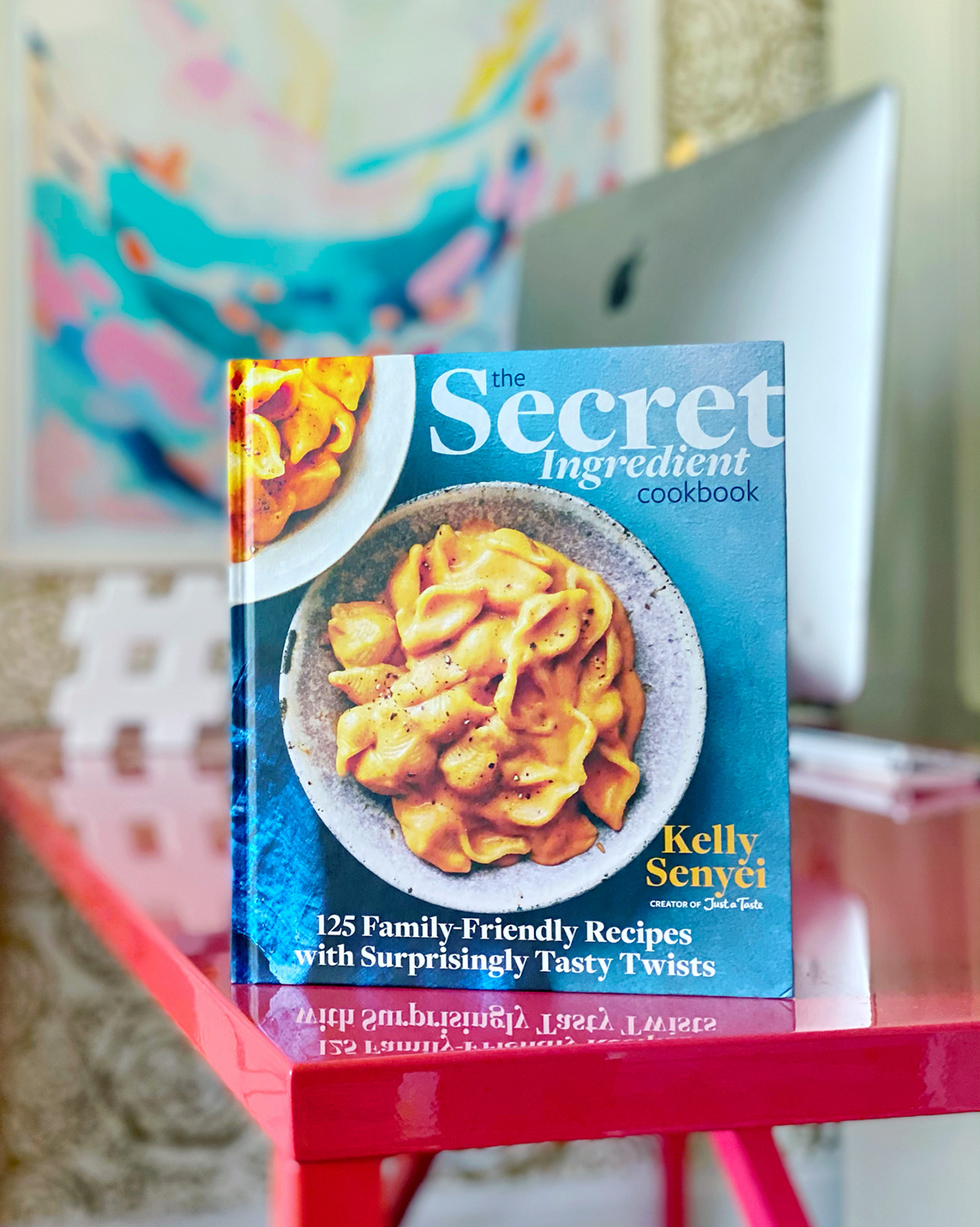 Here's the cover. It's a traditional book with breakfast, snacks, entrees, sides and more. But I always like to share some of the sweet photos with you guys. Take a look below at some of the desserts she makes. What do you think the enhancing ingredients are for each?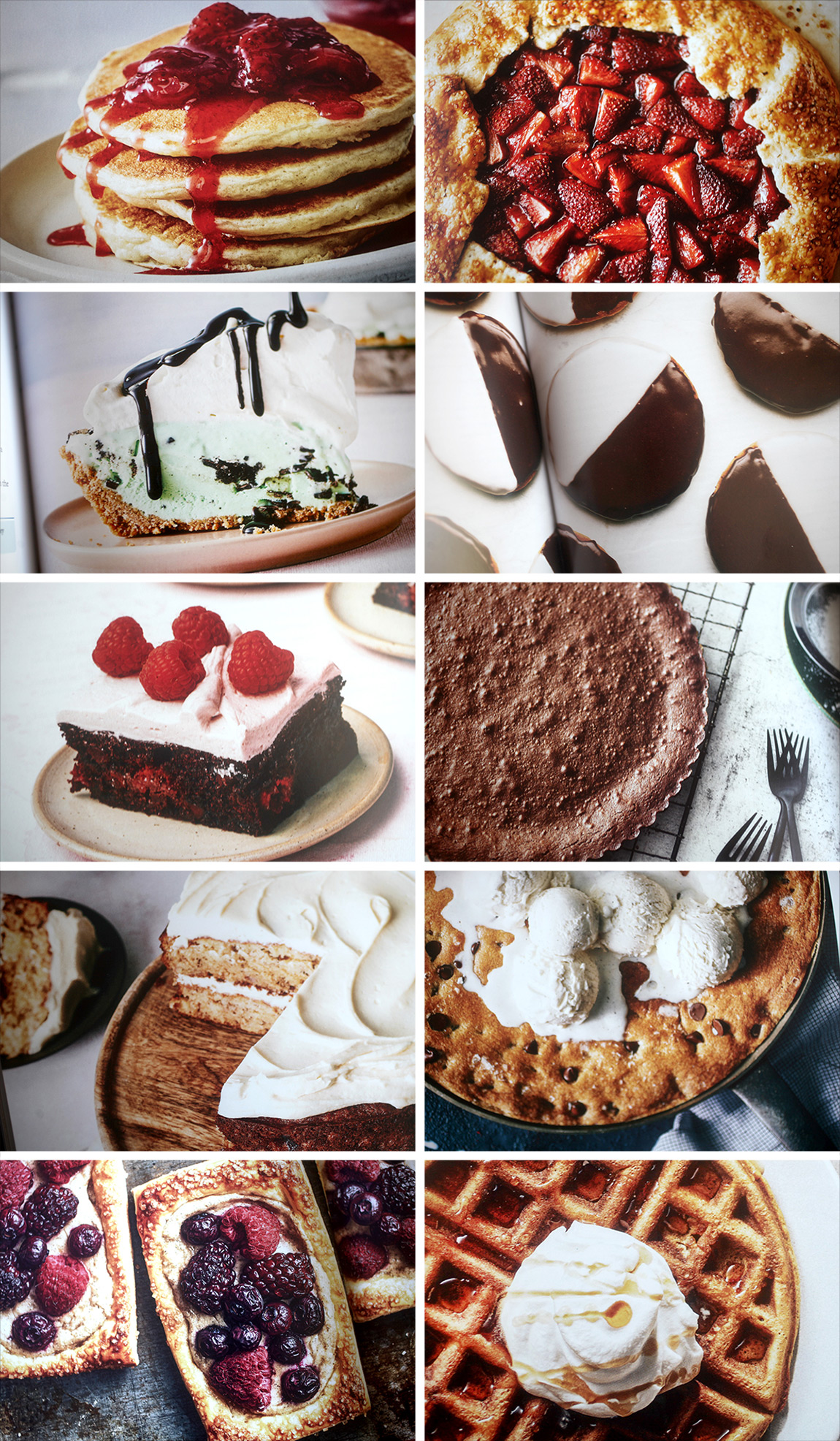 Some of the secret ingredient match ups:
Pancakes with Strawberry Syrup: enhanced with Champagne and I'm here for it.
Strawberry Galette: Balsamic Vinegar
Ice Cream Pie: Ummm, hello – how about ice cream cones for the crust!
Shortcut Black and White Cookies: Vanilla cake mix for a fast start
Raspberry Chocolate Sheet Cake: Did I hear someone say red wine?
Fudgy Brownie Tart: Oh how I wish I had Kahlua on hand for this one
Banana Cake: Add in some crushed pineapple
Skillet Chocolate Chip Cookie: How about adding buttermilk for tanginess
Berry Breakfast Pastries: with Cardamom
Pumpkin Waffles: Have you ever added Ginger Ale?
Now I need to buy some groceries. Hope you enjoy these cookies and check out Kelly's book if you get the opportunity.