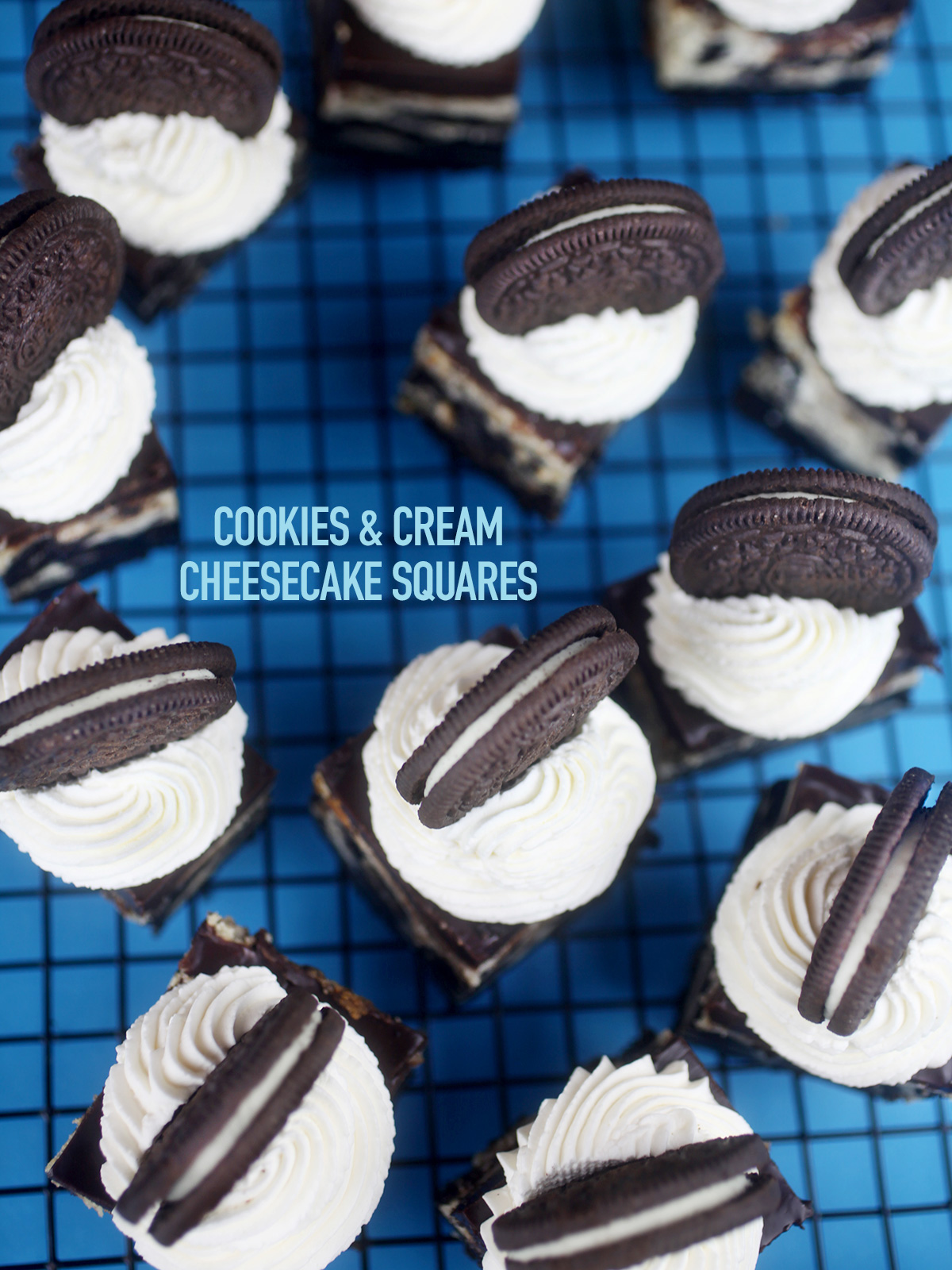 Cheesecake Squares! These are the perfect size decadent dessert. They are so dense and rich that anything bigger might be too much for one sitting. I've made them before with peanut butter cups, Snickers and Kit Kats, too … but these are a little bit taller and made with more filling.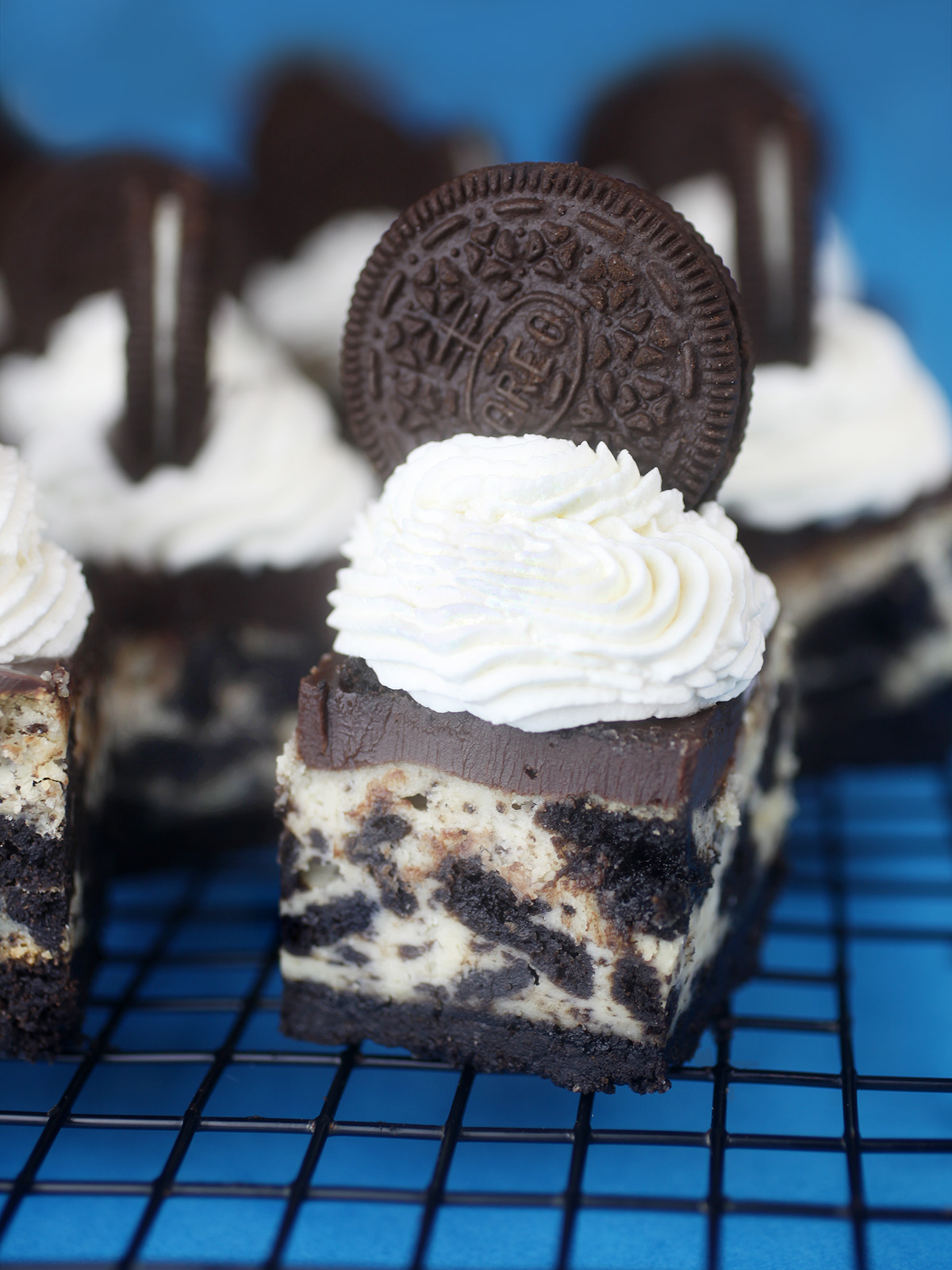 Not to mention, each one is topped off with chocolate ganache, whipped cream and a full-size Oreo cookie. It's a lot … but also just right in a roughly 2-inch square treat.
Let's get into it…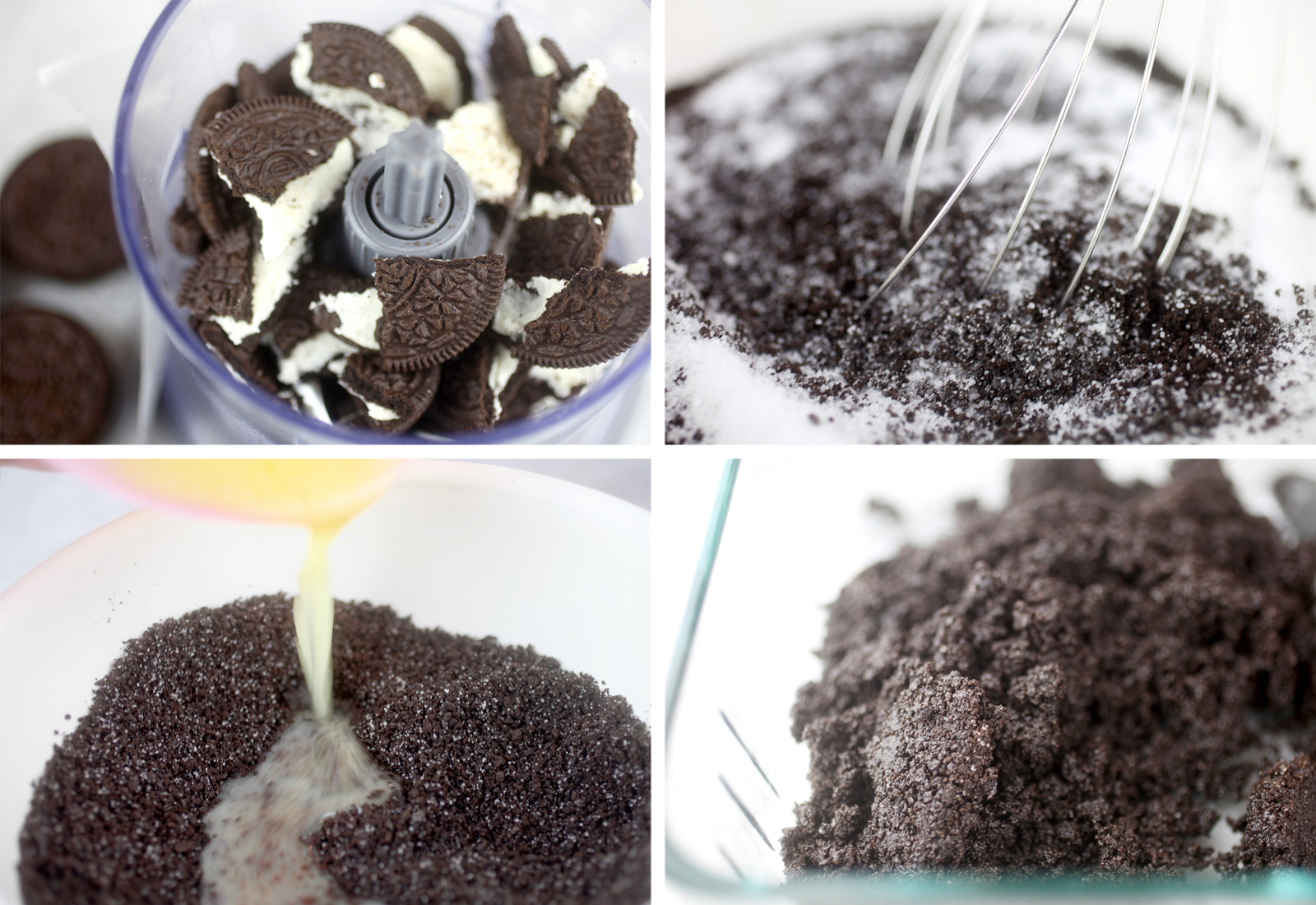 To make these, you'll want to start off with an Oreo cookie crust. Crush the cookies into crumbs and mix with sugar and melted butter,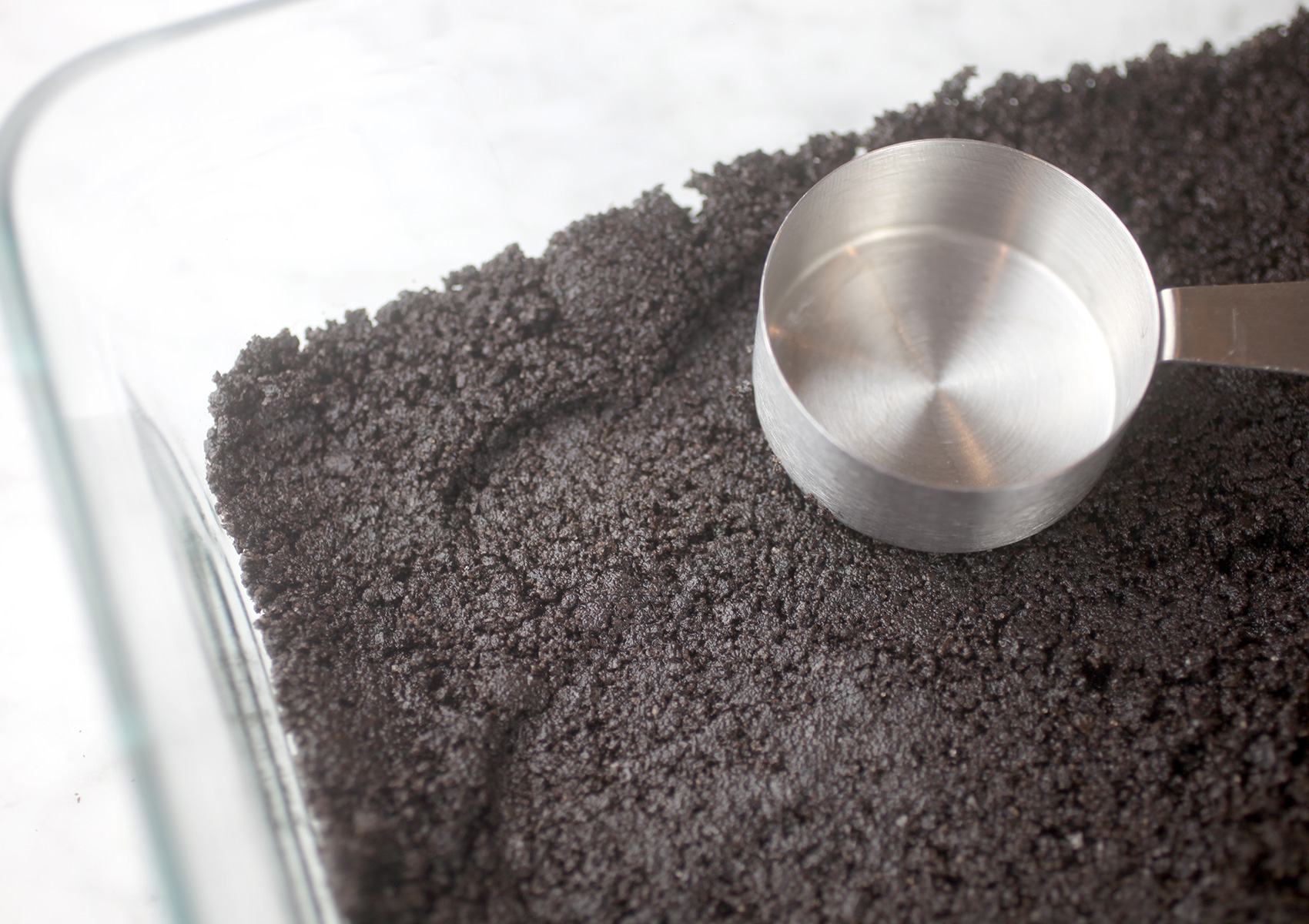 Press the mixture flat into an 8X8 or 6X9 inch baking dish. Pop it in the oven for about 10 minutes to bake and when cool, you are ready to fill it with deliciousness.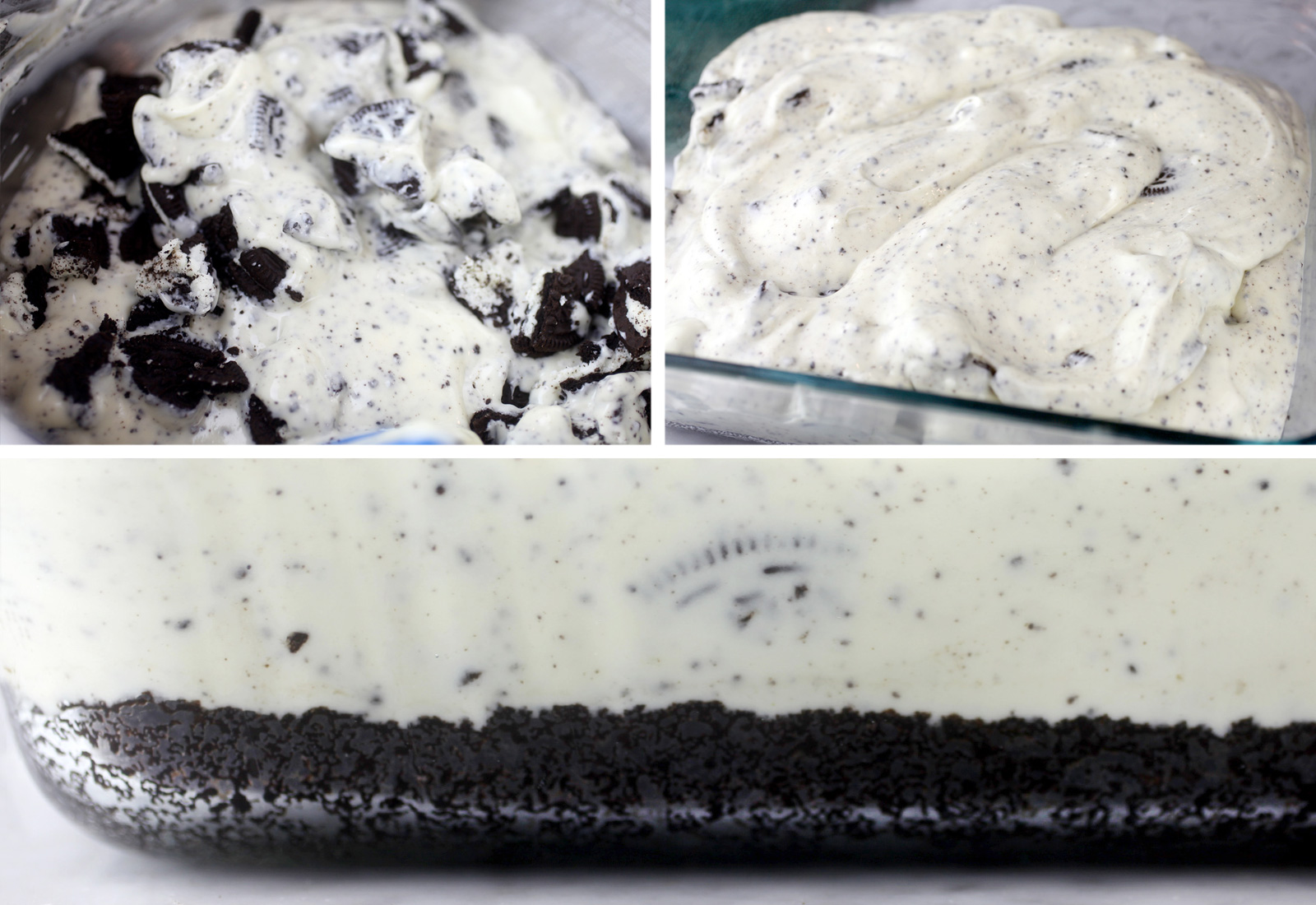 Stir a few tablespoons of cookie crumbs and a dozen or so cookies (broken into small pieces) into the cheesecake filling and spread evenly into the dish – then bake for about an hour.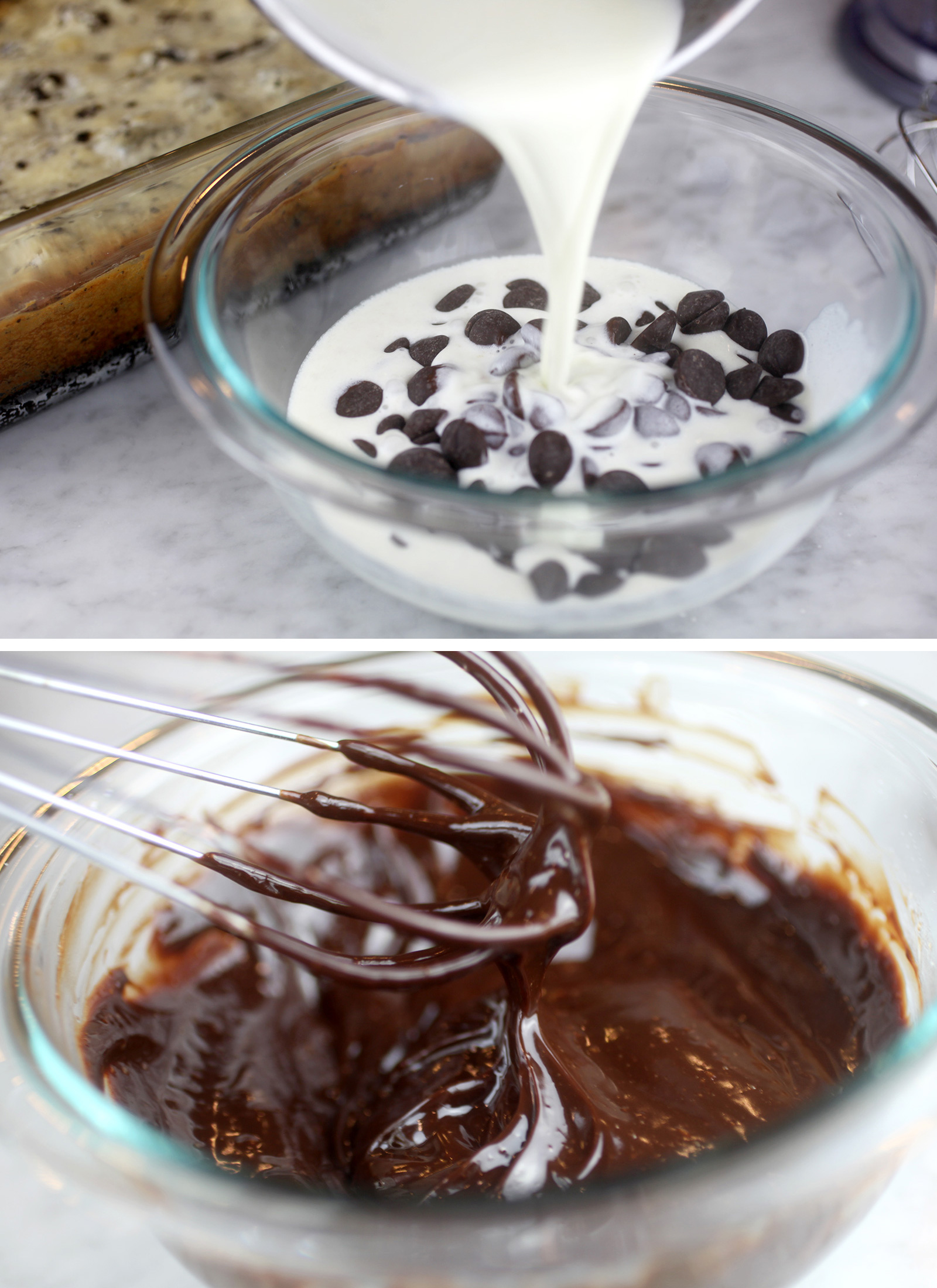 When the cheesecake has baked and is mostly cool, whip up the chocolate ganache.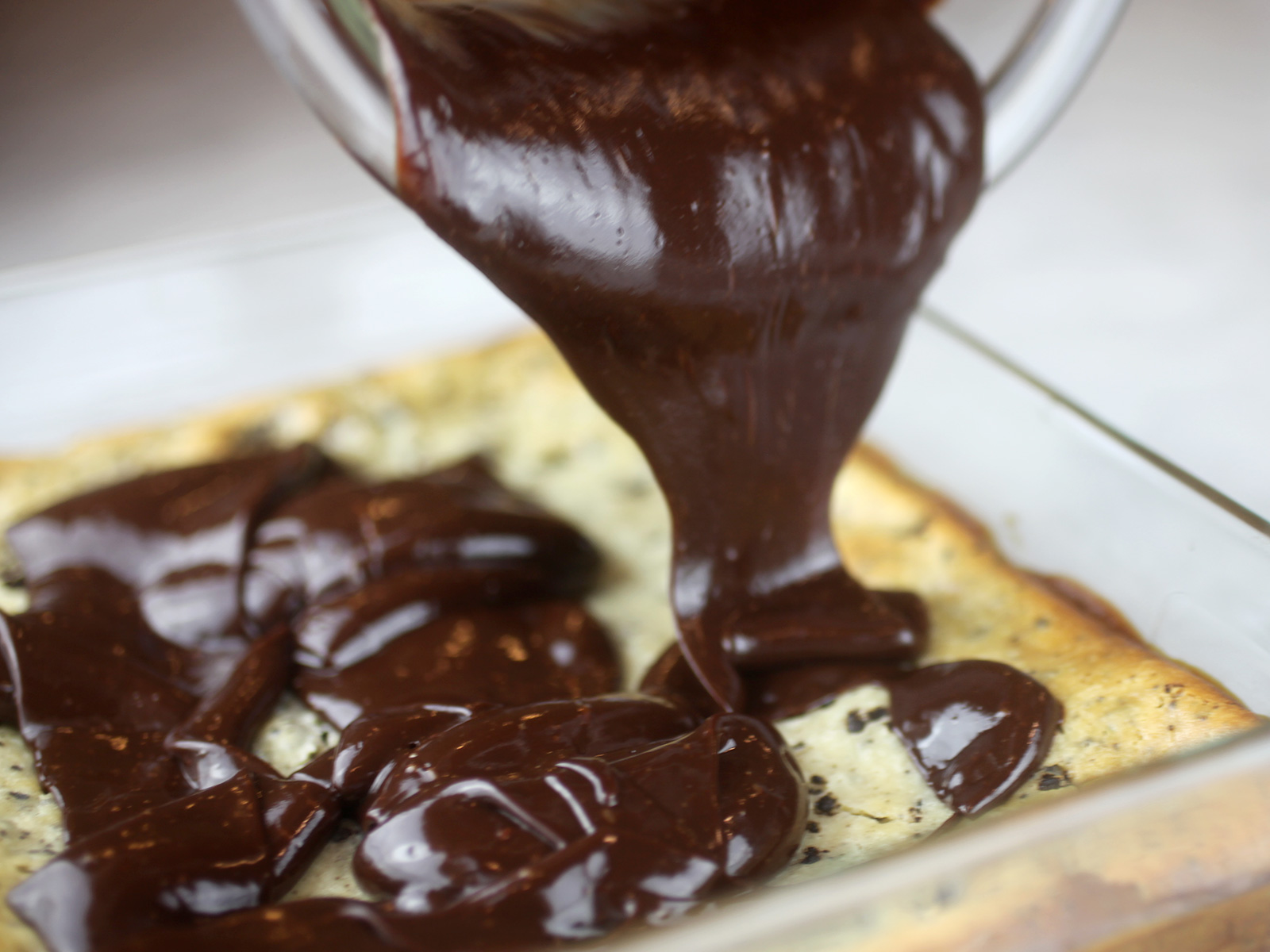 Pour all that glorious ganache right on top and spread evenly. When the ganache has set, chill the cheesecake for several hours or overnight.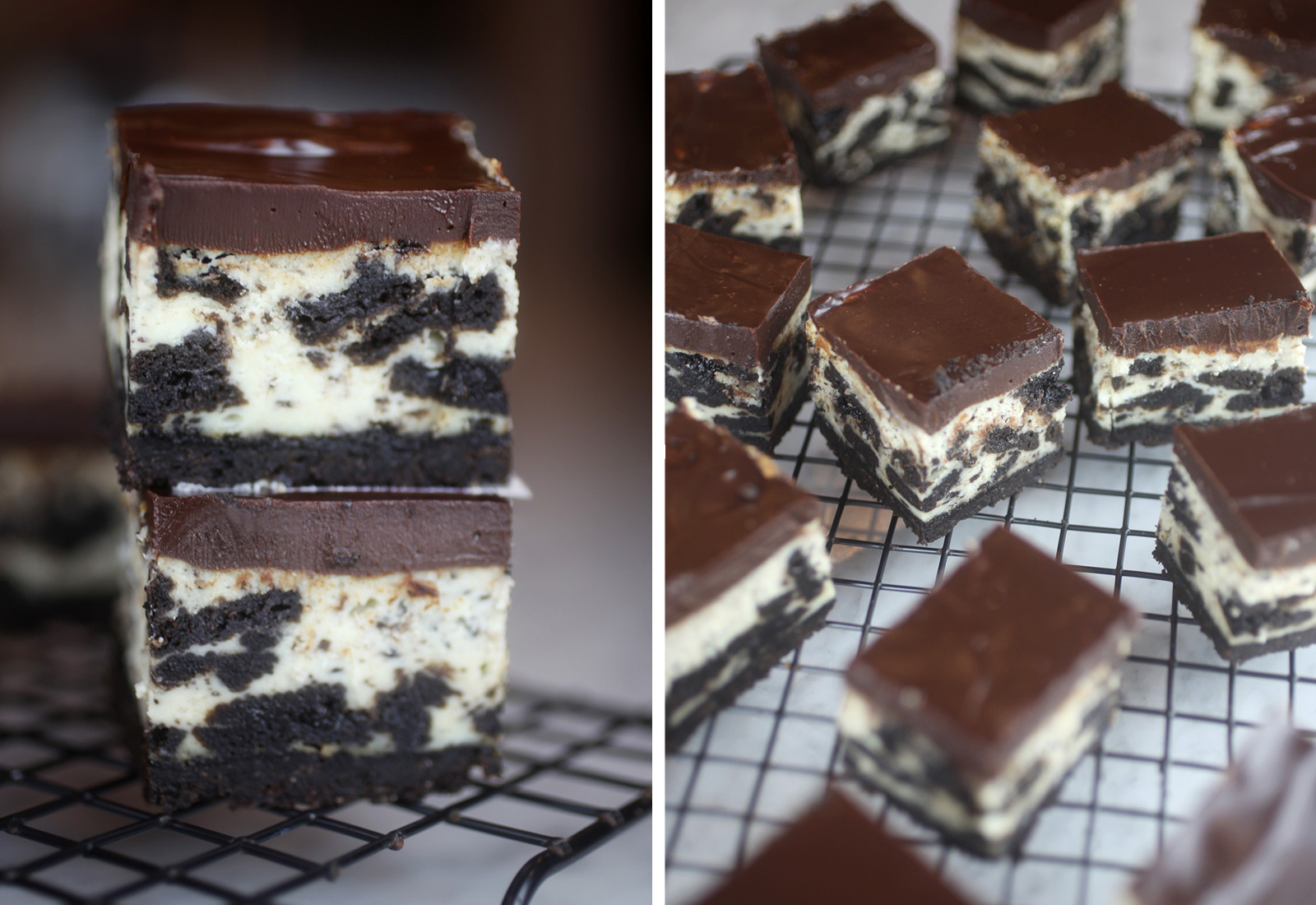 When chilled and firm, cut into squares and leave them in the pan until you are ready to enjoy. I love using a glass baking dish with lid for these so I can share them or snack on them for several days.
Another thing I love? – the thick layer of cookie crust, matched with a thick layer of ganache – and sandwiched in between is very dense cookies and cream cheesecake. I like mine on the thick side as opposed to creamy and these are just that.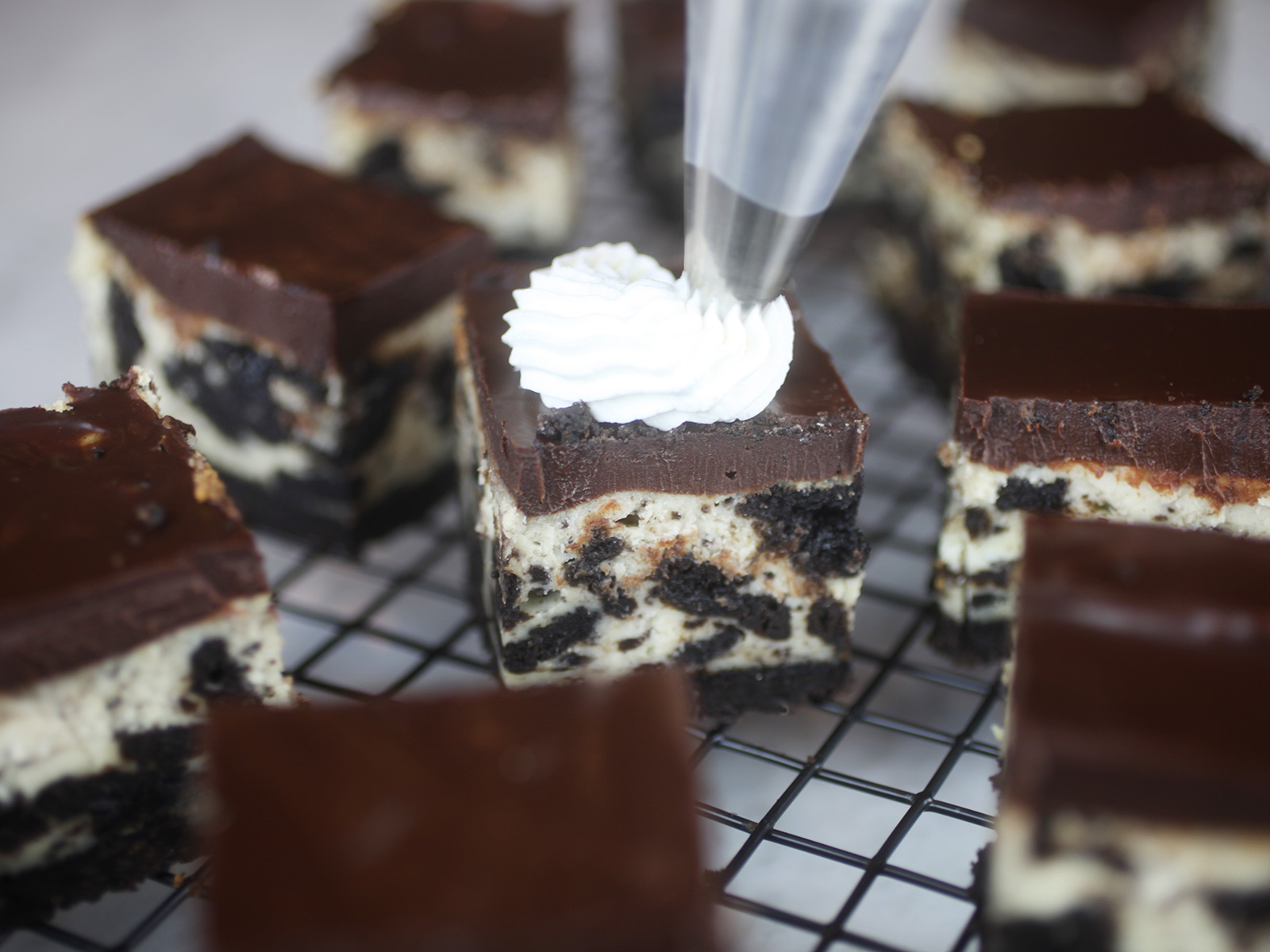 Want to take them over the top? I mean why not.
Well, just pipe on a swirl of whipped cream and add a cookie or cookie half right on top.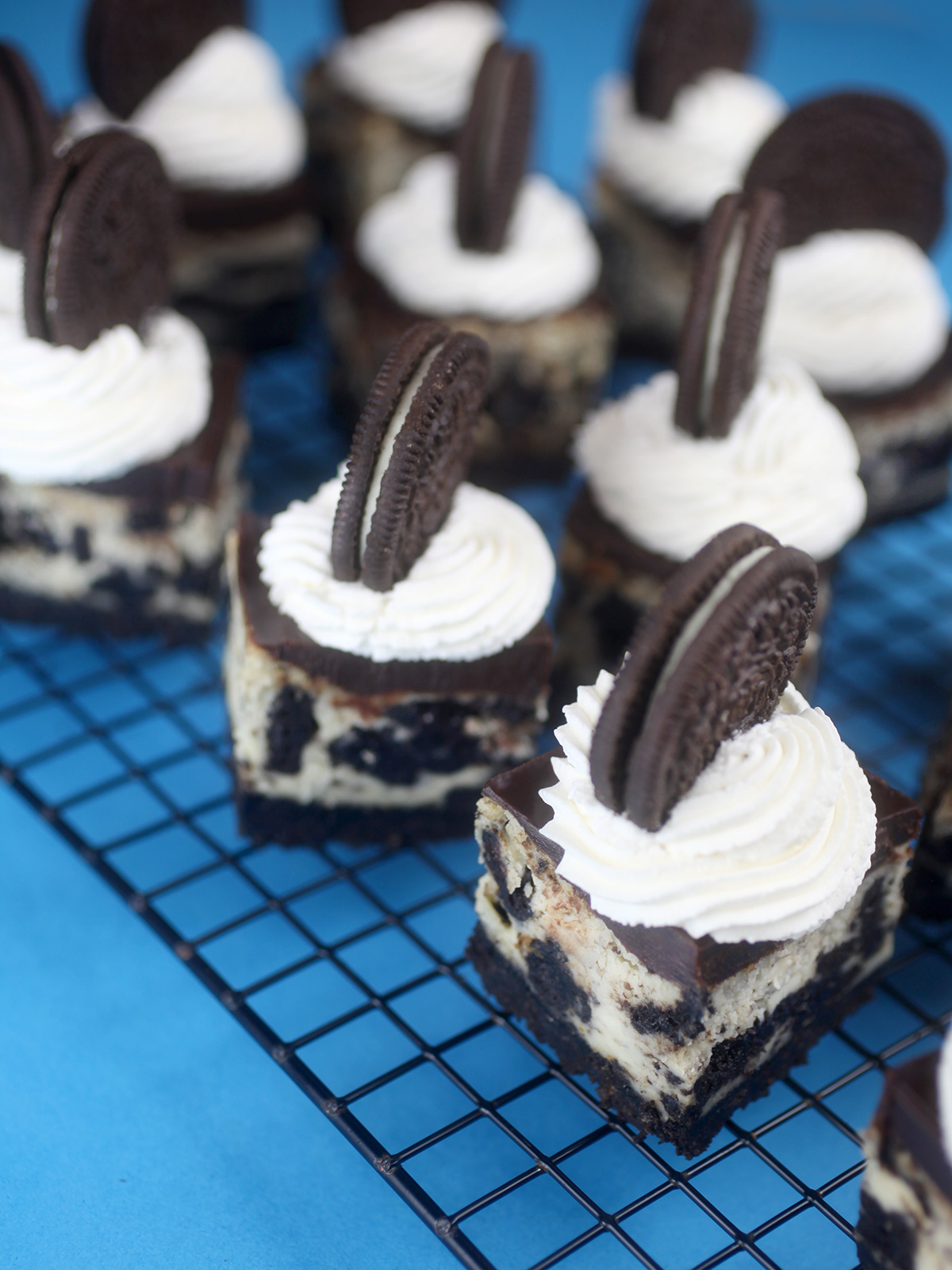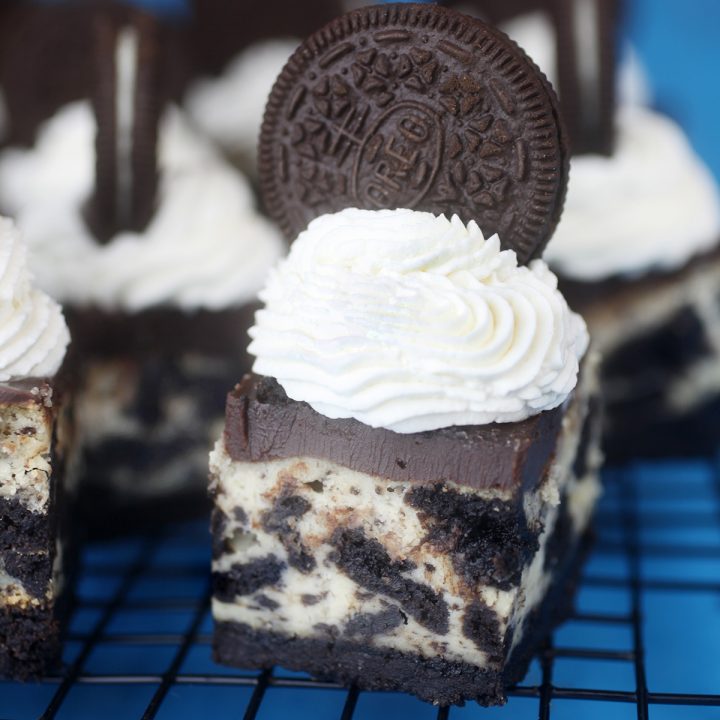 Yield: 16-20 squares
Cookies & Cream Cheesecake Squares
Prep Time 30 minutes

Cook Time 1 hour

Additional Time 6 hours

Total Time 7 hours 30 minutes
Ingredients
Cookie Crust
20 Oreos
3 tablespoons granulated sugar
6 tablespoons butter, melted
Cookies & Cream Cheesecake Filling
16 oz. cream cheese, room temperature
3/4 cup granulated sugar
1-1/2 tablespoons all purpose flour
2 large eggs, room temperature
3/4 cup sour cream, room temperature
2 teaspoons vanilla
3 tablespoons oreo crumbs
15 Oreos, broken into small pieces
Chocolate Ganache
4 oz. heavy whipping cream
2 tablespoons butter
3/4 cup dark chocolate morsels
2 tablespoons confectioners' sugar
Whipped Cream
1 cup heavy whipping cream
2 tablespoons confectioners' sugar
More cookies for garnishing
Instructions
Preheat oven to 325 degrees fahreneheit.
Make the crust: Use a food processor to crush 20 Oreos into fine cookie crumbs. Set aside 3 tablespoons of cookie crumbs for the filling. Place remaining crumbs in a medium bowl, add sugar and stir together until combined. Add melted butter and stir until completely incorporated. Place mixture into an 8 X 8 inch baking dish. (Note: pics shown are using a 6 X 9 inch pan, but either is fine.) Using the bottom of a measuring cup or drinking glass, firmly press the mixture into the baking dish until flat. Bake for 10 minutes, then remove from oven and let cool.
Make the cheesecake filling: Using a mixer on medium-high speed, beat softened cream cheese, sugar and flour until combined and creamy. Turn mixer to low and add eggs, mixing until combined. Add sour cream and vanilla and mix until combined. Gently stir in broken Oreo cookie pieces and the 3 tablespoons of fine cookie crumbs. Then pour filling into prepared baking dish. Bake for about 60-65 minutes, then remove and let cool completely.
Make the ganache: Place dark chocolate morsels in a large heat-proof bowl and set aside. Add heavy whipping cream and butter to a saucepan and heat on stove at medium high. Remove just before boiling and pour over morsels. Let sit for a minute and then whisk until completely combined. Add confectioners' sugar and whisk again until smooth. Pour over cooled cheesecake. and let set.
Cover and refrigerate for several hours or overnight.
Cut into 20-25 squares and decorate with whipped cream and more cookies if desired.
To make the whipped cream: Chill a metal mixing bowl and whisk attachment in the freezer for several minutes before you get started. Combine heavy cream and sugar in the mixing bowl. Beat on high until soft to medium peaks form. Pipe whipped cream on top of cheesecake squares and top each one off with a half or whole Oreo cookie.

Store cheesecake squares in refrigerator and enjoy.
Notes
A family pack of Oreos contains 48 cookies - enough for this recipe using cookie halves to garnish the tops of the cookies. If you want whole cookies on the top of each square, purchase two regular size packages. They hold 36 cookies.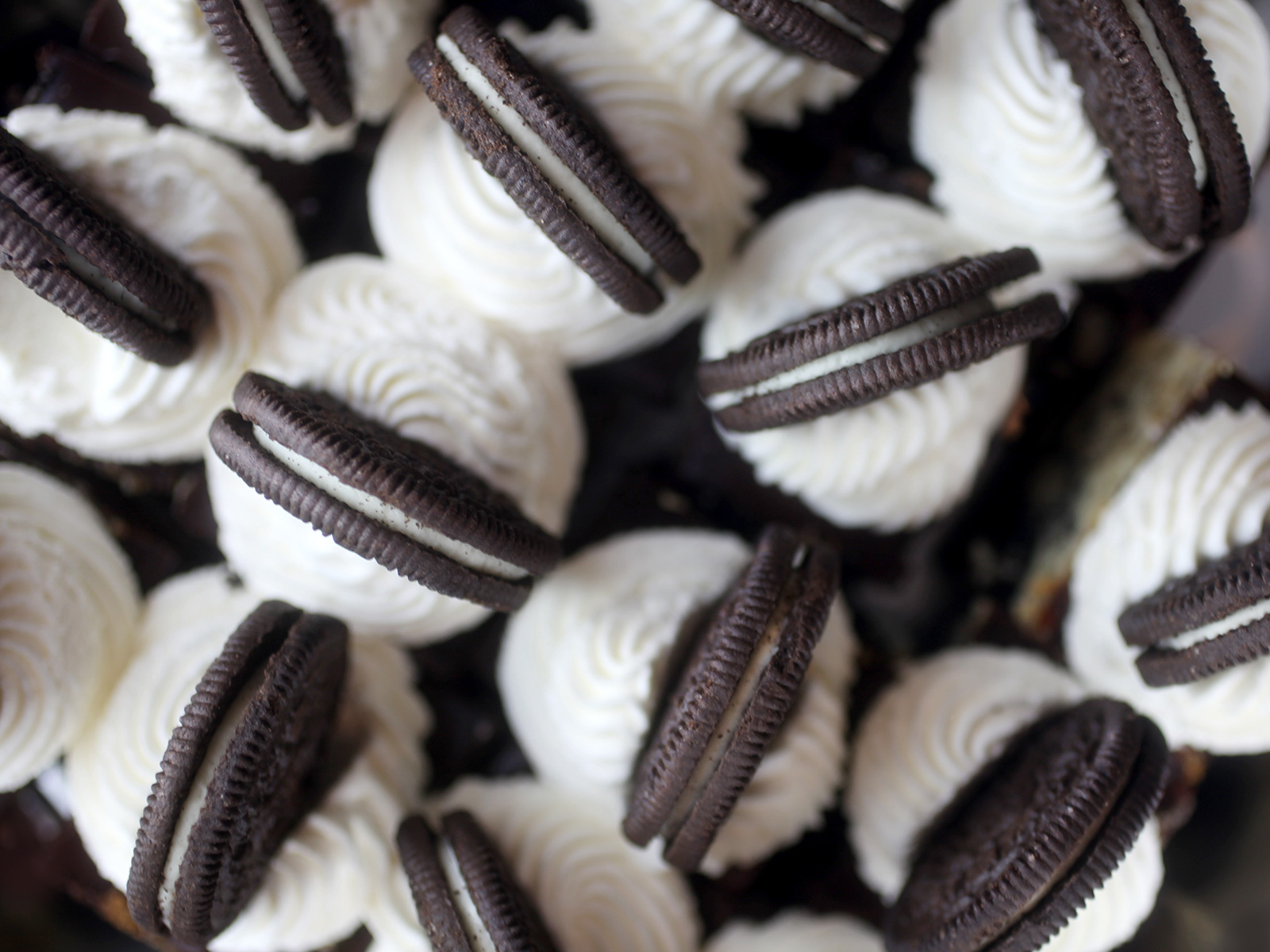 Ummm… yummm! Hope you enjoy!