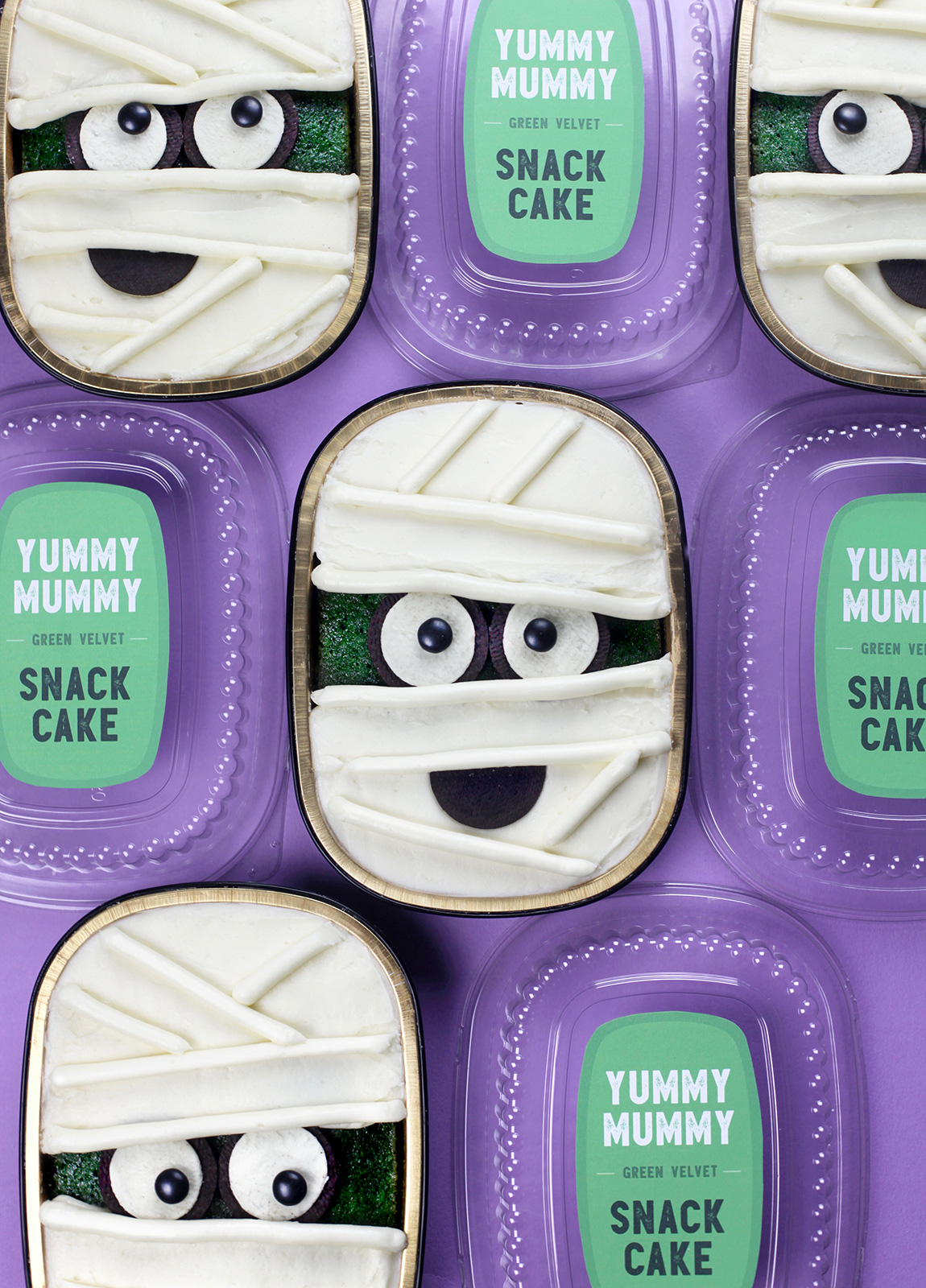 Halloween is almost here and I couldn't resist making and decorating spooky cute snack cakes to get in the mood. I've been wanting to try one of my cake recipes to bake in these individual foil baking containers to see how many cakes it would yield. So I used my red velvet cake recipe (turned green, of course) for the mummy faces and then decorated them as simply as I could for a pretty fun and easy individual treat.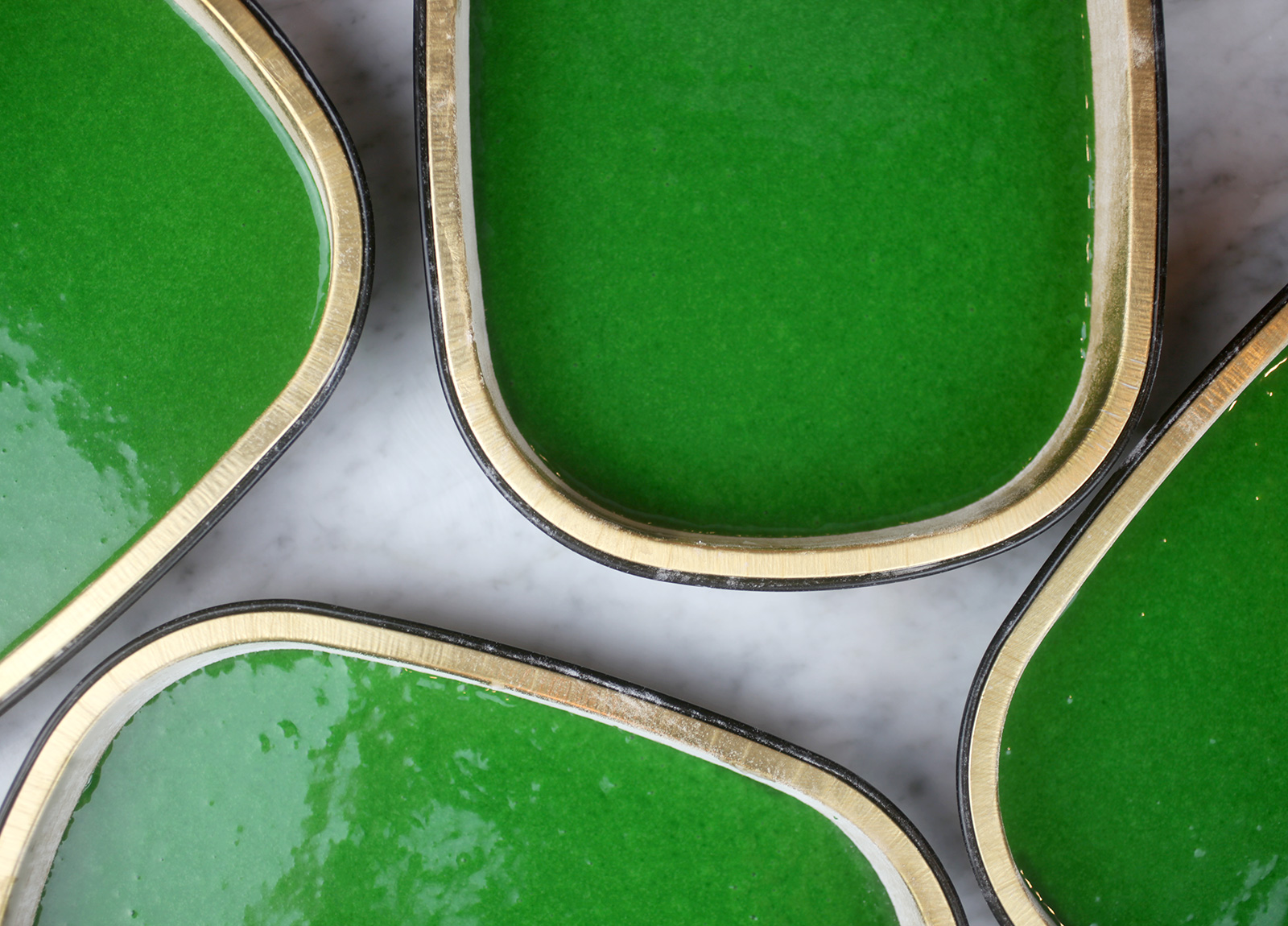 Green velvet cake batter. Not the most appealing in general, but it definitely works for this project. I like the green for these because it allows a hint of the color to show for the mummy faces. Now, if I were decorating these and covering the cake completely with frosting, I'd just stick with regular red velvet, you know.
The recipe yields four snack cakes using these cute containers. So… pretty good for gifting.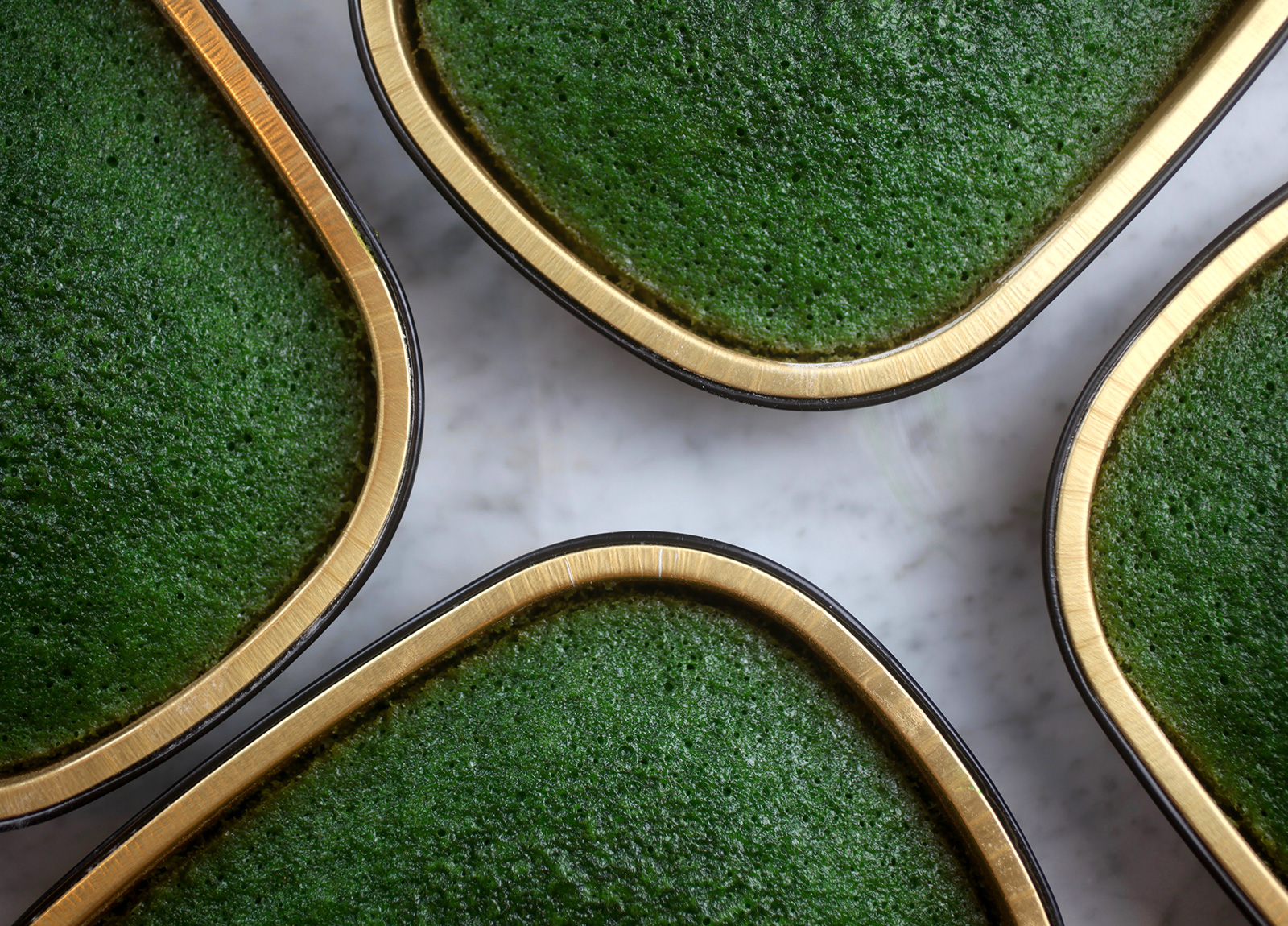 All baked and ready for their close up.
Sidenote: I'm happy to know my red velvet cake recipe will also make four little snack cakes. Happy to start planning for the holidays.
Now let's decorate.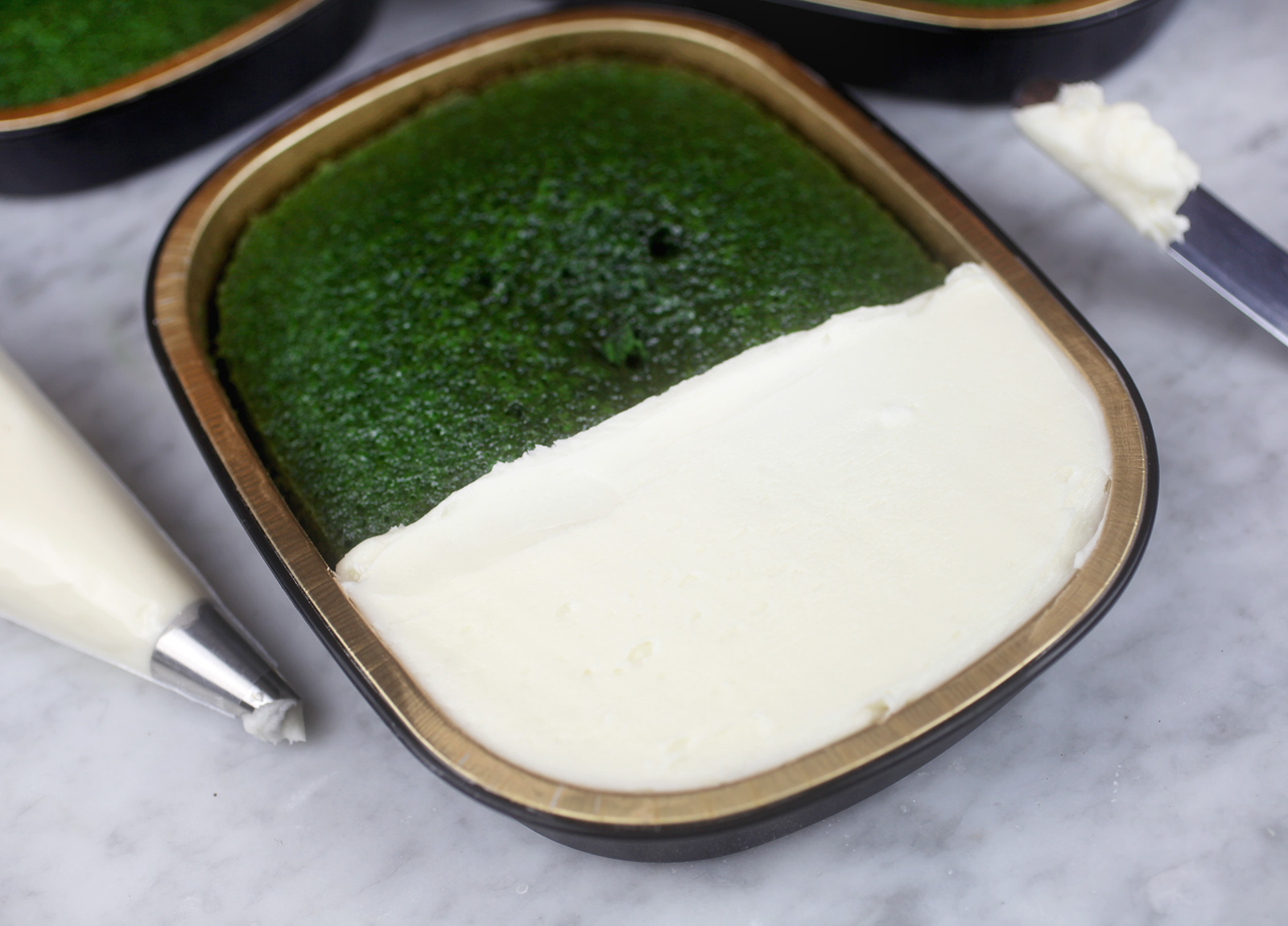 First up, frost a large portion of the bottom and top of the cake leaving the green cake exposed in the middle for the mummy's face.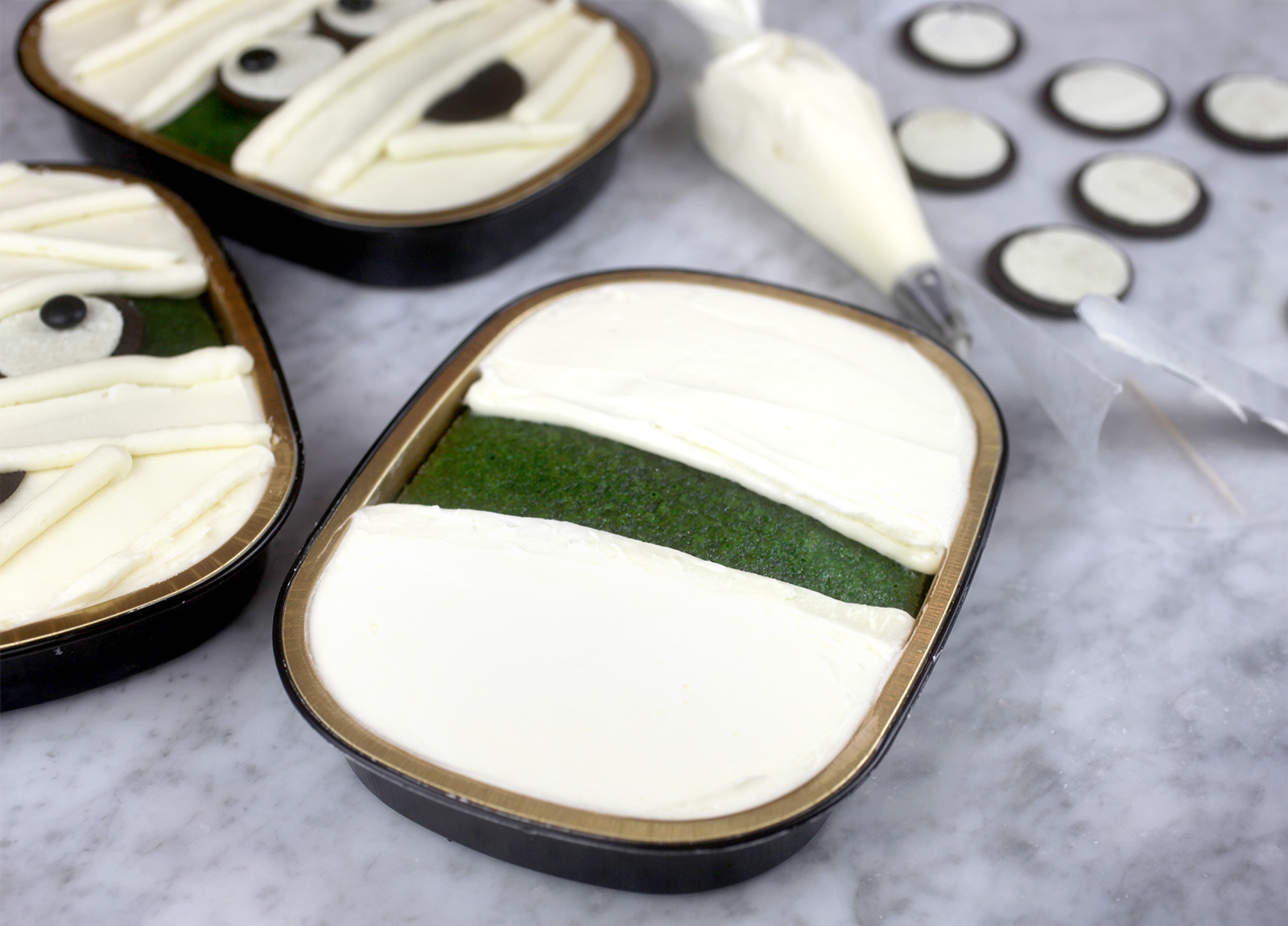 You can pipe a line of frosting to use as a border and then fill in the shape using an offset spatula for a smooth surface. You'll get frosting on the edge of the container, but no worries – it will wipe off easily.
Once you have the top and bottom areas frosted, you'll need some big eyes.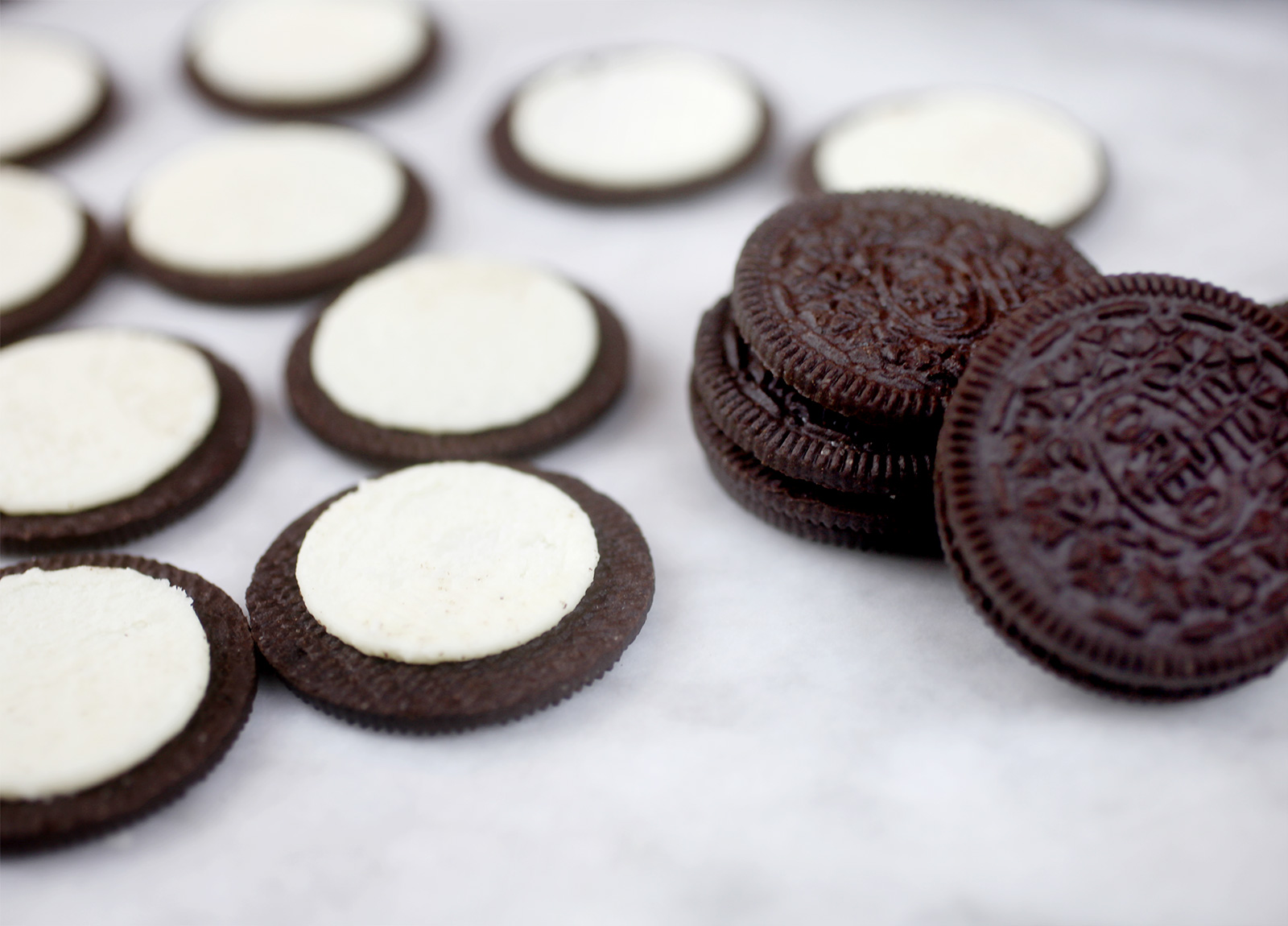 Oreos were the obvious choice. Carefully separate them and cross your fingers that they end up with all the creme center on one side of the cookie. If not, you may have to eat your way through enough until you get eight clean cookies and creme halves for the eyes. If there are a few small crumbs on them, just place the cookies in the fridge or freezer for a few minutes to chill and then gently scrape any crumbs off.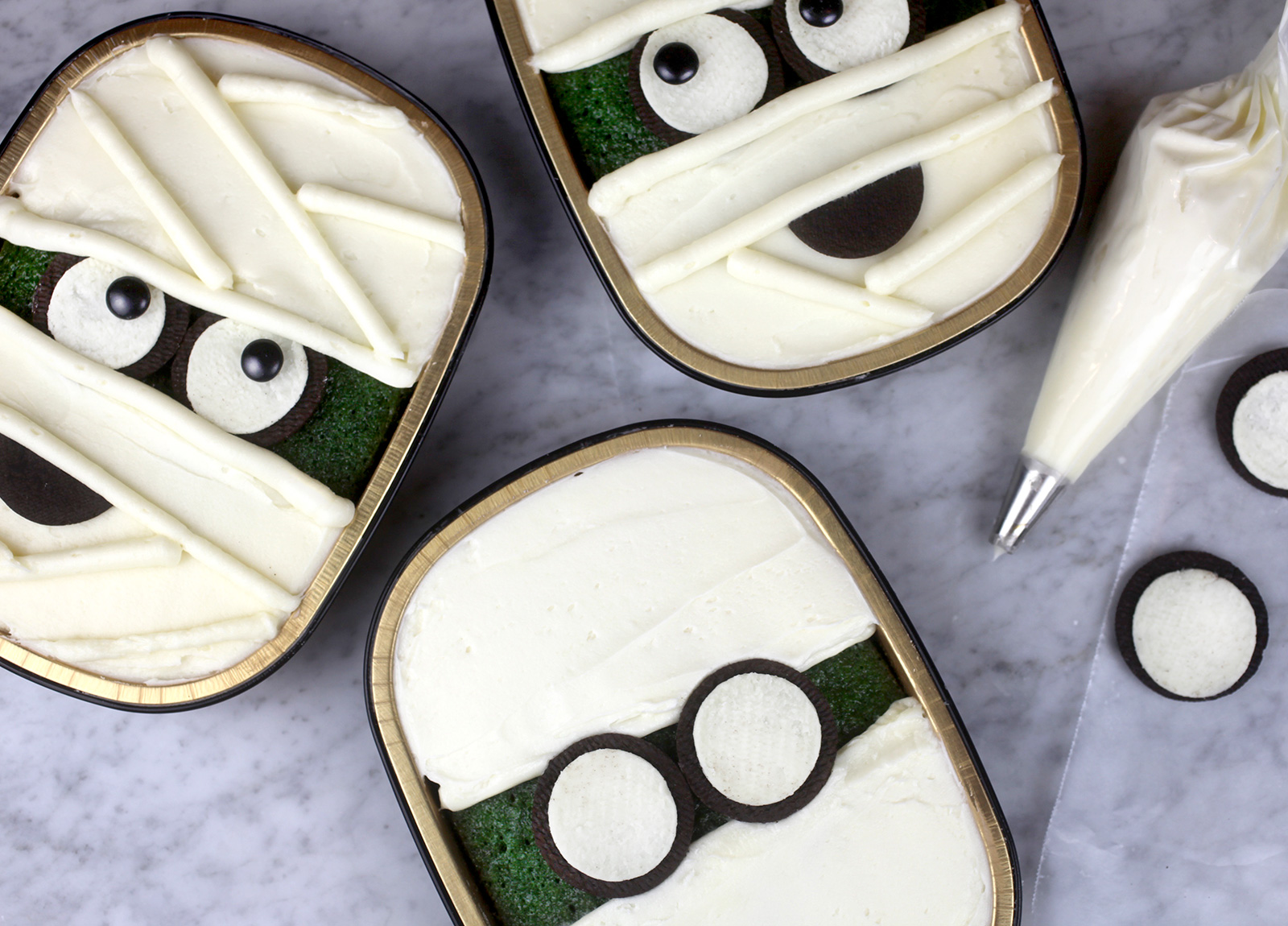 Tada. Cookie eyes. And for the pupils, use some black M&M's candies in place in different positions to finish off the look.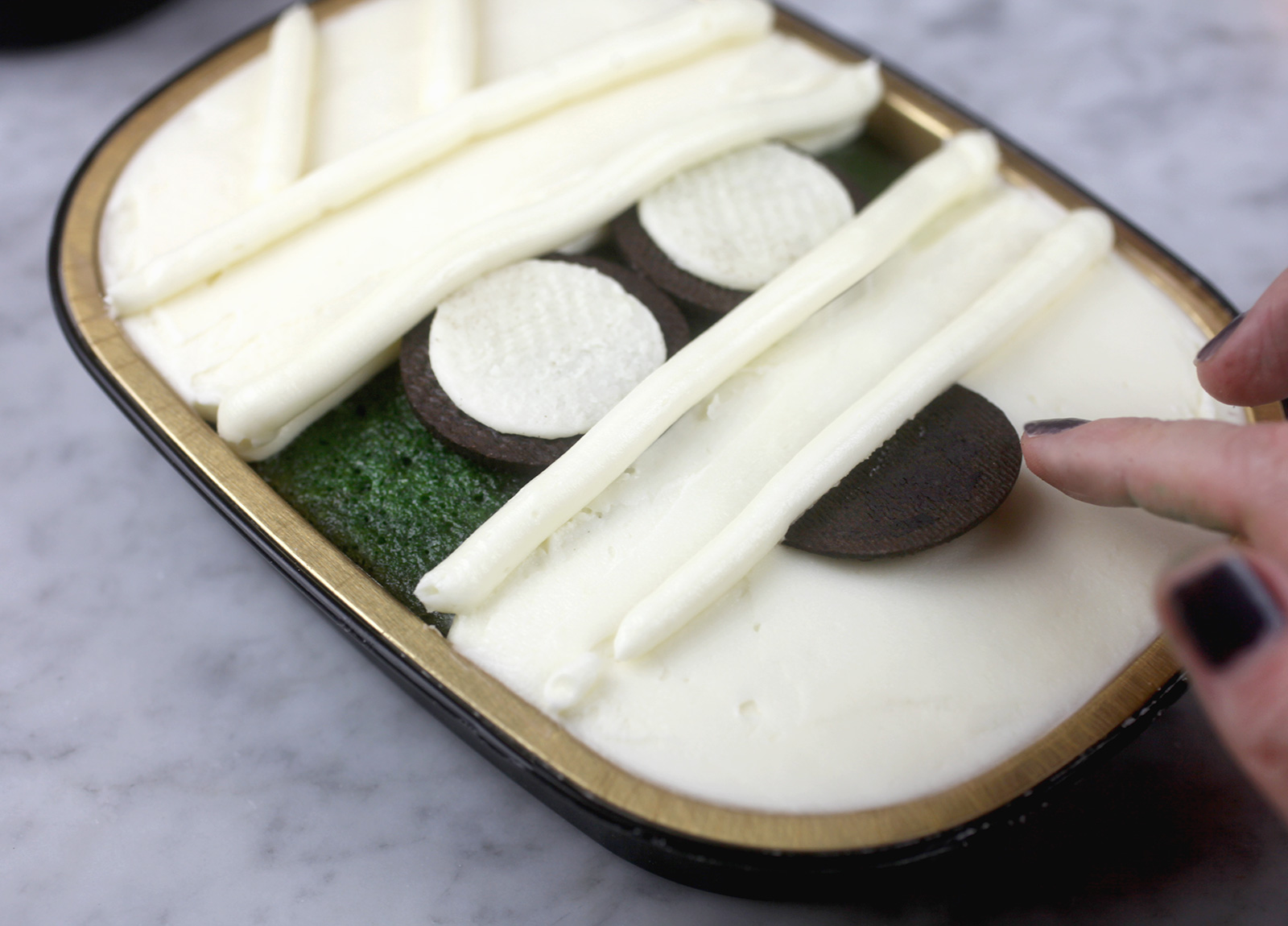 To give the vibe that the mummy is wrapped up, pipe frosting in parallel lines, going in different directions. Then use a separated cookie, cut in half for the mouth. Gently place in position while trying to tuck it underneath a piped buttercream line.
Tip: For the mouths, I used Oreo Dark Chocolate Thins, separated. These worked out really nicely, without adding extra thickness. And they separated much easier than regular Oreos. Next time I will have to try Original Flavor Oreo Thins to see if those also separate as nicely and if they do I would use those for the eyes.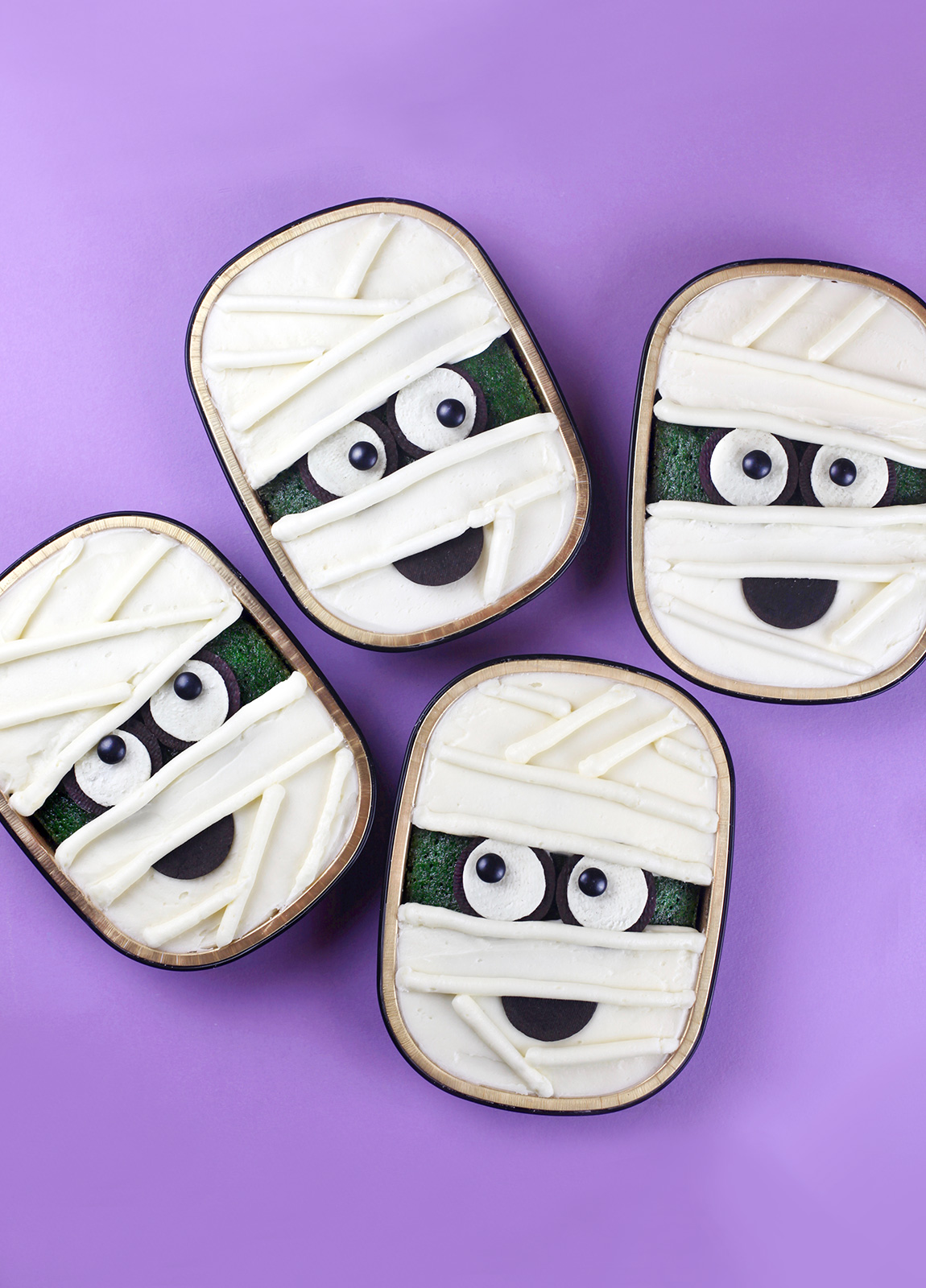 Wrapped and ready to go.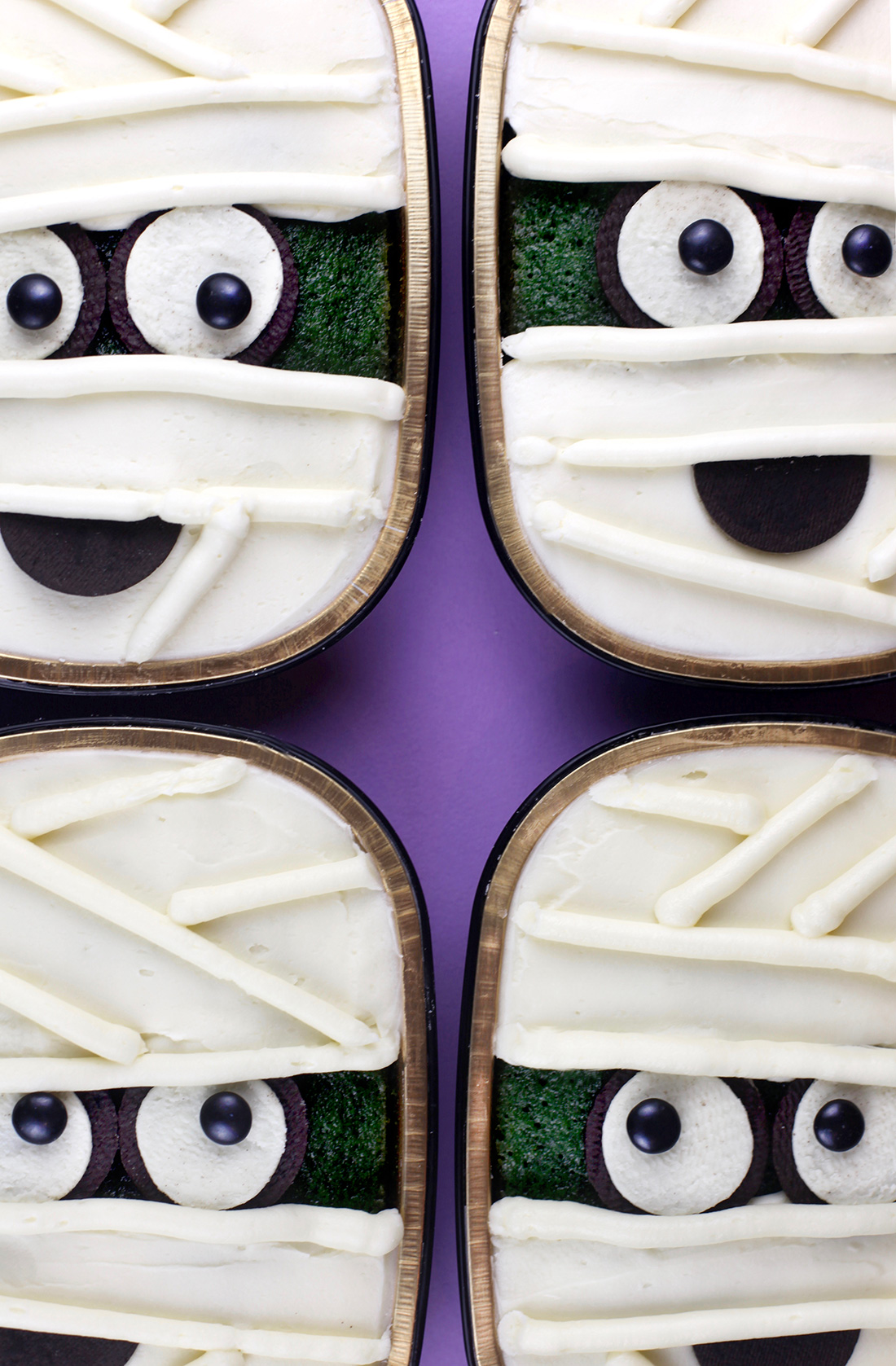 Yield: Four individual snack cakes
Yummy Mummy Snack Cakes
Prep Time 30 minutes

Cook Time 20 minutes

Additional Time 1 hour

Total Time 1 hour 50 minutes
Ingredients
GREEN VELVET CAKE
2-1/2 cups all purpose flour
2 cups granulated sugar
1 Tablespoon natural unsweetened cocoa
1 teaspoon salt
1 teaspoon baking soda
2 eggs
1 cup vegetable oil
1 cup buttermilk
1 Tablespoon white distilled vinegar
1 teaspoon vanilla
1 oz. green food coloring
CREAM CHEESE FROSTING
8 oz. cream cheese, room temperature
1 cup butter, room temperature
1 teaspoon vanilla
6 cups confectioners' sugar
DECORATIONS
Instructions
For the cakes: Preheat oven to 350 degrees Fahrenheit. Then grease and flour four 23 oz. foil pans.
Lightly stir eggs in a medium bowl with a wire whisk. Add remaining liquid ingredients and stir together with whisk until blended. Set aside.
Place all the dry ingredients in your mixing bowl and stir together really good with another wire whisk.
Add wet ingredients to the dry ingredients and mix on medium-high for about a minute or until completely combined.
Pour batter evenly into prepared foil cake pans (about 1-1/4 cups batter for each) and then drop the pans on the counter a few times to release any air bubbles.
Bake for about 18-20 minutes or until a toothpick inserted comes out clean.
Allow cakes to cool completely and then make the frosting.
For the frosting: Sift confectioners' sugar and set aside. In a mixer, beat cream cheese and butter on high until creamy. Add vanilla. Then, add the confectioners' sugar in batches, scraping down the sides in between each addition.
To decorate: Frost the top and bottom portion of the snack cakes using an offset spatula, leaving a strip in the center of the cake exposed so the green cake shows through for the mummy's face. The frosting should be level with the top of the foil container. You can wipe off any excess if needed. Place two separated Oreo cookies on each cake with the creme center facing up for eyes where the cake is exposed. Pipe parallel lines of buttercream on the frosted areas so the mummy looks wrapped up. I used a Wilton #12 decorating tip. Overlap the the top and bottom of the Oreo eyes with buttercream so they look as if they are behind the bandages. Place a black M&M on each cookie eye for pupils and then a broken cookie half in position for a mouth tucked under one of the piped lines of buttercream.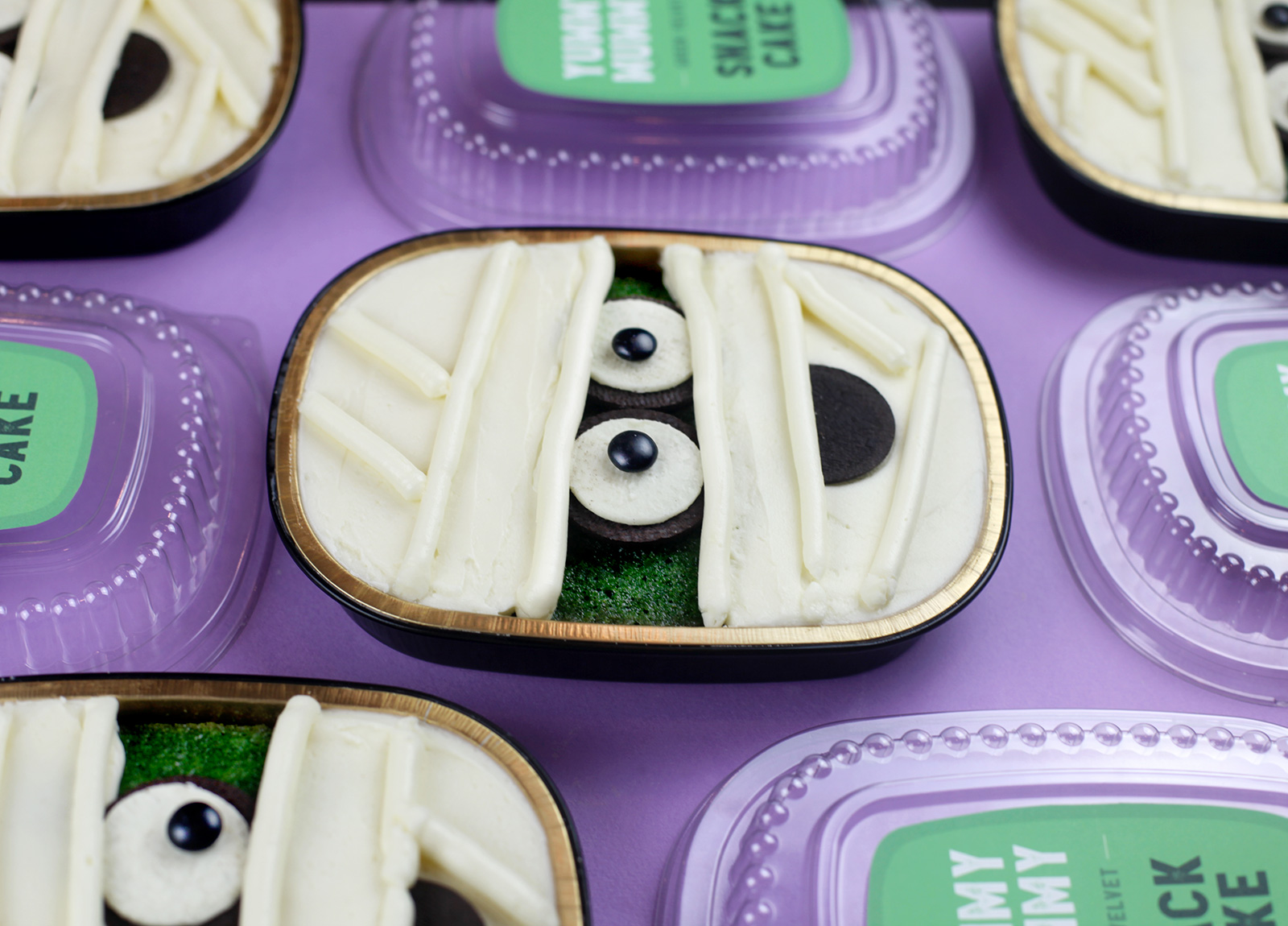 If you end up getting some of these 23 oz foil containers and want to make your own individual snack cakes, then download the snack cake label I designed for you to use, too! They'll be super cute as a gift.
Download the pdf: Yummy Mummy Snack Cake Labels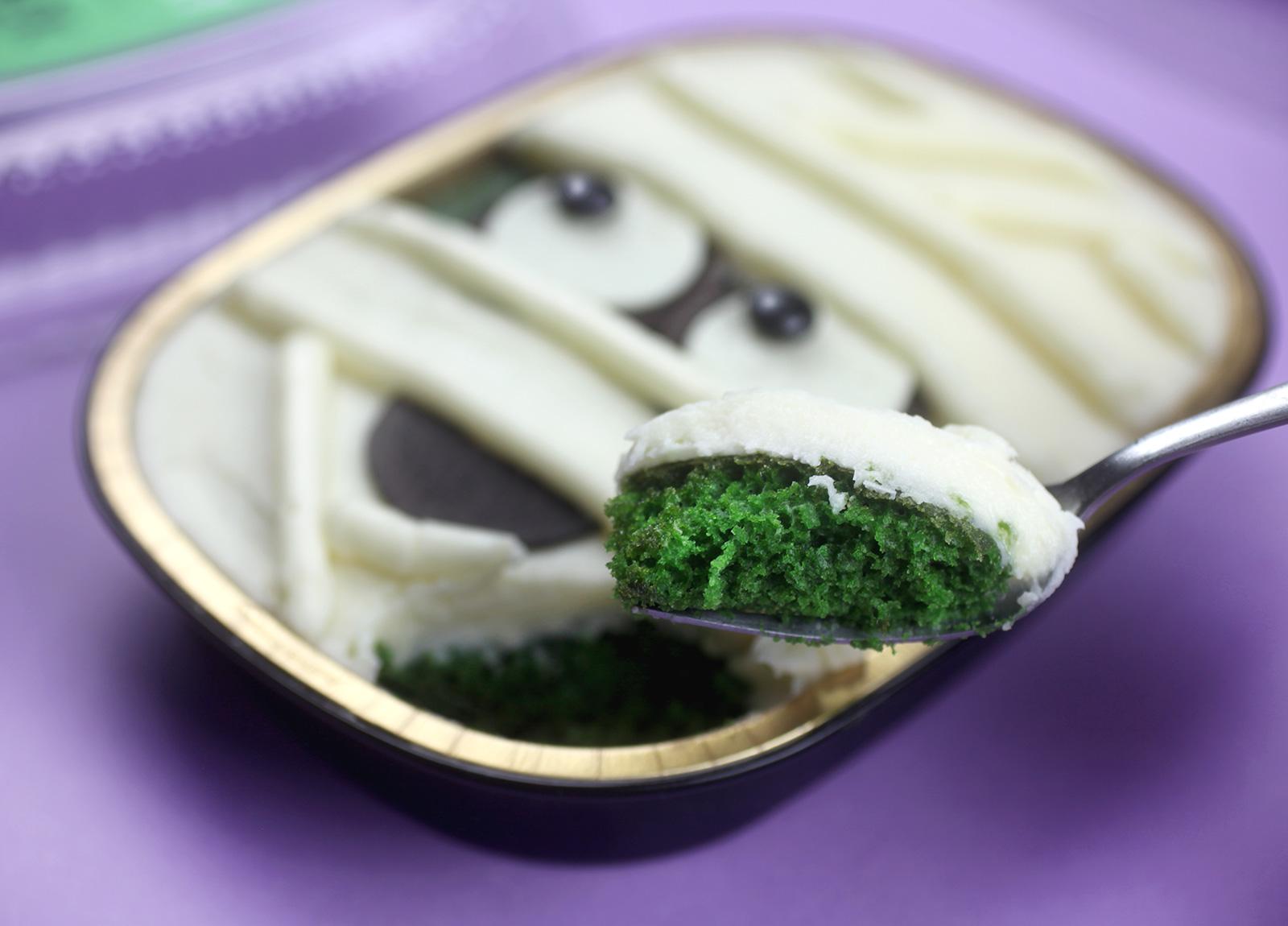 Enjoy and have a Happy Halloween!