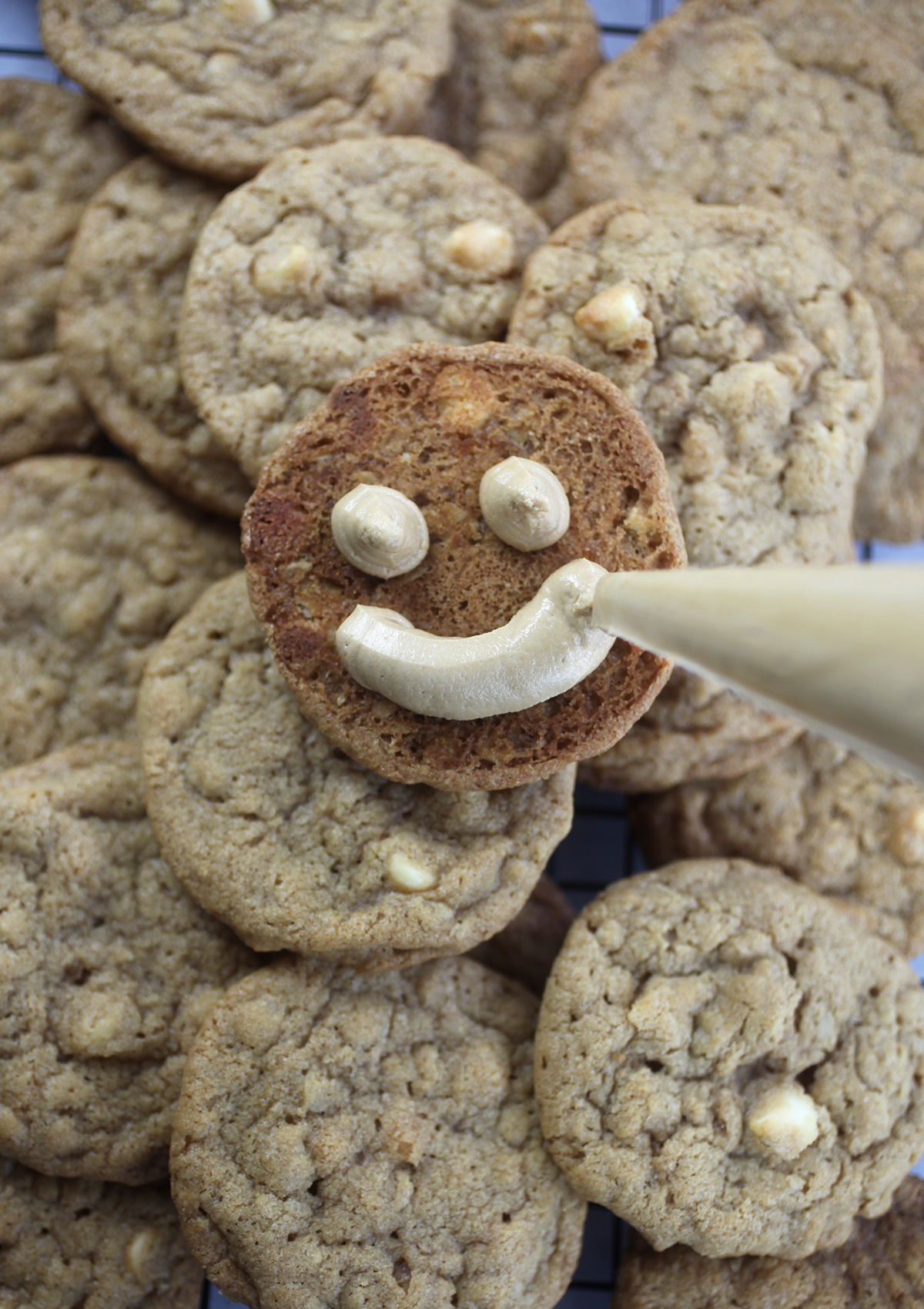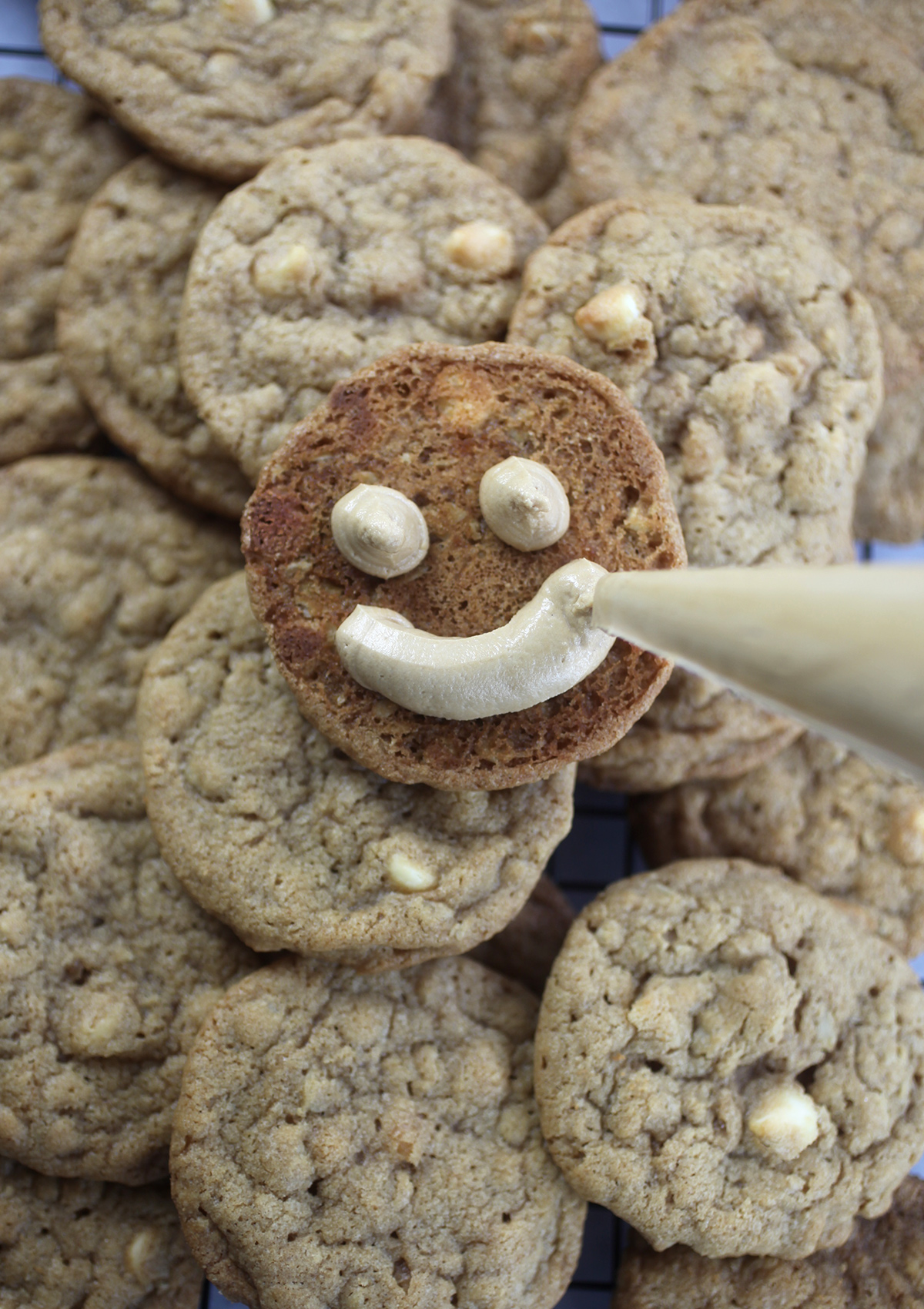 If you can't guess by the photo… well, these cookies will make you smile. They're oatmeal sandwich cookies with a double dose of Biscoff spread. In the cookie batter and in the buttercream. If you haven't tried Biscoff spread before, think of the Biscoff cookies you get on Delta flights, but in a creamy, spoonable spread. So good!
I made this recipe from my blogging friend Maria Lichty's new Two Peas & Their Pod Cookbook. And let me say, it's a good one. Full of deliciousness for every occasion and in true Maria fashion, she has a chapter devoted to desserts and a second completely separate chapter devoted to cookies. I'm on board.
So let's get into this recipe.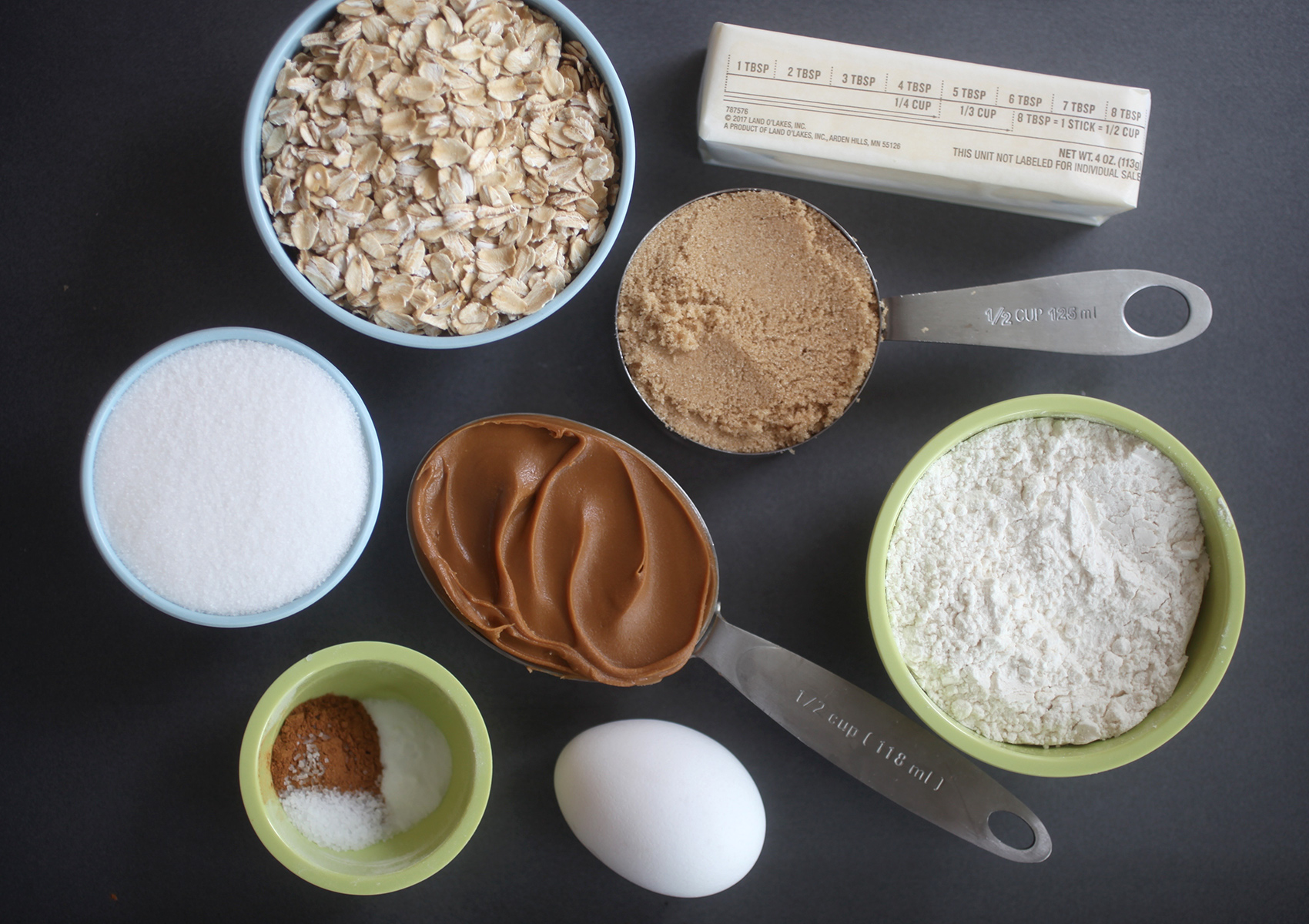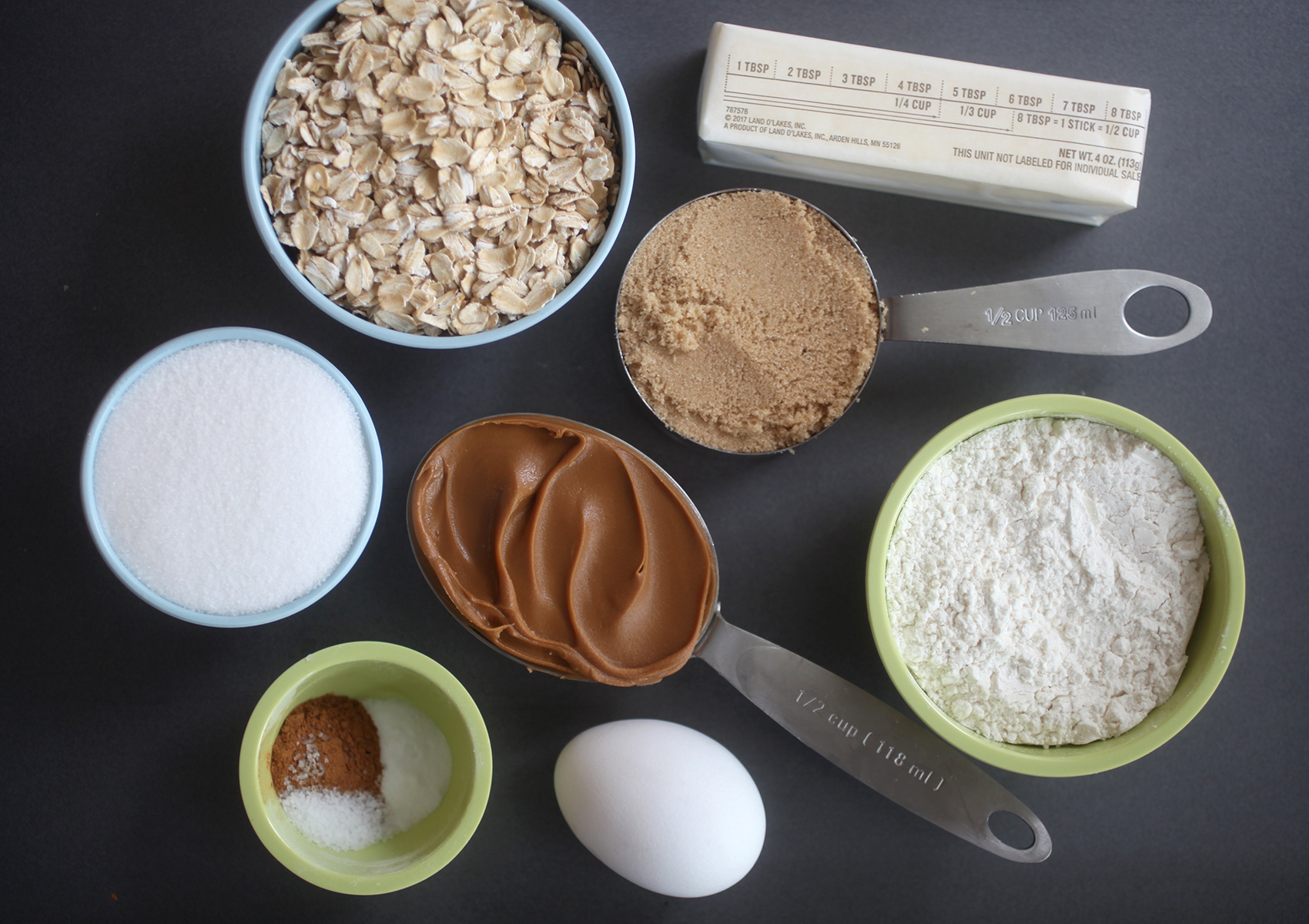 It all begins with oats, butter, sugar, brown sugar, egg, flour, cinnamon, salt, baking soda, vanilla and Biscoff spread.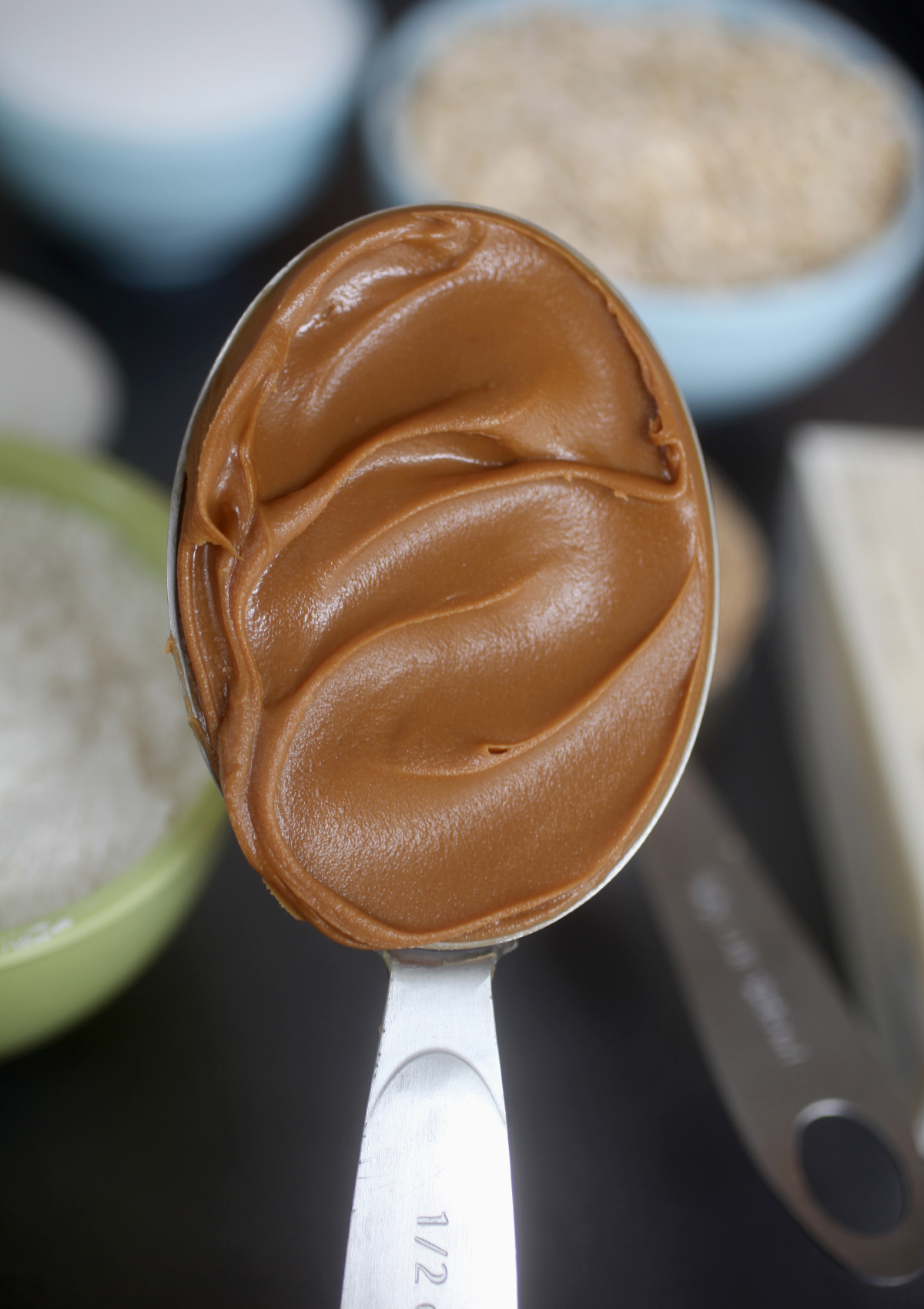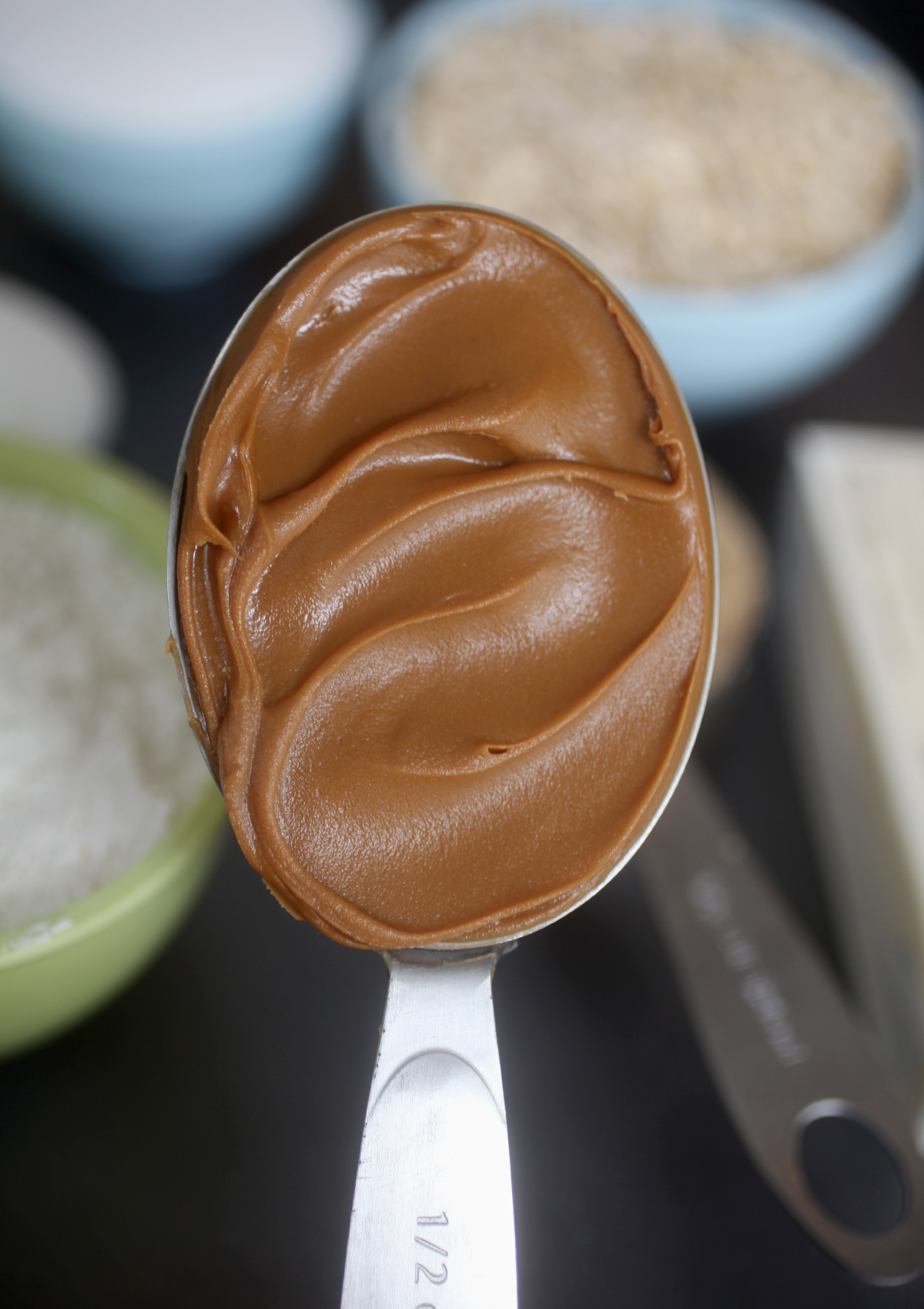 Yes, a half cup of Biscoff, baby! The shining star of these cookies.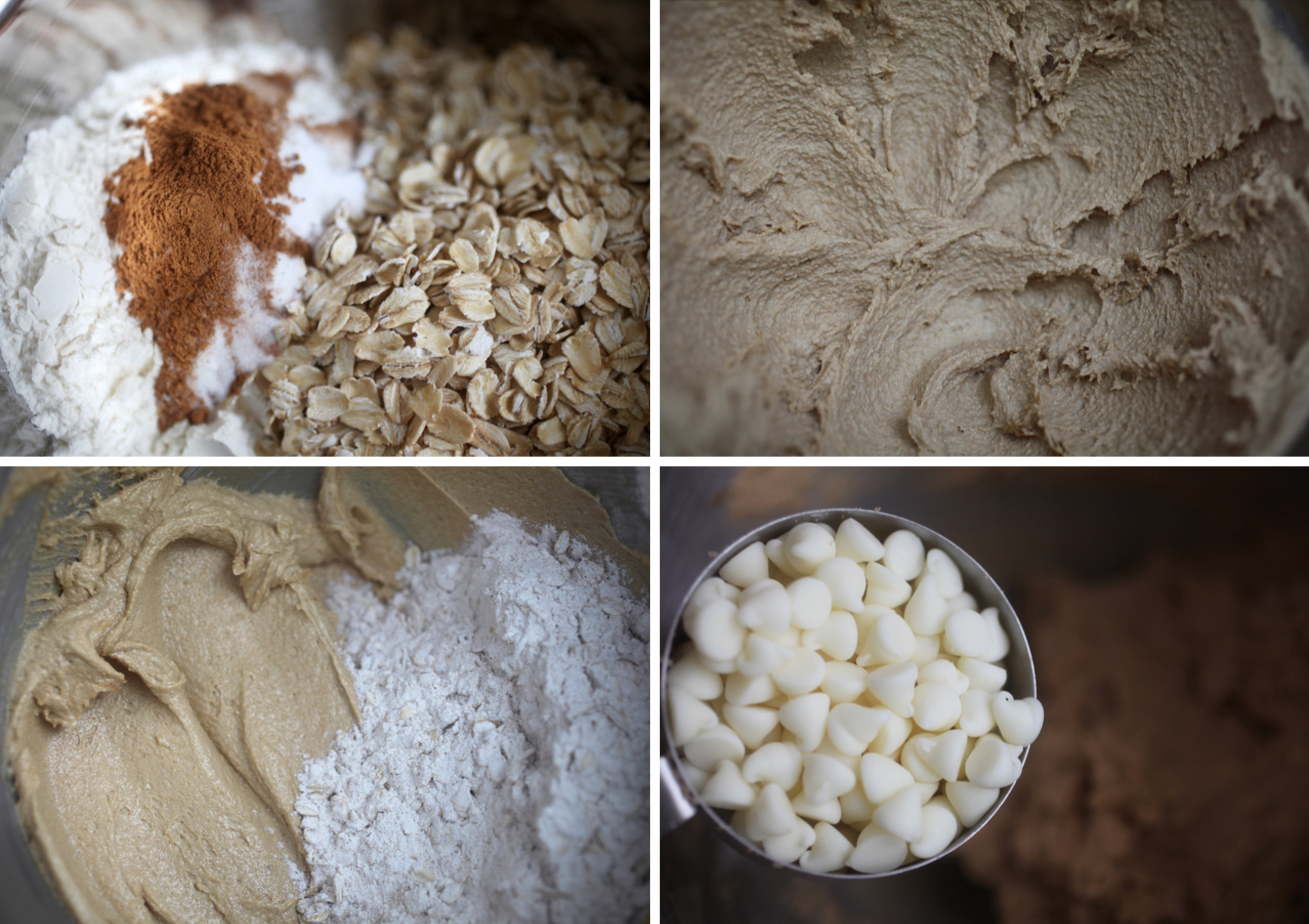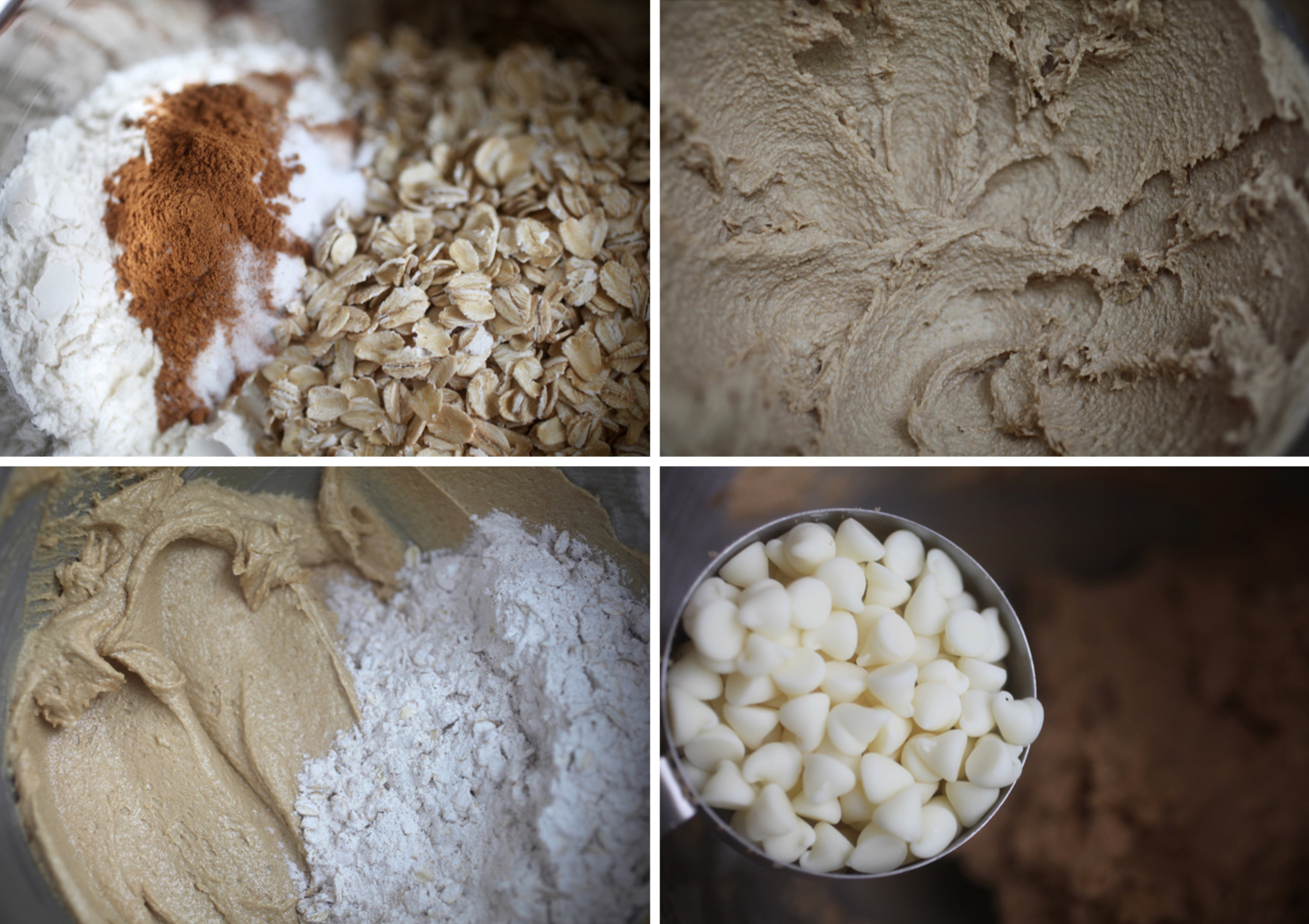 Whisk the dry ingredients together and set aside. Cream the butter, Biscoff and two sugars in a stand mixer. Then add the egg and vanilla. Mix the dry ingredients in until just combined and then if you feel like it stir in some white chocolate chips, too.
These aren't in Maria's original recipe, but I had some extra laying around so I decided to throw them in.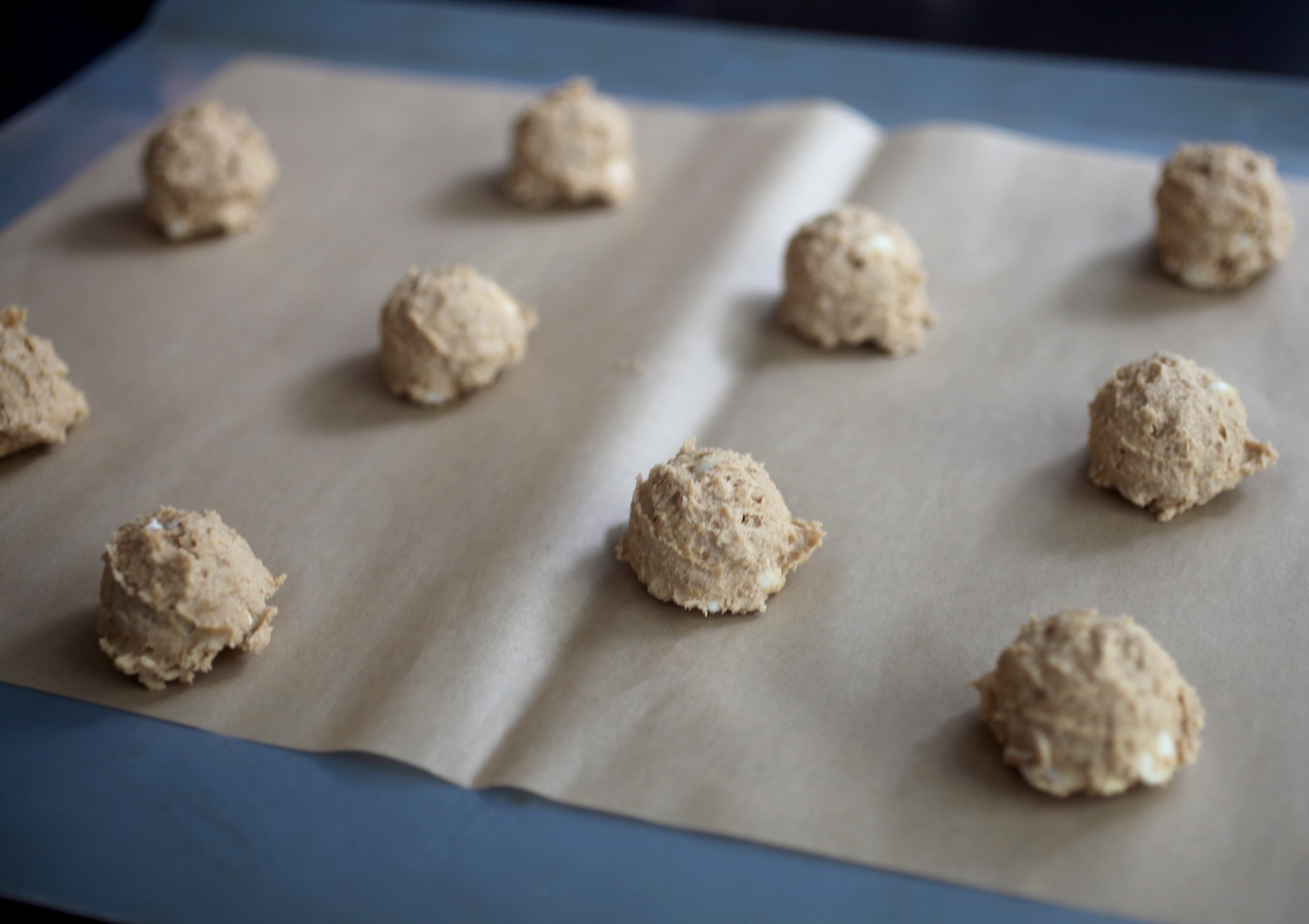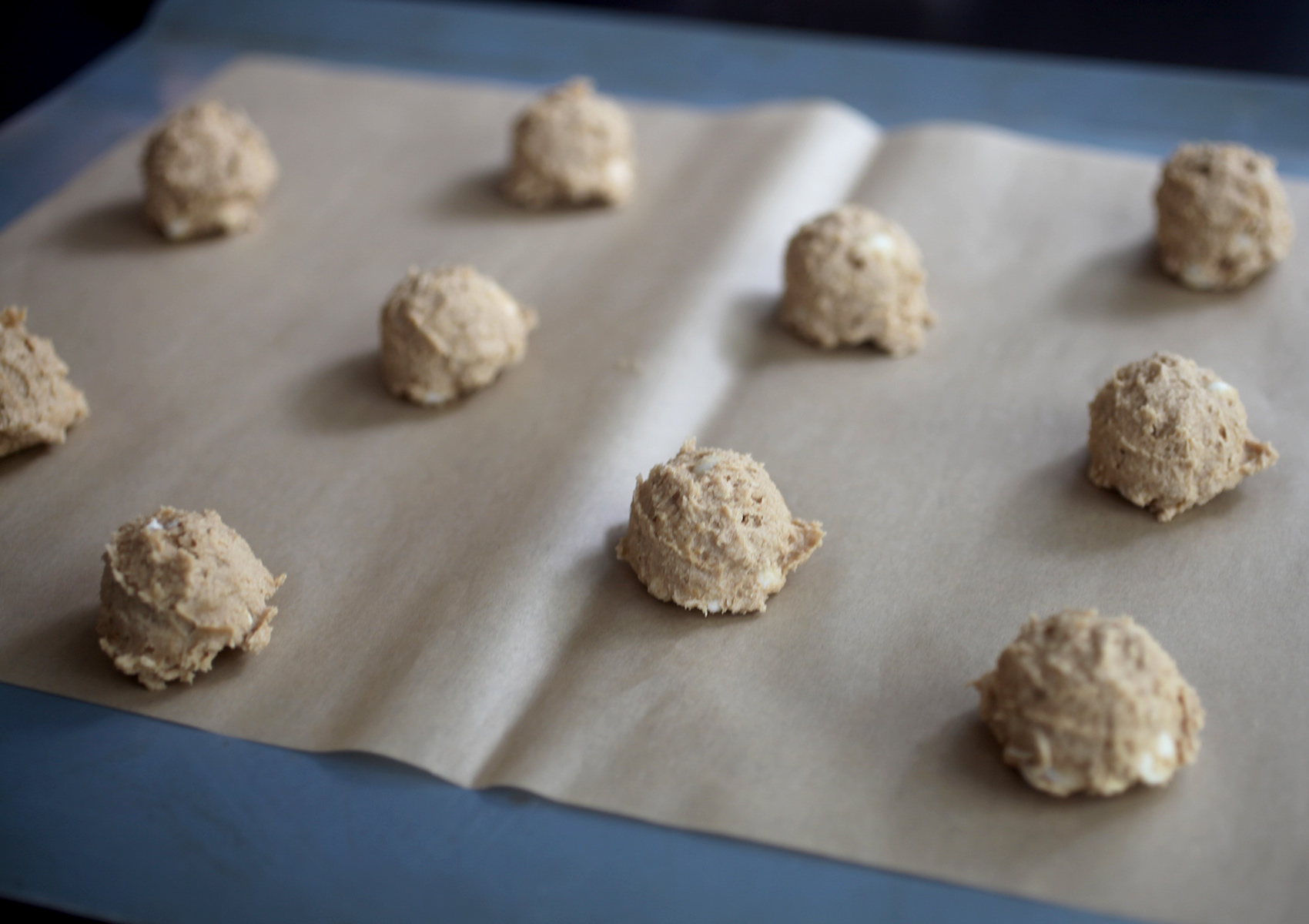 Scoop the dough onto a parchment paper lined baking sheet using a 1 1/2-inch scoop and bake away for about 10 minutes.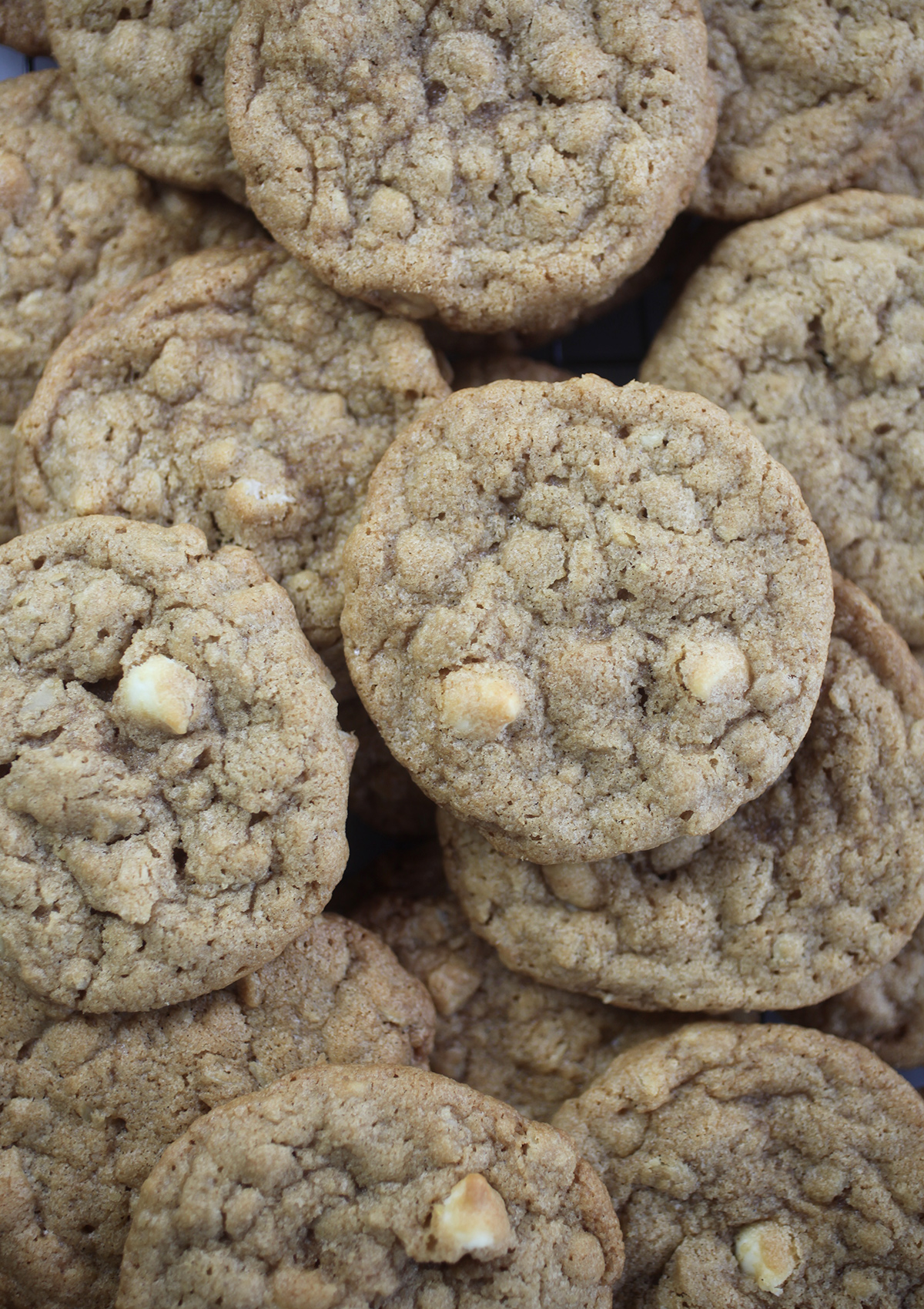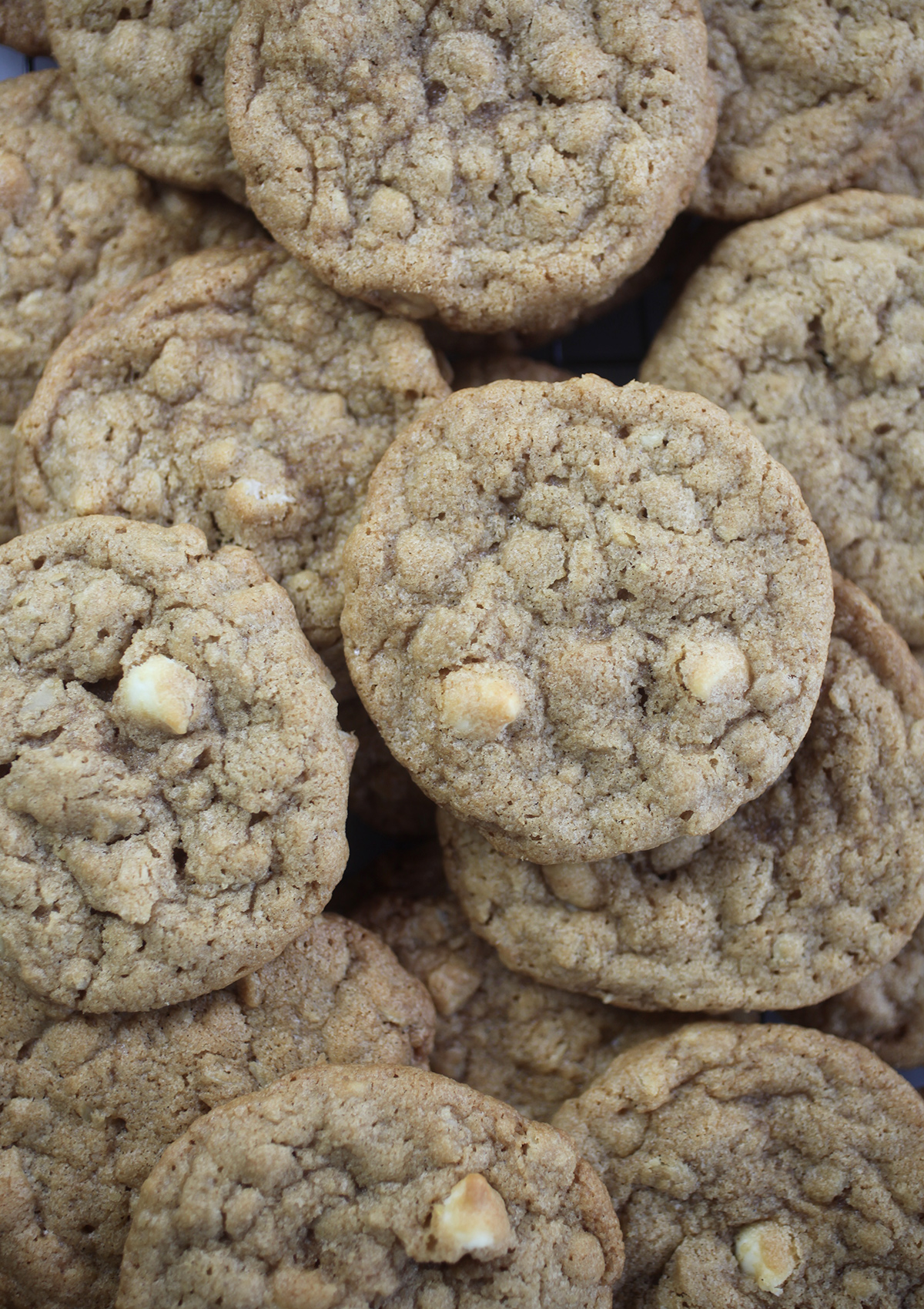 Let the cookies cool on a wire rack while you prepare the buttercream.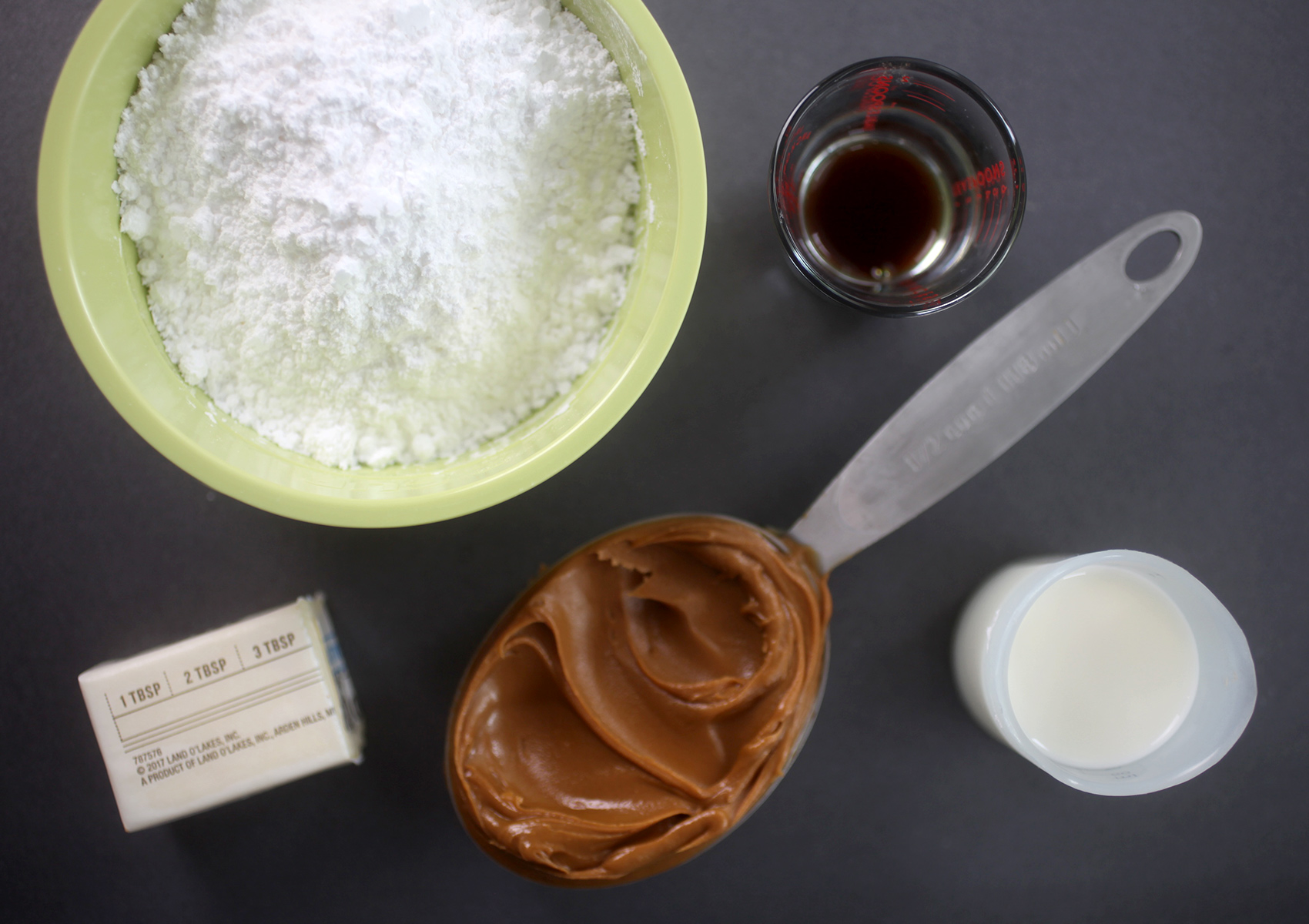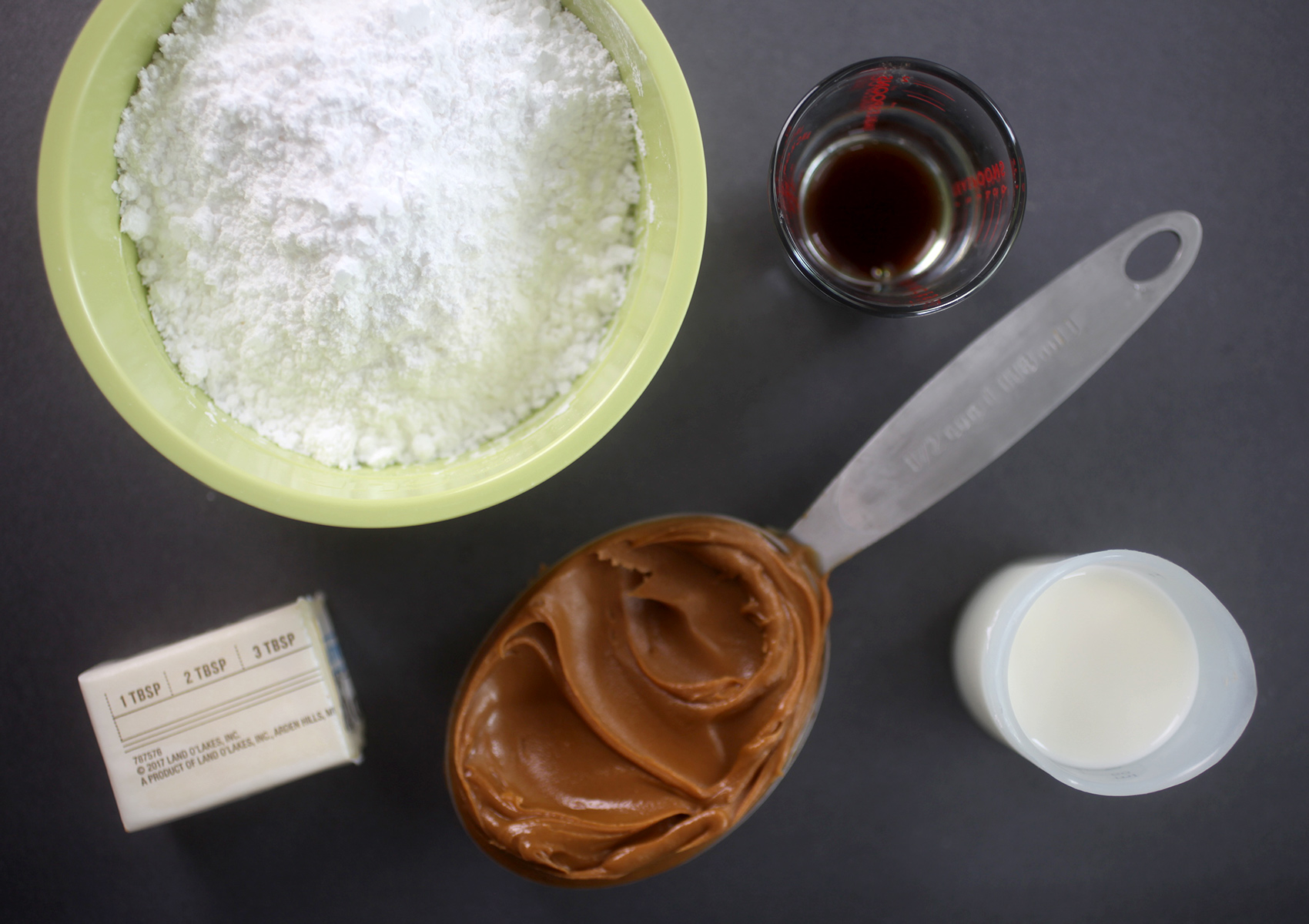 Biscoff again (YAY!), butter, confectioners' sugar, vanilla and milk are all you need to make this buttercream to sandwich between two cookies.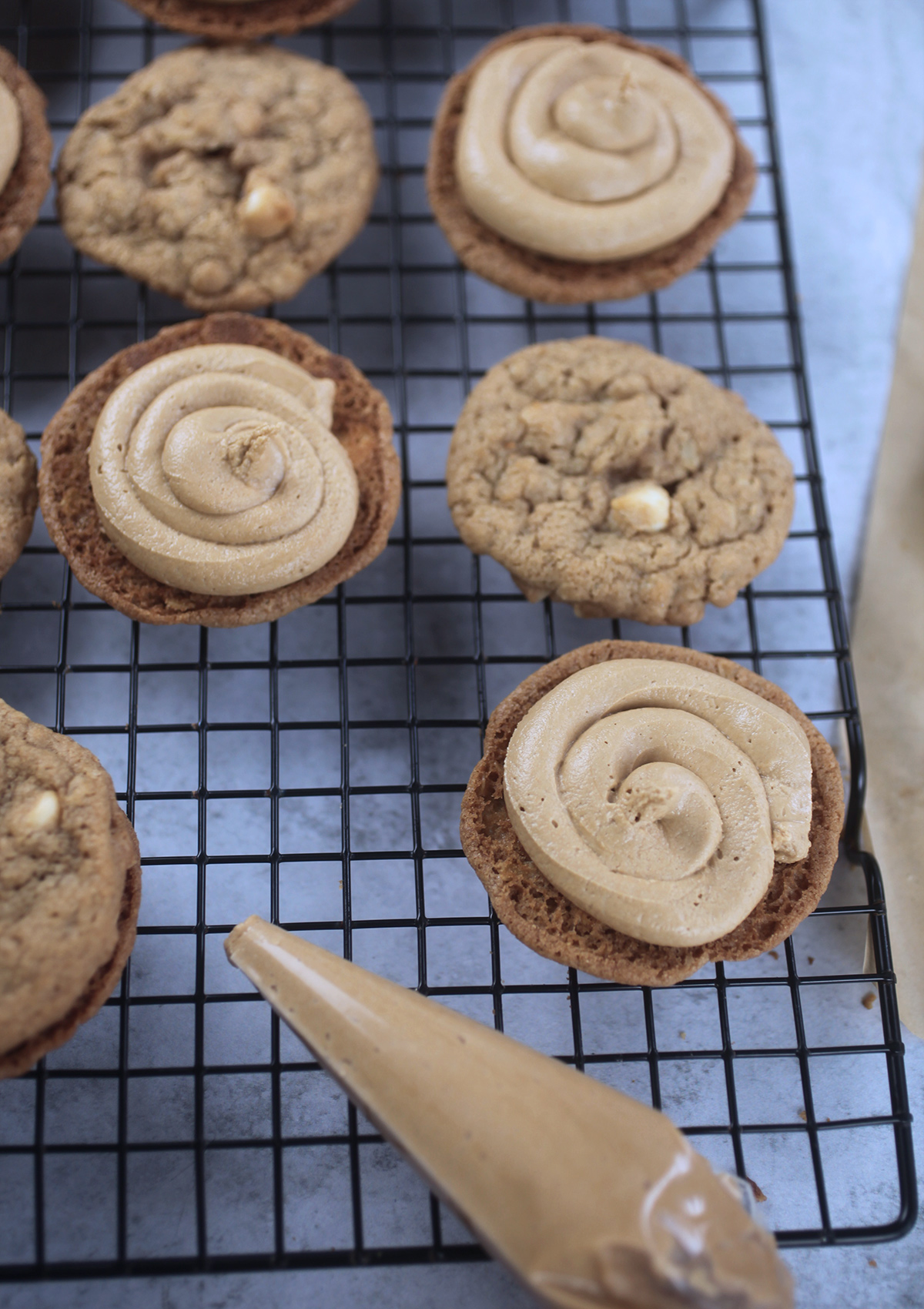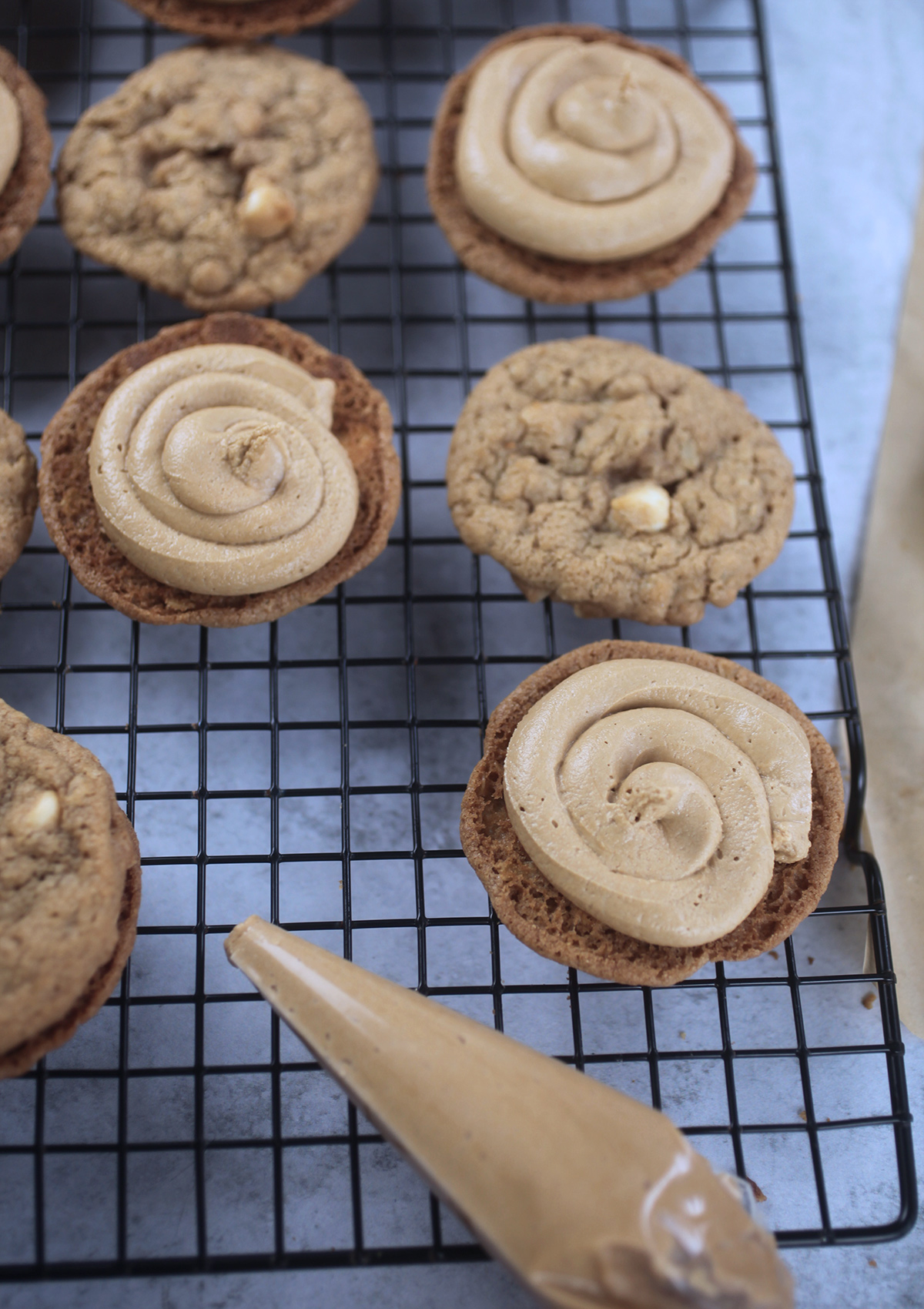 You can spread on with a knife, but for a pretty plump and clean edge, pipe the buttercream on half the cookies and then sandwich them together with the other half. Gently press together and the buttercream will evenly spread to the edges.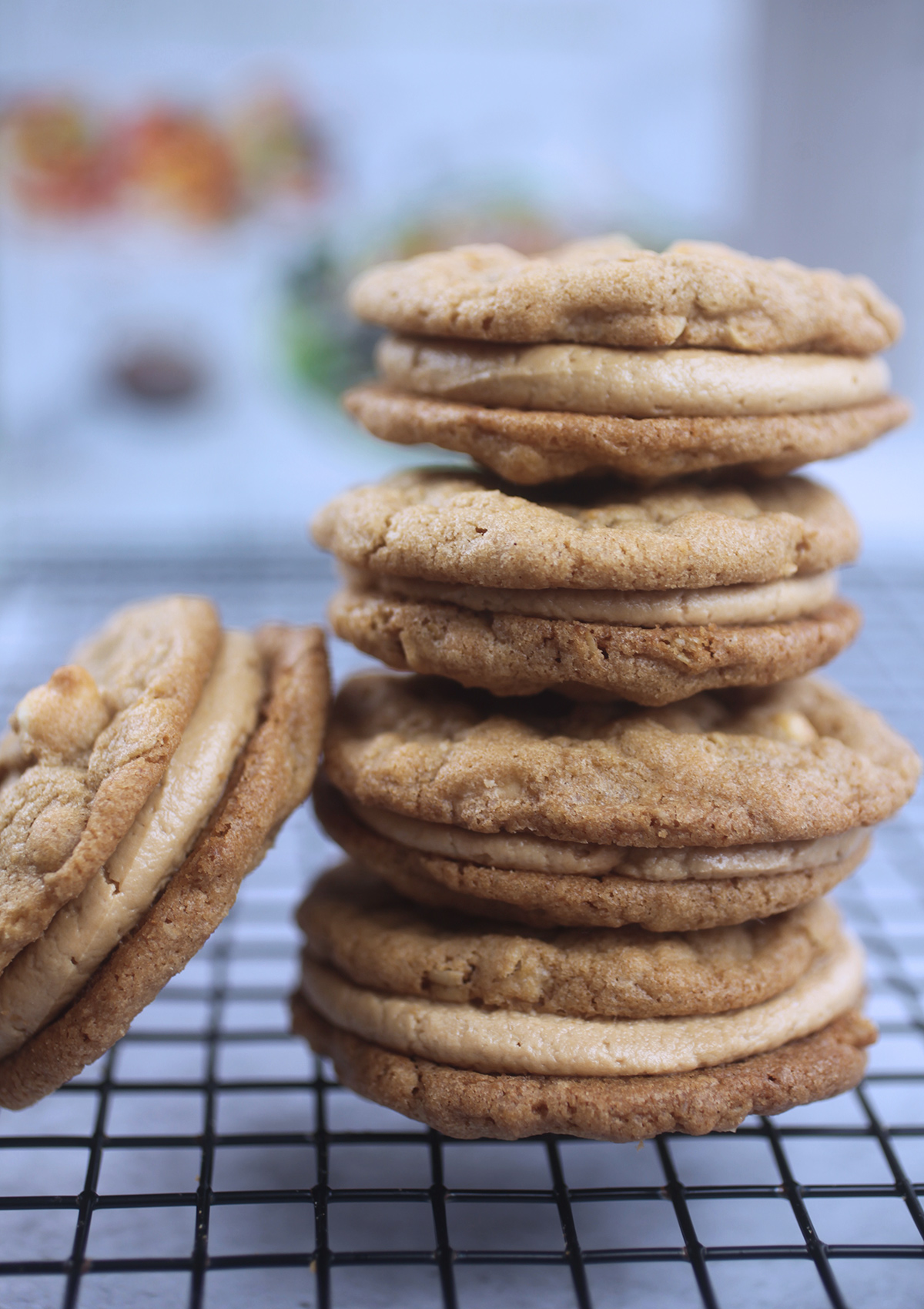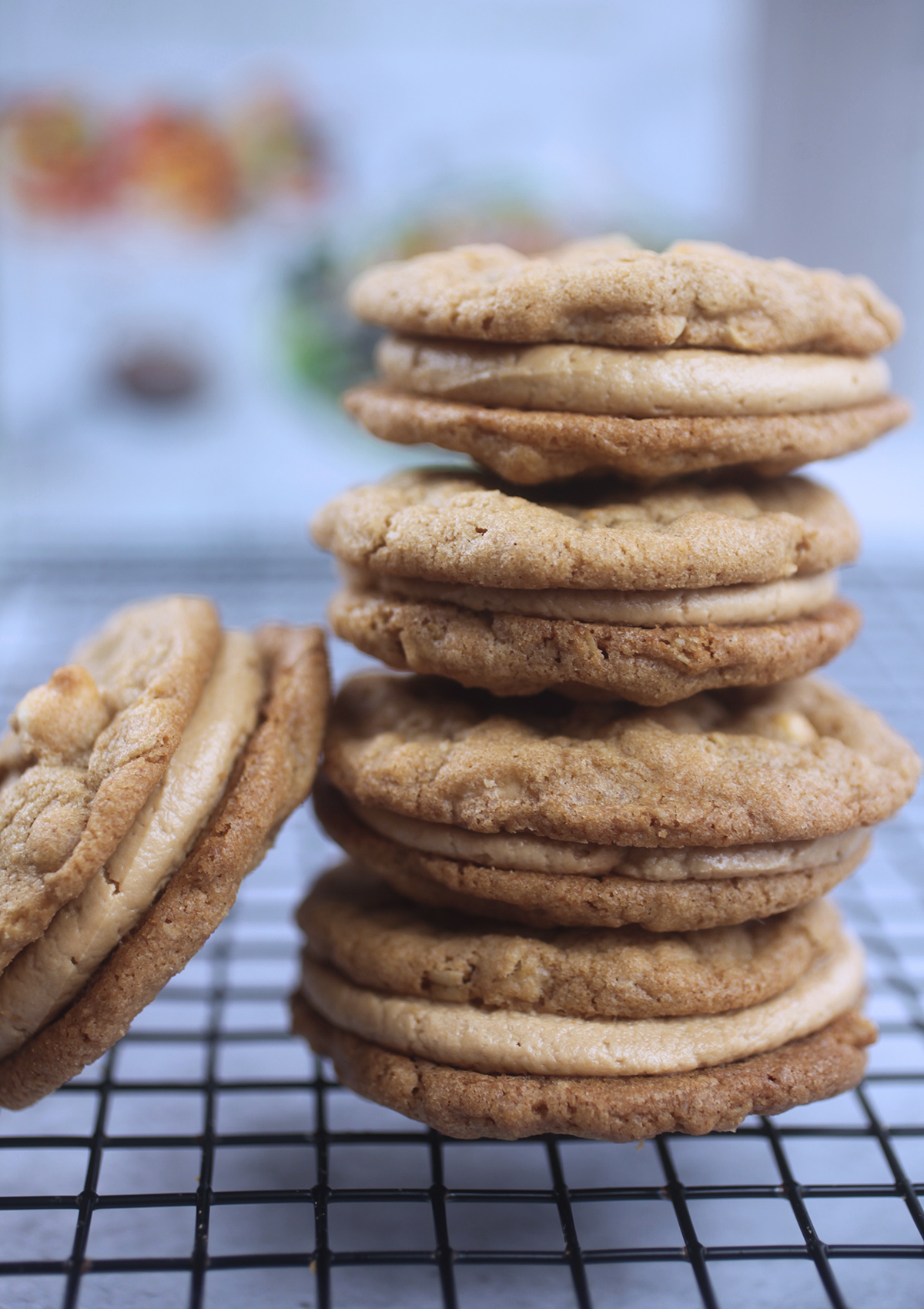 Voila! They're ready to go and waiting for you to sink your teeth into.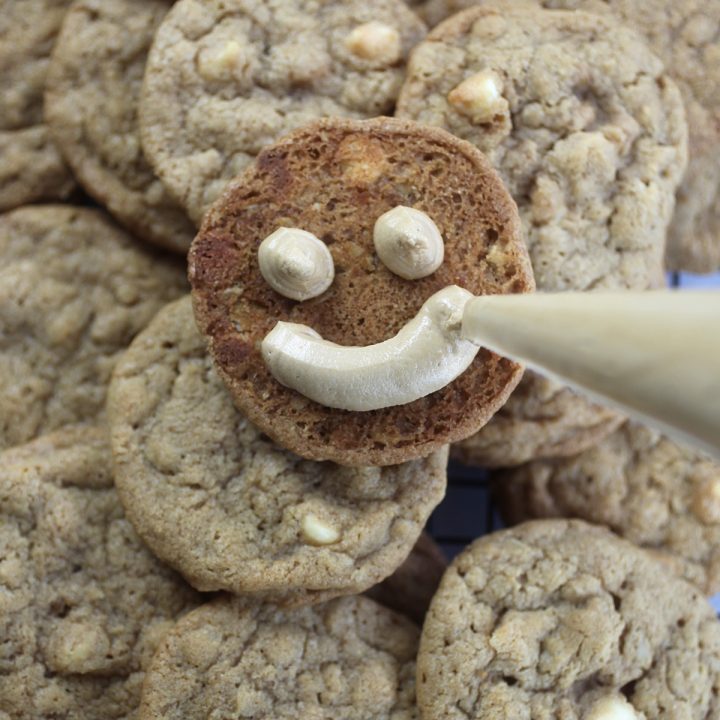 Yield: 16 sandwich cookies
Biscoff Oatmeal Sandwich Cookies
Prep Time 10 minutes

Cook Time 10 minutes

Additional Time 15 minutes

Total Time 35 minutes
Ingredients
Cookies
1 ½ cups old-fashioned rolled oats
¾ cup all-purpose flour
½ teaspoon baking soda
1 teaspoon ground cinnamon
¼ teaspoon kosher salt
½ cup unsalted butter, room temperature
½ cup Biscoff spread
½ cup granulated sugar
½ cup packed light brown sugar
1 large egg
1 teaspoon pure vanilla extract
1 cup white chocolate chips  if desired)
Biscoff Buttercream
3 tablespoons unsalted butter, room temperature
½ cup Biscoff spread
1 ¼ cups confectioners' sugar, sifted
3 tablespoons whole milk
¼ teaspoon pure vanilla extract
Instructions
Make the cookies
Preheat oven to 350 degrees Fahrenheit. Line baking sheet with parchment paper and set aside.
In a medium bowl. Whisk together the oats, flour, baking soda, cinnamon, and salt. Set aside.
In the bowl of a stand mixer, fitted with the paddle attachment, combine the butter, Biscoff spread, granulated sugar, and brown sugar and beat on medium speed until smooth and creamy, about 2 minutes. Add the egg and vanilla and beat until smooth.
Reduce mixer speed to low and add the oat-flour mixture, beating just until blended into a dough. Stir in white chocolate chips until combined. (Note: I decided to add these at the last minute to Maria's recipe, but they are not required.)
Drop the dough by rounded tablespoon onto prepared baking sheet, about 2 inches apart. Alternatively, you can use a 1 1/2 inch cookie scoop to place dough on baking sheet for evenly sized cookies. Not all the cookies will fit on the sheet for one batch. Bake for 10 minutes, until the cookies are golden and just firm around the edges. Let the cookies cool on the baking sheet for 5 minutes before transferring to a cooling rack to cool completely. Once baking sheet has cooled, repeat with remaining dough.
Make the buttercream
In the bowl of a stand mixer, fitted with the paddle attachment, beat together the butter and Biscoff spread until creamy. Add the confectioners' sugar and beat until smooth. Scrape down the sides of the bowl with a spatula. Add the milk and vanilla and beat again until smooth.
To assemble the cookies, scoop the Biscoff buttercream into a pastry bag, snip off the end and pipe filling on the flat side of half of the cookies. Place the remaining cookies on top, and gently press on each to squeeze the filling to the edges.
Store cookies in an airtight container at room temperature for up to 2 days.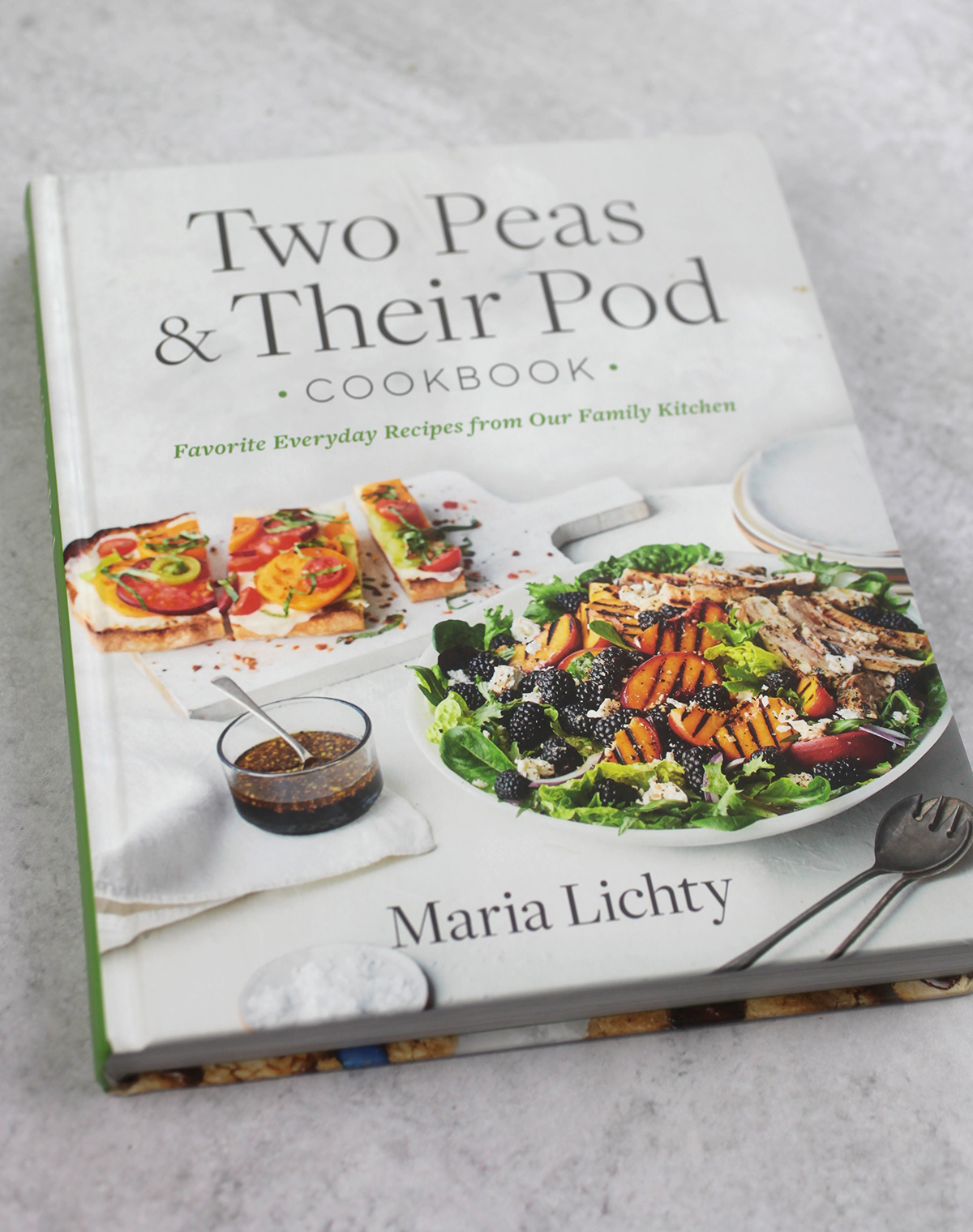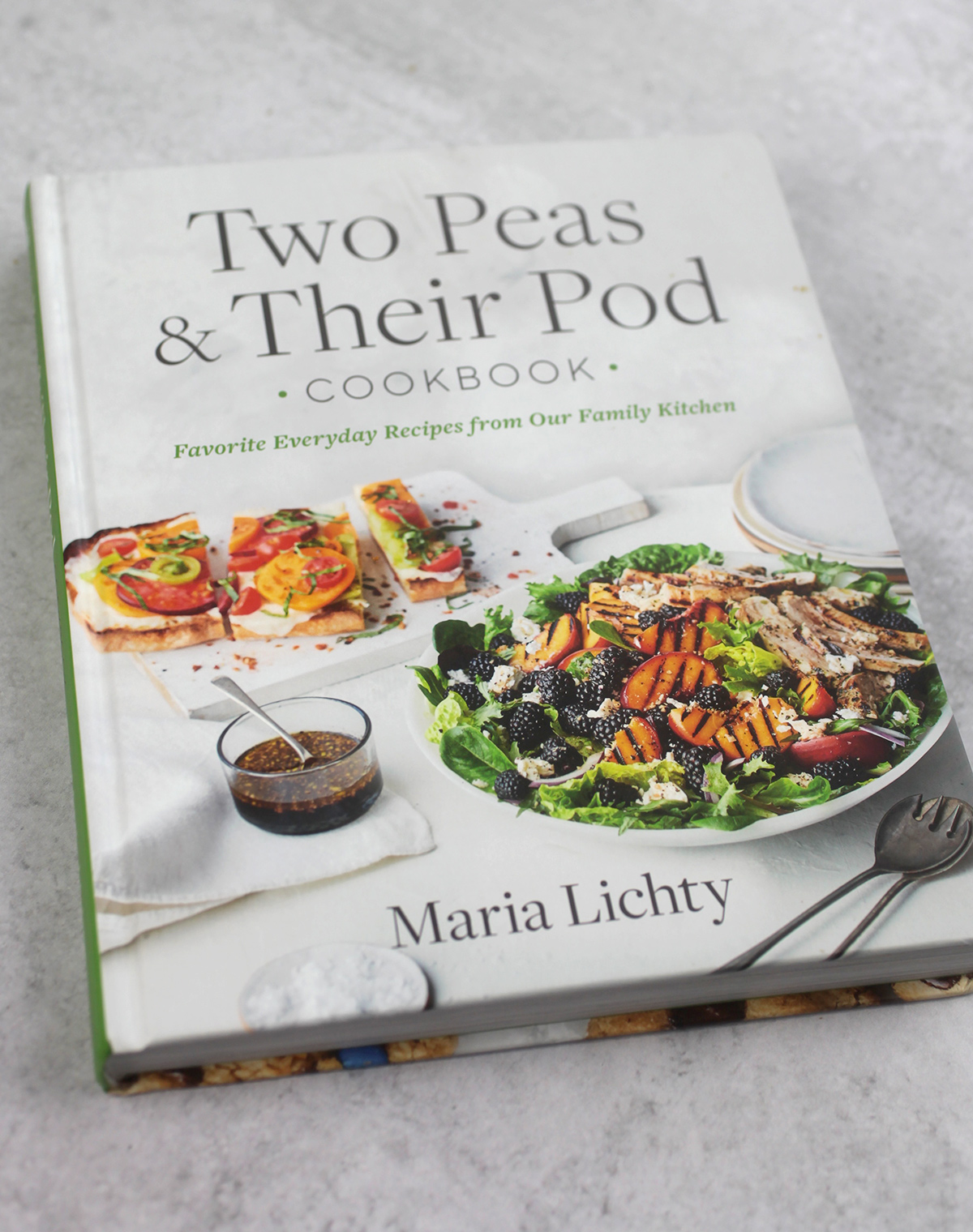 And if you like these cookies, sink your teeth into this big, beautiful cookbook, too.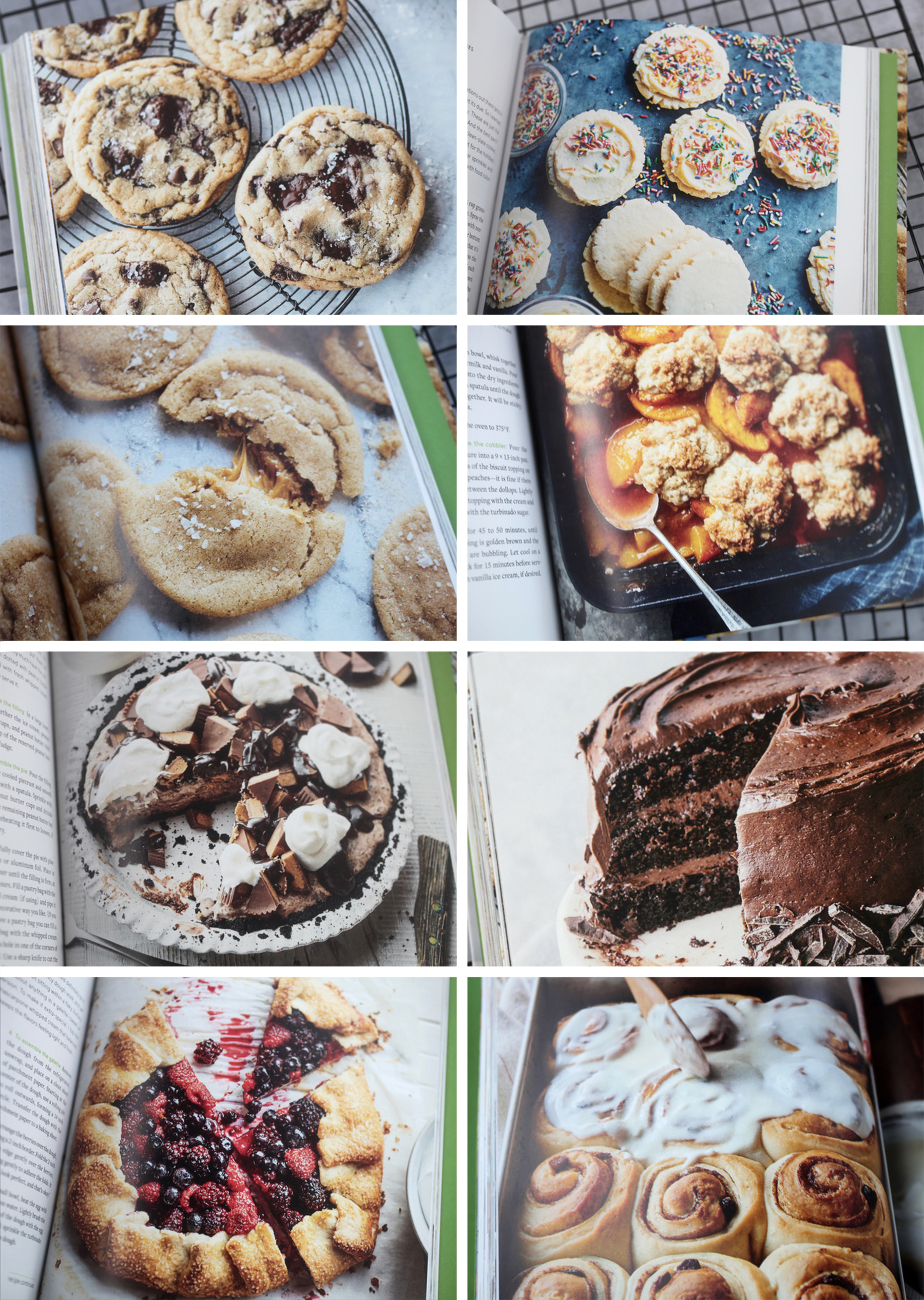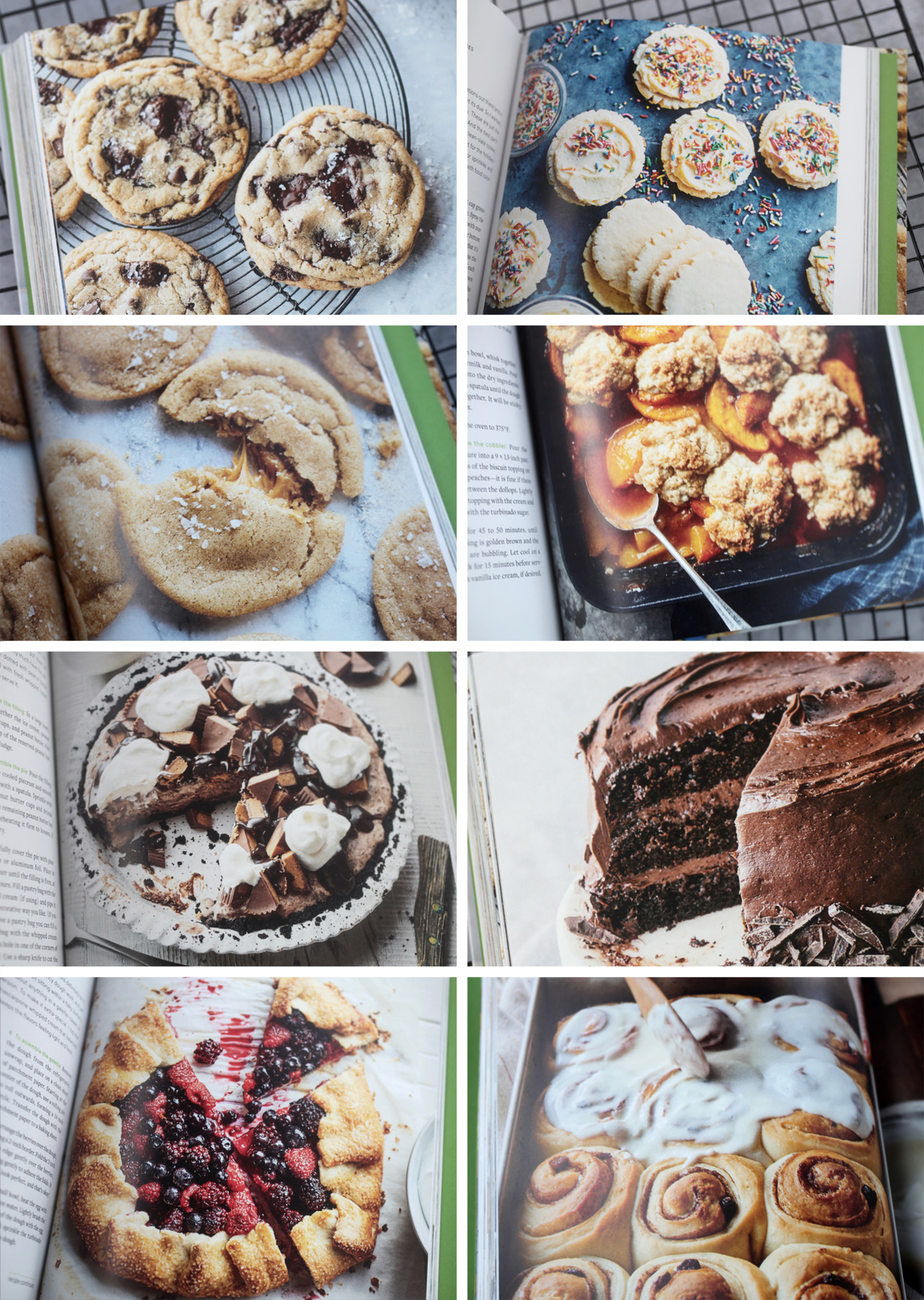 Look at all of these scrumptious desserts. It's just a tease of all the sweets and eats inside.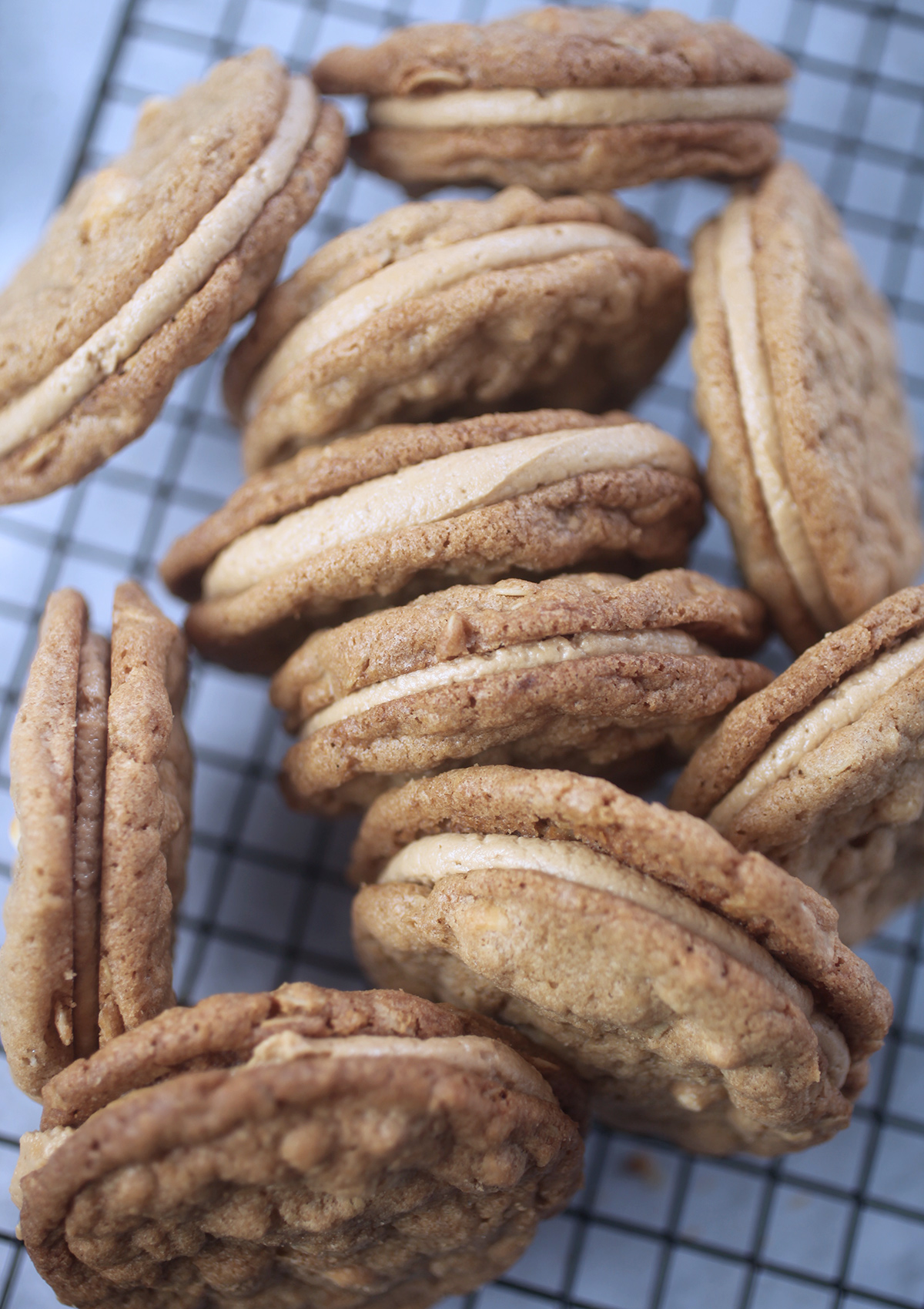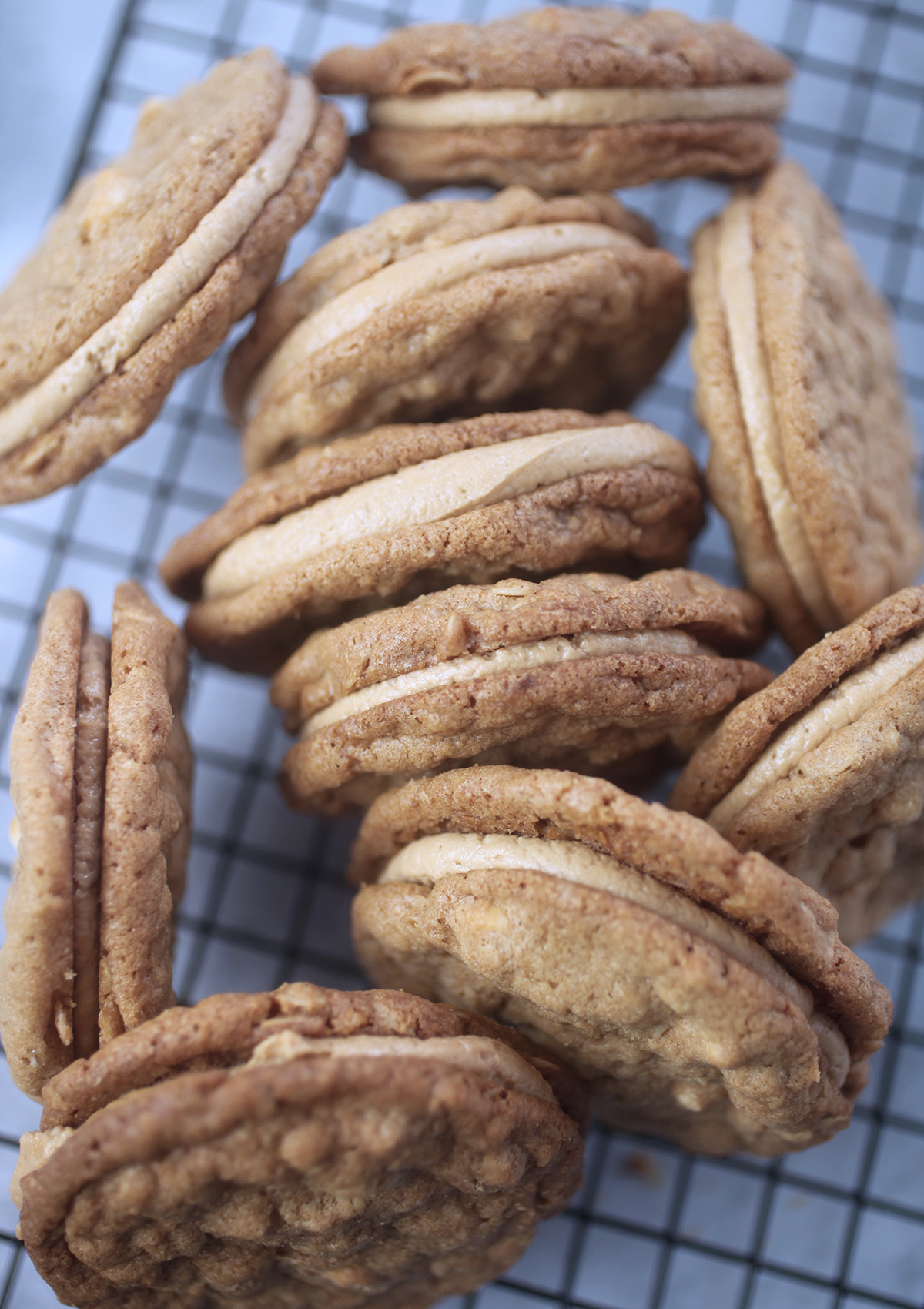 Enjoy!