I've been craving chocolate chip cookies lately. And when I say lately I mean always. They're my "I need a chocolate feel-good fix." But I wanted to mix something else in with them this time so I thought I'd crank them up a bit with cranberries and walnuts. And try to tell myself at the same time I'm eating healthier. It worked for .0001 seconds.
The players.
Dried cranberries. Chocolate chunks. Walnuts. Who's ready?
Just cream, combine, mix and stir the ingredients together. Easy. as. that.
The other reason I love chocolate chip cookies. So customizable. It's fun to just play with different combinations. What's your favorite cookie mix in? – there's chocolate … semi-sweet, milk, dark… and in different sizes … mini, regular, chunk or wafer-sized yum. There's peanut butter, butterscotch, mint and other morsels. Then there's nuts, fruits, coconut, oats, m&m's and much more. It's endless what you can make with a simple cookie base.
And then you end up with dough to play with. Play dough.
Scoop or roll into 1 1/2 inch balls.
Bake and eat.
That was easy.
And if you want, drizzle the tops and dress them up with a little melted white chocolate.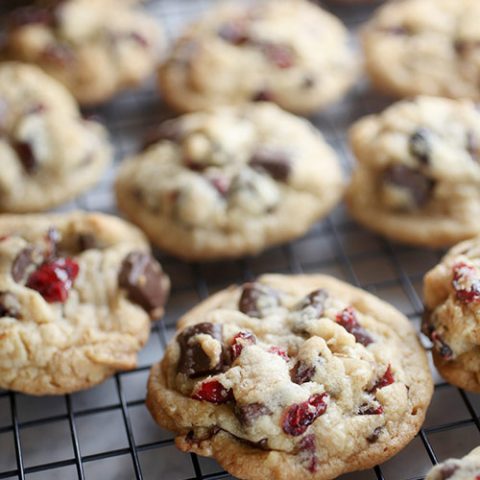 Yield: Three Dozen Cookies
Cranberry Walnut Chocolate Chunk Cookies
Ingredients
2-3/4 cups all-purpose flour
1 teaspoon baking soda
1/2 teaspoon baking powder
3/4 teaspoon salt
1 cup butter, softened to room temperature
3/4 cup sugar
1 cup brown sugar
2 eggs
2 teaspoons vanilla
10 oz. bag semi-sweet chocolate chunks
1-1/2 cups dried cranberries
1-1/2 cups chopped walnuts
Instructions
Preheat oven to 350 degrees Fahrenheit and line baking sheet with parchment paper.
Sift flour, baking soda, baking powder and salt in a large bowl and set aside.
Cream butter and sugars with a mixer for about 2 minutes until light and fluffy.
Add eggs one at at time until combined. Add vanilla and mix until combined.
Then add flour mixture slowly and mix until just combined.
Stir in cranberries, walnuts and chocolate chunks.
Roll into 1-1/2 inch balls and place two inches apart on prepared baking sheet.
Bake for 16-20 minutes or until done. Optional: When cooled, drizzle melted white chocolate on top.