Last month I asked you guys for your favorite cookies. I learned about a bunch that I had never heard of before. Among them, pumpkin chocolate chip cookies. It's unimaginable that I had never heard of these before, being the chocolate chip cookie lover that I am. So, thank you! Thank you, thank you, thank you for turning me on to these cookies. Actually thank you – M-J, Jessica, Katrina, Janelle, Low, and Kellie for sending me your recipes (And, anyone I may have left out… sorry.) I couldn't decide on which recipe to try because they were all different, so I worked up my own inspired by you guys. Then I decided to top them with a maple brown butter frosting… not that these needed anything to make them taste any better. But let me tell you, this frosting was so good, I wanted to eat it all by itself. Okay, I'll give it to you straight. I did eat quite a few spoonfuls of this maple temptation. So much that I didn't have enough for all the cookies. Whoops! Anyway, hope you like it, too.
Here's the ingredients for the cookies.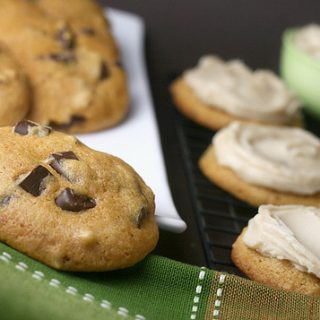 Pumpkin Pecan Chocolate Chunk Cookies
Prep Time 30 minutes

Cook Time 12 minutes

Total Time 42 minutes
Ingredients
Pumpkin Pecan Chocolate Chunk Cookies
2-1/4 cups self-rising flour
3 tsp pumpkin pie spice
3/4 cup butter, room temperature
1-1/4 cups light brown sugar
1 cup sugar
2 tsp vanilla
2 eggs
1 cup canned pumpkin
1 cup chopped pecans
1-1/2 cups semi-sweet chocolate chunks
Maple Brown Butter Frosting
3 cups sifted confectioners sugar
1/2 cup butter
1/4 cup milk
2 tsp maple flavoring
Instructions
Cookies: Whisk together flour and pumpkin pie spice. Set aside.
In a large mixing bowl, cream butter. Add both sugars and beat until light and fluffy.
Add vanilla. Add eggs one at a time and beat until combined.
Add flour/spice mixture to sugar mixture in three additions. Alternate with pumpkin in two additions, ending with flour mixture.
Stir in chopped pecans and chocolate chunks.
Drop on cookie tray lined with parchment paper.
Bake at 350 degrees for 10-12 minutes. Let cool.
Maple Brown Butter Frosting: Sift sugar and set aside.
Melt butter over medium heat until golden brown. Watch closely so it does not burn.
Add butter to sugar, scraping all the butter into the bowl.
Add milk and maple flavoring. Stir until smooth.
Spread on top of cookies with an knife or offset spatula.
You can use an ice cream scooper to get evenly proportioned cookies. Also, see how the chunks are all hidden in the batter? Make your cookies look as good as they taste. Just save some chocolate chunks and stick them right on top of the cookie batter before you throw them in the oven.
They'll look like these when take them out.
Next up… frost those babies. Oh yes!
Then sink your teeth right in.
Just for fun I wanted to show you this Halloween cupcake-shaped cookie jar I scored at the craft store, Hobby Lobby. It's so dang cute! I think it was around $15 if you want to run out and get one before Halloween.