Happy Saturday and day before the Oscars. Whose gonna be watching Sunday night?
I wanted to re-share these fun sugar cookie statues I made a few years ago because I still get questions about them when the Academy Awards roll around. So I thought I'd do a quick update post to help if you think you'd like to make these one year for the film festivities.
The main question I get is "Where can I get the cutter to make those cookies for my Oscars party? Help!"
Well, I bought this one from Copper Gifts a while ago … and since then, the cutter is no longer available. Boo.
Good news though, they have another cutter that I think will work just fine.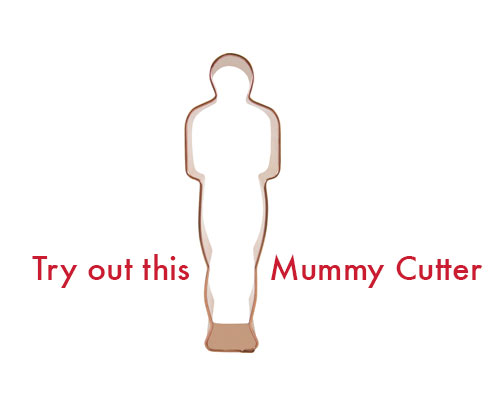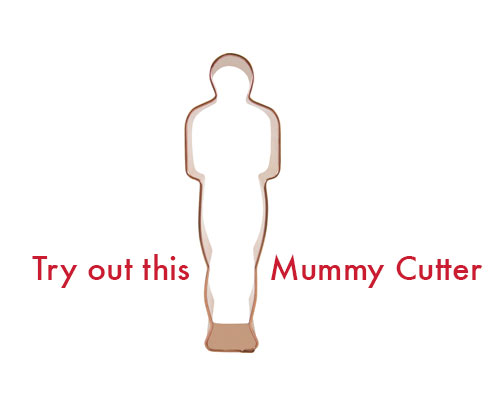 This is the Mummy Cutter from their Halloween section.
Not as statuesque, but I think he'll definitely do.
Just be careful when connecting the base since it's not as wide as the one I originally used.
Here is the complete statue cookie how-to if you get a cutter and want to bookmark it for next year or another trophy party.
And if you want to make them totally last minute for tomorrow, get adventurous and use this template I drew for you from the one I have. Cut it out on a heavier paper card stock, lay it on your rolled cookie dough and carefully cut around it. Tedious but the final cookies will be the star of your party.
Or just make these easy chocolate comfort cookies and call it a day.
Either way, hope you have a great weekend. Enjoy!
A Handy Update: Check out the link in comment #7 and you can see how great Nicole's cookies came out using the mummy cutter.