I love this time of year. When fall rolls around I get even more excited about baking than I do any other time of the year. Summer ends and the real baking begins. The last months of the year are full of special reasons to spend time with family, share smiles, and bake sweet memories.
One of my favorite baking memories is making pecan pies with my uncle. We make them every year around Christmas but I thought I'd share the recipe with you again a little early this year. It's too good to wait until December.
My grandmother used to make these pecan pies. Her recipe made three perfect pies at a time. She made them every year for family and friends. She loved it. And when she became less able to keep up with the same quantity of pies she liked to make, my uncle Ronnie became the official pie maker. He doesn't bake and he's not really a dessert guy but he makes a mean pecan pie. He's been making them now for well over a decade since my grandmother passed away. He's continued making them every year for friends and family to carry on his Mama's tradition. And now I bake with him every year I can and if not I make sure to bake them in my own kitchen. It's our family's way of keeping her with us during the holidays.
And the pies are delicious too, so that's awesome.
Of course, I had to put my touch on them and make them mini. Major cute. But I still wrap them just like she did. Simple and sweet. I love these refrigerated and I eat them like a giant pecan pie cookie.
Here's the recipe how my grandmother made it and here's a link to the original post with step-by-step photos demonstrated by my uncle and a little more about my grandmother.
And keep scrolling for a fun giveaway below…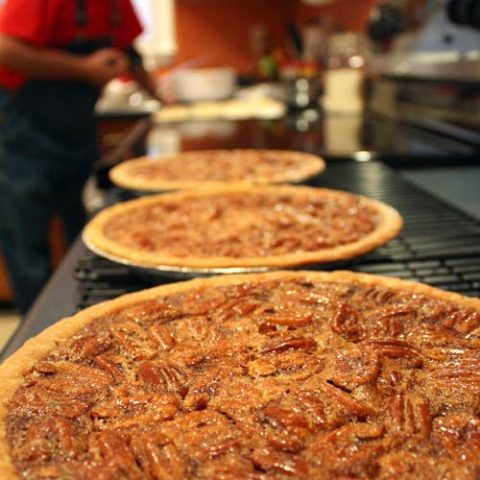 Yield: 3 pies or 32 mini pies
Mama's Pecan Pies
Prep Time 20 minutes

Cook Time 45 minutes

Total Time 1 hour 5 minutes
Ingredients
16 oz. pecans
2 sticks margarine
16 oz. package light brown sugar
1 heaping tablespoon (serving tablespoon, not measuring spoon) self-rising flour
16 oz. bottle Karo light corn syrup
1 tablespoon vanilla
6 eggs
3 regular size (not deep dish) frozen pie crusts - or make your own (enough for 3)
Instructions
Melt margarine in the microwave for about 2 minutes or until melted and set aside.
Prepare your pecans. Remove any unwanted dark brown pieces from the pecan crevices and shake out pecan crumbs in a colander.
Place brown sugar in a large bowl. Work out any lumps with the back of a spoon. If the brown sugar is too hard, you can loosen it up in the microwave. Heat it for a few seconds and it will be fine.
Add a heaping serving tablespoon of self-rising flour and stir until the flour disappears into the brown sugar.
Add the bottle of corn syrup. Then add 1 serving tablespoon of vanilla and stir until thoroughly combined.
Add melted margarine. Fold carefully into the mixture so it doesn't splatter. Fold until the margarine is thoroughly worked in and disappears.
In a separate bowl, crack open six eggs. Remove the "roosters" and loosely beat the eggs with your spoon.
Fold the eggs into the pie mixture until they disappear.
Add pecans and stir until completely coated.
Remove three pie shells from the freezer at this point and check for cracks. (If you do have a crack, thaw and knead the crack together and refreeze.)
Pour the mixture evenly into the three shells. You'll probably have a little bit leftover in the bowl. Tap tops with a spoon to check consistency and make sure there is the same amount in each pie. Redistribute pecans if necessary to make equal.
Bake for 45 minutes to an hour at 350. Cook pies until they swell and then fall. At that point they are done.
Remove and cool for about three hours to set. Store on the counter or in the refrigerator depending on how you like your pie. Or eat right away and really warm - the pie just won't hold it's shape at this point but it will be amazing.
For mini pies: chop pecans, use mini frozen pie shells, removing them from the freezer as needed and bake in three batches on a baking sheet for about 35 minutes each. I'm guesstimating the time. Watch them and make sure they are done.
Enjoy!
___________________________________________________________________
And now, I'd love for you to share your favorite baking memory.

Holiday or any day.

You could be the lucky baker to win a KitchenAid Stand Mixer and a Williams-Sonoma Gift Card.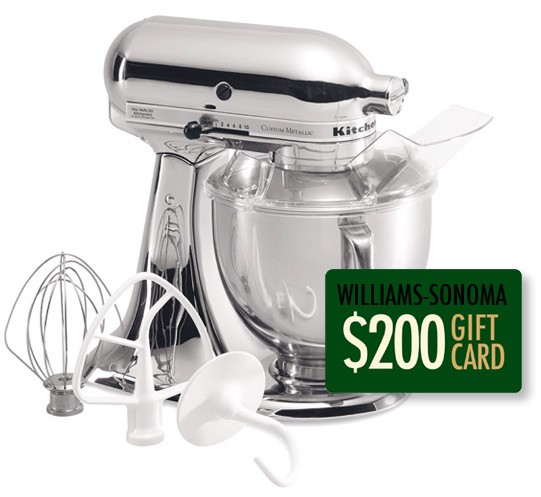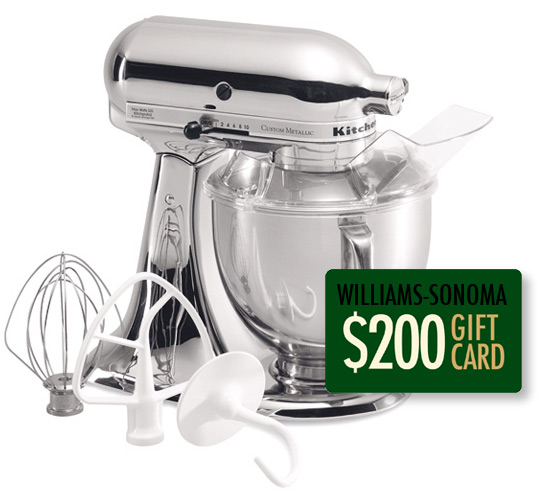 Prize includes a KitchenAid Stand Mixer (valued at approximately $650) and a $200 Williams-Sonoma gift card. Approximate Retail Value: $850. Tasty!
Giveaway runs from September 24, 2012 at 12:00 am ET through October 8, 2012 at 11:59 pm ET.

Sorry, Time's Up! Winner will be announced this week.
One entry per person. You must live in the U.S. for this one (I'm sorry my international friends) and be 18 or over, too to be eligible to win.
To enter for a chance to win the mixer and gift card, just leave a comment on the website and share your favorite baking memory. And if you don't have one yet, the giveaway lasts long enough for you to bake one. : )
One winner will be chosen at random and announced during the week of October 8th in a follow up post here on the site.
Note that it may take a few minutes for your comment to display.
Good luck guys and I can't wait to read your baking memories.
___________________________________________________________________
This post is sponsored by Nestlé® Toll House® Morsels, the perfect special ingredient for all of your family's favorite treats!