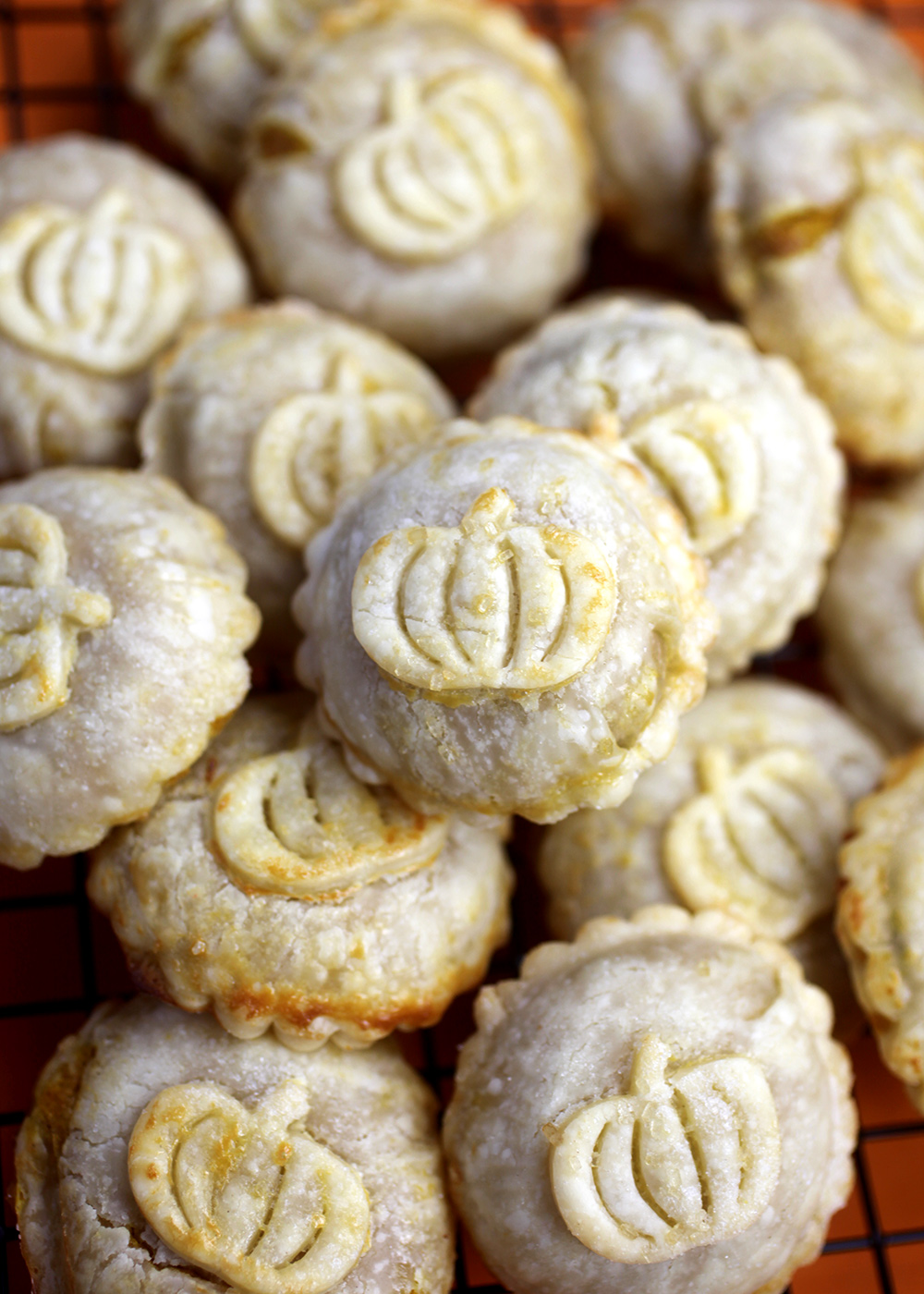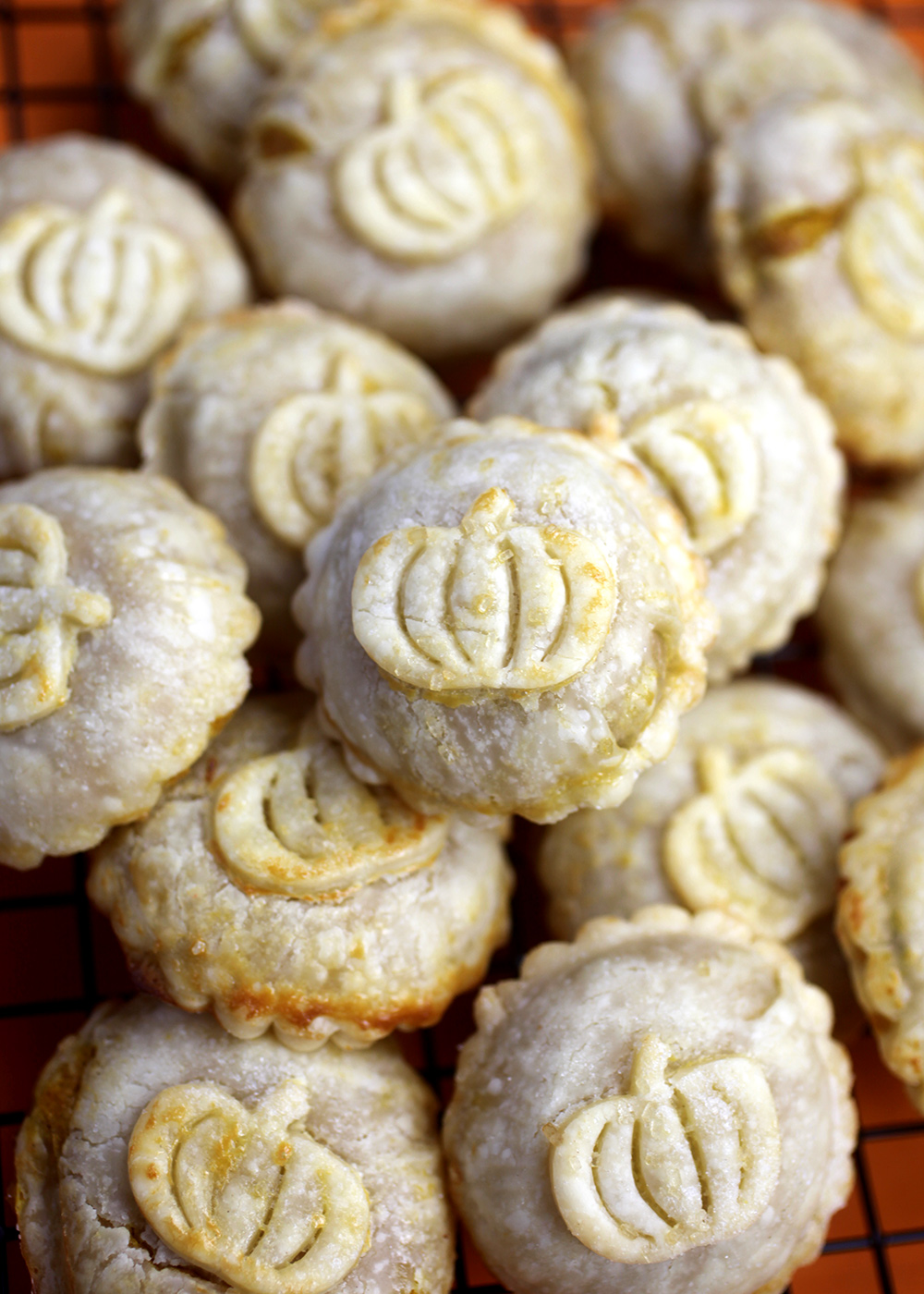 So these little pies are really good! They're puffy, packed with pumpkin, and the perfect two-bite size to pop in your mouth.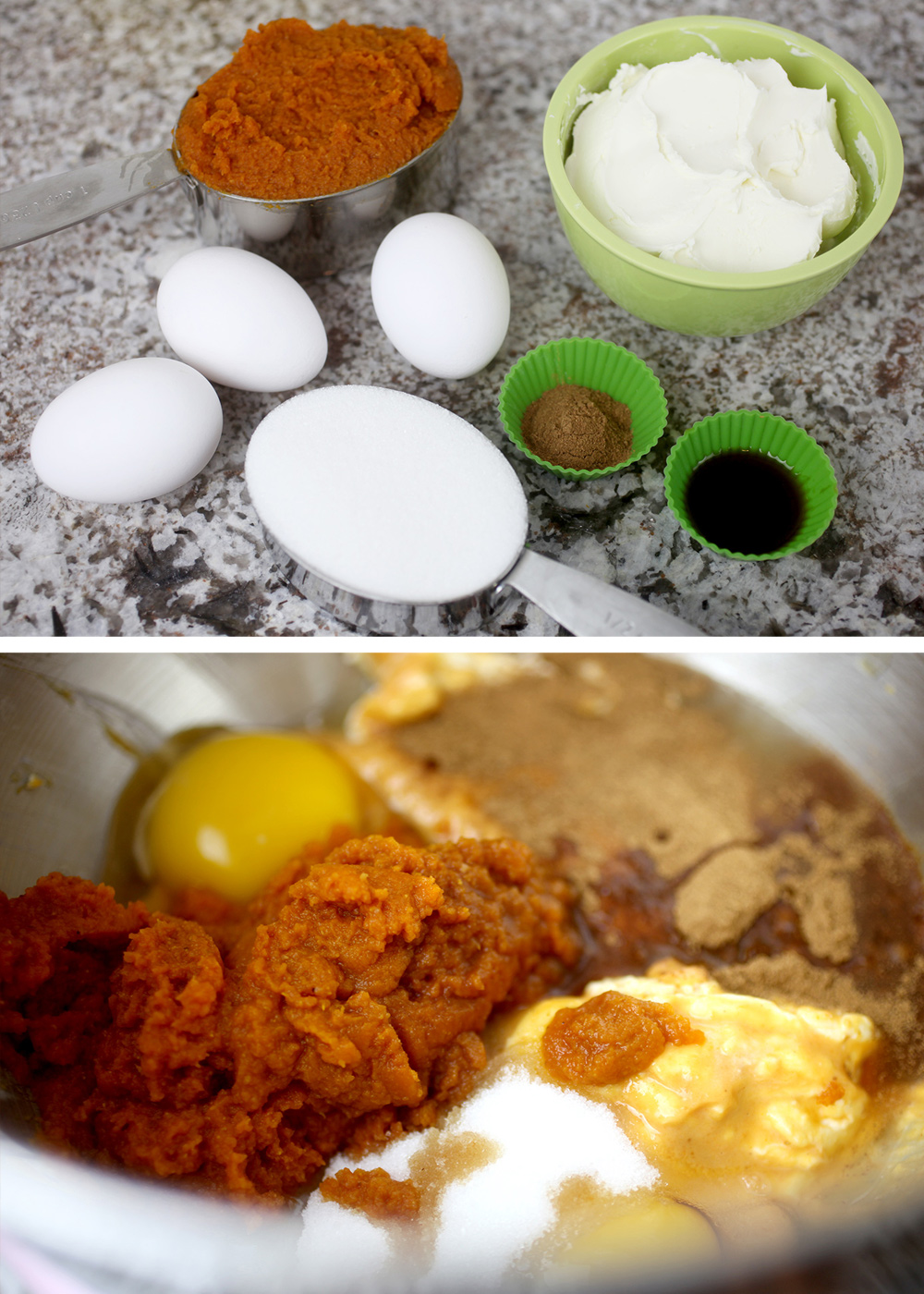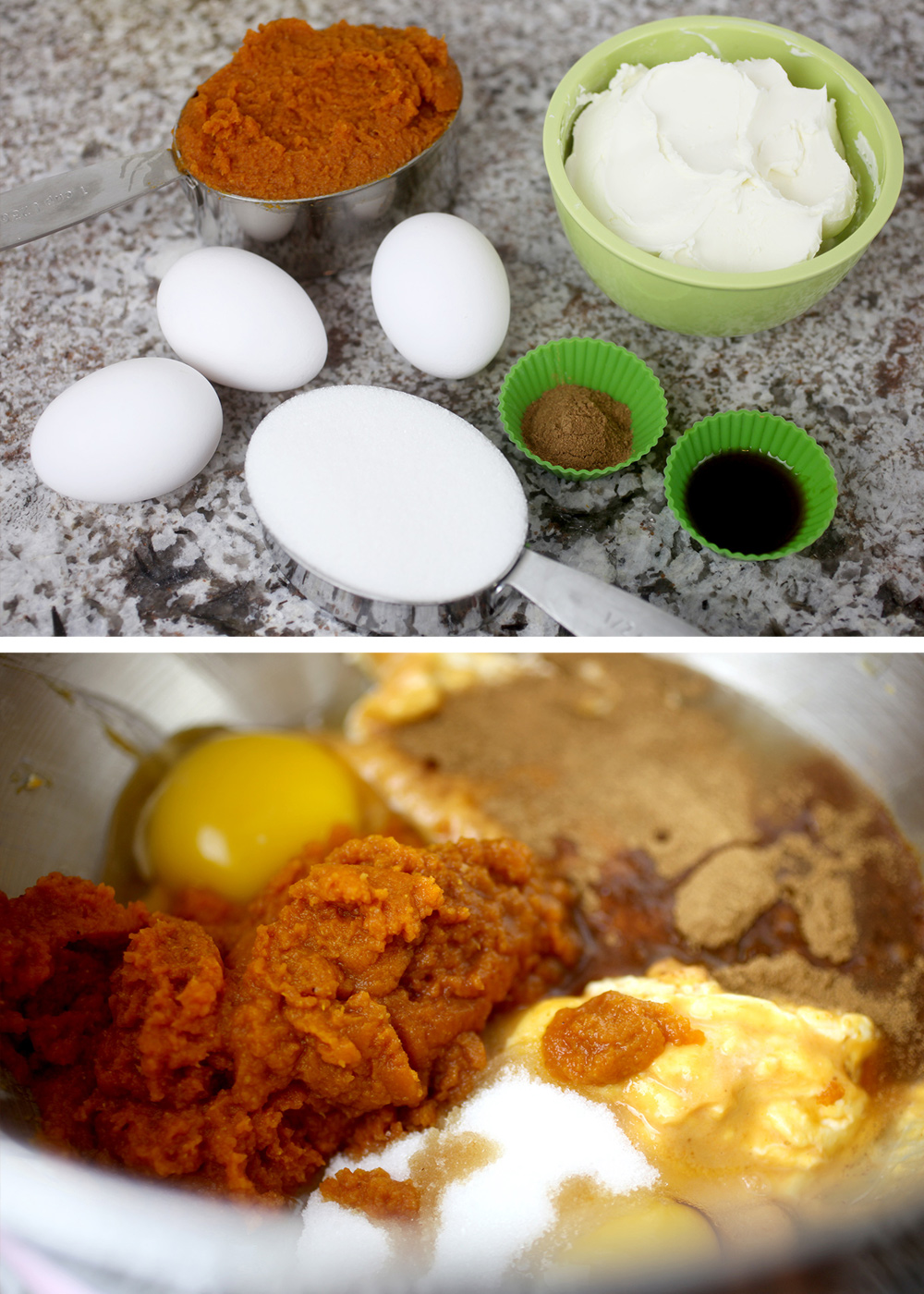 The ingredients are simple, too. Just mix everything together in one bowl and you are ready to go.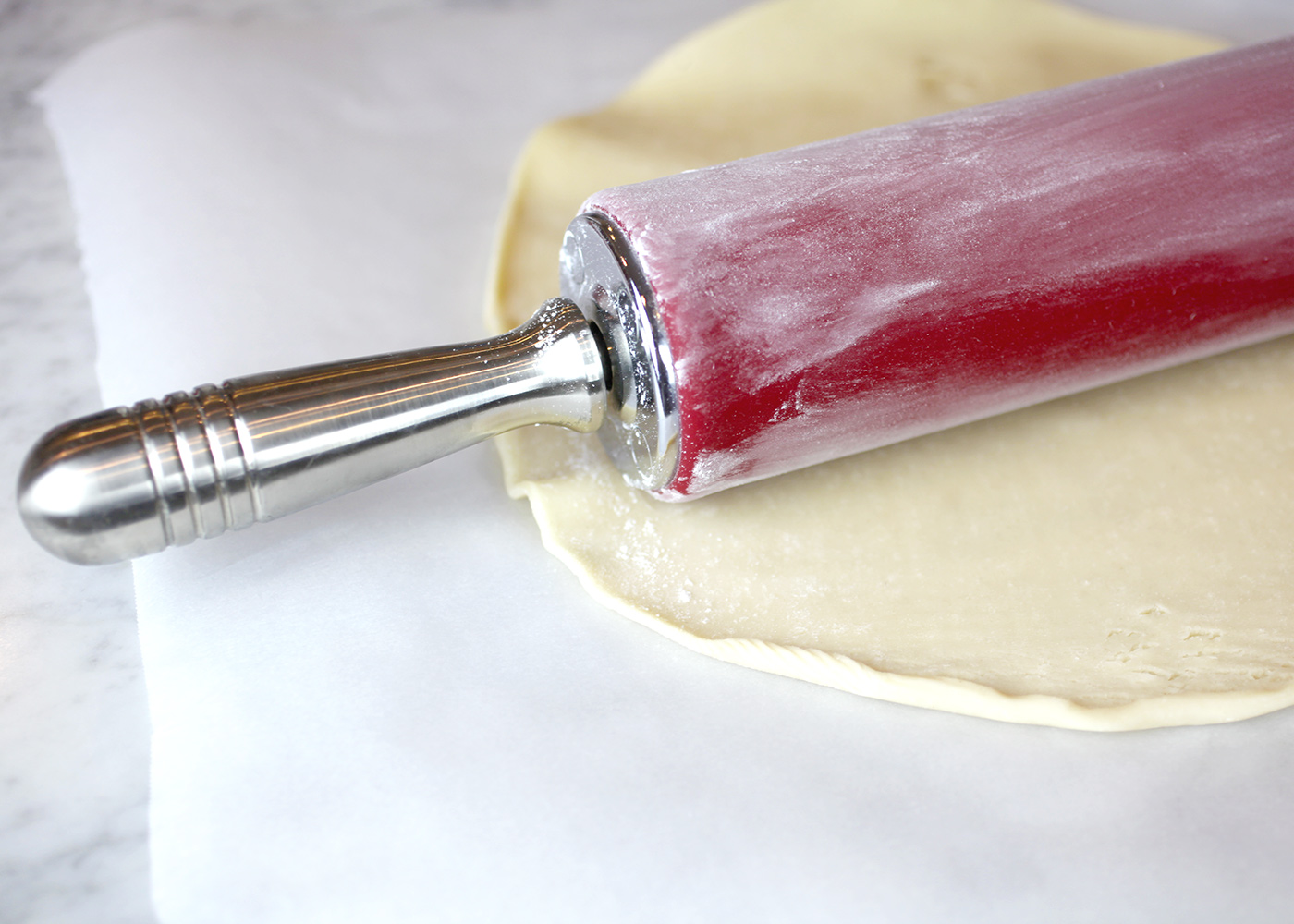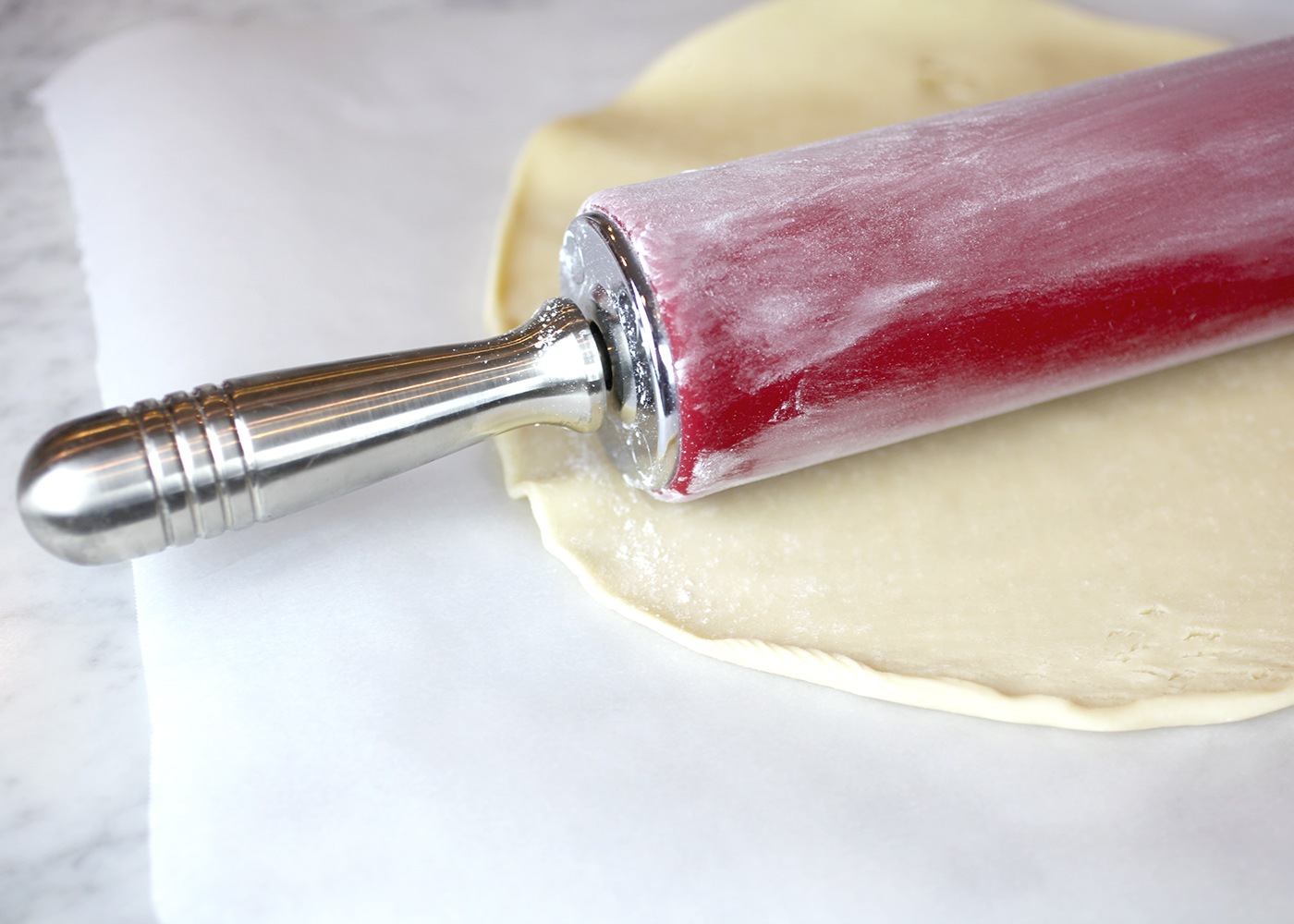 To keep the pies on the simple side, I used refrigerated ready to roll pie dough. And then just rolled it a bit thinner before starting.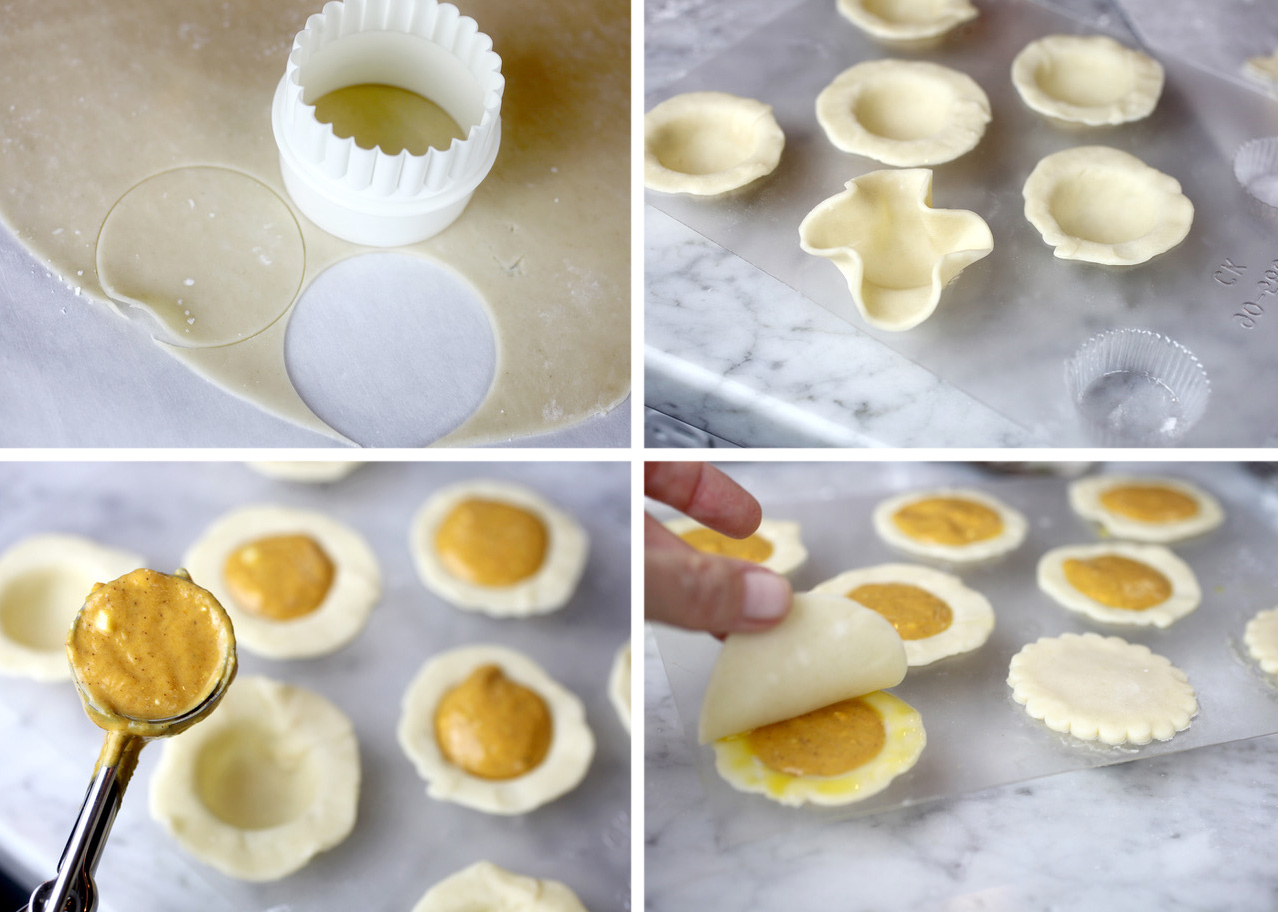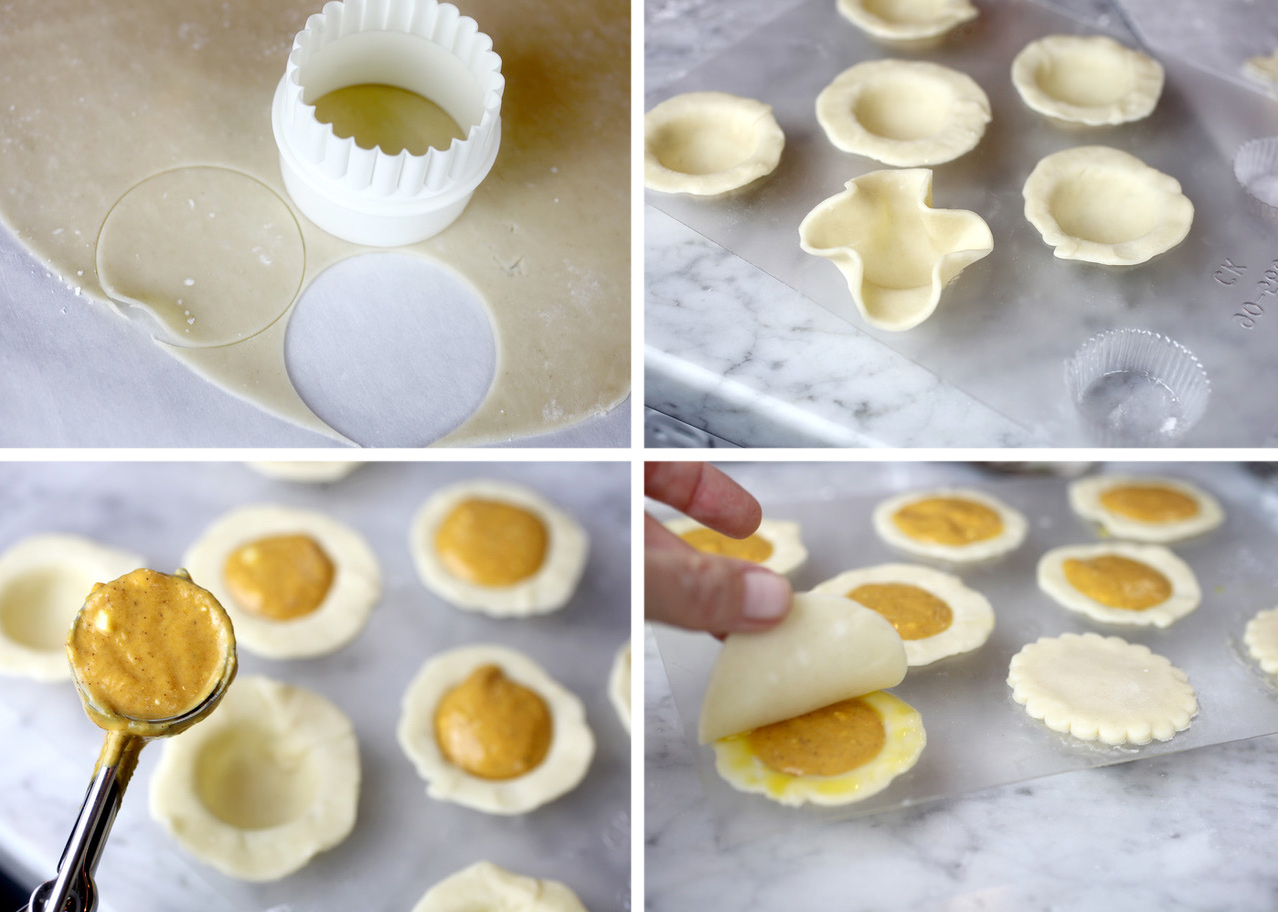 To prepare the pies, you'll need some kind of mold to form them and a couple of round cutters.
I used this candy mold because it created the perfect size without the pies getting too big after baking. I also thought it would be easier to remove the pies from a flexible plastic mold than a metal pan. The mold cavities are 1-1/2 inches wide and slightly smaller than a mini cupcake baking pan for reference.
Cut out circles of dough with a round cutter about 2 1/2 inches wide. You want it to be big enough so you can press the dough into the mold cavity while still having some of the dough overlap the top of the mold. Gently stretch the pie dough circles if needed.
Fill each cavity with the pumpkin mixture using a 1-1/2 inch cookie scoop and then brush the rim of the overlapped dough with an egg wash and lay another pie circle cut out on top. (again, stretch the dough gently if needed to cover the dough on the candy mold and then press the edges together to seal.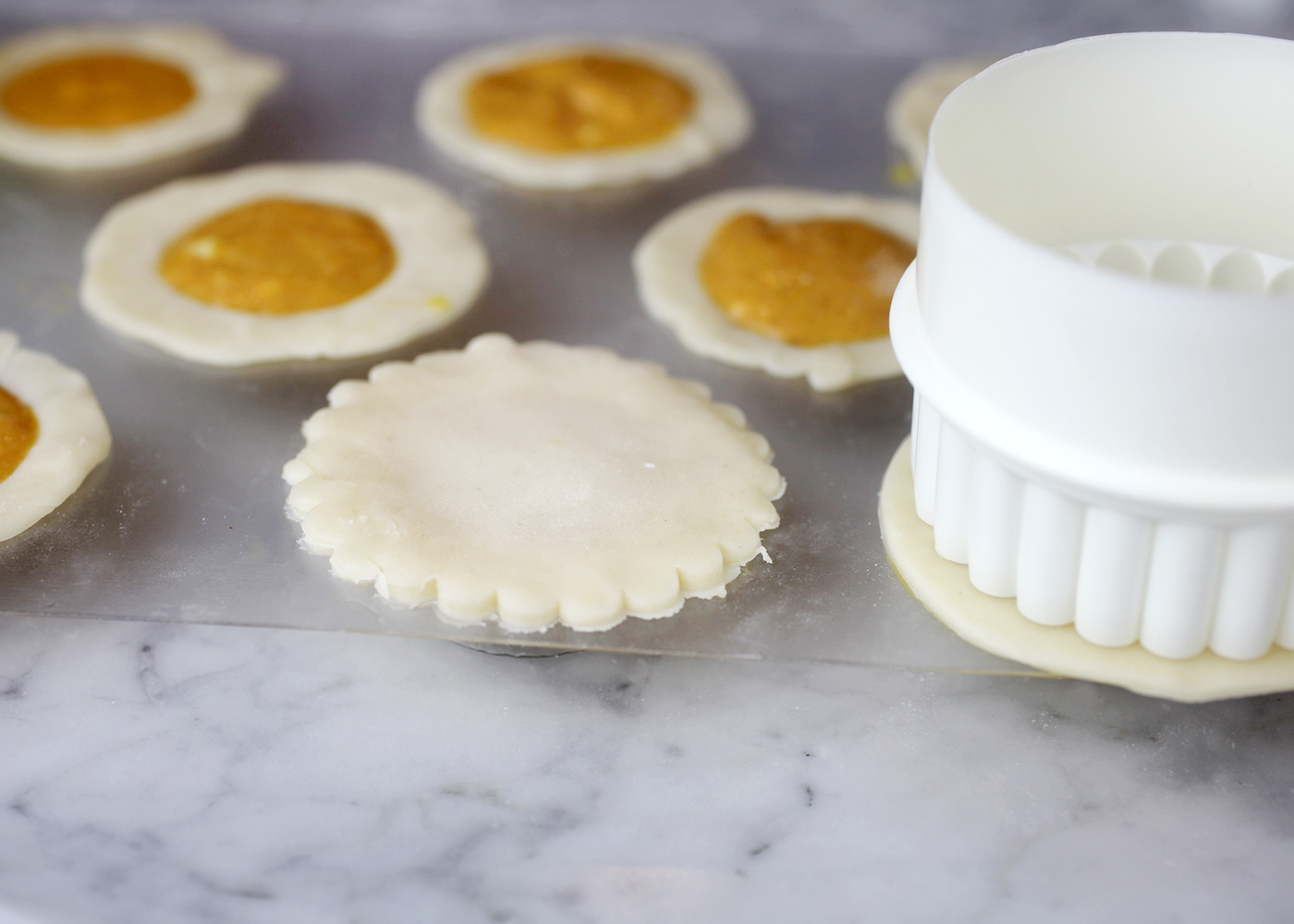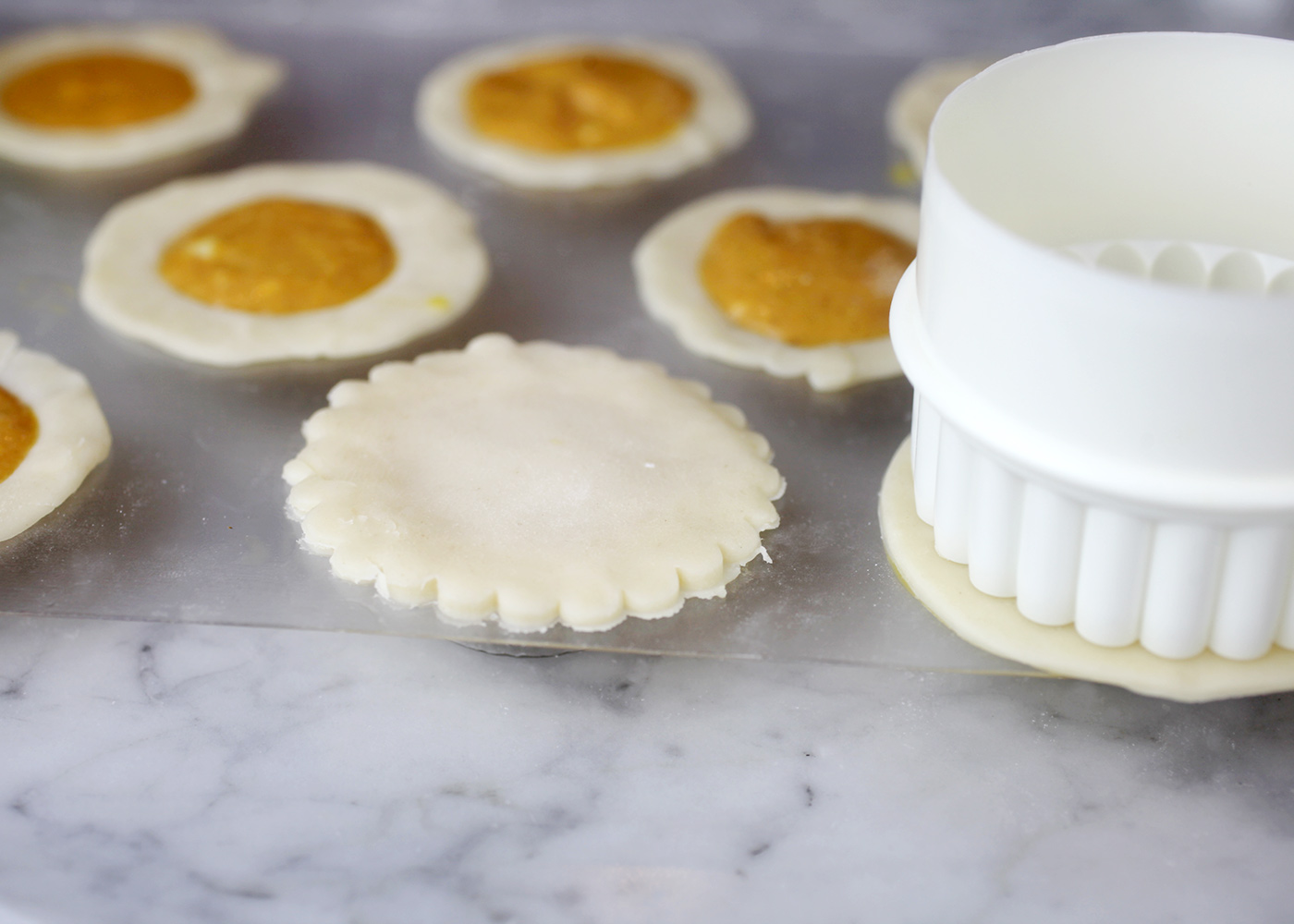 Finish the look using a scalloped cutter and just trim off any excess pie dough. I used one that was slightly smaller than the circle cutter … about 2 inches in diameter.
Here are the double-sided cutters I used. Here's another one as an alternative and another.
Very, very gently remove the pies from the mold and place, flat side down on a parchment-lined baking sheet. Press the edges together again if necessary to seal them.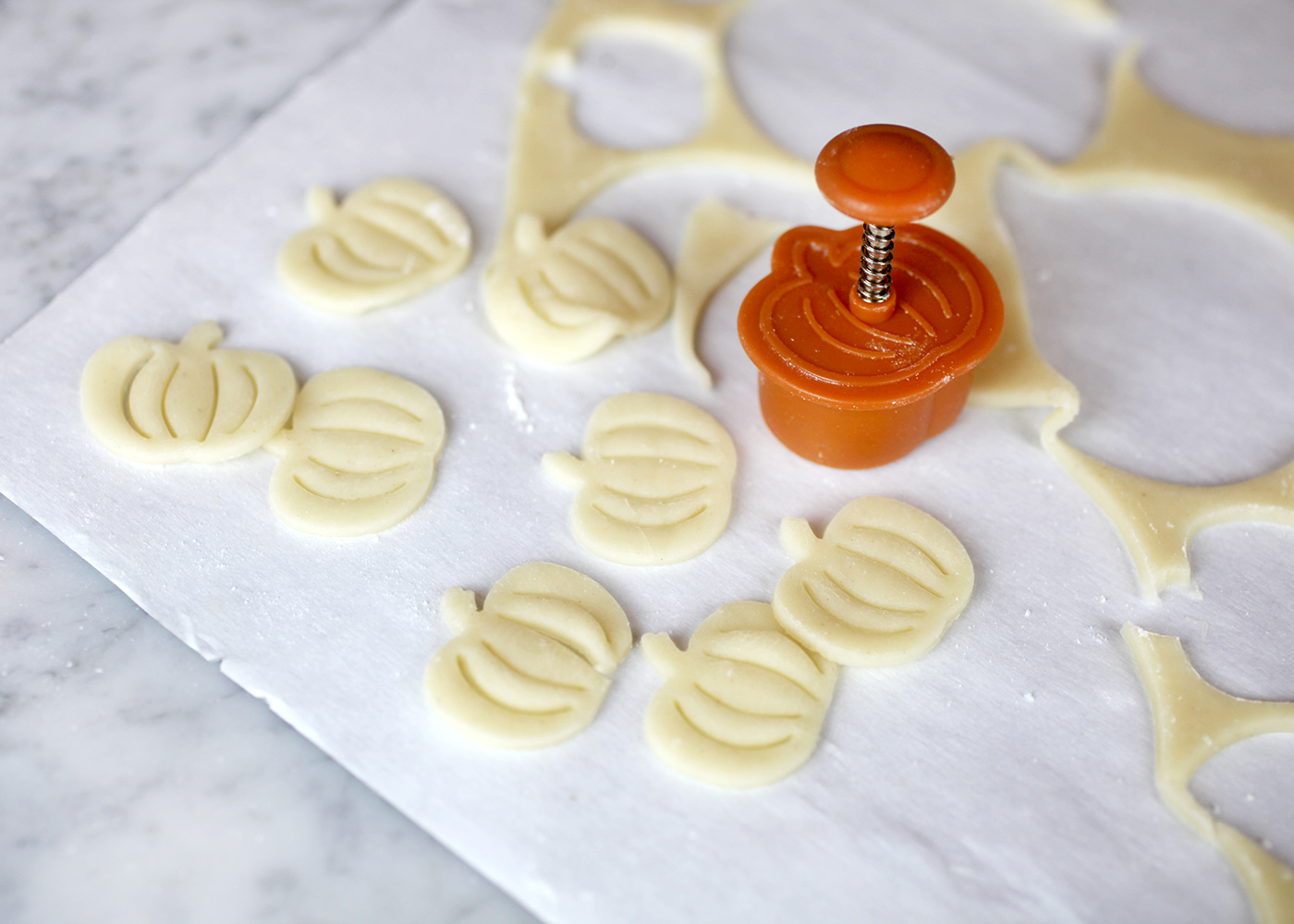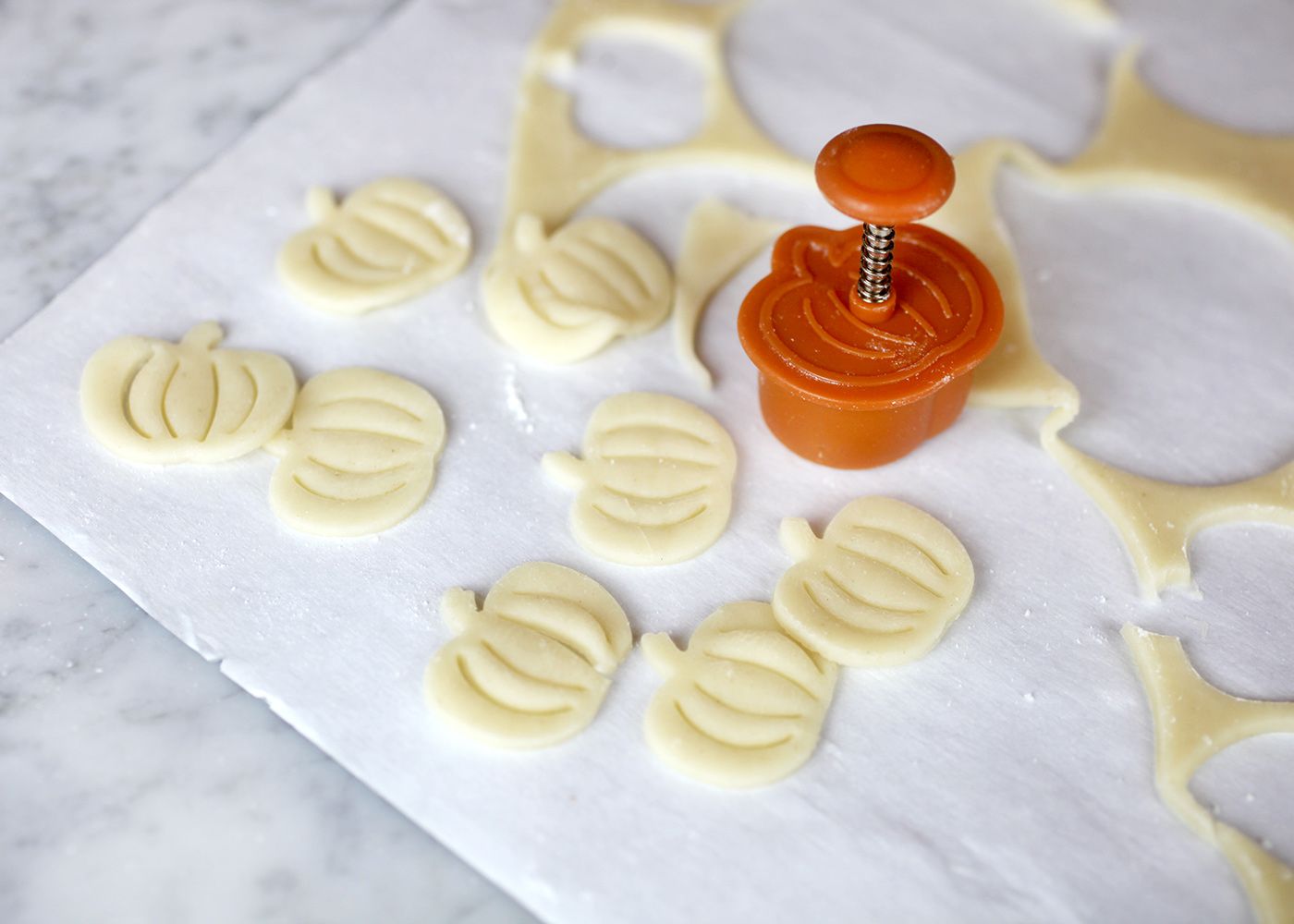 I also had this little pie cutter press, so I used the excess pie dough to cut out some tiny little pumpkins to place on top of the pies. I bought mine a long time ago from Williams-Sonoma, but here is one similar.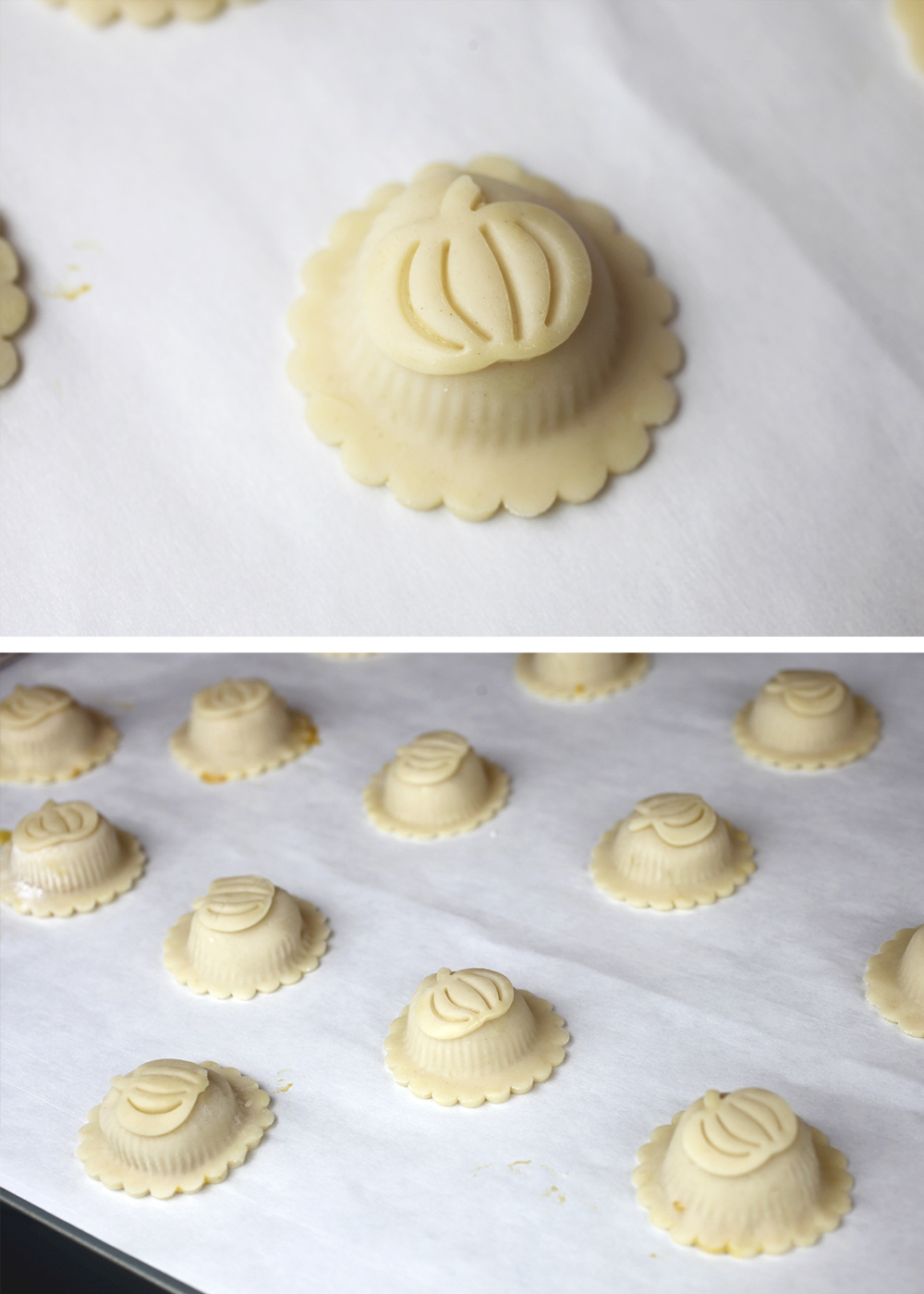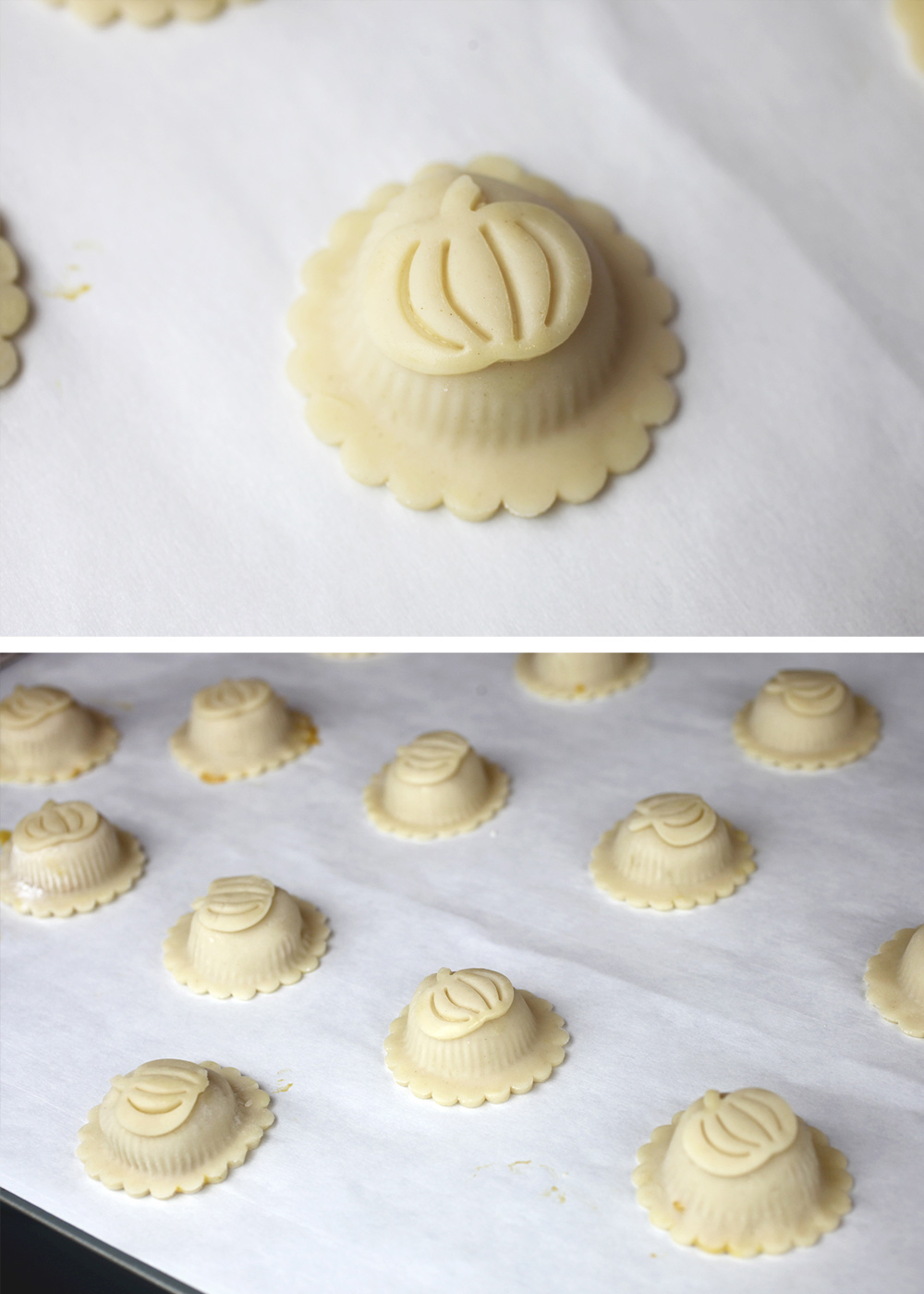 So cute. Use an egg wash again to attach the pumpkin cutout to the pie underneath. Then, brush the entire pie with an egg wash, sprinkle the tops with sugar and they're ready to bake.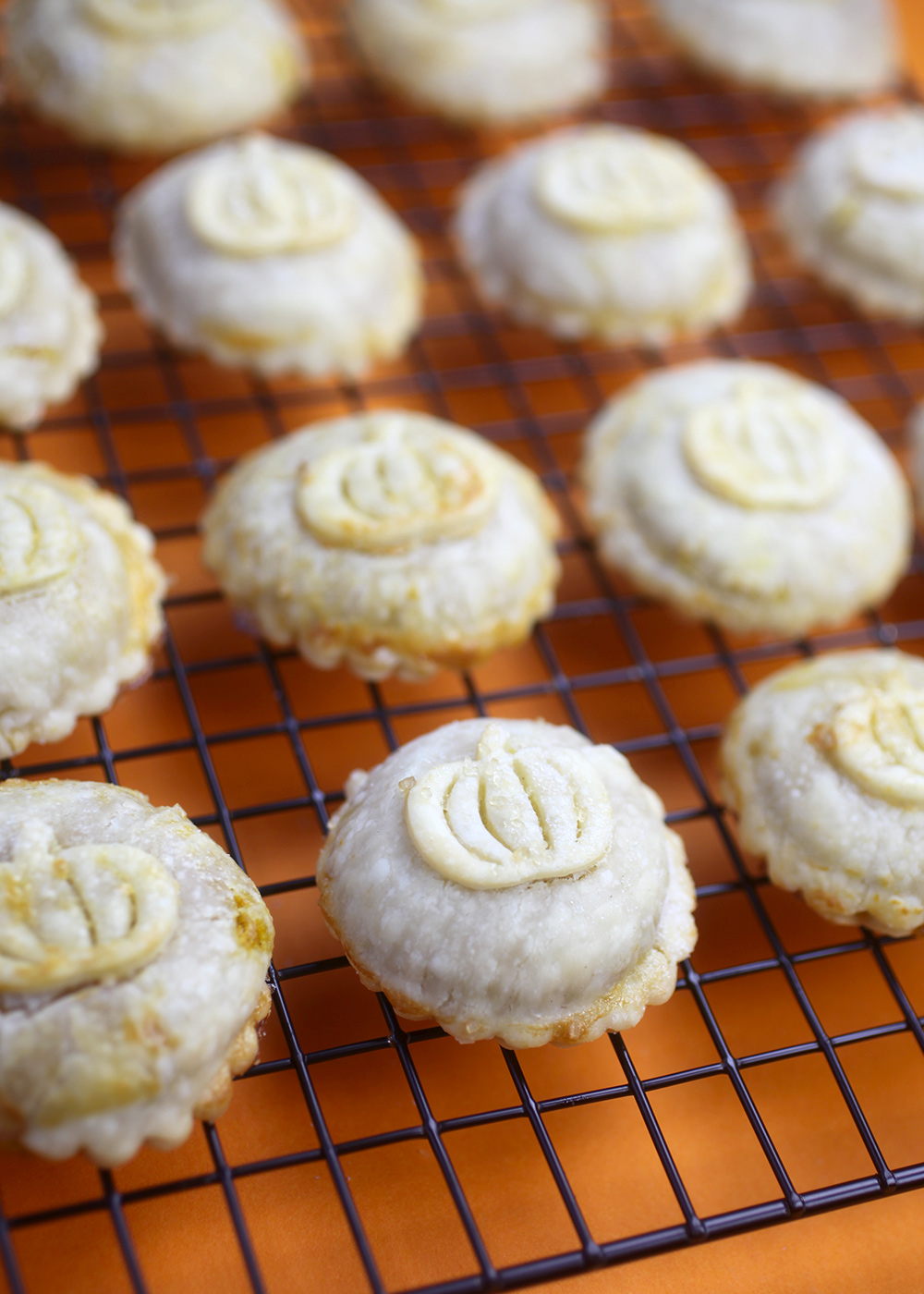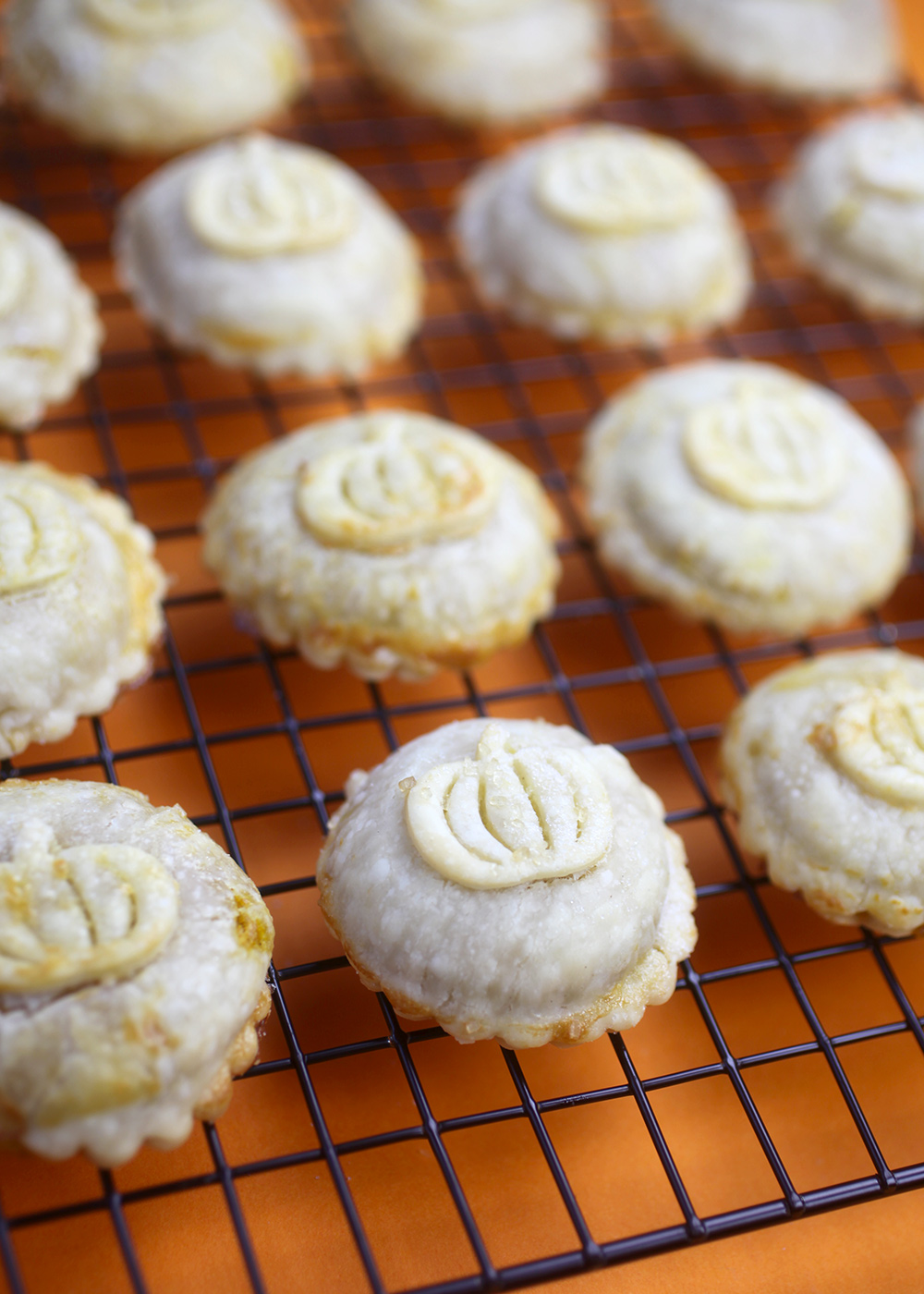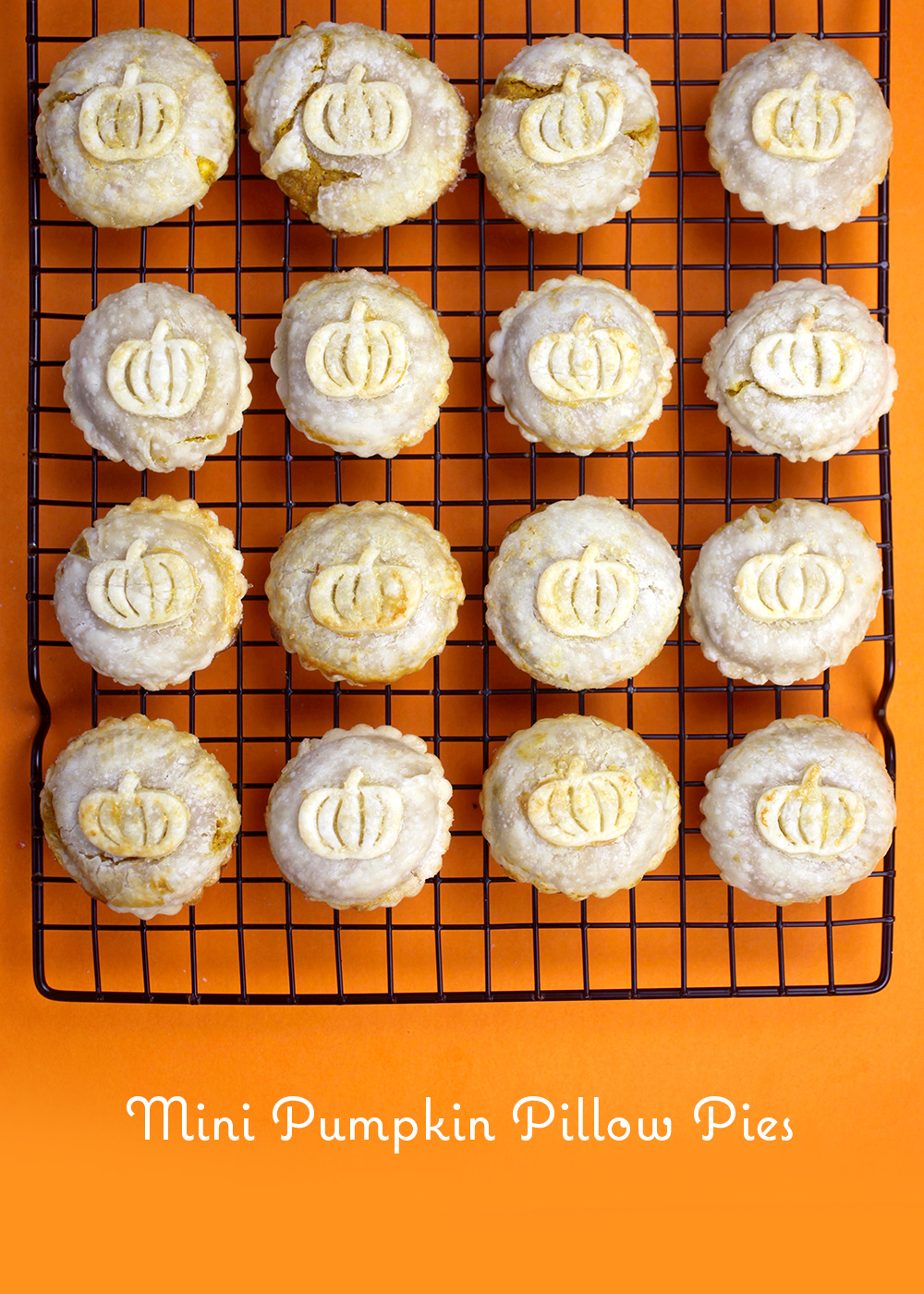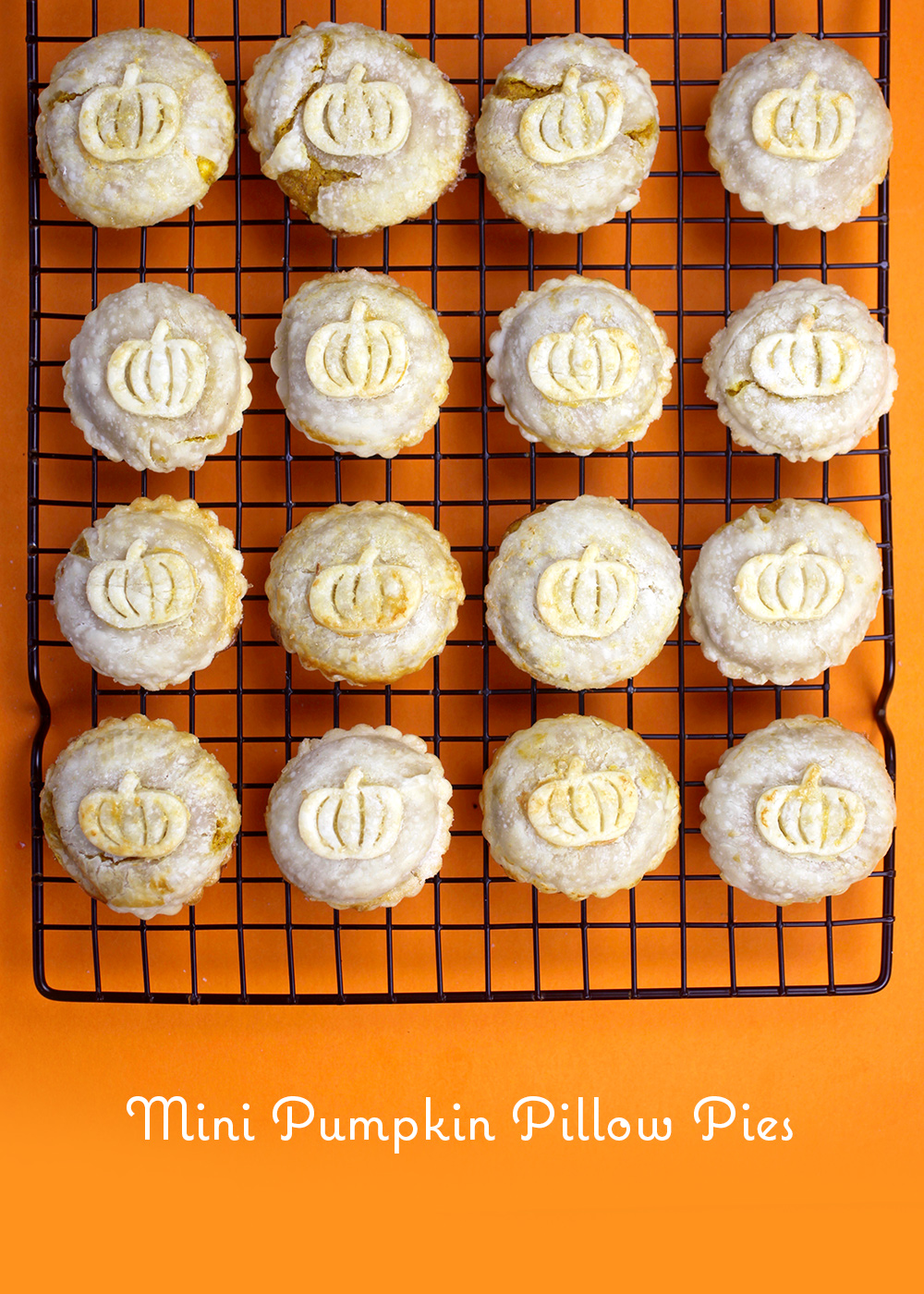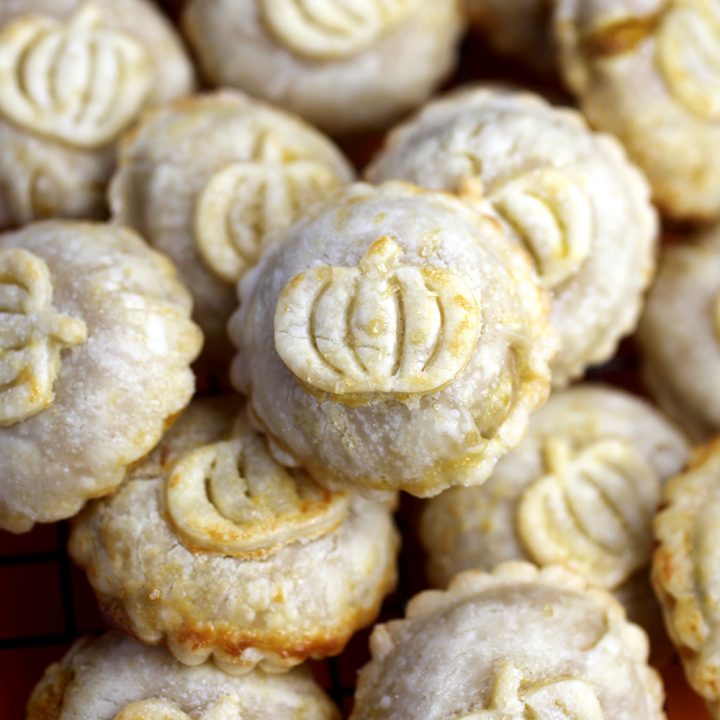 Yield: 32 mini pies
Mini Pumpkin Pillow Pies
Prep Time 30 minutes

Cook Time 15 minutes

Total Time 45 minutes
Ingredients
2 packages refrigerated ready-to roll pie crusts
8 oz. cream cheese, room temperature
1/2 cup sugar
3 tablespoons self-rising flour
1 cup canned pumpkin
3 eggs
1 teaspoon vanilla
1 teaspoon pumpkin pie spice
______
an extra egg or melted butter to brush on the pies and sugar to sprinkle on top
Instructions
Preheat oven to 375 degrees fahrenheit.
Thaw and roll the refrigerated pie dough out on a lightly floured piece of parchment paper a little thinner than it comes out of the package.
Use a cookie cutter to cut 8 2-1/2 inch circles from each pie crust (to press into the candy mold cavities). Use a 2-1/4 inch cutter to cut out 8 more circles (to press on top). Use the scraps to cut out tiny pumpkin shapes with a pie crust cutter.
Mix cream cheese, sugar, self-rising flour, pumpkin, eggs, vanilla and pumpkin pie spice together until thoroughly combined.
Press the larger pie circle cutouts into the mold cavity while pressing the overlapping excess dough down on the top of the mold. Fill mold cavities with pumpkin mixture using a 1-1/2 inch scoop. Brush the overlapping edges with an egg wash and place a smaller pie circle cutout on top. Press the edges together to seal. Use another circle cutter or scalloped cutter that is slightly smaller in size (about 2 inches) to trim off any excess dough. You can gently stretch the pie dough shapes when preparing, if you need them to be larger. (Note: These sizes are all based on the size of the mold I used with 1 1-2 inch mold cavities. If using a different size mold, you would need to adjust the cutout sizes to accommodate.)
Gently remove the pies from the mold and place flat side down on a parchment paper-lined baking sheet. Press the edges again to seal if needed. Use an egg wash to attach pumpkin cutouts to the tops of the pies and then brush the entire pie top with an egg wash or melted butter and sprinkle with sugar.
Bake for 12-15 minutes.
Repeat process with remaining pie crusts and pie mixture.
Cool, eat and enjoy. Then refrigerate any remaining mini pies.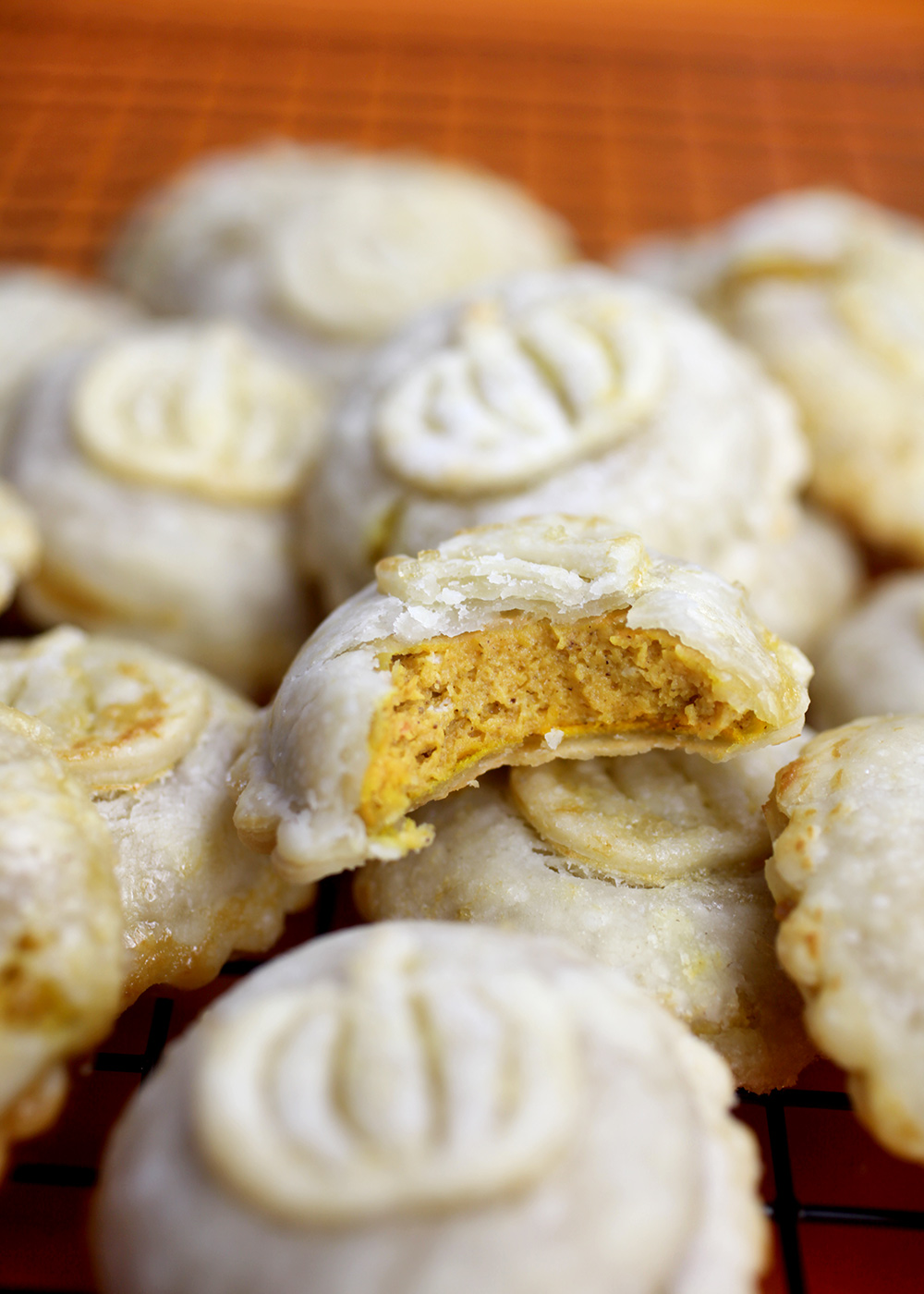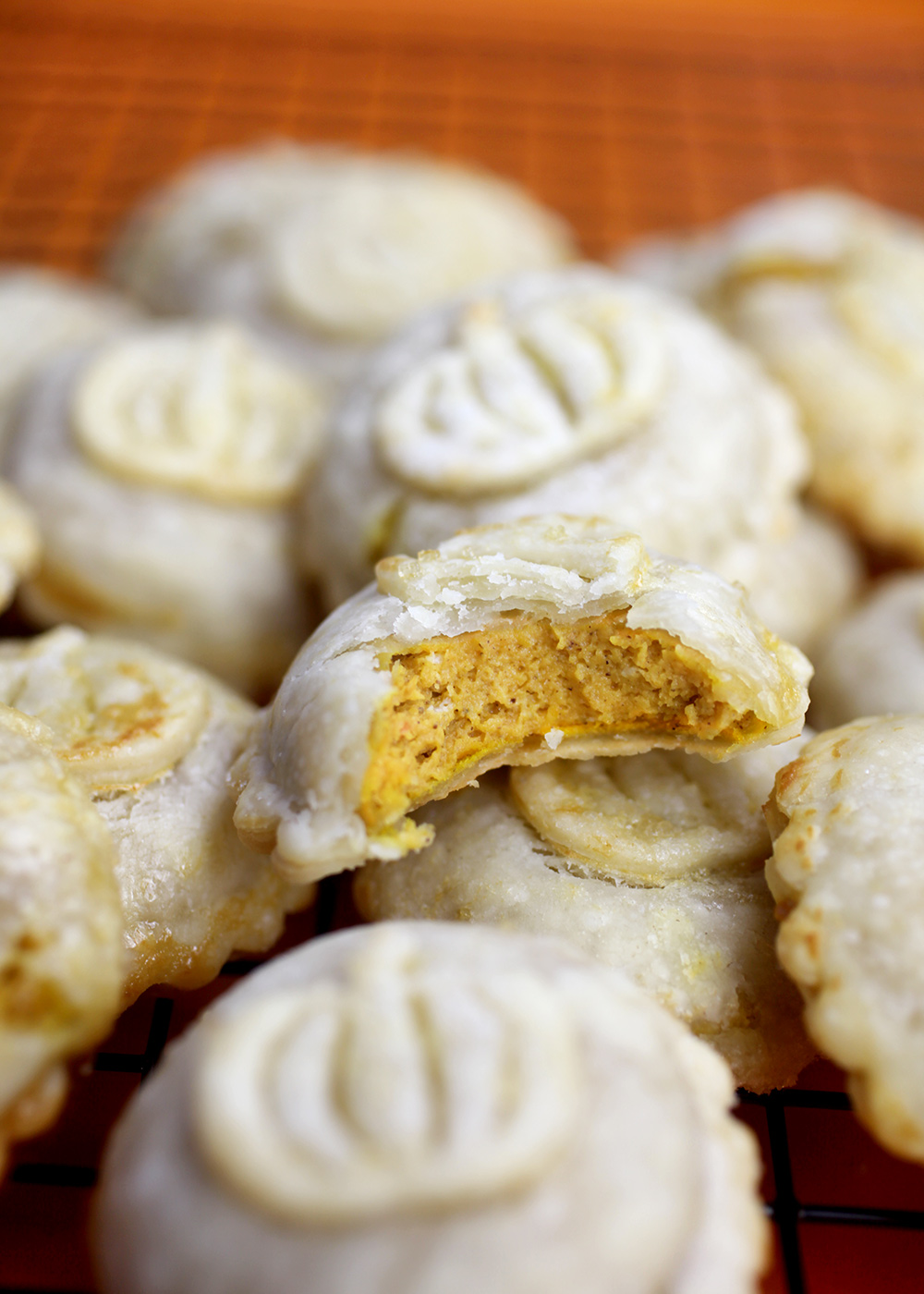 Sink your teeth in and enjoy!