That's what I feel for this oversized cookie.
It's the kind of love that involves brown sugar and it has everything to do with these little morsels.
Oh… butterscotch, how I love the…
I don't even need the cookie. I could just munch on you guys for eternity.
Unless of course we're talking about adding a little chocolate. Then, you could twist my arm and make me eat the cookie, too. You'll have to twist hard.
Like I said… just a little chocolate. Spread the love.
The cookie heart pan is from Wilton. I found it the other day and snatched it right up. I've seen them online, at my local cake supply store and also at the grocery store. Grab one while you can.
Alright, I'm going in…
Don't try and stop me… you might get hurt.
I mean it… all in.
yeah… that's it.
Now, if you'll excuse me… I don't want you to watch the rest. It won't be pretty.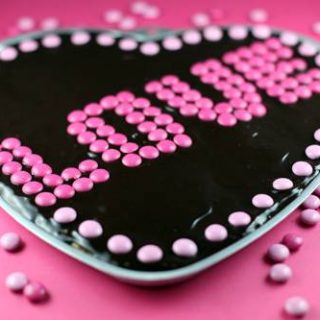 Big Love Butterscotch Cookie
Prep Time 20 minutes

Cook Time 10 minutes

Additional Time 20 minutes

Total Time 50 minutes
Ingredients
Cookie
1-1/2 cups flour
1/2 teaspoon baking soda
1/2 teaspoon salt
1/2 cup butter, softened to room temperature
1/2 cup sugar
1/3 cup packed brown sugar
1 egg
1 teaspoon vanilla
1/2 cup butterscotch morsels
Ganache
3/4 cup heavy cream
1/4 cup butter
3/4 cup semi-sweet chocolate morsels
heart-shaped cookie pan (about 11 inches wide)
M&M's
Instructions
Preheat oven to 350 degrees.
Cover heart-shaped cookie pan with non-stick cooking spray.
For the cookies, whisk flour, baking soda and salt together in a medium bowl and set aside.
Cream the butter and the sugars using a mixer until fluffy. Add egg and vanilla and mix until combined.
Add the flour and mix until combined. Stir in the butterscotch morsels.
Transfer cookie dough to the pan and spread out evely until the bottom of the pan is covered.
Bake for about 8-10 minutes. Remove and cool.
While the cookie is baking, you can make the ganache. Heat cream and butter in a saucepan until melted and remove before it starts to boil.
Place chocolate morsels in a small bowl and pour cream on top. Let sit for a few seconds and stir until completely incorporated and smooth.
Let cool and spread on top of cookie with an offset spatula.
To decorate like the photo, you'll need 85 M&M's (red or pink or whatever) for the letters. Place candies on the ganache, using the photo as a guide. Use extra M&M's for the border.
P.S. the heart-shaped cookie pan is also conveniently made to fit one package of refrigerated cookie dough if you so desire. And, if you can't find a cookie heart pan, just use a regular pan and spread the cookie dough out. Depending on the size of the pan, you may need to adjust your baking times.
Try and enjoy.