Chocolate and banana cupcakes with a cream cheese banana topping.
Yum!
And with lots of chocolate chips mixed in, too.
But anything with chocolate chips mixed in automatically moves the yumminess up a notch, right.
For the topping …
Mix cream cheese, sugar, vanilla, egg and banana together and then stir in the chips.
Jump on in there little ones. Get nice and cozy.
For the cake layer you'll need…
Flour, cocoa, sugar, bananas, soda, salt oil and vanilla.
Sift the dry ingredients together and then add the wet. Easy as pie. Or Cupcake.
Plop. Pureed bananas look kinda gross, don't they?
Thank goodness it all gets blended.
I used these lovely parchment paper baking cups. (Found at Hobby Lobby)
And I also used these freestanding muffin cups. (Found at cakeart.com)
Why? Because I'm indecisive. I may not have mentioned it before, but I have a problem making decisions. Even something as simple as cupcake liners. It seems like I can never bake all my cupcakes in the same papers. (Unless I'm taking them somewhere of course.) I know. Kinda weird. But I can never decide which to use or worry that I picked the wrong one and the one I didn't pick is going to look better. So, I'll sneak a few options in there to satisfy my compulsion.
But anyway, when you're ready to fill your liners, just use a scoop to get evenly filled papers.
Fill with chocolate first.
And then with the cream cheese mixture.
In one kind of baking cup if your normal.
Then bake away.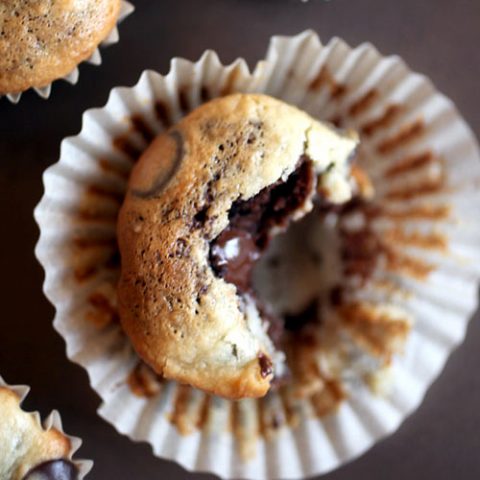 Yield: 18 cupcakes
Black Bottom Cupcakes
Prep Time 20 minutes

Cook Time 30 minutes

Total Time 50 minutes
Ingredients
Cream Cheese Mixture
8 oz. cream cheese, softened
1/2 cup sugar
1 small banana, pureed
1 egg
1 teaspoon vanilla
8 oz. semisweet chocolate chips
Chocolate Mixture
1-1/2 cups all purpose flour
1/3 cup cocoa
1 cup sugar
1 teaspoon baking soda
1/2 teaspoon salt
2 large bananas, pureed
1/3 cup oil
1 teaspoon vanilla
Instructions
Preheat oven to 350 degrees and line cupcake tray with paper liners.
For the cream cheese mixture: Beat cream cheese and sugar until nice and fluffy. Add banana, egg and vanilla and mix together until combined. Stir in chocolate chips and set aside.
For the chocolate mixture: Sift together flour, cocoa, sugar, soda and salt using a wire whisk.
Add bananas, oil and vanilla and mix together on low until combined. Use a large scoop to fill cupcake liners with batter. Repeat topping the cupcake batter with the cream cheese mixture.
Bake for about 30 minutes or until done.
Notes
Recipe adapted from Great American Favorite Brand Name Cookbook, 1993.
And enjoy!!!
And if you're wondering. I liked how these looked in the parchment papers best.