So, I'm kind of in love with this milkshake. Brownies, ice cream, chocolate syrup and a little Kahlua coffee.
My Saturday night is to blame for these. With a sudden late night craving for chocolate, I went to the pantry … fingers crossed … that I had a brownie mix (aka my guilty pleasure quick fix) in there. And yay … I did. Because if I didn't, I don't think I would have gone to the extra few minutes of effort to bake them from scratch.
Then I proceeded to eat more than my share of warm brownies to make me feel better.
And by late Sunday afternoon, I figured I'd finish the rest off with a little ice cream.
One of my all time favorite sweets to enjoy is warm brownies with vanilla ice cream. I'm easy like that. But today I'm going all cold and creamy.
Throw everything in a blender until combined. Bam. Done.
I think I'd be just fine with a spoon. Yep. Yes I would.
But let's dress them up a little bit with whipped cream and chocolate syrup.
So pretty. And now they look as good as they taste! What's your favorite make at home milkshake flavors.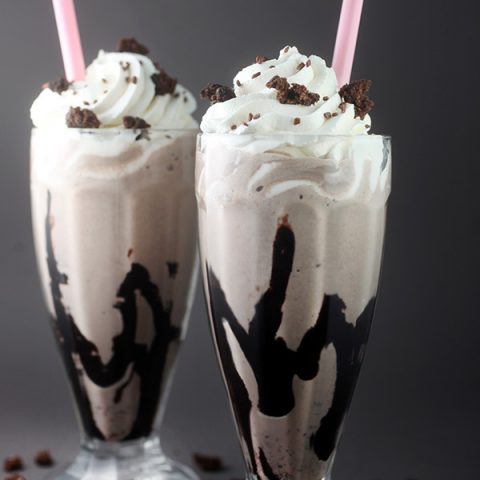 Yield: Two tall or three small milkshakes
Brownie Mocha Milkshakes
Total Time
3 hours
20 minutes
Ingredients
MILKSHAKES
1 pint vanilla ice cream
2 brownies (about 2-inch square), cut into small pieces
1/4 cup whole milk
3 tablespoons cold coffee (I used Kahlua flavored) YUM!
1-2 tablespoons chocolate syrup
WHIPPED CREAM
1 cup heavy cream
2 tablespoons sugar
1/2 teaspoon vanilla
Instructions
Place ice cream, brownie pieces, milk, coffee and chocolate syrup in a blender.
Blend until smooth with tiny brownie pieces visible.
Drizzle chocolate syrup on inside of glass. Pour in milkshake and serve with whipped cream, crumbled brownie and chocolate sprinkles.
To make whipped cream, combine heavy cream, sugar and vanilla in a metal mixing bowl. Beat on high using the whisk attachment until soft to medium peaks form. (Chill bowl and whisk in freezer for several minutes before you get started.)
Enjoy!