I gave a batch of basic chocolate chip cookies a cheerful twist with cherry chips and almond bits. And these have turned out to be my new favorite cookies. At least for this week anyway. ; )
I used blanched slivered almonds and chopped them up pretty fine … because I don't like a lot of crunch in my cookies.
And the cherry flavor came from these NEW dark chocolate cherry flavored morsels. I first enjoyed them at an event hosted by Nestle a couple of weeks ago to showcase some of their new products launching in September. You may have already seen them in stores though.
They also come filled with caramel, peanut butter and mint flavor. Too fun! Oh and keep your eyes open in the freezer section too because they now have frozen cookie dough to answer all our late night cookie cravings. YAY!
Scooping is very satisfying to me for some reason. You can roll them in a few extra almond pieces of you like.
I love seeing these little domes of dough right before they go in the oven.
But I love them even more warm right out of the oven.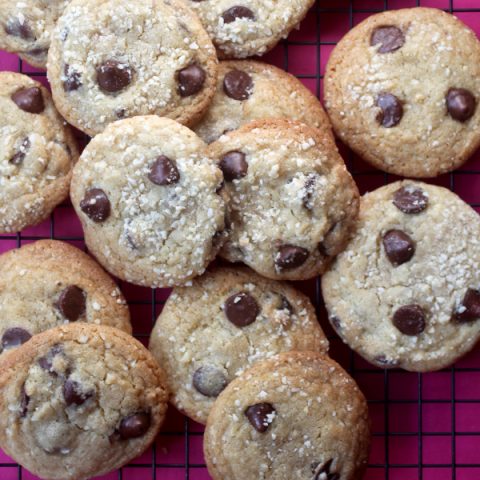 Yield: 32 cookies
Almond Cherry Chocolate Chip Cookies
Prep Time 20 minutes

Cook Time 12 minutes

Total Time 32 minutes
Ingredients
2-1/3 cups all purpose flour
1 teaspoon baking soda
1 teaspoon coarse salt
1 cup unsalted butter, softened
2/3 cup sugar
1 cup packed brown sugar
2 eggs
1-1/2 teaspoons almond extract
3/4 cup chopped almonds
1-1/2 cups dark chocolate cherry filled morsels
Instructions
Preheat oven to 350 degrees Fahrenheit and line baking sheet with parchment paper.
Whisk flour, baking soda and salt together in a medium bowl and set aside.
Cream butter and both sugars in a mixer until light and fluffy. Add eggs and vanilla and mix until combined.
Gradually beat in flour mixture. Then stir in 1/2 cup of the chopped almonds. Stir in the cherry filled morsels.
Scoop dough onto baking sheet. Roll in remaining 1/4 cup of chopped almonds if desired. Bake 10-12 minutes.

Enjoy!