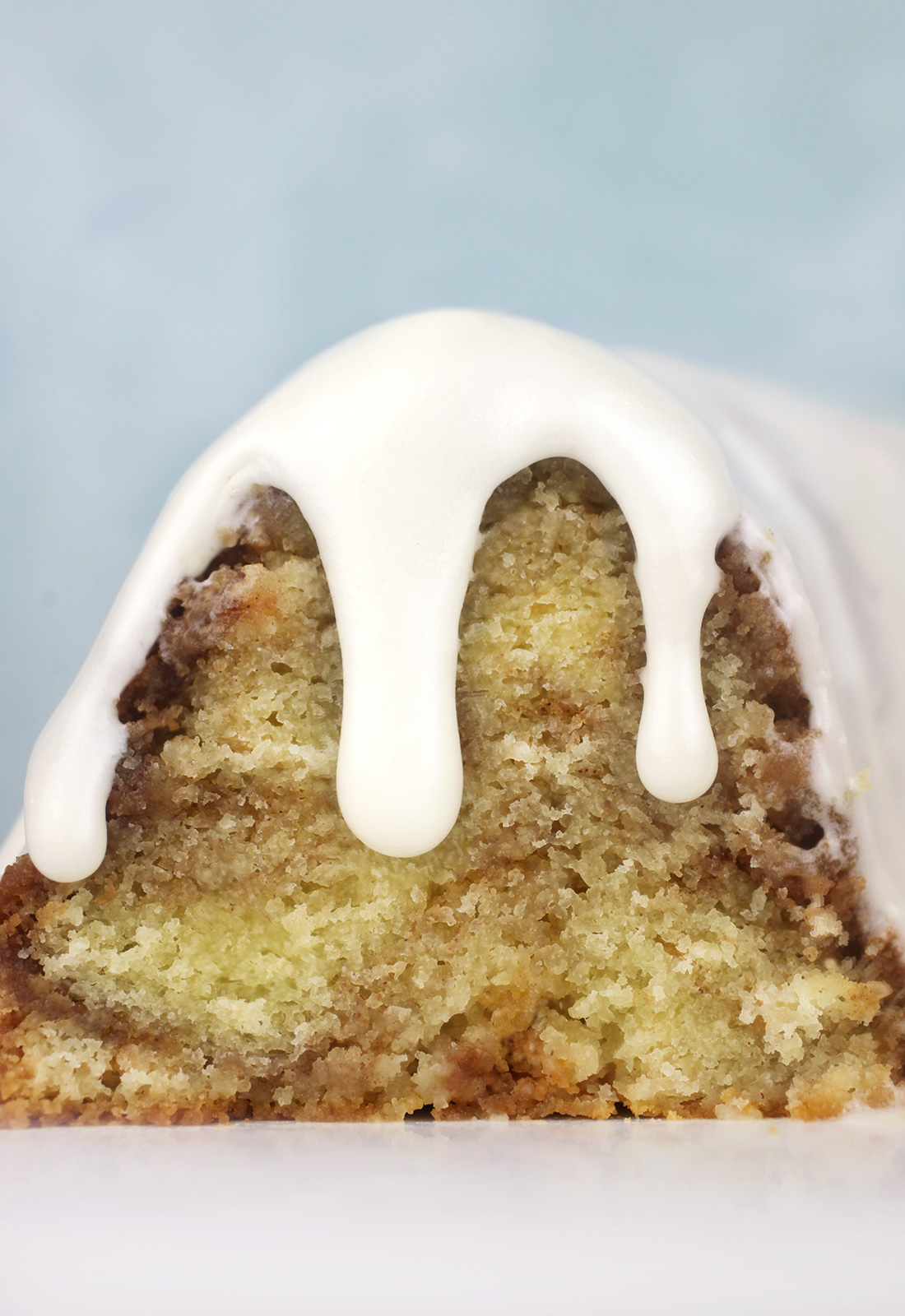 Excuse me while I stuff my face with cake. I baked this beauty last weekend and I've been enjoying it every day since. Oh my… every time I take a bite I say "Dang that's so good!!" And then I take another bite. And another. I should have just left it in the Bundt pan like a bowl and used a fork. Yum-mmm!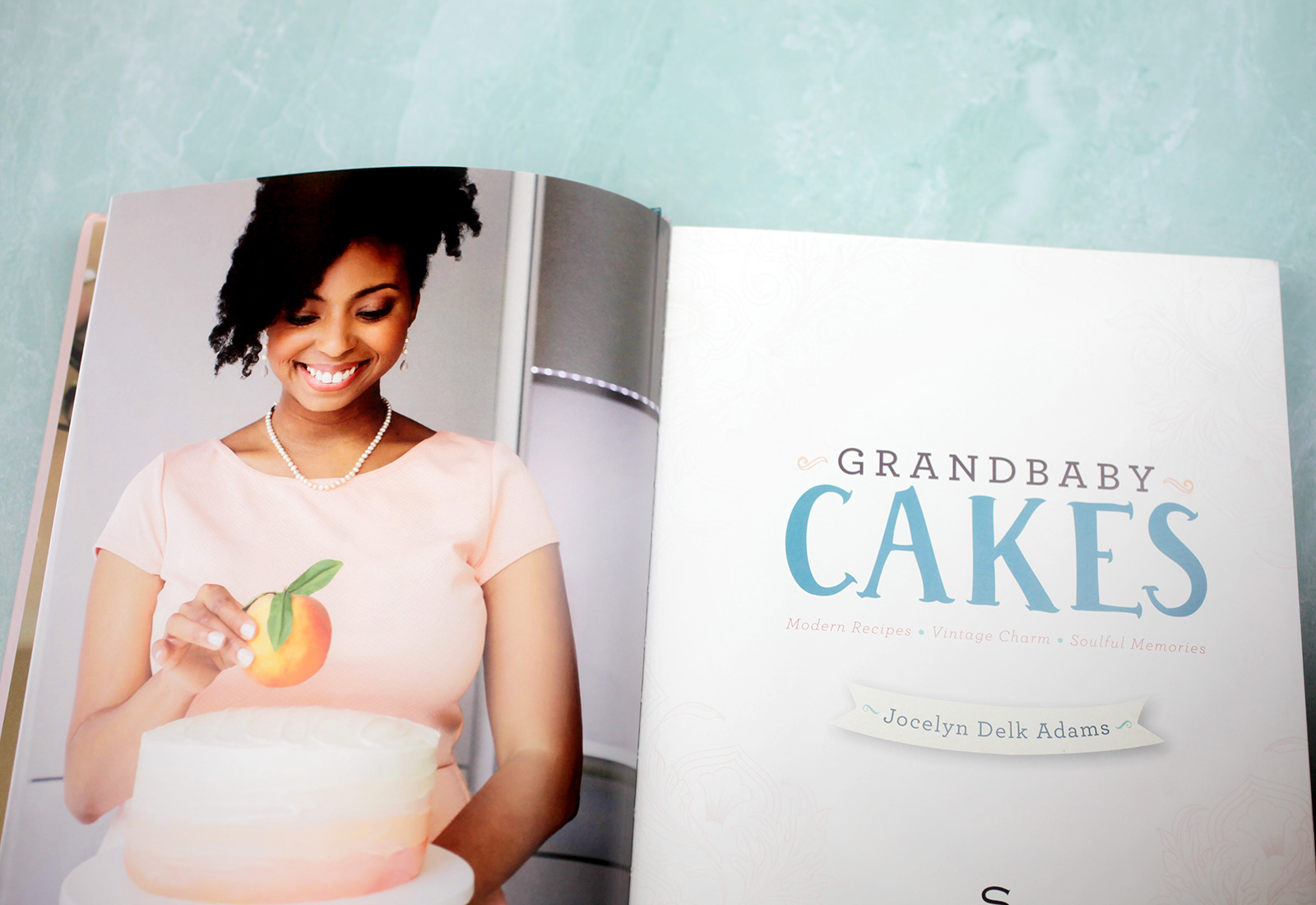 The recipe is from my blogging friend Jocelyn's book, Grandbaby Cakes and it is definitely a keeper.
If you don't know Jocelyn already, check her blog and instagram. You may have also already seen her on your TV. She makes appearances on Good Morning America, The Today Show and more … sharing recipes and joy along the way.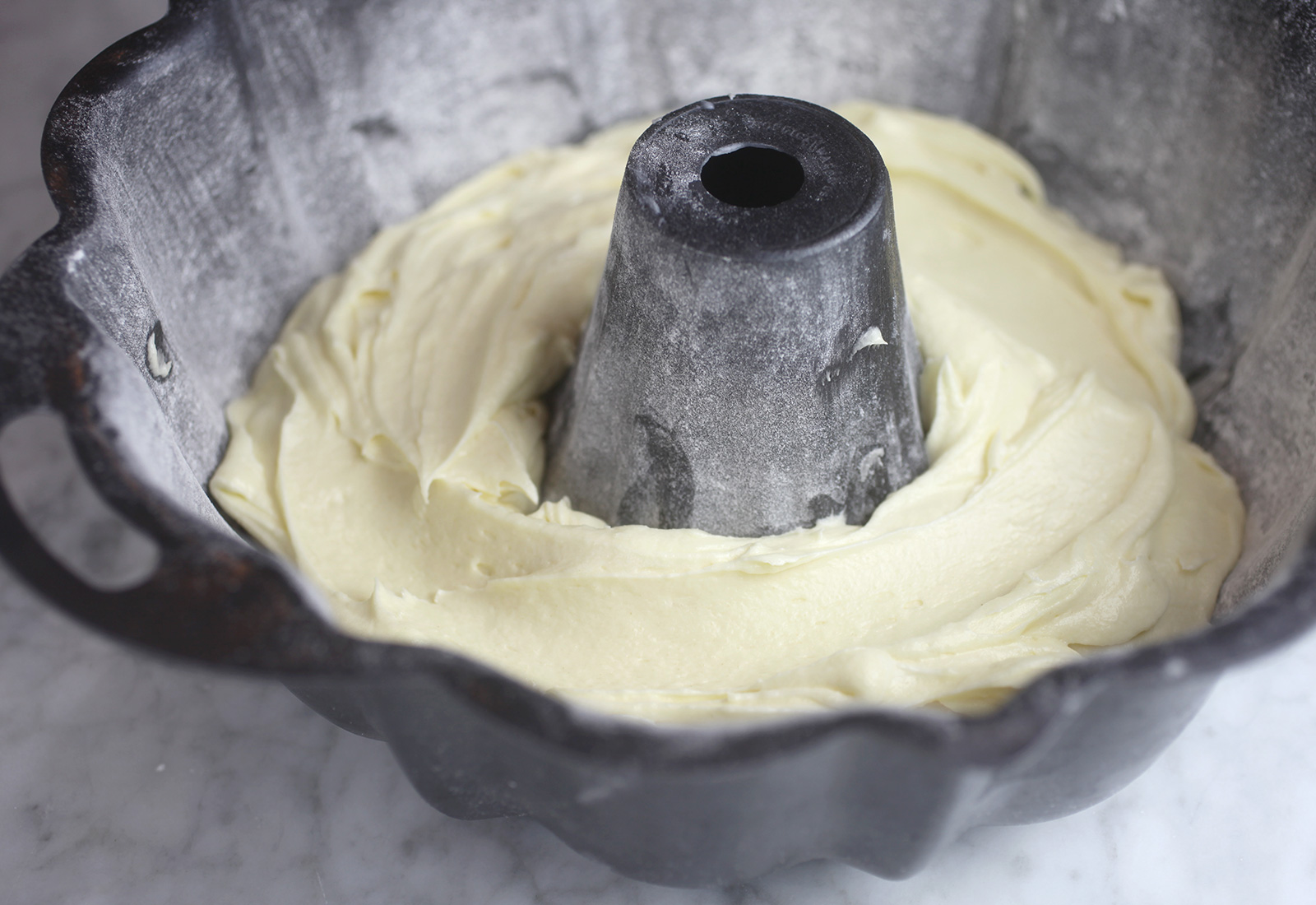 To make her cake, you'll mix up the batter (recipe below) and layer it into a 12-cup Bundt cake pan.
First layer: cake batter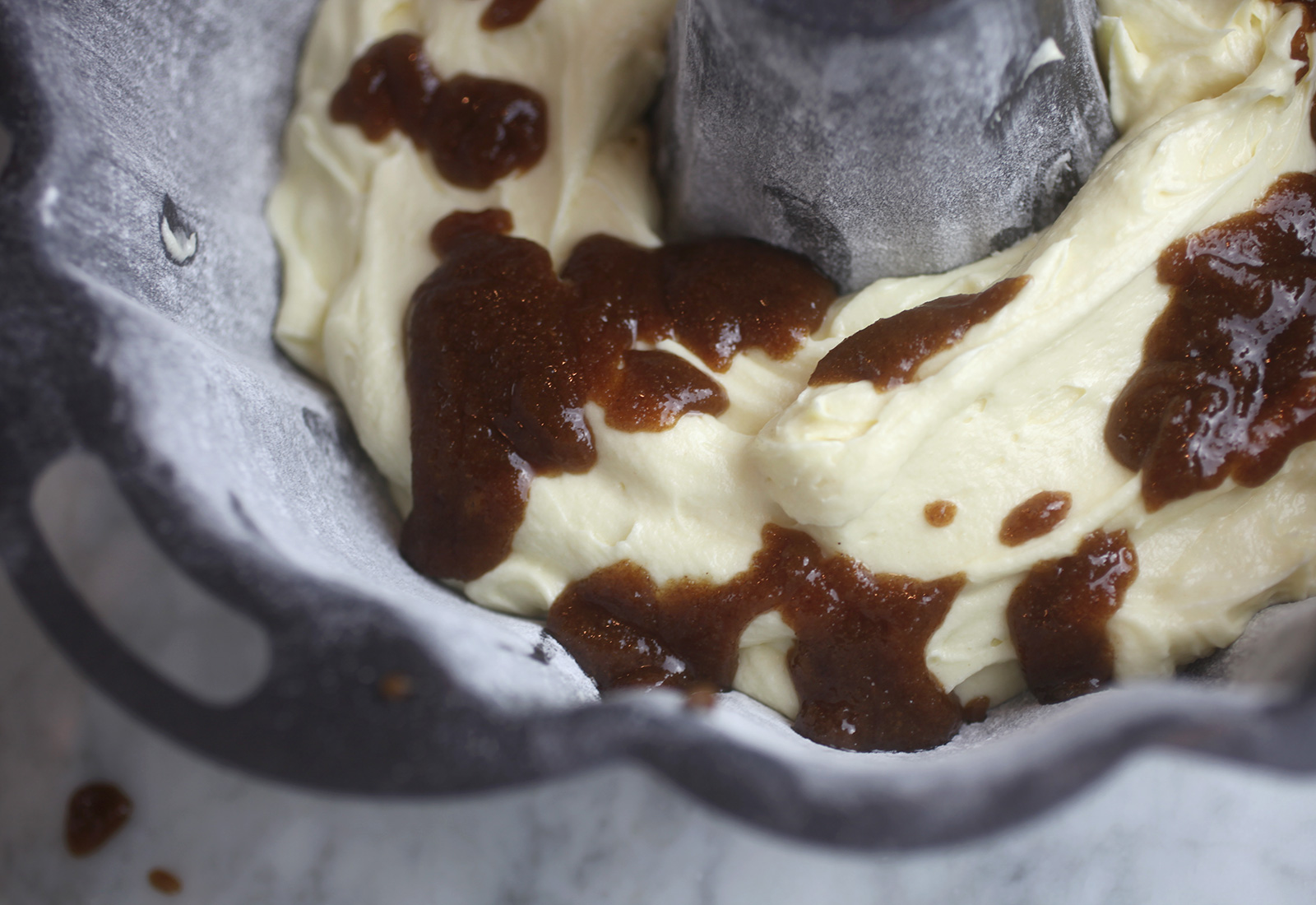 Second layer: dreamy, buttery, cinnamon-y goodness.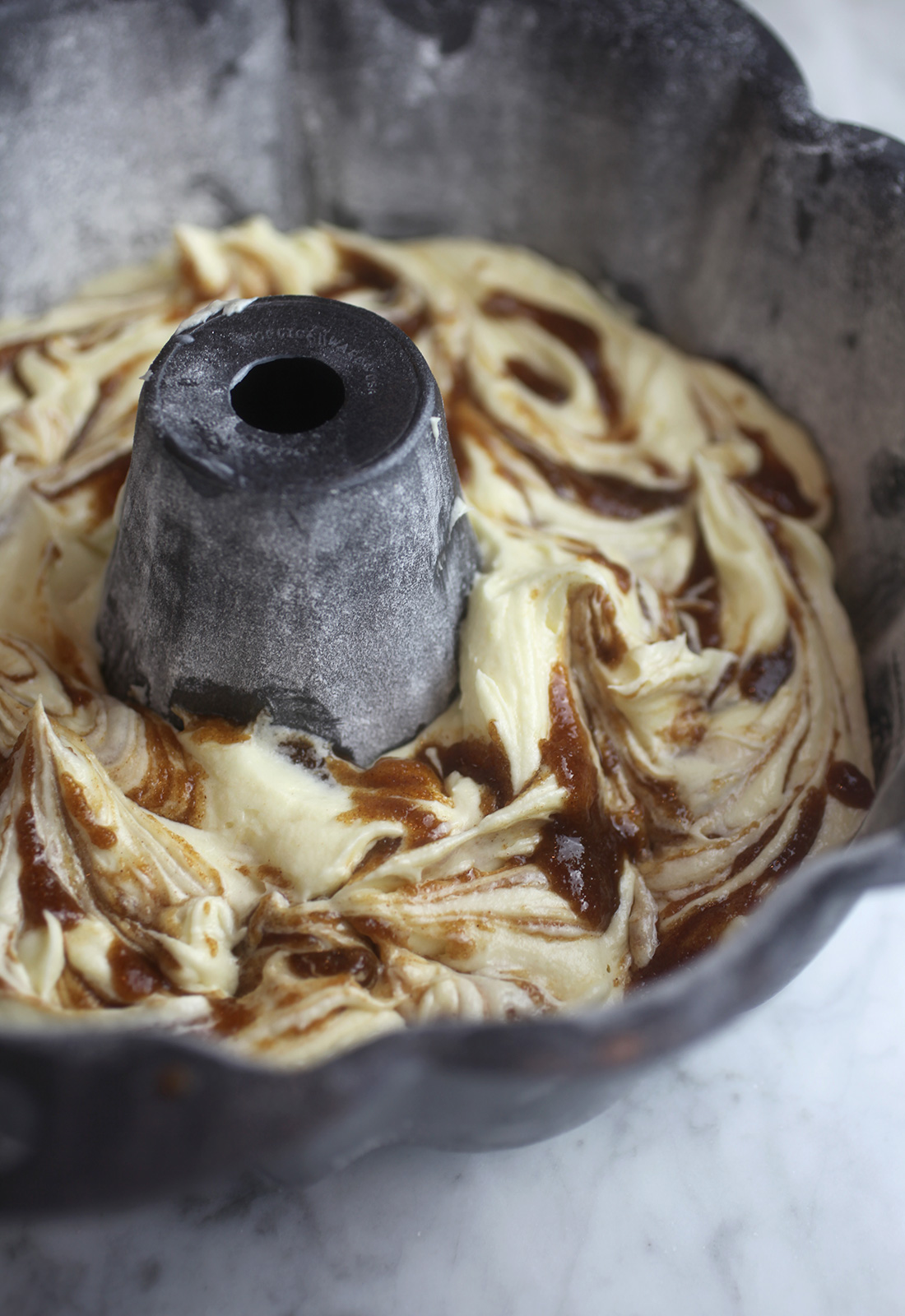 Swirl it into the cake batter.
Third layer: more cake batter
Fourth layer: add more cinnamon goodness to swirl.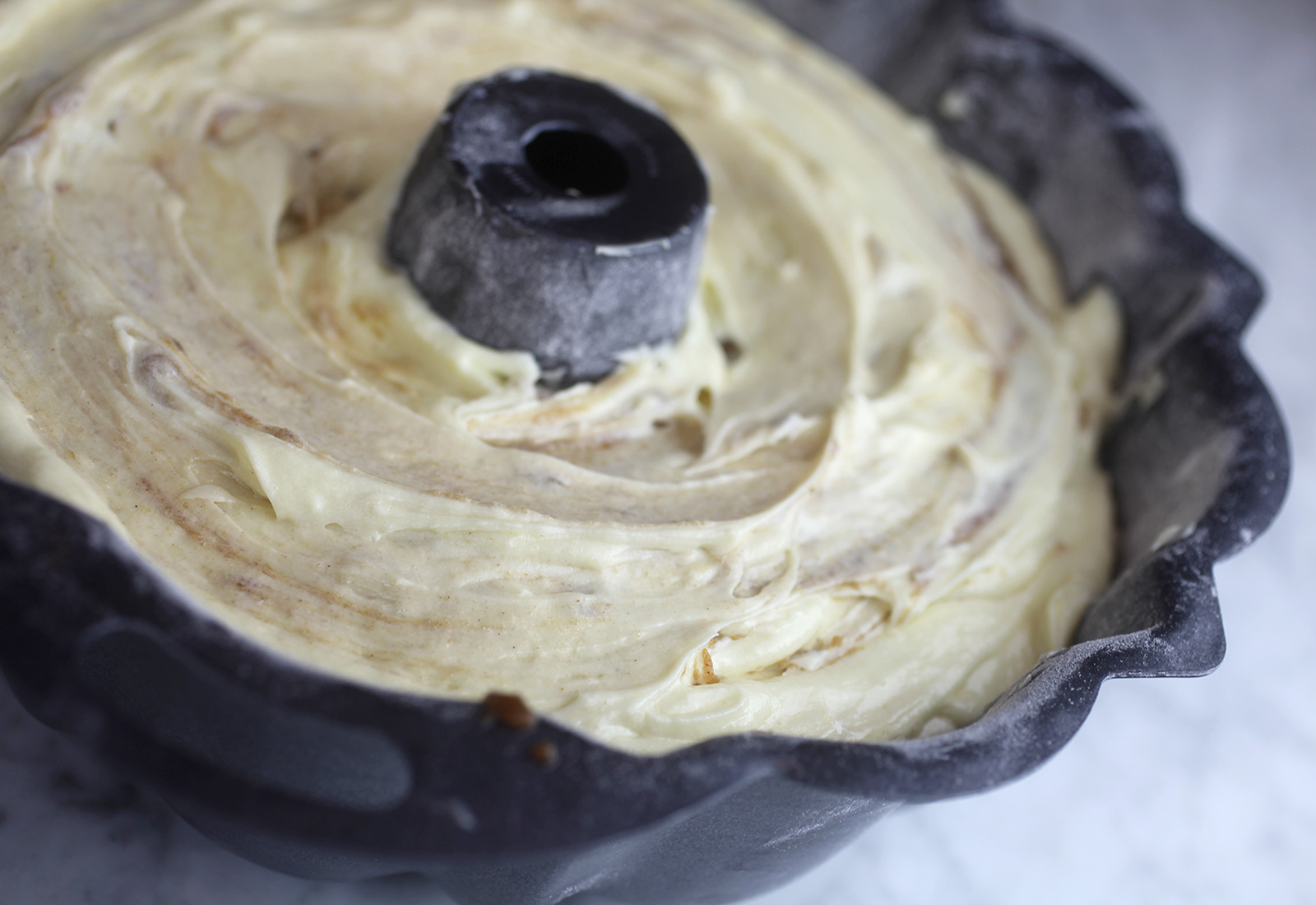 And finish off the last layer with the remaining cake batter.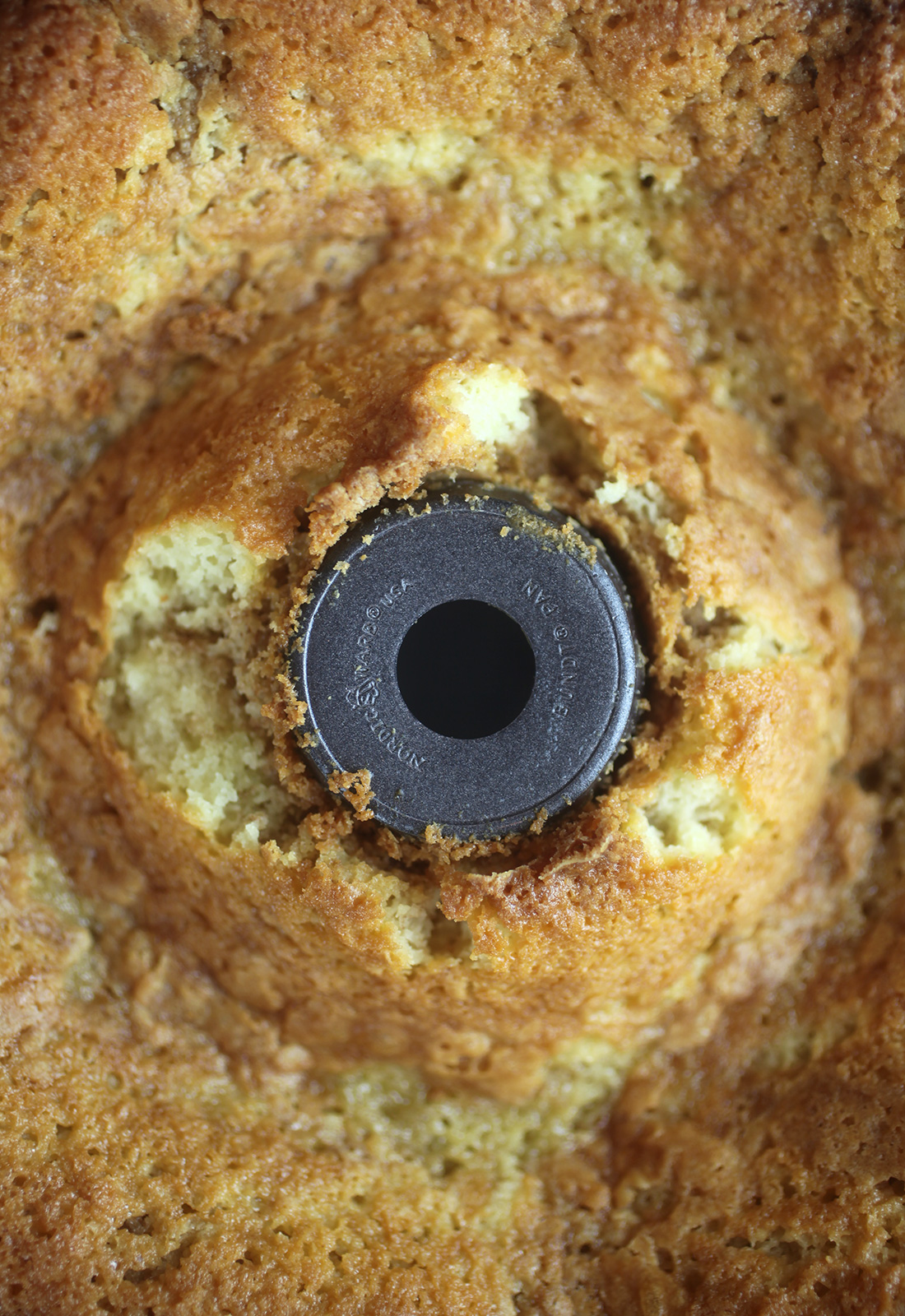 Bake it up into a big, beautiful, Bundt.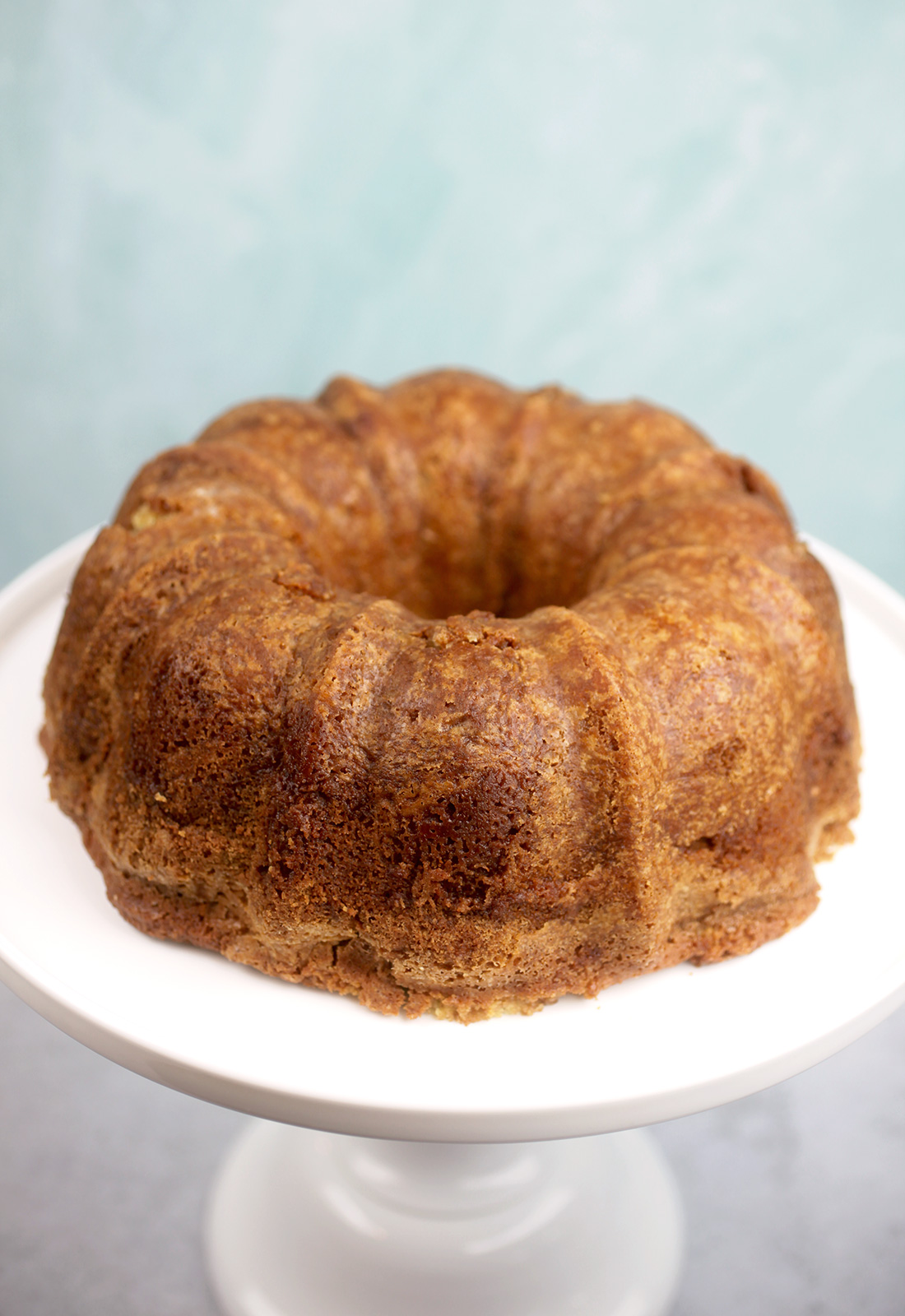 I always get anxious when removing a Bundt cake from it's pan, but this one came out like a dream.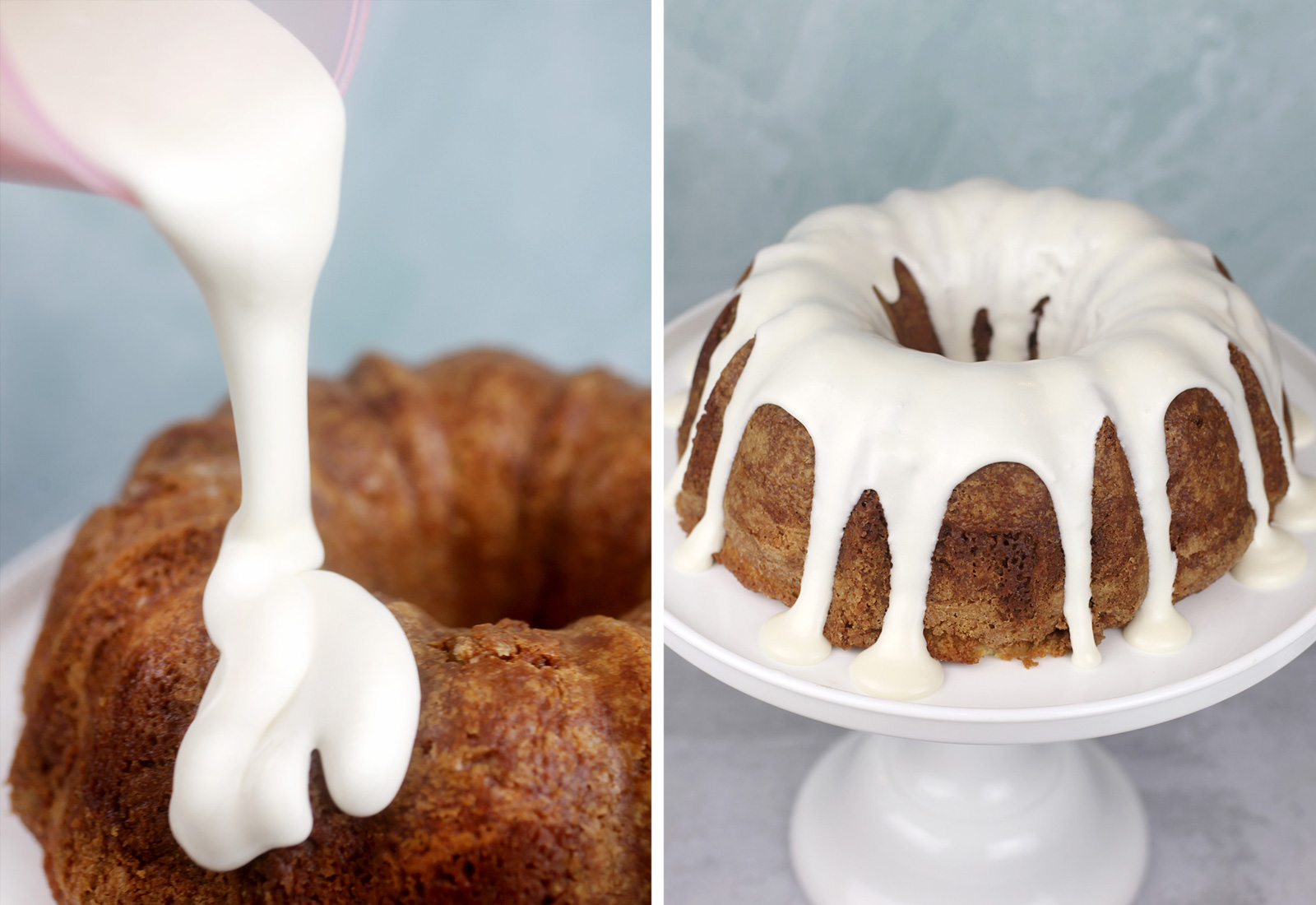 Once it's cooled, pour a gorgeous cream cheese icing on top of the cake and let the icing linger lovingly down the sides.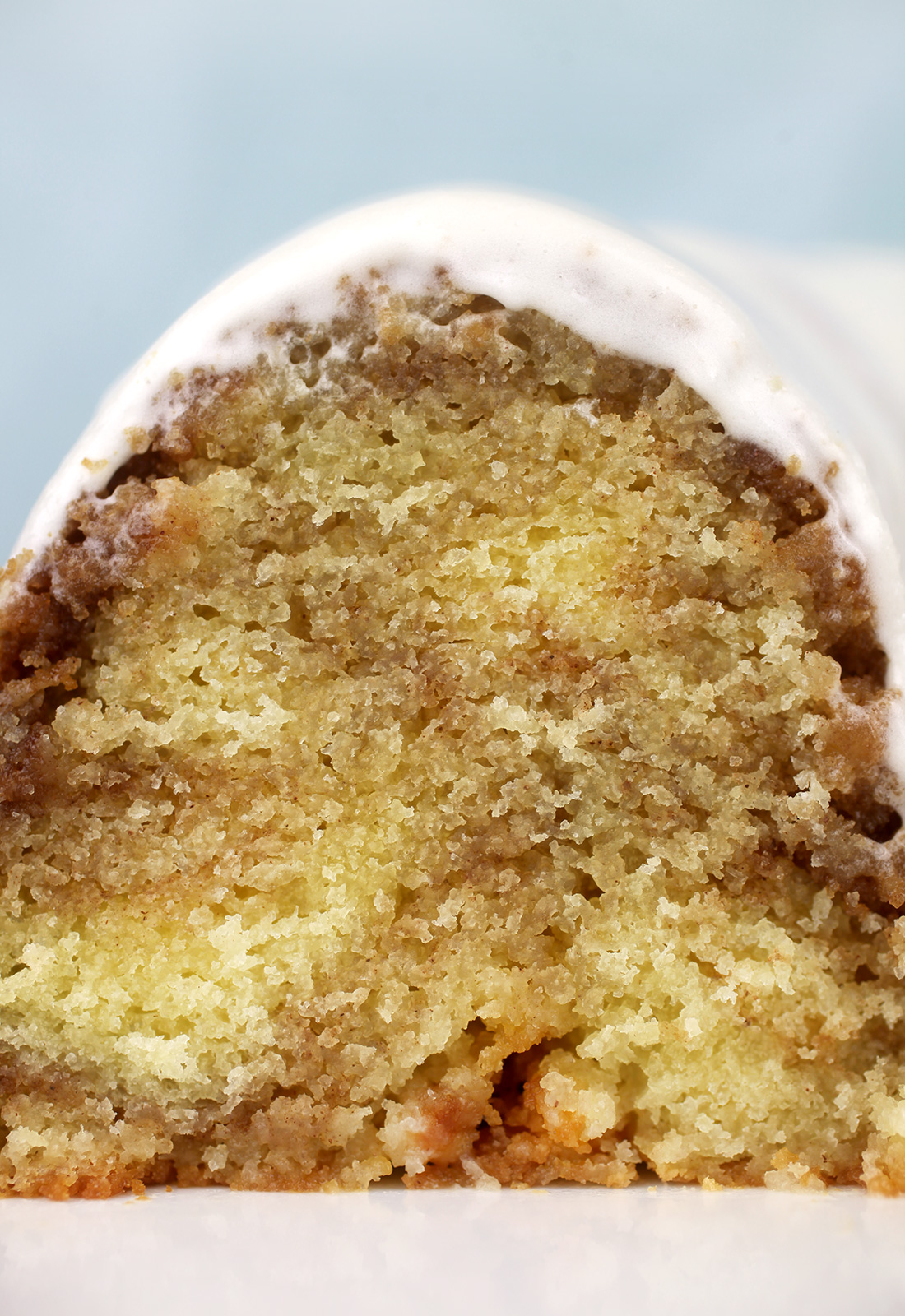 Then slice it up to see all those whispers of cinnamon waiting for you inside.
This cake is so delicious, you'll love every bite.
Have you preheated your oven yet? I hope so because here's the recipe.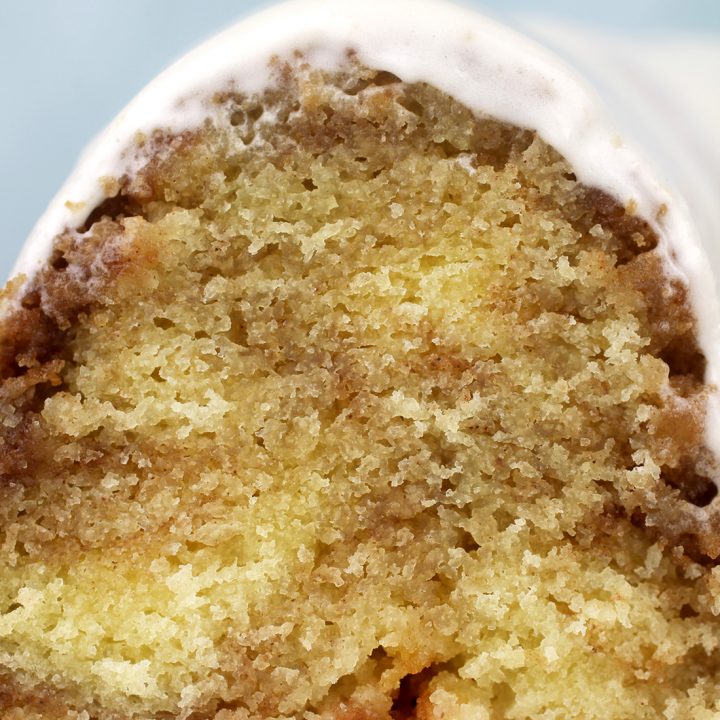 Yield: One 12-cup Bundt Cake
Grandbaby Cake's Cinnamon Roll Pound Cake
Prep Time 20 minutes

Cook Time 1 hour 15 minutes

Additional Time 10 minutes

Total Time 1 hour 45 minutes

A delicious, moist pound cake swirled with cinnamon and covered with cream cheese icing.
Ingredients
CAKE
1-1/2 cups (3 sticks) unsalted butter, room temperature
2-1/2 cups granulated sugar
6 large eggs, room temperature
3 cups sifted cake flour
1 teaspoon salt
1/2 teaspoon baking soda
1 cup sour cream, room temperature
2 tablespoons vegetable oil
1 tablespoon vanilla extract
CINNAMON SWIRL
1/3 cup (5 tablespoons, plus 1 teaspoon) unsalted butter, melted
2/3 cup packed light brown sugar
1 tablespoon all-purpose flour
1-1/2 teaspoons ground cinnamon
1 teaspoon vanilla extract
ICING
2 ounces cream cheese, room temperature
2 tablespoons unsalted butter, room temperature
1-1/2 cups confectioners' sugar, sifted
1/4 cup milk
1 teaspoon vanilla extract
Instructions
For the cake
Preheat oven to 325 degrees fahrenheit. Liberally prepare a 12-cup Bundt pan with the nonstick method of your choice. I greased with shortening and dusted with flour to coat.
In the bowl of your stand mixer, fitted with the paddle attachment, beat the butter for 1 minute on high speed. Slowly add the granulated sugar. Cream together for an additional 5 minutes, until very pale and fluffy. Add the eggs one at a time, combining well after each addition and scraping down the sides and bottom of the bowl as needed.
Turn your mixer down to its lowest speed and slowly add the flour in two batches. Add the salt and baking soda. Be careful not to overbeat. Add the sour cream, oil and vanilla. Scrape down the sides and bottom of the bowl and mix the batter until just combined. Be careful not to overmix. Set batter aside.
For the Cinnamon Swirl
In a small bowl, whisk together all the ingredients until well combined. Set aside.
Bake
Pour 1/3 of the batter into the prepared Bundt pan.
Drizzle 1/2 of the cinnamon swirl over the batter. Using a butter knife or skewer, swivel the mixture though the cake batter, creating a flourish pattern.
Repeat with another third of the cake batter and rest of the cinnamon swirl. Top with the remaining batter.
Bake for 75-85 minutes, or until a toothpick inserted in the center comes out mostly clean.
Let the cake cool in the pan on a wire rack for 10 minutes, then carefully invert onto a serving plate. Let cool to room temperature. Lightly cover the cake with foil or plastic wrap so it does not dry out.
For the icing
Clean your stand mixer and paddle attachment. Beat the cream cheese and butter for 2 minutes on medium-high speed.
Reduce mixer speed and carefully add the confectioners' sugar in two batches, scraping down the sides and bottom of the bowl as needed. Once the sugar is fully incorporated, turn the mixer back up to medium-high speed. Add the milk and vanilla and beat until the icing is smooth and pourable. (note: to make thicker, add more confectioners' sugar and to make thinner, add more milk.)
Drizzle the icing over the cooled pound cake. Serve at room temperature.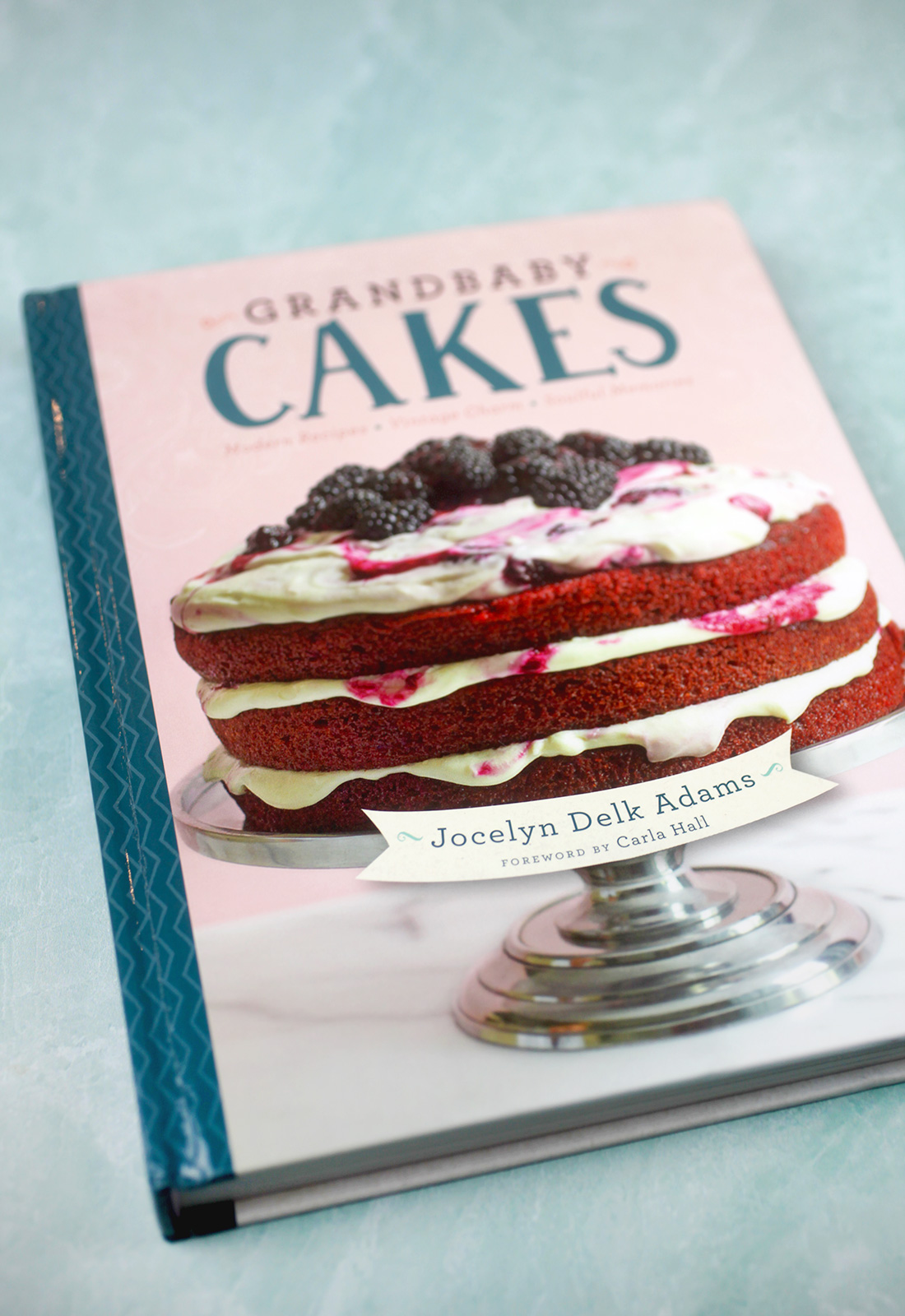 You can order Jocelyn's book from her publisher OR from amazon when it is back in stock.
Here's a peek inside for all my cake-loving friends.
And if you're a fan of fruit, I think you'll love this book. Jocelyn has many recipes featuring strawberry, lemon, peach, raspberry, pineapple, lemon and more in her cakes.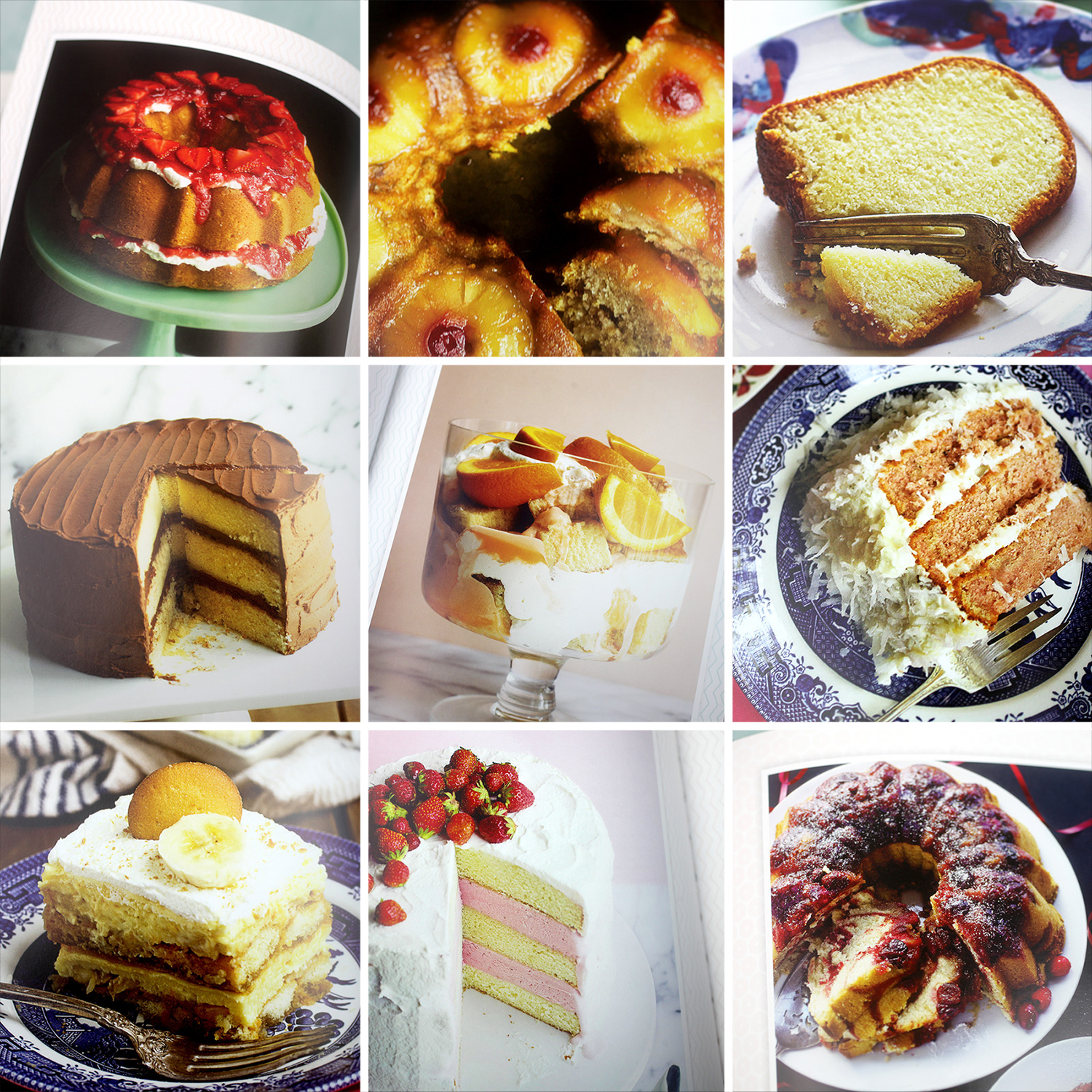 … and then there's this Mississippi Mud cake!!!!!!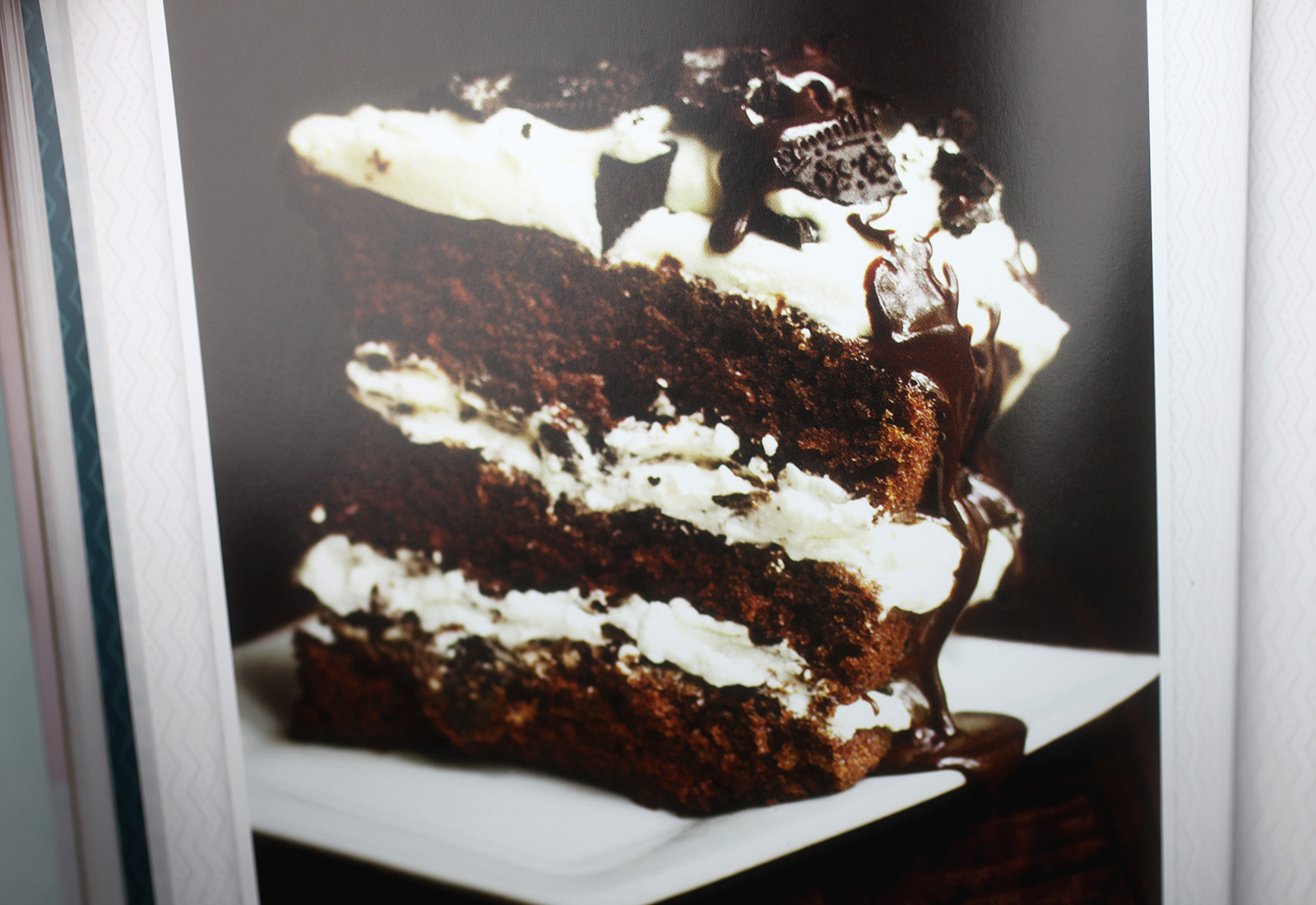 You guys know me, so you know I would totally want to make this one first, unfortunately I did not have any Kahlua on hand or I would have. I'll just have to enjoy it another day.
In the meantime, I have more cinnamon roll cake to eat… and ENJOY!