Cute Cookie Tees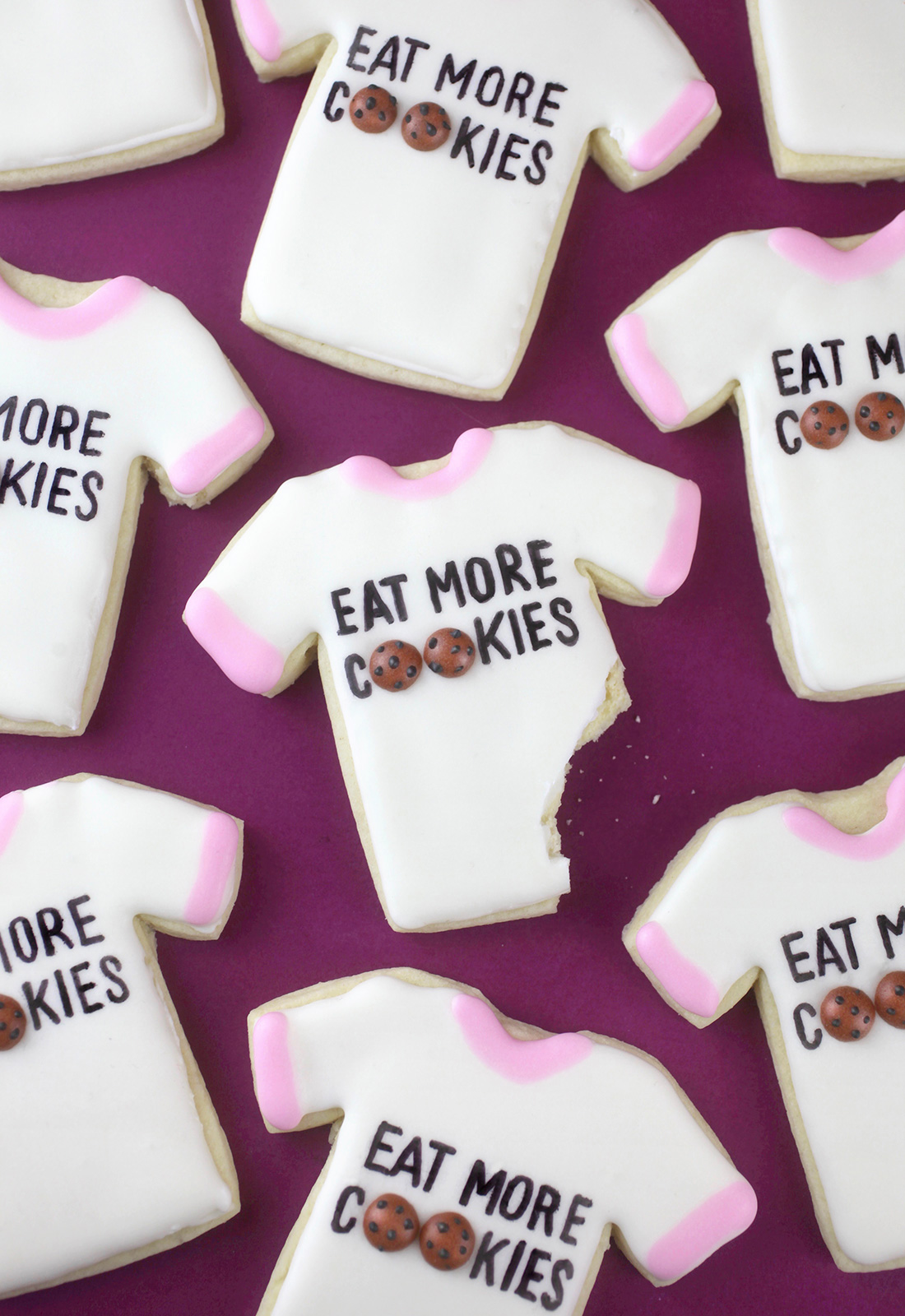 These sugar cookies say it all! Plus they're super cu-tees ; ) … and surprisingly easy to decorate, even if your handwriting isn't the best. Keep reading and I'll show you a helpful little trick.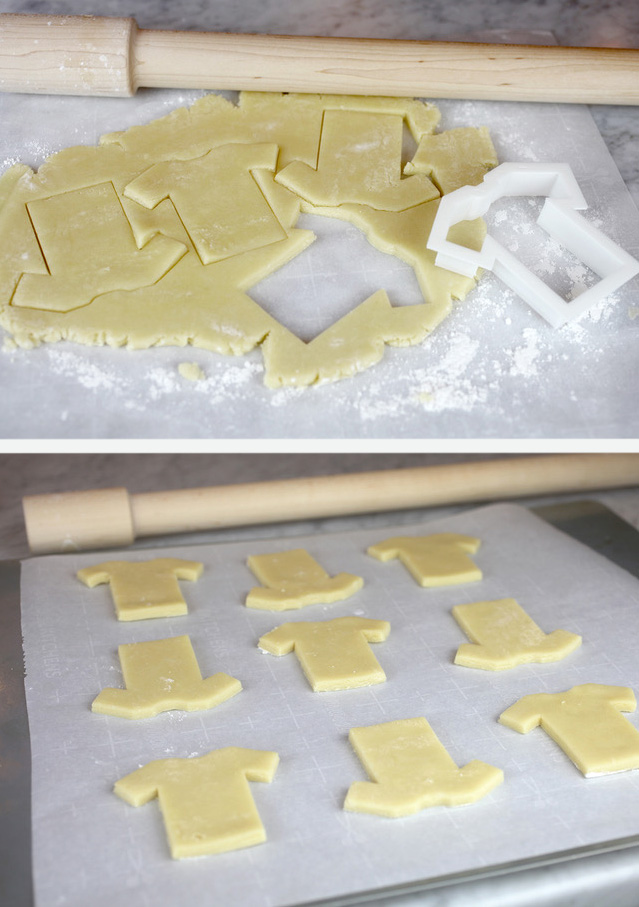 But before we decorate, we're going to need some sugar cookies.
Use the sugar cookie and royal icing recipe on this post and the template below to use for the shirt cookie cutter.
If you buy a shirt cutter, you can print the template out at different percentages to match. I don't remember where I bought mine, but here's some other shirt cutters.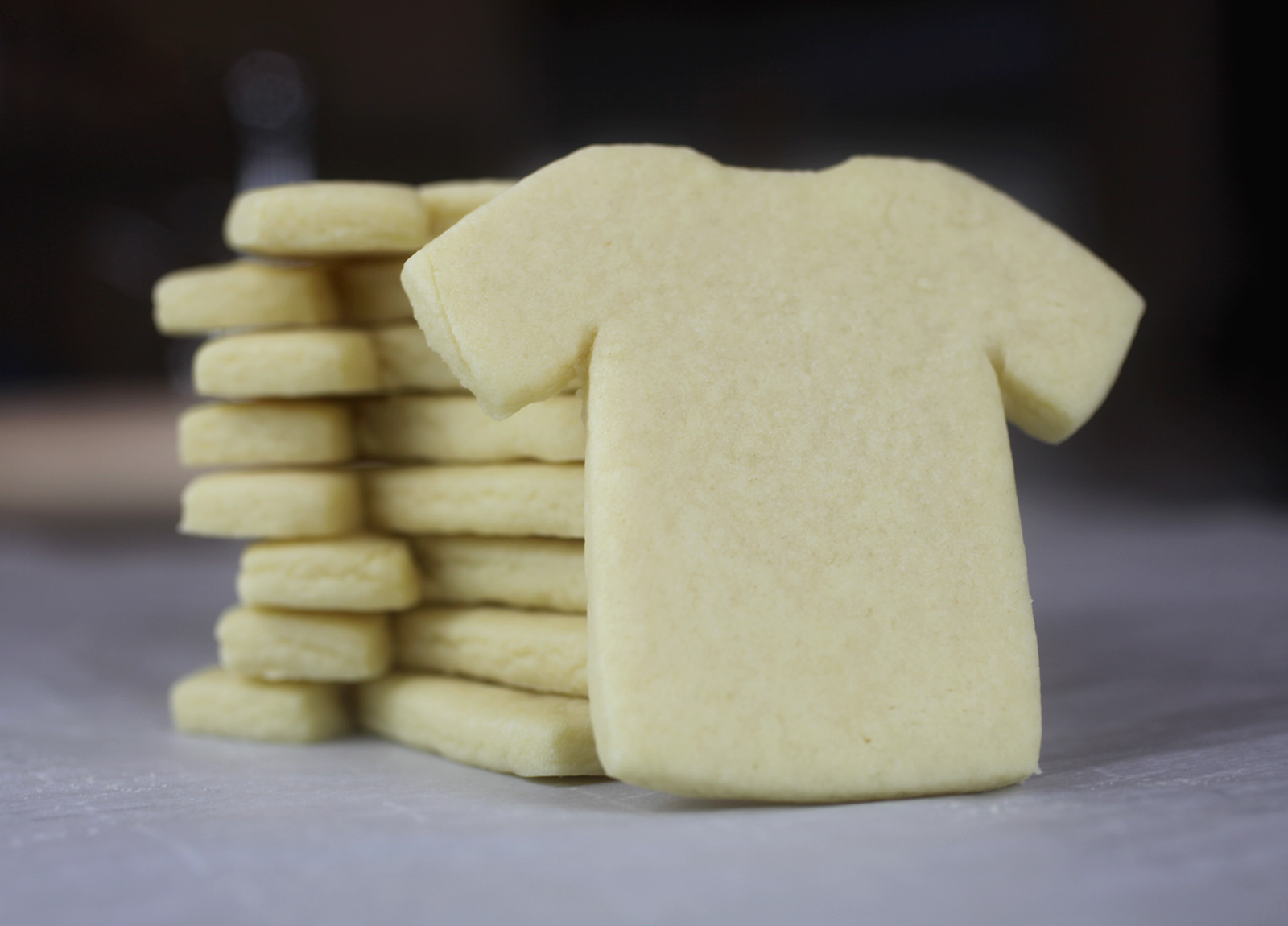 Sugar cookies are like little blank canvases. You can have so much fun decorating them with endless possibilities. I don't know how I ended up on this design, but it was probably after seeing so many "eat more cake" phrases on things. So why not put an eat more cookies phrase … on a cookie. Feels right! Tastes sweeter.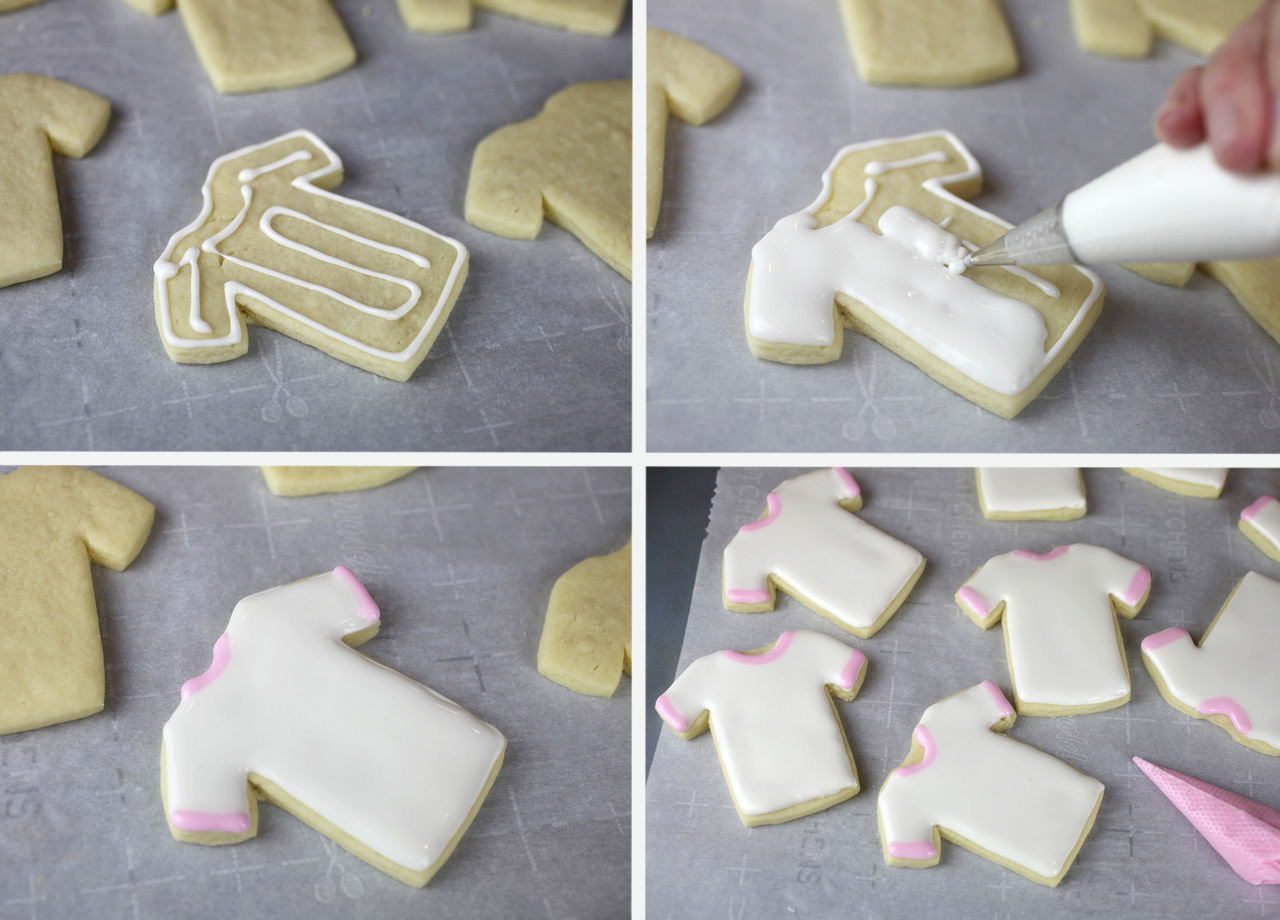 When your cookies are baked, you're ready to decorate with royal icing.
For a ringer style tee like these, you'll need three colors of royal icing. I left almost all of the royal icing white and then just tinted a very small amount of the icing a light pink for the shirt detailing and another small amount brown for the cookies.
Fit one decorator bag with a number 2 Wilton tip and fill with white icing.
Fill two more bags with the light pink and brown tinted icing. Snip off the very end of the pink so you have a tiny opening. Save and reserve the brown icing for the next day or at least several hours later.
Pipe and outline the shirt with white icing. I used the same consistency for both … fluid enough to fill and stiff enough to hold the outline. Immediately after the shirt is covered in white icing, go ahead and pipe the pink details on sleeve and collar right on top of the white. The two colors will settle together if both icings are still wet and similar consistencies.
Let them dry completely before adding any phrases. I let them dry overnight to be sure and left my brown icing saved in an airtight container.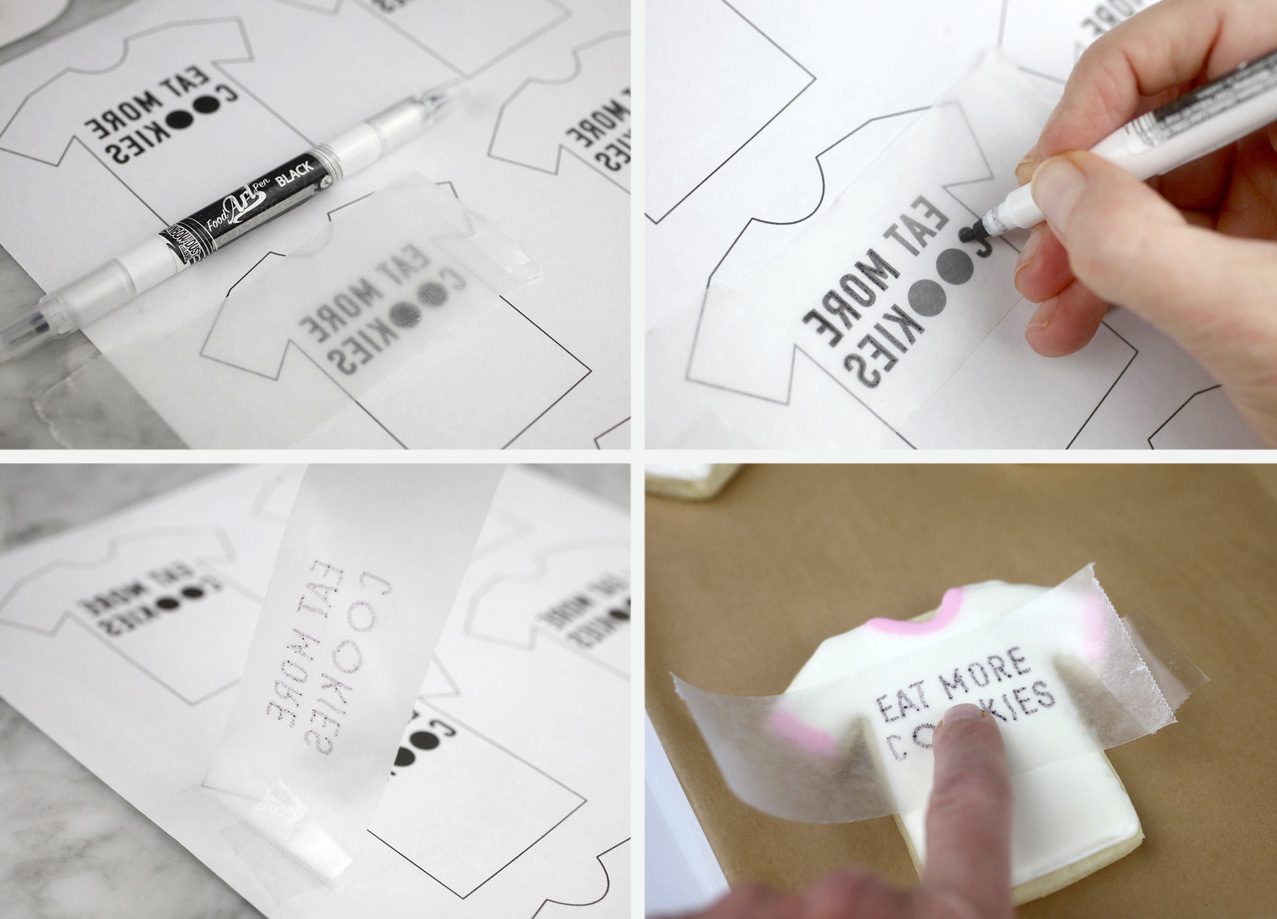 For the sweet sayings, I had to come up with a way to guide my writing, because left to my own devices, my sayings would have looked way way too sloppy and lopsided.
You can use the template below for the shirt shape and the sayings:
Eat More Cookies T-shirt Template
Cut out small strips of wax paper and tape one side down over the template.
Use this black edible-ink writing pen and trace over the letters.
Remove the wax paper, turn it over and carefully press in place on the cookie without moving.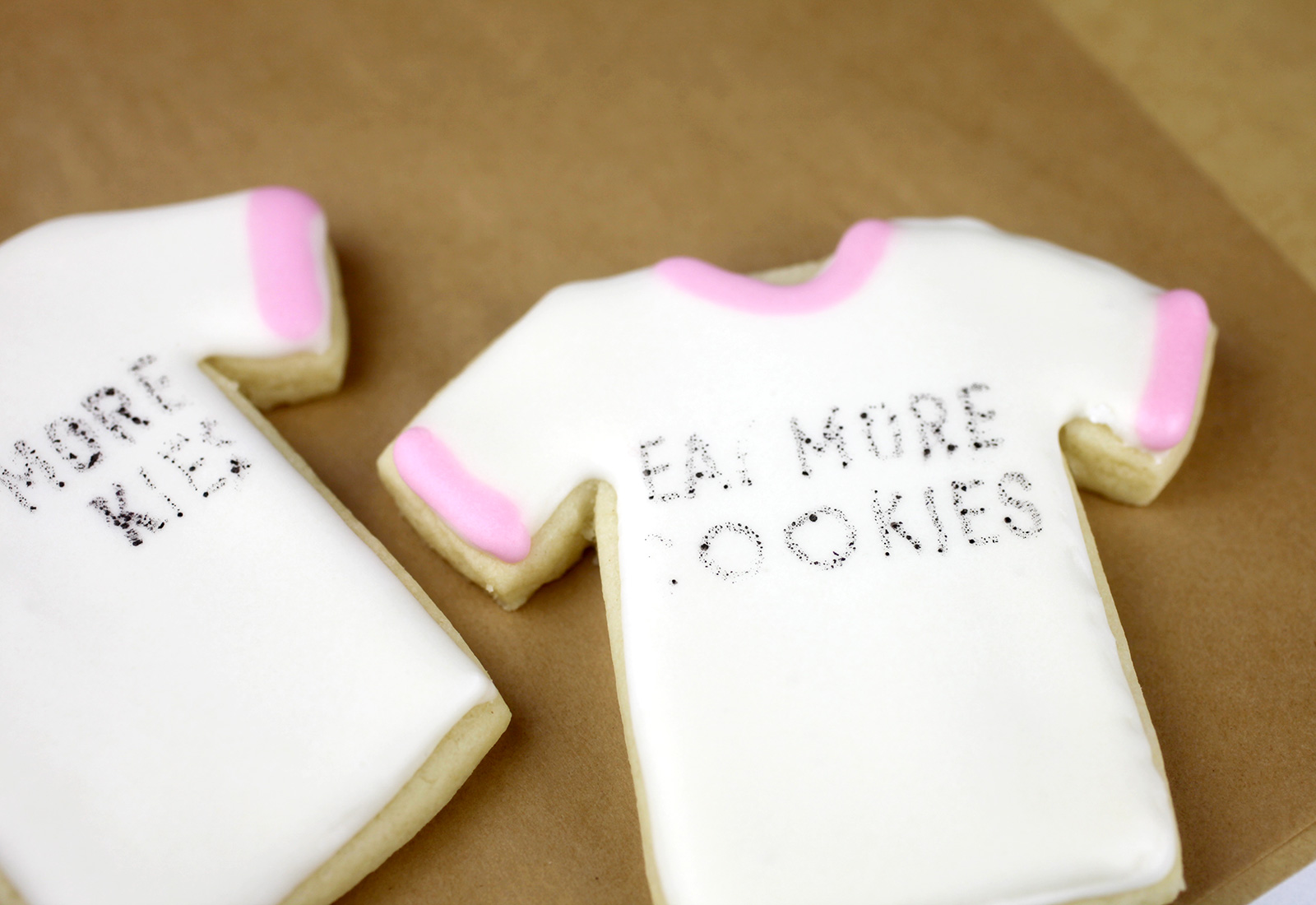 When you lift off the wax paper, you'll be left with a light impression of the ink on the cookie.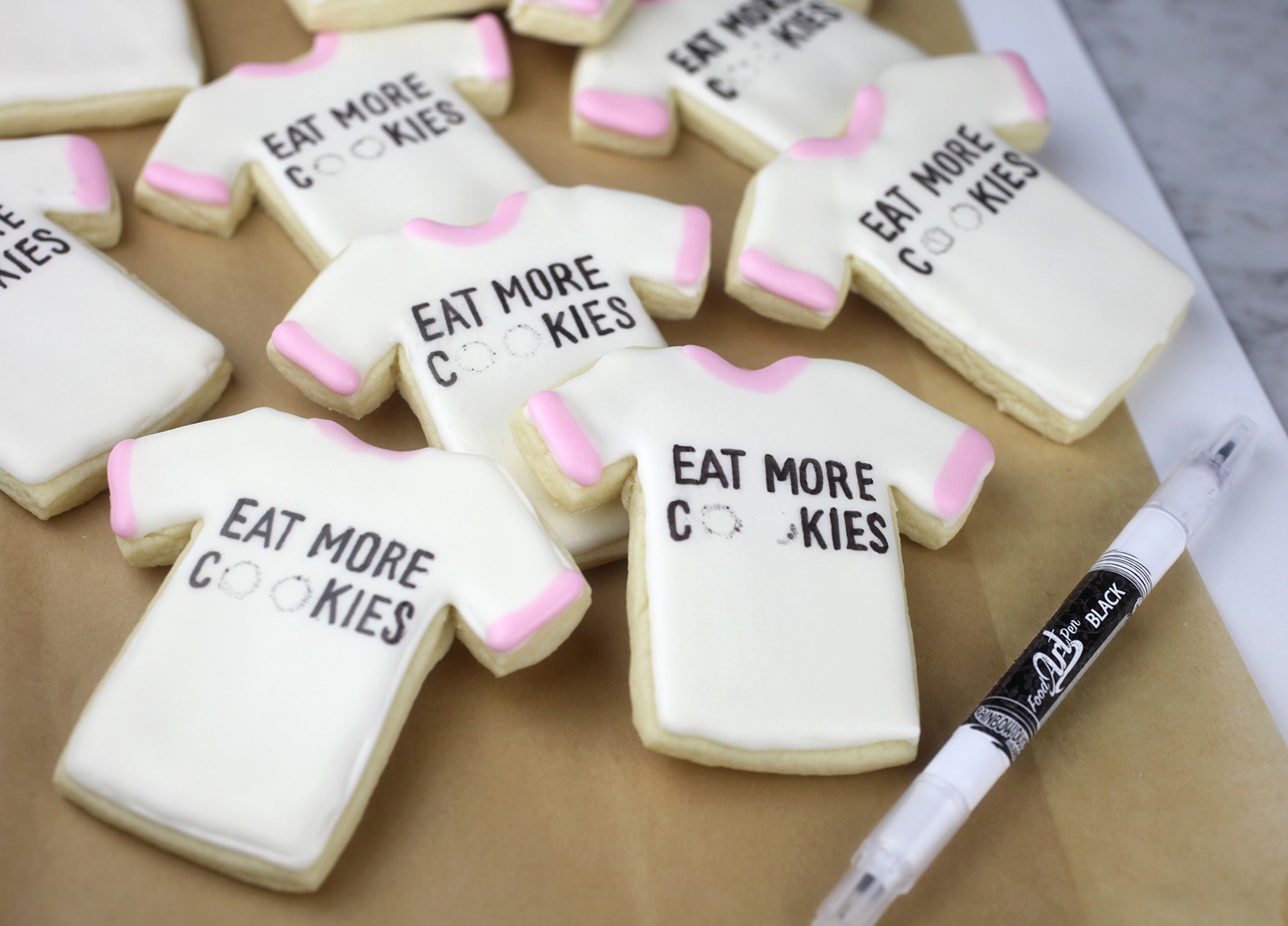 Then use the pen to write directly on the cookie, tracing over the letters. You can leave the spaces for the tiny cookies alone.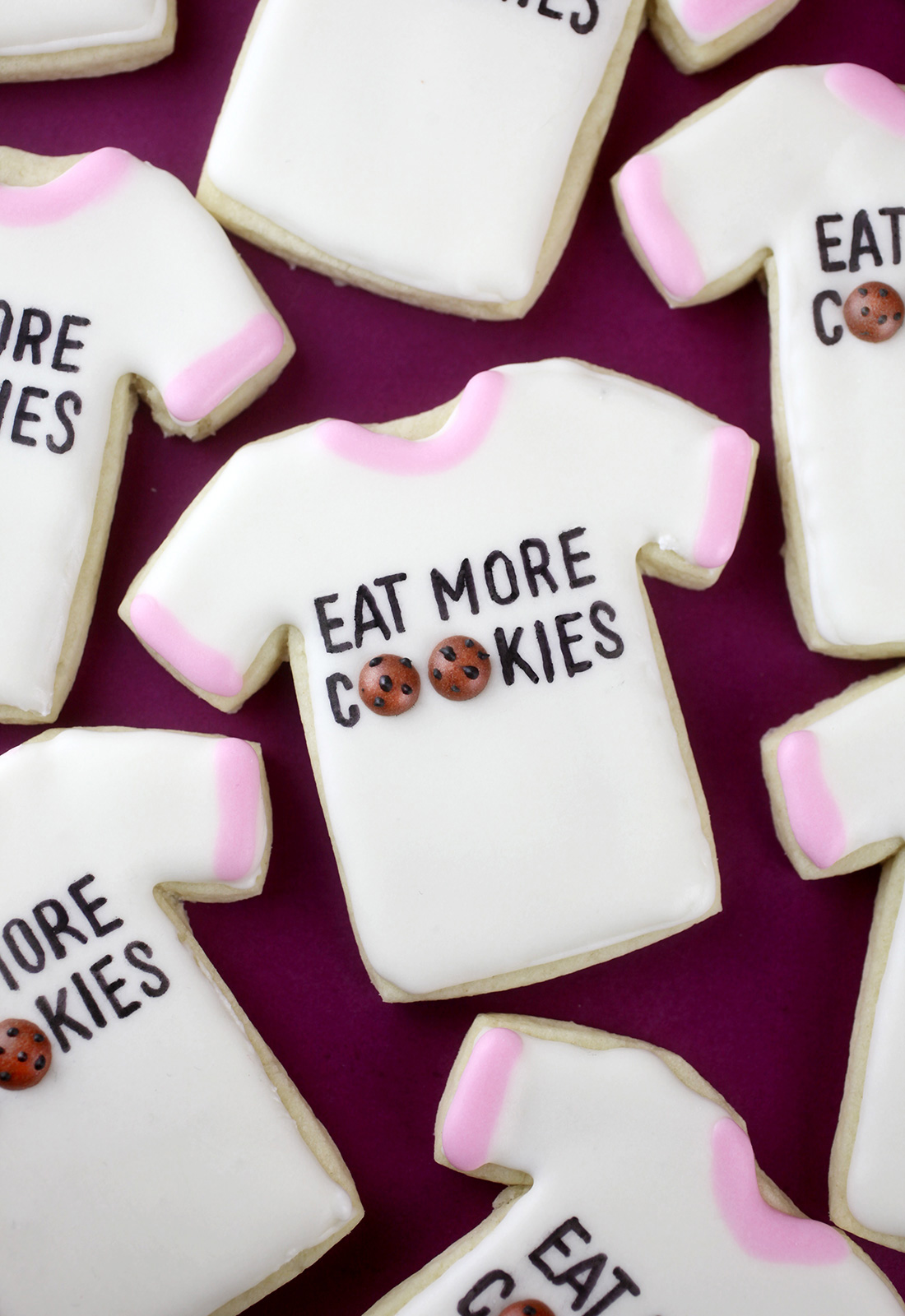 But what about the cookies?!?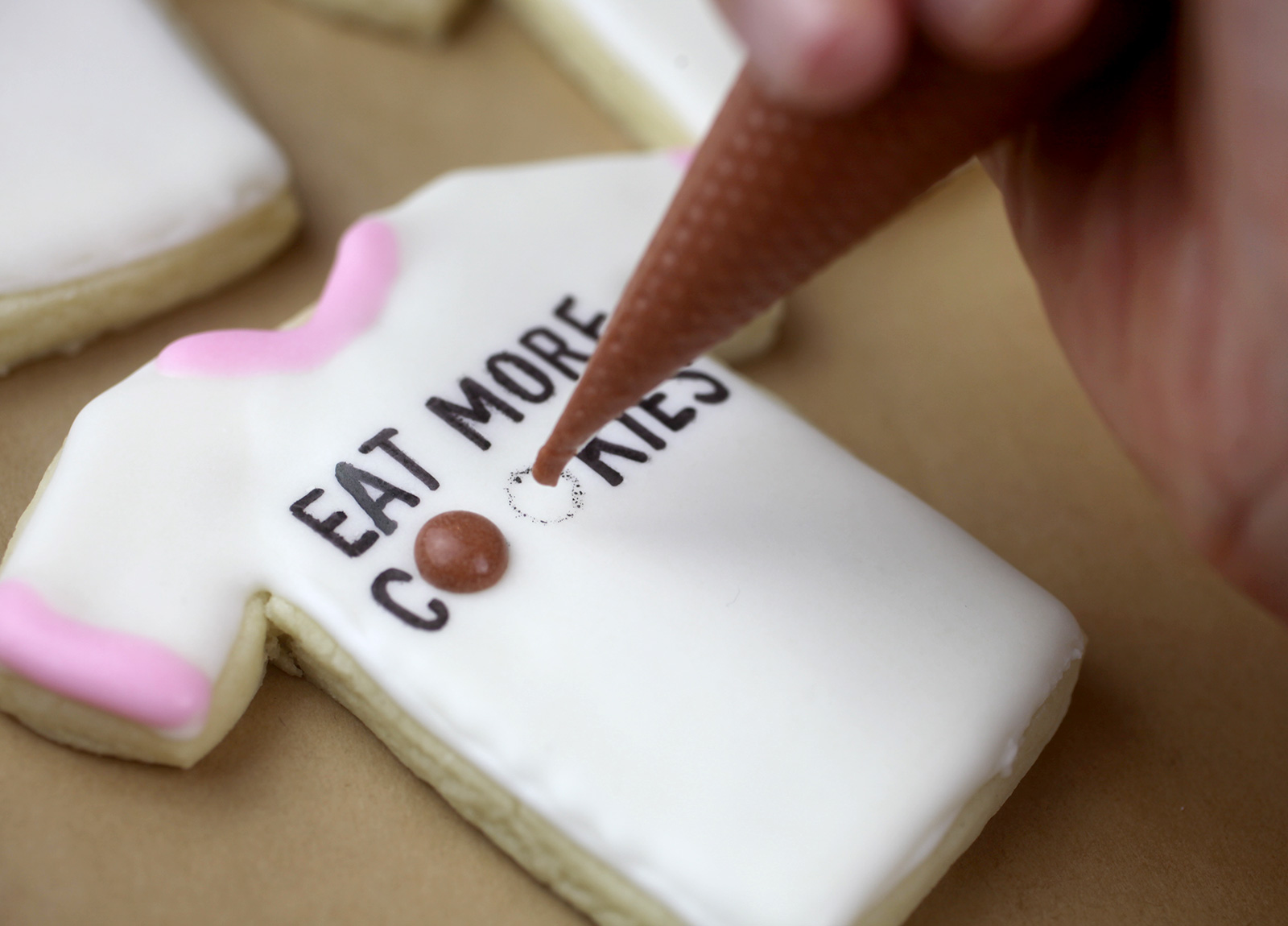 Use the reserved brown tinted icing to pipe dots in position for the cookies.
Note: I wish I had made my brown a lighter shade.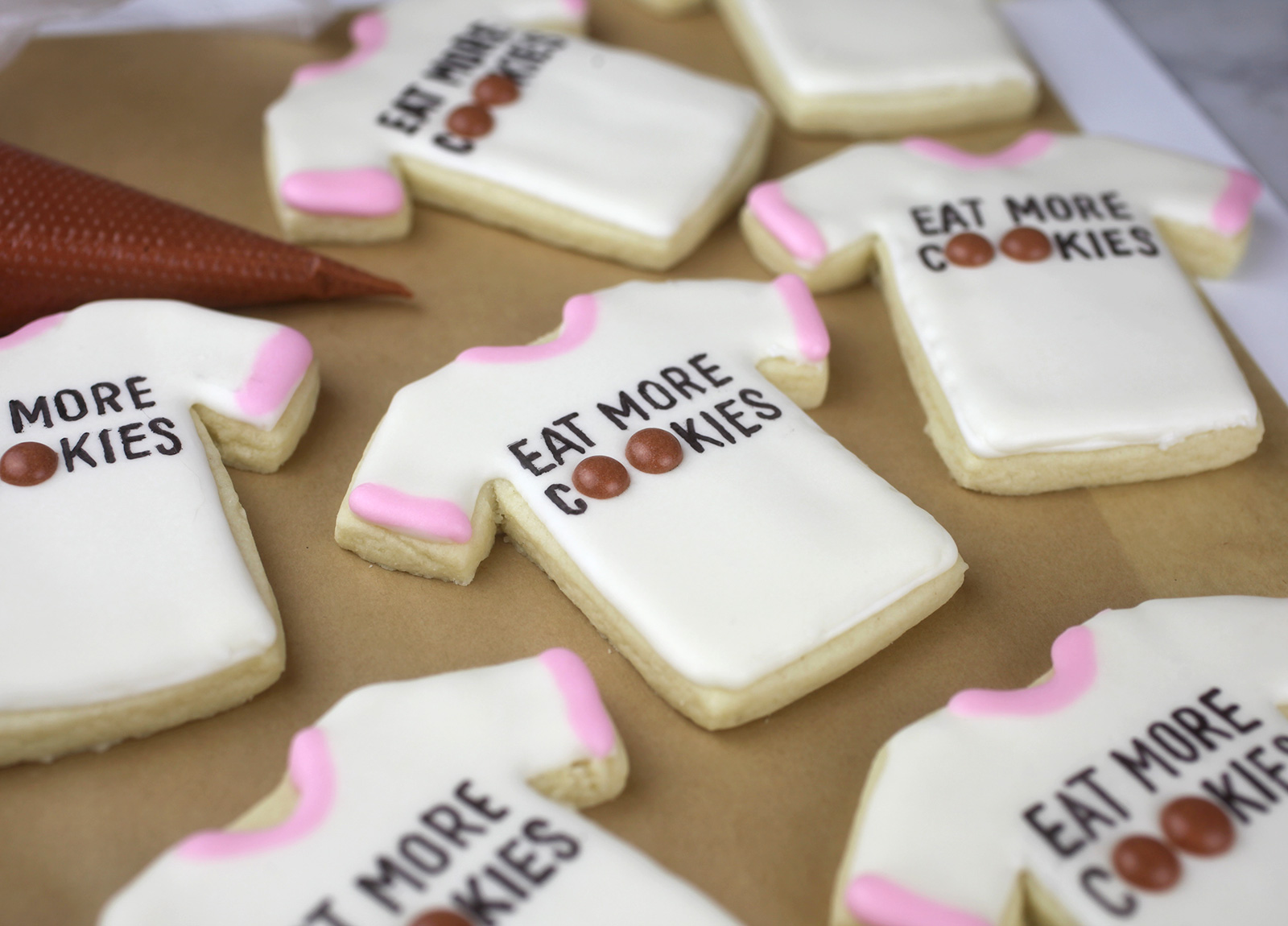 Let the cookies (on the cookies) dry.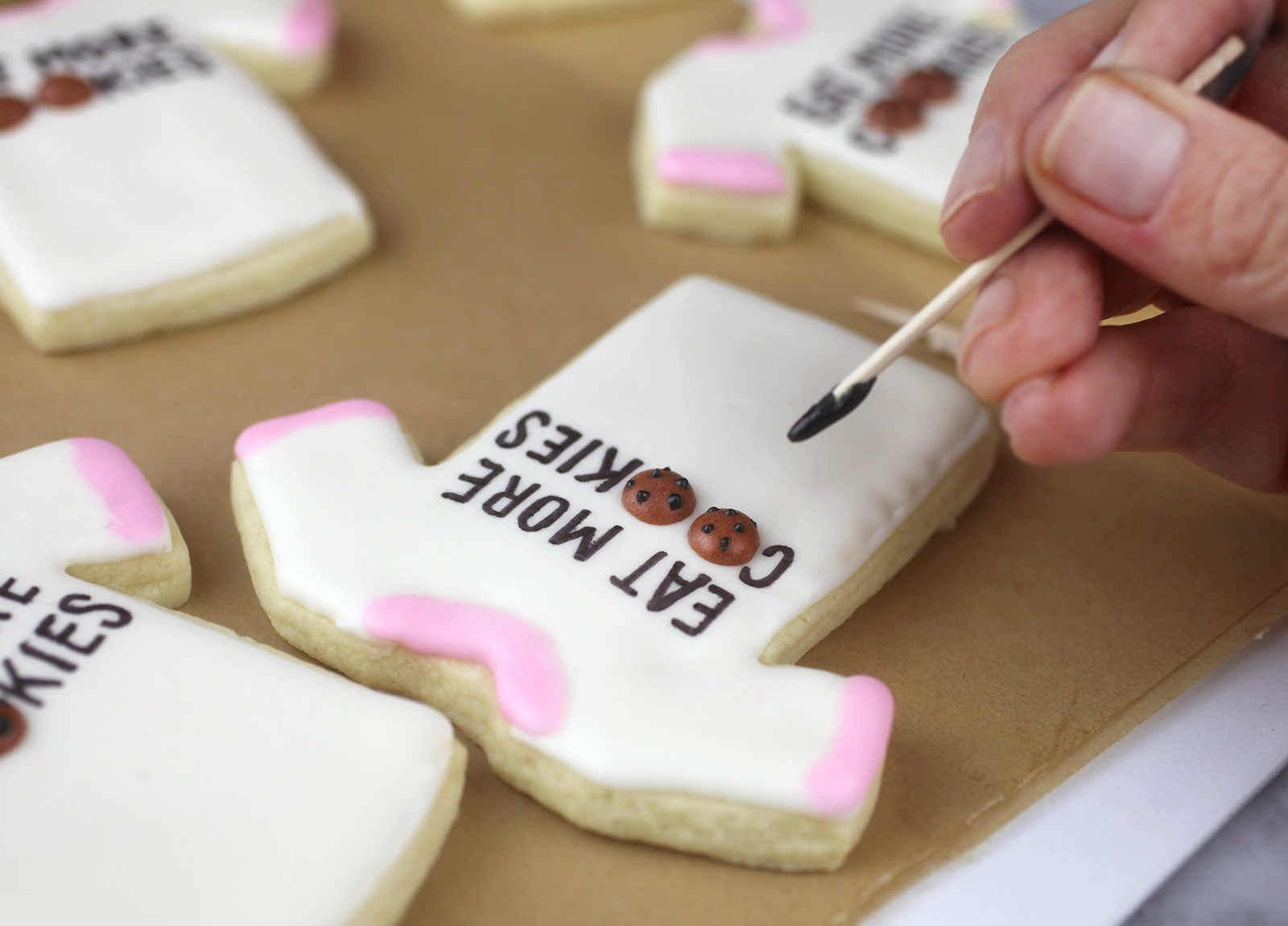 Tint the remaining brown royal icing a darker shade of brown or black. Use a toothpick to dot tiny chips on top of the cookies.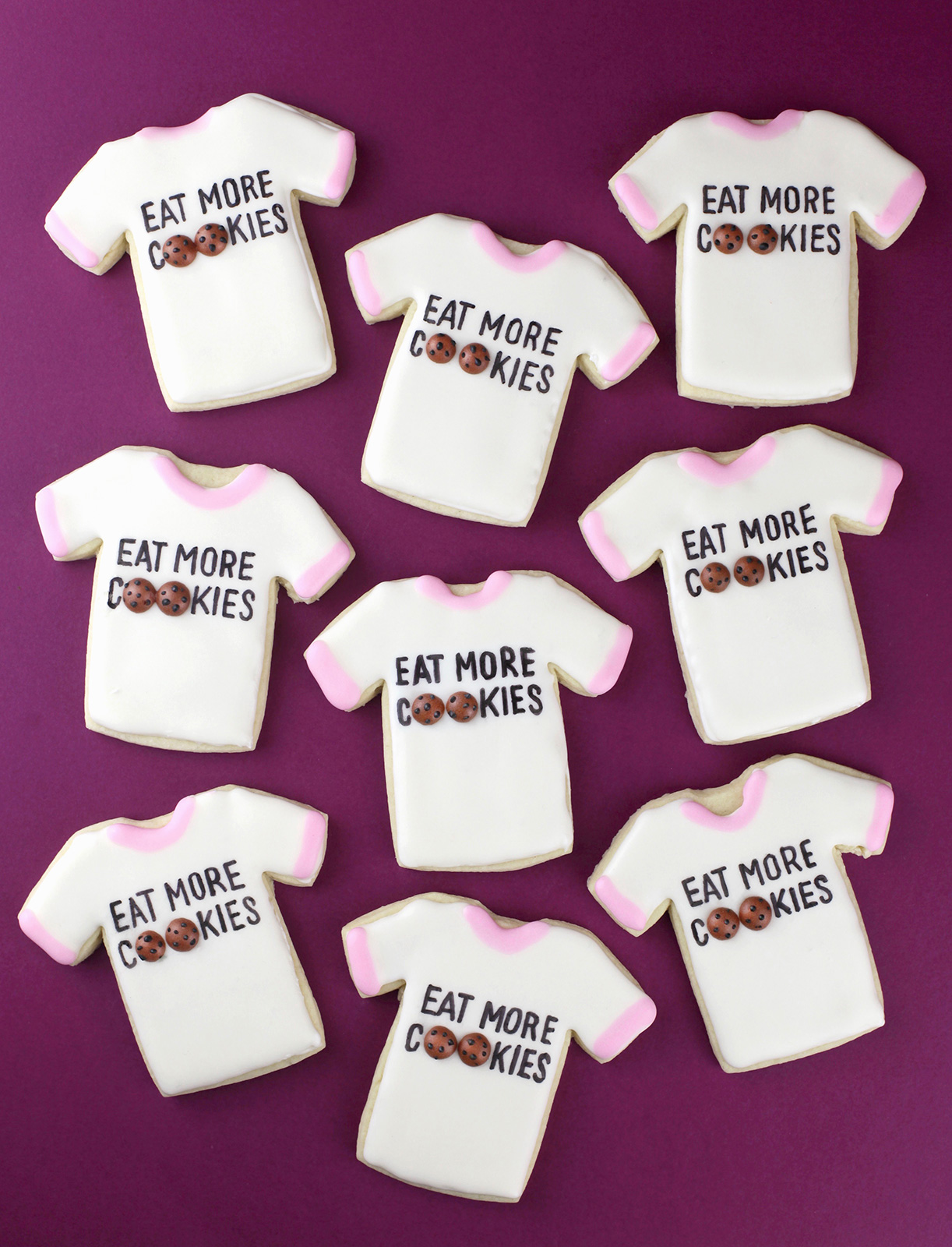 Hope you eat more cookies and enjoy!