I was in the mood for something cold and lip-smackingly sweet. Something I could sink my teeth into. Something to maintain my weight. So I made this treat with a few of my favorite things.
Cheesecake.
Chocolate. (Hello there my friend)
and these cookies.
If you ever fly Delta, then you've probably had them before. They're one of the snack options. I always get excited when the cart comes down the aisle. Time for cookies. They're so good, I've started buying them if I travel other airlines because it feels wrong to fly without them.
They're a crunchy, no-frills, sans chocolate type of cookie. Actually, I'm surprised I like them so much. But I do. Oh I do.
So I thought they would be great to use for the cheesecake crust.
Throw the cookies into a food processor and chop them up into beautiful golden brown cookie powder.
About 1 1/2 cups worth.
Then add 3 tablespoons of brown sugar.
Don't you love how packed brown sugar looks? Even in the size of a tablespoon. Wouldn't it be fun to have buckets of it and make brown sugar sand castles? One can only dream.
To make the crust, mix the cookie crumbs and brown sugar together. Add 6 tablespoons melted butter and combine. Place the mixture in a 13 X 9 pan and press firmly into the bottom.
Mix up the cheescake ingredients and pour it on the crust.

Oh yeah!
Then bake it at 325 degrees for about 45 minutes.
And let it cool.
And try not to eat it.
And try not to eat it.
Then whip up some chocolate ganache to pour on top.
Oh yeah.
Spread the chocolate evenly on top of the cheesecake and then refrigerate overnight.
Cut into cute little cheesecake bars…
Or if you save a few of the cookies, you can sprinkle them on top of the chocolate before you refrigerate.
P.S. … I didn't make two pans of these cheesecake bars. That would be criminal. I just did half with and half without cookies on top.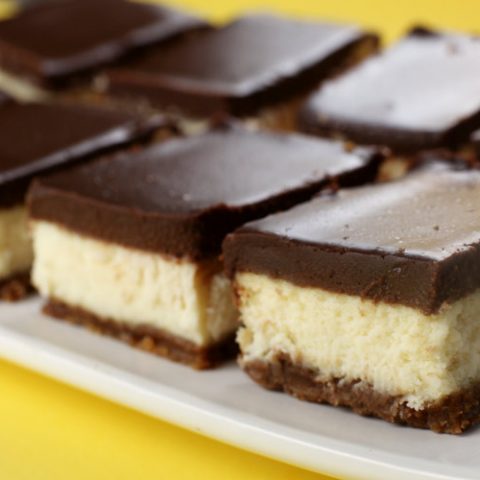 Yield: about 30 bars
Chocolate Biscoff Cheesecake Bars
Ingredients
Crust
1-1/2 cups crushed Biscoff Cookies (about 27 cookies)*
3 Tablespoons packed brown sugar
6 Tablespoons melted butter
Cheesecake
3 (8 oz.) packages cream cheese, softened
1 cup sugar
2 Tablespoons flour
3 eggs
8 oz. sour cream
1 Tablespoon vanilla
Chocolate Ganache
8 oz. heavy whipping cream
2 oz. butter
8 oz semi-sweet chocolate
1/4 cup confectioners' sugar
Instructions
Crust: Mix cookies and sugar together. Add melted butter and stir until combined.
Press mixture into a 13 X 9 pan.
Cheesecake: Preheat oven to 325 degrees.
Cream the sugar, cream cheese, and flour with an electric mixer on medium until light and fluffy.
On medium low, add eggs one at a time, mixing well with each addition.
Add sour cream and vanilla and mix until just combined.
Pour on prepared crust and bake for about 45 minutes. Remove and cool. Prepare ganache.
Ganache: Heat cream and butter on stove until just before boiling.
Remove from stove and pour over chocolate. Stir until completely combined.
Add confectioners' sugar and beat with a wire whisk until combined and smooth.
Pour over cooled cheesecake. Cover and refrigerate overnight. Cut into bars and serve.
Notes
* Use the remaining cookies from the package to crumble and sprinkle over the chocolate ganache before refrigerating.
Enjoy sinking your teeth in!