Okay, so I got a bit excited about jars and handheld pi
es my last post. Individual desserts. Portable pies. Personal puddings. Endless possibilities.
Then Saturday I found some little jars and scooped them right up.
I wanted to make a banana pudding for my mom. Similar to this one that I usually make and that she loves.
I make it. She makes it and so does my sister. It's easy and creamy. And cold. We like it cold.
I thought individual puddings would be fun to bring over on Mother's Day, but I couldn't wait to use the jars so she's getting treats early.
Not all of them. I'm keeping one or two. You know for investigative purposes.
The jars work great to contain and carry desserts and definitely make a dessert more special.

This time I changed the pudding up just a little… adding peanut butter, cookies and chocolate.
And I started with a vanilla wafer crust.
Crush cookies. Mix with sugar and butter and press in the bottom.
The next layer was a melted mixture of chocolate and peanut butter.
And the next layer … vanilla pudding combined with COOL WHIP Whipped Topping.
Fold it in to the pudding to make it light and creamy.
Then layer the pudding in the jars and fill it with banana and broken peanut butter cookie pieces. Drizzle more chocolate and add more pudding.
Looks good.
And then put a lid on it.
You can add your own custom label and make it more special. These canning jars can easily secure the label under the lid.
I love that I can carry these to my mom's and she can have her own… but so can I. Win. Win.
So what does your mom like? Are you making her anything yummy for Mother's Day?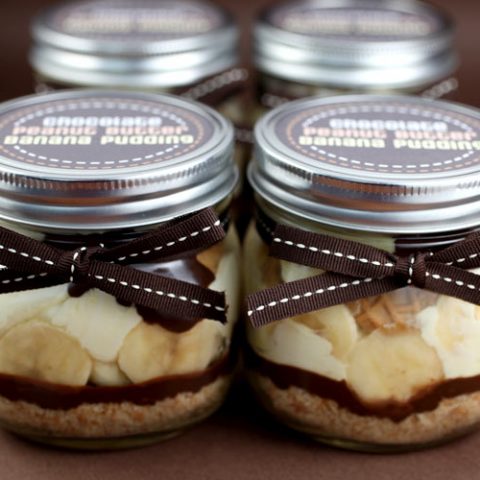 Yield: 4 individual pint jars
Chocolate Peanut Butter Banana Pudding
Prep Time 40 minutes

Additional Time 3 hours

Total Time 3 hours 40 minutes
Ingredients
30 vanilla wafers
3 Tablespoons melted butter
2 Tablespoons sugar
8 oz. semi-sweet chocolate
2 Tablespoons butter
1/3 cup peanut butter
2 - 3.4 oz packages vanilla pudding mix
2 cups cold milk
8 oz. container COOL WHIP Whipped Topping, thawed in refrigerator
Nutter Butters, about 16 broken in small pieces
3 medium bananas
lemon juice
4 - 1 pint glass jars with lids
Instructions
Crush the vanilla wafers in a food processor or in a ziploc bag with a rolling pin.
Add sugar and melted butter and stir together until crumbly. Press the mixture into the bottom of glass jars.
Melt chocolate and butter in the microwave on medium. When melted, stir in the peanut butter until completely combined.
Spoon about 2 tablespoons of melted chocolate on top of the crushed vanilla wafer base.
To make pudding, combine pudding mixes with milk and beat with a mixer or wire whisk for two minutes. Slowly fold COOL WHIP Whipped Topping into the pudding. Don't over mix.
Slice bananas and dip in lemon juice to help prevent them from turning brown too soon.
Then layer bananas, cookies and pudding into the jar. Drizzle more chocolate and layer more pudding.
Refrigerate for a few hours before serving.
Notes
You can change this up as much as you like. Eliminate the peanut butter. Don't want chocolate? Want to try a different cookie? No problem. You can even forget about the crushed vanilla wafer base and go all pudding. But if you do want the base, you can also just use peanut butter cookies in place of wafers. I probably would have done that too, if I hadn't crushed my wafers too soon. : ) You can also just layer everything in one big dish.

Update: Mom loved them. But we both agree that the chocolate would be better if it were not layered on top of the crust. So first place some bananas, cookies or pudding and then a layer of chocolate so it won't such a hard surface to break through at the bottom.

And update 2: I didn't include the labels originally because the file crashed before I saved it. But I received several comments and emails that you would like it so I recreated it tonight for you.

Here you go: Pudding Jar Labels