Make these in the morning. You'll be glad you did.
I was flipping through some of my cookbooks the other day and became mesmerized by a recipe for these biscuits from the book Deep Dark Chocolate. It's filled with decadent recipes using dark chocolate. And with a title like that I would normally go for something all chocolate, super rich and fudgy. And I almost always pick a recipe accompanied by a photo. I'm very visual and like to see what I'm in for before hand. This one didn't have a photo with it, but it still captivated me.
Swirled chocolate in a biscuit.
I'm all in.
These are pretty quick to make. You can have one in your tummy in no time.
Chopped dark chocolate.
Get it. Get it good.
Beginnings of the biscuits.
Flour, sugar, baking powder, salt and buttah.
Stir in some milk and the dough will start to come together.
Flour your work surface and hands and form the sticky dough into a ball that you can then start to flatten and roll.
Roll into a rectangular shape.
Spread some softened butter on top.
Sprinkle with a bit of sugar.
And a little chocolate. Just a little. ; )
And roll it up all jelly roll style for chocolaty swirls.
Then cut the roll into equal sections.
Like so. Maybe smaller chocolate chunks would have made my swirls more distinct.
That's ok. I'm good with over-the-top chocolate.
Umm… yeah. Totally fine with that.
Eat them warm from the oven.
Warm with a little melted butter. Yes, please.
A yummy way to start the day.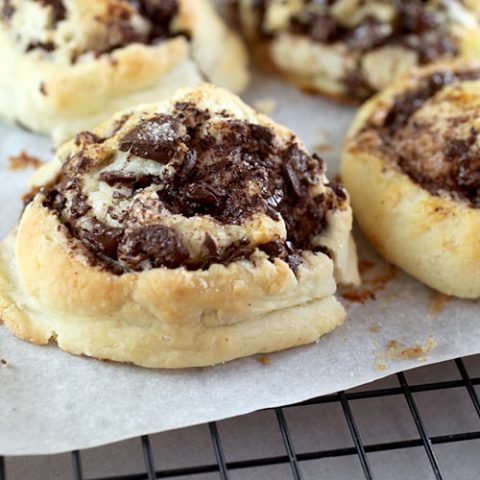 Yield: 10-12 biscuits
Chocolate Swirl Biscuits
Prep Time 20 minutes

Cook Time 18 minutes

Total Time 38 minutes
Ingredients
Dough
2 cups all-purpose flour
1 tablespoon sugar
1 tablespoon baking powder
1/2 teaspoon salt
5 Tablespoons cold unsalted butter, cut into small pieces
3/4 cup whole milk
Filling
3 tablespoons butter, softened
2 tablespoons sugar
4 ounces dark chocolate, finely chopped
Topping (optional)
1 large egg yolk
1 tablespoon whole milk
sugar for sprinkling
Instructions
Preheat oven to 400 degrees and line baking sheet with parchment paper.
In a medium bowl whisk flour, sugar, baking powder and salt until blended.
Using fingers or a pastry blender, work butter into the dry ingredients until crumbly.
Add milk and stir with a fork until a loose, sticky dough forms.
Turn dough out on a floured work surface. Flour your hands and form dough into a ball. Then gently knead it several times (8-10).
Flour surface and hands more as necessary and use a floured rolling pin to roll the dough into a 13X11 inch rectangle. Position the long side of the dough in front of you.
For the filling, spread softened butter over surface of dough. Sprinkle with sugar and cover with chopped chocolate.
Roll the dough up in a jelly roll fashion and cut the roll into 10-12 equal sections.
Place cut sections on parchment covered baking sheet about 2 inches apart.
Add topping if desired. Mix egg yolk and milk together and brush on tops. Then sprinkle with sugar.
Bake for about 18 minutes or until biscuits are golden and puffed up.
Serve warm with butter.

Notes
Recipe from Deep Dark Chocolate with permission from Chronicle Books.
Enjoy and have a good morning!