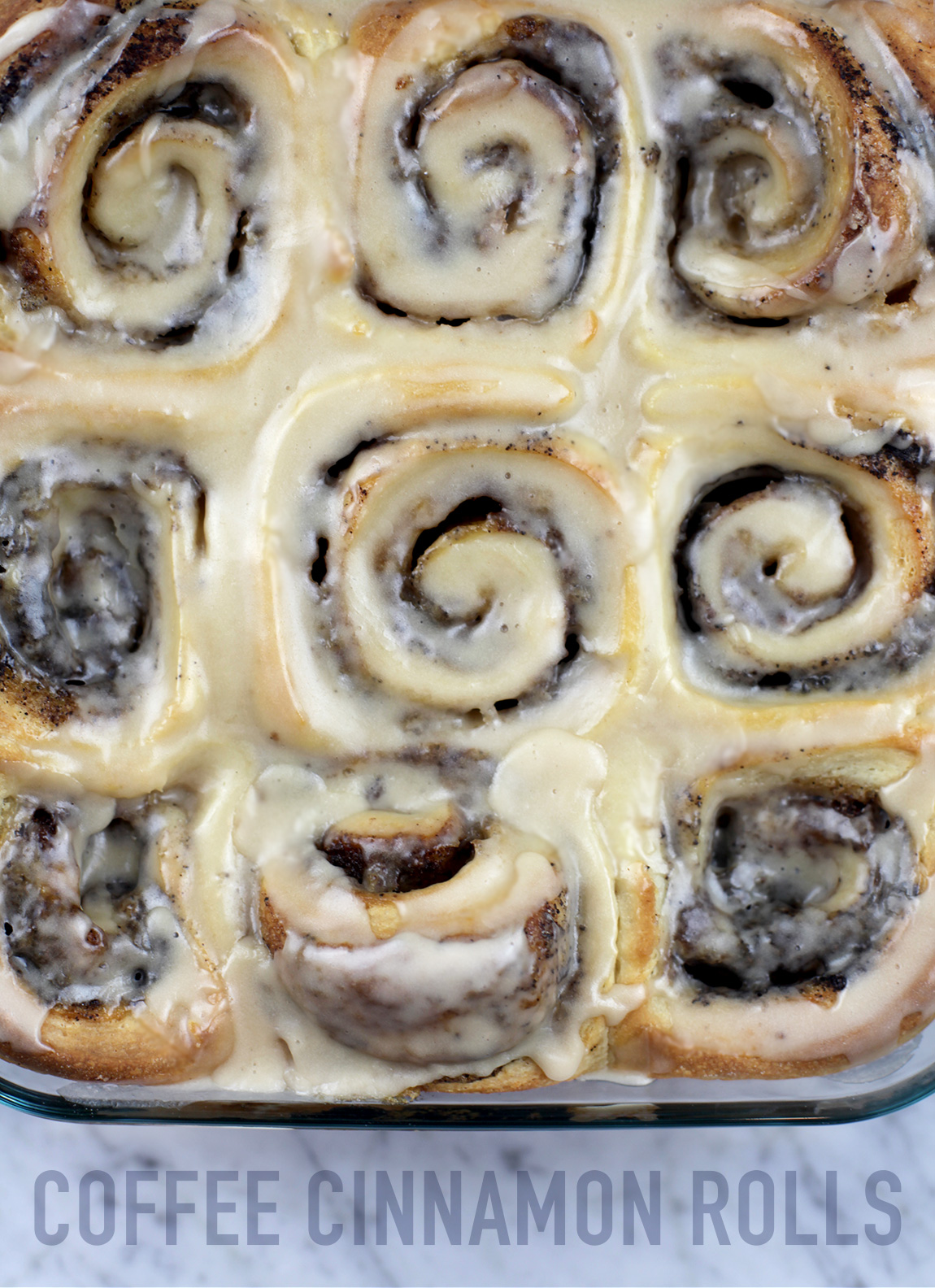 I'm serving up some coffee cinnamon rolls today. Who's hungry? Okay, good. I hope you love these sweet rolls of delicious dough because I made them to share.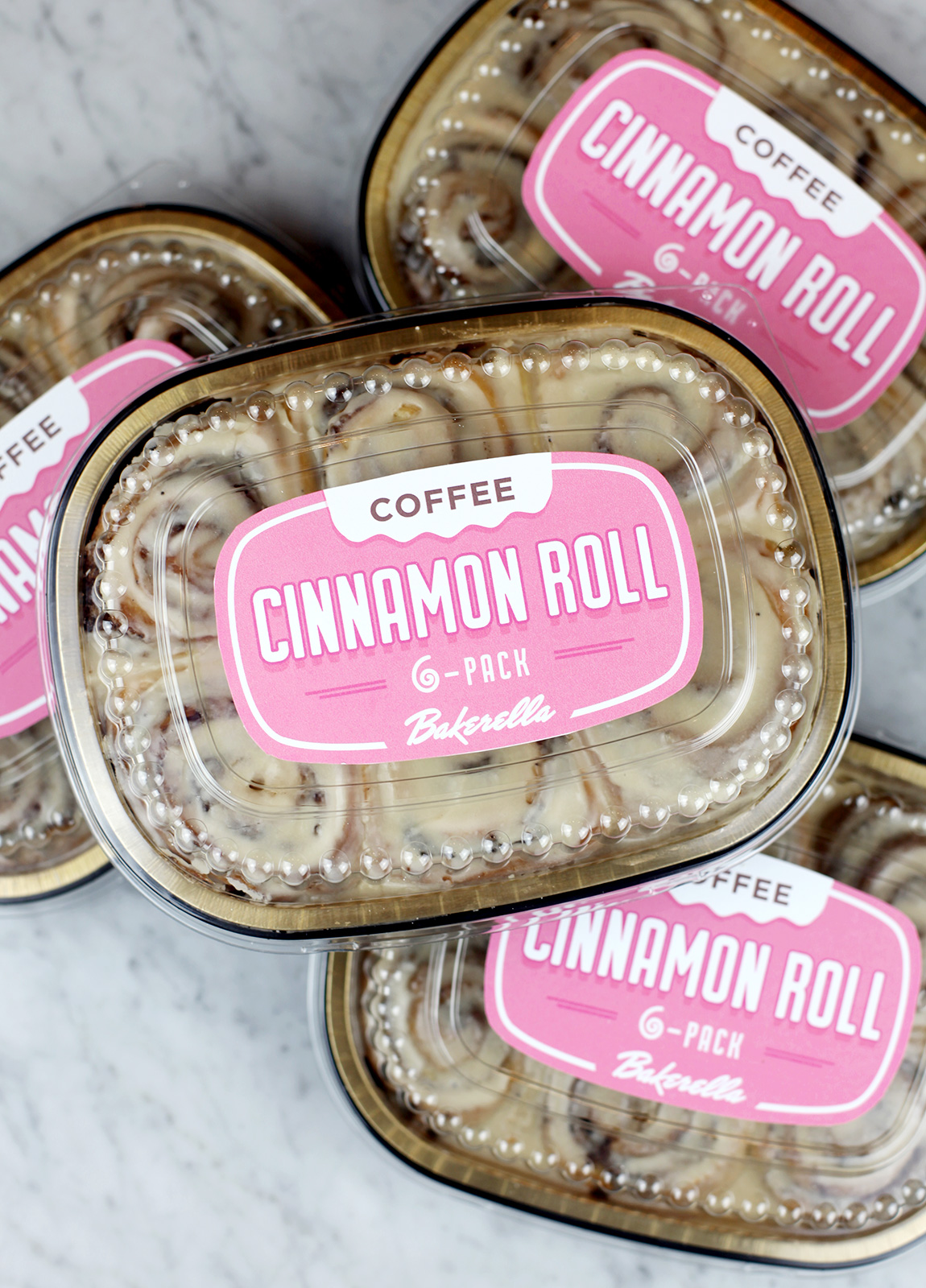 I mean how cute are these cinnamon roll six-packs?! I'm obsessed with this container size for snackable, shareable treats. So friends – be prepared for personal-packaged cakes, fudge and more this holiday season.
But until then, let's get rolling and I'll show you how to make some sweet rolls.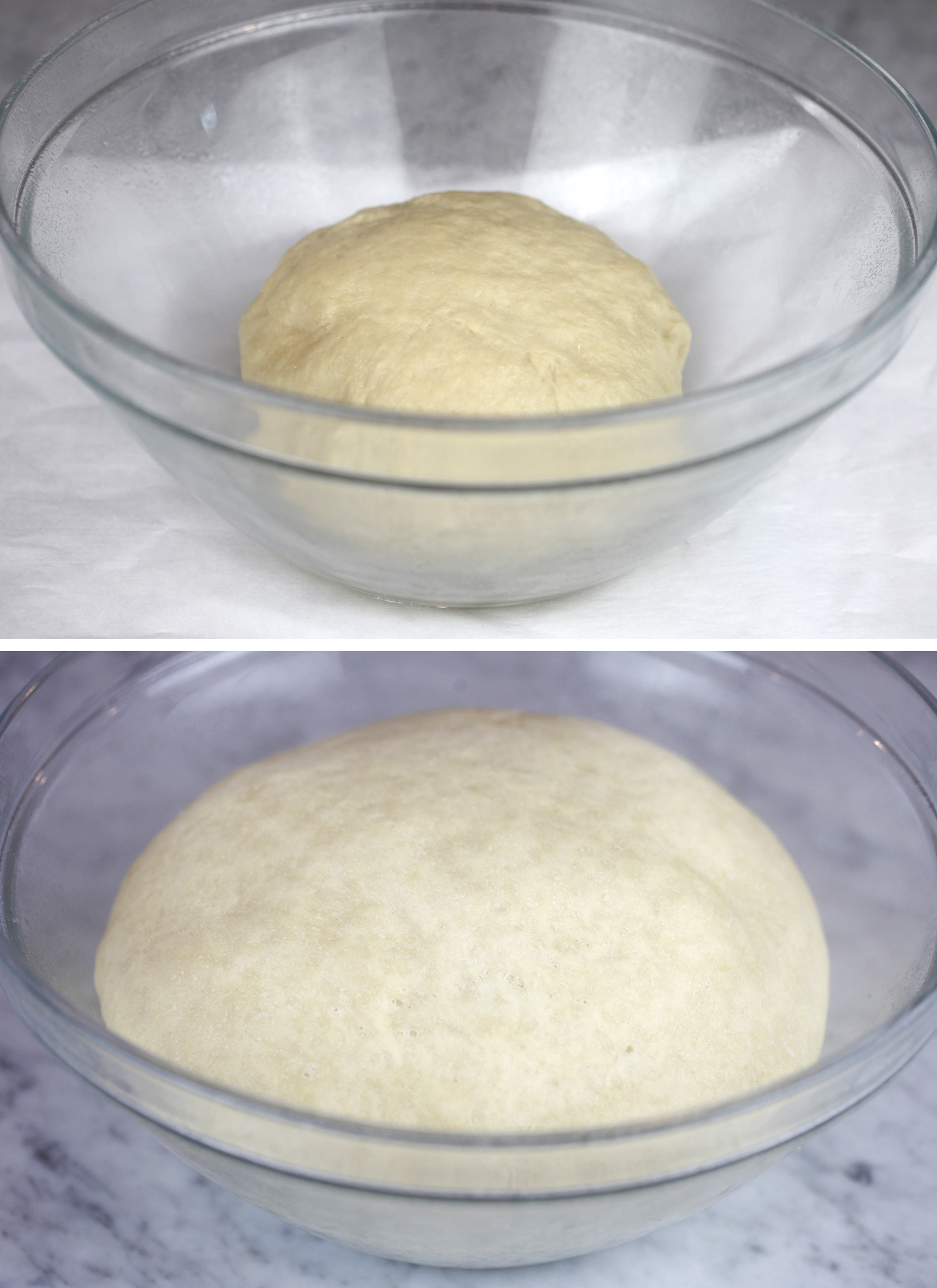 First up is working with yeast. Don't get in your head about it if you've never worked with yeast before. The first time I did, I remember thinking that it was way easier than I expected. When you make your dough, you need to let it rise in a warm spot to about double the size. Like magic.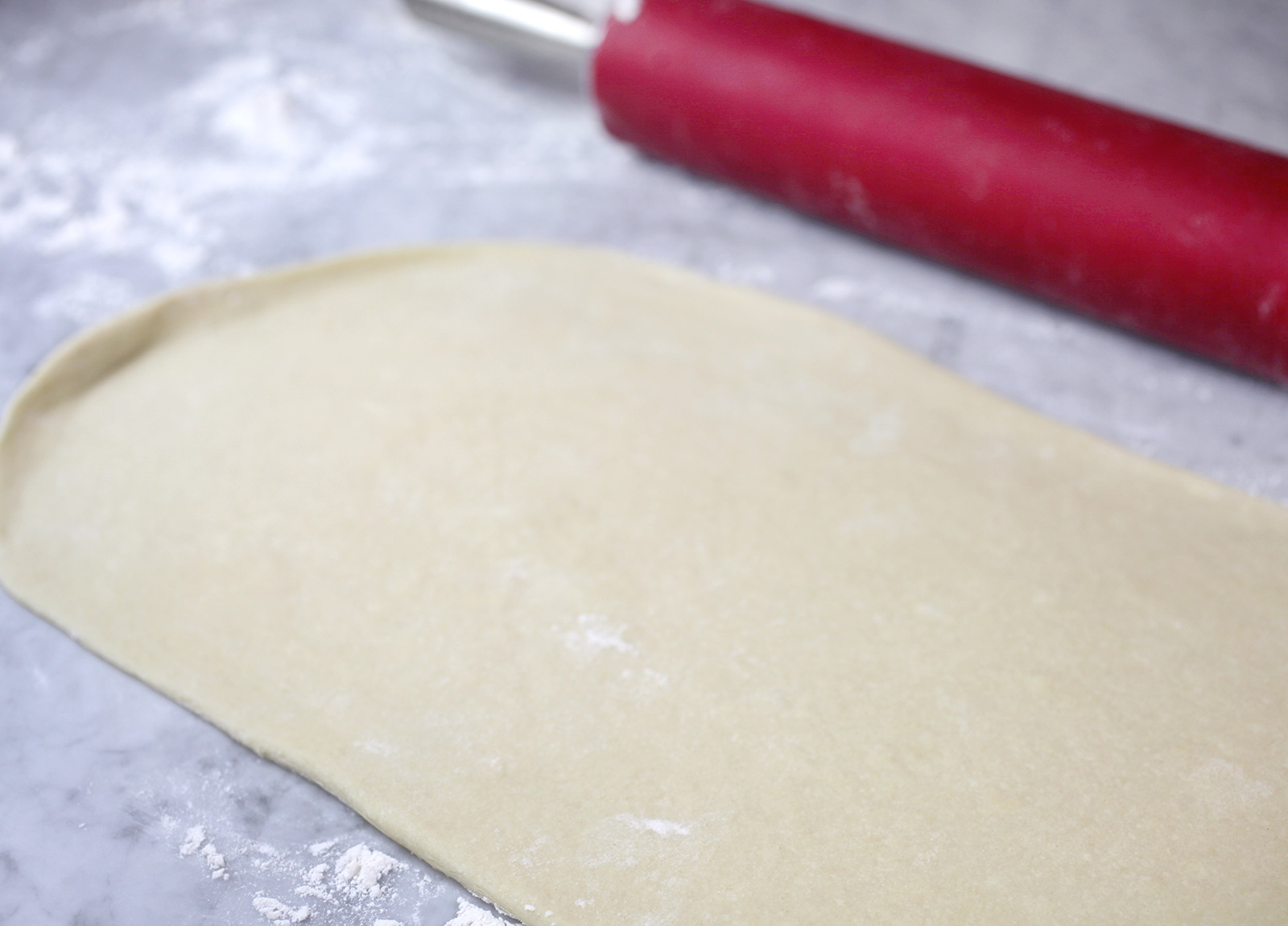 Then you take the dough and roll it out into a rectangular shape about 1/4 inch thick on a floured work surface.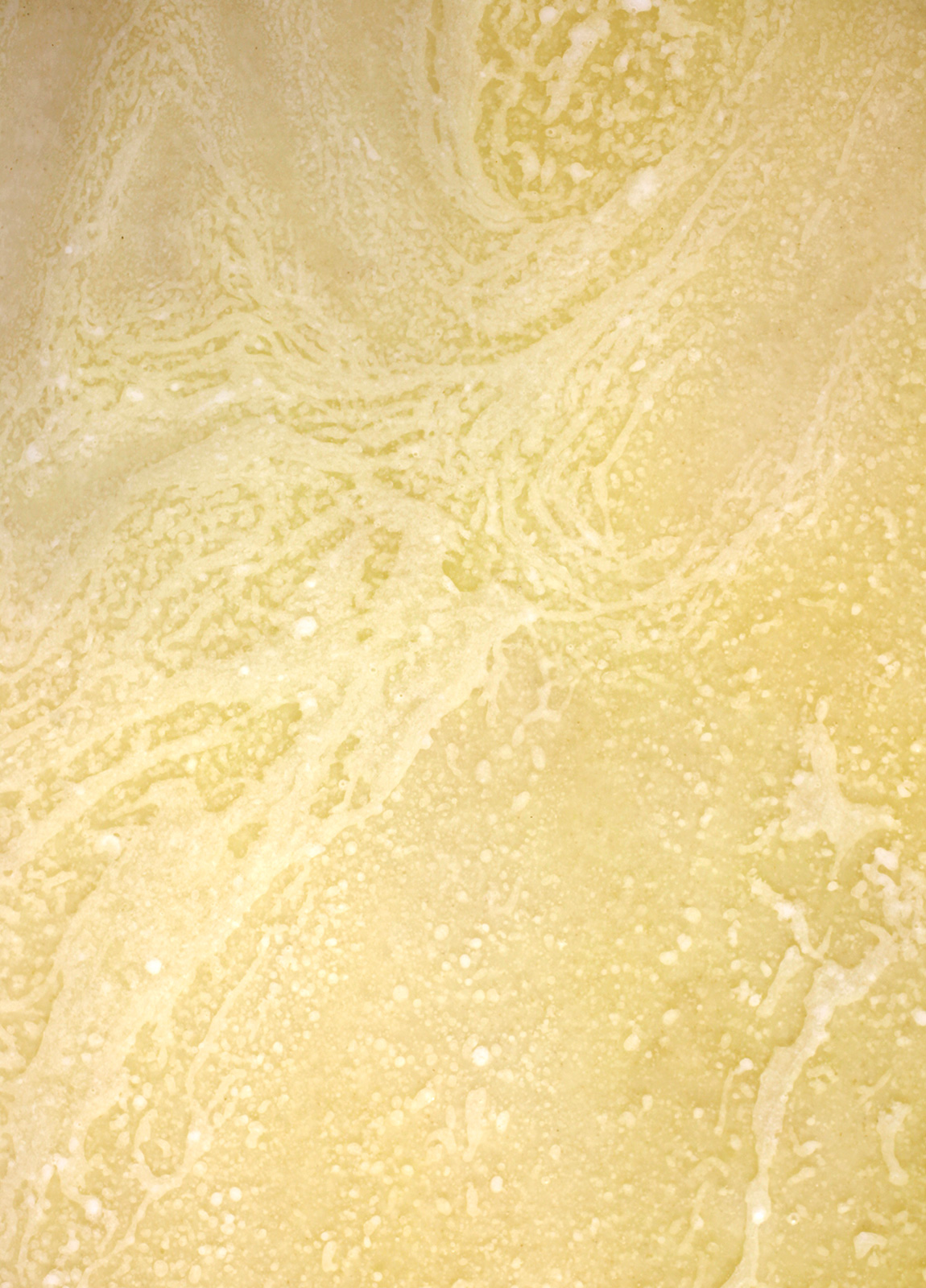 Then you start with the filling. How about a layer of melted butter swimming on top to start! Oh my!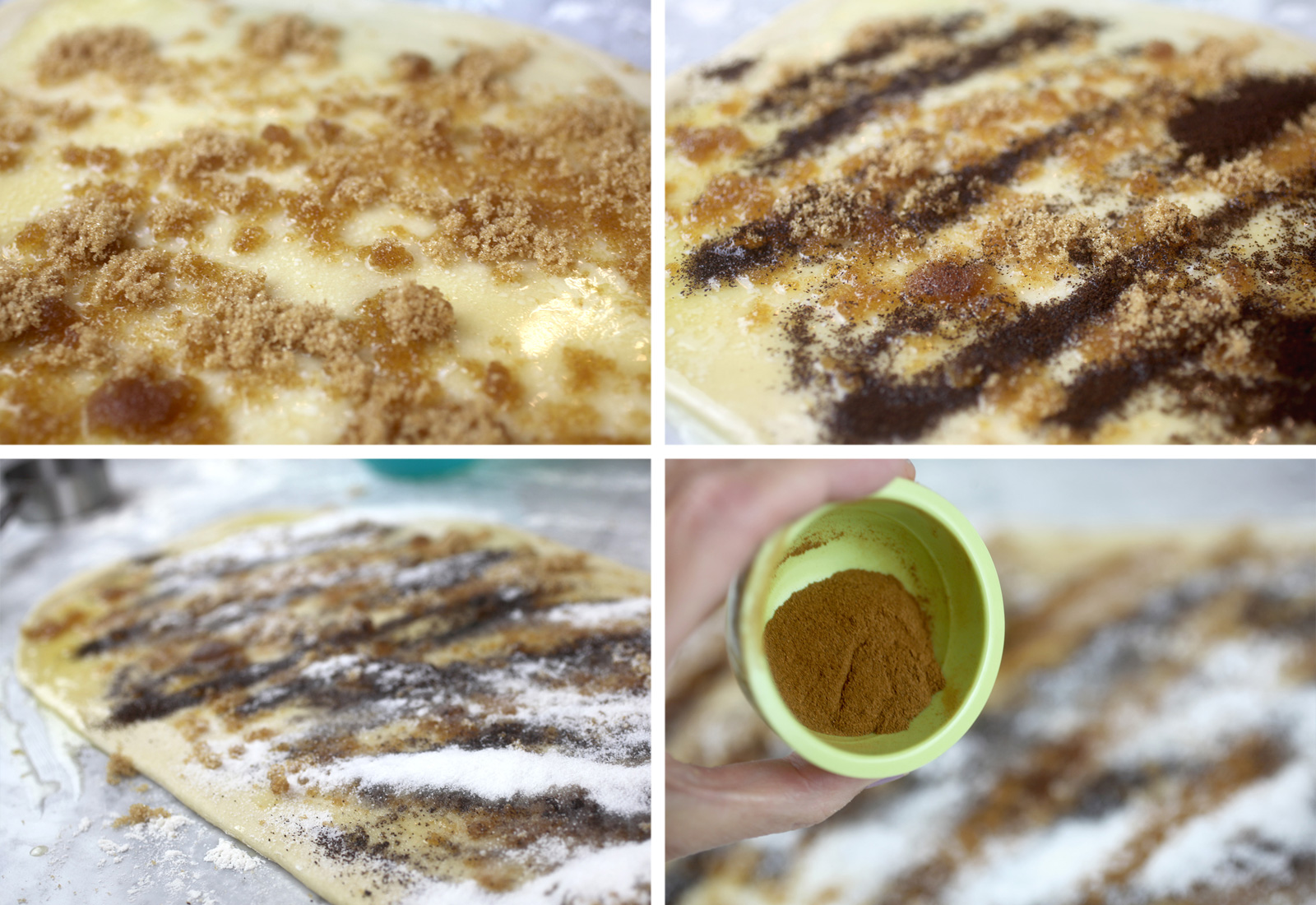 Next up: Sprinkle on brown sugar, then coffee or espresso grounds, then granulated sugar. Oh and of course, you can't forget the cinnamon.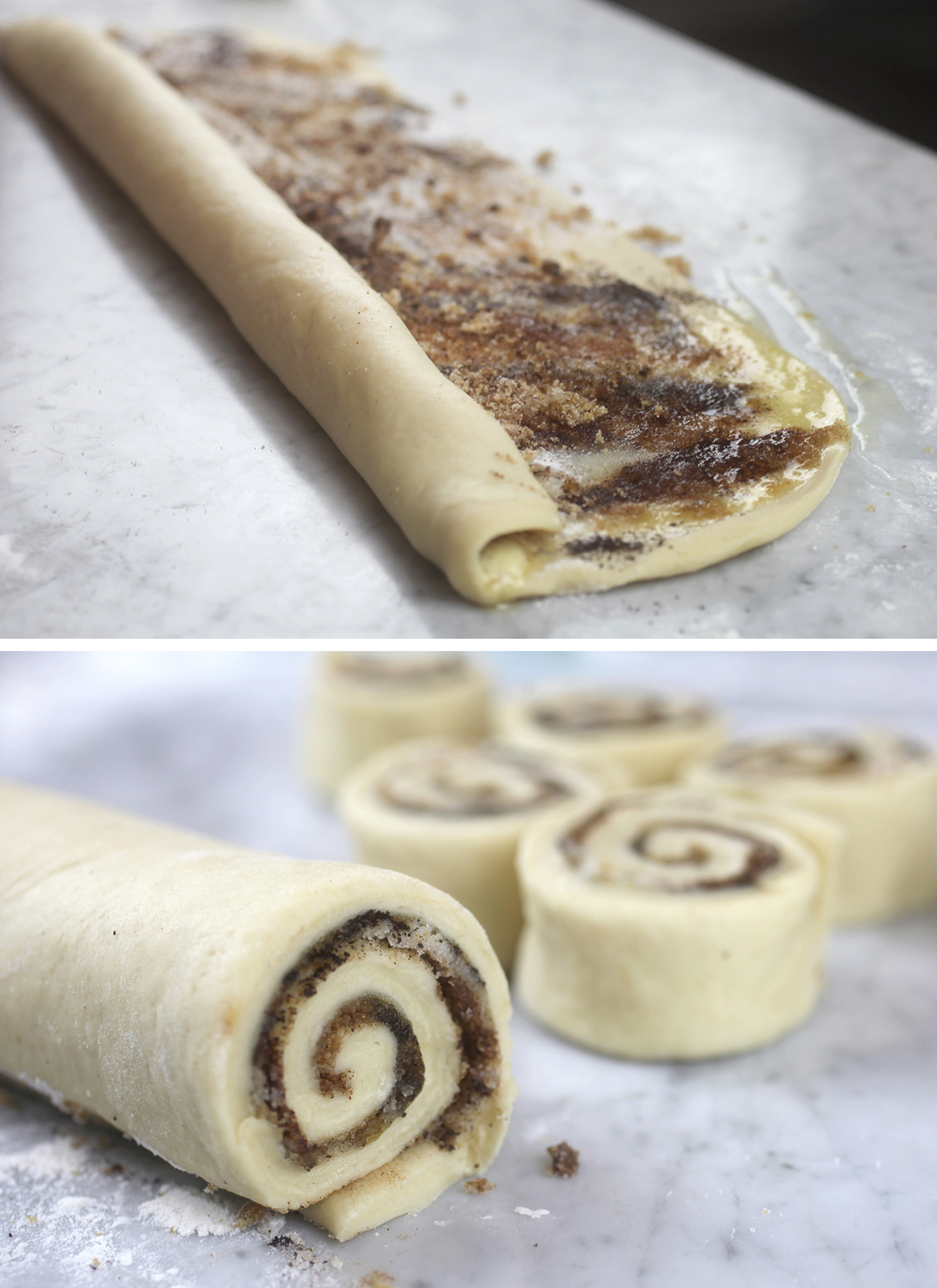 Roll up the dough starting with the side farthest away from you while also trying to keep the cylinder of dough about the same thickness. Once rolled, slice the dough into sections. This recipe will make about 18 rolls. So I like to bake them in two 8 inch pans. Place the sliced rolls into the pan and allow them to rise again.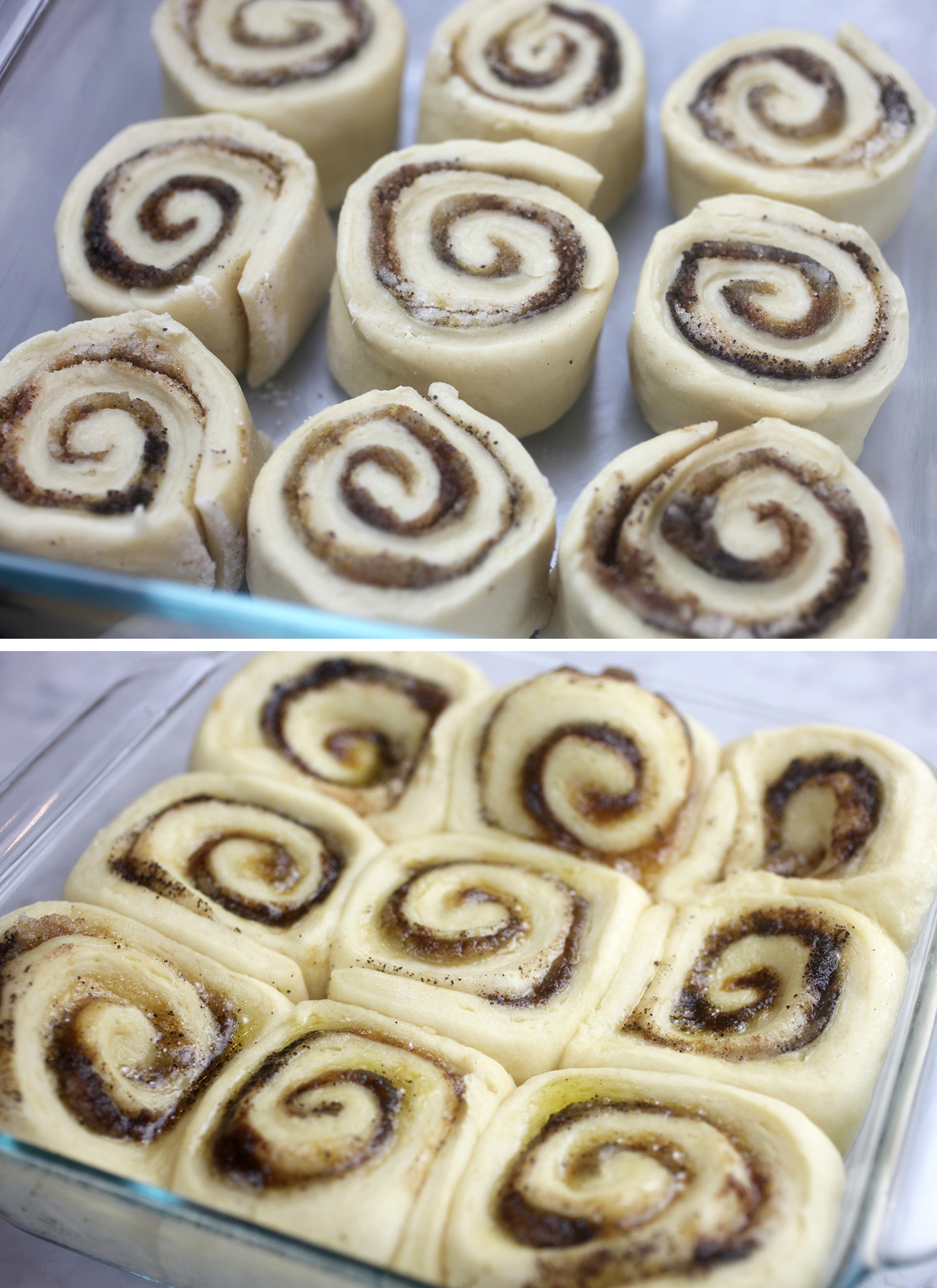 More magic. I love before and afters. Also it's super satisfying to watch the transformation.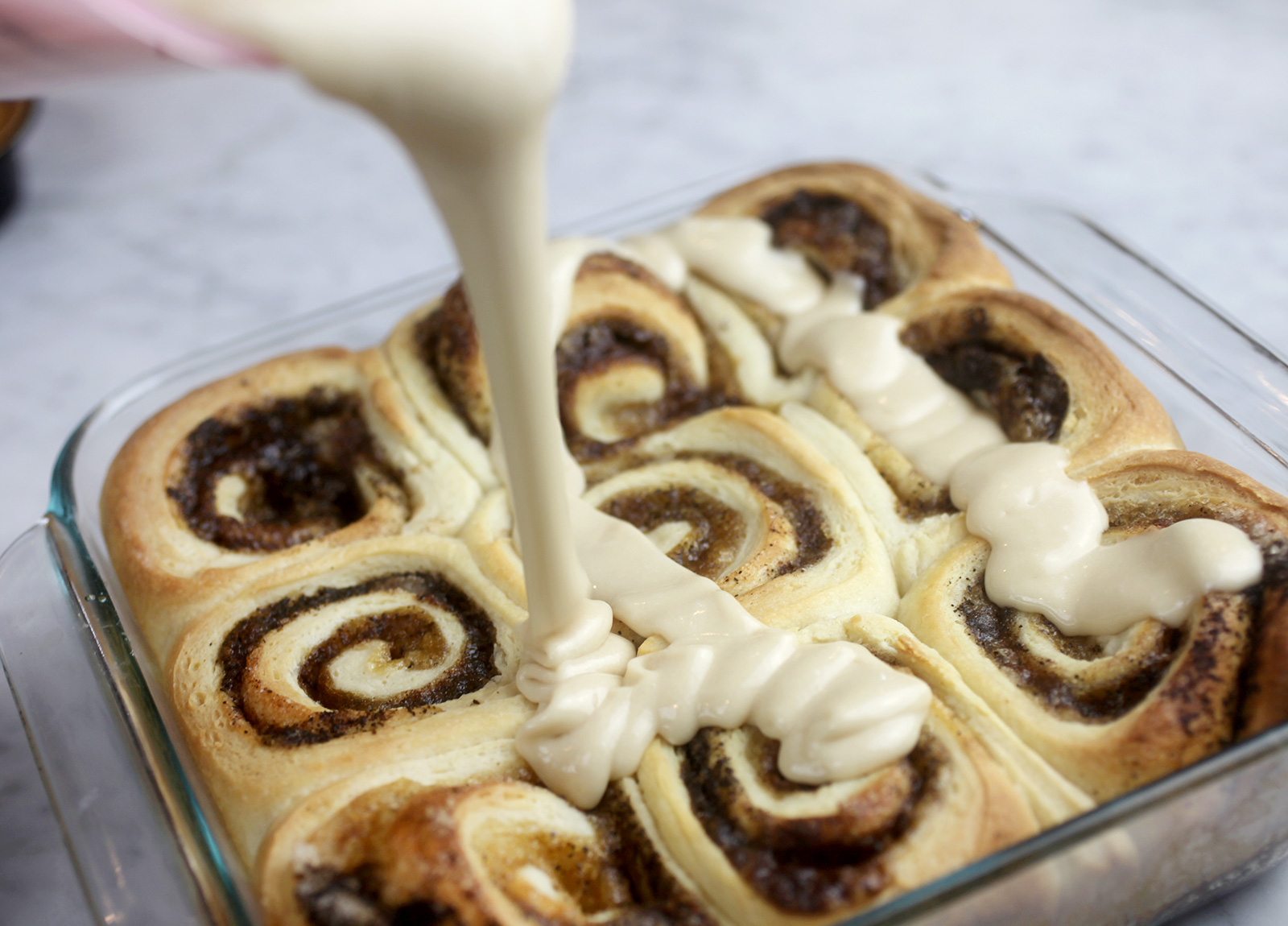 After you bake the rolls, you can cover them with coffee icing. Get in my belly!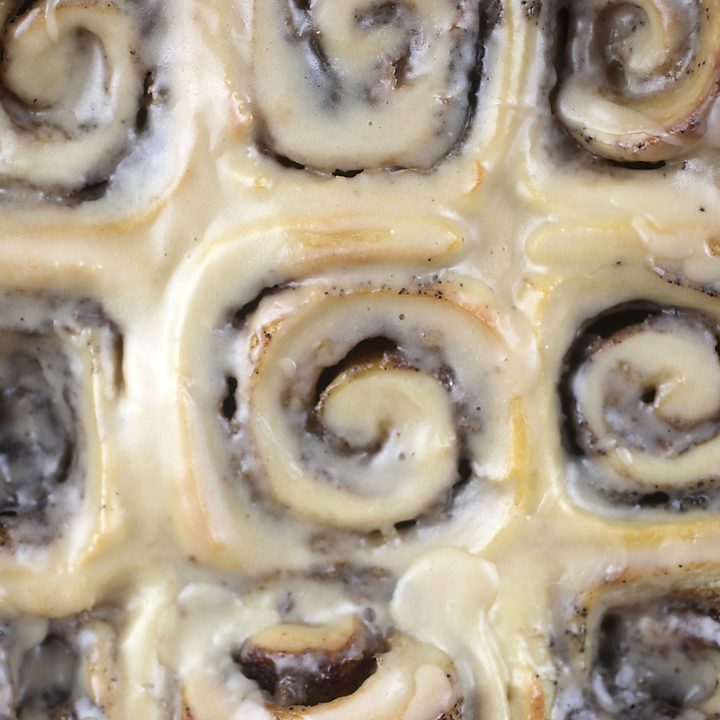 Yield: 18 cinnamon rolls
Coffee Cinnamon Rolls
Prep Time 4 hours

Cook Time 15 minutes

Total Time 4 hours 15 minutes
Ingredients
DOUGH
1 cup whole milk
5 tablespoons unsalted butter
1/3 cup granulated sugar
2-1/4 teaspoons (1 packet) active dry yeast
4 cups all purpose flour, plus more for rolling
1 teaspoon salt
1 egg
CINNAMON FILLING
1/2 cup butter, melted
1/2 cup granulated sugar
1/2 cup brown sugar
2 tablespoons coffee or espresso grounds**
1 tablespoon ground cinnamon
VANILLA TOPPING
2 cups confectioners' sugar
1 tablespoon butter
1 teaspoon vanilla
2 tablespoons whole milk
2-3 tablespoons strong brewed coffee/espresso*
Instructions
PREPARE THE DOUGH: Heat milk and butter in a small heatproof bowl in the microwave until warm. Stir in sugar.
Transfer milk mixture to the bowl of a stand mixer fitted with the paddle attachment.
Sprinkle yeast on top of warm milk mixture and let rest for 2 minutes. Gently stir together. (Note: Use a kitchen thermometer to measure the temperature needed according to the directions for the yeast you are using.)
Add 3 cups of the flour, salt and egg and mix on low until combined.
Switch to the mixer's dough hook. Add remaining cup of flour and knead until the dough forms and pulls away from the bowl. If needed, add another tablespoon of flour to help all the dough completely pull away from the sides of the bowl.
Spray a medium bowl with non-stick spray.
Remove dough from mixing bowl. Knead dough a couple of times by hand and then shape into a ball. Place in coated bowl and turn over to coat each side.
Cover bowl with plastic wrap or a clean towel and let rise in a warm spot for 2 to 2-1/2 hours or until the dough doubles in size. If dough reaches top of the bowl, punch down.
FOR THE FILLING: Butter two 8 X 8 inch pans.
Turn the dough out onto a lightly floured work surface. Keep extra flour handy to coat your rolling pin, hands and work surface if needed. Roll into a roughly 14 X 24 inch rectangular shape with the longest side closest to you. Roll so that the dough is almost 1/4 inch thick.
Drizzle melted butter on dough, spread around to coat, leaving about a 1/2 inch uncoated along the edges. Sprinkle both sugars, cinnamon and coffee or espresso grounds all over surface of the dough.
Starting from the side opposite you, roll dough tightly towards you to form a long cylinder of dough. At the end, pinch the seams together and turn so the long seam side is down. If needed, gently squeeze or shape the dough to help form more equal size cinnamon rolls. Cut dough shape into 18 roughly 1-1/2 inch sections with a sharp knife and place nine cinnamon rolls in each pan. There will be a little space between each roll.
Let rolls rise a second time in a warm spot for about 30-45 minutes.
Preheat oven to 375 degrees and then bake rolls for 15-17 minutes.
COVER WITH TOPPING: While the rolls are baking, prepare the vanilla topping. Sift confectioners' sugar into a medium bowl. Whisk in melted butter, vanilla and milk and brewed coffee or espresso until completely smooth. Remove rolls from the oven and pour topping evenly over cinnamon rolls while warm.

Notes
**I opened a k-cup and used the grounds for the filling. Coffee grounds will yield a mild flavor. Using espresso will yield a stronger flavor.
If baking rolls in the 23 oz. aluminum foil pans, cut slices thinner (about 1.25 inches wide).
You can also bake these cinnamon rolls the next morning. After placing cut rolls in the pans, refrigerate overnight. In the morning, let the rolls rise in the pans in a warm spot for the second time (45-60 minutes) before baking.
If you like your topping thicker, add more confectioners' sugar or thinner, add a little more milk.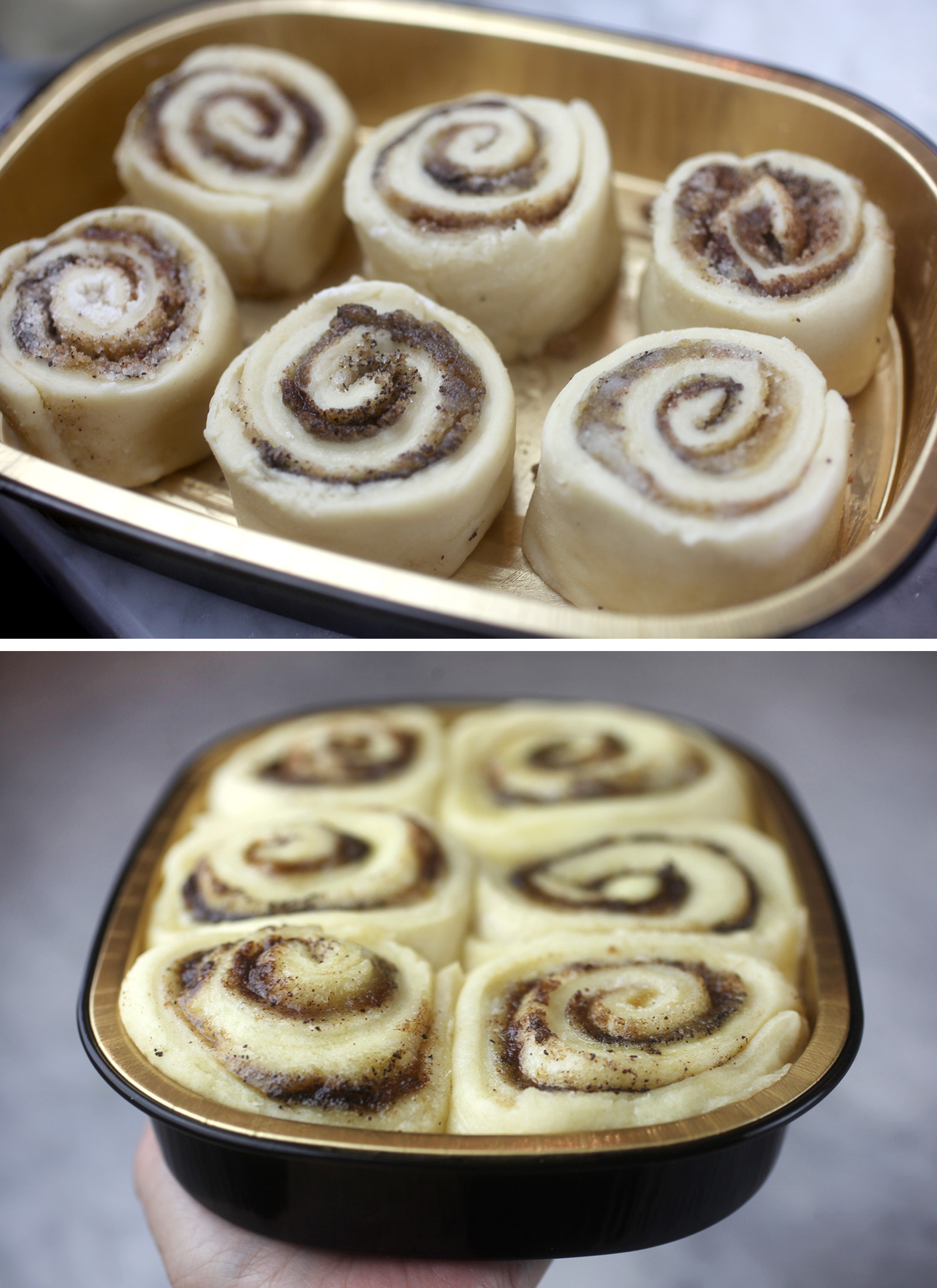 Here's a batch of rolls I baked right in these 23 oz. foil containers. I love them. The same recipe will make enough for three containers. The only change I made was slicing the sections a little bit smaller. I wanted to make sure when the rolls rose that I still had enough room to add the icing without it sticking to the lid when it was placed on top.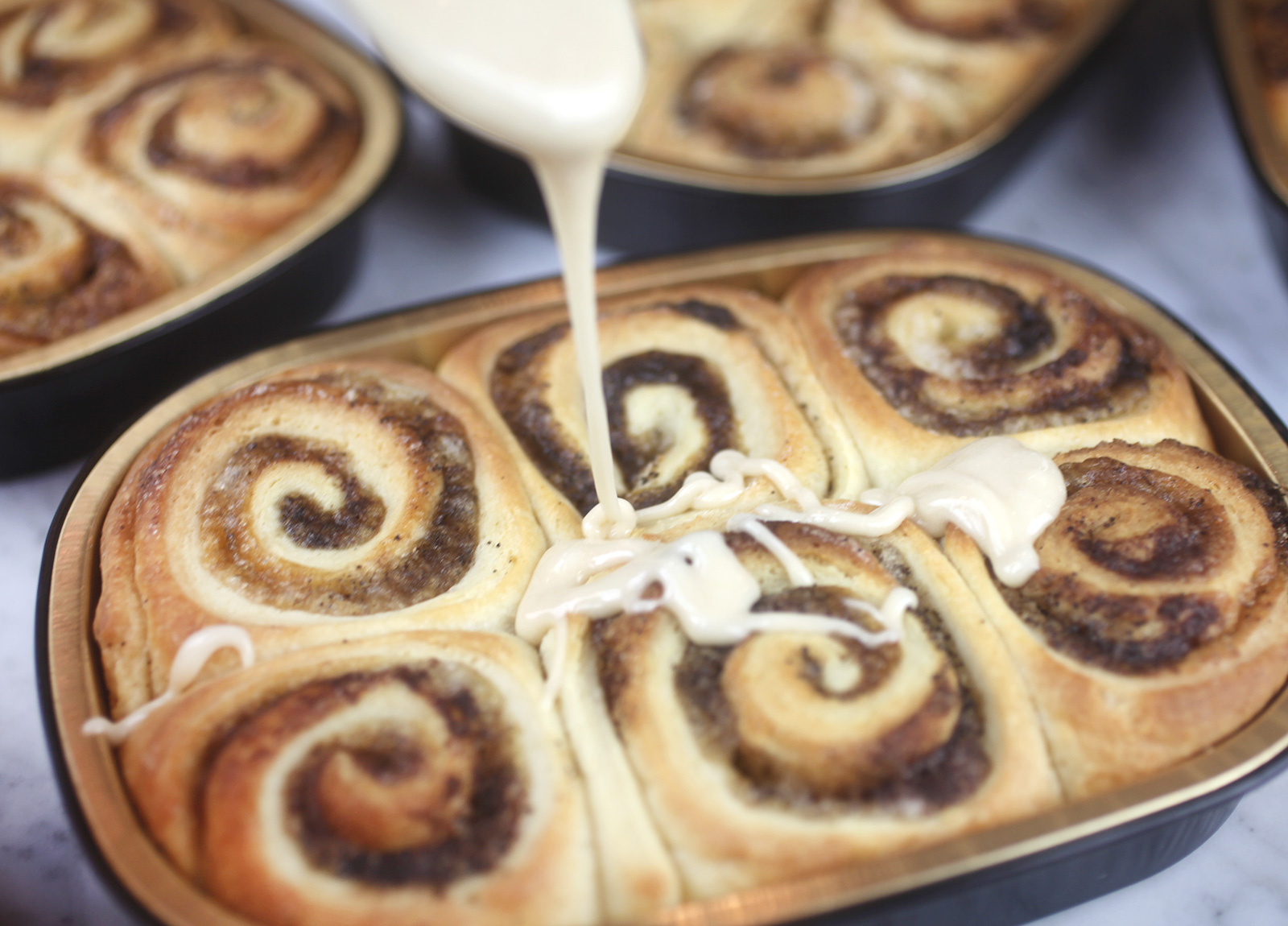 The perfect size to gift to someone.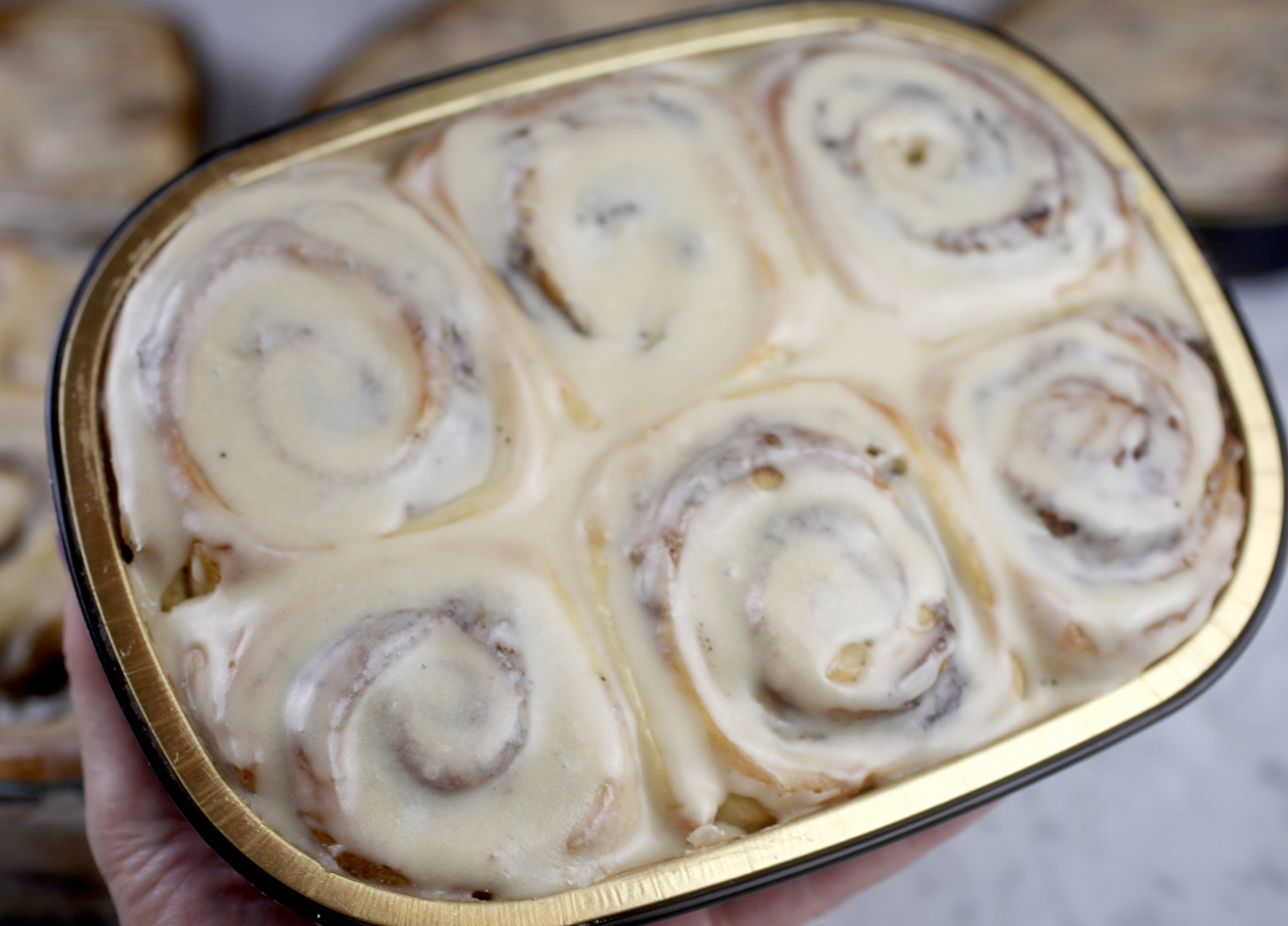 Just give me a fork already!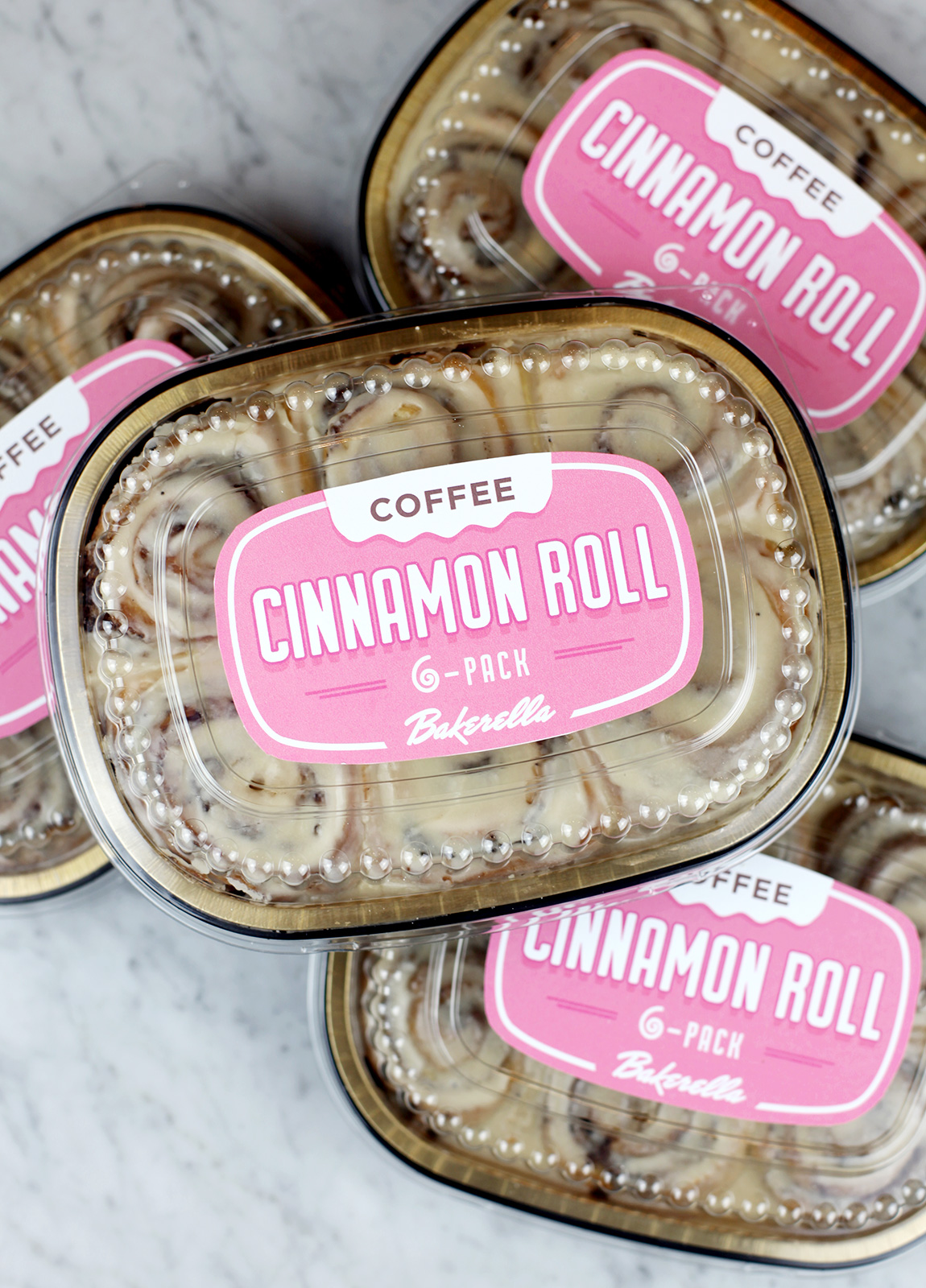 Eeeek! Love this size so much that I had to make labels for them. And I made some generic ones for you, too – With a blank section to fill out with whatever flavor you end up baking. (Like Classic, Chocolate, or even pumpkin pecan, etc.)
Download a Generic Cinnamon Roll Six-Pack label.
And here's a link to the black and gold foil containers that I purchased if you want to make some this same size as well.
______________________
UPDATE: I'm so sorry. I accidentally linked to the wrong size containers when this recipe was posted. I have updated the link above. The container size I used was – 23 oz. 8.25 X 6.25 inches – model number 9331-PT.
______________________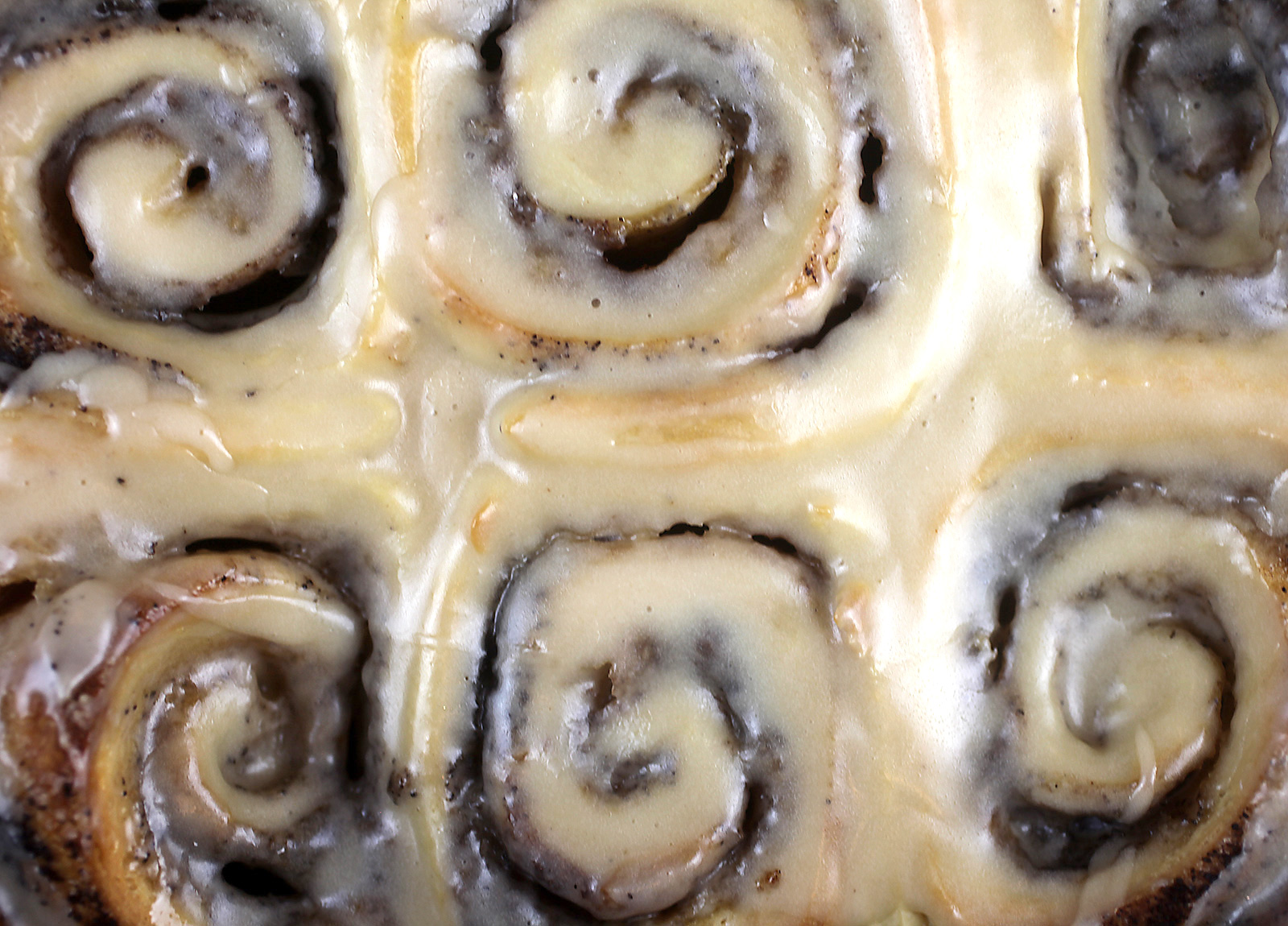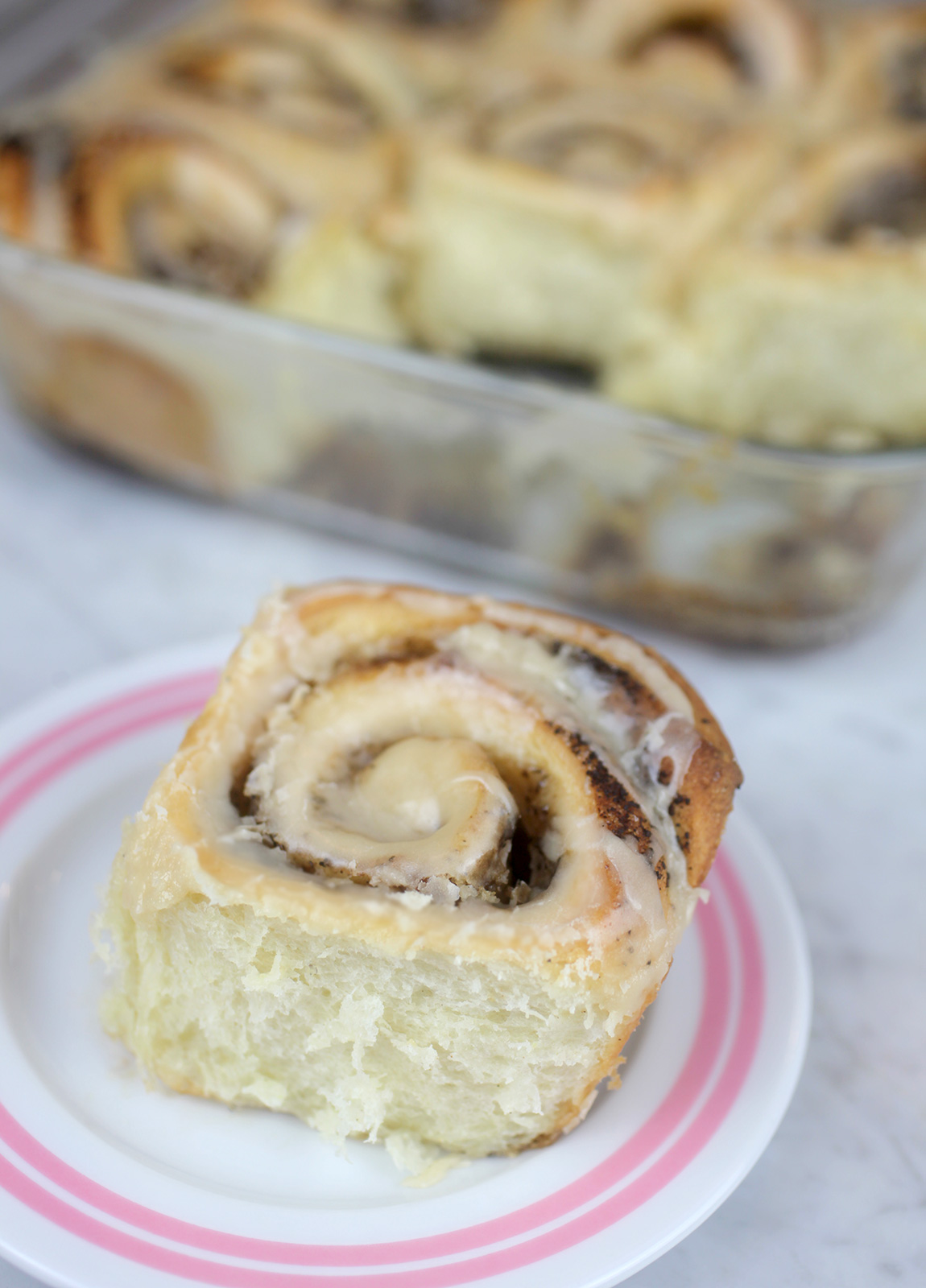 Hope you enjoy!!!