Fall is in the air and that means cinnamon rolls are in my mouth. But not just regular cinnamon rolls, but these pumpkin pecan cinnamon rolls frosted two ways. Half with maple and the other half with good 'ole cream cheese frosting… because I'm really indecisive.
Or maybe because I'm just really smart.
Who's ready to whip up some pumpkin yumminess?
You're gonna need some yeast … and then you're gonna want to keep some extra packets on hand so you can make cinnamon rolls to your heart's desire.
I've made 5 batches this fall already. Hmmm. Maybe I shouldn't keep packets so handy. My hips might thank me.
The steps are pretty simple to get this party started. Sift your dry ingredients. Add yeast to melted butter and milk. Add to sifted ingredients. Mix in egg and pumpkin.
Shape into a dough ball and place in a coated bowl to rise in a warm place until it doubles in size.
I found using my oven with the lights on inside keeps it warm enough. I've also turned the temperature to the lowest setting for a few minutes and then turned the heat off so I could place the bowl inside. Leaving the oven door open will keep it from getting too hot.
Dough simple.
Ahhhh… the good stuff. The filling.
Brown sugar, granulated sugar, butter and cinnamon.
And what about the pecans. Let's roast them. Yes, lets.
Pecans… coated with a little melted butter and toasted in the oven. They'll totally make you glad you toasted them.
Chop them finely and the dough will be easier to roll.
Oh look. Doubled in size dough. It's like magic… or sweet science.
When it doubles in size, punch it down and turn it out onto a floured work surface so you can roll it out.
Layer on the goodness. My favorite part.
Butter. Cinnamon. Sugar. Pecans. Perfect.
And then roll it up and cut into equal sections.
Here we go now.
Let the swirls of cut dough rise again before baking.
See how they are touching each other now. Nice.
Then bake away. You may notice I did half with pecans and half without. You know, I couldn't commit to one way or the other.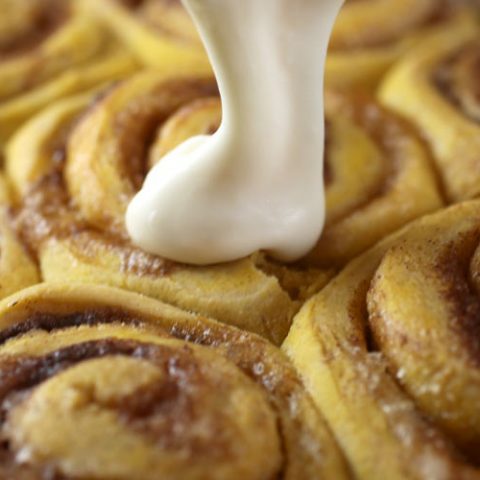 Yield: 15-18 Cinnamon Rolls
Pumpkin Pecan Cinnamon Rolls with Brown Butter Maple Icing
Ingredients
DOUGH
4 cups flour
1/4 cup sugar
1/2 teaspoon salt
2 teaspoons pumpkin pie spice
4 tablespoons butter
1 cup whole milk
2-1/4 teaspoons active dry yeast (1 packet)
1 egg
3/4 cup canned pumpkin
FILLING
1/2 cup melted butter
1-1/2 tablespoons cinnamon
1/2 cup brown sugar, packed
1/2 cup granulated sugar
1 cup pecans (toasted and then finely chopped), if desired
2 tablespoons melted butter
BROWN BUTTER MAPLE ICING
2 cups powdered sugar
2 tablespoons butter
1 tablespoon maple flavoring
2 tablespoons whole milk
Instructions
To make the dough: Sift flour, sugar, salt and spices with a wire whisk in a medium bowl. Transfer three cups of the flour mixture to the bowl of your stand mixer and set the remaining one cup aside.
Heat butter and milk in the microwave and set aside until warm. You can use a thermometer to measure the temperature needed according to the directions for the yeast you are using.
Sprinkle yeast on the surface and let rest for about 5 minutes. Then gently stir together and add to the flour mixture. Mix on low using the paddle attachment until combined. Add egg and mix until combined and then add pumpkin and mix until combined.
Change to the dough hook and add the remaining one cup flour until the dough separates from the side of the mixing bowl and forms into a ball.
Spray a medium bowl with non-stick spray. Then remove dough from mixing bowl. Knead a couple of times, shape into a ball and place in coated bowl. Turn over to coat both sides.
Cover bowl with plastic wrap and let rise in a warm spot for 2 hours or until the dough doubles in size. If it reaches the top of bowl, punch down.
Add the filling: Prepare a buttered 9 X 13 dish or two 8-inch round baking dishes. Disposable aluminum pans are perfect.
Turn out dough onto a well floured work surface and roll into a roughly 12 X 18 inch rectangle until it's about 1/4 inch thick.
Spread melted butter on the dough. Then sprinkle cinnamon, sugar, brown sugar and chopped pecans until the dough is covered. Note: if you want to use toasted pecans, lightly coat pecans in melted butter and place on a parchment covered baking sheet in a single layer.
Sprinkle a pinch of salt on top and toast them for about 15-20 minutes in a 300 degree oven. Gently stir and turn pecans about halfway through baking time. Watch closely so they don't burn.
Start from the long side farthest from you and start rolling the dough toward you to form a log. Roll tightly and shape as you go if necessary. Then turn the dough log seam side down and cut into 15-18 equal sections using a serrated knife.
Place on prepared baking dish and let rise again in a warm spot for about 30 minutes before baking. Preheat oven and bake at 375 degrees for 15-17 minutes.
To make the Brown Butter Maple Icing: Sift powdered sugar. Melt butter over medium heat until it turns golden brown. Watch closely so it does not burn. Be careful because it can change quickly. Whisk butter into sugar until combined. Whisk in maple. Add milk and whisk until completely smooth.
For cream cheese icing: Beat 4 oz softened cream cheese and 2 tablespoons softened butter until smooth. Add 2 cups powdered sugar and 1 teaspoon vanilla. Then add 3-4 tablespoons milk until smooth.
Remove rolls and spread icing over cinnamon rolls while still warm.
Cover them with Brown Butter Maple Icing…
Or Cream Cheese Icing if you're indecisive like me and then…
ENJOY them warm!