October baking is on! Who has already made some super cute treats or perfectly pumpkiny desserts? Do you like fall baking as much as I do? I hope so because I pulled together some fun baking projects in case you want any ideas or inspiration. It's time to break out the butter.
Pumpkin Pie Bites >
Aaaah! These little pie bites are one of my favorite projects. They make me smile every time. I love how easy they are to make, too. They happened when I thought about reusing a pumpkin cutter to make mini pumpkin pie shapes by stuffing the dough in a mini cupcake tray. Too cute.
Spider Bites >
These are not so cute. Creepy comes to mind. And fun. Creepy is fun. I can't help but squirm when I see these little guys with brownies inside.
Pecan Pumpkin Butter Squares >
Oh my gosh I forgot about these sweet squares. I had them over and over during October 2010 on my Williams-Sonoma Book tour. I totally need to go out and get some pumpkin butter right now. Or maybe I'll just head to the mall and hope for some free samples at the store.
Candy Corn Cake Pops >
These are the happiest Candy Corns I ever did see. At least until I bite their cute little cheeks off.
Pumpkin Pie Cheesecake >
I originally made this deliciousness around Thanksgiving time, but it's calling out to be made in October.
Dangling Spider Cake Pops >
I'm so in love with these happy little spiders. Use a longer lollipop stick to really pull off this adorable dangling look.
Hi Hat Cupcakes >
If you've never made these cupcakes before, do it right now. There's something super satisfying about successfully dipping swirly marshmallowy tops in chocolate. Plus they are crazy good. Okay, these don't really have anything to do with October other than this cupcake looks so good on orange.
Frankenweenie >
Zombie Doggies. Enough said.
Pumpkin Pecan Chocolate Chunk Cookies with Maple Brown Butter Frosting >
These cookies are all about comfort. Please don't skip out on the frosting. It's Aaaahmazing!!
Creepy Crawly Cake Pops >
As much as I dislike spiders, I sure do like decorating with them. These creepy crawlers are cute as can be.
Itty-Bitty Bat Cupcakes >
Sink your teeth into these bite-size bats.
Spooky Spider Cake Pops >
More spiders. You know… those big bodied, pudgy, don't you dare get near me kind of spooky spiders. Well, these totally taste better.
Spider Cookies >
I love how graphic these are with chocolate frosting and piped white spider webs. Super easy doesn't hurt either.
Trick-or-Treating Ghost Cake Pops >
Look at those tiny candy buckets. I can't stand the cuteness. Oh yeah, there's also Trick or Treat tags you can download.
Kitty Cat Oreos >
Meow. Meow. Me…yum…yum! Homemade oreos get in my tum!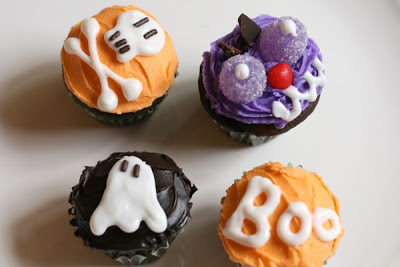 Halloween Cupcakes >
There's not really a recipe for these, but there are a few more pics if you want to see… or if you want a chuckle. These were the very first sweets I made and posted on this website. I realized right away how much I enjoyed baking and creating and I haven't been able to stop since.
So… Do you see anything you like?
I hope so and I hope you have fun baking this Halloween.