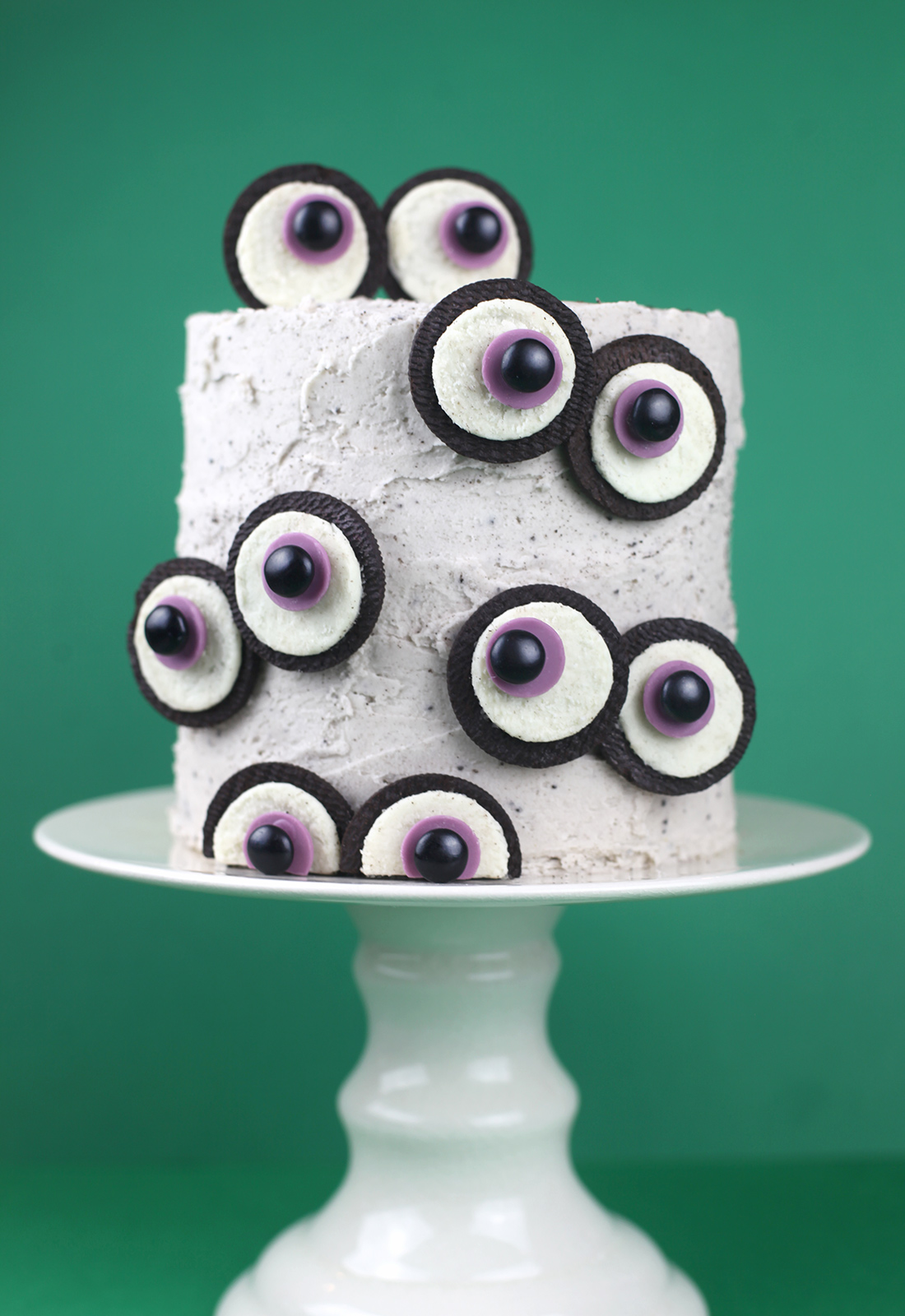 Halloween may be my favorite time of the year to make treats. I love combining spooky and cute and serving it up as something sweet to eat. And this easy cake covers it all.
Check out my Halloween section for more frightfully fun ideas to trick out your treats.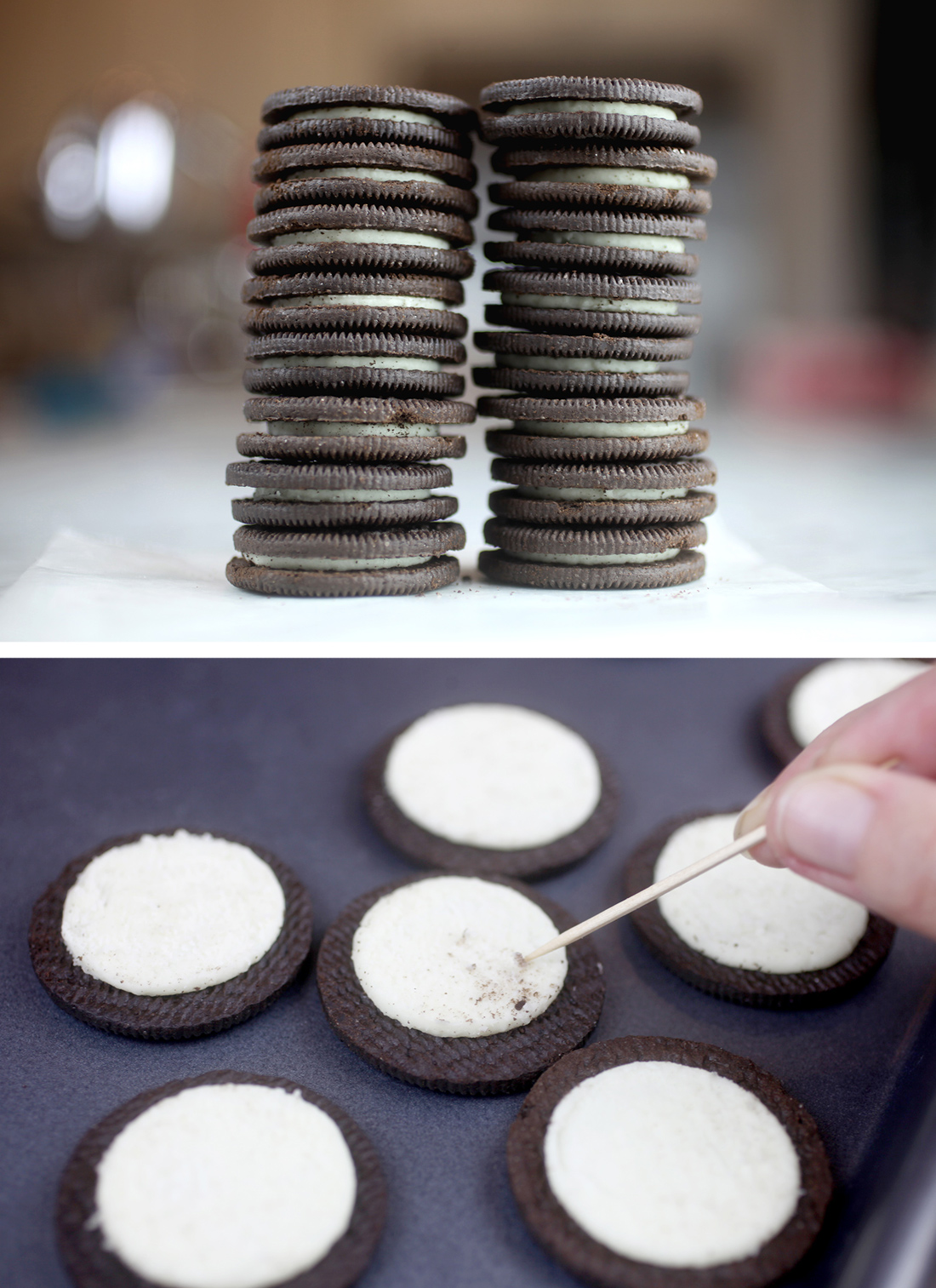 Oreos are the stars when it comes to making this cake come to life. Separate the cookies and creme carefully because they tend to pull apart with some of the creme center attached to each cookie wafer. I probably ruined more cookies than I was able to separate cleanly, so think about buying a family pack to give yourself extra chances. And, I'm sure you can find a happy home for any mess-ups. ; )
To separate, very gently twist the cookie wafers back and forth in tiny movements to try to keep the creme attached to one of the wafers. When successfully separated, you may still need to clean them up. Use a toothpick to gently scrape off any residual crumbs from the surface.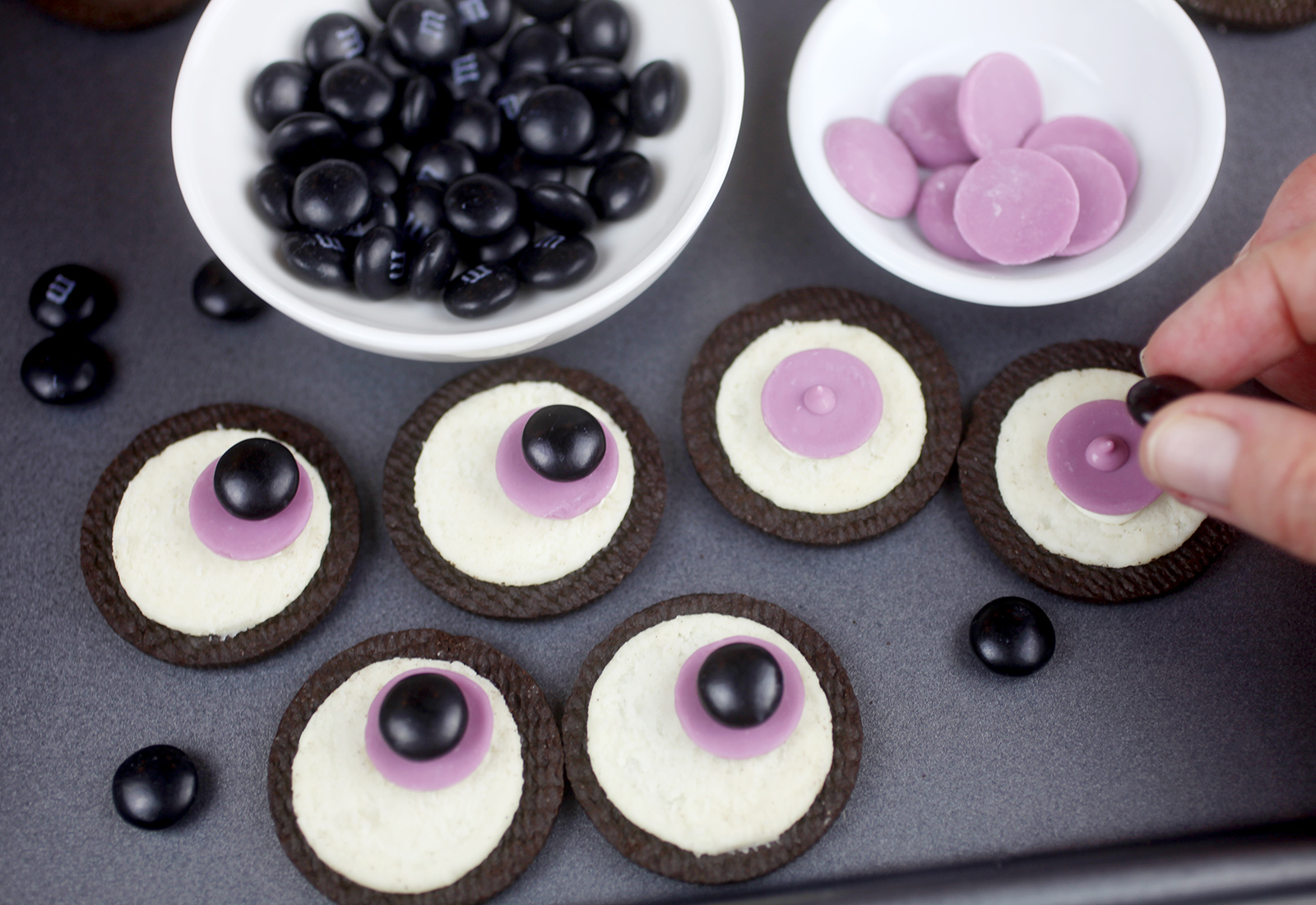 Eye Candy! To turn these Oreos into eyes, you can use purple candy wafers and black M&M's. Easy!! Green or orange candy wafers would be cute, too.
Gently press a candy wafer into the creme with the flat side facing up. Add a dot of white candy coating to the underside when you attach if you want to make them extra secure. Then, melt some of the purple candy wafers to attach the M&M's. You'll just need a small dot of melted candy coating to "glue" the two together.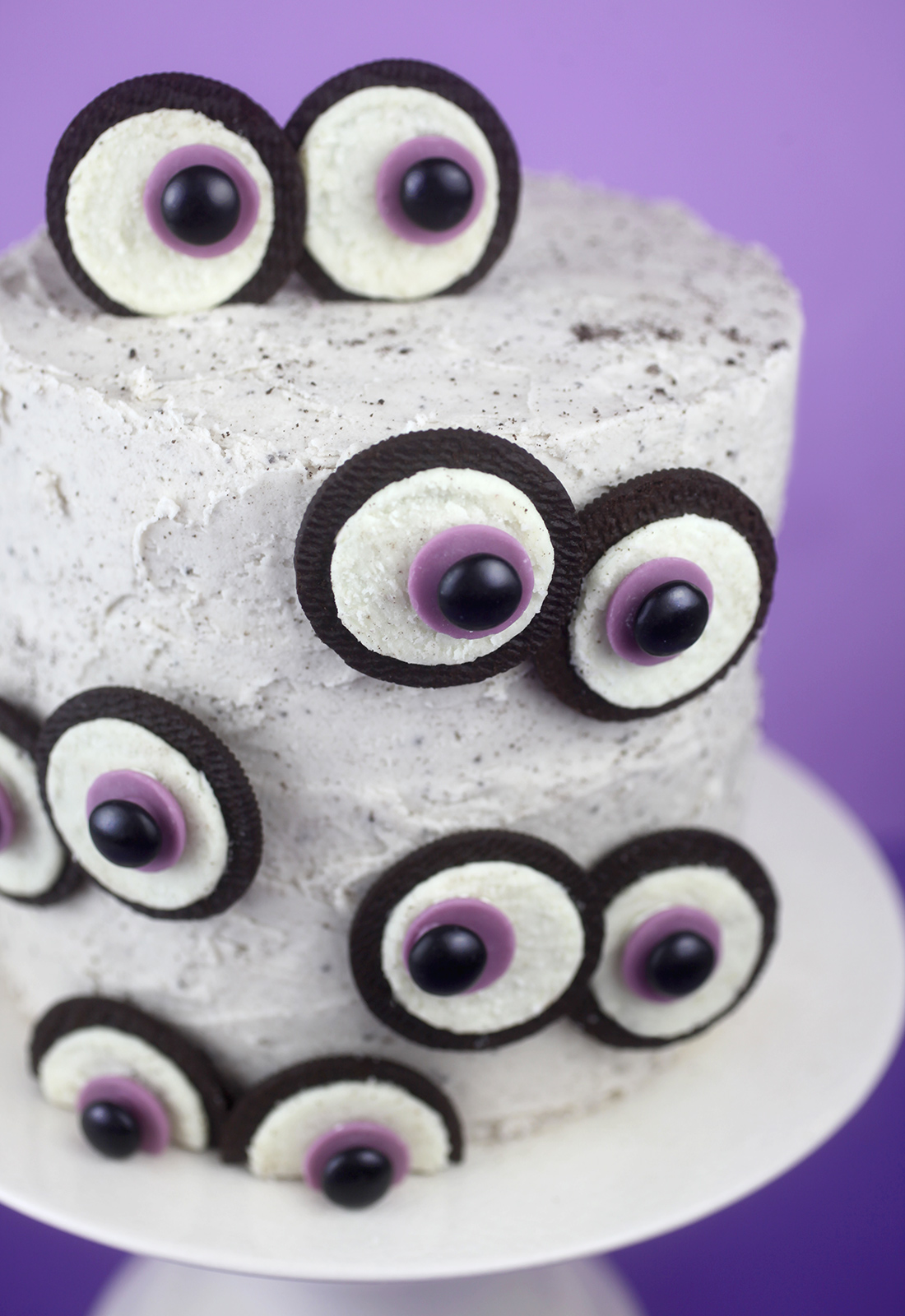 Look how cute!
But that's not all! The cake itself is stuffed with Oreo cookies and the frosting is speckled with crumbs, too. Let me show you!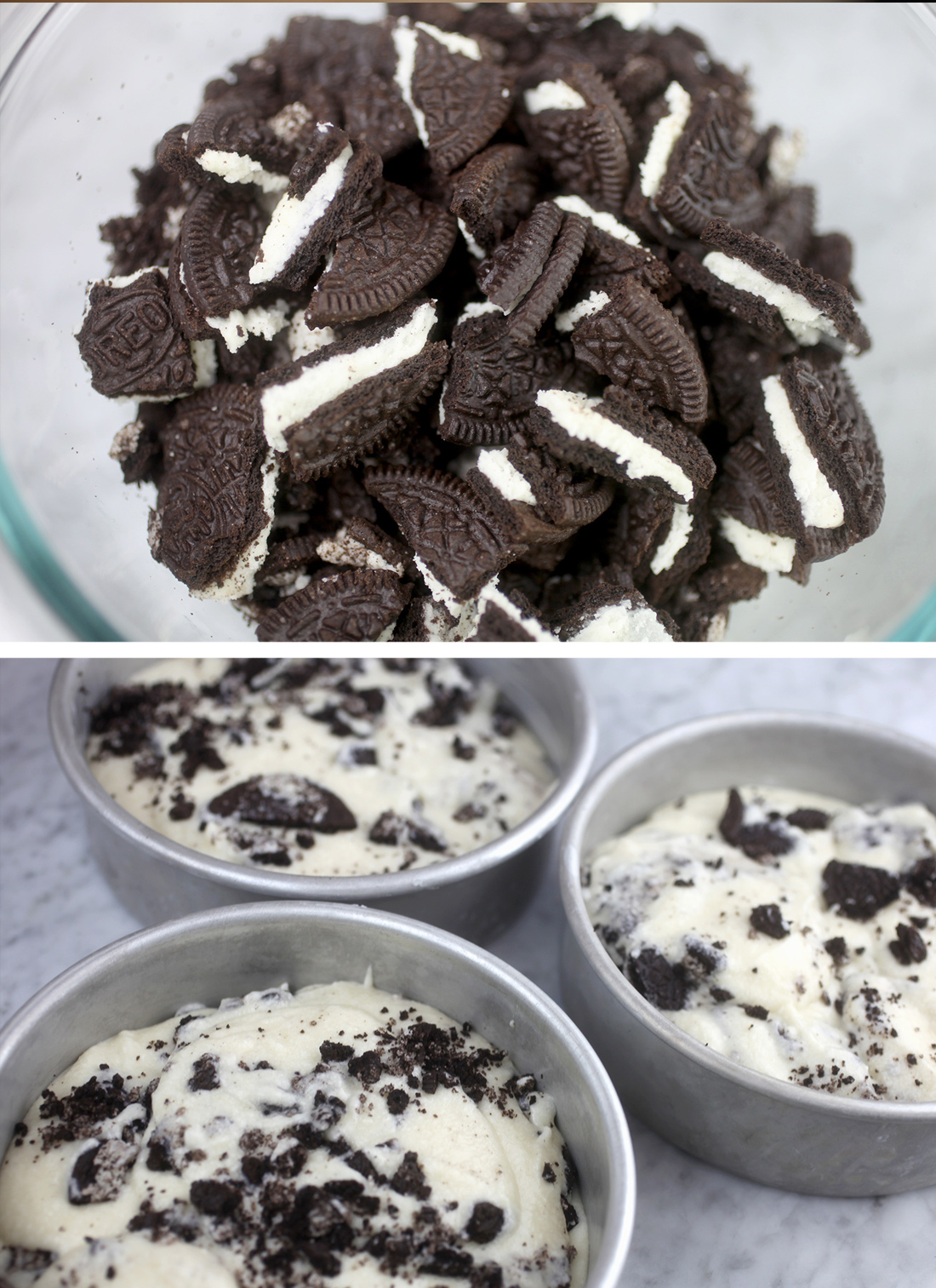 I broke the cookies into small pieces instead of using a food processor so there would be a lot less tiny crumbs that could turn the cake batter too gray.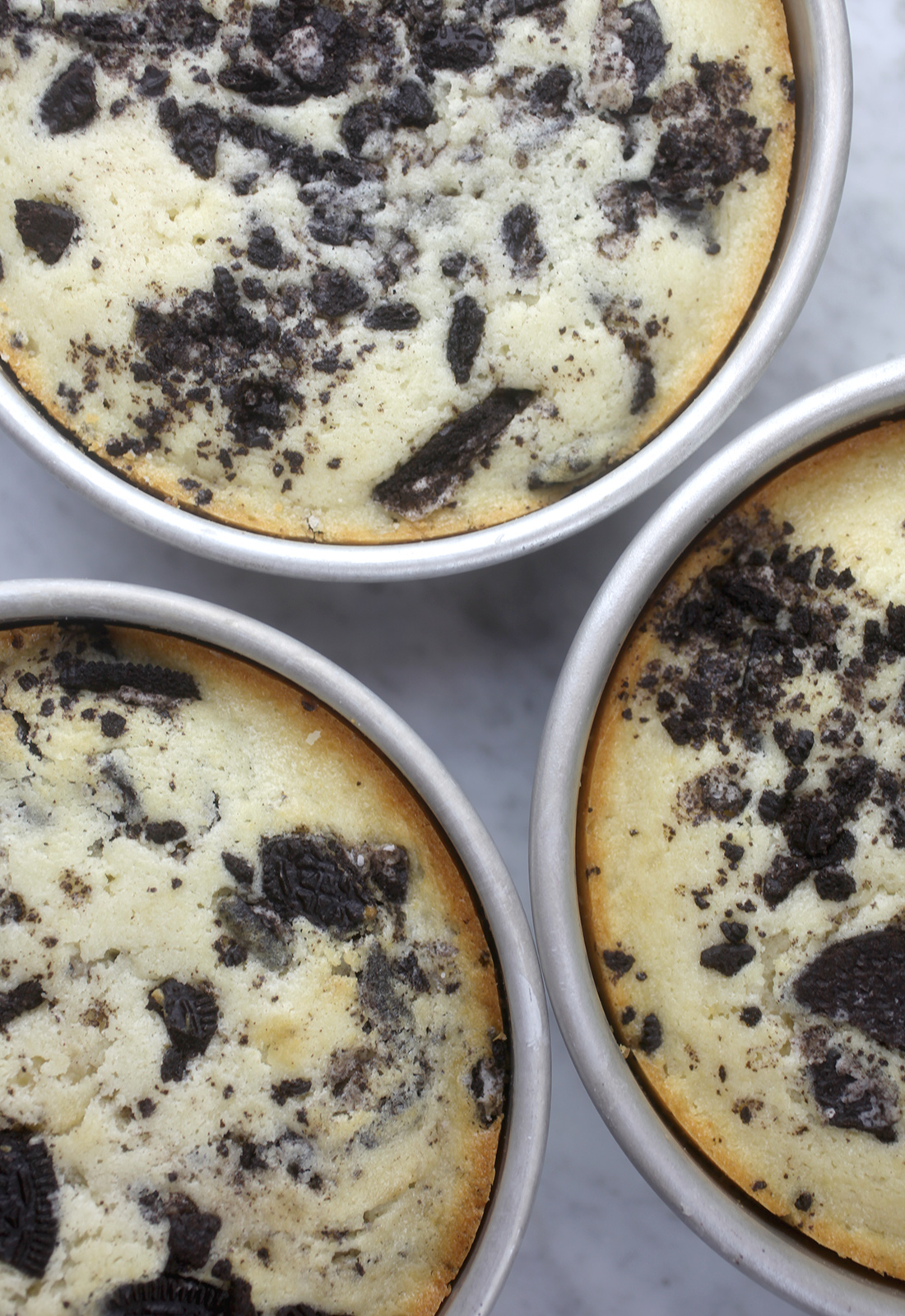 I went with 6-inch pans so the cake could be taller – with three layers – and plenty of room for all the eyes.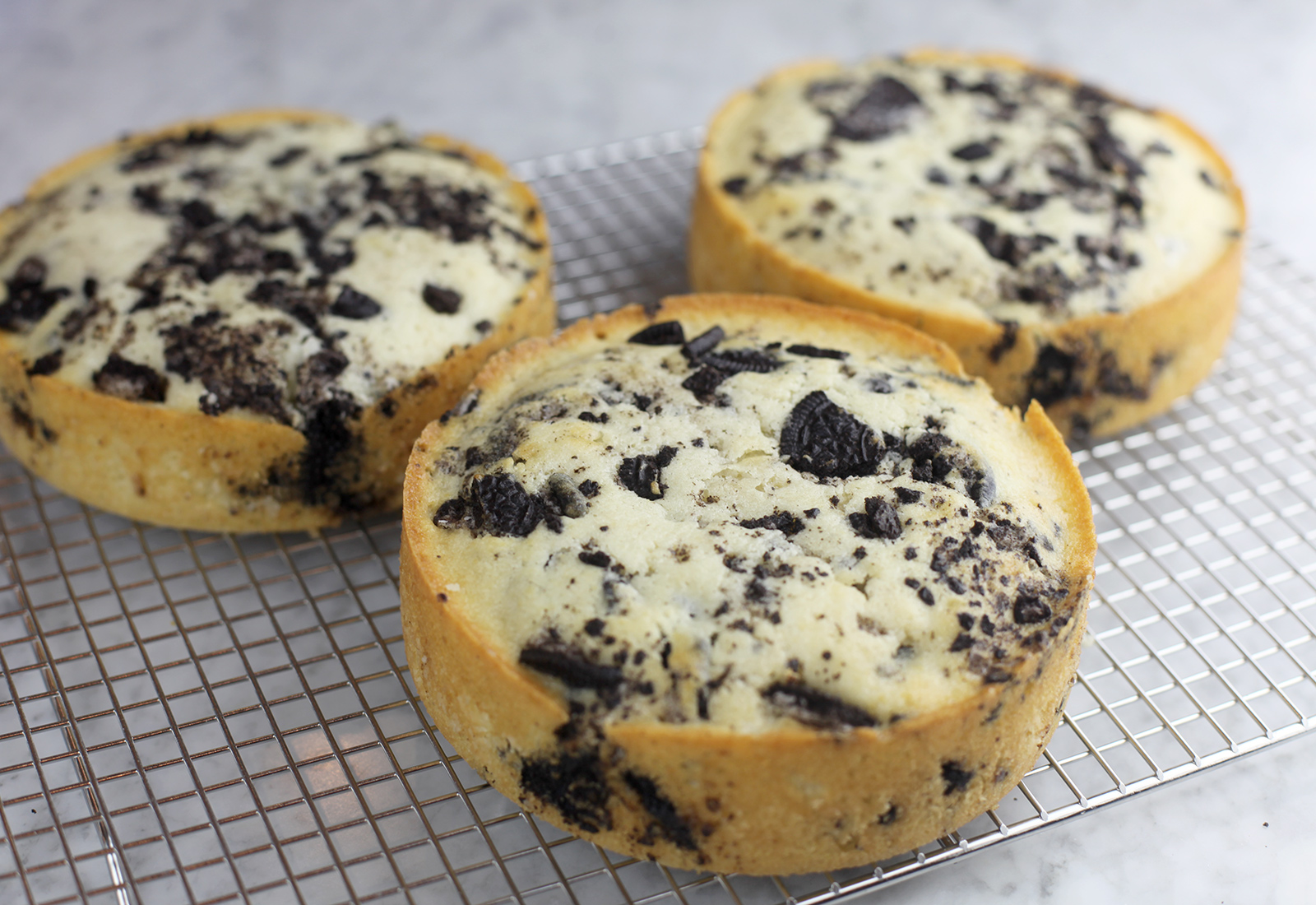 Looking good!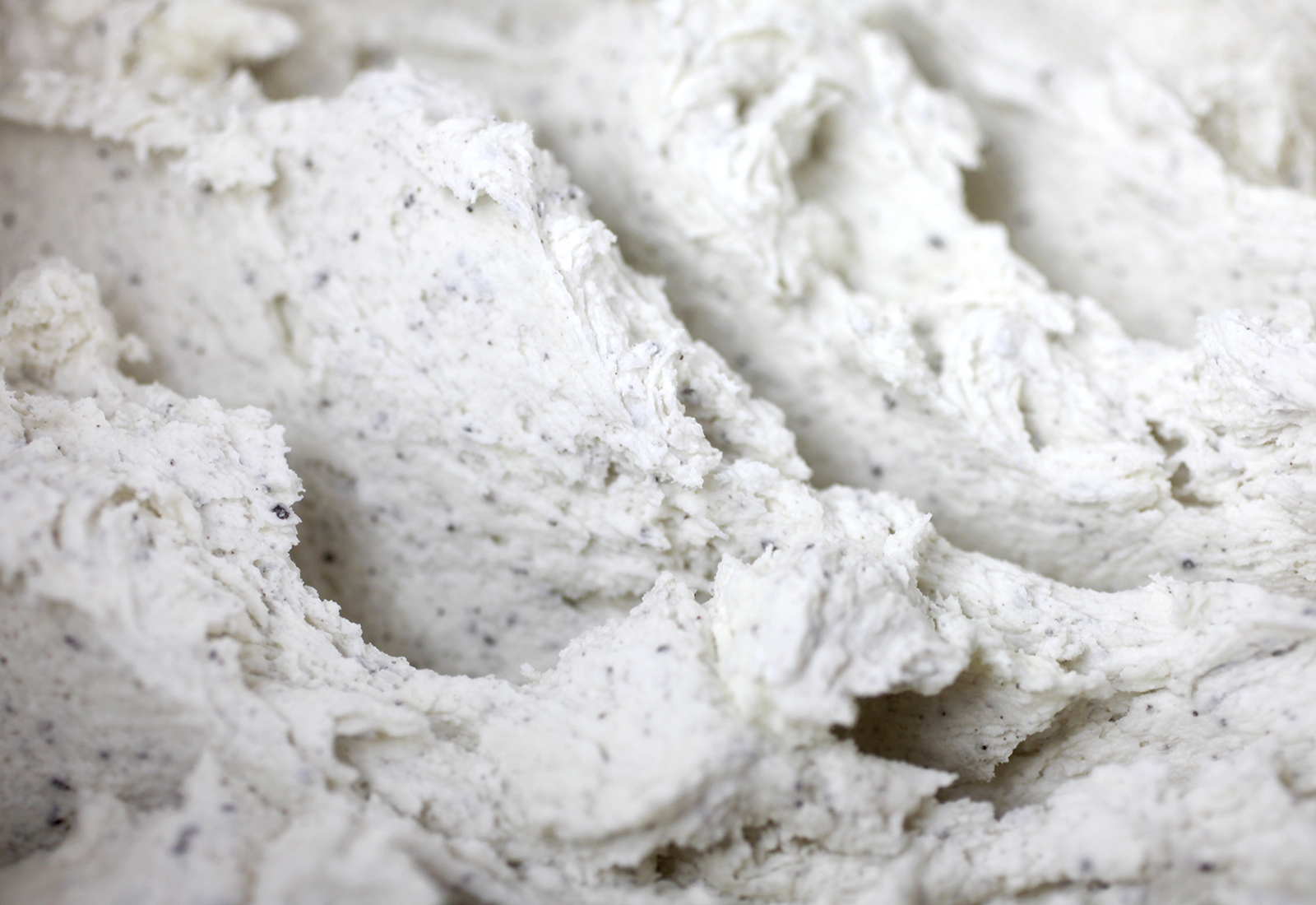 Umm, looking even better! I mixed about 2 Tablespoons of fine cookie crumbs (using a food processor here) with the buttercream for a speckled look.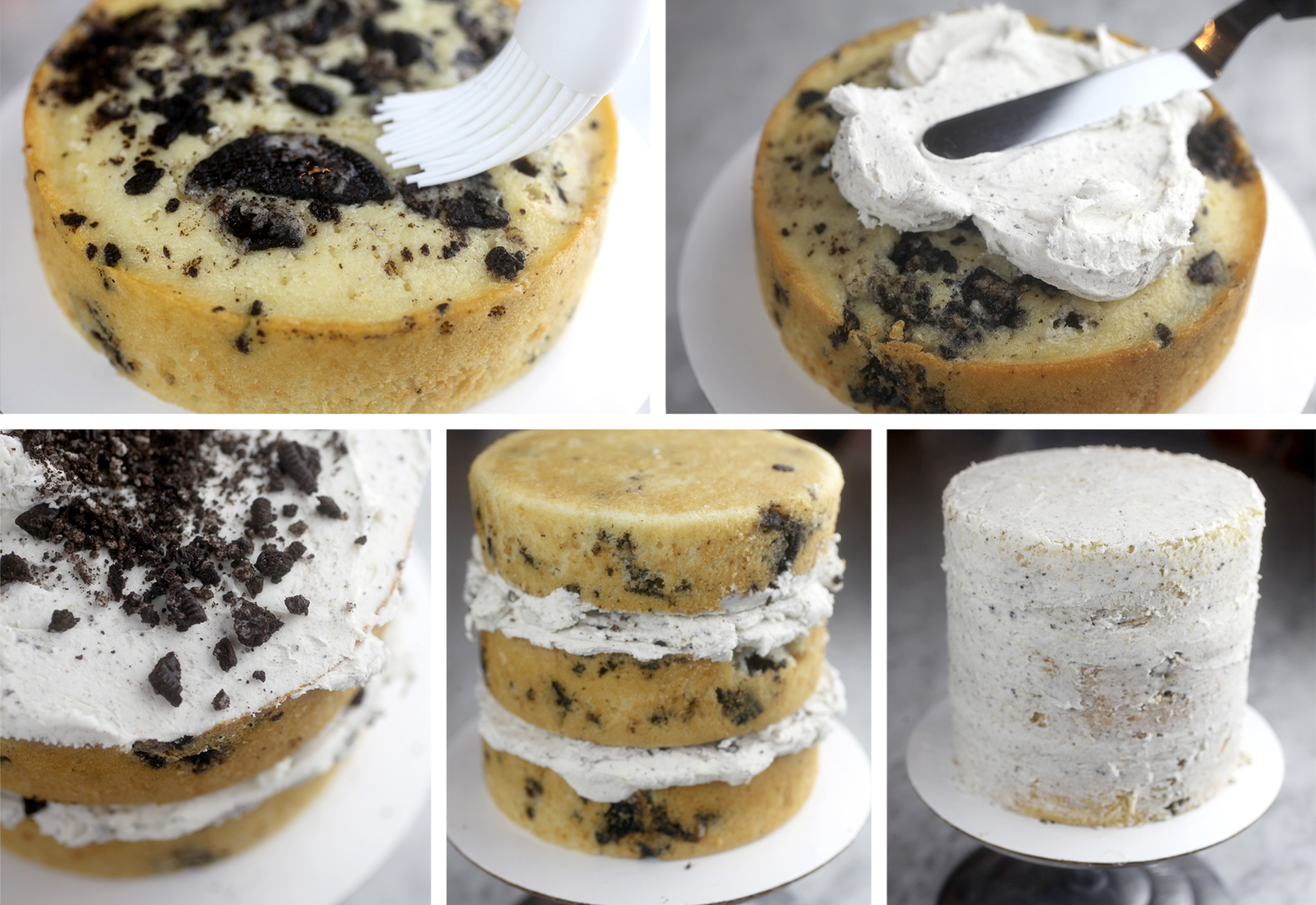 Assemble the cake layers: Apply simple syrup to the top of each cake layer. Then apply a thick layer of buttercream and sprinkle with more cookie crumbs if you desire. Once assembled apply a crumb coat or thin layer of frosting to the outside of the cake to catch any excess cake cake crumbs. Place in the fridge until firm and then generously apply the rest of your buttercream to the sides and top.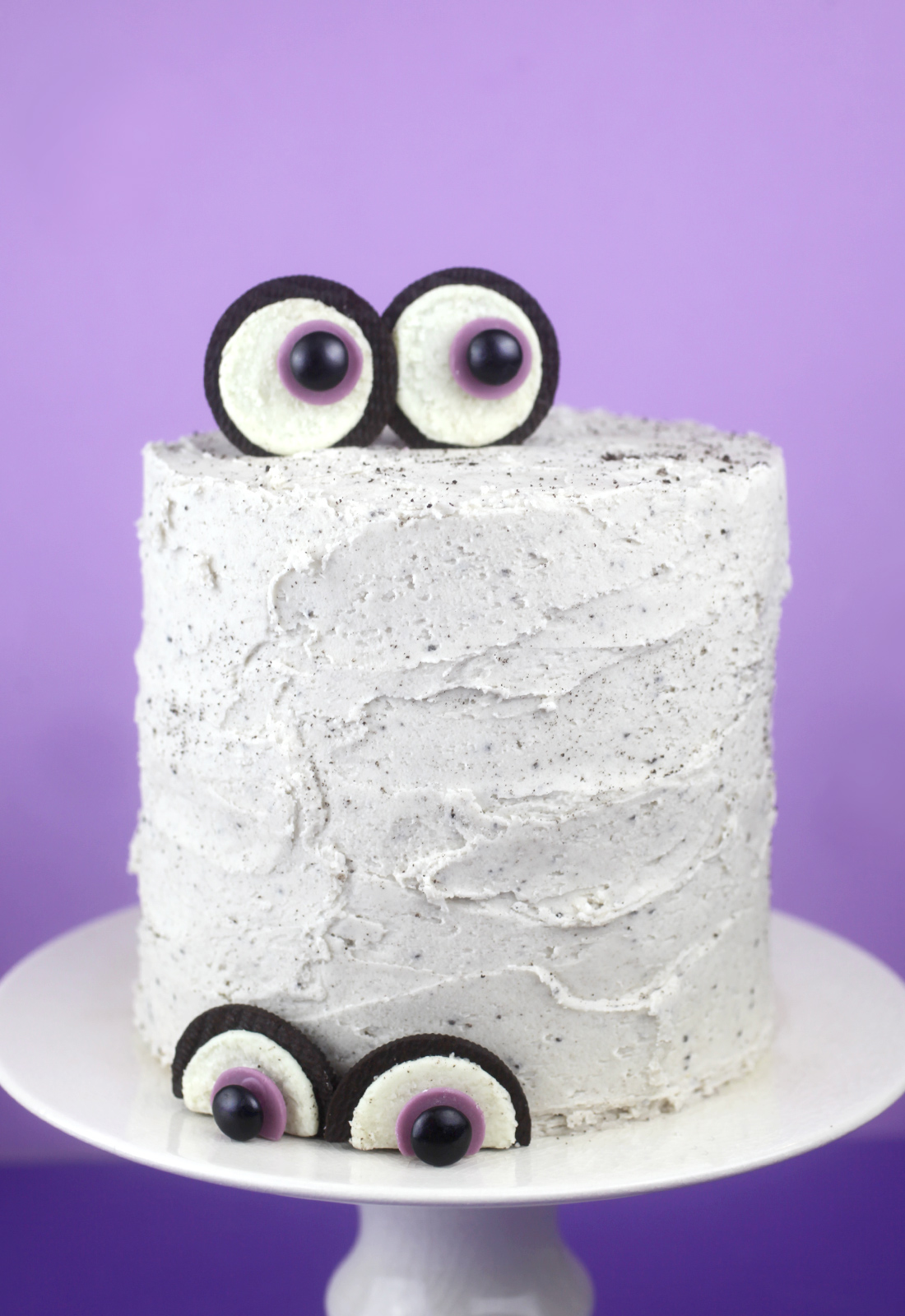 Now start attaching your cookies. Use a little leftover frosting to attach each cookie to the surface of the cake.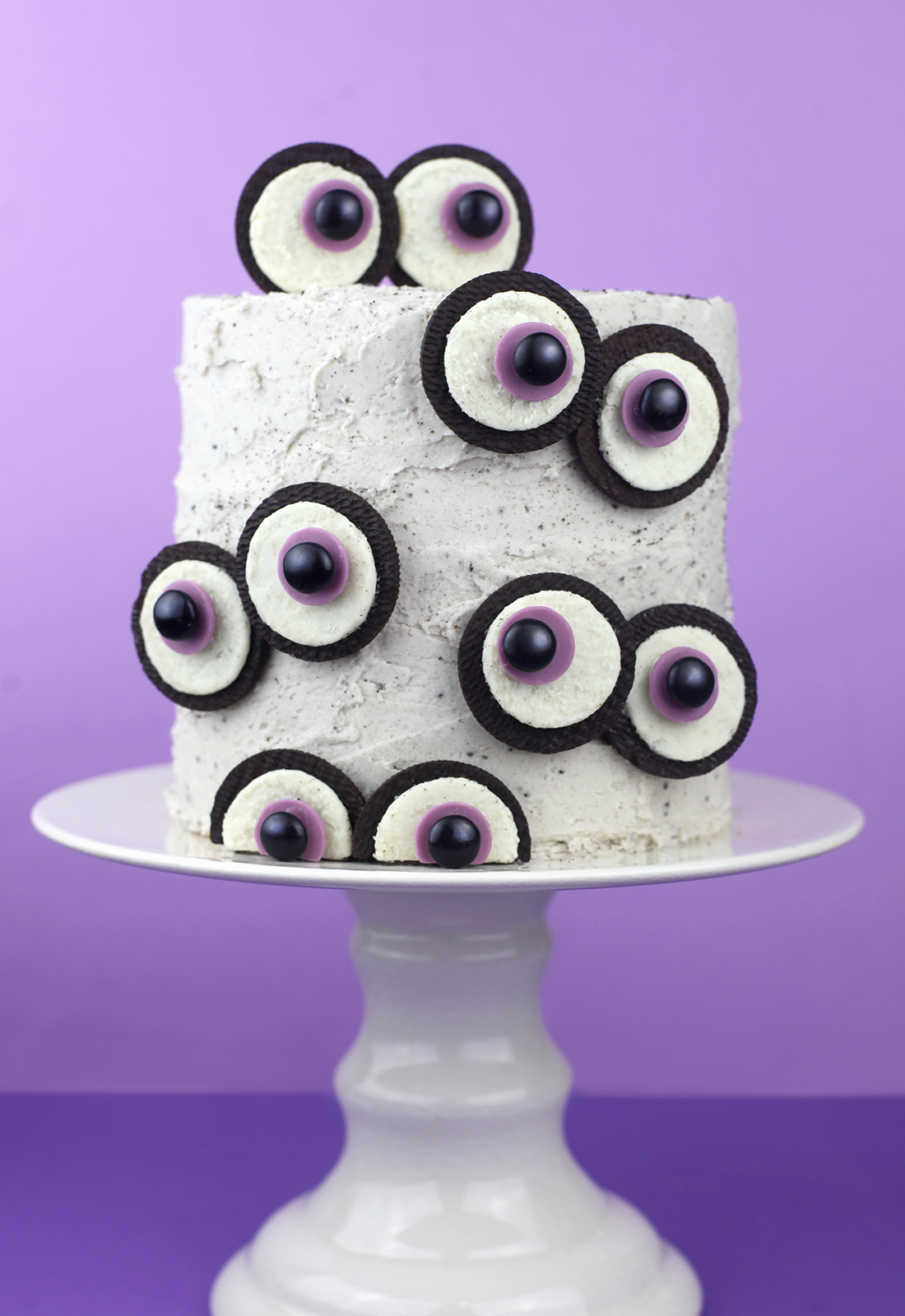 Eye love it!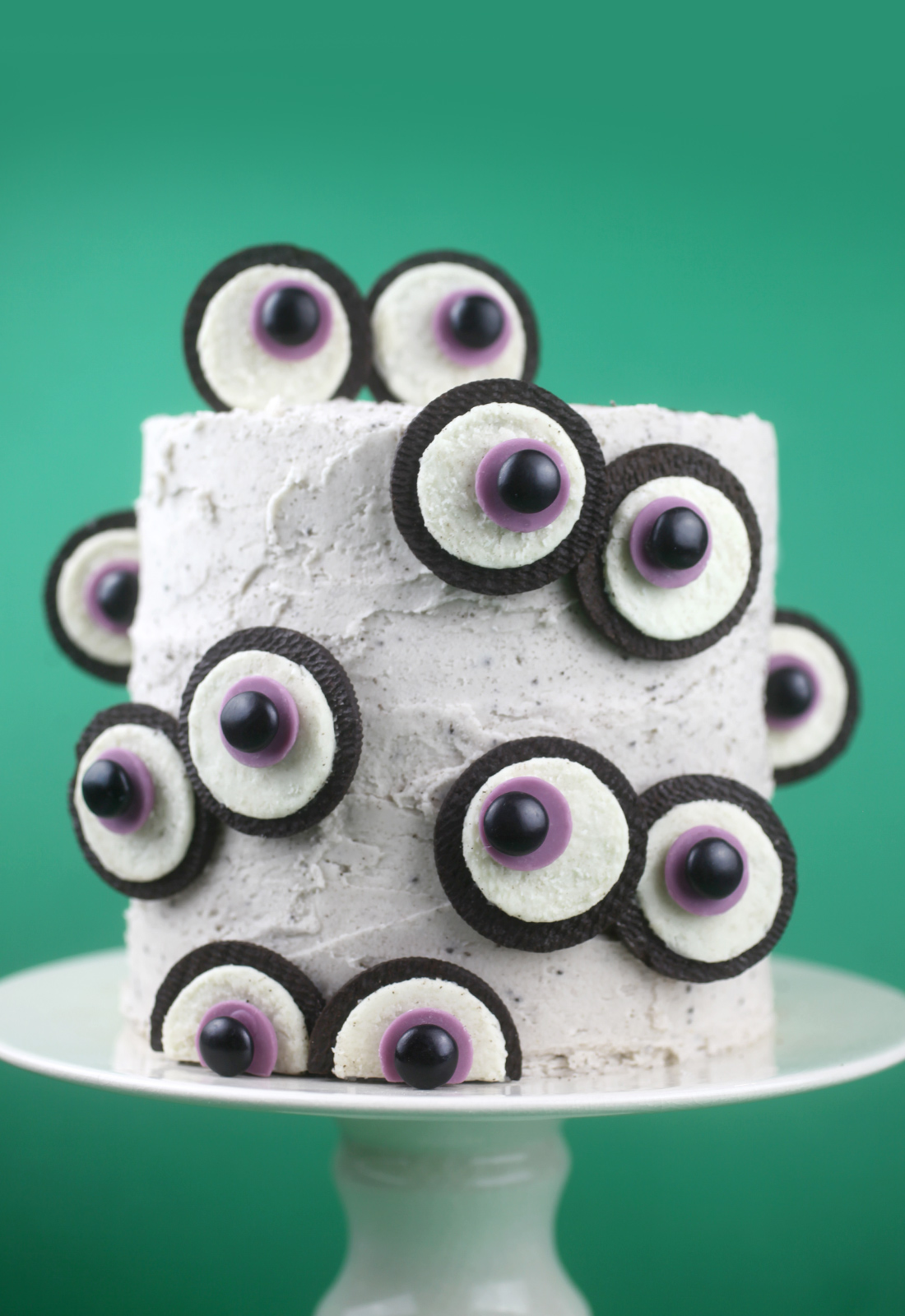 And if you want, add a few eyes to the sides, too. Just press the cookies directly into the cake. The only thing about adding eyes this way is that you would only want to display your cake from the front.
Otherwise you could attach all the cookies flat to the cake if you were to view it from any direction.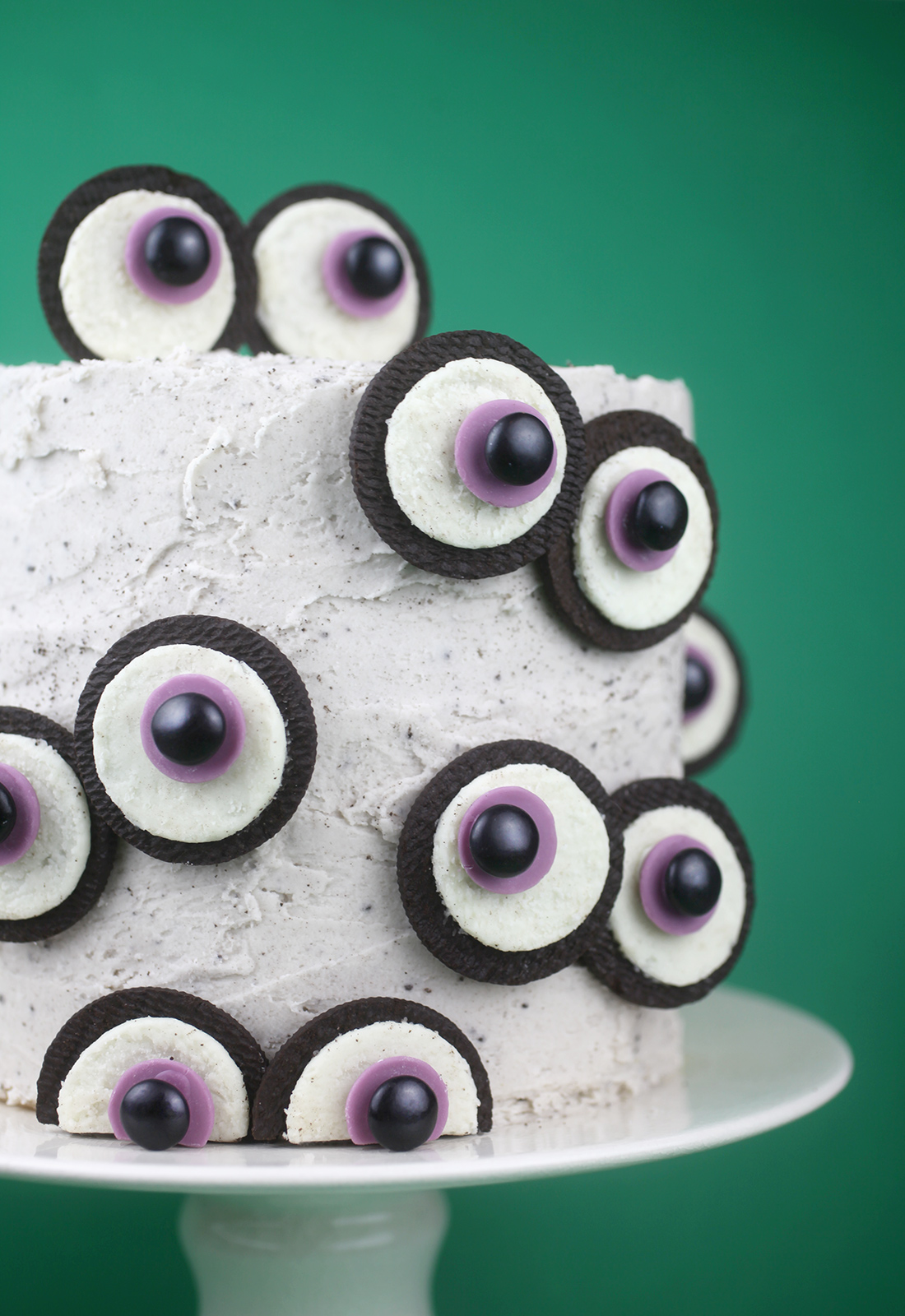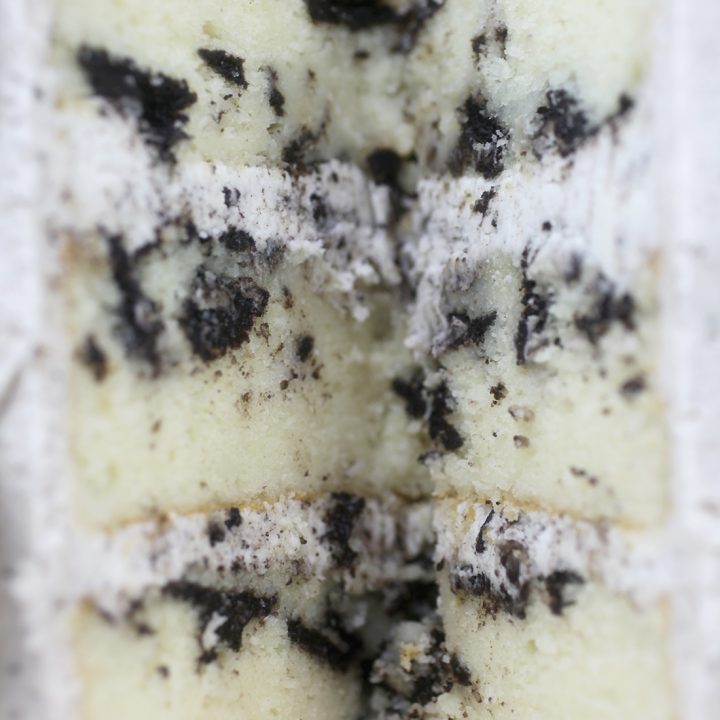 Yield: 6-inch (3 layer) cake
Oreo Cake
Prep Time 30 minutes

Cook Time 30 minutes

Additional Time 30 minutes

Total Time 1 hour 30 minutes
Ingredients
WHITE CAKE
3 cups all purpose flour
1 Tablespoon baking powder
3/4 teaspoon salt
1-3/4 cups granulated sugar
1 cup unsalted butter, room temperature
6 egg whites, room temperature
1-1/2 teaspoons vanilla
1-1/2 cups whole milk, room temperature
16 Oreo cookies, broken into small pieces
-----------
SIMPLE SYRUP
1/2 cup sugar
1/2 cup water
-----------
FROSTING
32 oz package confectioners' sugar
1-1/2 cups butter, room temperature
2 teaspoons vanilla
1-3 Tablespoons whole milk
2 Tablespoons Oreo cookie crumbs
Instructions
Preheat oven to 350 degrees Fahrenheit.
Generously grease and flour three 6-inch light-colored aluminum cake pans.
Sift flour, baking powder and salt together in a large bowl and set aside.
Cream butter and sugar using a mixer until light and fluffy. About three minutes.
Add egg whites one at a time, mixing until just combined. Mix in vanilla.
Mix the flour mixture on low in three additions, alternating with the milk in two additions. Scrape down the sides of the bowl in between and mix until combined. Be careful not to over mix. Gently stir in broken Oreo cookie pieces.
Pour batter evenly among three cake pans and bake for about 35 minutes, or until a toothpick inserted comes out clean.
Cool cake in pans for 10 minutes. Remove and let cool on a wire rack.
If cakes are domed slightly, gently press them down while they are still warm to achieve flatter layers instead of cutting off the domed tops. (You don't want to sacrifice removing any of the oreos)
Use a toothpick to poke holes in the top of the layers and a pastry brush to apply simple syrup.
To make a simple syrup, heat sugar and water in small sauce pan over medium heat. Stir until sugar granules completely dissolve. Cool and it's ready to apply on top of your cake layers.
Cover with plastic wrap and make frosting. Another trick I do is put the cake pans back on top of the layers if I'm not going to leave them out very long before decorating.
For the frosting, beat butter for 3-4 minutes until whipped and creamy. Add confectioners' sugar 1 cup at a time, mixing on low to start and increasing until incorporated. Add vanilla extract and milk, 1 tablespoon at a time until you achieve your desired consistency. Add Oreo crumbs and mix until just combined.
Frost the top of one cake layer. Place the second layer on top and frost – then the third. Add some extra cookie crumbs in between each layer if desired. Spread a thin layer around the sides and top as a crumb coat and chill cake. When chilled, frost the entire cake with the remaining buttercream.
Notes
I used light color aluminum baking pans.
Break Oreos into small pieces for the cake and use a food processor for the crumbs added to the frosting.
Recommended Products
As a member of affiliate programs, this site may earn commissions from qualifying purchases made though affiliate links.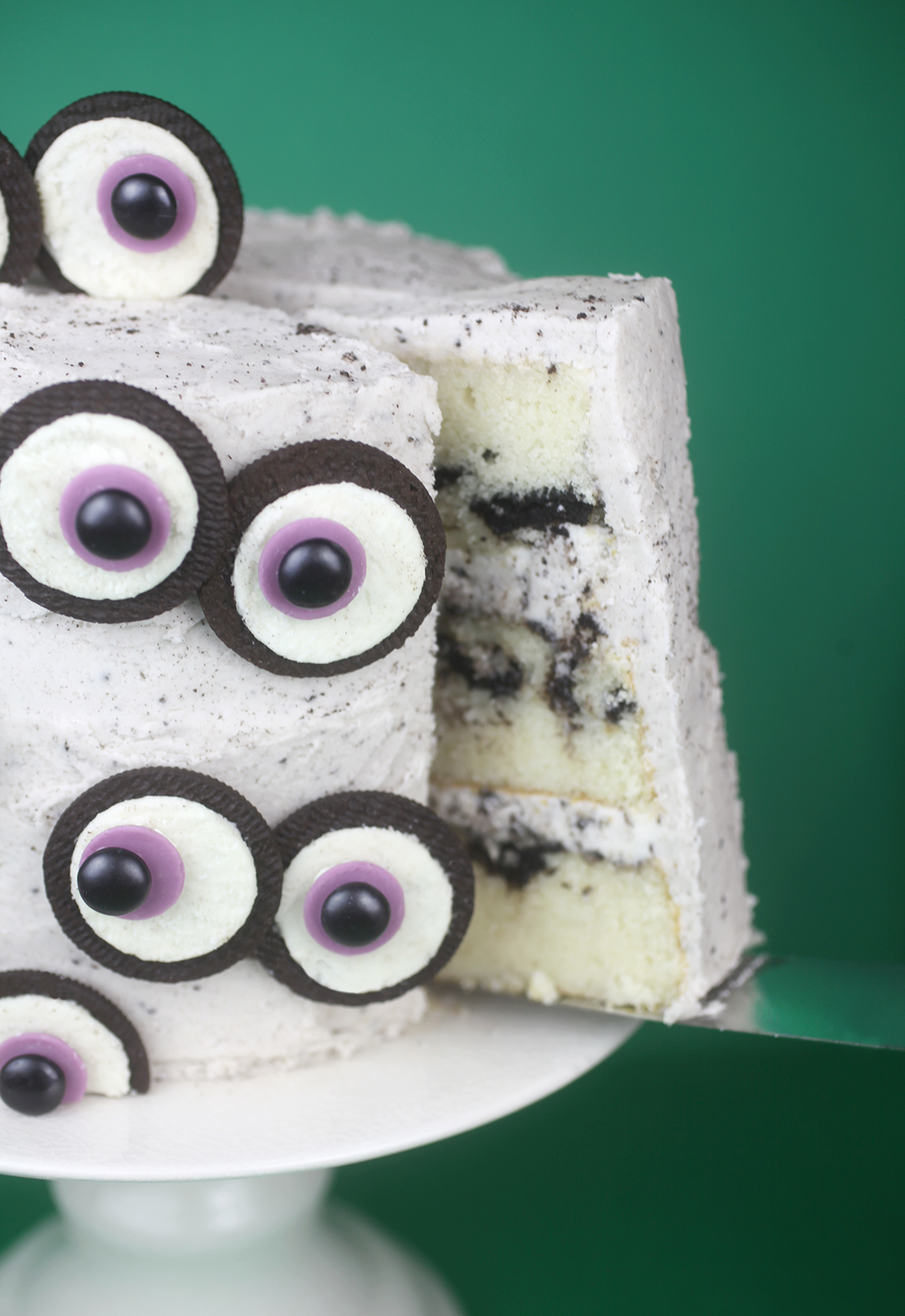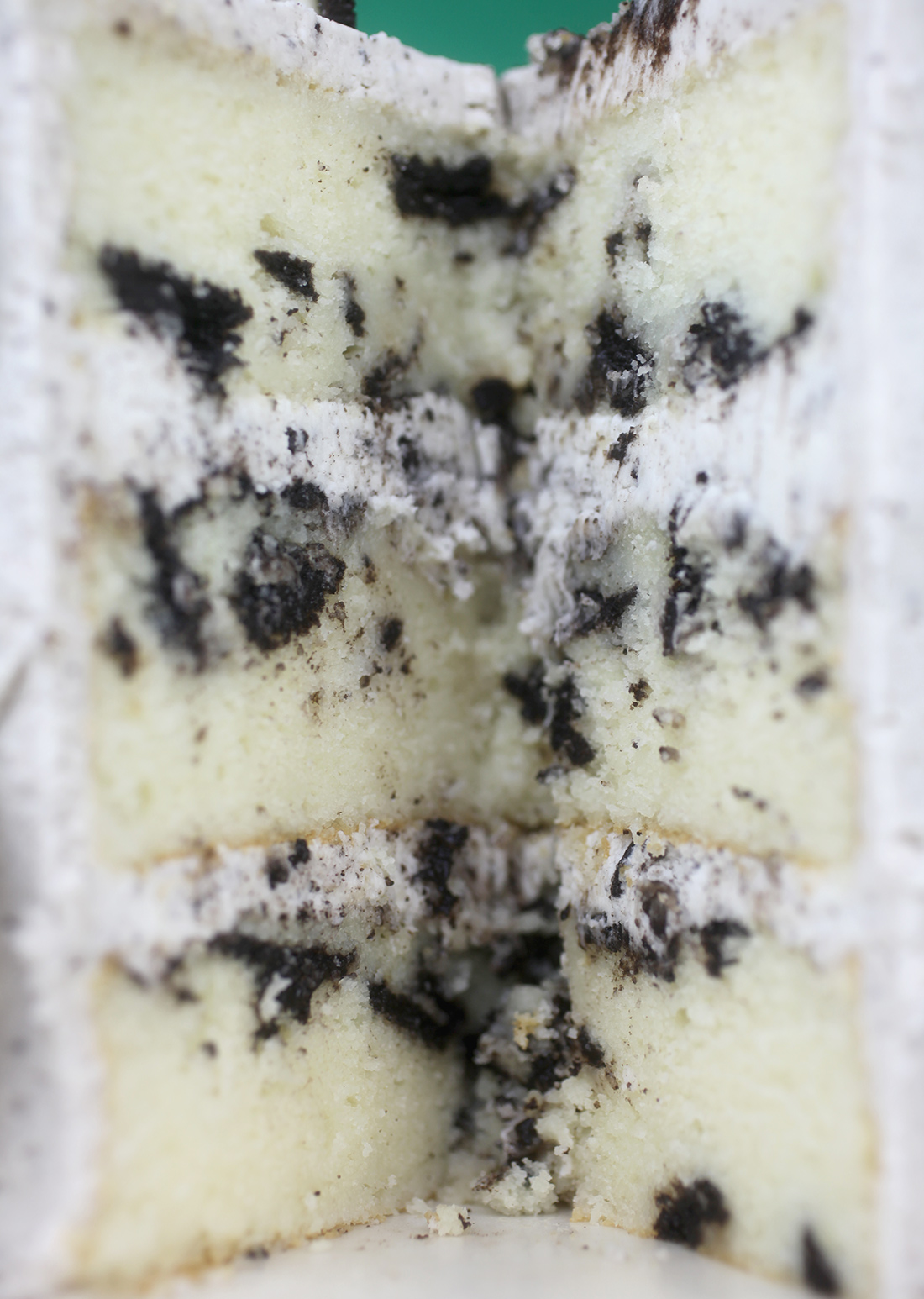 Hope you enjoy and check out more of my fun Halloween treats!