I love cinnamon rolls and this weekend these were the perfect comfort food. Or comfort dessert that is.
Dough swirled with butter, brown sugar and cinnamon. Yes, yes. yes.
These are basic cinnamon rolls … basic yum … with vanilla icing. But you can also try these chocolate cinnamon rolls or pumpkin pecan cinnamon rolls if you like them jazzed up a bit.
Prepare the dough and let it rise per the recipe below before rolling it out.
Then roll it into a roughly 14 X 24 inch rectangular shape.
Cover with melted butter and brown sugar.
Then sprinkle on cane sugar and cinnamon.
Then you are ready to roll. Start from the back and roll toward you to create a long spiraled cylinder.
Like so. And like so pretty!
Slice the dough into 18 equal sections about 1 1/4 – 1/2 inches thick.
Butter two square pans and place 9 pieces in each. I like using disposable aluminum pans with lids for these.
Let the cut rolls rise again in a warm place for about 45 minutes before baking.
Remove them from the oven and cover with vanilla icing while the buns are still warm.
Yum!!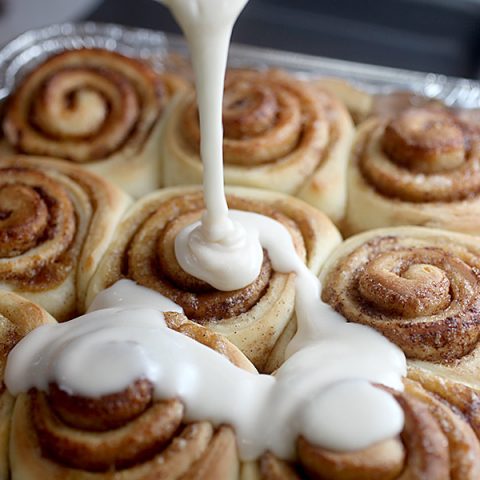 Yield: 18 cinnamon rolls
Cinnamon Rolls
Prep Time 4 hours

Cook Time 15 minutes

Total Time 4 hours 15 minutes
Ingredients
DOUGH
1 cup whole milk
5 tablespoons unsalted butter, softened
1/3 cup granulated sugar
2-1/4 teaspoons (1 packet) active dry yeast
4 cups all purpose flour, plus more for rolling
1 teaspoon salt
1 egg
CINNAMON FILLING
1/2 cup butter, melted
1/2 cup granulated sugar
1/2 cup brown sugar
1-1/2 tablespoons ground cinnamon
VANILLA TOPPING
2 cups confectioners' sugar
1 tablespoon butter
1 teaspoon vanilla
3-4 tablespoons whole milk
Instructions
PREPARE THE DOUGH: Heat milk and butter in a small heatproof bowl in the microwave until warm. Stir in sugar.
Transfer milk mixture to the bowl of a stand mixer fitted with the paddle attachment.
Sprinkle yeast on top of warm milk mixture and let rest for 2 minutes. Gently stir together. (Note: temperature of liquid should between 100-110 degrees when using Fleischmann's and between 120-130 degrees for Red Star active dry yeast.)
Add 3 cups of the flour, salt and egg and mix on low until combined.
Switch to the mixer's dough hook. Add remaining cup of flour and knead dough for a few minutes until it pulls away from the bowl. If needed, add another tablespoon of flour to help all the dough completely pull away from the sides of the bowl.
Spray a medium bowl with non-stick spray.
Remove dough from mixing bowl. Knead dough a couple of times by hand and then shape into a ball. Place in coated bowl and turn over to coat each side.
Cover bowl with plastic wrap or a clean towel and let rise in a warm spot for 2 to 2-1/2 hours or until the dough doubles in size. If dough reaches top of the bowl, punch down.
FOR THE FILLING: Butter two 8 X 8 inch pans.
Turn the dough out onto a lightly floured work surface. Keep extra flour handy to coat your rolling pin, hands and work surface if needed. Roll into a roughly 14 X 24 inch rectangular shape with the longest side closest to you. Roll so that the dough is almost 1/4 inch thick.
Drizzle melted butter on dough, spread around to coat, leaving about a 1/2 inch uncoated along the edges. Sprinkle both sugars and cinnamon all over surface of the dough.
Starting from the side opposite you, roll dough tightly towards you to form a long cylinder of dough. At the end, pinch the seams together and turn so the long seam side is down. If needed, gently squeeze or shape the dough to help form more equal size cinnamon rolls. Cut dough shape into 18 1-1/2 inch sections with a serrated knife and place nine cinnamon rolls in each pan. There will be a little space between each roll.
Let rolls rise a second time in a warm spot for about 30 minutes.
Preheat oven to 375 degrees and then bake rolls for 15-17 minutes.
COVER WITH TOPPING: While the rolls are baking, prepare the vanilla topping. Sift confectioners' sugar into a medium bowl. Whisk in melted butter, vanilla and milk until completely smooth. Remove rolls from the oven and pour topping evenly over cinnamon rolls while warm.

Notes
You can also bake these cinnamon rolls the next morning. After placing cut rolls in the pans, refrigerate overnight. In the morning, let the rolls rise in the pans in a warm spot for the second time (45-60 minutes) before baking.
For a maple topping: Make the vanilla topping above and use 1 teaspoon maple flavoring instead of vanilla.
For a cream cheese topping: Beat 4 oz softened cream cheese and 2 tablespoons room temperature butter until smooth. Add 2 cups sifted confectioners' sugar and 1 teaspoon vanilla. Then add 3-4 tablespoons milk until smooth.
If you like your topping thicker, add more confectioners' sugar or thinner, add a little more milk.
Enjoy!!!!!!!!