Happy Groundhog Day!!! I know it's late in the game to make these little guys, but I had a last minute idea for them this weekend using some fave candies and I didn't want to a year to see how they might turn out. Bookmark these cuties if you want to make them next year for Groundhog Day… or I guess if you need any Beaver cupcake inspiration, then the faces could come in handy for that too. ; )
Now, I couldn't be more ready for Spring. I'm hoping for a cloudy morning when Punxsutawney Phil pokes his little head out this morning. If he sees his shadow, then he's predicted another six weeks of wintery weather.
But regardless if he's right are not, I hope these little guys make you smile.
Here's how to make them.
You can use the chocolate cupcake and frosting recipe below to get started.
Then you just need to organize your candies to decorate.
Hershey's Chocolate Drops for cheeks and paws
Brown M&M's for ears
Reese's peanut butter cups for heads
Black coated sunflower seeds for noses
Chocolate wafer cookies crumbled up for dirt
To make the faces, first separate the peanut butter cups from the wrappers, but leave on so you can move them around without getting chocolate on your fingers.
Use a toothpick dipped in some melted chocolate coating to act as glue and attach the candies. Place two Hershey's Drops in the middle.
Then dot on more coating and attach the nose, and two candy eyes.
For the teeth, take the marshmallow bits, press them together flat for teeth and attach them with melted coating.
Draw on eyes using a black edible ink pen and let dry.
If they cups started to warm up from your touch, place them in the fridge for a few minutes while you frost the cupcakes.
Frost the cupcakes using an offset spatula. Apply the frosting around the sides of the cupcake with a downward motion using the offset spatula, leaving a "well" in the center.
Roll or press the frosted sides of the cupcake into chocolate wafer cookie crumbs for the soil.
Place a groundhog face gently in the center until secure. You can coerce the crumb coated frosting around the base to help hold it in place if necessary.
Then attach two M&M's in position for ears with more melted chocolate as glue and let dry.
Finally, take two more Hershey's drops and place on each side of the groundhog's face for paws.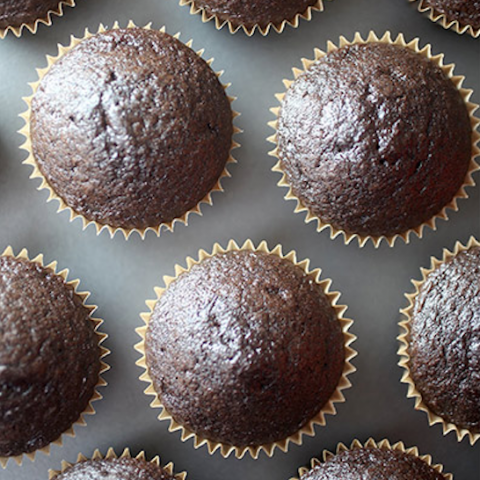 Chocolate Cupcakes
Ingredients
CHOCOLATE CUPCAKES
1-1/2 cups all-purpose flour
2/3 cup cocoa
1 cup sugar
1/3 cup brown sugar
1 teaspoon baking soda
1/2 teaspoon baking powder
1/2 teaspoon salt
2 eggs
1/3 cup oil
1 teaspoon vanilla
2/3 cup whole milk
1/2 cup hot water
FROSTING
1 cup butter, room temperature
1 teaspoon vanilla
3-1/2 cups confectioners sugar
1/4 cup cocoa
2 Tablespoons milk
Instructions
For cupcakes: Preheat oven to 350 degrees and fill cupcake tray with 18 cupcake liners.
In a large bowl, mix dry ingredients together with a wire whisk. Add eggs, oil, vanilla and milk and mix until combined. Add hot water and mix. It will be very liquid.
Fill cupcake liners about 2/3 full. Pour into liner with a large spouted measuring cup for ease.
Bake for 15 minutes or until done.
For chocolate frosting: Beat 1 cup butter until creamy. Add 1 teaspoon vanilla and mix. Slowly add confectioner's sugar and cocoa and mix until combined. Add 1-2 Tablespoons milk and mix until creamy and smooth.