I decided I need to add a little more fruit to my diet.
My pie diet, anyway.
Berries. Black and blue.
And raspberries, too.
I think I love you.
These are really easy to make.
Pie crust, plus berries…
Just fold and bake.
This one didn't even make it to the plate.
Enjoy them topped with ice cream.
And each delicious bite will be a dream.
You know, these little tarts might make me want to start eating fruit more often.
Or at least more pie.
This is a fun way to treat yourself at the end of a long summer day.
One of the simple luxuries in life… baking with fruit… And, it makes a great canvas for ice cream, too.
________________________________________________________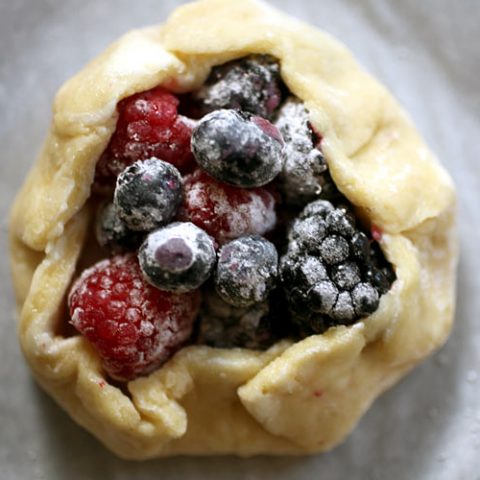 Yield: 10 mini tarts
Mini Sweet Tarts
Prep Time 30 minutes

Cook Time 20 minutes

Total Time 50 minutes
Ingredients
Dough
2 cups flour
1/3 cup sugar
3/4 cup cold butter, cubed
2 egg yolks
1/4 cup sour cream
3 tablespoons ice cold water
Filling
2/3 cup sugar
1/4 cup flour
1 tablespoon lemon juice
6 cups blueberries, blackberries or raspberries (or combination)
Egg Wash
Instructions
Combine 2 cups flour and 1/3 cup sugar in a food processor. Add butter and pulse until until it comes together in small pieces. You can also use a pastry cutter to cut the butter into the flour.
In a small bowl stir, egg yolks, sour cream and water together. Stir into flour mixture.
Knead the dough until a ball forms. Cover with plastic wrap and pat into a disc. Chill for about an hour or place in the freezer until dough is easy to work with.
Preheat oven to 400 degrees.
Divide dough into 10 equal portions. Roll out each dough section on a lightly floured surface. Use a circle (4.5 inch) or heart (5 inch) cutter to cut out shapes and transfer to parchment lined baking sheets.
In a small bowl, stir 2/3 cup sugar and 1/4 cup flour. Sprinkle a little bit in the center of each shape, reserving the rest.
In a larger bowl, combine fruit, lemon juice and remaining, sugar and flour mixture. Toss gently until coated.
Spoon fruit onto the center of each tart shape and fold edges over fruit overlapping the dough as you fold.
Brush dough with egg and sprinkle raw sugar on edges.
Bake for about 20 minutes or until edges are brown and fruit is tender.
Notes
Recipe slightly amended from these Petite Fruit Tarts at BHG.com.

This post is sponsored by Häagen-Dazs® ice cream, encouraging life's little luxuries.