It's time for pie.
And peaches.
Pretty little peachy hand pies.
Yeah, I'm not sure what's happening today. Fruit and pie. Instead of chocolate and cake. I never do that. I must be dieting.
Or pieting.
That means pie crusting is happening. This pie dough is made with added cream cheese in the dough. Yummo!
And peachy pie filling… you'll need diced peaches, sugar, brown sugar, corn starch, cinnamon, lemon juice, and salt.
Toss the filling ingredients together and spoon a small amount in the center of circles cut out from the pie crust dough. Fold the circles together and seal the edges.
You want to keep all those juices tucked inside as much as possible.
Then crimp the edges with a fork.
I cut out cute little letters for my pies with these mini alphabet cutters. This would be super fun to do if you were making pies in different flavors. Helpful and handy at the same time.
Here's how to make them: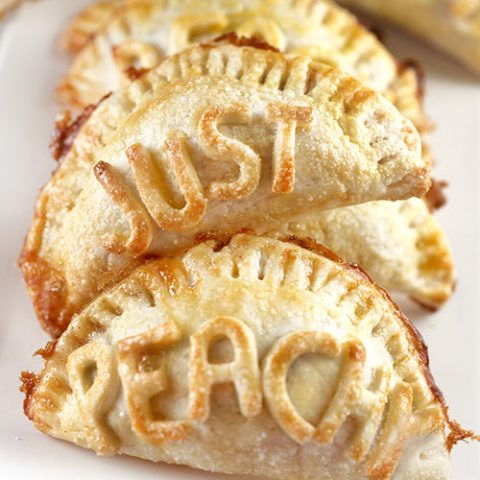 Handy Peach Pies
Ingredients
PIE CRUST
4 tbsp unsalted butter
4 oz. cream cheese
2 cups all-purpose flour
1 tbsp sugar
1 tsp salt
1/4 cup milk
PEACH FILLING
3 cups diced peaches
1/4 cup sugar
1/4 cup brown sugar
2 tbsp corn starch
1 tsp lemon juice
1/4 tsp salt
1 tbsp cinnamon
beaten egg
more flour for dusting
Instructions
FOR THE CRUST: Cut butter and cream cheese into half inch cubes and freeze for 20 minutes.
In a food processor, pulse flour, sugar and salt to combine.
Add butter and cream cheese cubes from freezer and pulse until small clumps form.
Add milk and pulse again a few times until dough forms. Press dough together to test. If needed add another teaspoon of milk until the dough holds together when pressed.
Turn out dough onto a floured work surface. Gather the doughy pieces and knead together.
Shape into two 1-inch thick round disks. Cover in plastic wrap and place in the fridge for a couple of hours or overnight.
TO ASSEMBLE: When dough is chilled, dice peaches and stir filling ingredients together.
Remove dough from fridge, unwrap and roll out dough on a floured work surface or parchment paper until it's about 1/8 inch thick. Cut out pie shapes from dough and remove scraps. Place on a parchment-lined baking sheet and fill the center of each circle with a spoonful or two of filling depending on size of your shapes. I used a 5-inch round cutter for these.
Brush beaten egg on the edge of each cut pie circle. Fold up like a taco and press seams together starting at the bottom and working up until you have a crescent shape. Lay on one side on parchment lined baking sheet and crimp edges with a fork.
Refrigerate prepared pies for half an hour before baking and preheat the oven to 375 degrees.
Before placing in the oven, brush each pie top with beaten egg and sprinkle sugar. If you cut out letters, attach them with a bit of egg wash first.
Bake for 20 minutes. Remove and transfer to a baking rack to cool for a few minutes. Serve warm or store for up to two days. P.S. I would totally eat these warm with some handy vanilla ice cream, too.

Notes
Source: Adapted from Handheld Pies, 2011
There you have it. Peach hand pies.
They're kind of handy… and definitely yummy…
… and Just Peachy.