I absolutely had the most fun making these Miniature Easter Basket Cupcakes. I know this idea has been done a ton of different ways before, but I couldn't resist having a go at them. They are so sweet and make me giddy just looking at them.
Plus, I had all this Easter candy that I had to do something with.
Mini Chocolate Bunnies, candy eggs, sour patch straws and mini chocolate candy bars. (Can you say sugar coma.) The bunny candy to the right came from The Fresh Market. And, the Twizzlers made it in this photo, but not on the cupcakes. I'll have to save them for later.
Here's some of my favorite baking cups. I loooooove the opaque color of these. You can get them at the Confectionery House.
Or if you like polka-dots, check these out.
Their color isn't as opaque after baking, but the dots sure do make up for it. Also from the Confectionery House.
So, if you have a bunch of easter candy handy, get busy and go make some cupcakes. I made chocolate.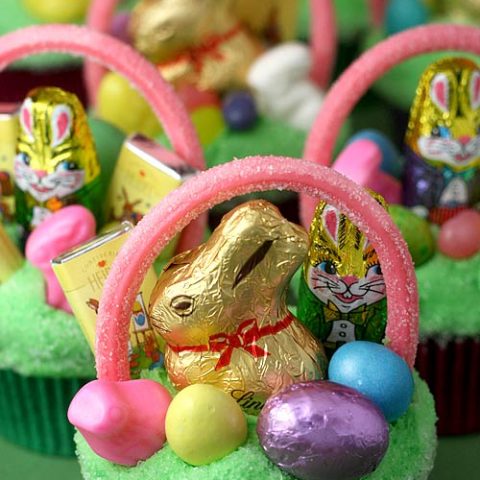 Yield: three dozen cupcakes
Eye Candy Chocolate Cupcakes
Cook Time 15 minutes

Total Time 15 minutes
Ingredients
2-1/4 cups all-purpose flour
2/3 cup cocoa
1-1/2 tsp baking soda
1-1/2 tsp baking powder
1/2 tsp salt
2 cups sugar
3/4 cup unsalted butter, room temperature
3 eggs, room temperature
1-1/4 cup milk, room temperature
1 tsp vanilla
Instructions
Preheat oven to 350 degrees.
Prepare cupcake pans with 36 baking cups.
With a wire whisk, sift together flour, cocoa, baking soda, baking powder, and salt in a large bowl and set aside.
In a mixer, cream sugar and butter.
Add eggs one at a time, scraping down sides with each addition. Add vanilla.
Add flour mixture to the creamed butter in three additions, alternating with the milk in two additions. (flour, milk, flour, milk, flour)
Bake for about 15 minutes or until done. Cool and frost.
They were pretty good, but I'm still looking for my "go to" chocolate cake recipe.
Then, I made some yummy buttercream frosting and tinted it green. (Here's a recipe.) You'll want to double it at least if you decide to frost all 36 cupcakes.
Use a generous amount of frosting. It doesn't have to be too pretty.
Then dip the sides of the frosting in a small dish filled with sugar crystals or sanding sugar. You don't have to cover the center area because that's where your chocolate bunnies will go.
You can use these super cute Sour Punch Straws for the handles. Just insert into the cupcake on each side. (They also come in green.)
Then cover your cupcakes with candy. EASY!
I love the look of these Lindt chocolate bunnies.
And I looooooove these super tiny Heidl candy bars. (But, I'm a sucker for anything mini if you haven't guessed that about me already.)
Decorate each one differently to give them more personality.
Then, you can package to give away as individual treats.
I used some really pretty striped ribbon that Strano Designs gave me a while ago.
Check them out: www.stranodesigns.com
And this smaller yellow one that I found in the scrapbooking section of Hobby Lobby.
Cute or What?!
To get these to stand up, cut out some white cake board to fit the bottom of a plastic treat bag (These were 5″ X 11″ X 3″ from Hobby Lobby). Apply a small amount of frosting to the center of the board to help keep the cupcake from sliding back and forth. I just wish these bags weren't so wide. I had wanted them to be closer to the width of the cupcake.
But, not to worry. Nobody I gave them to cared one little iota about wide cardboard.
See what I mean. You know, I didn't even notice his excitement when I took this picture because I was focusing on the cupcake. I can't even stand how sweet this expression is.
Or this one. Precious.