A moist yellow cake recipe. (Actually, I asked for it.) I have been on the hunt for a moist yellow scratch cake recipe since I started this site. I've tried several in the past, like the Butter Cake recipe from The Cake Bible
(a great baking resource, by the way). And, while the taste was really good, I've been having a time trying to get the recipe to come out as moist as I like. I finally came to the conclusion that it must be my gas oven that's the problem. At least, that's what I've been telling myself.
So, the hunt was on. It was a short search that began and ended with my friend's mom. She used to own a bakery and made the yummiest cakes. So, I thought I would ask the pro for help. And, I'm so glad I did. It was yellow and moist, but mostly delicious. Thanks for the recipe, Shirley! I guess I'll have to come up with another reason to trade my gas oven in for an electric one. Here's the recipe: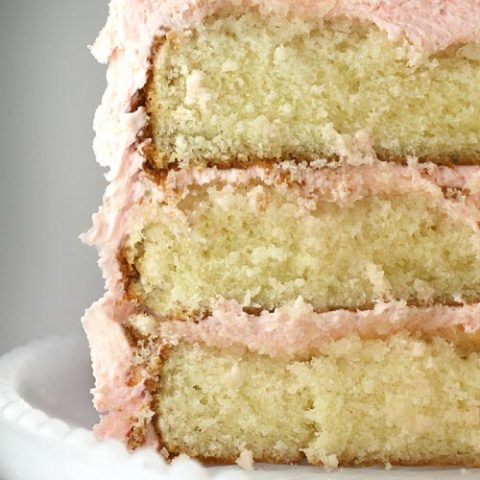 Yield: one 8-inch three layer cake
Moist Yellow Layer Cake
Ingredients
Cake
1 cup (2 sticks) of butter (room temperature)
2 cups of sugar
4 eggs (room temperature)
3 cups of sifted self-rising flour (White Lily)
1 cup of whole milk (room temperature)
1 teaspoon pure vanilla extract (McCormicks)
1/2 teaspoon butter flavoring
Easy Buttercream Frosting
1 cup (2 sticks) butter (room temperature)
1 teaspoon pure vanilla extract
1 1b. 10X powdered sugar
1-3 teaspoons milk, half and half or cream
Instructions
Cake: Preheat oven to 350 degrees Fahrenheit.
Grease and flour (3) 8-inch cake pans.
Using a mixer, cream butter until fluffy. Add sugar and continue to cream for about 7 minutes.
Add eggs one at a time. Beat well after each egg is added.
Add flour and milk (alternating to creamed mixture), beginning and ending with flour.
Add vanilla and butter flavoring to mix; until just mixed.
Divide batter equally into three cake pans.
Hold each layer about 3 inches above your counter and carefully drop the pans flat onto counter several times to ensure release of any air bubbles. This will help you have a more level cake.
Bake for 25 - 30 minutes (depending on your oven) until done.
Cool in pans for 5 - 10 minutes.
Remove and immediately wrap each layer in plastic wrap to seal in moisture. Cool completely on wire racks.
Buttercream: Using a mixer, cream softened butter and vanilla until smooth.
Add sugar gradually, allowing butter and sugar to cream together before adding more.
If you want your frosting a little creamier, add a teaspoon of milk at a time and beat on high until you get the right consistency.
Then, just use icing colors to tint the frosting the color of your choice.
This is usually just enough for a 2-layer cake, so I would recommend doubling this for a three-layer. But, I like a lot of frosting.
Cake assembly: Unwrap first layer and using a serrated knife, level off the top of your cake. Place layer onto your dish. Take a straw and poke holes into the layer.
Using your spray bottle, spray top of layer several times with simple syrup**; enough to give it a little moisture. Be careful – don't add too much.
Add a layer of frosting to your bottom layer. Repeat on second and third layers.
Frost the sides.

Notes
**Simple Syrup: a little trick to add moisture to your layers:
Combine 1 cup of sugar and 2 cups of water.
Bring to boil and boil for approximately 3 minutes. Let cool.
Pour liquid into a spray bottle or pouring bottle.

P.S. I've been using aluminum cake pans
instead of the dark coated kinds you find in the grocery store. They also come in many different sizes
.