A warm, fudgey, melt in your mouth, cup of chocolate heaven. I'm not sure if I've ever tasted a soufflé before and I know I've never made one, so as far as I'm concerned, these came out superb. They may look a little flat, but what they lack in appearance, they make up for in taste. I made them for my mom and of course, I had to eat one, too. Actually, I ate three. What can I say, it was necessary for the photograph.
Look, someone had to do it or else you wouldn't know what three empty ramekins looked like photographed from above. Okay, I can see it on your face, you're not buying my reasoning. Well, how about this one. They were just so dang good, I couldn't stop myself. (Don't judge me.)
Here's the recipe if you need a little chocolate comfort.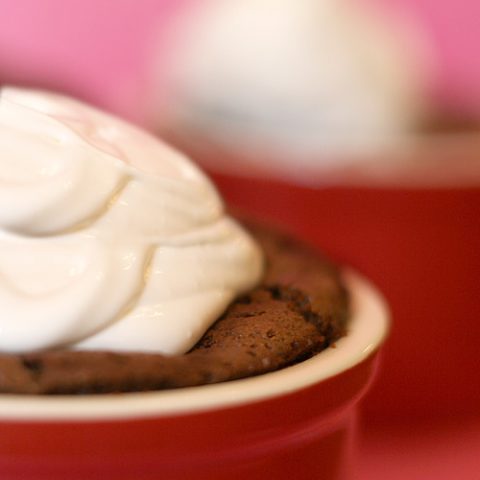 Yield: eight 6 oz. souffles
Easy Individual Chocolate Souffles
Ingredients
1/2 cup (1 stick) butter
1-1/4 cups sugar
1 teaspoon vanilla extract
4 eggs
2/3 cup milk
1/2 teaspoon powdered instant coffee
2/3 cup all-purpose flour
2/3 cup cocoa
1-1/2 teaspoons baking powder
1 cup (1/2 pint) whipping cream
2 tablespoons powdered sugar
Instructions
Preheat oven to 325 degrees F.
Grease and sugar eight 6-ounce ramekins.
In large mixer bowl, beat butter, sugar and vanilla until light and fluffy.
Add eggs, one at a time, beating well after each addition.
Scald milk. Remove from heat and add powdered coffee, stirring until dissolved.
Stir together flour, cocoa and baking powder. Add alternately with milk mixture to butter mixture. Beat 1 minute on medium.
Divide batter evenly among ramekins.
Place ramekins in 2 8-inch square pans. Pour hot water in bottom of pans to 1/8 inch deep and place pans in oven. Bake for 45-50 minutes or until toothpick inserted comes out clean.
Remove pans from oven and let ramekins stand in water for 5 minutes.
Remove ramekins from water and let cool slightly.
You can serve in dish or invert onto dessert plates.
For topping: beat whipping cream and powdered sugar in small mixing bowl until stiff and spoon onto warm soufflés.
Notes
Recipe from Great American Favorite Brand Name Cookbook, 1993.

Now, after doing some research, I realized that the above recipe is not what you would consider a traditional soufflé. One that uses egg whites to obtain that desired height above the ramekin.
So, I made soufflés "the real way!"
Here's the second recipe I tried. I wrapped one of the ramekins in parchment paper per some suggestions on the web. YAY!!! I made it rise above the rim. Again, YAY!!!!! However, the ones without the paper looked like my first batch. Makes me wonder if those would have risen if I had used the paper with them, too. I guess you know what that means. More chocolate soufflés in my future. Oh, how I suffer.
Easy way or real way, both ways really were delicious. Extremely delicious actually. So good that I don't know which way I liked better. I'm almost afraid to try these by someone who really knows what they are doing… I might not be able to handle it. (But, I'll try.)