I've been doing some traveling over the last couple of weeks. I've been on the first part of a book trip visiting various Williams-Sonoma stores to sign some books and meet you guys. Hi guys. Hope you've been having fun. I have.
The signings happen around lunchtime and because I'm a big bundle of nerves right before each one, I've gotten in the habit of not eating much of anything right before. Butterflies and such.
Then, by the time the signings start, I'm hungry. Luckily the stores have been making treats. Yummy, yummy little treats. They've ended up being my lunch. So I thought I'd share their recipe with you in case you wanted to try them, too. They're quick and easy. You'll love. Promise.
Pecan Pumpkin Butter Dessert Squares.
Delish.
Here's what you'll need.
A yellow cake mix, sugar, flour, milk, eggs, butter, cinnamon and the star ingredient…
Pecan Pumpkin Butter! Acquired at Williams-Sonoma.
By the third time I had the dessert squares, I was buying this butter to send home and swiping the recipe cards from each store to ensure I would have the directions to make for you guys when I got back to my kitchen.
And now that I'm back for a few days, I thought I should bake. I know. It's about time. I feel it to.
Okay, here we go.
The steps are easy.
Reserve 1 cup of the cake mix from the box…
… and mix the rest with an egg and melted butter. Combine and press into the bottom of a prepared 9 X 13 pan.
Then mix the pumpkin butter, two more eggs and milk until combined. Spread over mixture pressed in the pan.
Mix the rest of your dry ingredients together. Flour, sugar, cinnamon and reserved cake mix.
Add some softened butter and mix together until crumbly.
Then just sprinkle the crumbly mixture over the top of the pumpkin butter and bake. Easy peasy.
Cool and cut into small squares.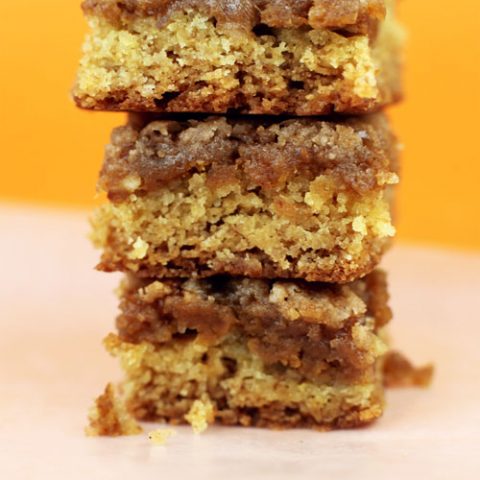 Williams-Sonoma Pumpkin Pecan Butter Dessert Squares
Prep Time 20 minutes

Cook Time 35 minutes

Total Time 55 minutes
Ingredients
18.25 oz. package yellow cake mix, set aside one cup
1/2 cup butter, melted
3 large eggs
13.5 oz. jar of Muirhead Pecan Pumpkin Butter
2 Tbsp milk
1 Tbsp flour
1/4 cup sugar
1/4 cup butter, softened
1 tsp cinnamon
Instructions
Preheat oven to 350 degrees.
Grease and flour a 9 X 13 pan.
Divide cake mix, placing all but one cup in a mixing bowl. Stir the melted butter and one egg into the cake mix until combined. Press the mixture into the bottom of the pan.
In another bowl, mix pumpkin butter with two eggs and milk until combined. Spread pumpkin mixture over pressed cake mix.
Stir the reserved 1 cup of cake mix with the flour, sugar, and cinnamon. Then add the softened butter and mix together until crumbly.
Sprinkle over the top of the pumpkin layer.
Bake for about 35 minutes or until golden brown. Cool and cut into 2" squares. Serves 24.
Enjoy!
And have some for lunch… or dinner… or both. Then have some for dessert.
I hope I get to have some again this Saturday in Atlanta and next week in Dallas. Hint. Hint… Williams-Sonoma if you're listening.
Also, I gotta think this would work with an apple butter too. If you try it let me know what you think.